All-star braised eggplant recipe, prepared Greek style! Eggplants cooked to velvety tender perfection with chickpeas and tomato. A perfectly satisfying meatless dinner or side dish. Low-Fat. Vegan. Gluten Free! Be sure to watch my video for how to make this Greek eggplant recipe (bottom of this post) 
You may also like: Stuffed Eggplant; Easy Greek Bean Soup; Greek Easter Bread; Lebanese Style Cinnamon Meatballs ; Simple Spanish Tortilla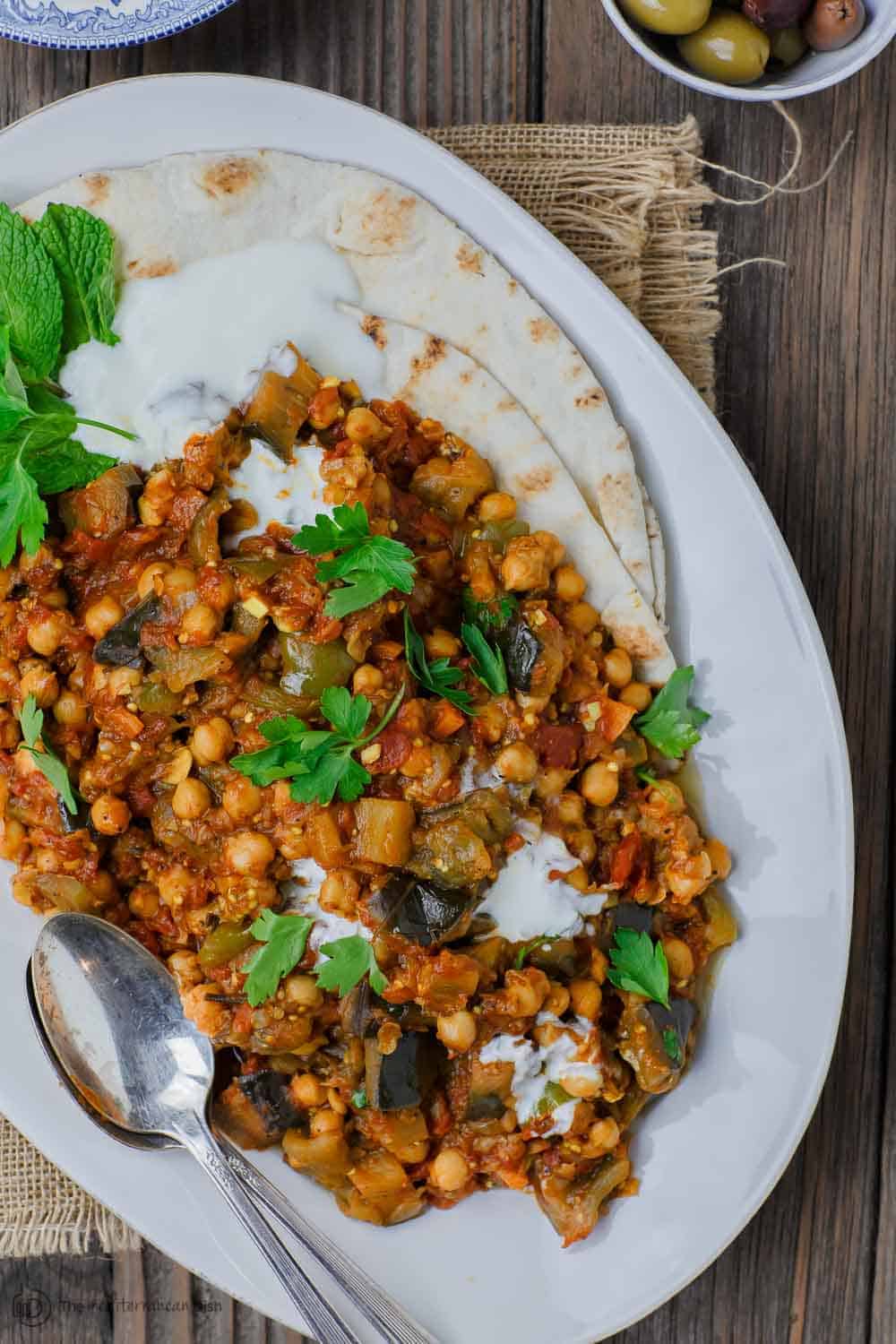 Typically idling in my pantry are canned chickpeas and tomatoes (all sorts of canned or boxed tomatoes.) So it's never a surprise to my family when dinner involves a  big pot of something including these two ingredients.
But the chickpeas and crushed tomato play a supporting role to the star of this braised eggplant recipe, obviously, eggplants.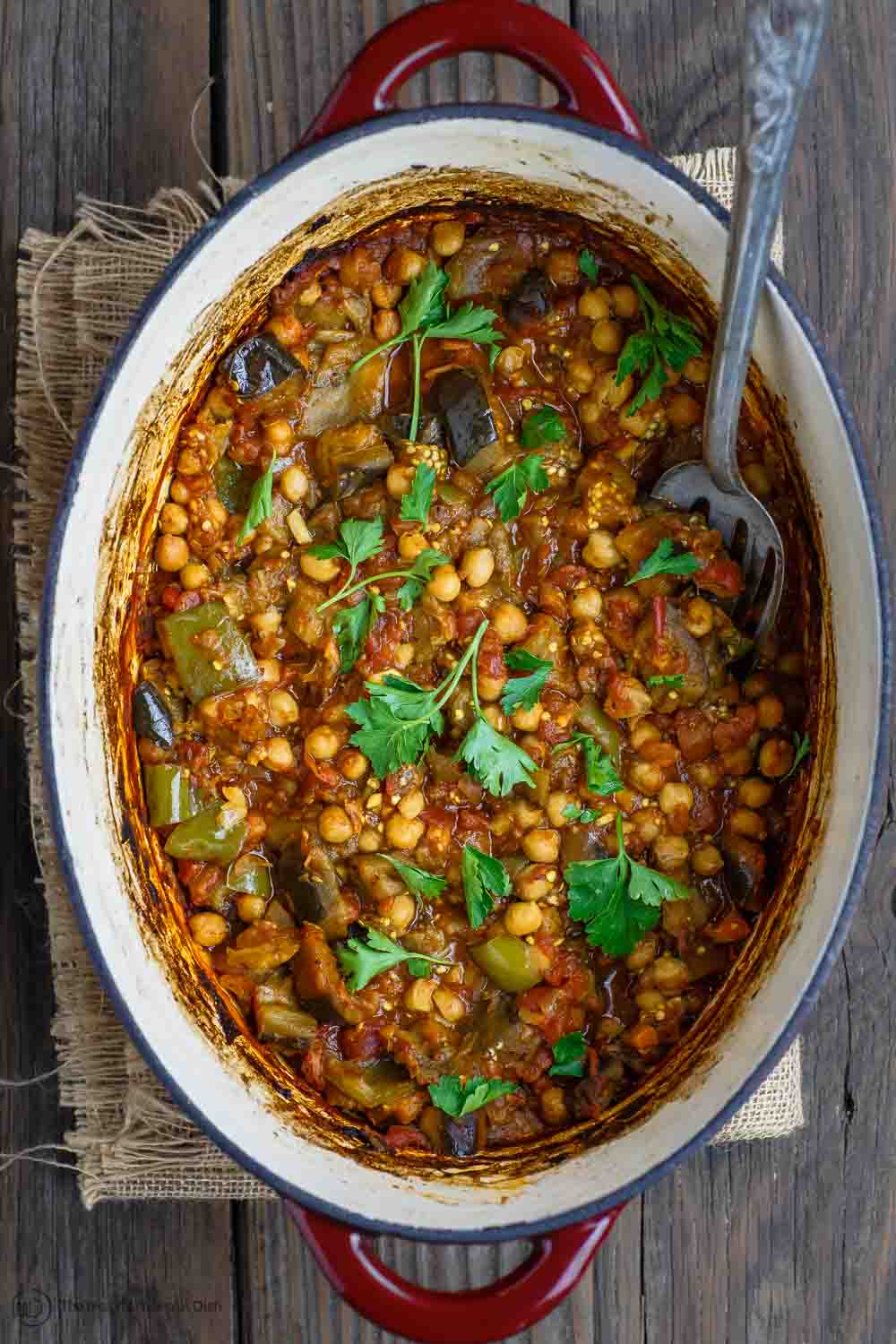 Why this braised eggplant recipe works
Long-cooked eggplant are a thing of beauty–hearty, and entirely velvety smooth. Don't worry, by long-cooked, I don't mean an all-day ordeal (although you can use a crock-pot here). We're talking about 45 minutes in a hot oven.
And of course, the eggplants are appropriately accompanied with chickpeas and a good amount of crushed tomatoes. Chopped carrots add sweetness.
Rounding everything up here, no surprise, are onions and garlic along with bay leaf and a few warm spices. All the flavor!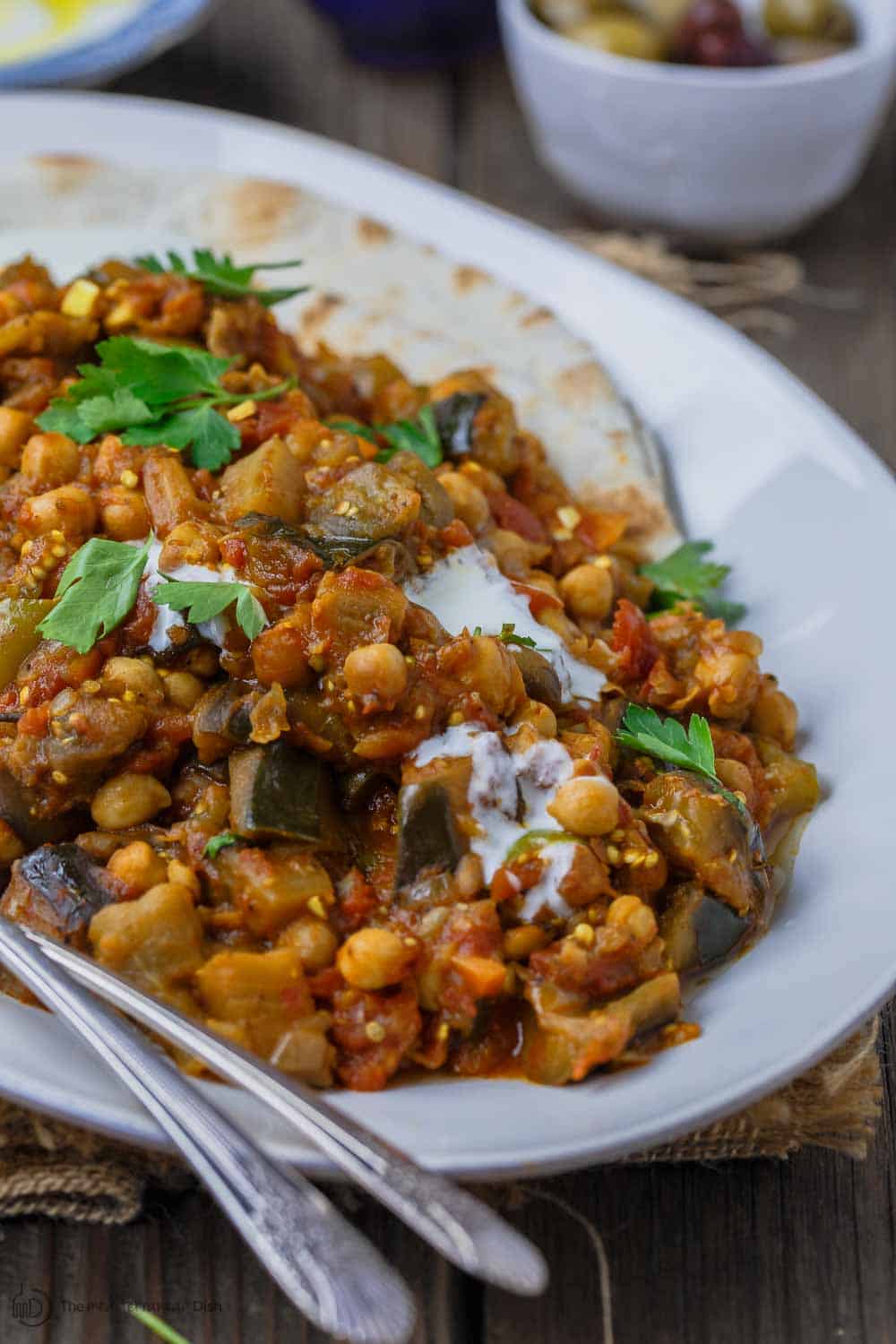 What to Serve along with this braised eggplant recipe
With just a side of warm pita bread, this Greek-style eggplant recipe makes a satisfying meatless dinner. A dollop of Greek yogurt or even Tzatziki sauce makes a great addition here. And, to keep with the Greek theme, you can start with a traditional Greek salad.
Watch The Video to see How I Make This Greek Eggplant Recipe:
Print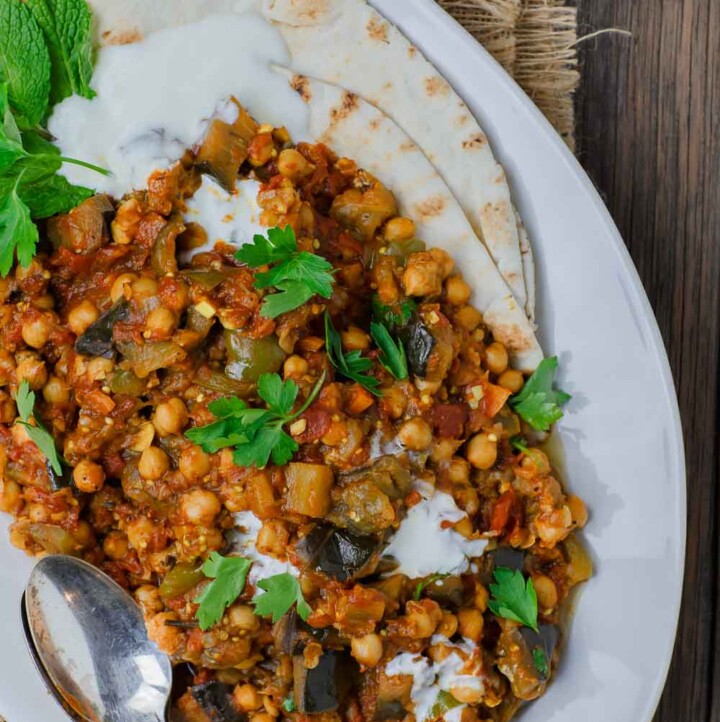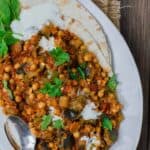 Greek-Style Braised Eggplant Recipe
---
Author:

The Mediterranean Dish

Prep Time:

20 mins

Cook Time:

55 mins

Total Time:

1 hour 15 minutes

Yield:

Serves up to 6 people
Description
All-star braised eggplant recipe, prepared Greek style! Eggplants cooked to velvety tender perfection with chickpeas and tomato. A perfectly satisfying meatless dinner or side dish. Low-Fat. Vegan. Gluten Free.
---
Scale
Ingredients
1.5

lb eggplant, cut into cubes
Salt
Private Reserve Greek extra virgin olive oil

1

large yellow onion, chopped

1

green bell pepper, stem and innards removed, diced

1

carrot, chopped

6

large garlic cloves, minced

2

dry bay leaves

1

to

1 1/2

tsp sweet paprika OR smoked paprika

1 tsp

organic ground coriander

1 tsp

dry oregano

3/4 tsp

ground cinnamon

1/2 tsp

organic ground turmeric

1/2 tsp

black pepper

1

28-oz can chopped tomato

2

15-oz cans chickpeas, reserve the canning liquid
Fresh herbs such as parsley and mint for garnish
---
Instructions
Heat oven to 400 degrees F.
Place eggplant cubes in a colander over a large bowl or directly over your sink, and sprinkle with salt. Set aside for 20 minutes or so to allow eggplant to "sweat out" any bitterness. Rinse with water and pat dry.
In a large braiser, heat 1/4 cup extra virgin olive oil over medium-high until shimmering but not smoking. Add onions, peppers, and chopped carrot. Cook for 2-3 minutes, stirring regularly, then add garlic, bay leaf, spices, and a dash of salt. Cook another minute, stirring until fragrant.
Now add eggplant, chopped tomato, chickpeas, and reserved chickpea liquid. Stir to combine.
Bring to a rolling boil for 10 minutes or so. Stir often. Remove from stove top, cover and transfer to oven.
Cook in oven for 45 minutes until eggplant is fully cooked through to very tender. (While eggplant is braising, be sure to check once or twice to see if more liquid is needed. If so, remove from oven briefly and stir in about 1/2 cup of water at a time.)
When eggplant is ready, remove from oven and add a generous drizzle of Private Reserve EVOO, garnish with fresh herbs (parsley or mint). Serve hot or at room temperature with a side of Greek yogurt or even Tzatziki sauce and pita bread.
---
Category:

Entree

Cuisine:

Greek
Keywords: Eggplant Recipe, braised eggplant, chickpea recipe