Whether you're looking for meatless meal ideas or want to add more vegetables to your diet, this list of 60 + easy vegan recipes is for you! The best vegan dinner recipes, comforting pasta dishes, vegetarian and plant-based sides, and much more -- all loaded with nutrition and bold Mediterranean flavors. Even meat lovers will enjoy these dinners!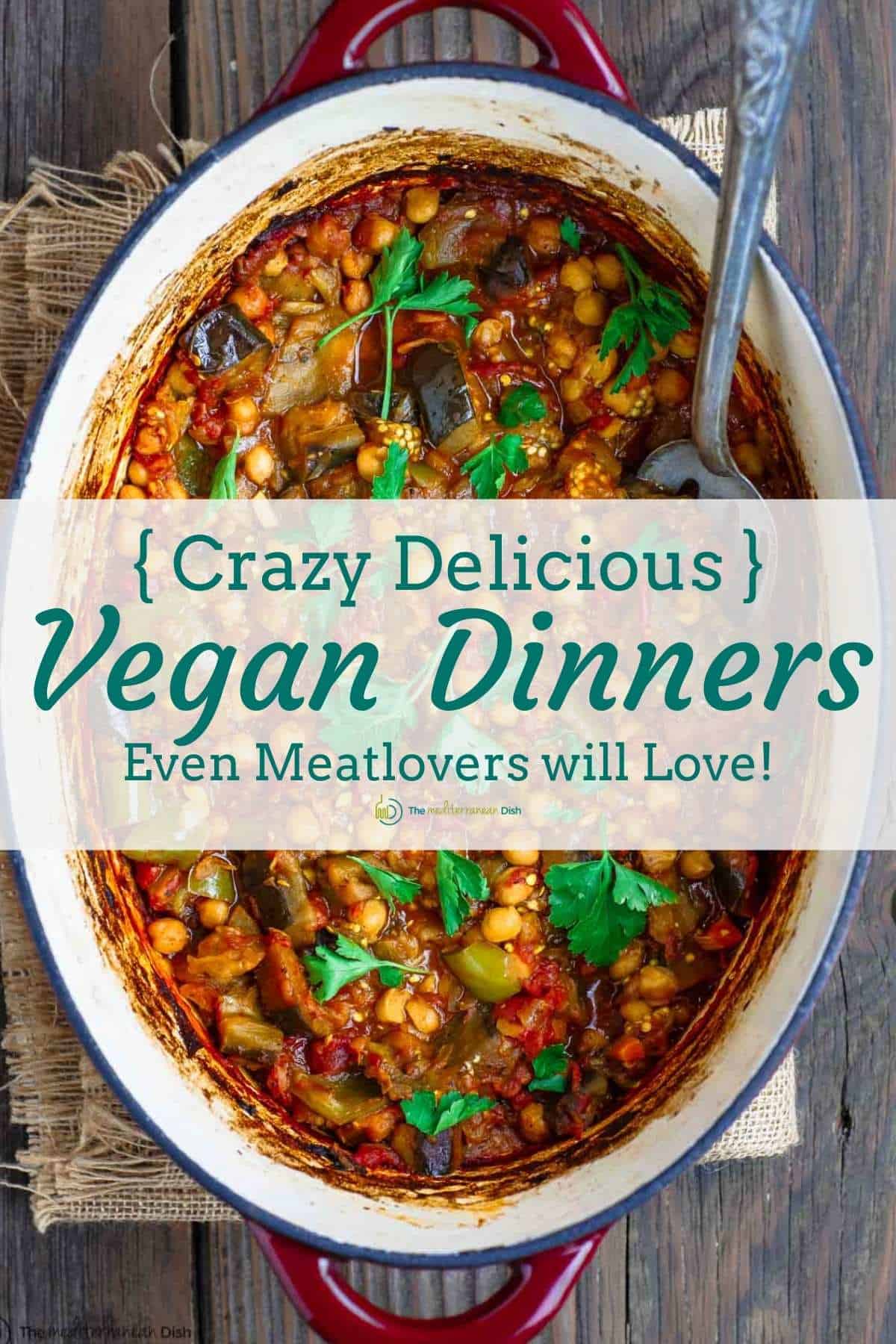 Vegan dinner ideas everyone will love!
For many people, the idea of preparing an entirely meat-free dinner can be daunting. But adding more vegetables to your diet or eating more plant-based meals does not need to be difficult or too time-consuming. And you don't have to give up flavor to make delicious, entirely vegetarian meals.
My family eats the Mediterranean way, so we eat a little bit of everything including fish and dairy. But aside from adding more vegetables and grains to our meals, we also try to eat vegetarian or vegan two to three dinners per week (I shared more about this earlier in my Mediterranean diet meal plan).
If you are looking for some mouthwatering, nutritious, and satisfying vegan recipes that are easy enough to make any night of the week, I got you covered!

I'm excited to share a list of 60+ easy vegan recipes and dinner ideas that even the meat lovers in my life love! I've included vegan dinner recipes, including dairy-free pasta dinners, comforting vegetable-loaded soups and stews, and quick vegan salads and side dishes.
If you're looking for satisfying Mediterranean-style, plant-based meals, you'll find them here. Plus, a few tips for how to stock your pantry to make vegetarian cooking easier and more accessible.
5 Pantry Essentials for Making Vegan Dinners
I make a lot of vegan and vegetarian meals, and whenever I go shopping I look for these 5 essentials:
Vegetables (fresh and frozen). Browse the produce aisle for seasonal vegetables, and remember that things like sweet potatoes and root vegetables are more filling and hearty. Don't ignore the frozen section! Frozen veggies like peas, spinach, and broccoli are great to have on hand, especially if you're trying to save prep time.
Legumes. Legumes are things like beans, chickpeas, and lentils. They're hearty, protein-packed, and rich in fiber, B vitamins and more. Stock up on canned chickpeas and beans for those days you need a simple meal that you can quickly throw together. Dry lentils are quick to cook and don't require soaking.
Grains and pasta. Barley, farro, freekeh, quinoa, rice, couscous, and whole wheat pasta can make a great base for a vegetarian or vegan meal.
Herbs and flavor makers. Fresh herbs like parsley, basil, cilantro, dill, thyme, and oregano can add a ton of flavor to your vegetarian dinner! I also use fresh garlic, onions, shallots and a number of Mediterranean spices to amp up the flavor.
Extra virgin olive oil. I use EVOO daily. When choosing olive oil, look for cold-pressed single region or single estate varieties. For more tips on finding good EVOO, check out my Olive Oil Guide. (You can find all my favorite EVOOs in our shop.)
Now, let's get to our selection of delicious vegan recipes (just tap on the recipe name to view it in full). NOTE: A few of the recipes in this roundup may not be fully vegan. However, you'll see suggestions and simple swaps to turn them vegan.
Our Best Vegan Dinner Recipes
I make these easy vegan dinner recipes pretty frequently -- they're delicious, nutritious, and not terribly time-consuming. You'll love these flavorful plant-based recipes with heaps of good-for-you vegetables. Check them out:
Easy Greek-Style Eggplant Recipe
This simple vegan eggplant recipe with chickpeas and tomatoes is comfort food at its finest. Serve it with couscous or a side of warm pita. I like to top my meal with a few olives to really amp up the Greek flavors.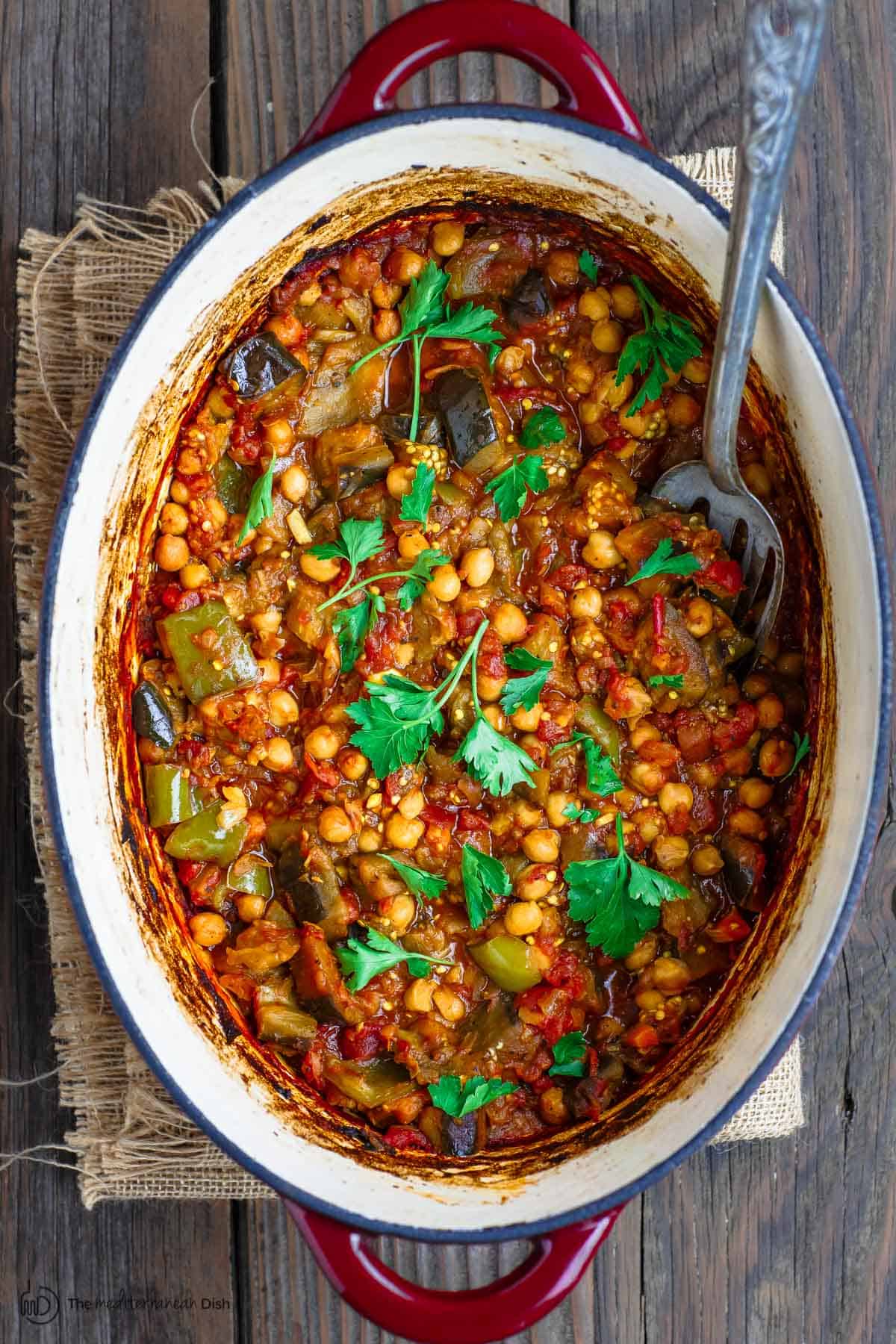 Authentic Falafel Recipe

This iconic dish is easier to make than you might imagine. All you need to start are chickpeas, fresh herbs and the right spices. My family's secret recipe comes with a step-by-step tutorial. And by the way, you can prepare the falafel patties in advance and freeze for when you need them.
Fasolakia (Greek Green Beans)

This gluten-free vegan recipe of velvety, tender green beans and potatoes, braised in a tomato and extra virgin olive oil sauce makes a satisfying entree or side dish. Add some crusty bread, pita, or some cooked barley.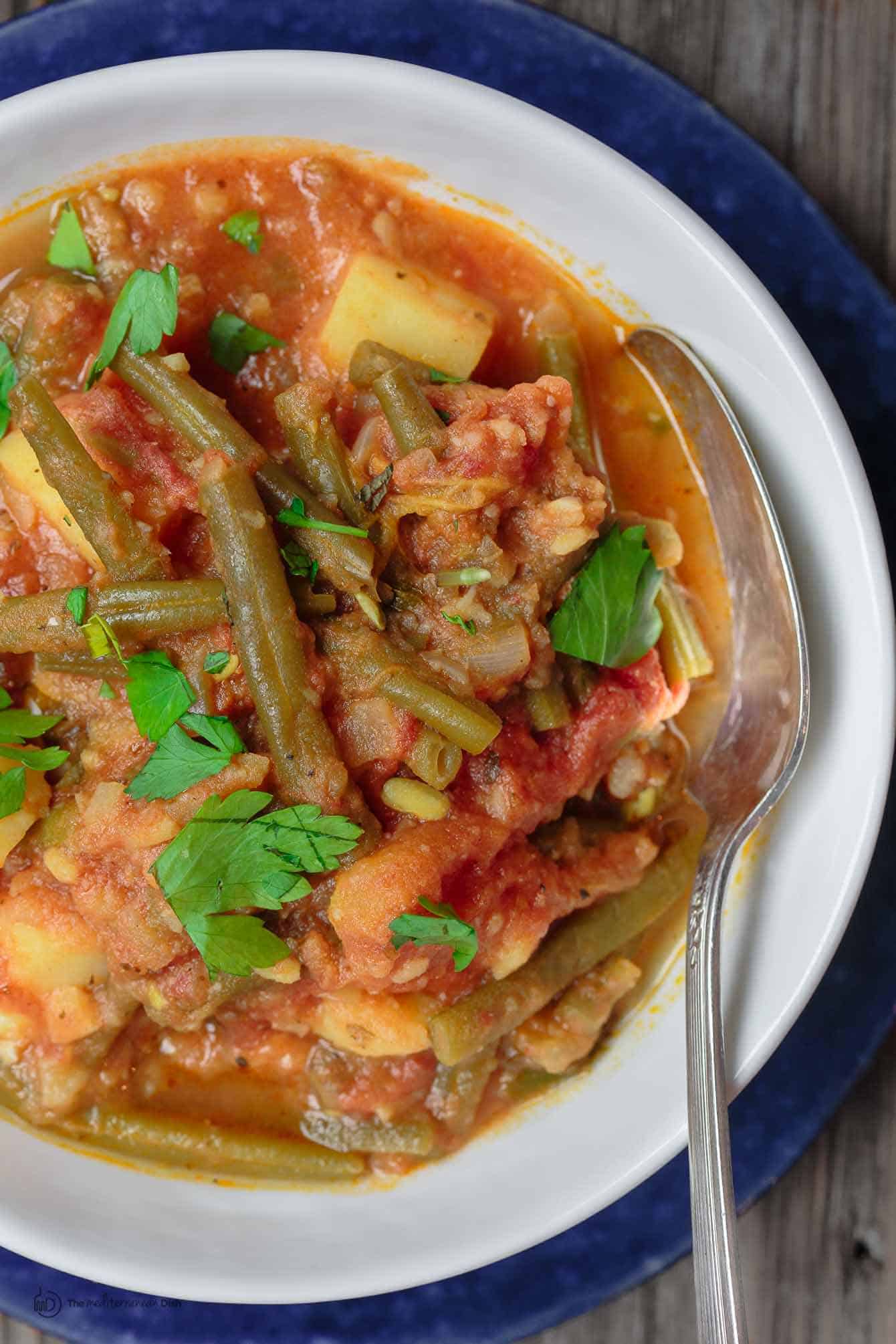 Stuffed Eggplant with Couscous
This easy stuffed eggplant recipe is satisfying and packed with bright flavors from allspice, coriander, paprika, and more. The hearty Mediterranean stuffing of couscous, chickpeas, tomatoes, and herbs make for a delicious, wholesome dinner.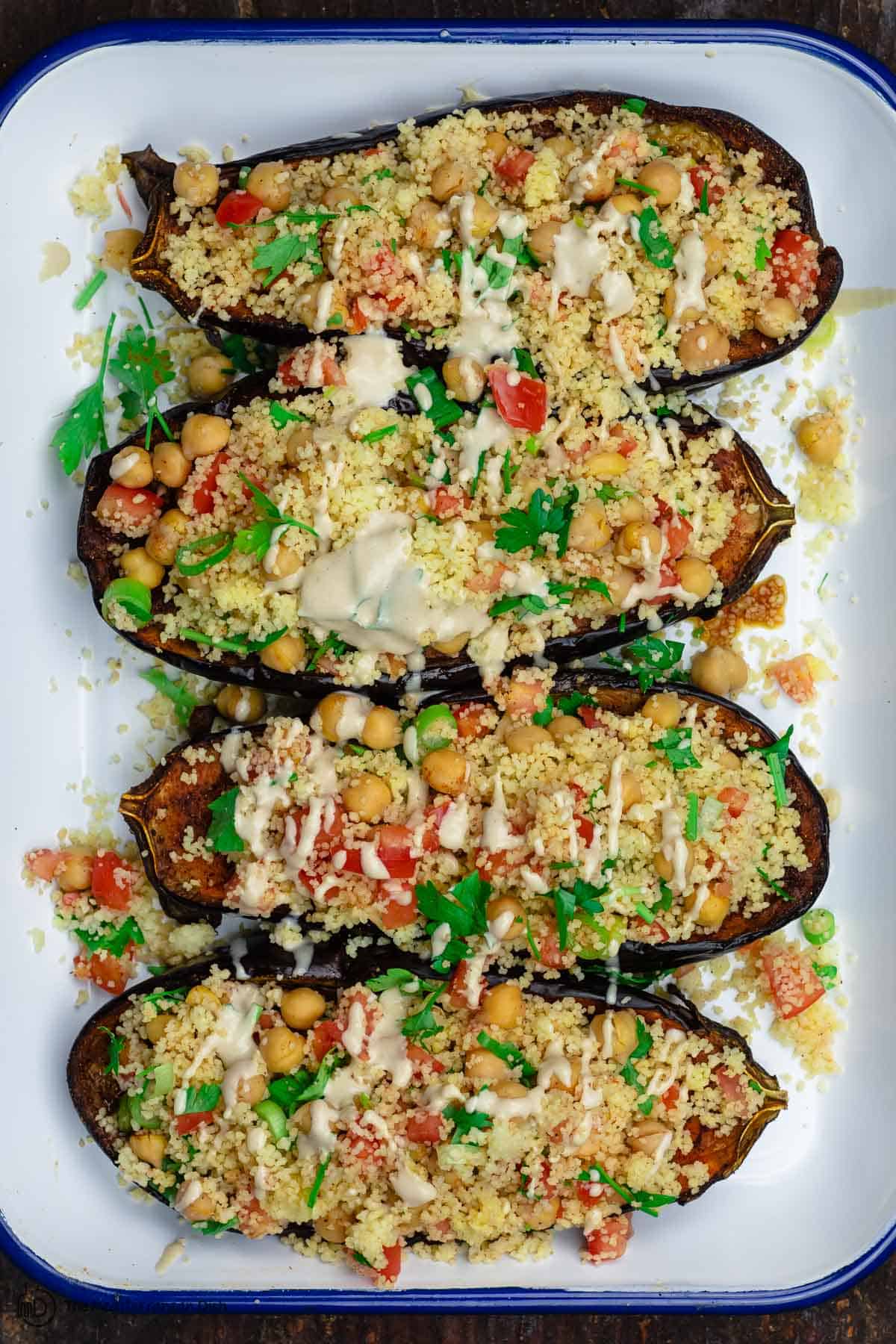 Fried Eggplant with Tomatoes and Bell Peppers
Here's a humble Mediterranean dish that makes a great vegetarian main with your favorite grain or warm pita bread. You can also serve it as a side dish, or as an appetizer with other mezze favorites.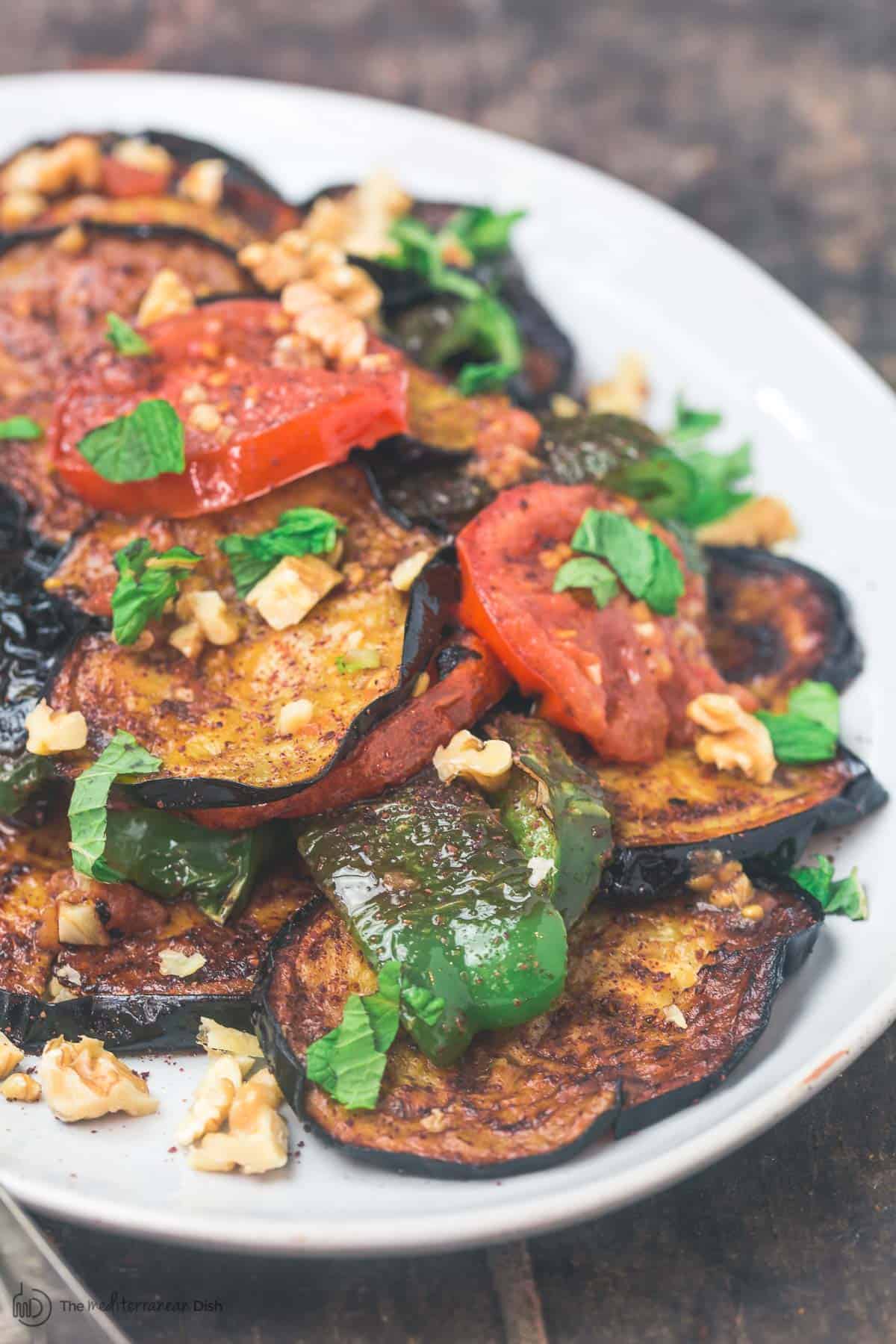 Roasted Stuffed Delicata Squash
Tender roasted delicata squash filled with a delicious Mediterranean farro mixture with nuts and dried fruit. Serve with your favorite salad for an impressive, satisfying plant-based dinner (vegan salad recipes below!)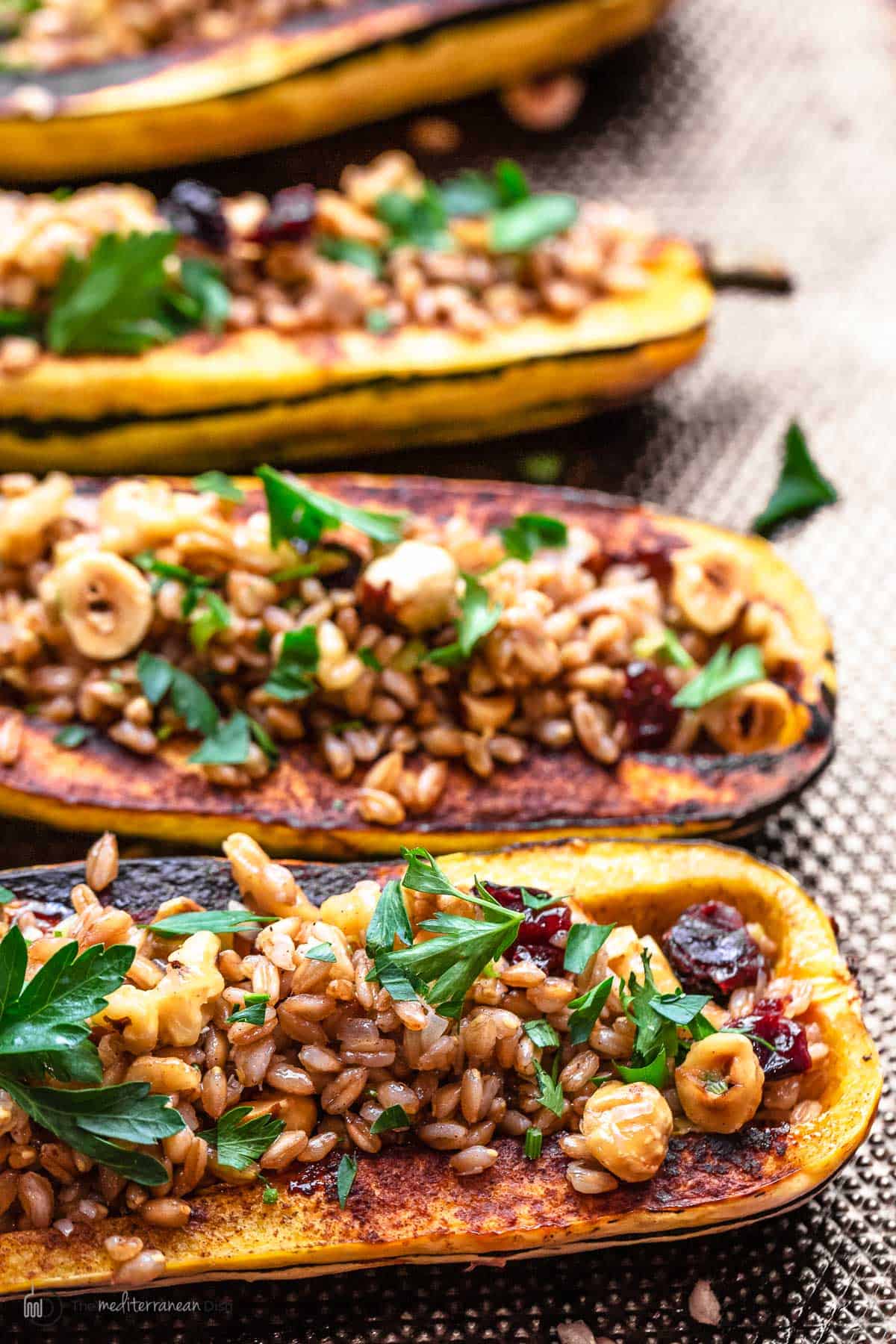 Greek briam takes roasted vegetables to a whole new level of delicious. Nothing much else is needed, other than a warm piece of your favorite bread, or a bed of rice or your favorite grain to sop up all the goodness. A small side of olives and some roasted garlic hummus (hold the feta!) to start wouldn't hurt!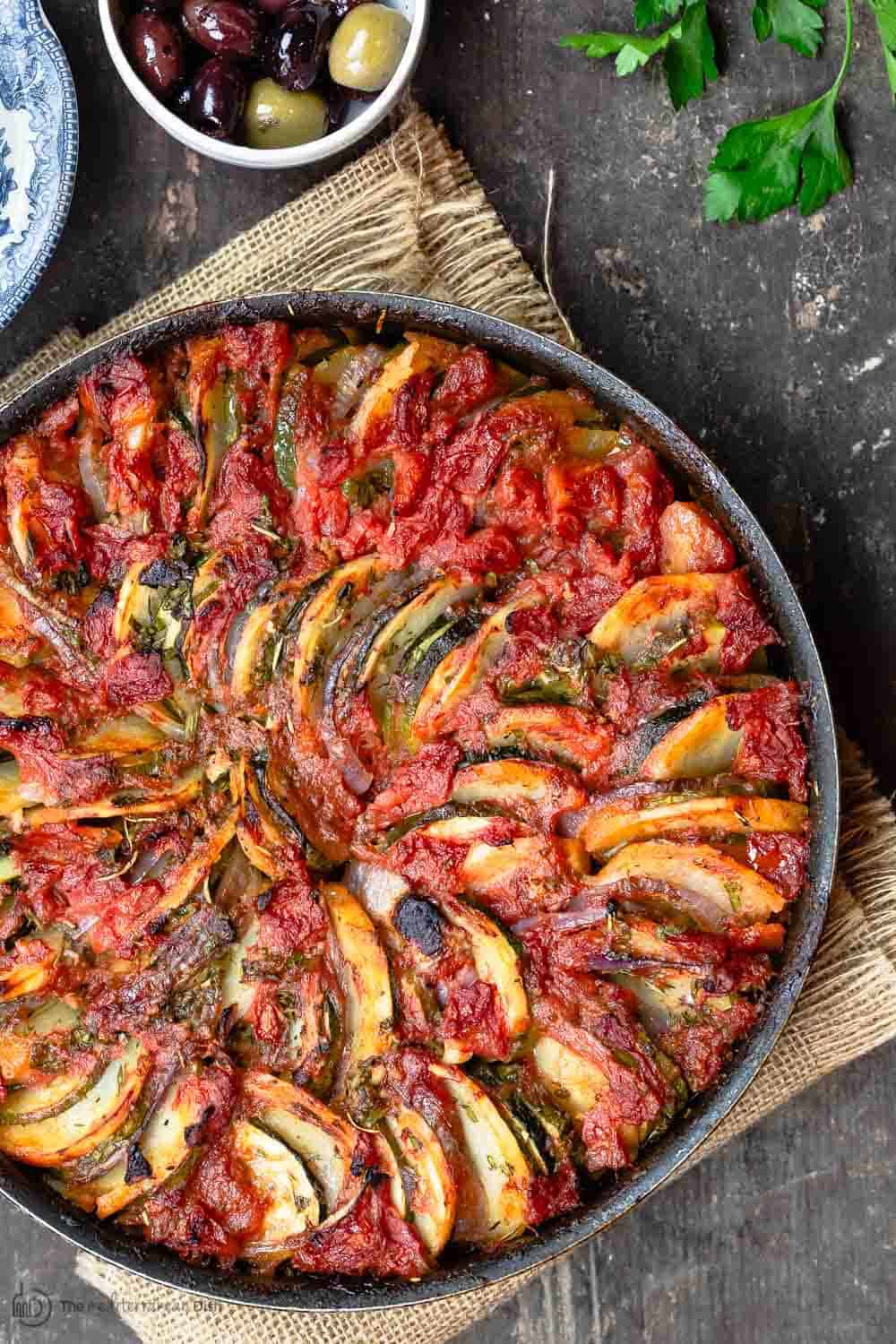 Flavor-packed Mediterranean vegan wraps with roasted cauliflower, tahini sauce, and a peppery arugula salad! These satisfying wraps are perfect for meal prep. Use lettuce wraps instead of flatbread for a lighter option.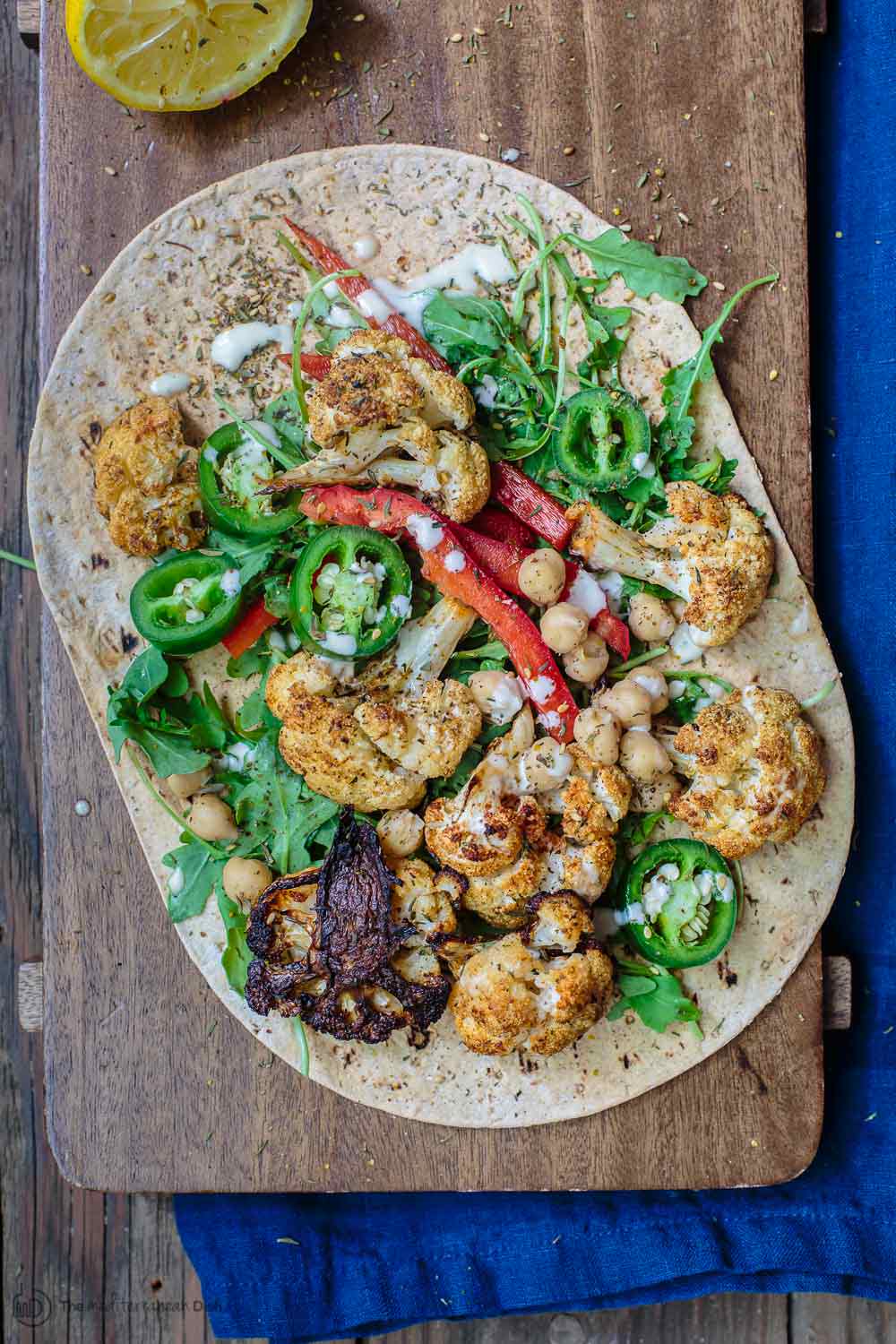 Greek spinach rice is the comfort food of your dreams – which also happens to be loaded with nutrients (like folate from spinach), and flavor from garlic, fresh herbs, and onions. Serve it hot or cold! (And omit the yogurt and feta, which are optional toppings.)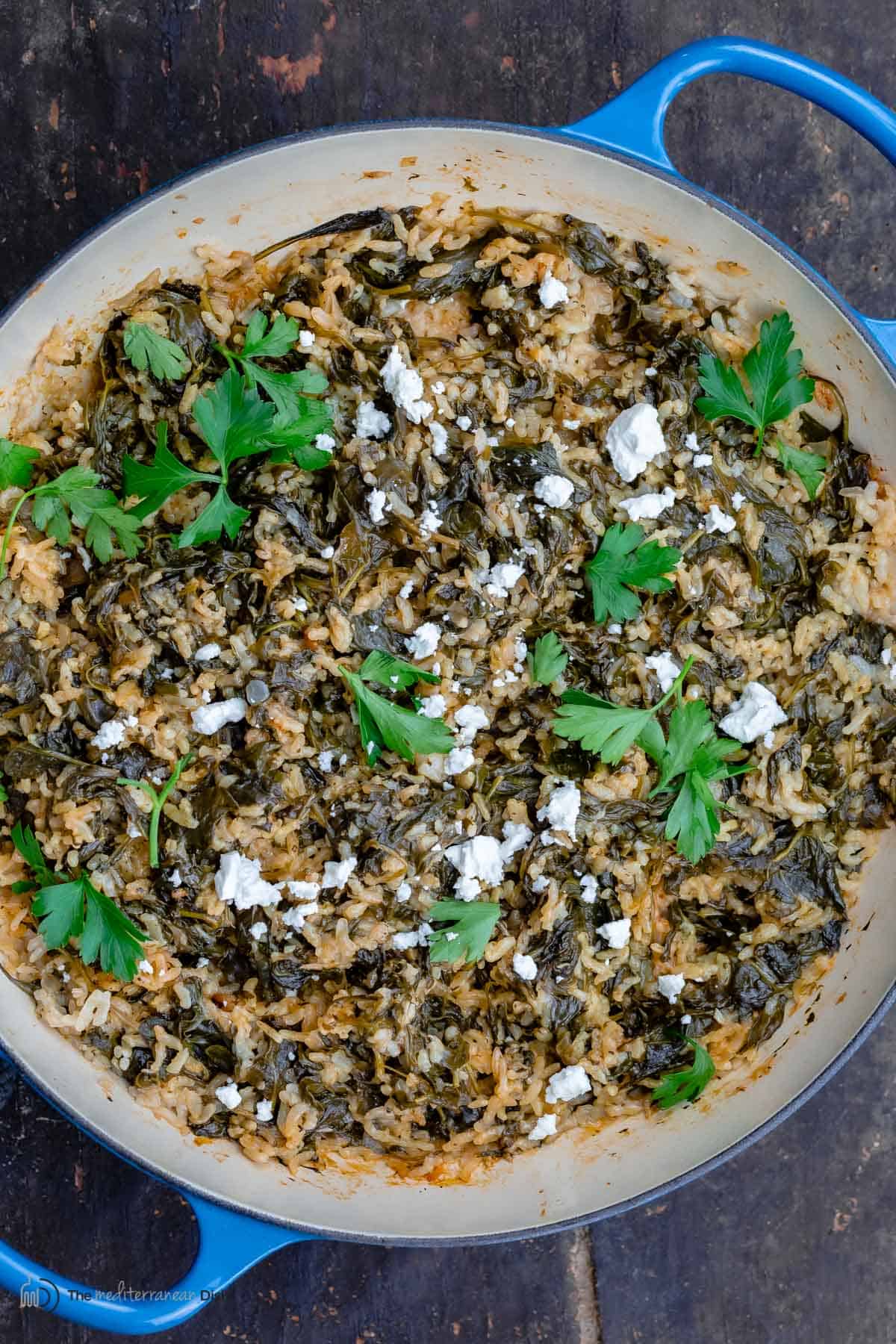 You must try this creamy Egyptian fava bean dish – the zippy lemon-garlic sauce rounds out all the earthy flavors and adds just the right kick. Find canned fava beans (also known as broad beans) at your grocery store in the international section or on Amazon. You can use pinto beans as a substitute.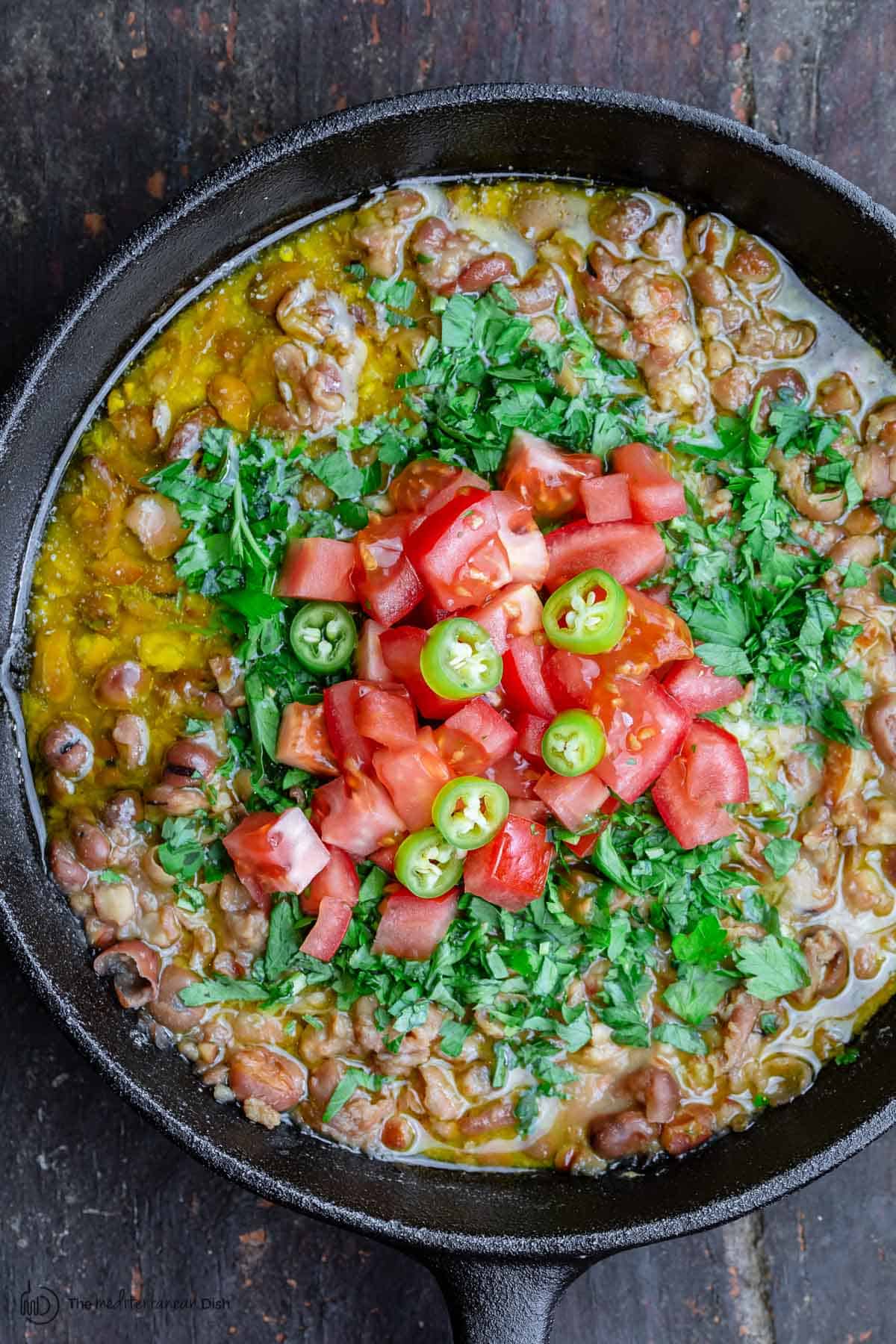 Stuffed Cabbage Rolls

This vegan recipe comes straight from my mother's kitchen. Stuffed cabbage rolls are a one-pot meal that is delicious and comforting. For an easy make-ahead vegan dinner, you can stuff the cabbage leaves and assemble the cabbage rolls in the pot you intend to cook them in (minus the sauce or water). Cover tightly and refrigerate until you are ready to cook, then add the sauce or water and follow the recipe instructions.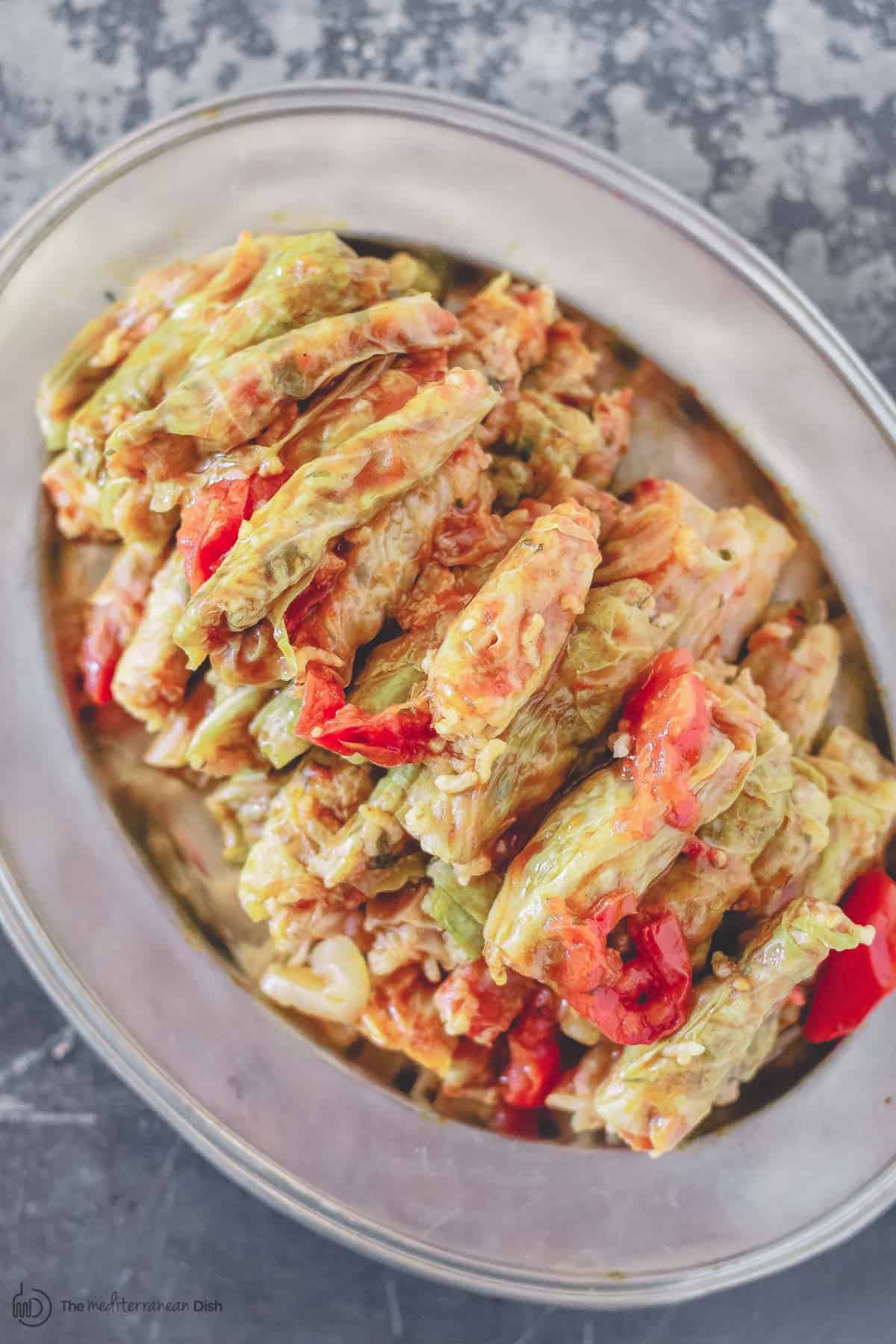 This okra recipe takes on a delicious, bright Mediterranean/Middle Eastern twist. It is the perfect balance of savory, tangy, and just a little bit spicy! I share some useful tips to reduce the "slimy", slippery mouthfeel okra can sometimes have.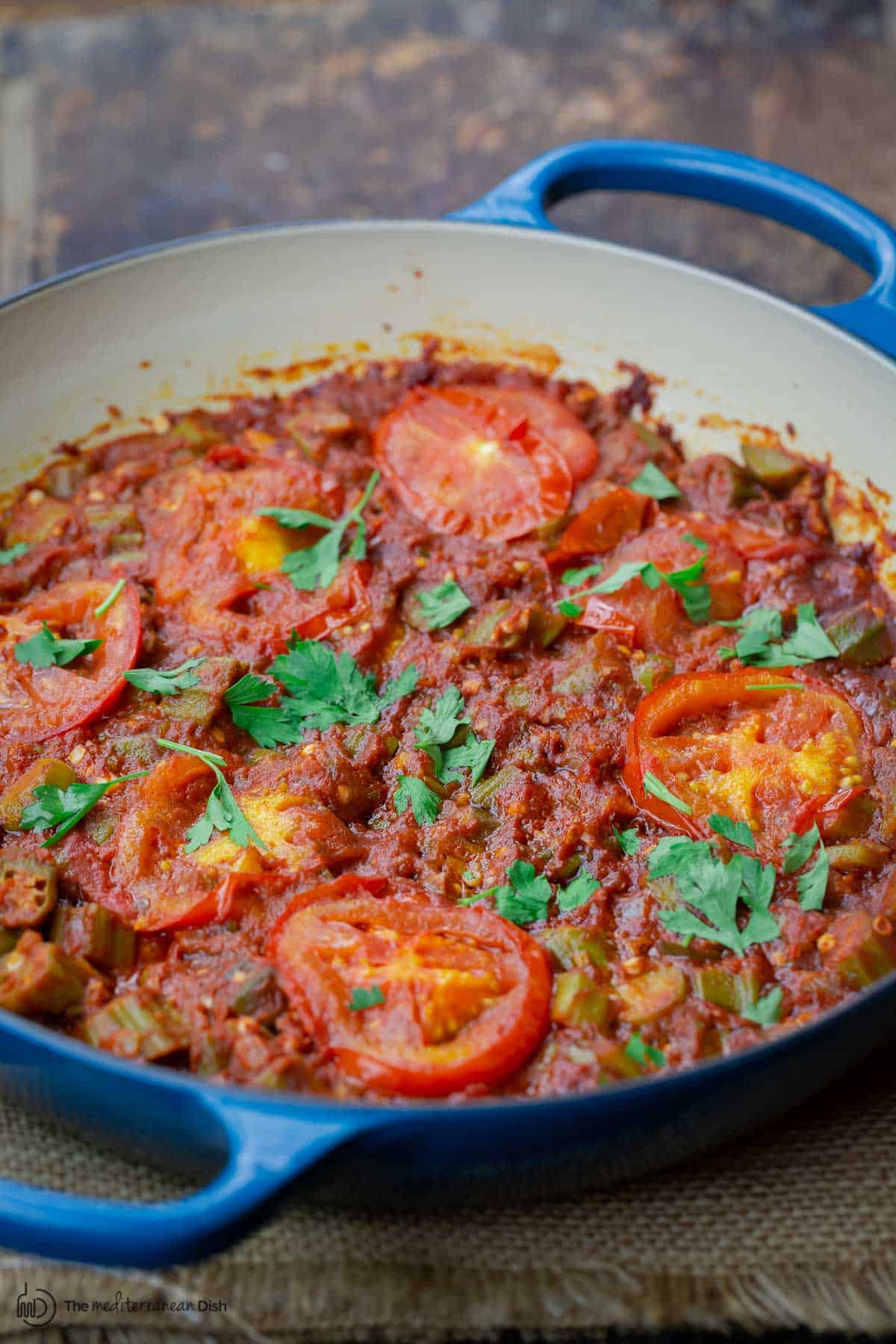 Savory Mushrooms and Leeks Galette
Made with pie crust and a handful of fresh ingredients, this Savory Mushroom Galette with Leeks is a delicious vegetarian dish that's perfect served for dinner (with your favorite salad). To make it vegan-friendly, use vegan pie dough (traditional doughs contain butter). One more tip: Don't skip the nutritional yeast! It adds mouthwatering nutty, cheesy flavor that you'll love.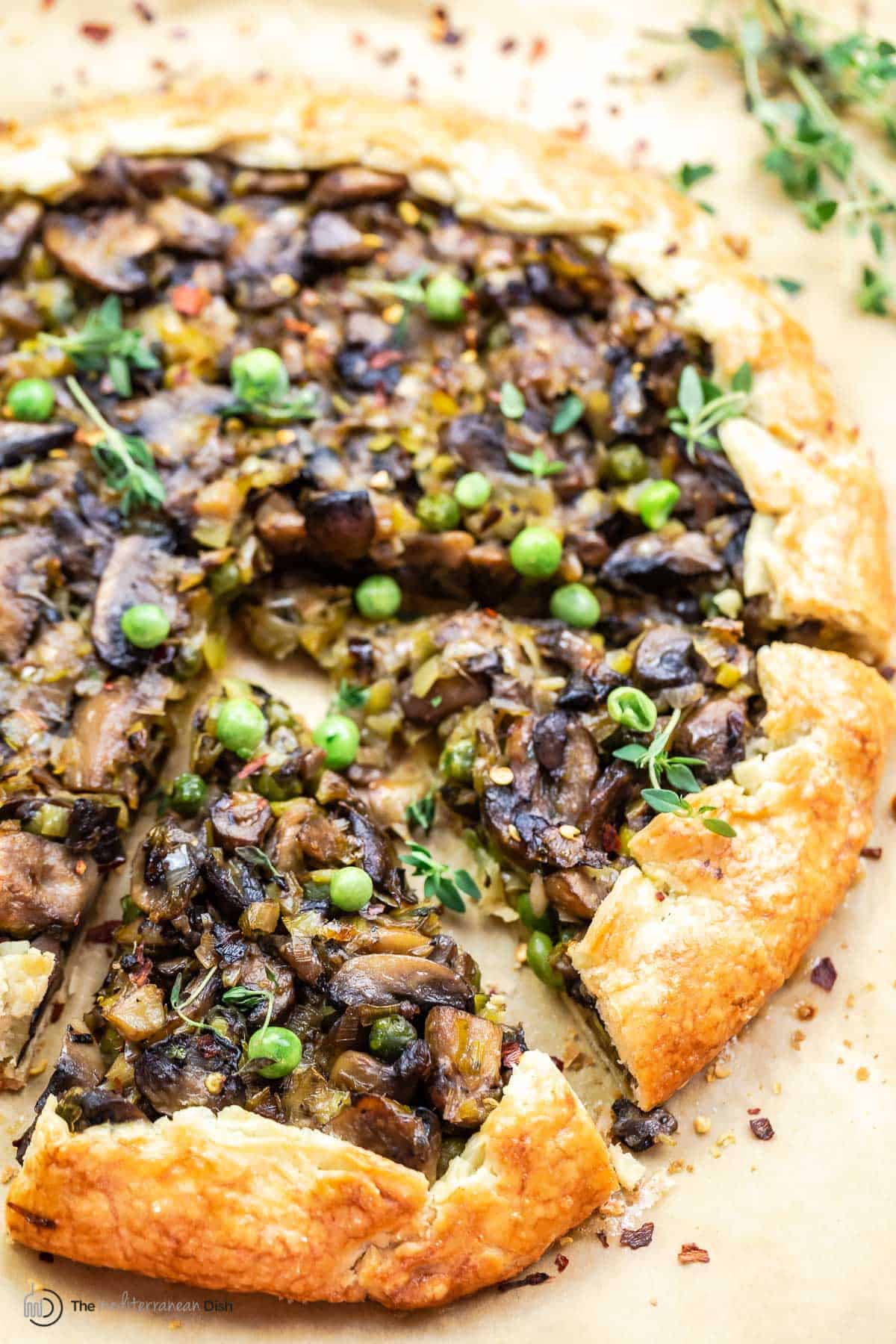 With a base of roasted eggplant, lentils, and toasted breadcrumbs, these "meatballs" have a rich and robust flavor. Serve them over pasta with homemade spaghetti sauce, or with your favorite grain. Or, for a fun appetizer, serve them with a side of dipping sauce like romesco, or even harissa for something spicy!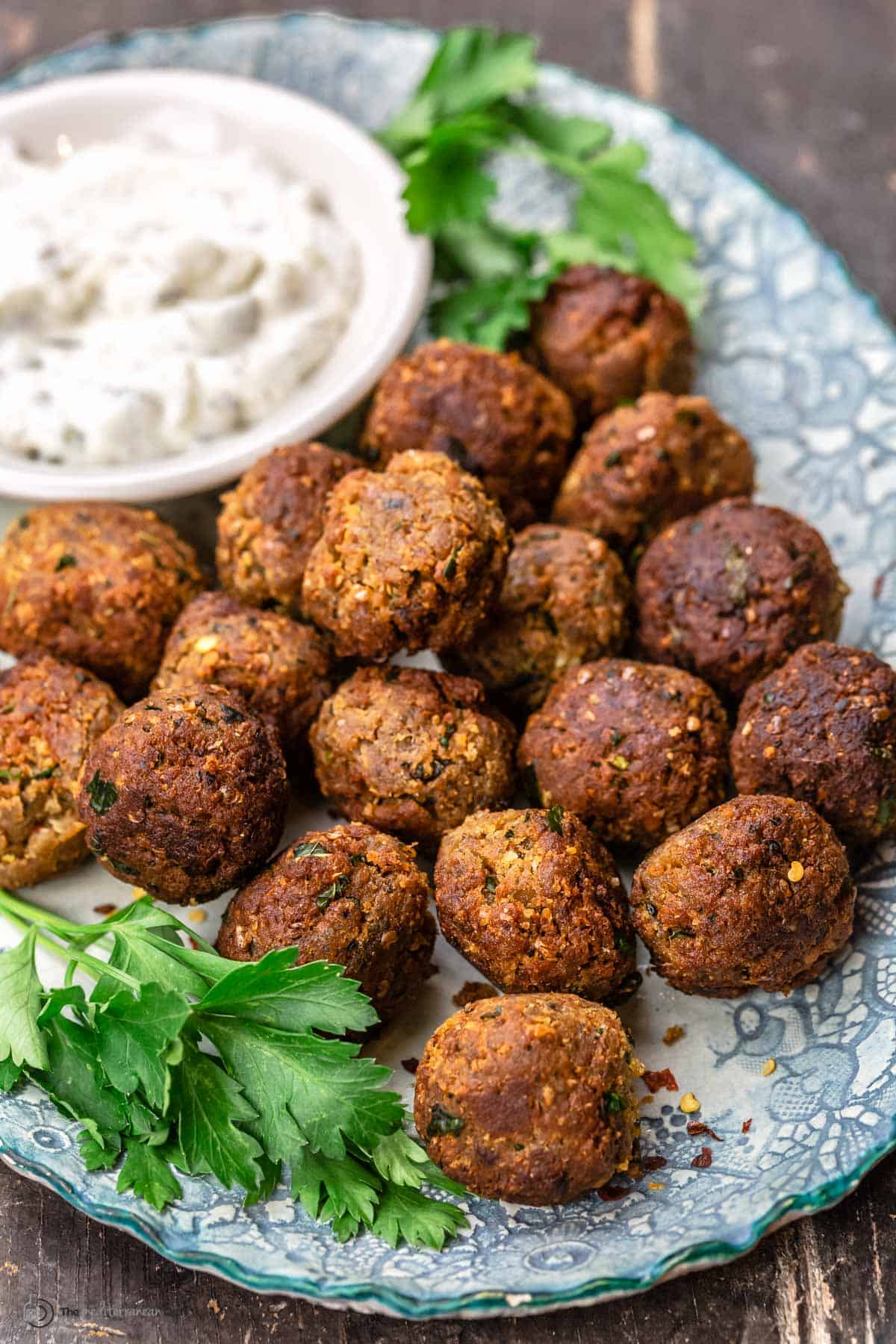 Generously seasoned with authentic homemade shawarma seasoning, this vegan mushroom shawarma is a simple, delicious vegan dinner. Pile it into pita with tahini sauce and vegetables, serve it in a bowl alongside a big salad, or layer it over hummus for a fun plant-based appetizer.
Vegan Soup and Stew Recipes
Few meals are more comforting than a warm bowl of steaming stew filled with vegetables, hearty legumes, and fragrant spices. This makes stews and soups an ideal vegan meal idea! With some lentils, chickpeas, and beans, you can turn your average vegetable stew into a knockout filling one-pot meal! Here are some of my favorite vegan stew recipes:
Fragrant simmered stew packed with potatoes, carrots, onions, garlic, and spices all in one pot! No special tagine pot needed, unless you already have one.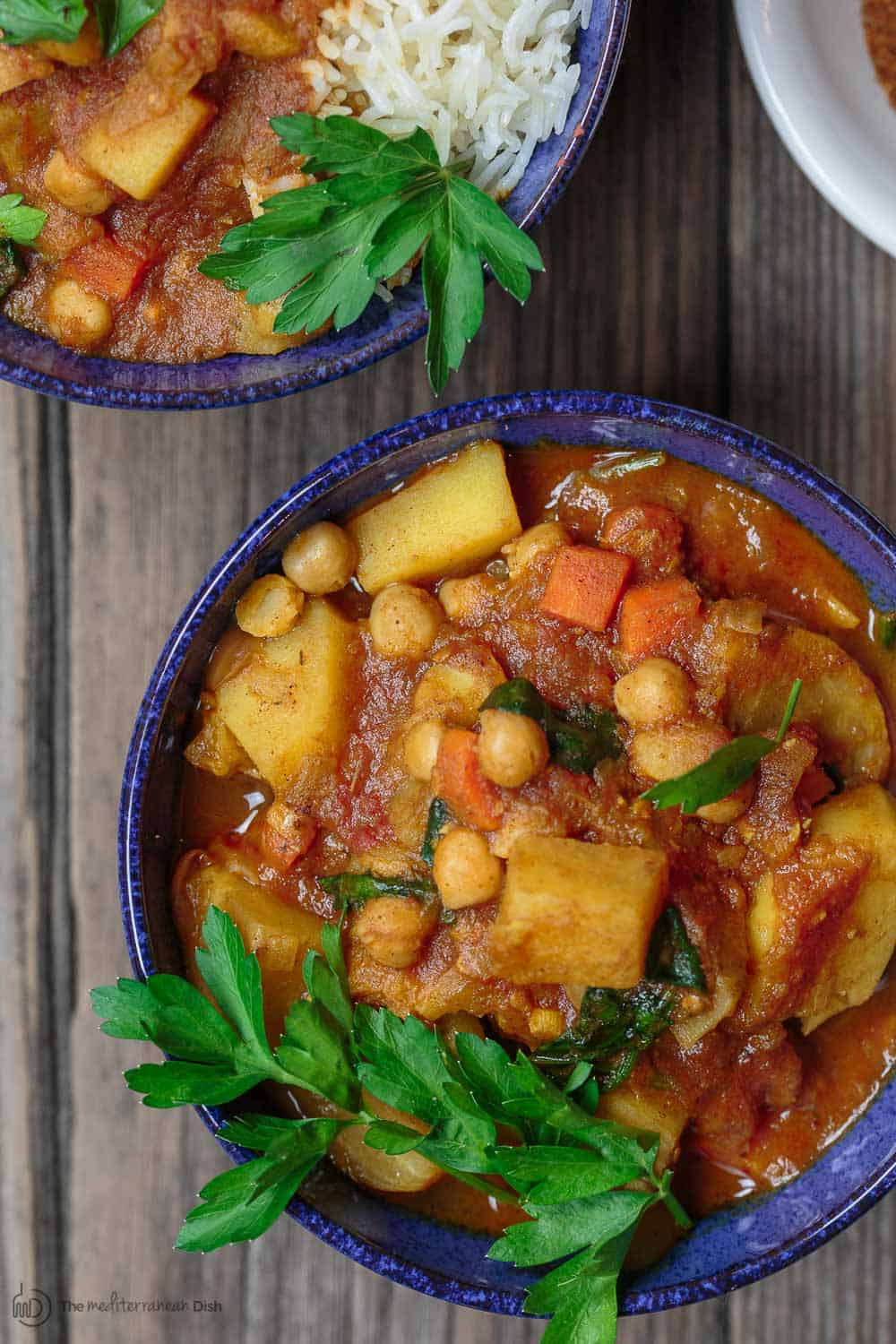 Ratatouille is a classic vegetable stew with tomatoes, eggplant, summer squash, bell peppers, onions, and garlic. It tastes even better the next day, so make it ahead for amazing flavor. It also freezes really well, so you can make a big batch and freeze some for later.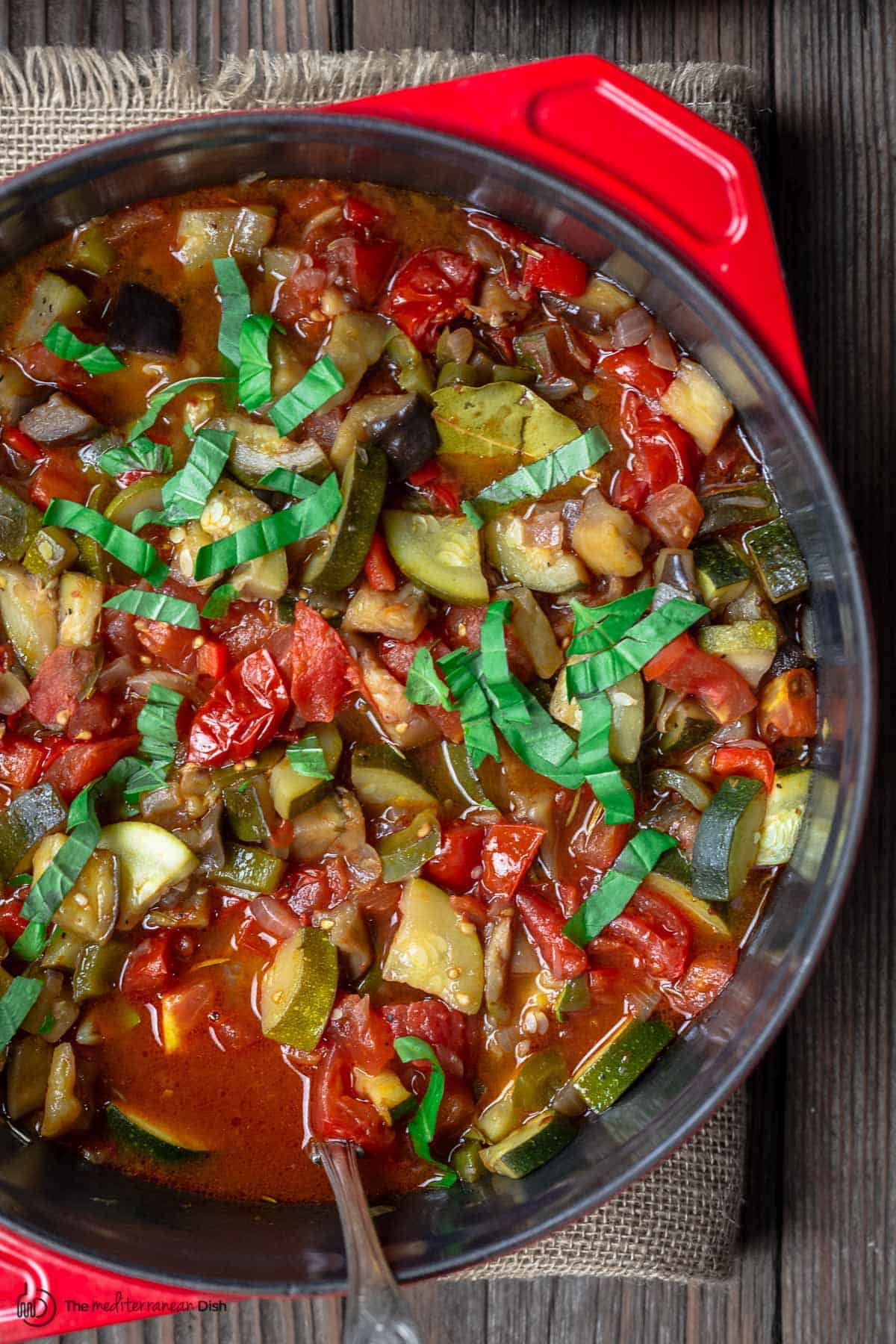 Greek-Style Black-Eyed Peas Recipe
Hands-down the BEST black-eyed peas recipe with loads of veggies and bold Greek flavors. Canned black-eyed peas save you time and hassle in this easy vegan recipe. Serve it with your favorite crusty bread, or over orzo (omit the parmesan cheese to keep it dairy-free) or a bed of rice.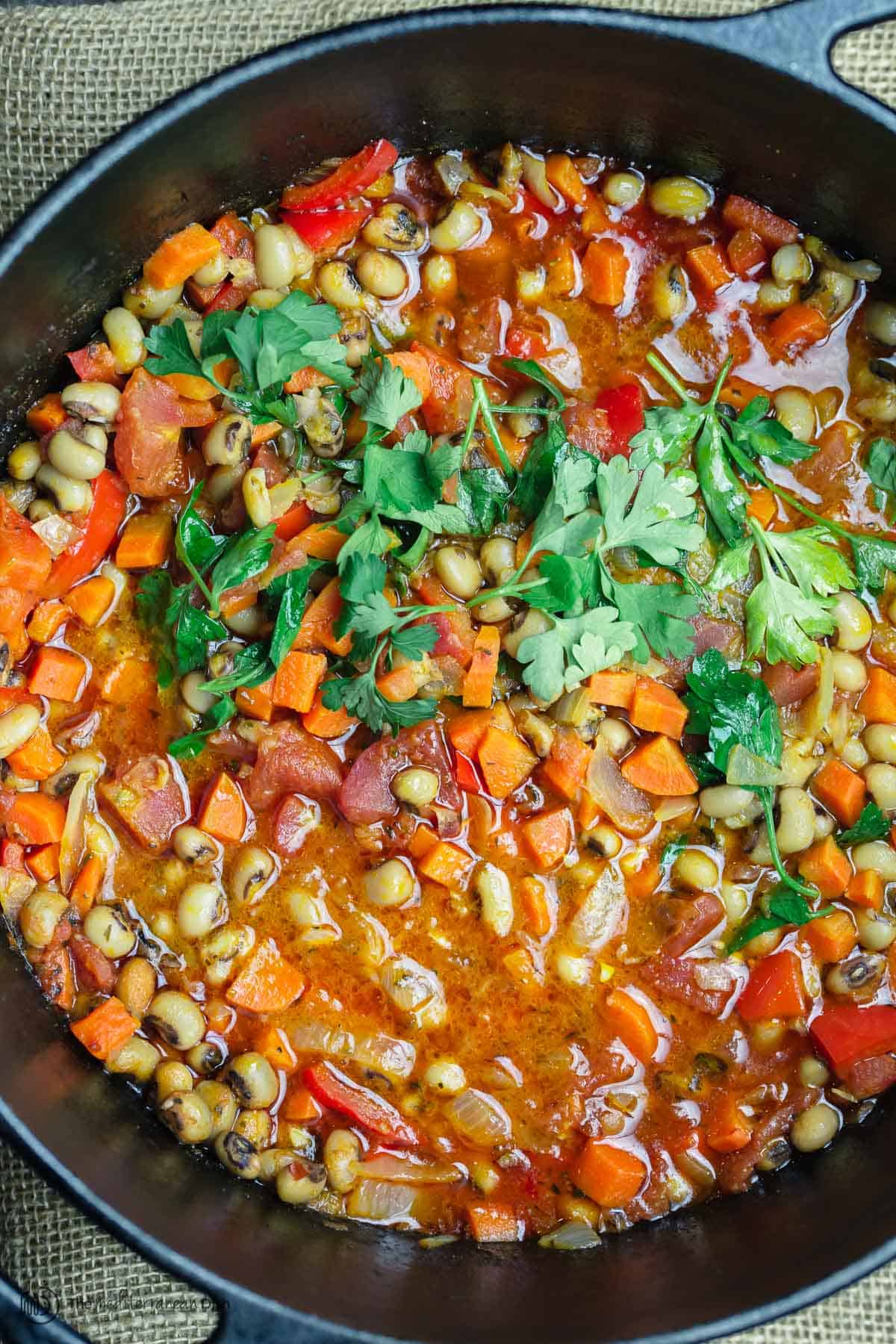 This vegan, gluten-free soup recipe is filled with vegetables and warm spices. The chickpeas add plenty of plant-based protein, and tender chunks of sweet potatoes ensure you are satisfied at the end of your meal.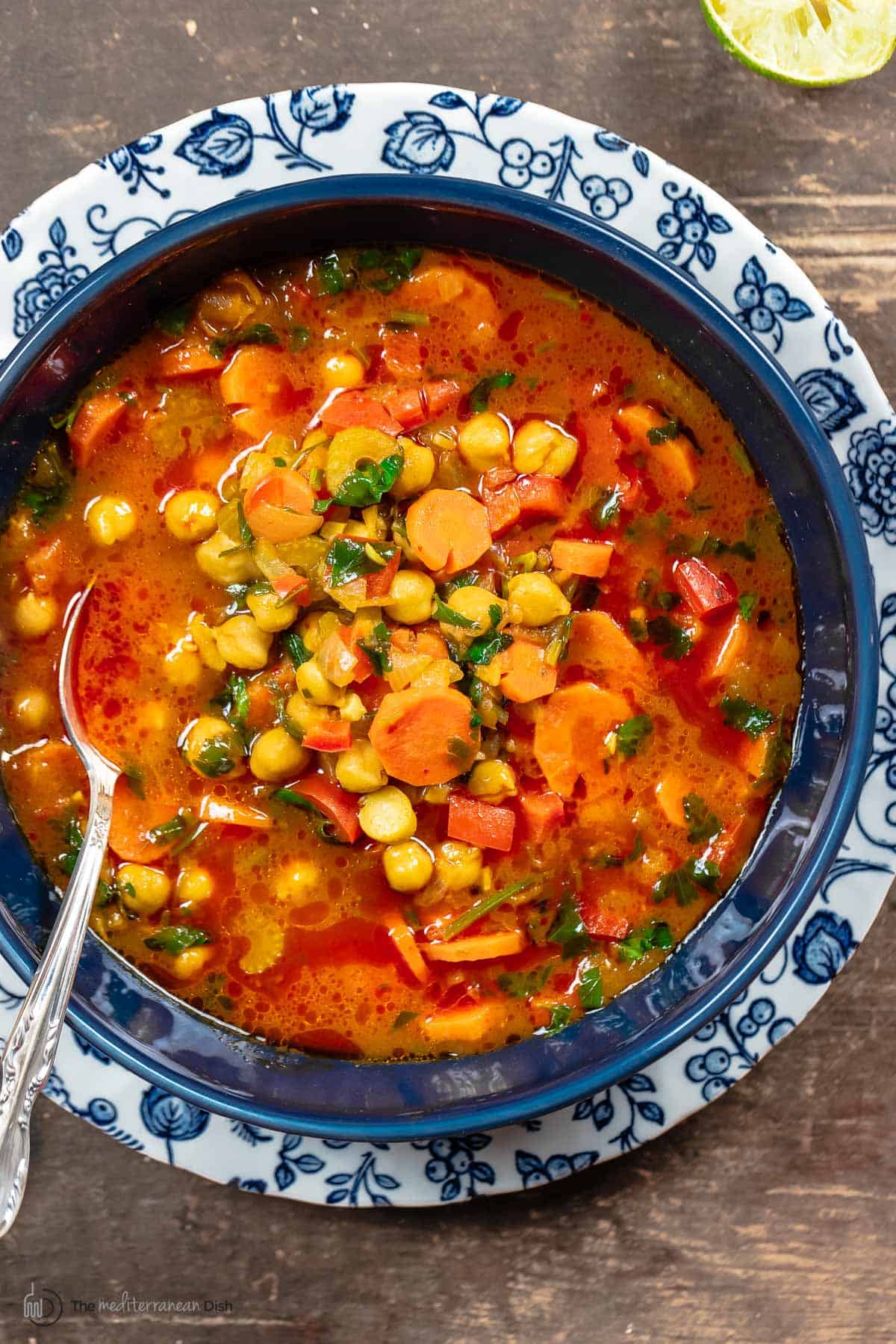 This nutritious mushroom barley soup skips the beef in favor of a vegan meal with body, texture, and depth of flavor. This is another soup recipe that freezes well, so once it has cooled completely, transfer it to freezer-safe containers (leaving enough room at the top for it to expand).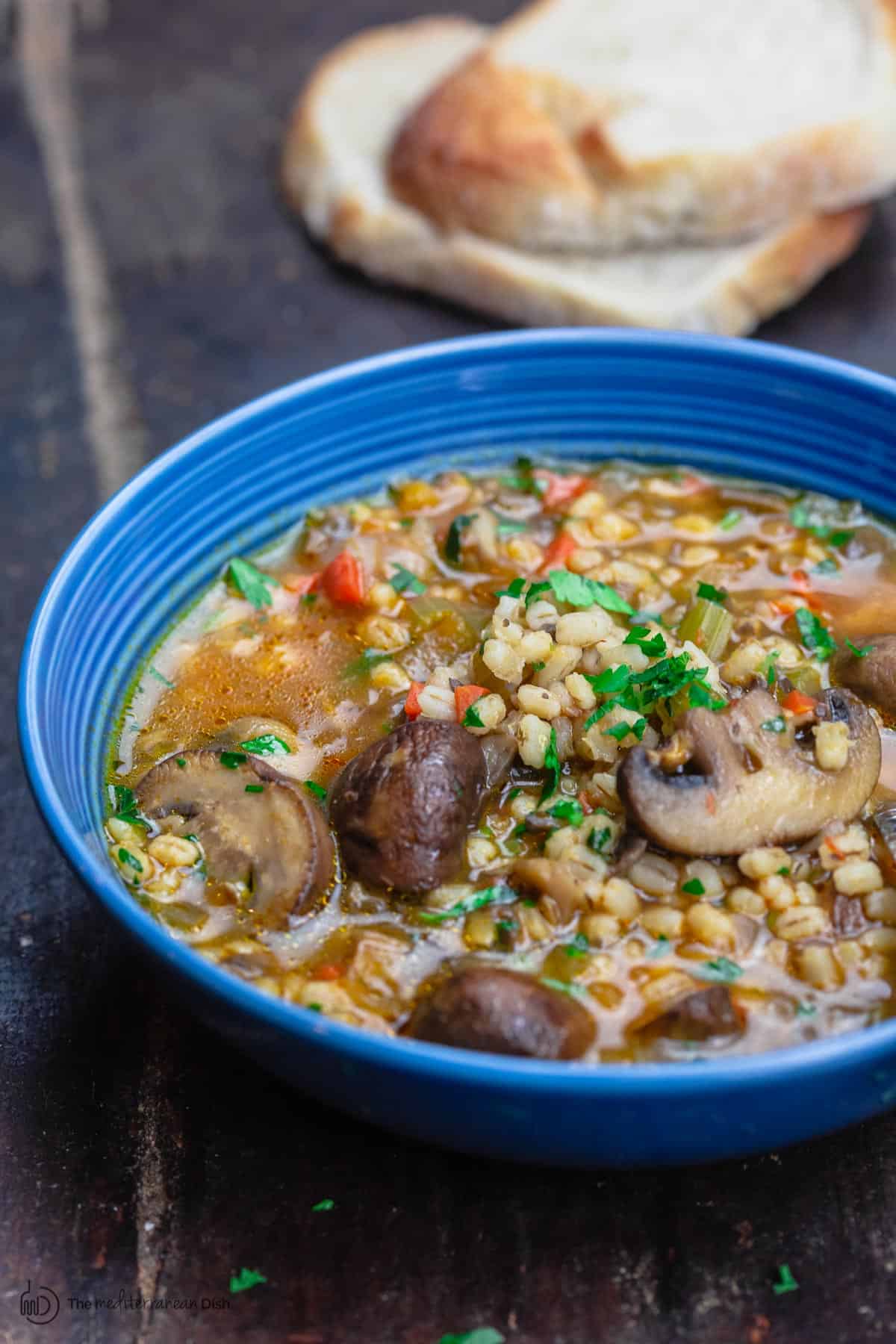 Melt-in-your mouth sweet potatoes, tender carrots, tomatoes, and wilted baby spinach. It gets a little Eastern Mediterranean flair with a few warm spices like cumin and turmeric. The best way to serve this hearty vegan stew is over quick-cooked couscous or with a piece of crusty whole wheat bread.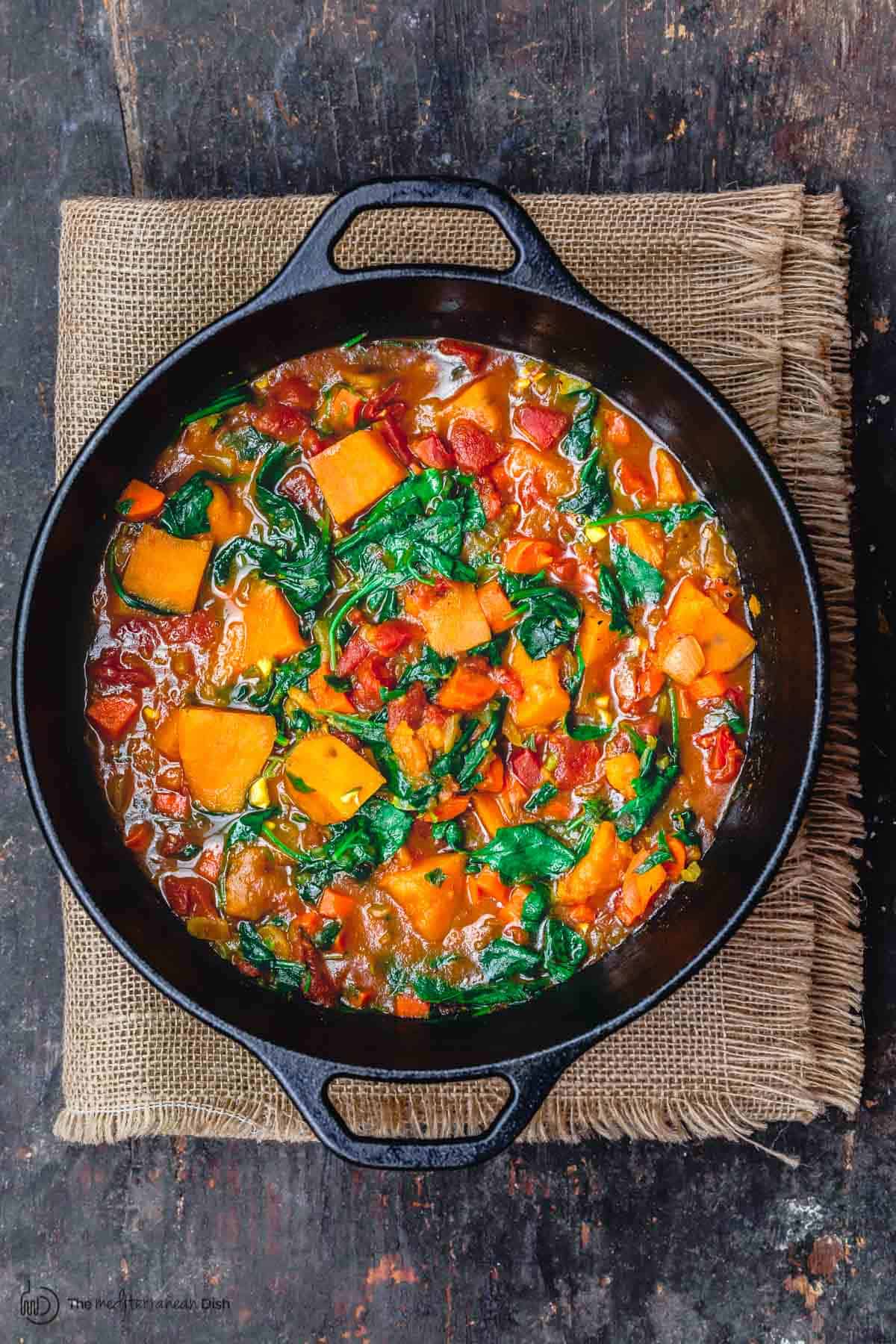 This creamy vegan red lentil soup gets a little Greek flavor with the addition of cumin and rosemary, and a big drizzle of extra virgin olive oil to finish. Skip the feta, which is an optional addition.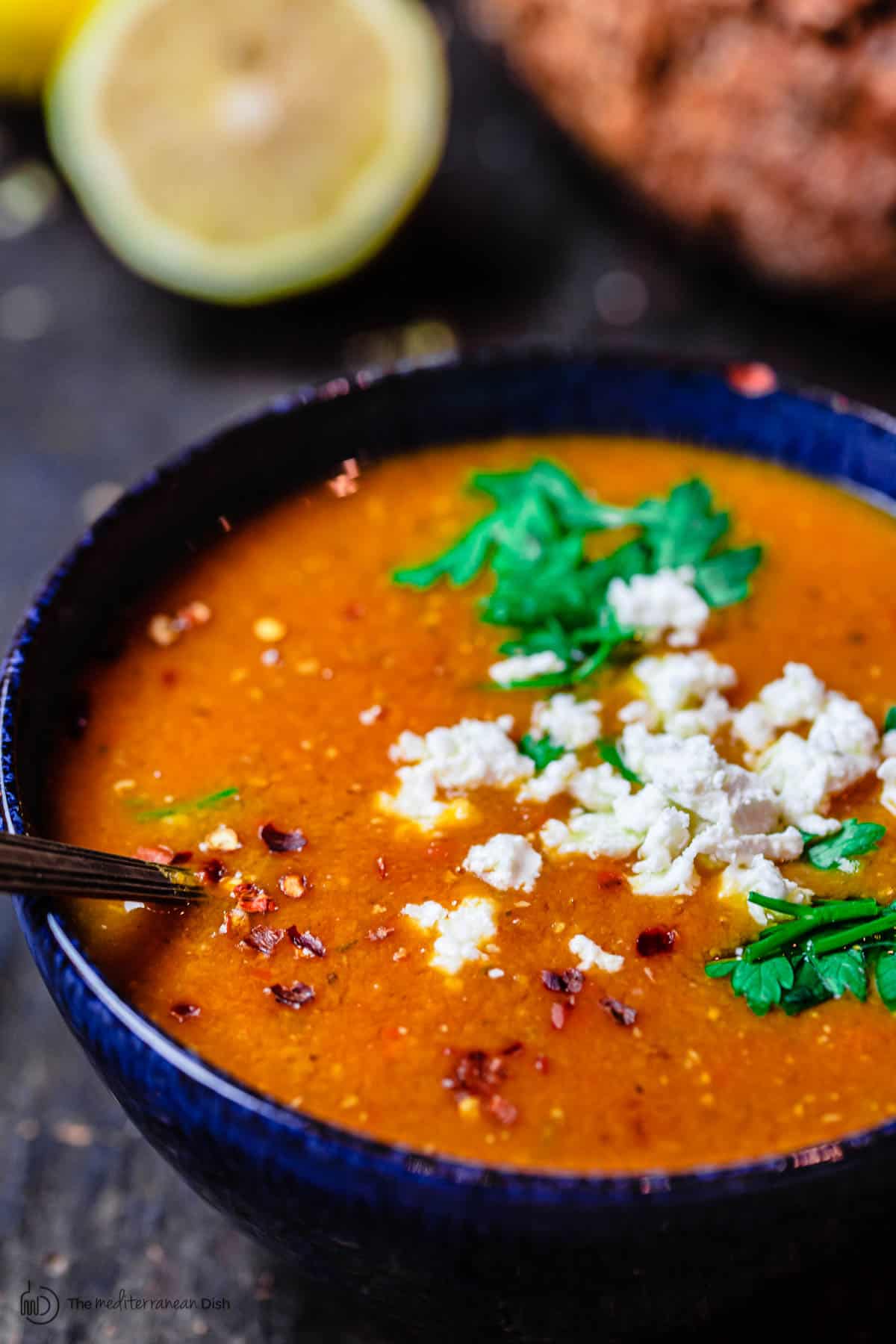 Spicy Lentil Soup with Spinach
If you ever thought lentils were bland or boring, the flavors in this easy lentil soup recipe will surprise you in a big way! I recommend using green lentils, black lentils, or small brown lentils. Texture is a big part of this dish, and these varieties of lentils will cook to tender perfection while holding their shape.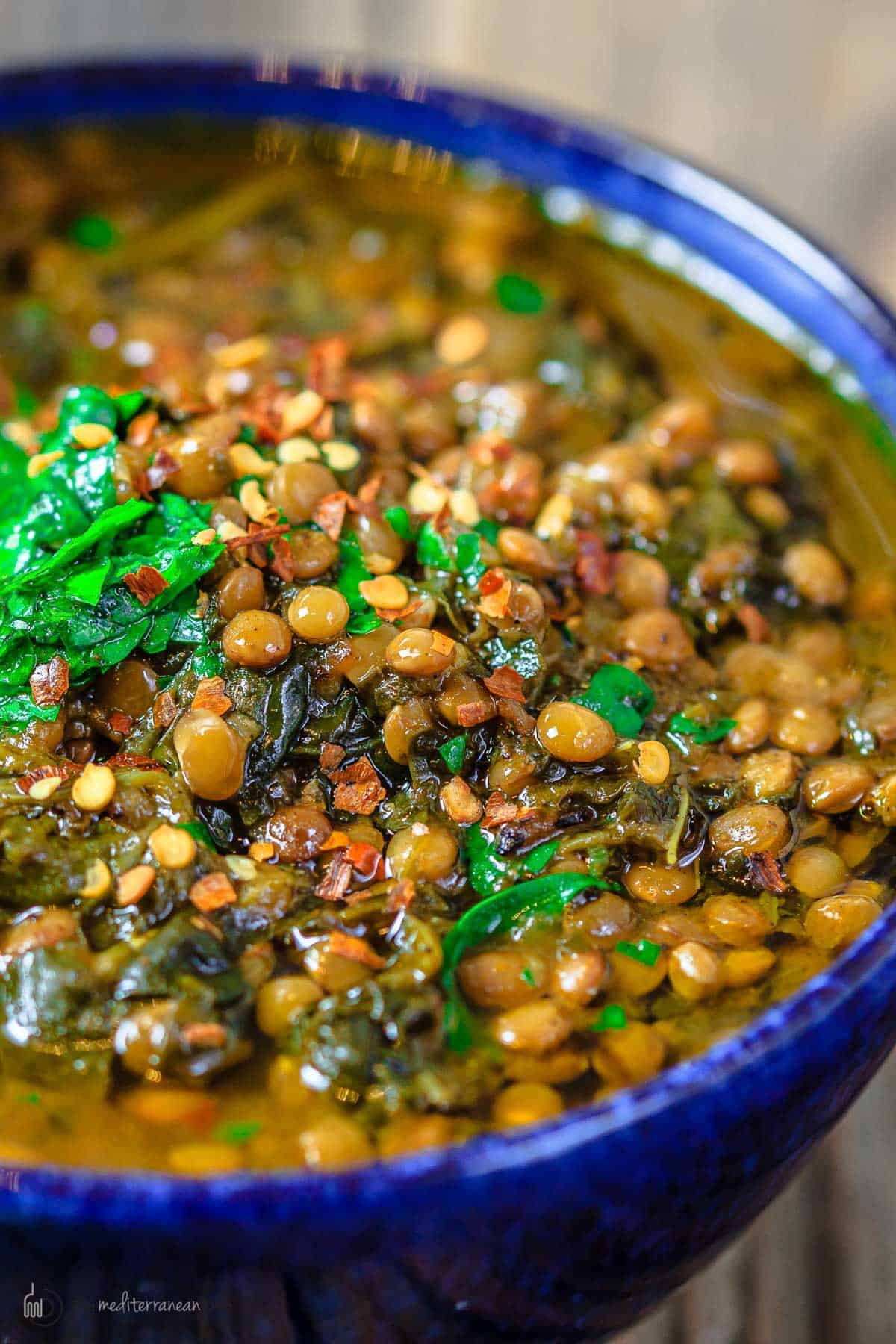 One of my favorite plant-based recipes, spinach stew turns frozen spinach into a meal with simple but powerful flavors and ingredients. With chickpeas, spinach, tomatoes, and vermicelli, this vegan spinach chickpea stew is delicious and satisfying. If you don't have vermicelli noodles, orzo will work as a substitute.
Creamy Roasted Butternut Squash Soup with Tahini and Hazelnut
This smooth, creamy butternut soup is layered with subtly sweet and nutty flavors. When roasting the butternut, don't be concerned if it begins to char in certain places – this adds more coziness to the soup. And to take your butternut soup to the next level, stir in rich, nutty tahini.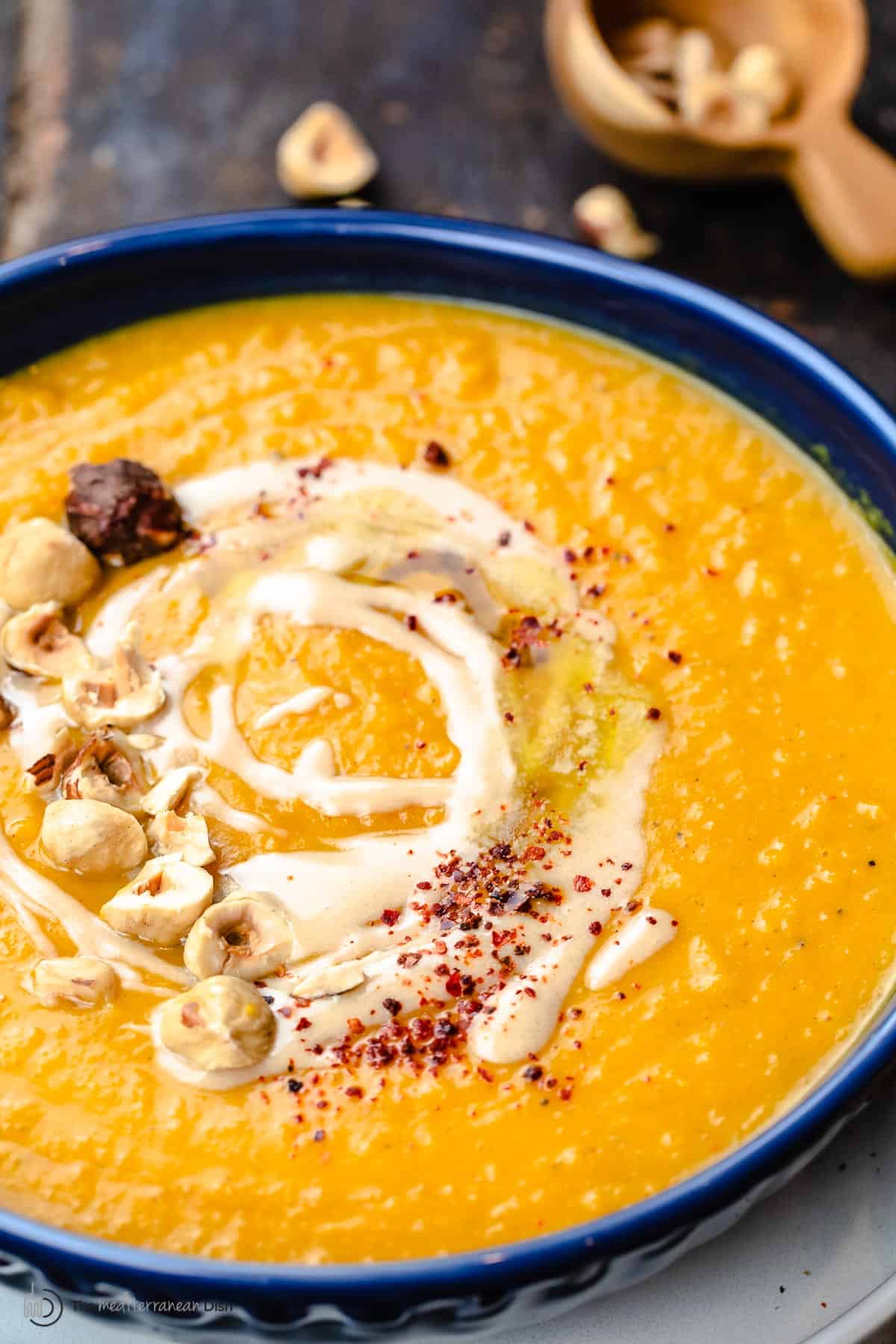 Whether you make it on the stove top or in the slow cooker for a hands-off meat-free dinner, this vegan chili is warming, hearty, and flavorful. And don't be afraid to get creative with toppings: chopped avocado, sliced jalapeño, or toasted slivered almonds are a few ideas.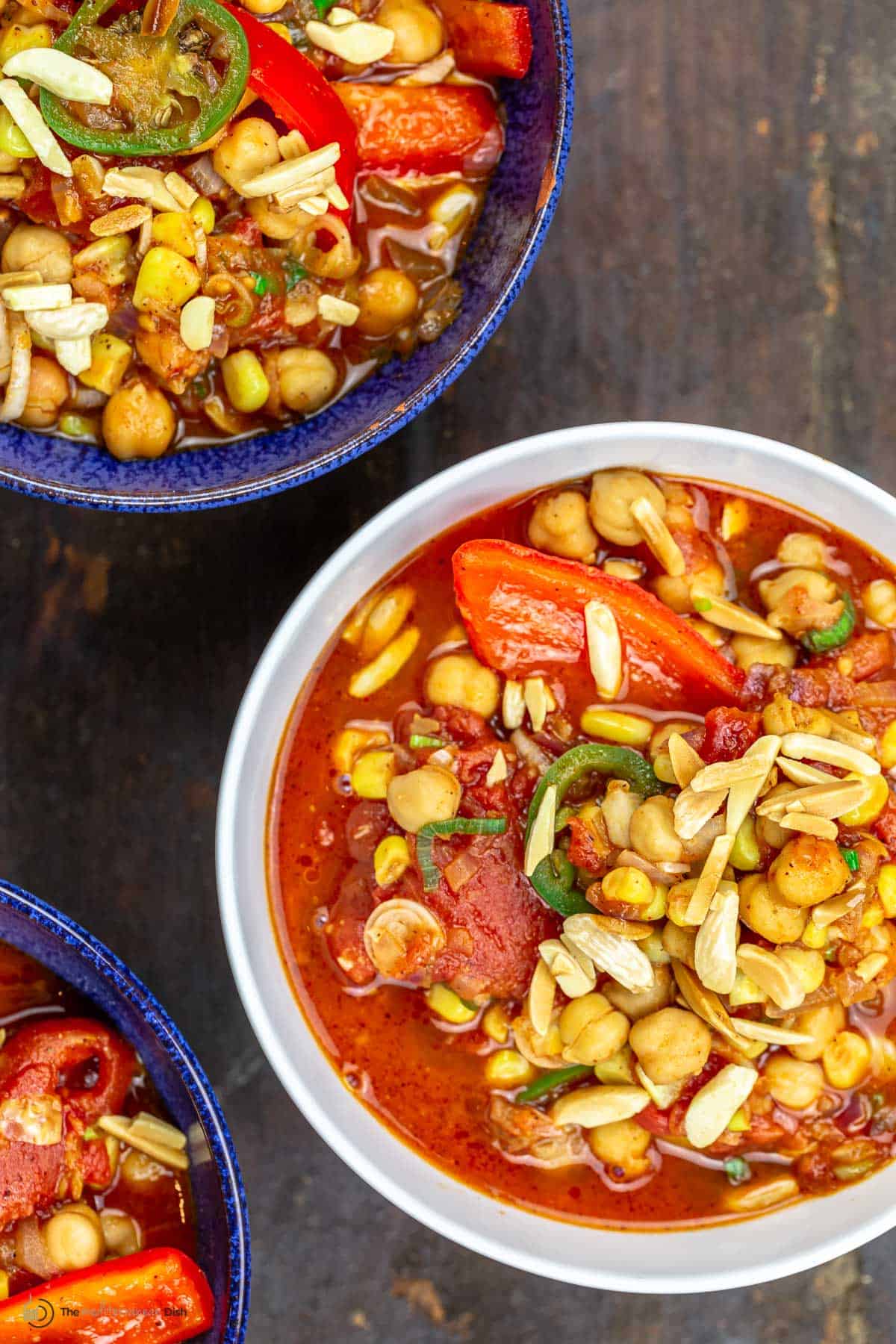 This lentil and chickpea soup with fresh herbs and loads of warm Moroccan spices tastes even better the next day, making it an ideal make-ahead meal. It will thicken a bit overnight, so just add a little liquid when you're heating it up on the stovetop! Serve it with lemon slices and warm pita bread.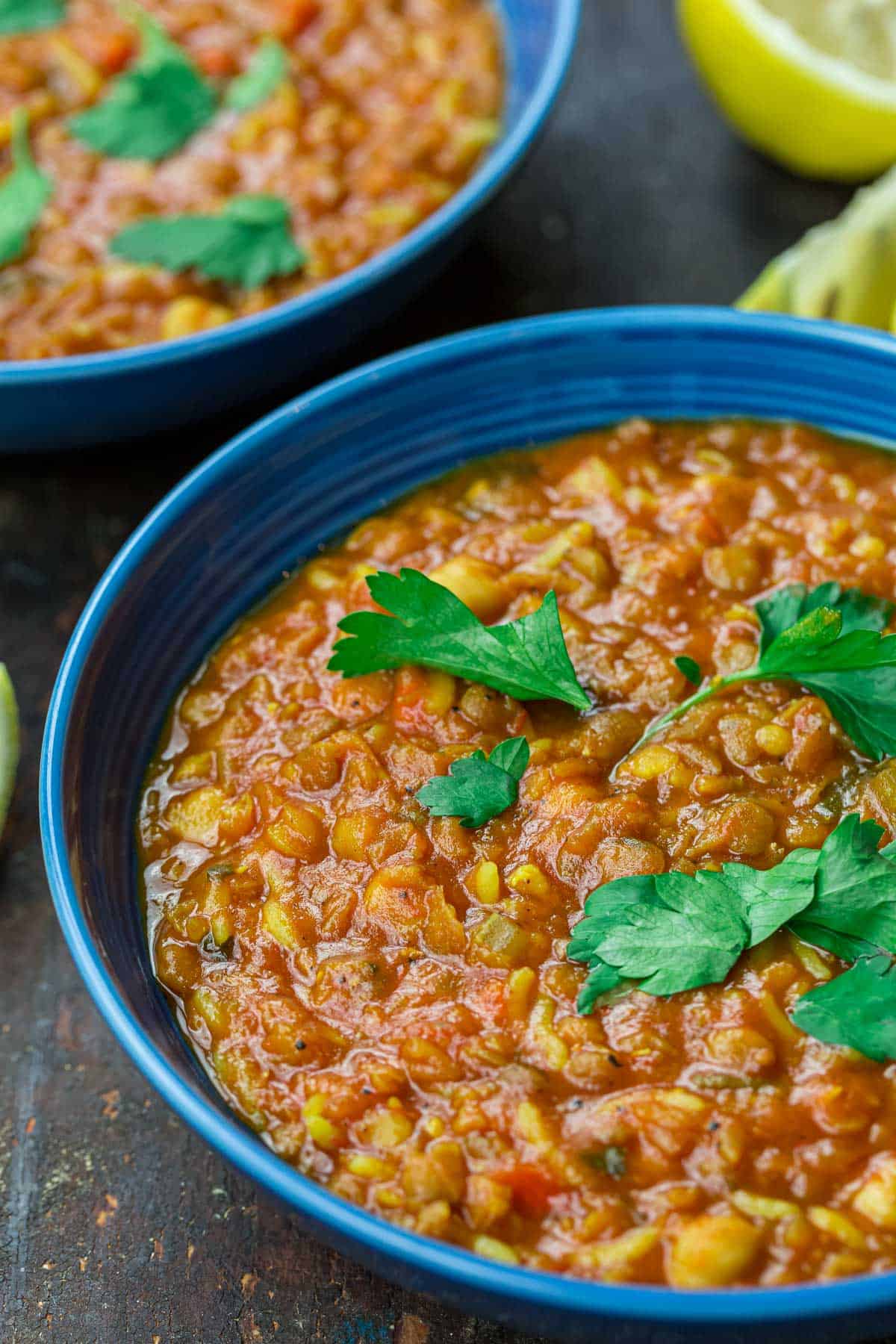 Not only is this vegan chili nutritious and satisfying, but you'll love the bold flavors from aromatics, warm spices, and fresh herbs. I share all the tips for making it on the stove top or in the slow cooker!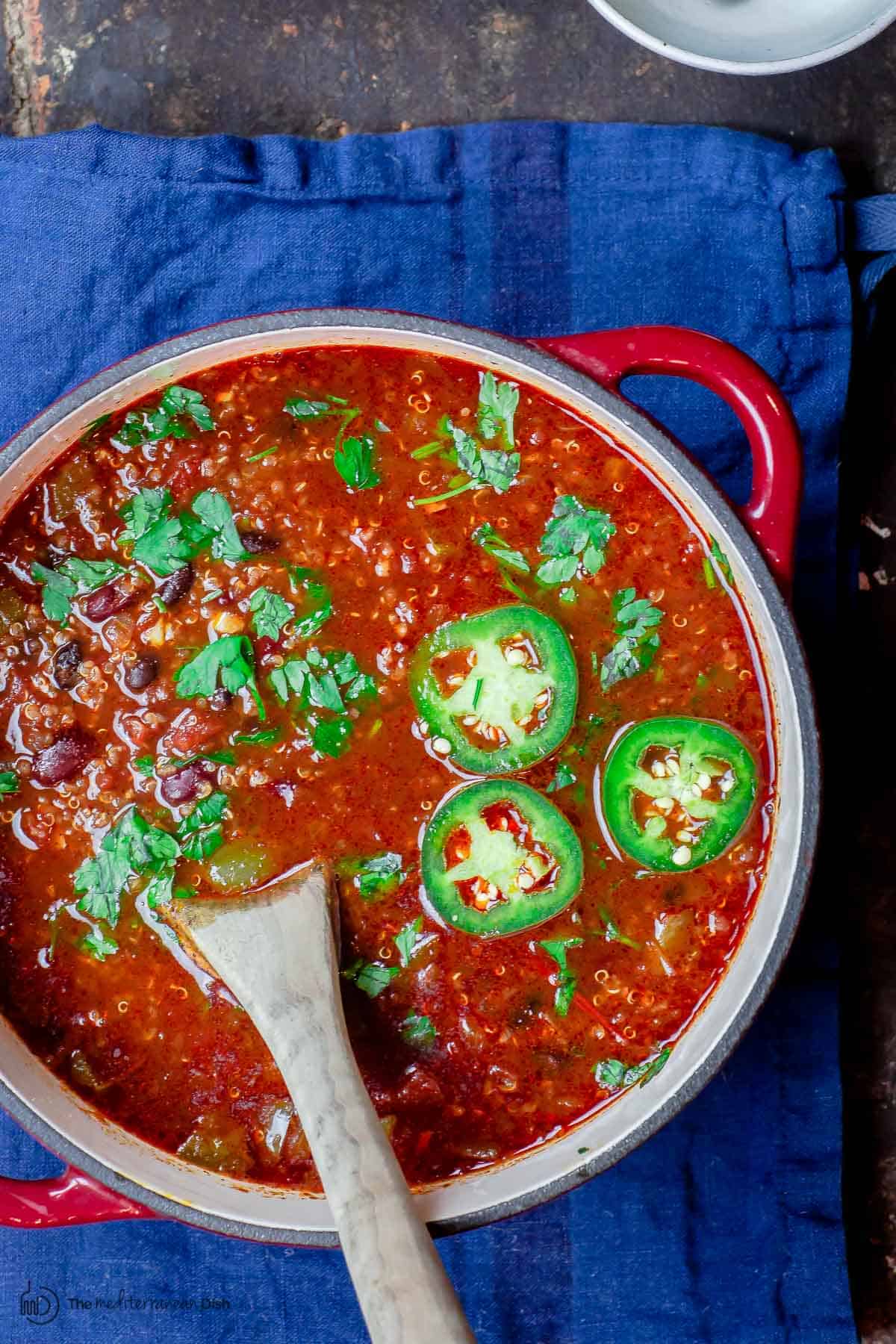 Layers of goodness and flavor in this easy vegan tomato soup, from fresh herbs like basil and thyme, aromatics, sweet roasted carrots, and a couple warm spices. Make a large batch to freeze for later, and serve with some grilled crusty bread.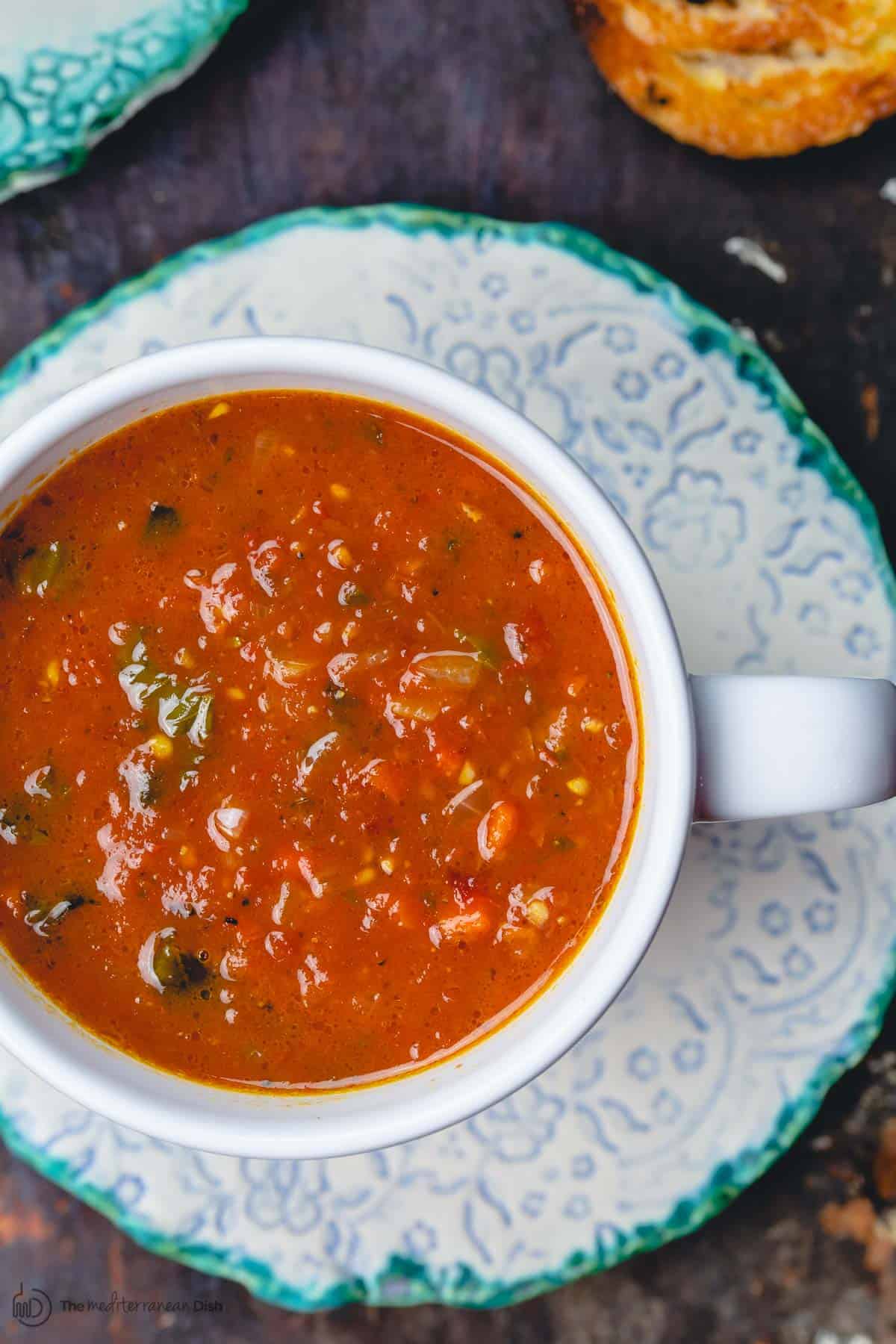 Vegan Pasta and Grain Dinners
Probably one of easiest ways to turn a few vegetables into a satisfying vegan dinner is by pairing them with pasta or grains! And if you have a can of beans, throw them right in for an even more filling meal.
I often add a sprinkle of feta or Parmesan to my pasta dishes, but you can totally omit the cheese, use a vegan alternative, or sprinkle on some nutritional yeast (which adds a savory, cheesy flavor). Here is a selection of delicious and hearty vegan pasta recipes you'll be making on repeat:
This humble Italian pasta soup is such a comforting dish that you can make easily with your pantry staples. It calls for two types of beans, fire-roasted tomatoes, the flavor trinity (onion, celery, and carrot), plus herbs over pasta.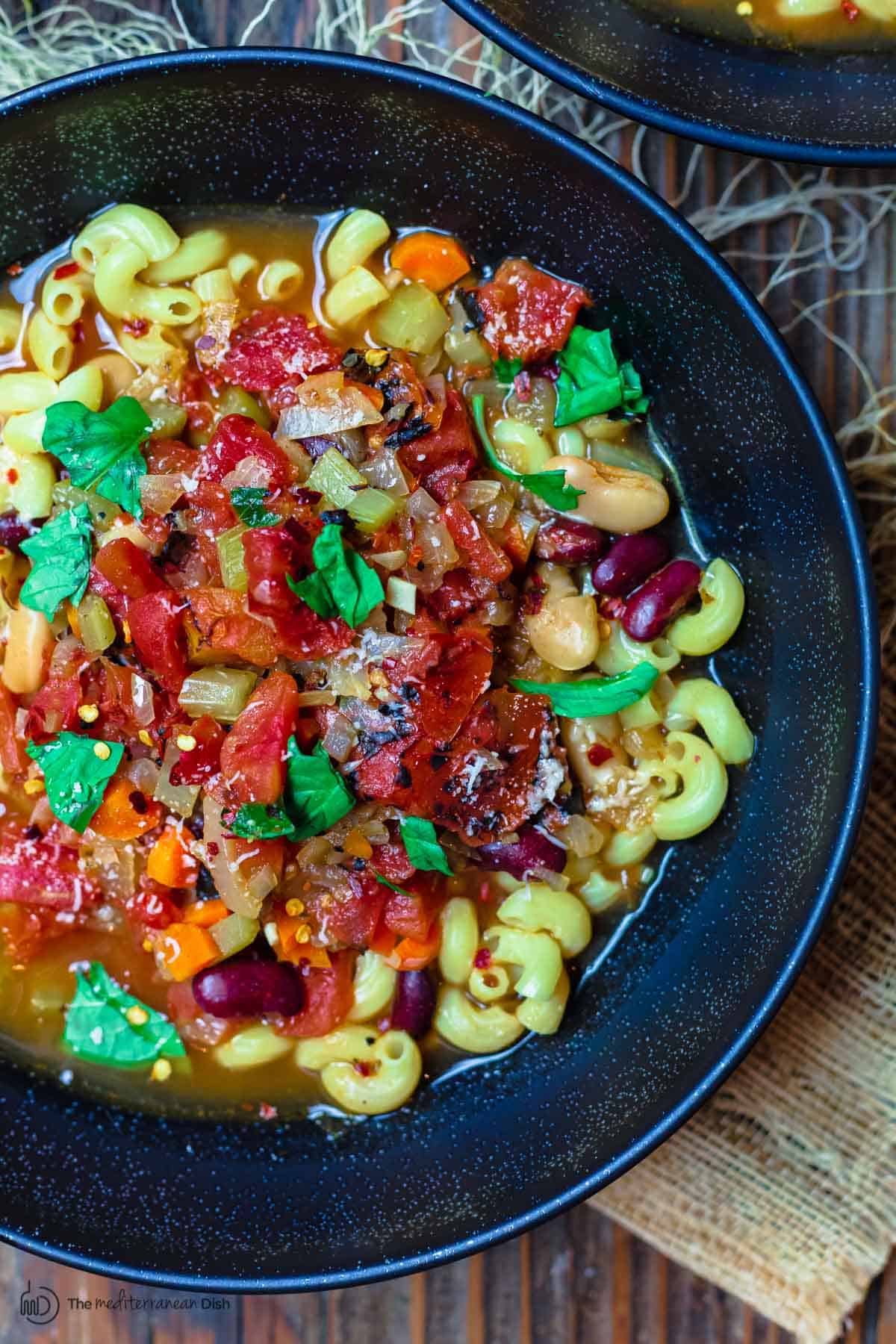 This simple Sicilian pasta is loaded with tender eggplant tossed in an herby tomato sauce. (Omit the ricotta salata cheese.) Start with a big fresh salad like this white bean salad or a simple lemony arugula salad.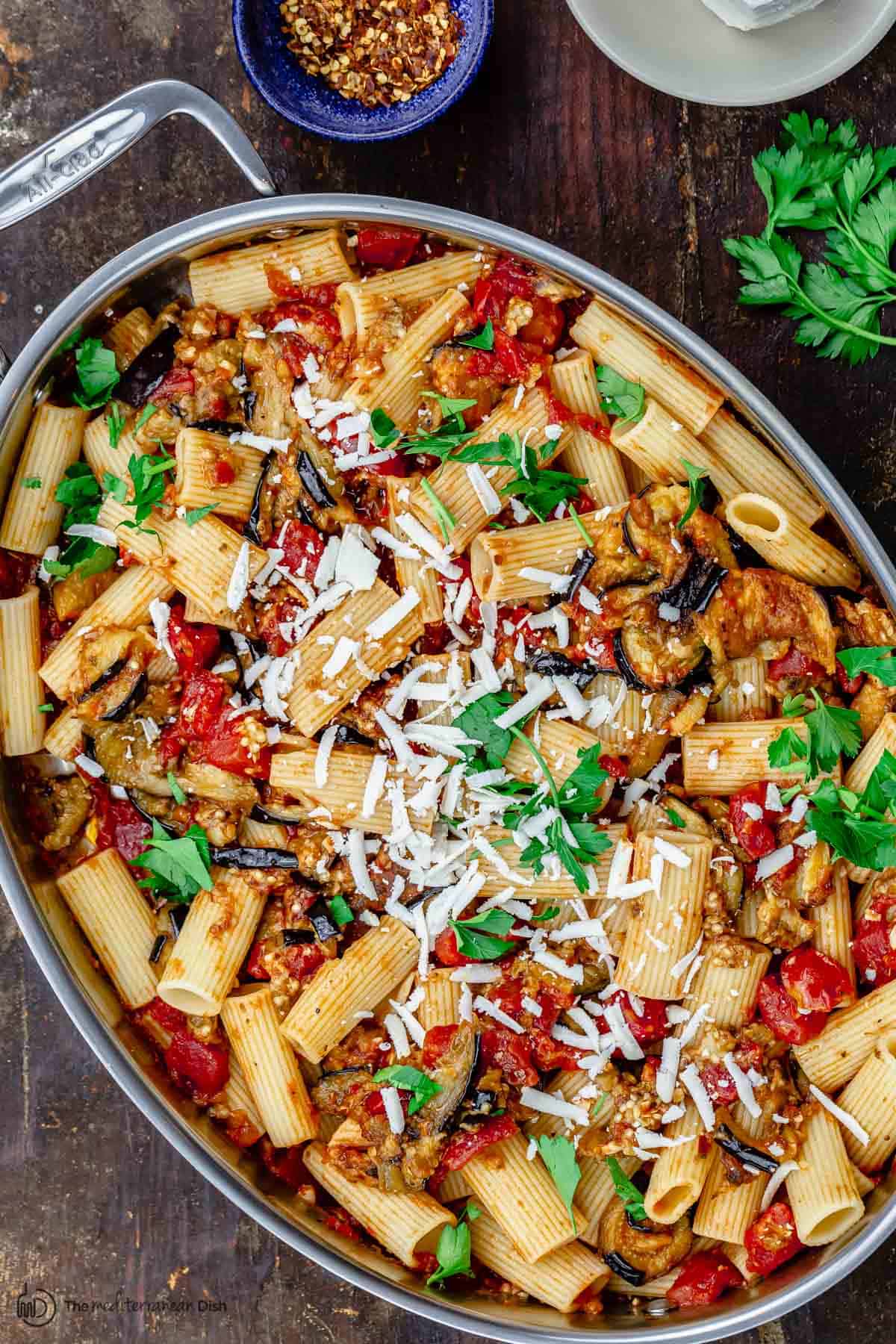 Quick and easy, this weeknight spinach pasta is tossed in a garlicky olive oil sauce and flavored with lemon, za'atar, red pepper flakes, and a generous sprinkle of vegan parmesan-style cheese alternative. Don't forget to save some of the pasta cooking water for an extra silky sauce!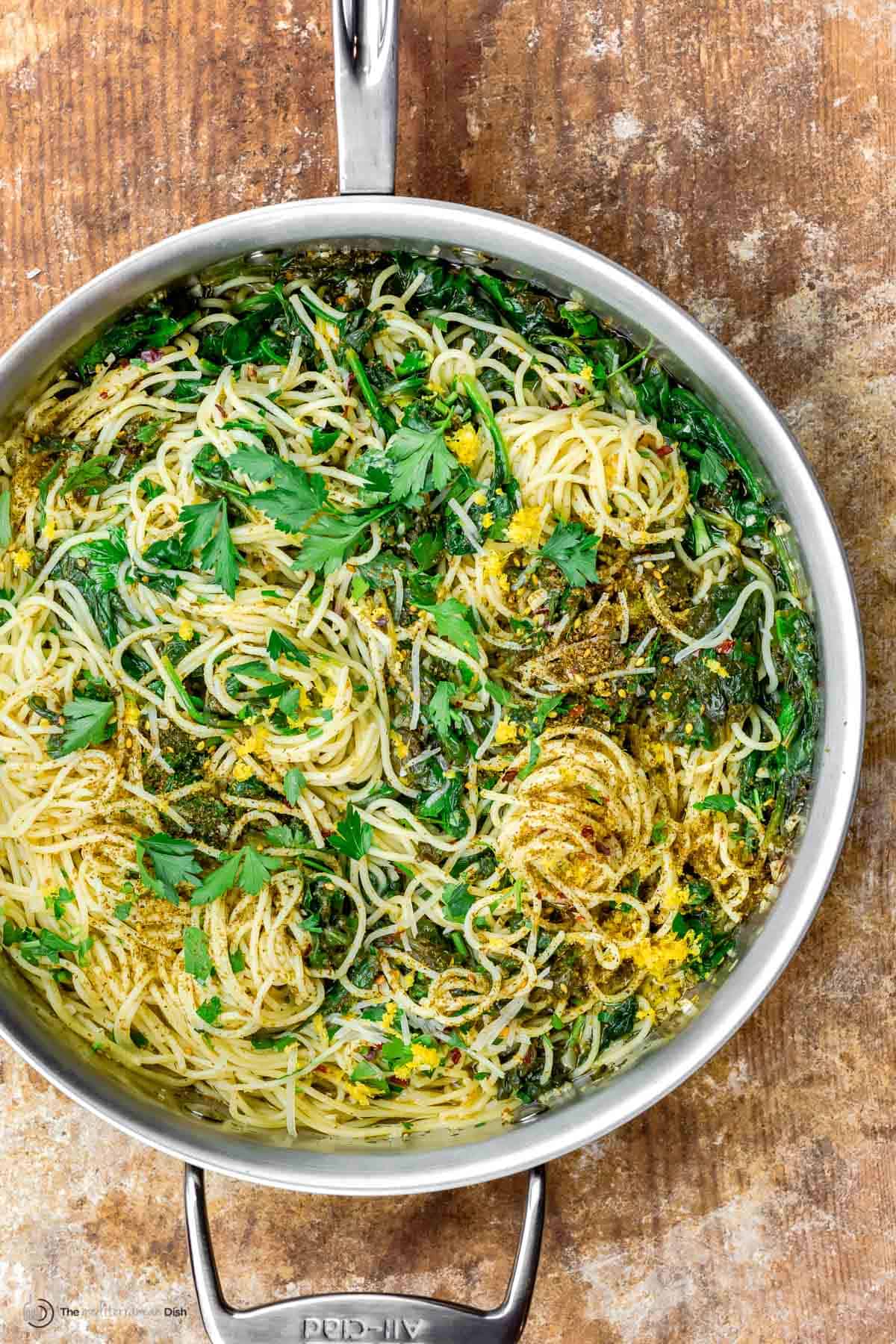 You'll love this satisfying and colorful barley meal full of vegetables (hold the feta for vegan). Chock-full of flavor and you can make it ahead as part of your meal-prep!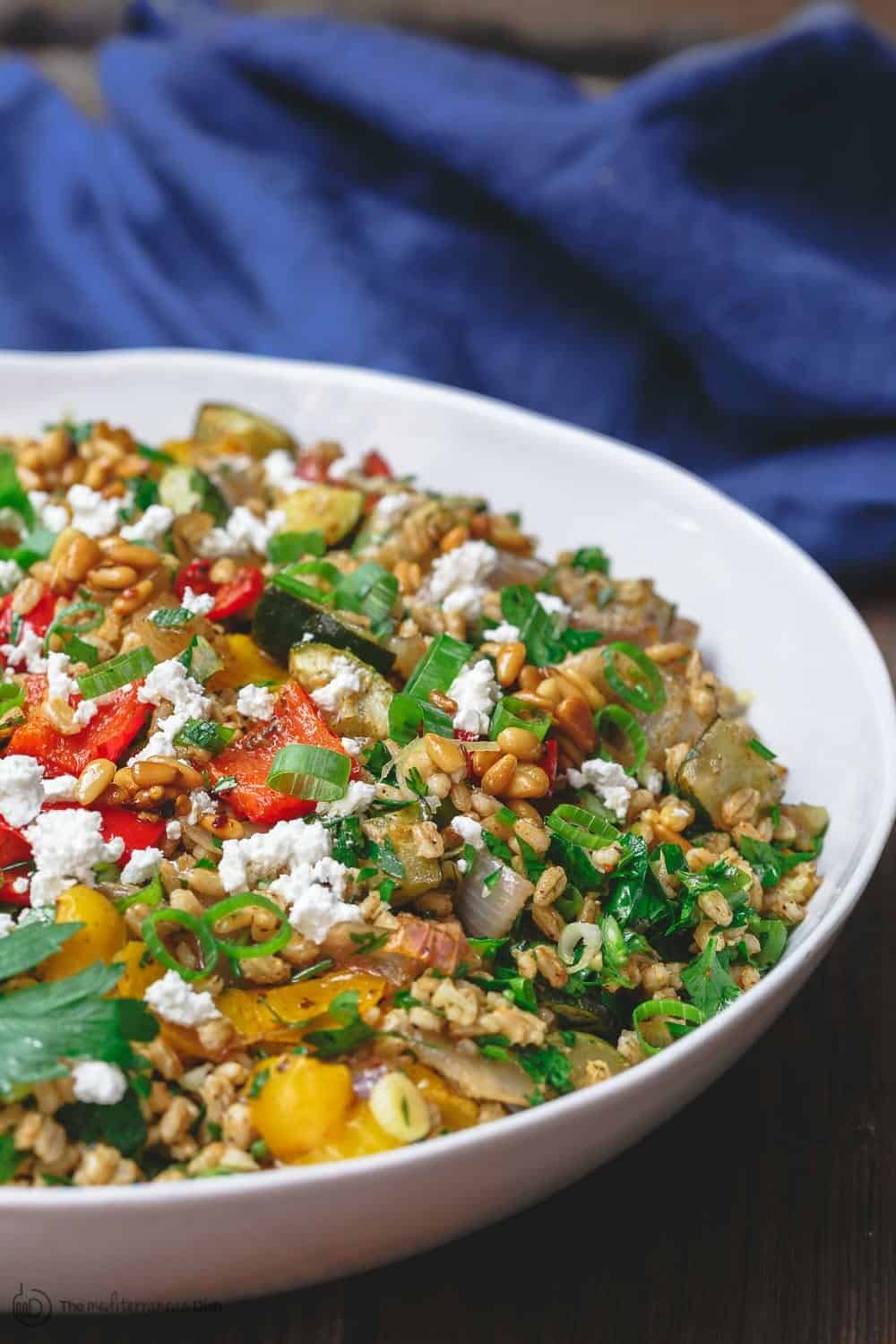 This simple dish of lentils and rice with crispy onions is addicting. I use all-natural black lentils for mujadara (also spelled mujaddara). These petite lentils cook fairly quickly. They have a wonderful, creamy consistency and full-bodied, earthy flavor.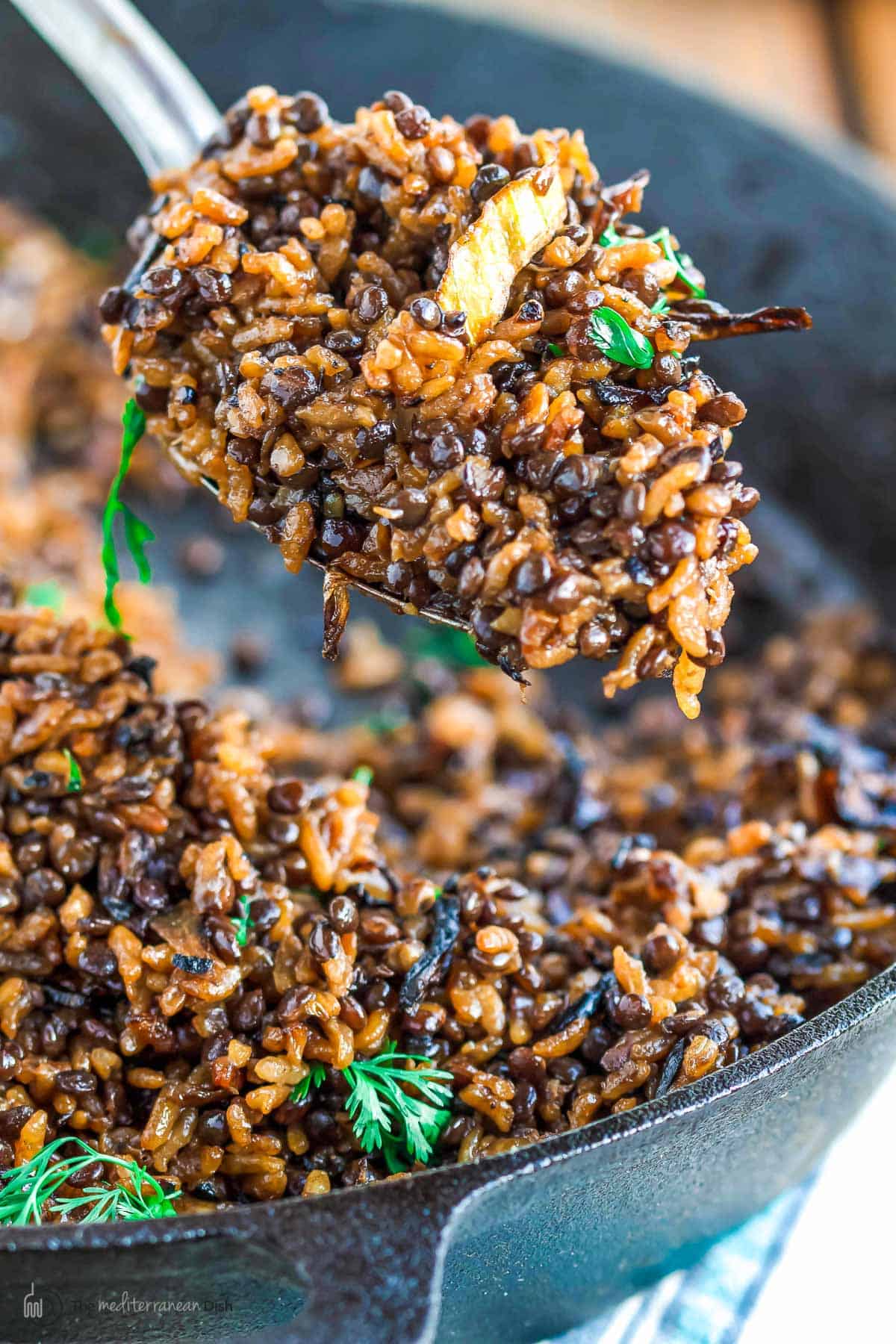 Orzo with Zucchini and Chickpeas
Zucchini and protein-rich chickpeas paired with tiny orzo pasta and finished with crunchy, toasted pine nuts. So much flavor in this simple vegan pasta dish!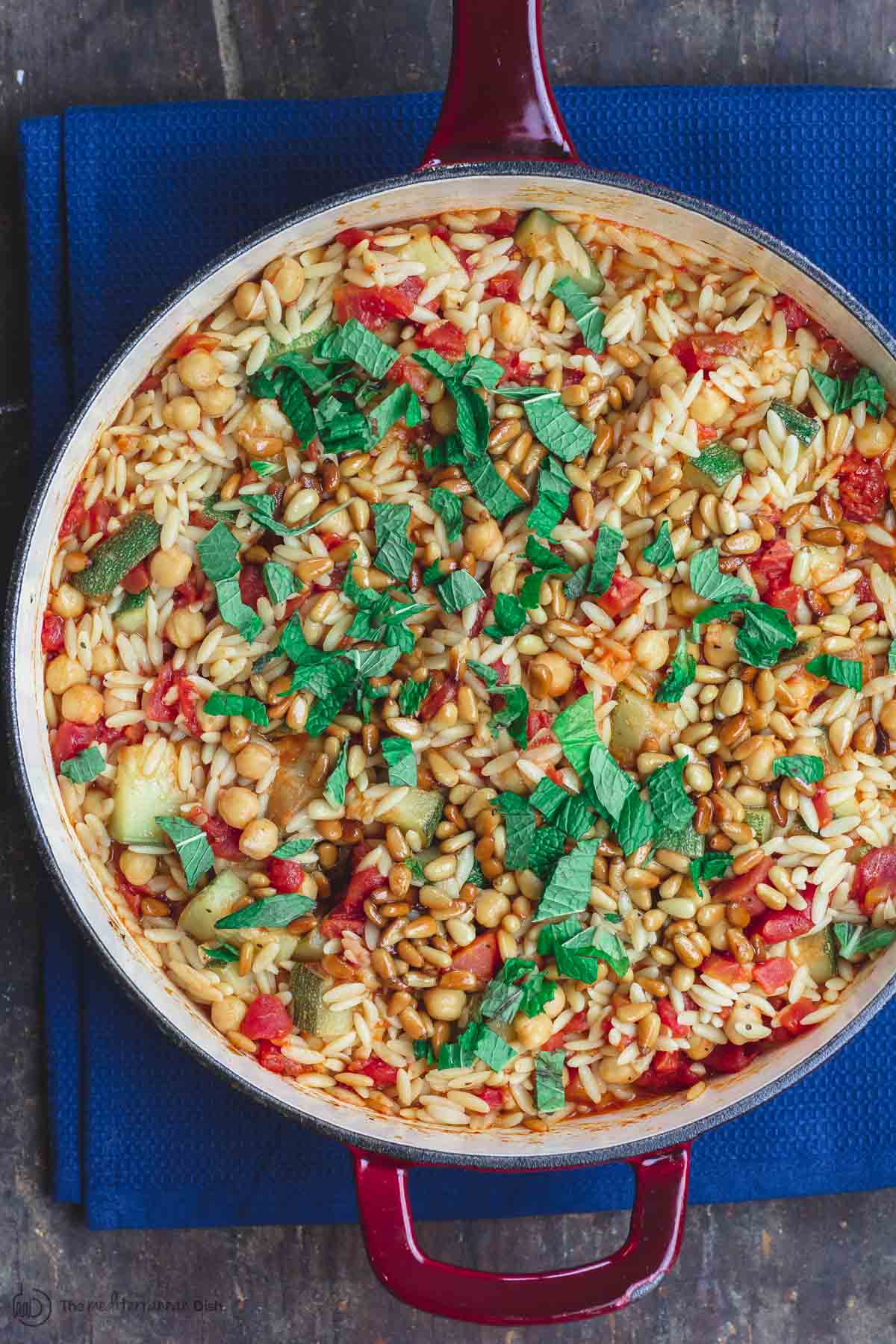 The draw on this hearty quick minestrone is in the flavorful tomato broth with piney rosemary, lots of fresh herbs, and more! This easy recipe is the perfect weeknight dinner, and you can adapt it to use whatever vegetables you have on hand. Use a small pasta variety, like ditalini or elbow pasta.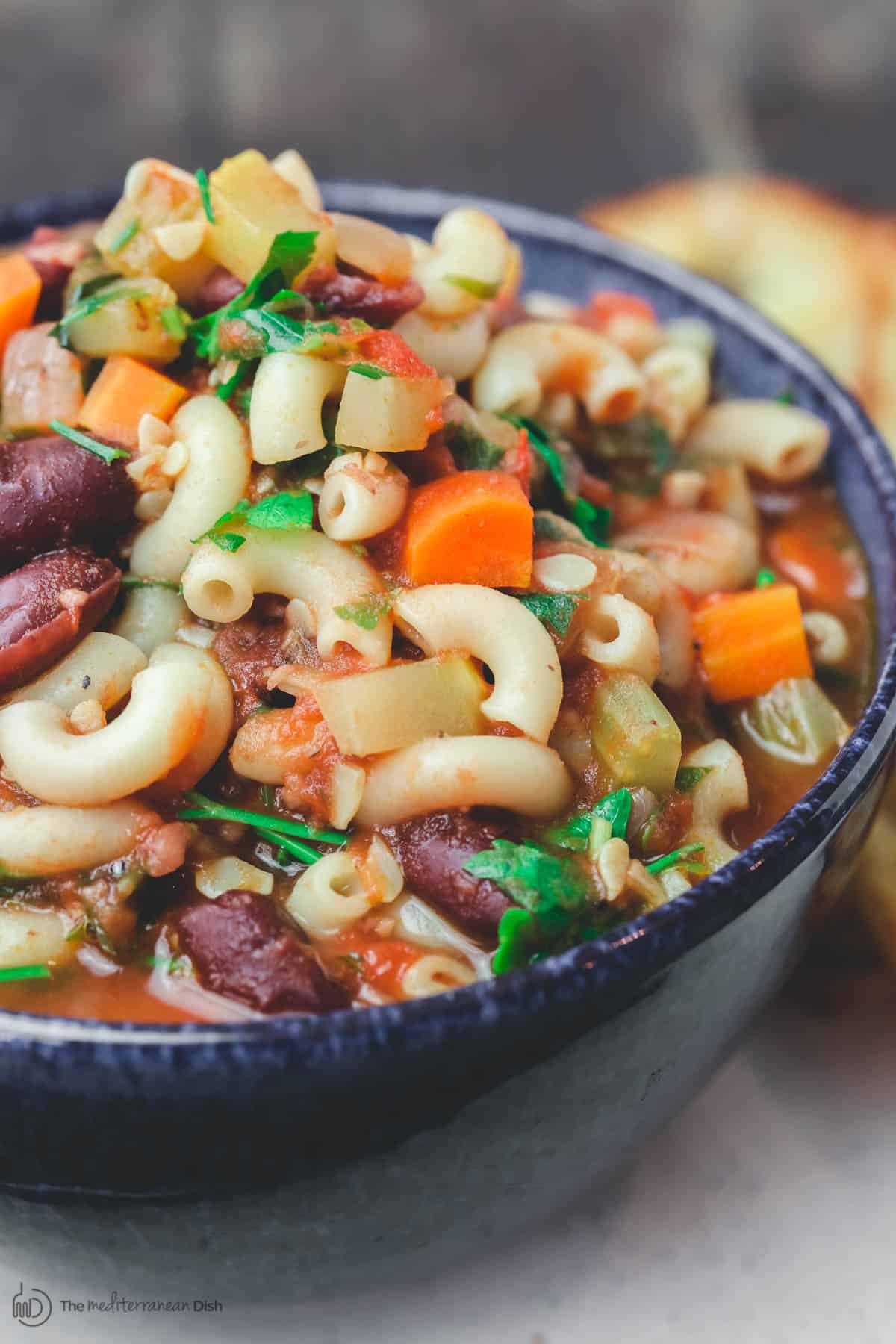 Pasta with Homemade Spaghetti Sauce
My homemade spaghetti sauce is so perfectly thick and packed with flavor, you'll be ditching that store bought pasta sauce! Serve it over your favorite pasta. And if you're in the mood for "meatballs", add some vegan meatballs (made with eggplant) to the sauce!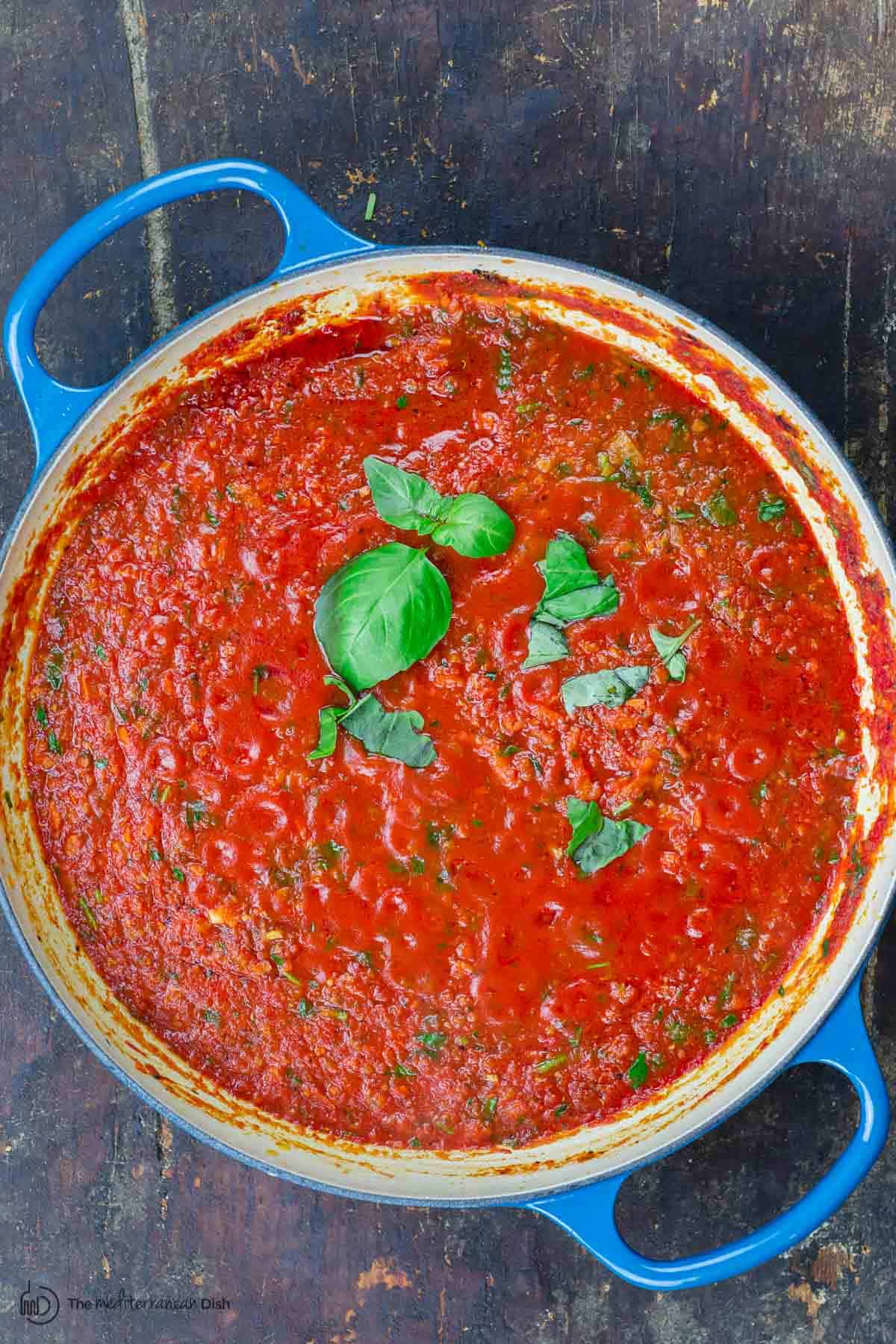 This plant-based pasta dinner is so comforting and plays up the earthy, umami taste of mushrooms in the best way possible! Swap out the butter for EVOO and omit the parmesan cheese (or use your favorite vegan alternative) for a meat-free, dairy-free dinner.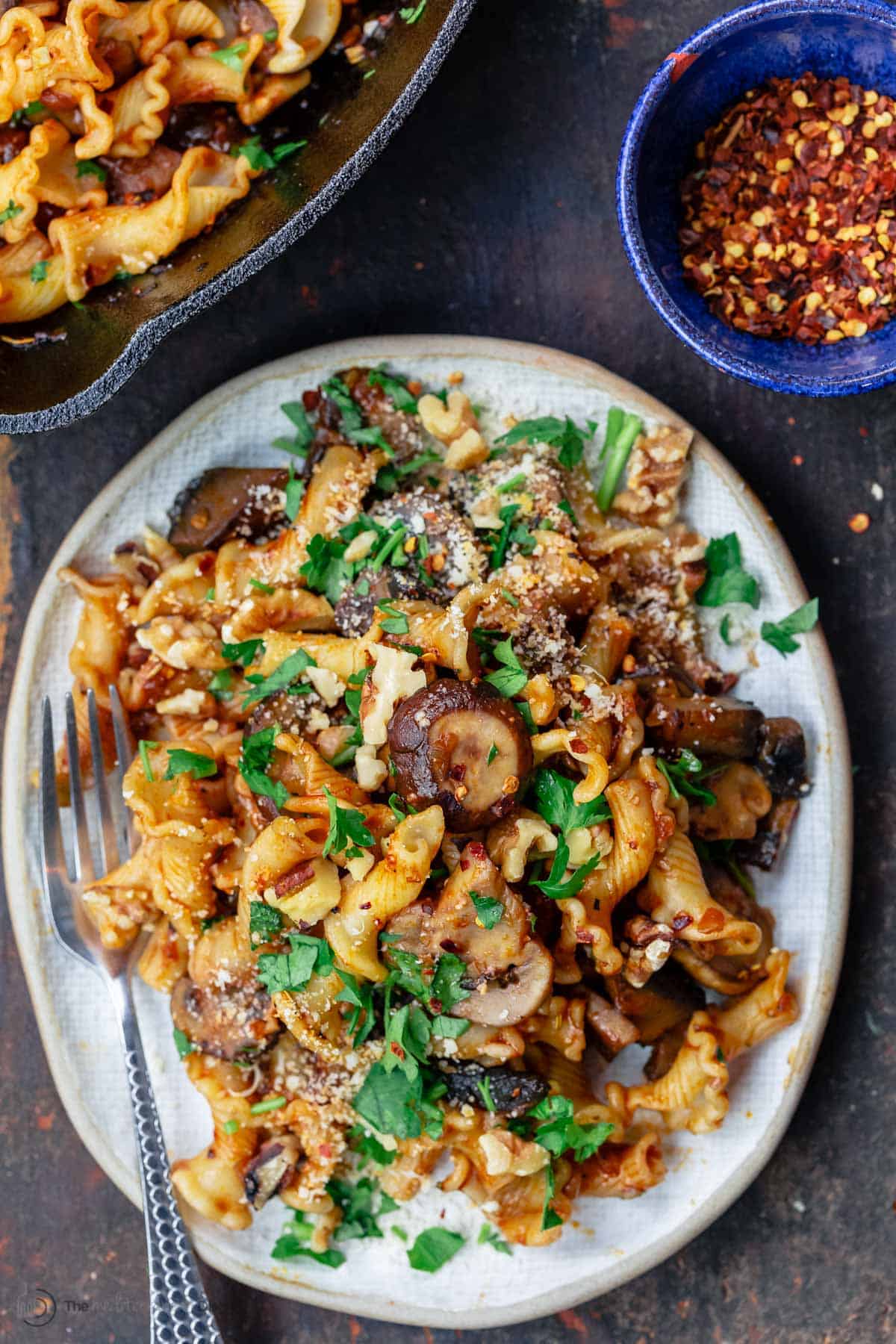 In 20 minutes and with just 5 ingredients you can have a simple, delicious vegan pasta dish, which comes in handy on busy weeknights! Use a thin pasta of your choice and skip the cheese.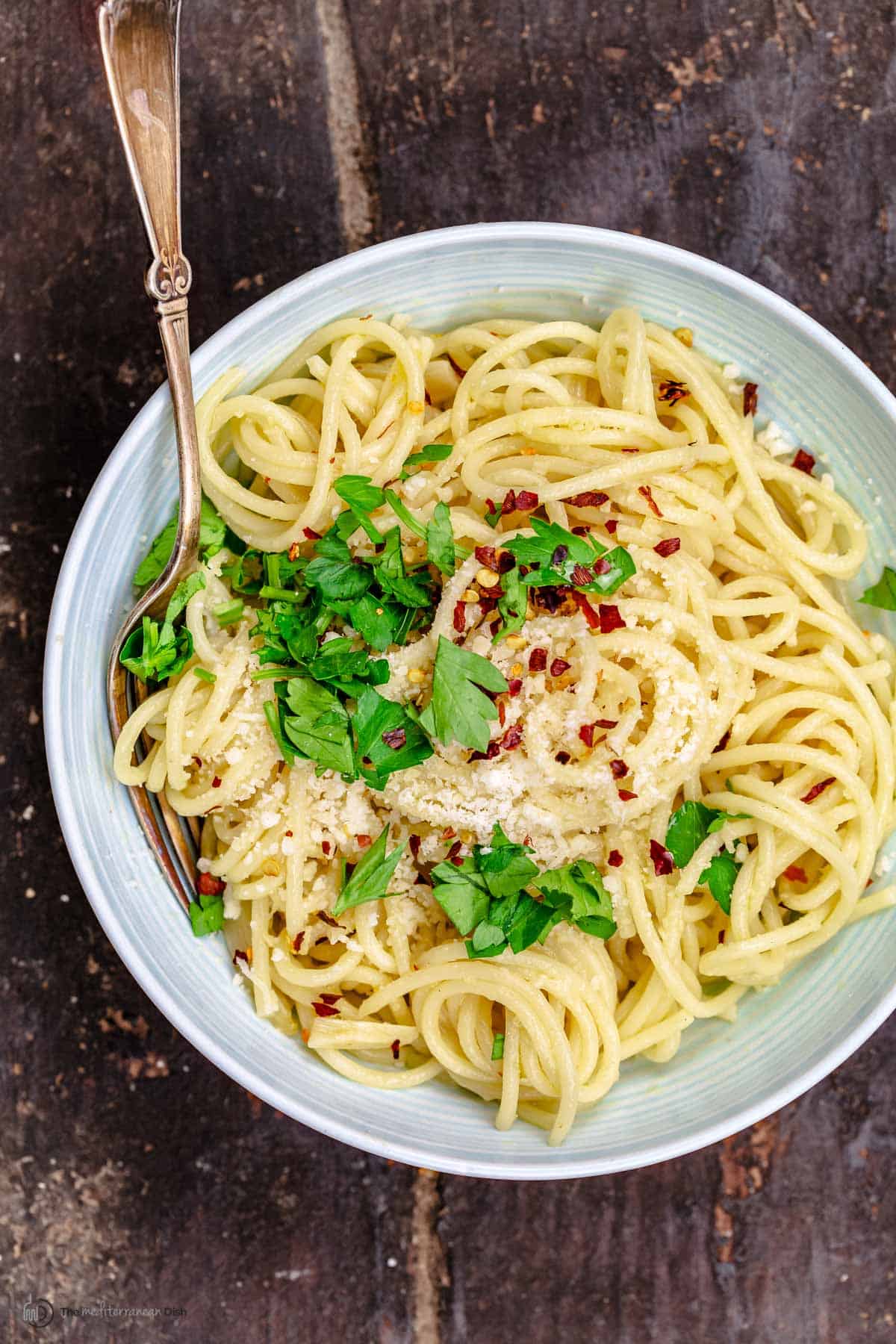 Farro Risotto with Mushrooms and Peas
This farro recipe is the perfect vegan entree next to a fresh salad (loads of ideas below!). The best part? It requires a lot less TLC than typical risotto! Skip the parmesan or swap it out for your favorite vegan alternative. And be sure to use vegetable broth!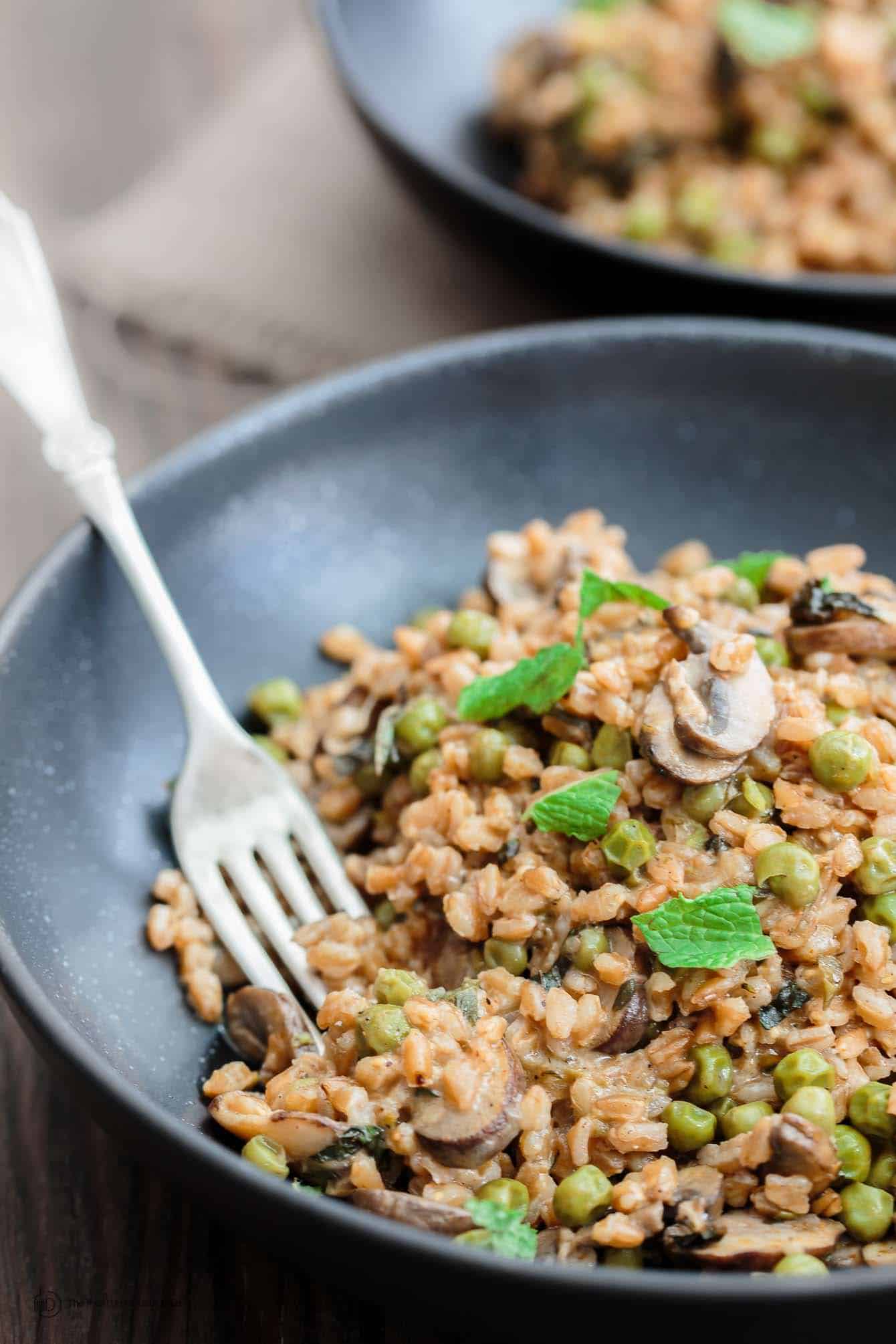 Orecchiette with White Beans, Tomatoes, and Olives
White beans add fiber and plant-based protein to this quick Mediterranean pasta meal, making it extra satisfying, while tomatoes, garlic, herbs, and kalamata olives fill it with big flavor! If you don't have orecchiette pasta, you can use farfalle, penne, or another textured short pasta. Feta cheese is an optional garnish, so you can easily skip it.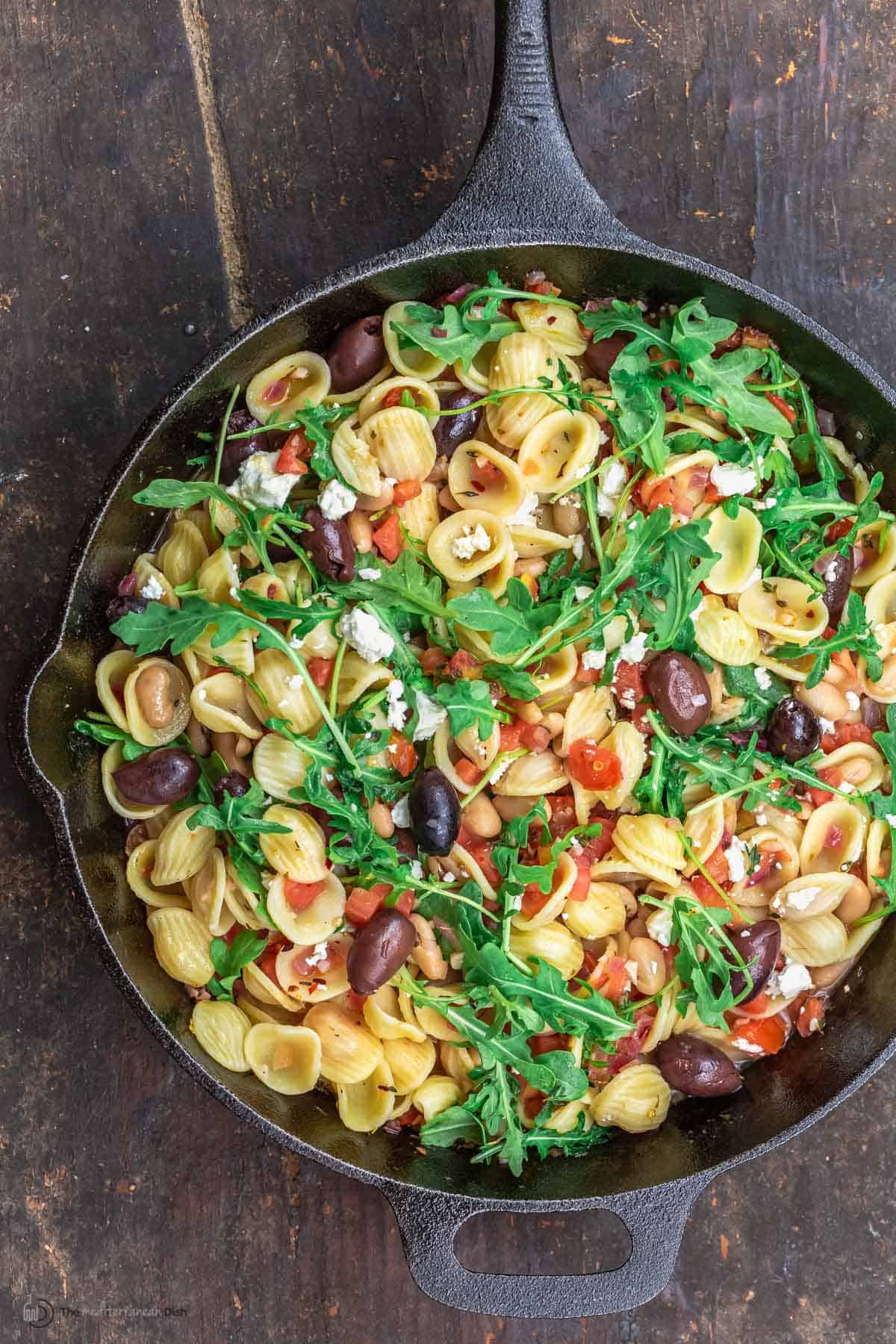 Pasta primavera with roasted vegetables and a light sauce is the perfect vegan dinner. Change up the veggies to finish up what you have on hand, and use your favorite parmesan-style vegan cheese alternative.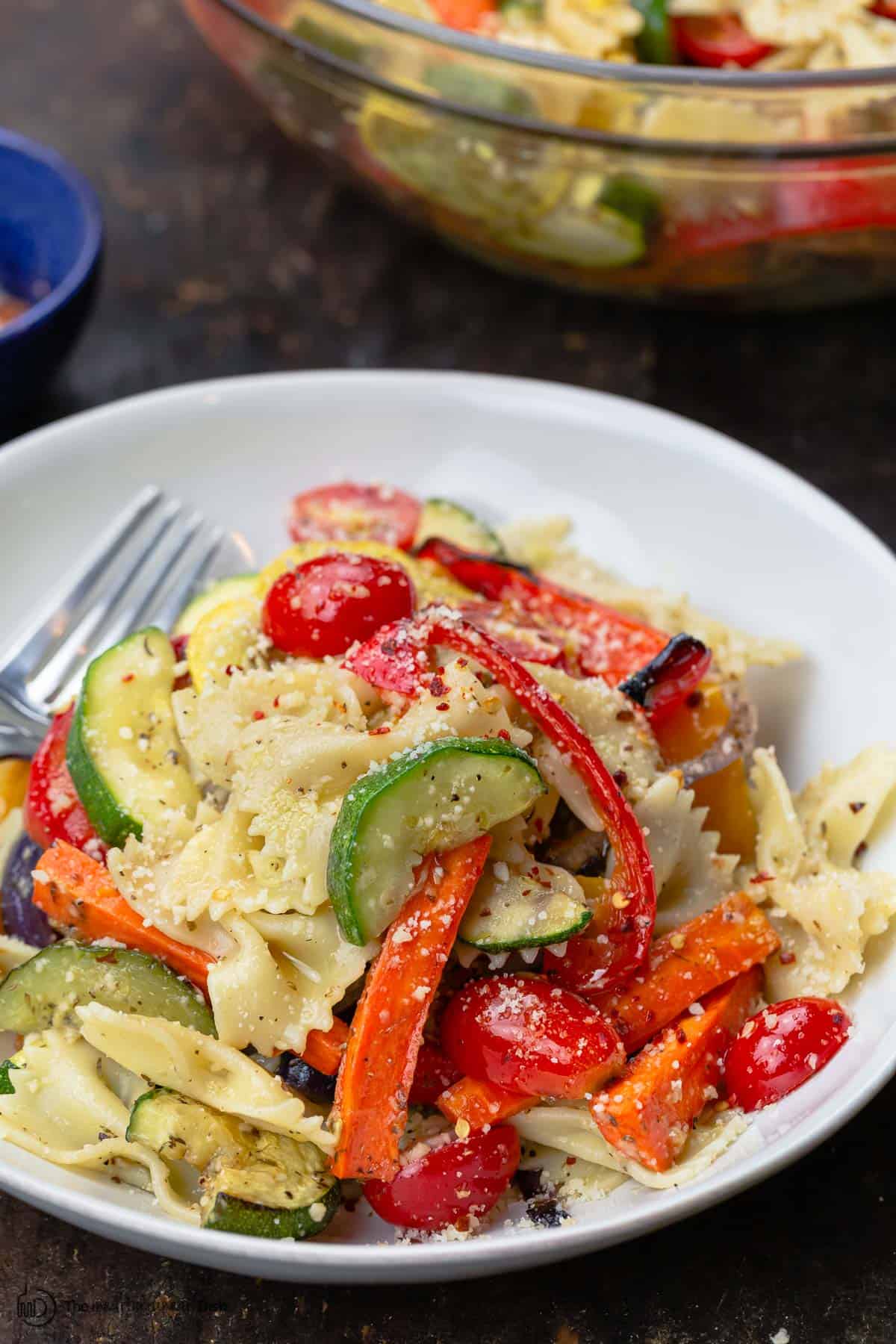 Herbed Couscous Recipe with Roasted Cauliflower
I've been really enjoying the concept of dinner bowls, like this herbed couscous with flawlessly charred cauliflower and a simple Mediterranean salad. It's filling and delicious, not to mention beautiful to look at! (Leave out the feta.)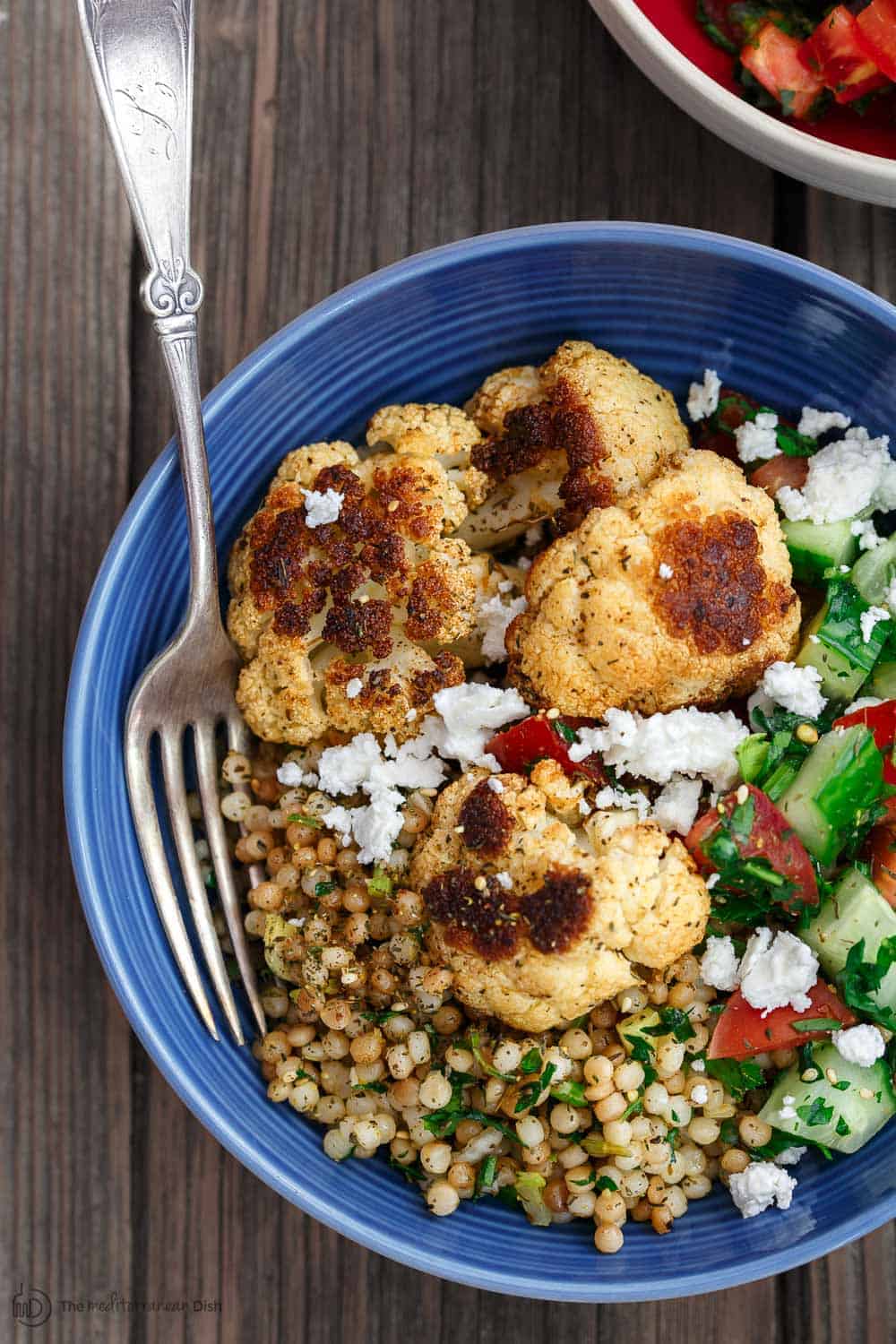 Vegan Sides
Whether you need something light to round out your meal, something a bit bulkier to make it more filling, or just some inspiration from the usual way you prepare vegan side dishes, I've got so many ideas for you!
These delicious vegan sides are packed with flavor, are easy to make, and will go great with the vegan dinner recipes above. Use your imagination to create robust meals from unexpected pairings! Here are a variety of vegan sides:
The BEST roasted cauliflower – I'm talking sweet, tender, and perfectly caramelized. Cumin and fresh lemon are the flavor combo I chose here, but you can play around with flavors!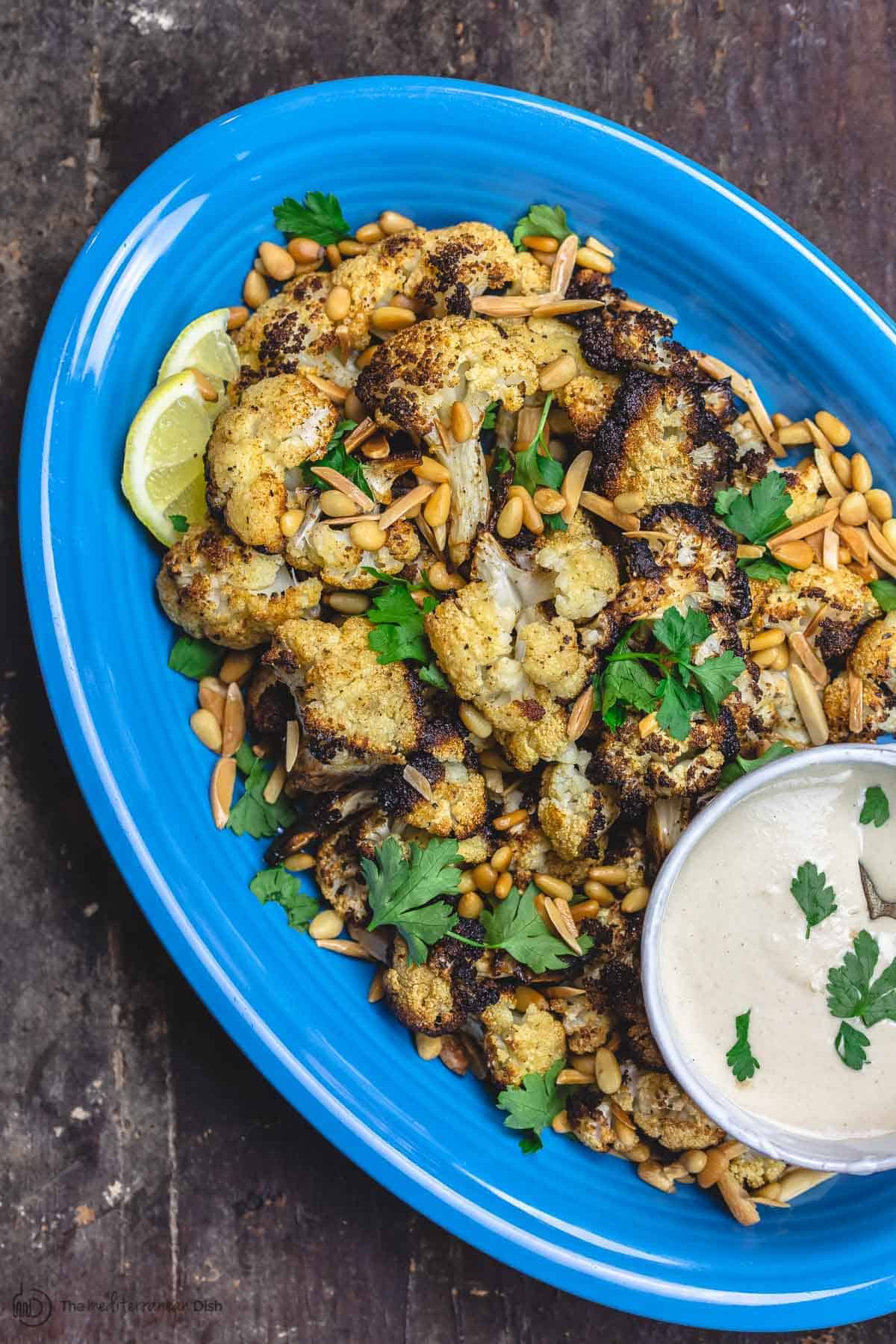 These crispy sweet potato fries can be cooked in the oven or air-fryer. I share all the tips for the perfect crispy-on-the-outside, fluffy-on-the-inside baked fries. Serve them with your favorite vegan dipping sauce. (I always choose homemade tahini sauce.)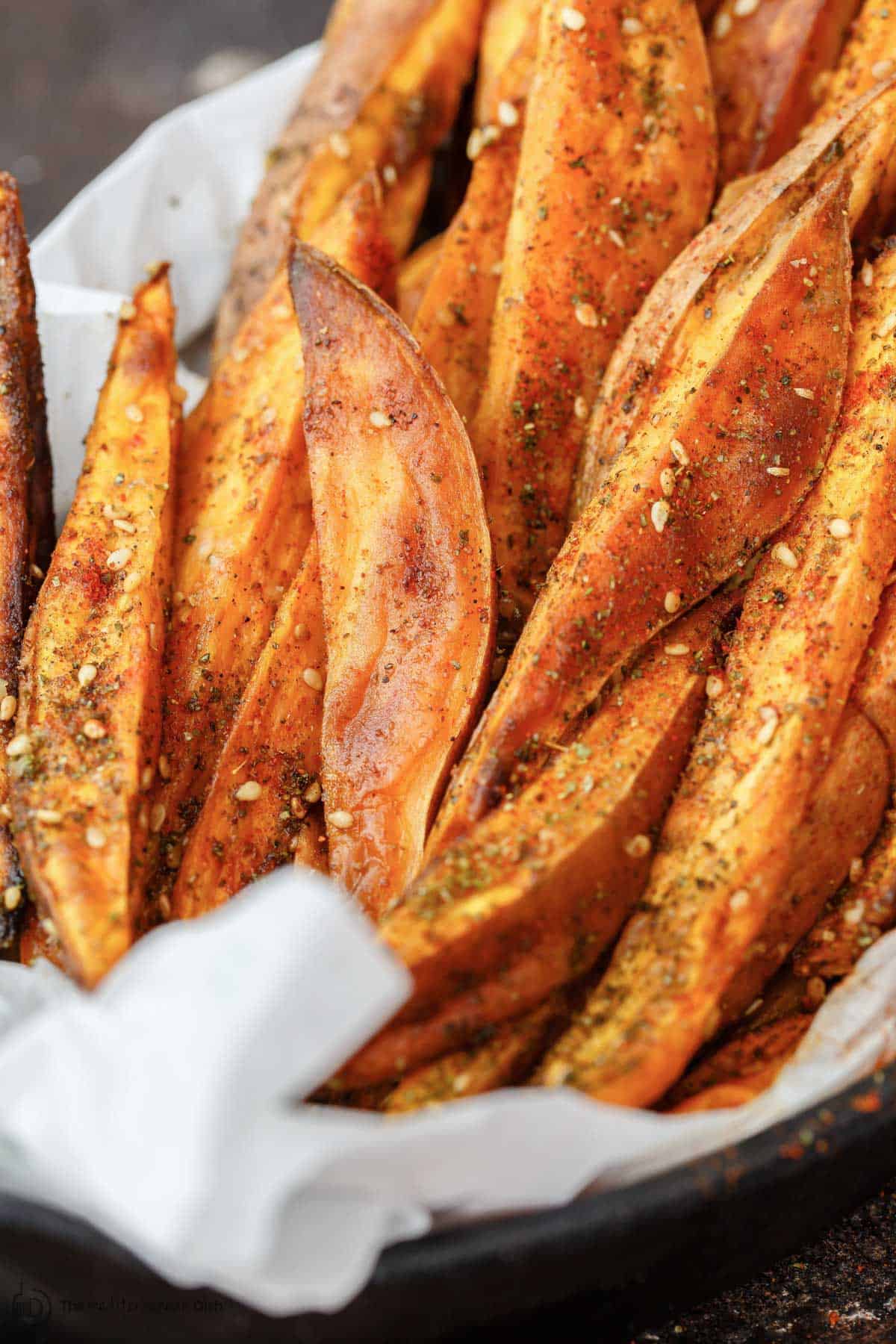 Zucchini rounds sauteed in good extra virgin olive oil and finished with homemade balsamic glaze, sesame seeds, and a sprinkle of dried mint or parsley. This recipe is incredibly easy, but tastes like you spent hours preparing it! To save some time, use store-bought balsamic glaze instead of making it from scratch.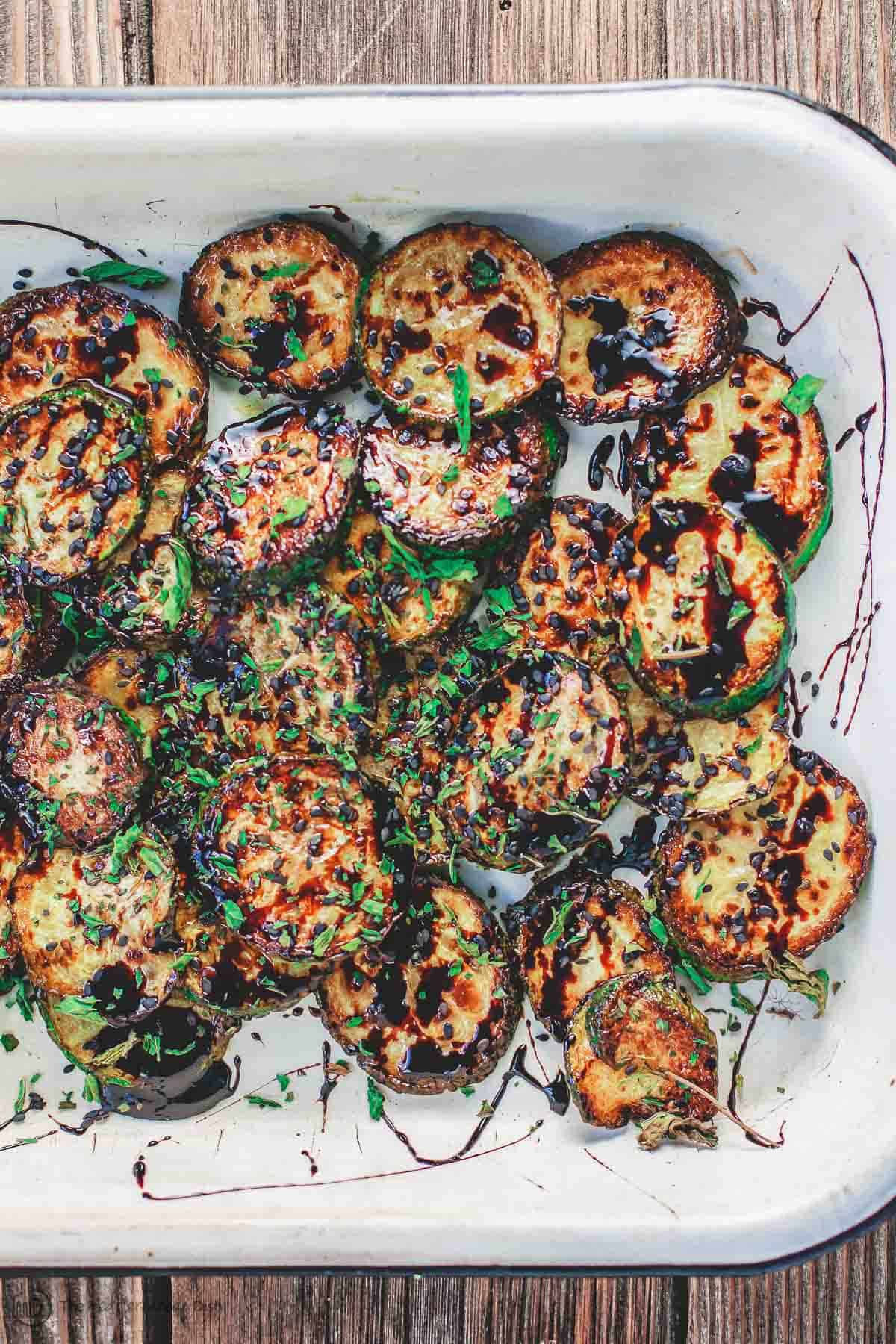 Middle Eastern skillet potatoes? Sign me up! Batata harra is so bold with garlic, fresh herbs, and a mix of warming spices. AND it's ready in under 30 minutes. Serve it as a side with a vegan entrée, or make it part of your next vegan mezze feast alongside some hummus, roasted eggplant, tabouli, or couscous salad.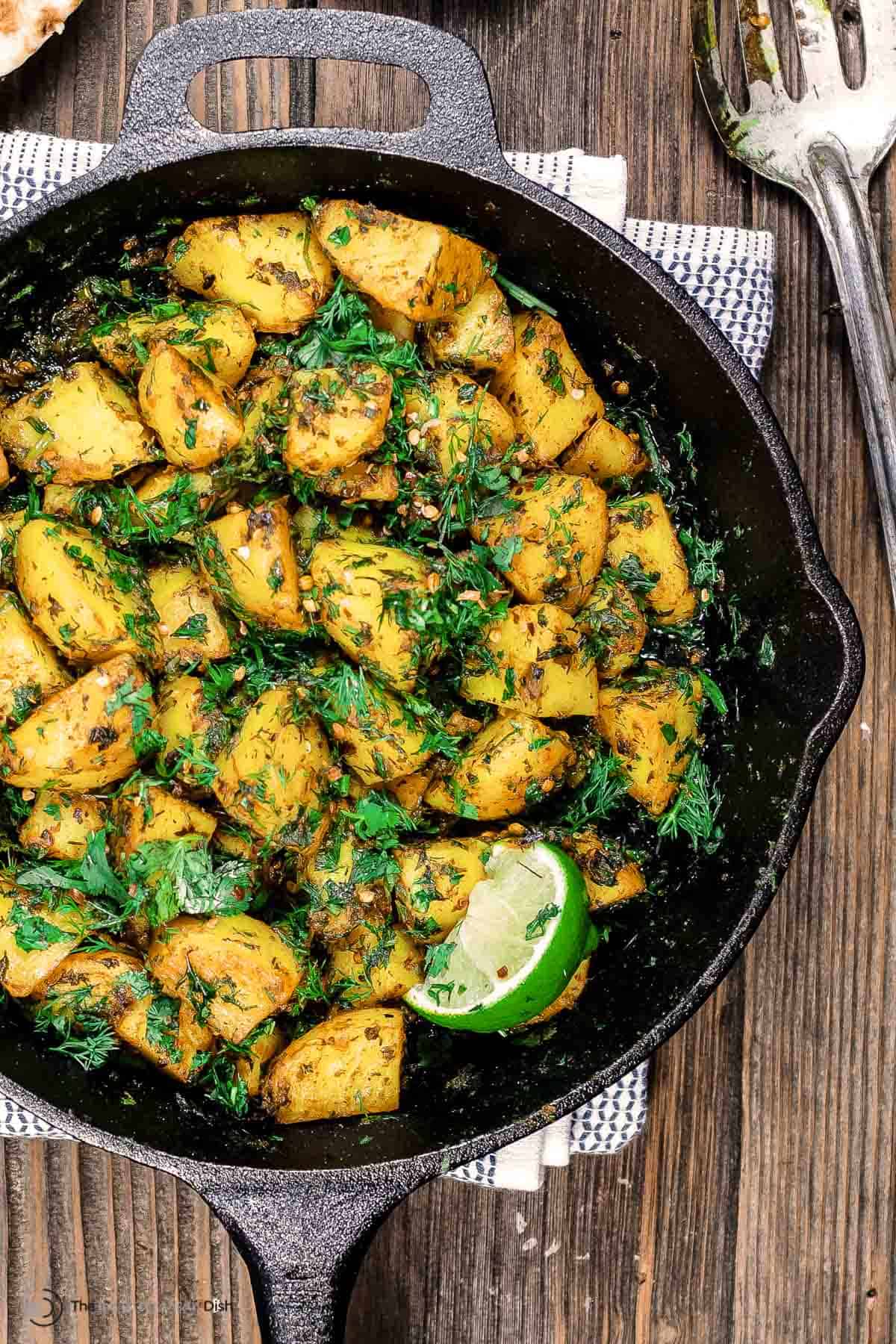 Simple vegan rice pilaf made with three ingredients: vermicelli pasta, rice, and extra virgin olive oil. Don't forget to rinse your rice thoroughly (until the water runs clear) and then soak it for fluffy rice that isn't sticky.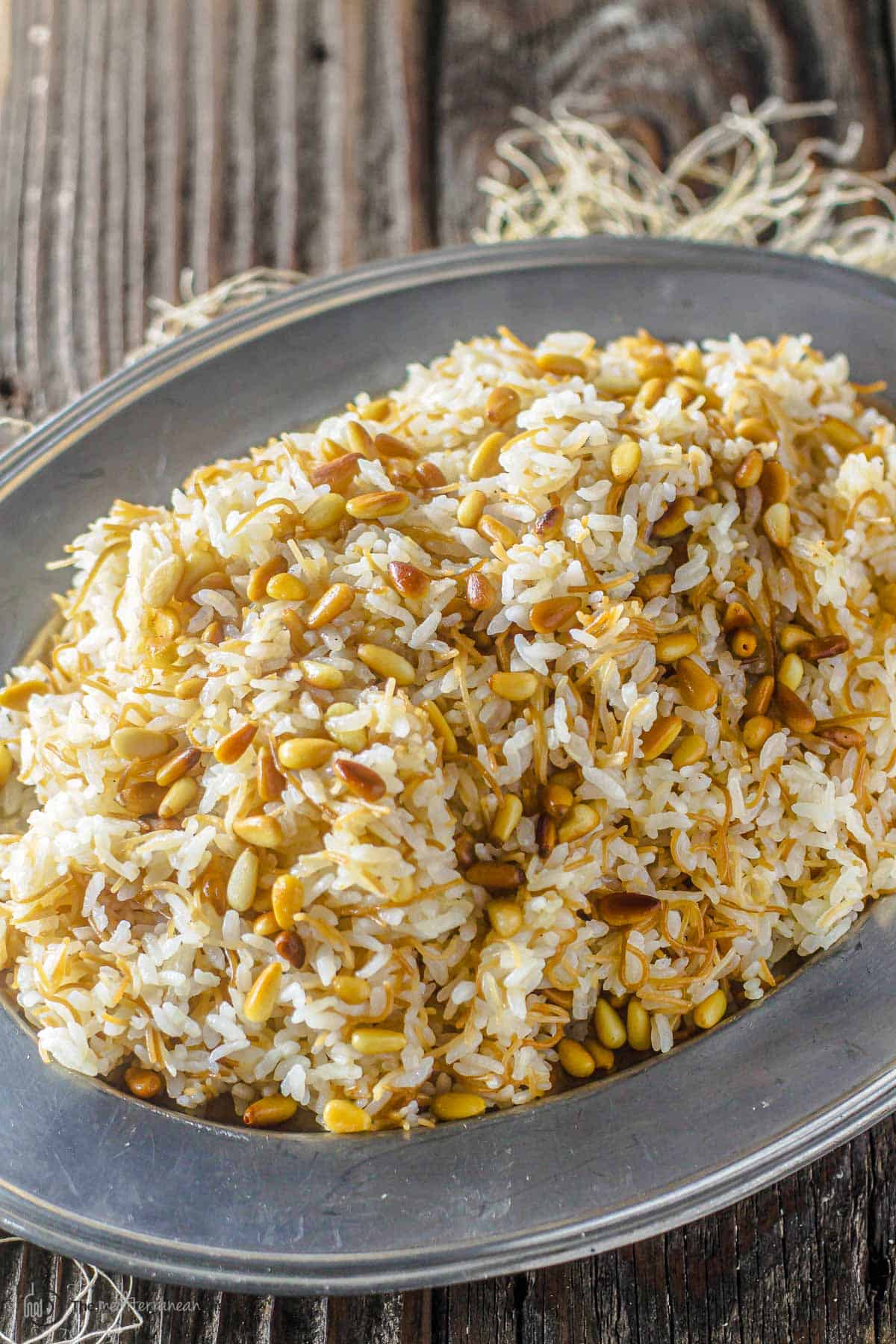 This recipe takes a humble head of green cabbage and turns it into a tasty, low-carb side dish – tender, slightly nutty, and perfectly charred. Cutting the cabbage into wedges yields a crispy, crunchy texture. One more tip: Preheat your sheet pan for optimal cabbage caramelization!
I love making vegetable kabobs with whatever veggies I have on hand. In this recipe, I use summer squash, mushrooms, onions, grape tomatoes, and Brussels sprouts! The simple Mediterranean-style marinade will create amazingly flavorful kabobs.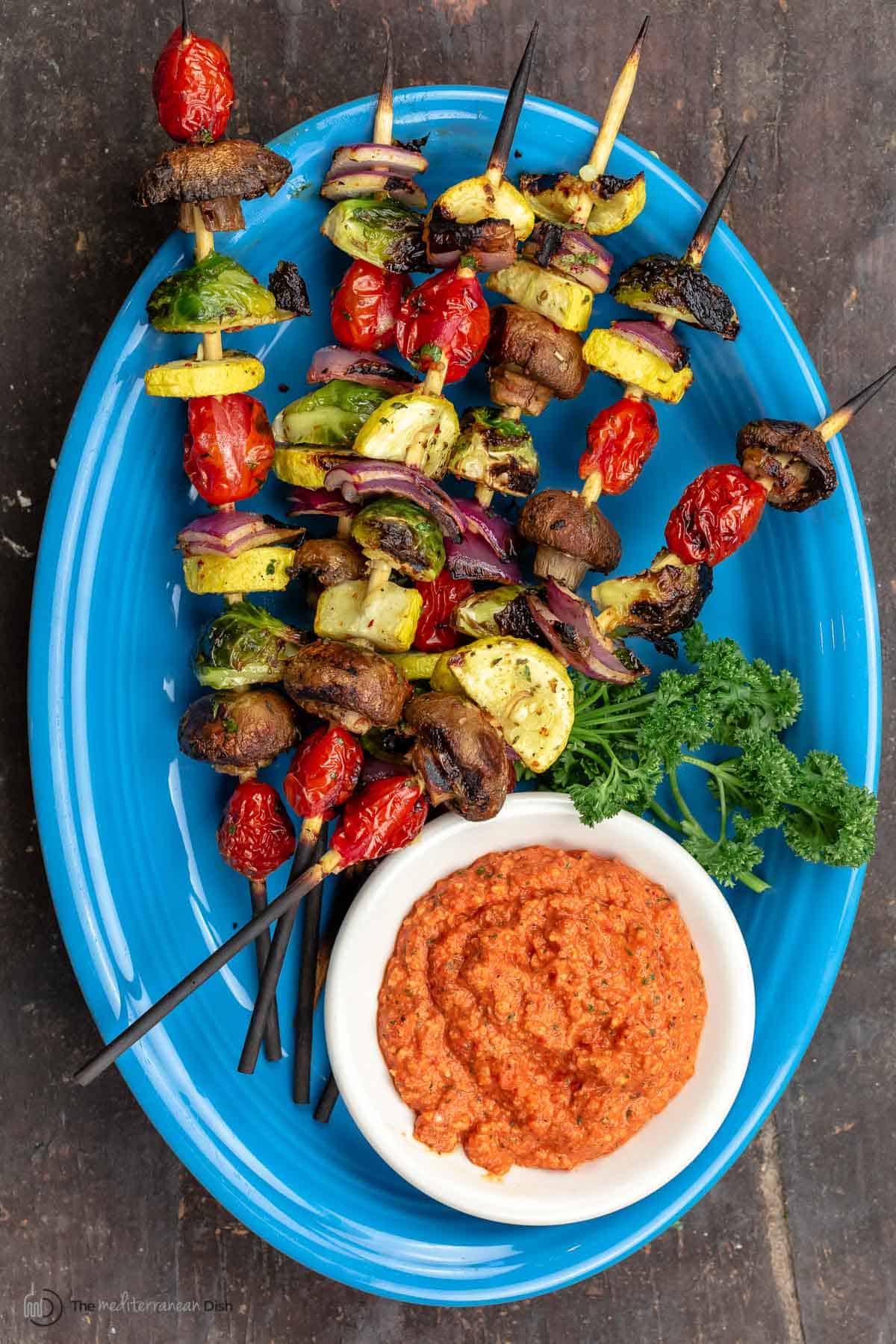 Fluffy basmati rice tossed with peas, carrots, warm spices, and aromatics is a delicious way to take plain ol' rice to the next level! Even better finished with some toasted nuts and dried fruit. I used walnut halves, pine nuts, slivered almonds, and raisins, but get creative and use whatever vegan toppings sound good to you!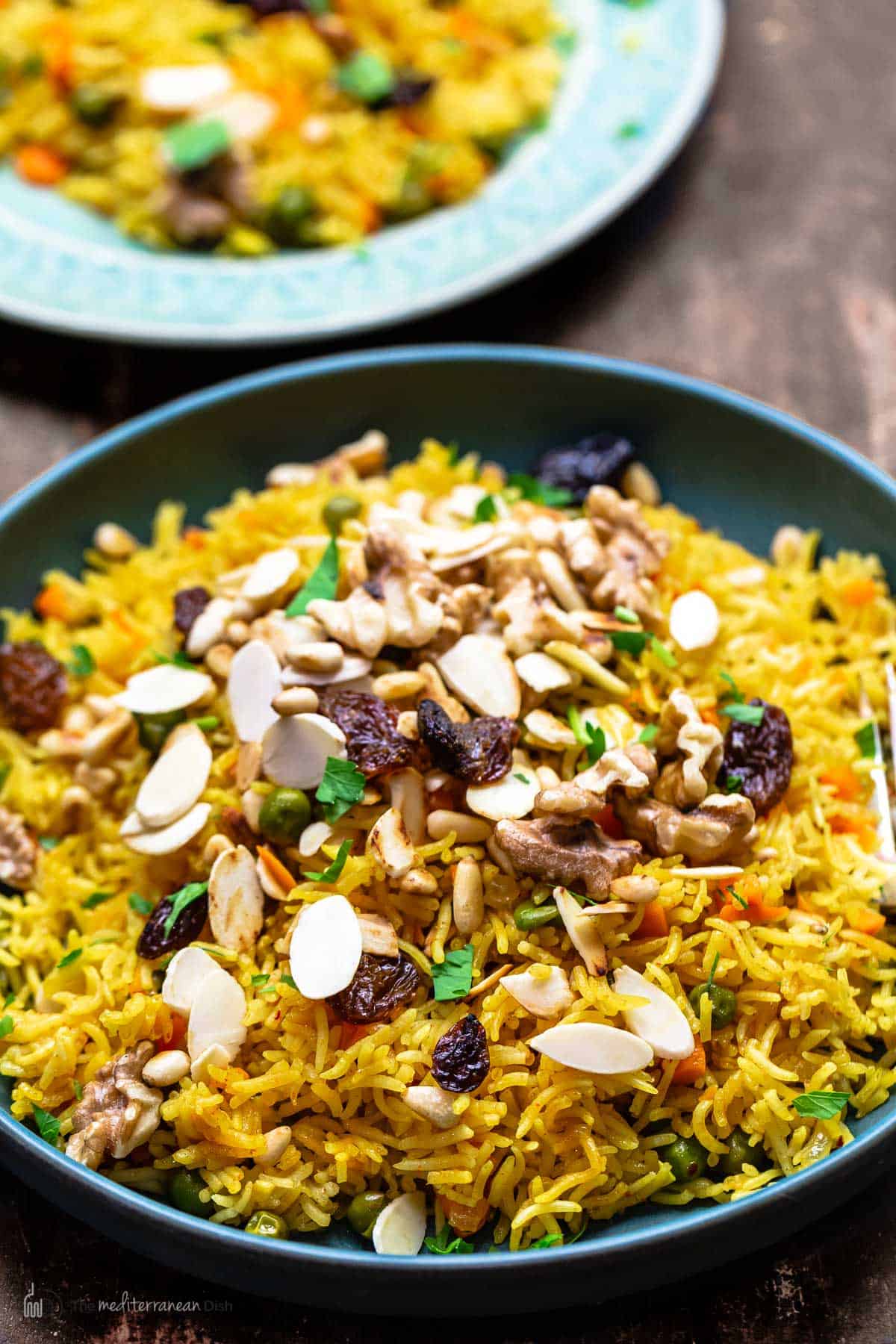 Perfectly tender sweet potatoes with browned, caramelized edges – what could be better? Jewel or garnet sweet potatoes are the best choice here. (They're the kind with deep orange flesh.) And don't forget to wash and peel them before cutting.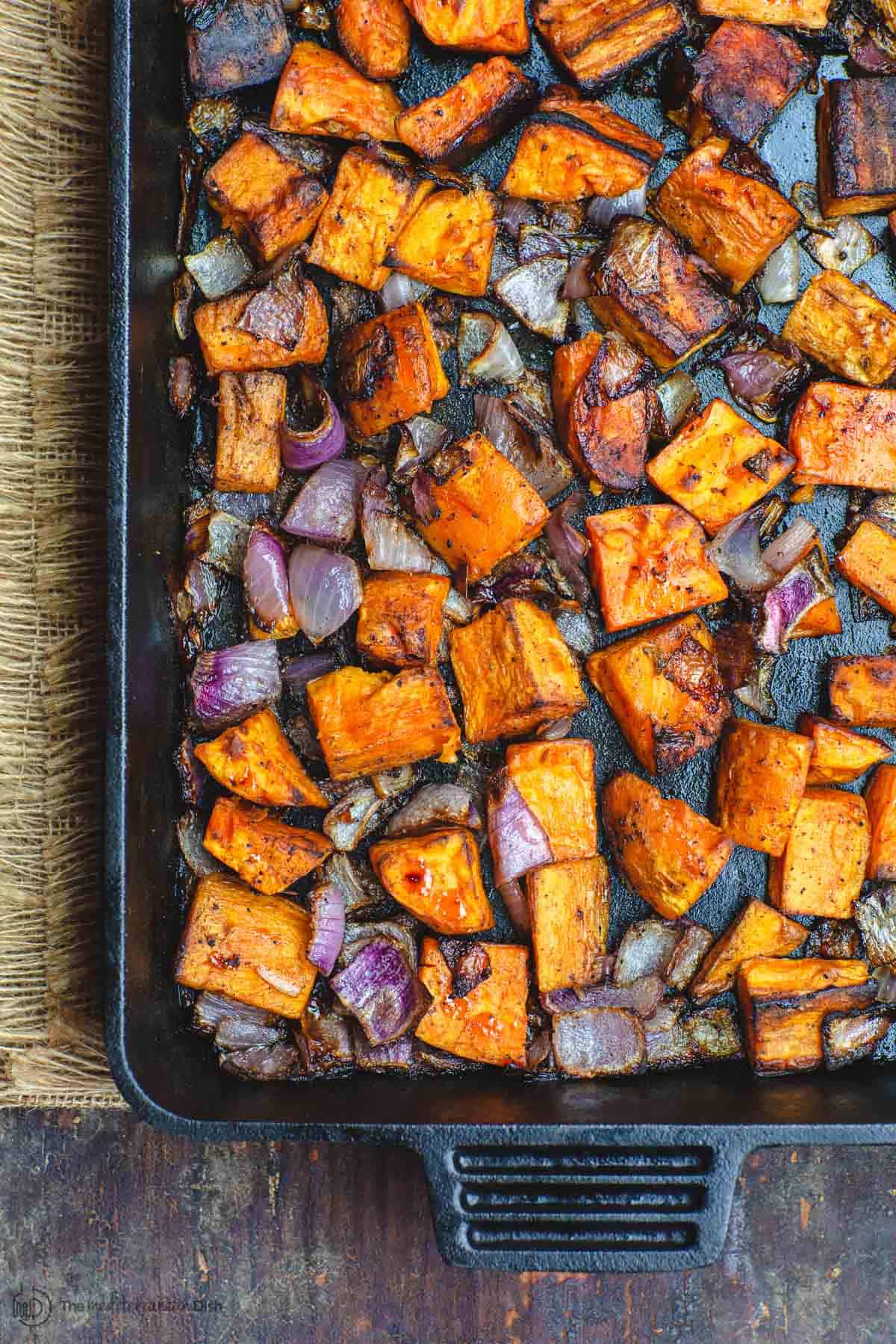 Hearty Vegan Salads
Most of the salads here on the site are vegan, but I wanted to include hearty options that are filling enough to be small meals on their own.
So, in this section, you'll find salads and sides with chickpeas, couscous, beans, and more, which bulk them up and help to keep you full for longer. Check out this list of some of my favorite vegan salad recipes:
This bean salad is so bright and packs tons of flavor from crunchy veggies, fresh herbs, capers, and a zesty garlic Dijon vinaigrette. I used three kinds of canned beans: cannellini, kidney, and garbanzo (aka chickpeas).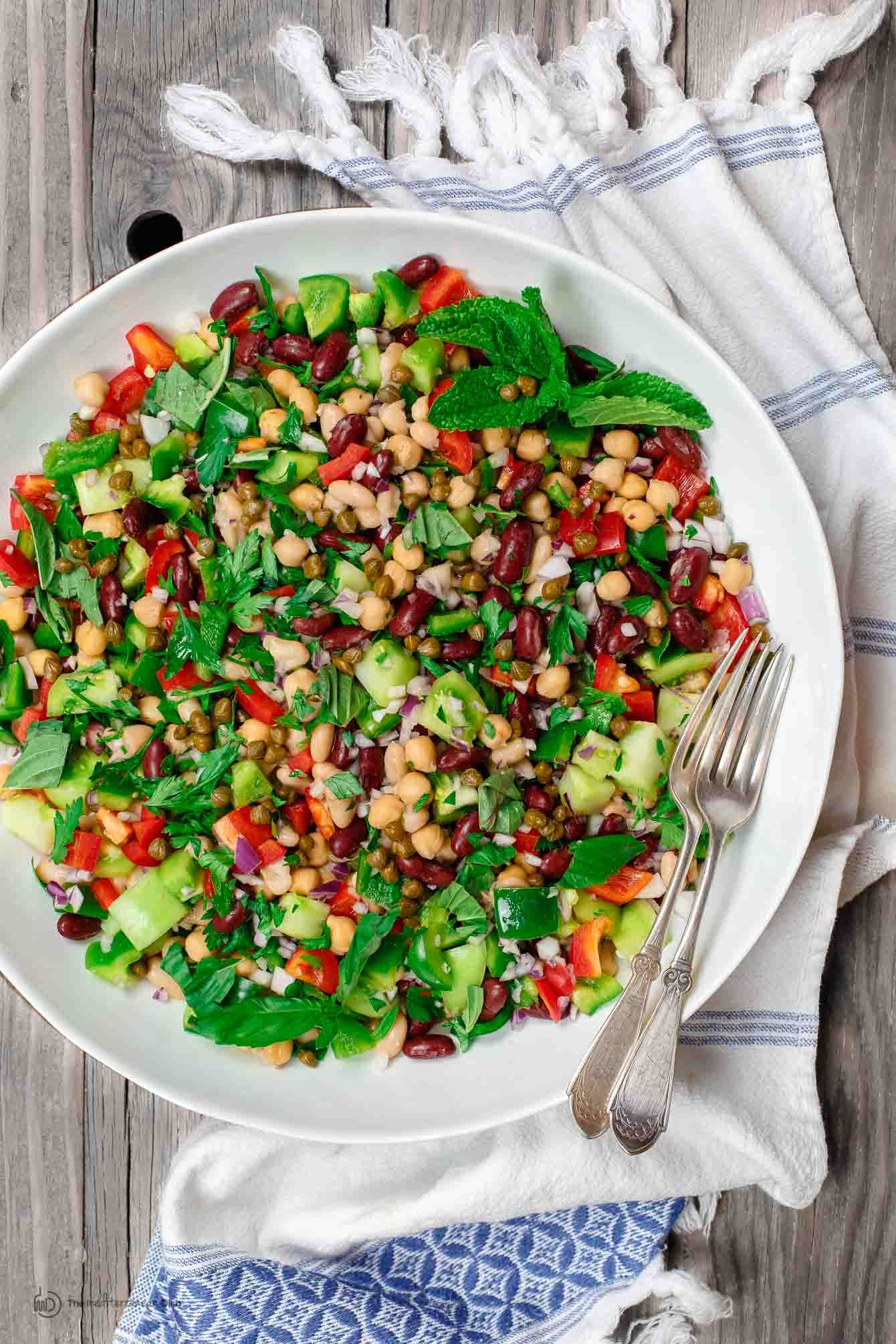 This is my go-to for a power lunch. I recommend using green lentils with fresh cucumber, red onion, baby spinach, parsley and pomegranate seeds. The zesty dressing will bring all the flavors together. To keep this salad vegan, swap out the honey in the dressing for a little brown sugar or maple syrup, and skip the feta.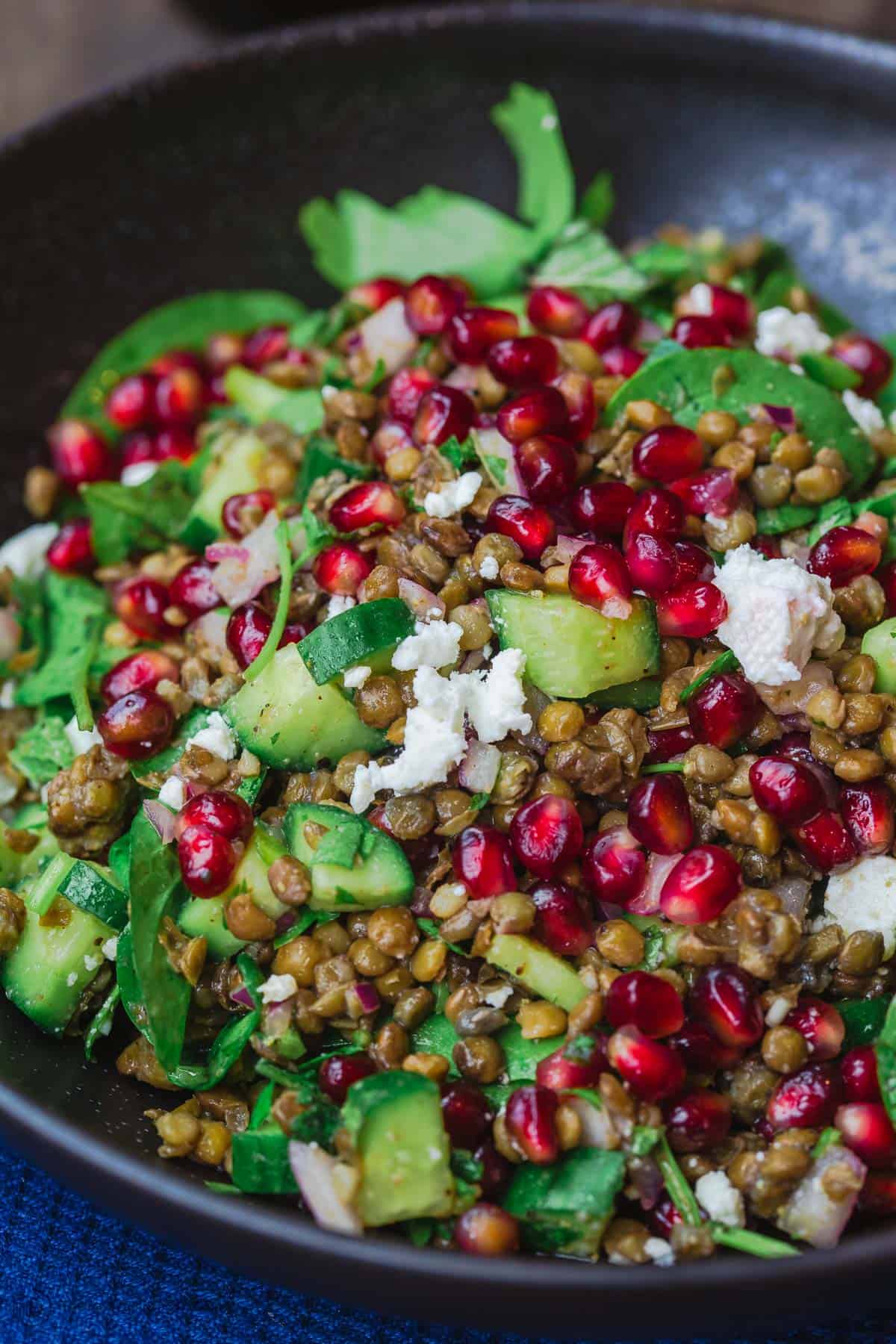 Simple and hearty black-eyed pea salad with chopped vegetables, fresh herbs, pomegranate arils, and a bright Mediterranean dressing. This salad keeps well for 3 days or so in an airtight container in the fridge. Omit the feta.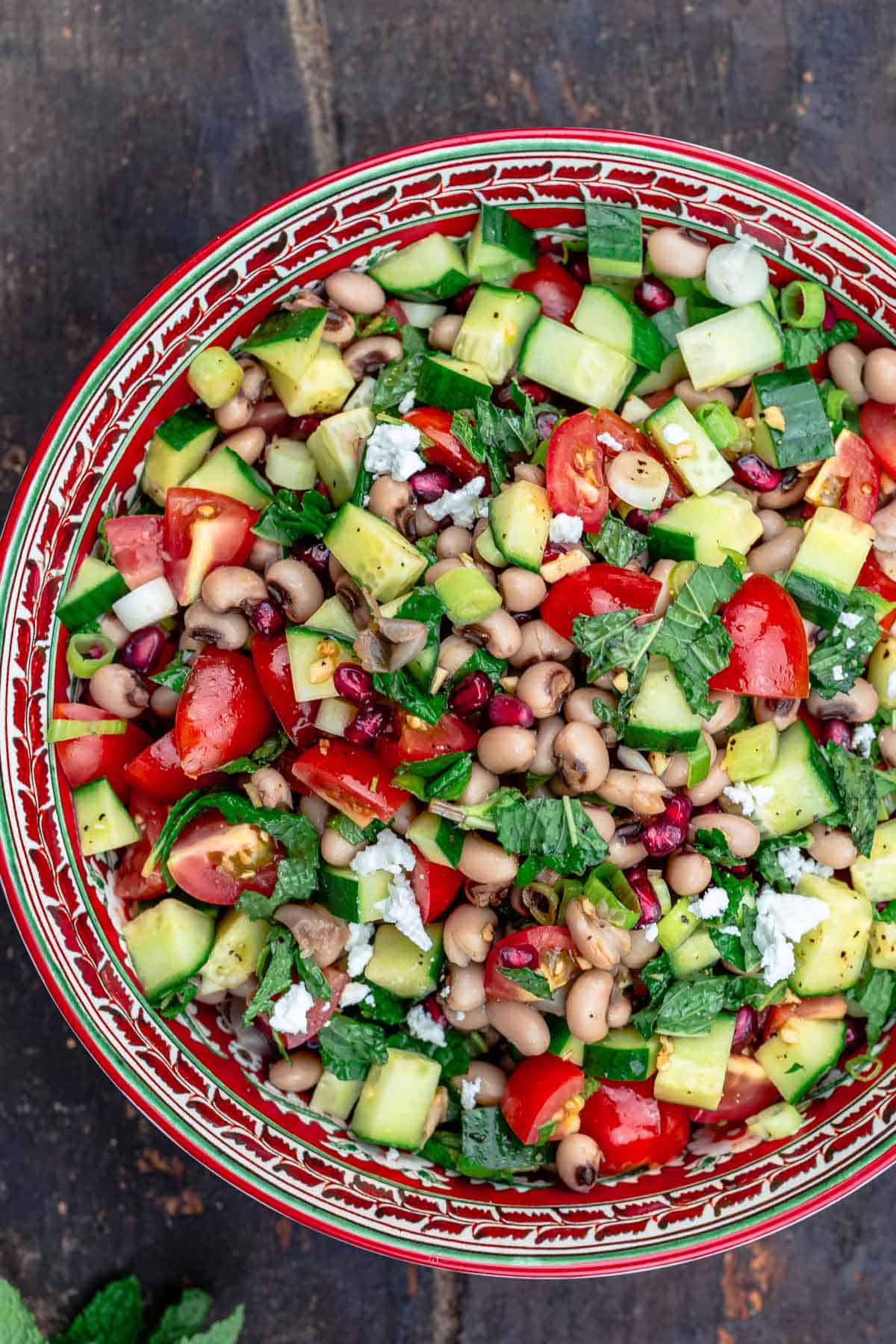 You'll love this Mediterranean couscous salad recipe, loaded with nutrition and flavor! This versatile dish makes a great lunch, light supper, or side depending on what you need. The flavors deepen the next day, so feel free to make the couscous salad a day in advance.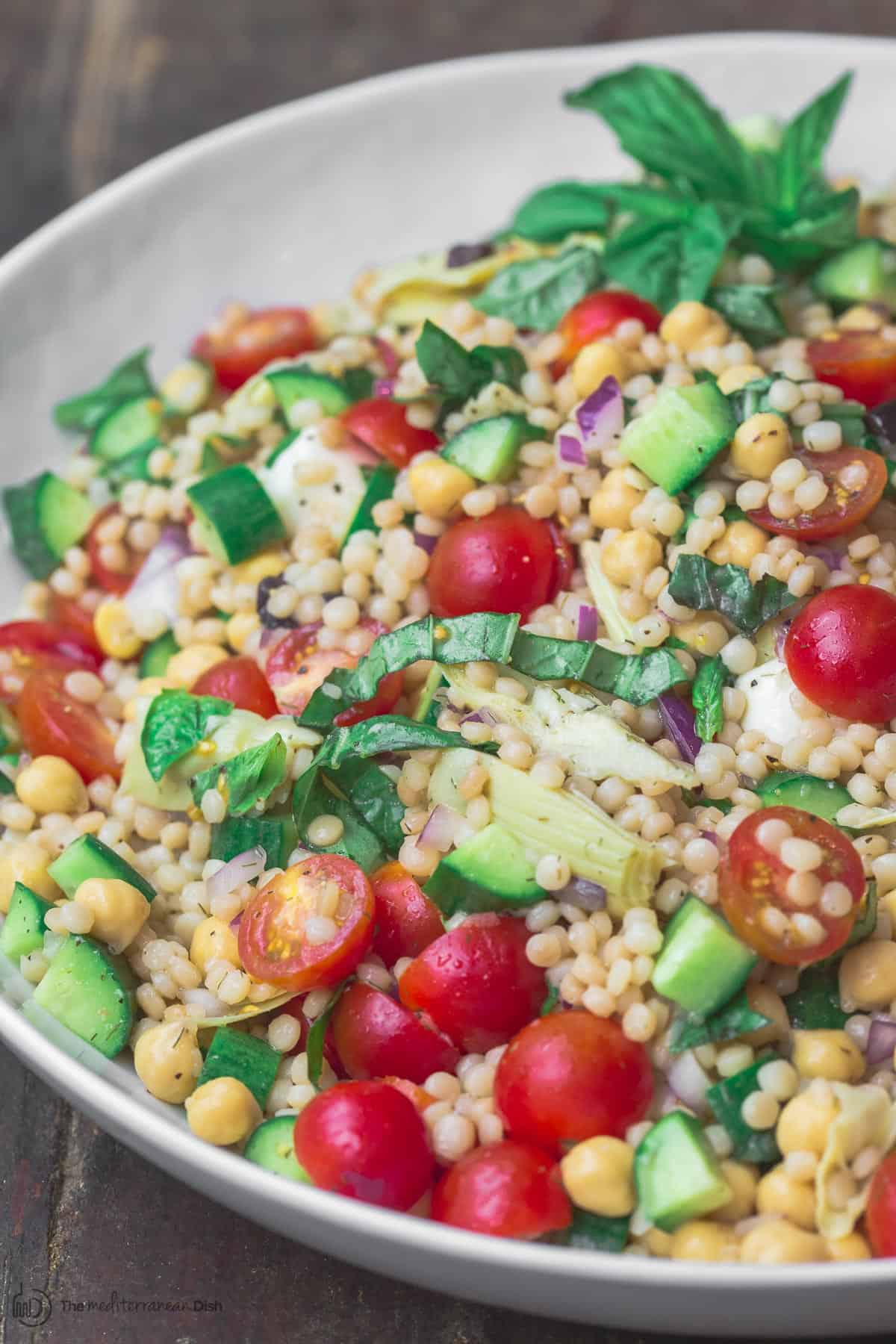 Simple roasted cauliflower salad with butternut squash, spring greens, and a lemony vinaigrette. Serve it for lunch or pair it with your favorite vegan entrée for the perfect meal. Top tip: Pour the vinaigrette over the vegetables while they're still warm from the oven. This will help them absorb as much flavor as possible. Swap out the honey in the dressing for maple syrup to keep it vegan.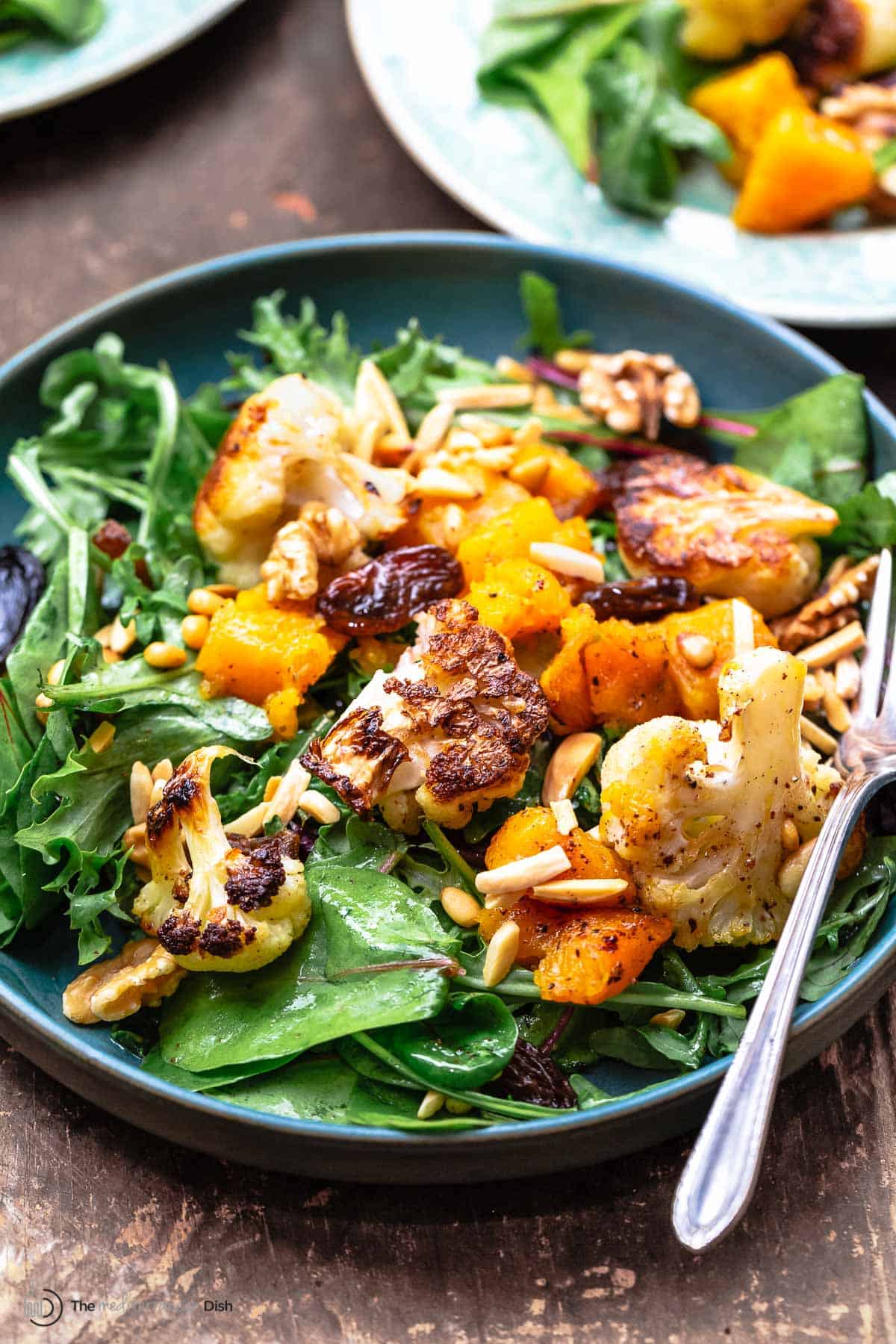 Farro Salad Recipe with Arugula, Feta and Walnuts
This satisfying and delicious farro salad is prepared Mediterranean-style with peppery arugula, fresh veggies, and a good handful of walnuts. It makes a light weeknight meal and is even better for lunch the next day! Leave out the feta.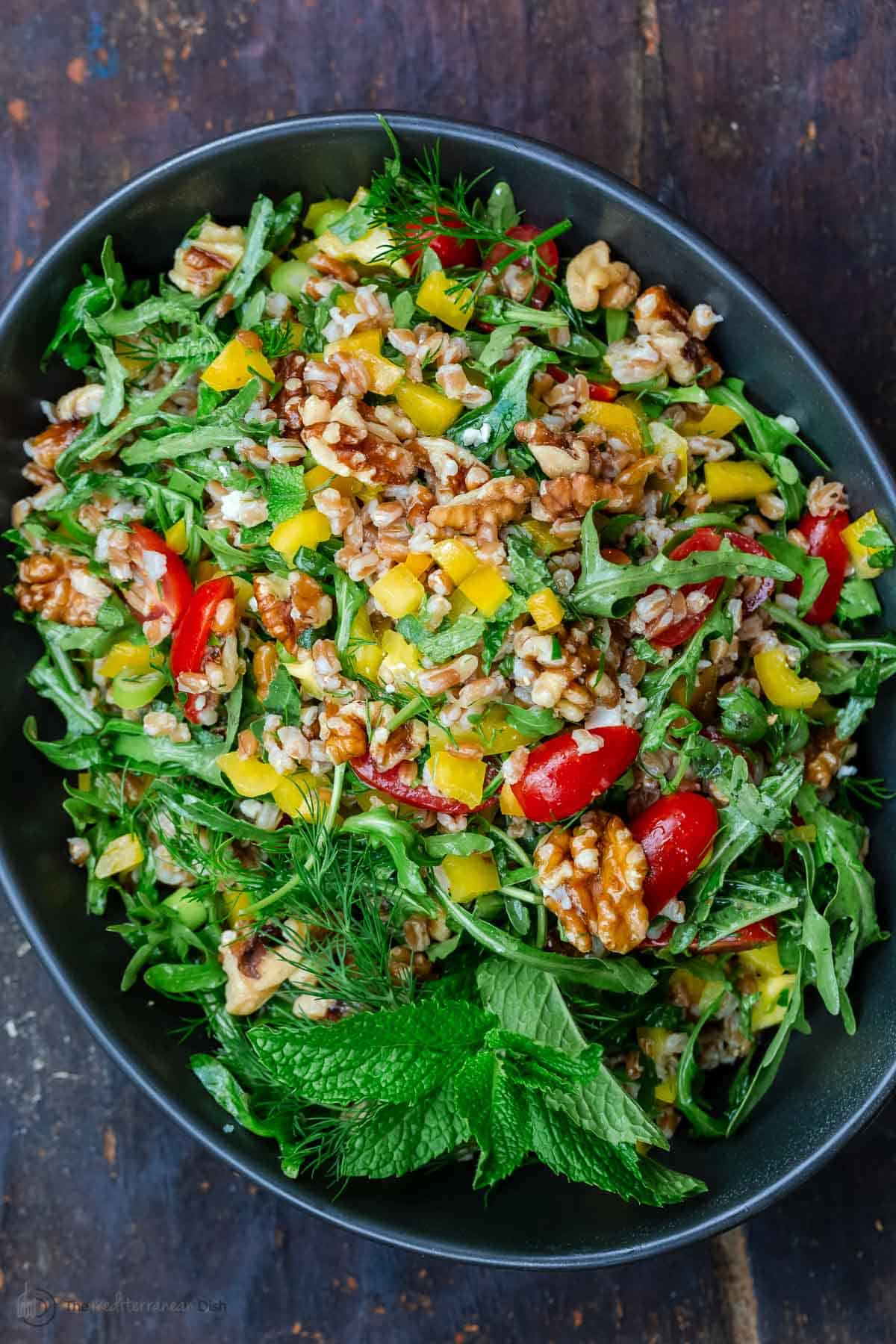 Yes, vegan potato salad does exist – and I daresay it's even more delicious than its mayonnaise-y counterparts! This mustard potato salad gets a Mediterranean makeover with a bright, egg-free dressing and the addition of fresh herbs and capers.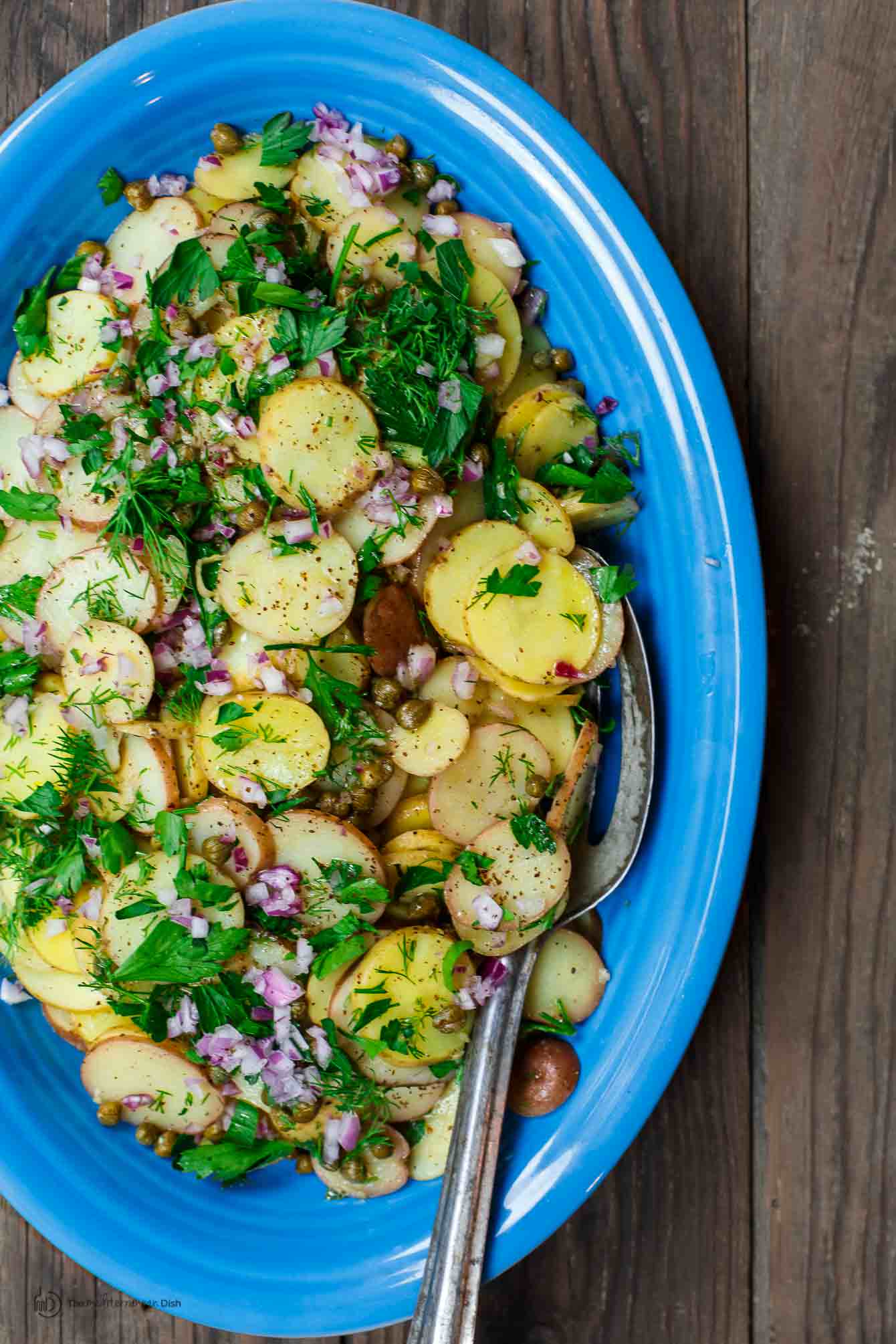 Spicy Harissa White Bean and Lentil Salad
White beans and brown lentils come together to create a filling, flavorful salad with a kick from harissa paste! I love using homemade harissa paste here, but you can use your favorite store-bought paste as well.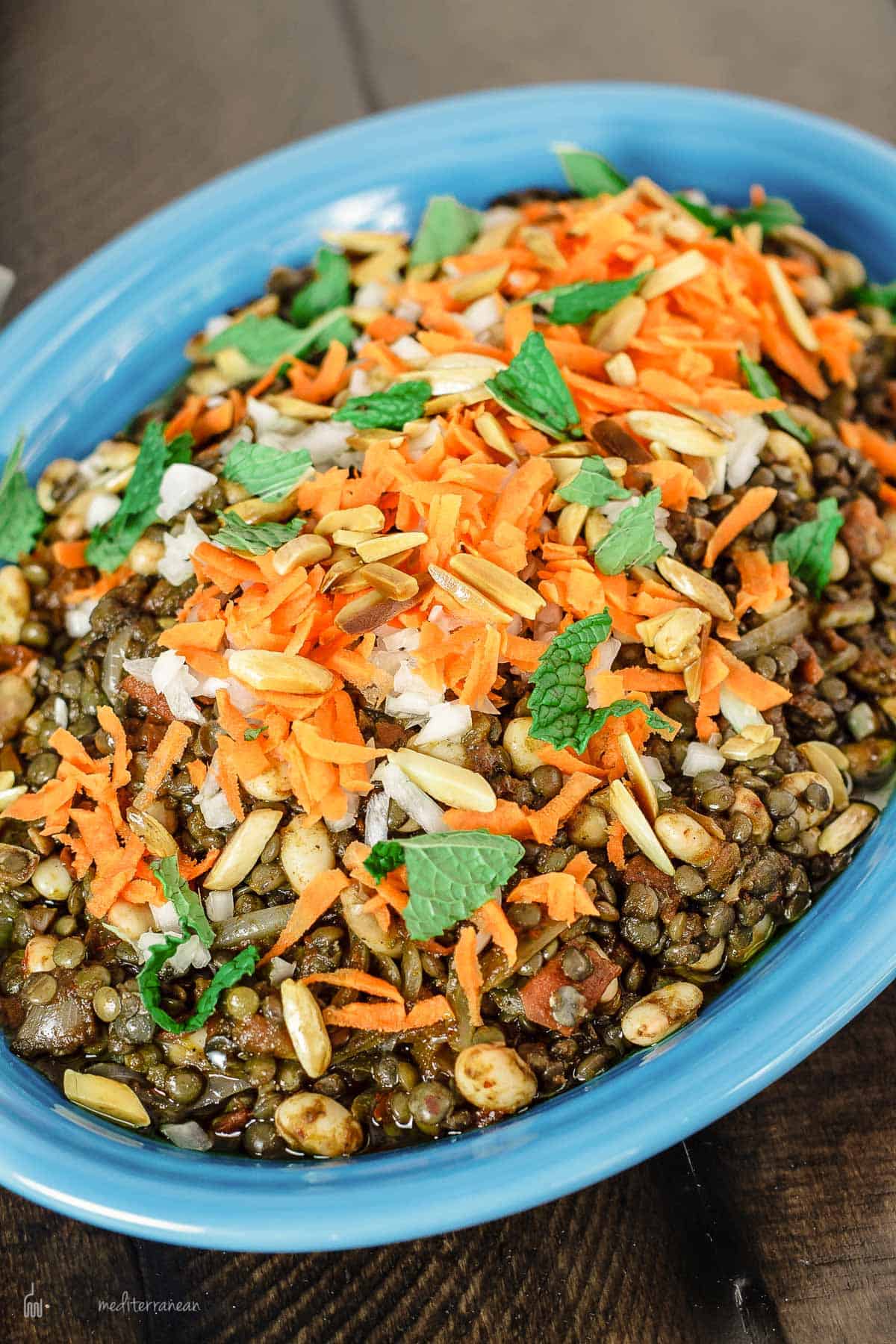 Mediterranean Orzo Salad Recipe
This easy 20-minute Mediterranean orzo salad recipe is loaded with crunchy veggies and fresh herbs. Don't forget the kalamata olives and capers: These add texture and a nice briny tang. Skip the feta.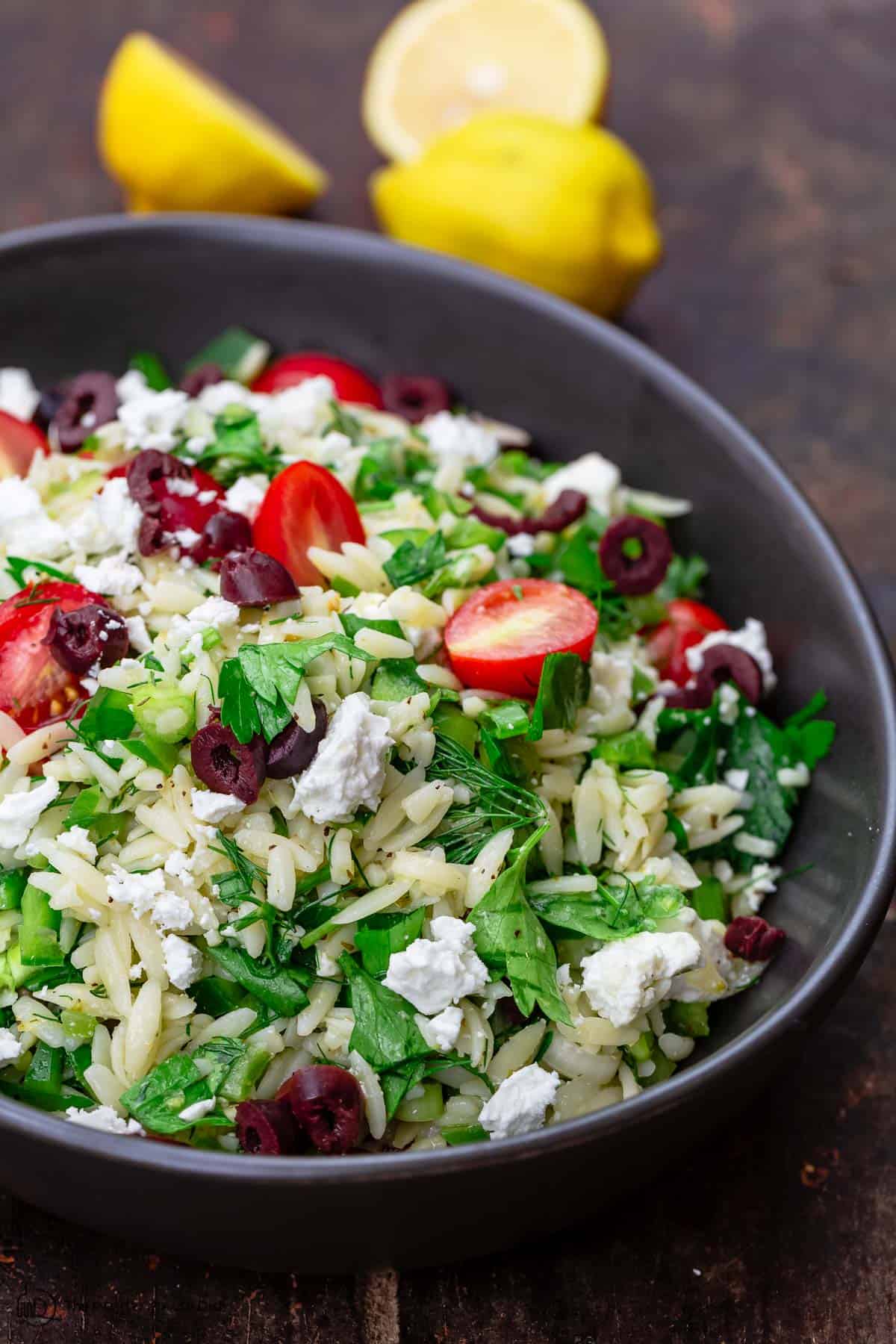 Kidney Bean Salad with Cilantro and Dijon Vinaigrette
The star ingredient in this classic Mediterranean salad is one humble can of kidney beans, combined with chopped cucumbers, tomatoes, red onions, and fresh cilantro. A light homemade Dijon vinaigrette with a dash of all-natural sumac brings it all together and provides an irresistibly fresh and zesty flavor! You can swap out the kidney beans for white beans, black beans, or chickpeas.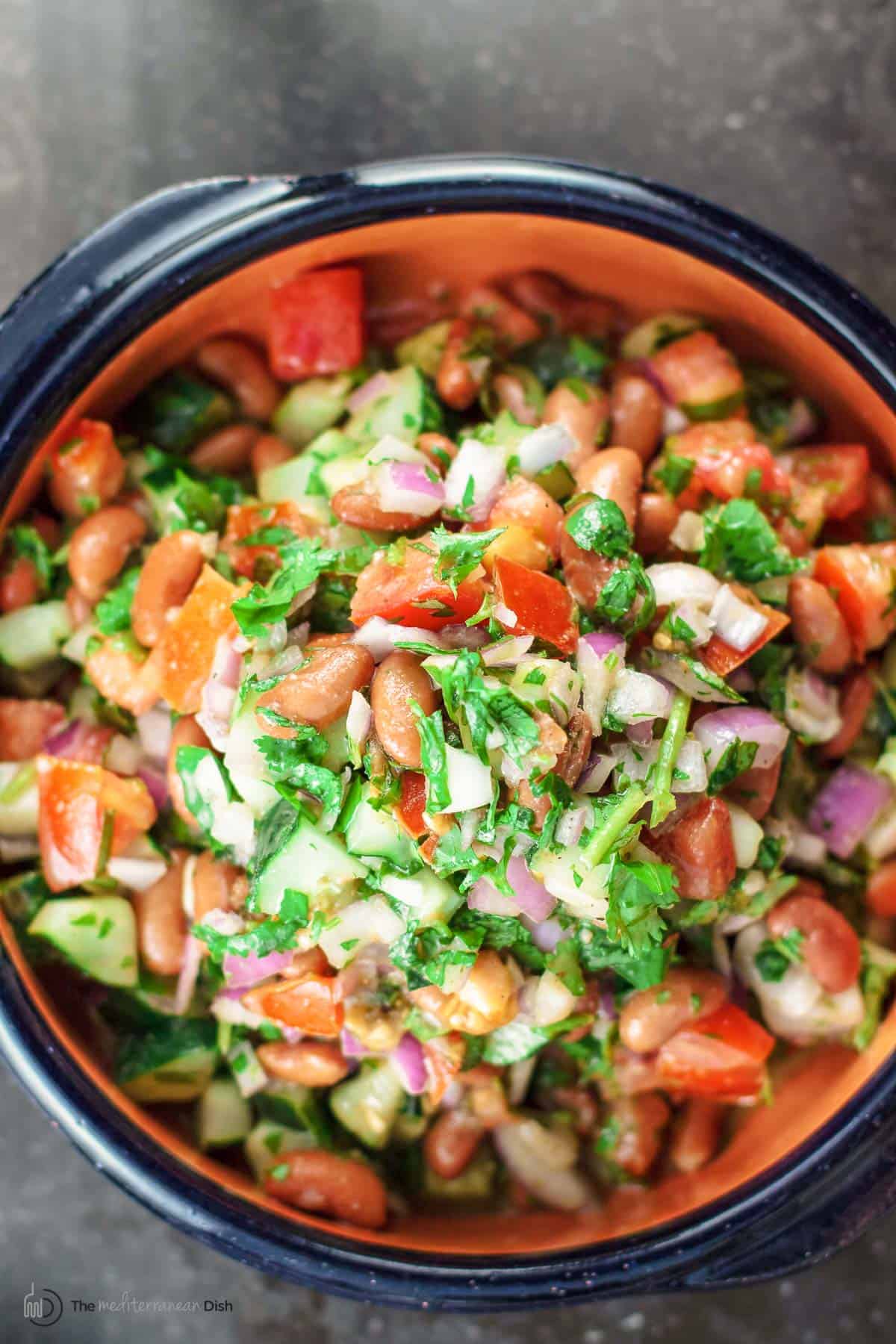 My family's secret Mediterranean chickpea salad is a winner every time! Serve it as a hearty meal on its own, or pair with a side of roasted or fried eggplant. If you decide to pair it with eggplant and have leftovers, store the chickpea salad and eggplant separately in the fridge to prevent the eggplant from becoming soggy.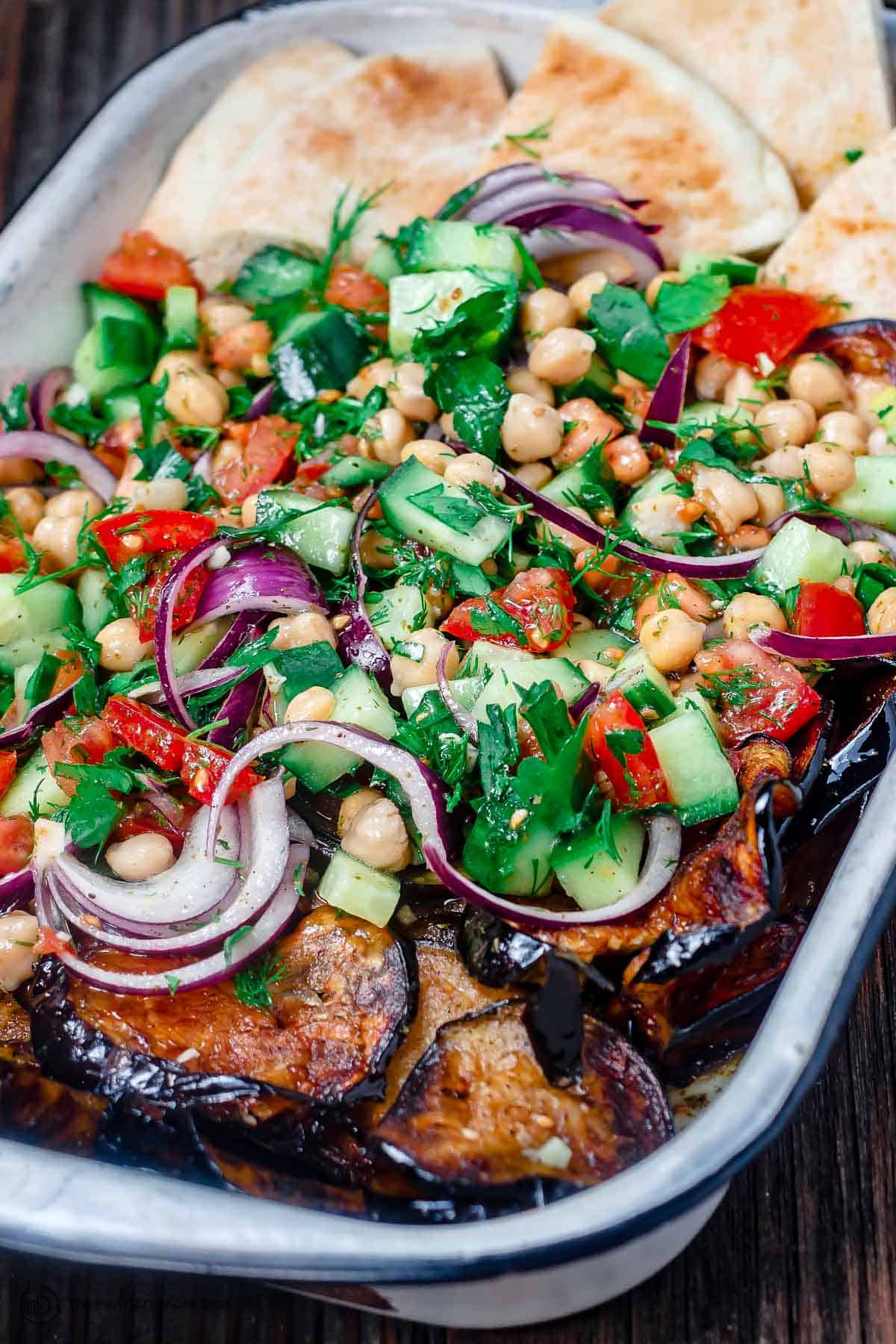 Other recipe roundups you may like
Browse all Mediterranean recipes

Visit Our Shop
60+ Must-Try Vegan Recipes: Easy Greek-Style Eggplant Recipe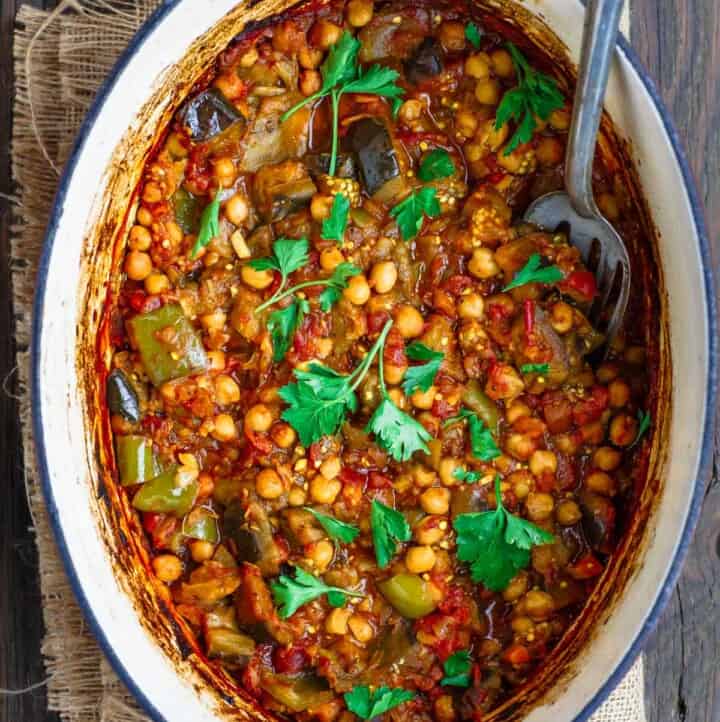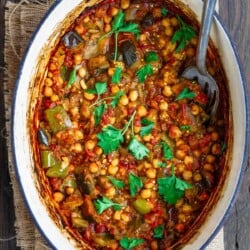 You'll find 60+ wholesome vegan recipes and vegan dinner ideas in my post, but why not start with this simple Greek-style eggplant recipe with chickpeas? You'll love the Greek flavors with a little extra virgin olive oil and a combination of spices. I like to serve this hearty vegan eggplant stew over my 15-minute couscous or with a side of warm pita bread.
Ingredients
1.5

pound

eggplant

cut into cubes

Kosher salt

Extra Virgin Olive Oil, I used Private Reserve Greek EVOO

1

large yellow onion,

chopped

1

green bell pepper,

stem and innards removed, diced

1

carrot,

chopped

6

large garlic cloves,

minced

2

dry bay leaves

1 to 1 ½

teaspoon

sweet paprika OR smoked paprika

1

teaspoon

organic ground coriander

1

teaspoon

dry oregano

¾

teaspoon

ground cinnamon

½

teaspoon

organic ground turmeric

½

teaspoon

black pepper

1 28-

ounce

can chopped tomato

2 15-

ounce

cans chickpeas,

reserve the canning liquid

Fresh herbs (such as parsley and mint) for garnish
Instructions
Heat oven to 400 degrees F.

Place eggplant cubes in a colander over a large bowl or directly over your sink, and sprinkle with salt. Set aside for 20 minutes or so to allow eggplant to "sweat out" any bitterness. Rinse with water and pat dry.

In a large braiser, heat ¼ cup extra virgin olive oil over medium-high until shimmering but not smoking. Add onions, peppers, and chopped carrot. Cook for 2-3 minutes, stirring regularly, then add garlic, bay leaf, spices, and a dash of salt. Cook another minute, stirring until fragrant.

Now add eggplant, chopped tomato, chickpeas, and reserved chickpea liquid. Stir to combine.

Bring to a rolling boil for 10 minutes or so. Stir often. Remove from stove top, cover and transfer to oven.

Cook in oven for 45 minutes until eggplant is fully cooked through to very tender. (While eggplant is braising, be sure to check once or twice to see if more liquid is needed. If so, remove from oven briefly and stir in about ½ cup of water at a time.)

When eggplant is ready, remove from oven and add a generous drizzle of

Private Reserve EVOO

, garnish with fresh herbs (parsley or mint). Serve hot or at room temperature with a side of Greek yogurt or even

Tzatziki sauc

e and pita bread.
Notes
Slow-cooker instructions: You can prepare the recipe up to step #3 as written. Then transfer ingredients to your slow cooker. Add 1 cup water and the remaining ingredients from step 4. Cook on low for 4 hours or until eggplant is very tender.
Serving suggestions: Serve over my 15-minute couscous or just a side of warm pita bread. If you are not strictly following a vegan diet, a dollop of Greek yogurt or even Tzatziki sauce make great additions. And, to keep with the Greek theme, top with some olives.
Visit our Online Shop to browse quality Mediterranean ingredients including extra virgin olive oils and all-natural and organic spices used in this recipe.
Nutrition
Calories:
144.3
kcal
Carbohydrates:
28.1
g
Protein:
6.8
g
Fat:
2.1
g
Saturated Fat:
0.3
g
Monounsaturated Fat:
0.4
g
Sodium:
430.5
mg
Potassium:
746.7
mg
Fiber:
9.6
g
Sugar:
9
g
Vitamin A:
1980.3
IU
Vitamin C:
34.2
mg
Calcium:
104.6
mg
Iron:
2.9
mg