Fragrant pesto, punchy fried lemons, and a touch of milk transform the humble canned chickpea into a totally effortless yet luxurious meal in this easy vegetarian recipe.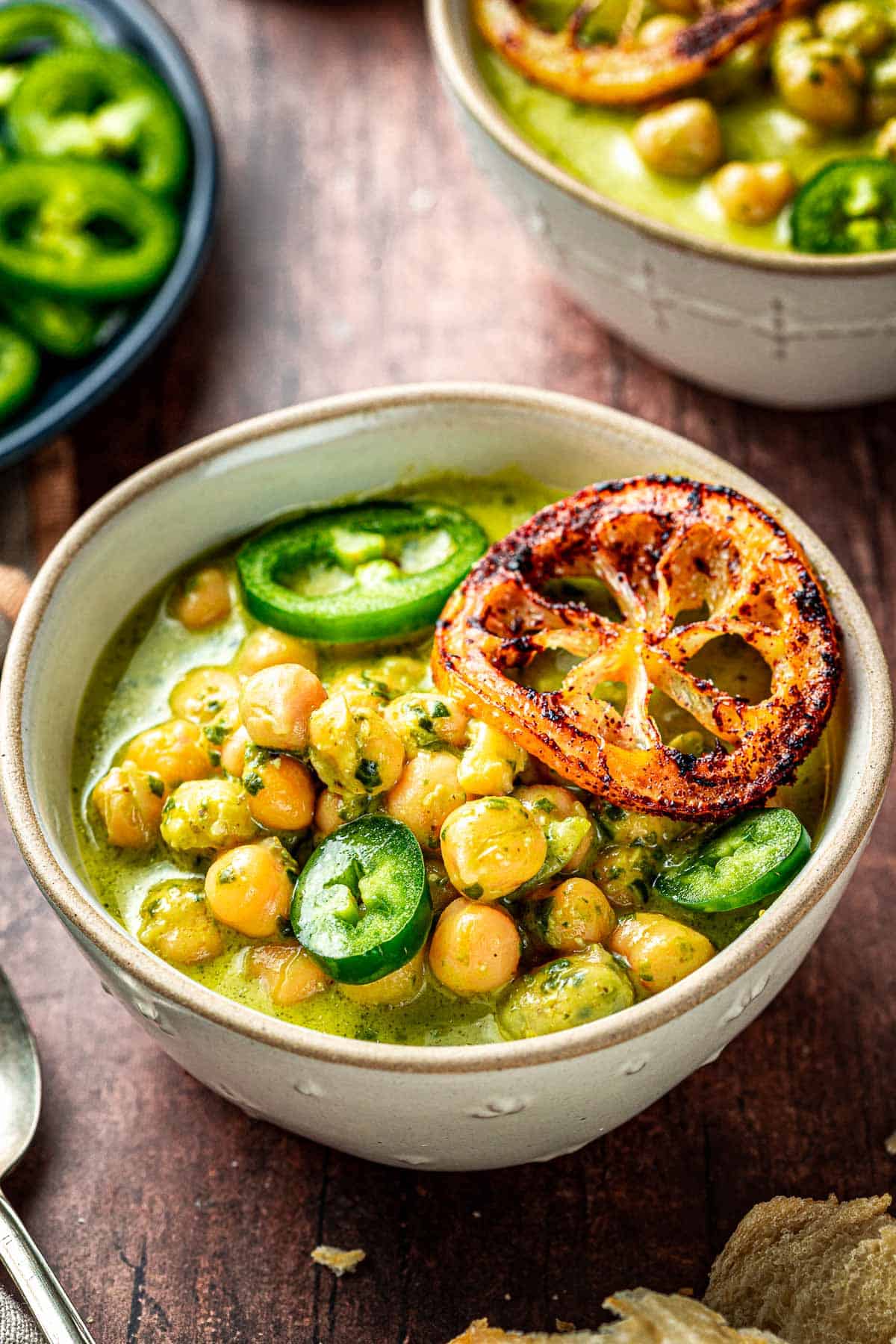 I love giving canned chickpeas the all-star treatment on a busy evening. It's my secret to making a weeknight dinner feel celebratory. It's the simple things in life after all!

Canned chickpeas just need a few minutes on the stove to get tender and creamy. And they take on vibrant Mediterranean flavor with ease. Whether crispy, smashed, or smooth—I love them every which way.

Here, we transform a couple of cans of chickpeas into a creamy, silky-smooth, and velvety delight. One of Italy's greatest sauces, pesto, does most of the heavy lifting. Just ⅓ cup adds an irresistibly herbaceous, cheesy, and nutty flavor.

Though pesto is an obvious hit, the fried lemon ring garnish may surprise you. They're almost like lemon potato chips, adding bright bursts of flavor everywhere they go. They cut right through the creaminess of the braised chickpeas for the perfect balance.

Serve this dish as an easy and hearty lunch or dinner. Or, this canned chickpea recipe makes for an effortless and elegant first course at a dinner party.
Table of Contents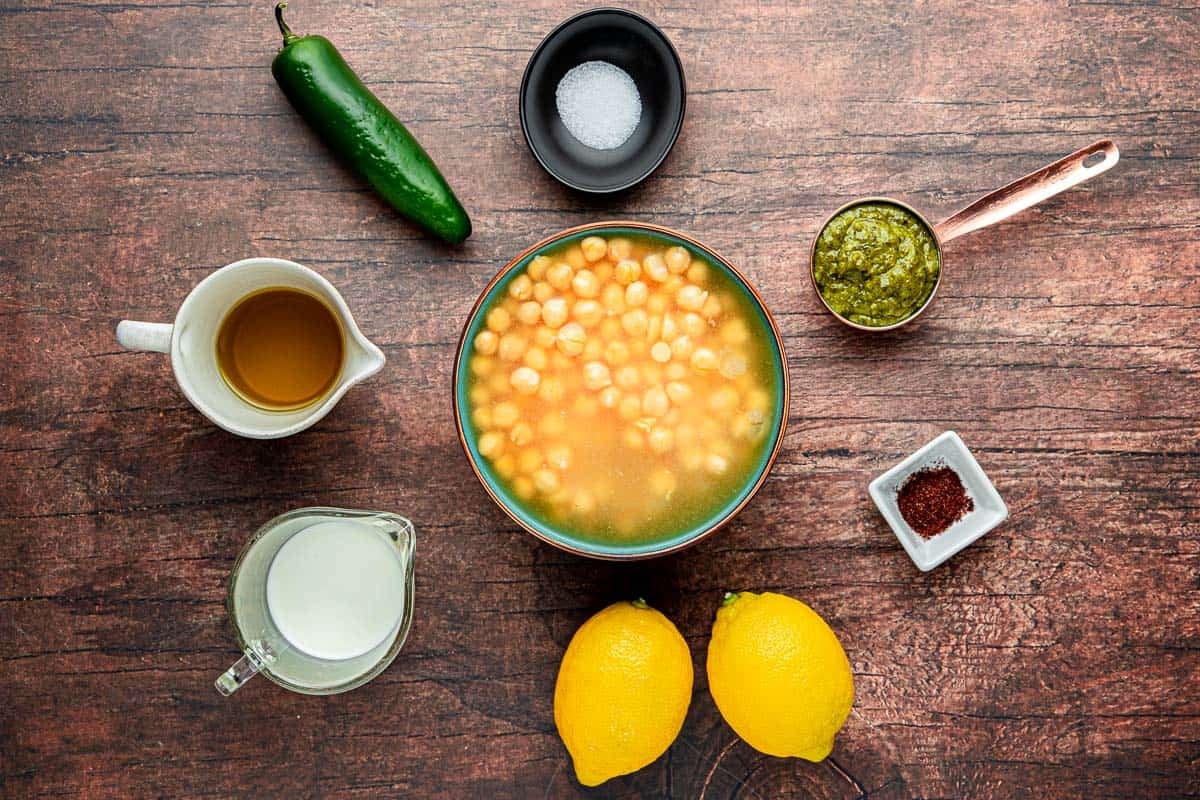 Ingredients for Braised Chickpeas in Pesto
This easy recipe comes together with a handful of pantry staples. Homemade pesto keeps surprisingly well. It can stay fresh for months if covered in a layer of olive oil.
Extra virgin olive oil: Adds richness to the chickpea broth. Use a buttery, smooth variety, like our Nocellara from Italy.
Chickpeas: Canned chickpeas are doubly useful. The chickpeas themselves are nutritious, tender, and filling. What many people don't know, however, is their broth is also packed with flavor. We use both the chickpeas and their broth in this quick dinner recipe.
Kosher salt: A pinch of salt enhances the chickpeas' and fried lemons' flavor.
Lemon: This is a lemon two ways situation! Lemon juice balances the creamy broth. Lemon rings, freshly fried in olive oil and finished with sumac and salt, are used as a garnish to add a burst of bright flavor.
Pesto: Made with fresh basil, garlic, pine nuts, lemon, olive oil, Parmesan, salt and pepper. Pesto gives canned chickpeas layers of cheesy, nutty, and fresh flavor and an irresistibly delicious aroma. You can't beat homemade pesto, but you can go for store- bought if you're short on time.
Milk: Whole milk or cream adds even more creaminess and richness to the broth. Low-fat or non-fat milk would also work.
Jalapeño: Sliced jalapeño is milder than it sounds, especially if you remove the seeds (tips below). Use as a garnish to add freshness and textural variety.
Crusty bread: Big hunks of crusty bread soak up all the flavor.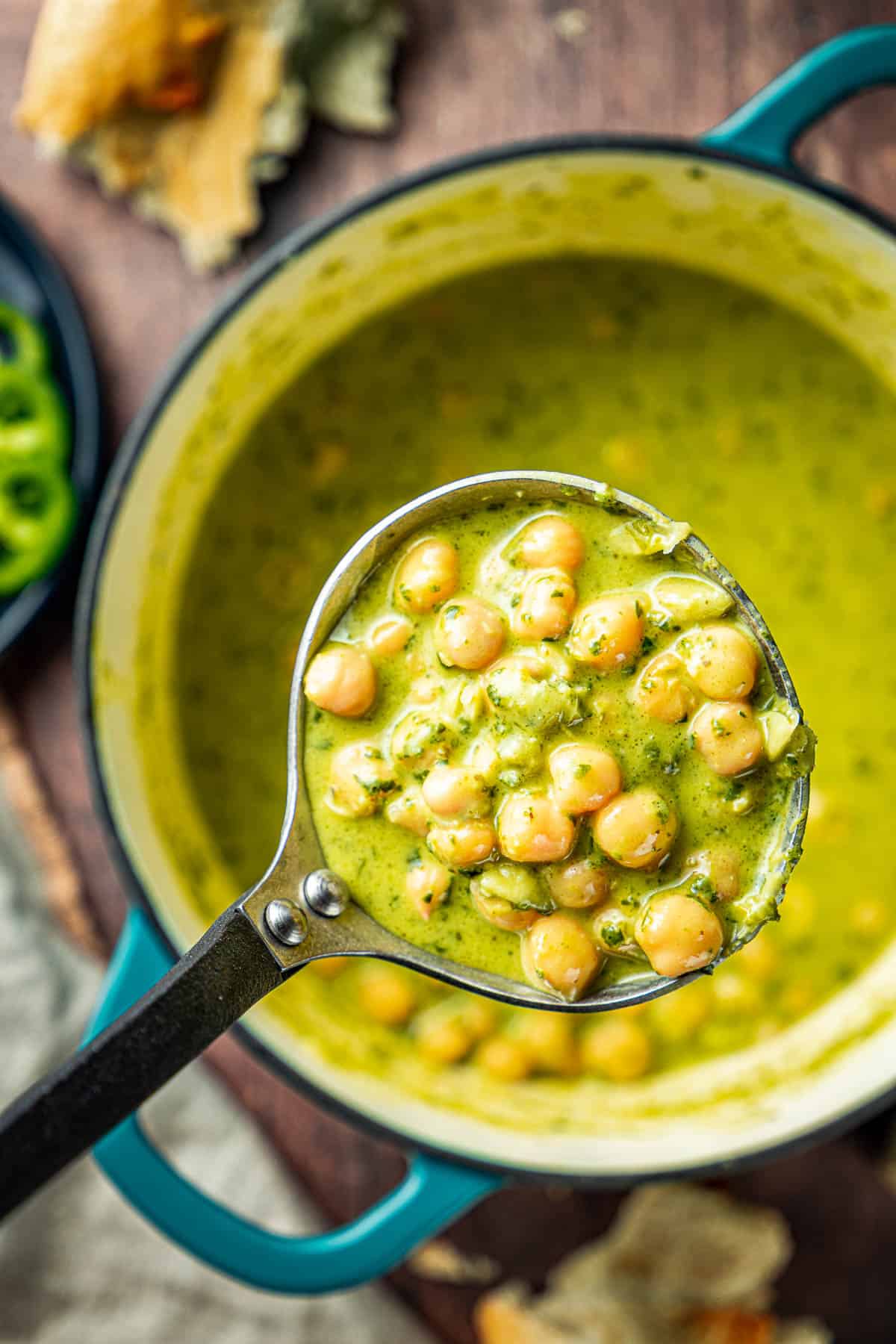 How to Make Braised Chickpeas
This recipe is simple: get the chickpeas simmering, gather your flavor-makers, mix, and garnish. Make it a few times and you'll likely commit it to memory.
Get ready: Whip up a batch of Homemade Basil Pesto (or grab some from the store).
Heat the chickpeas: Into a medium saucepan, add 2 tablespoons of extra virgin olive oil. Once the oil is shimmering, add 2 cans of chickpeas and their liquid. Season with a big pinch of kosher salt. Bring to a boil, then lower the heat and allow the chickpeas to simmer until very soft, 15 to 20 minutes.
Make the pesto and lemon rings: While the chickpeas are simmering, fry one lemon according to this Fried Lemon Rings recipe. Slice one jalapeño into rings, removing the seeds as you go.
Finish the chickpeas: When the chickpeas are very tender, remove them from the heat. Juice in one lemon. Add ⅓ cup each of basil pesto and milk (or cream).
Serve: Transfer the braised chickpea to serving bowls. Garnish each bowl with sliced jalapeños and fried lemon rings (if using). Serve hot, with a side of crusty bread.
How to Remove Jalapeño Seeds
A garnish of sliced jalapeño adds freshness and just a faint hint of spice. This balances the rich, creamy braised chickpeas. If you love spice, go ahead and leave the seeds in. If you prefer a milder kick, here's the best way to remove seeds from sliced jalapeño:
Stem: Cut off the stem end of the jalapeno using a sharp knife.
Slice: Slice the pepper horizontally into rings of your desired thickness.
Remove the seeds: Steady a slice with your non-dominant hand. Use a small spoon or the tip of your knife to scrape out the seeds and any white membrane from the center of each ring.
Note: Don't forget to wash your hands! Avoid touching your eyes and face, and scrub with soapy water. You may want to use gloves if you have sensitive or dry skin.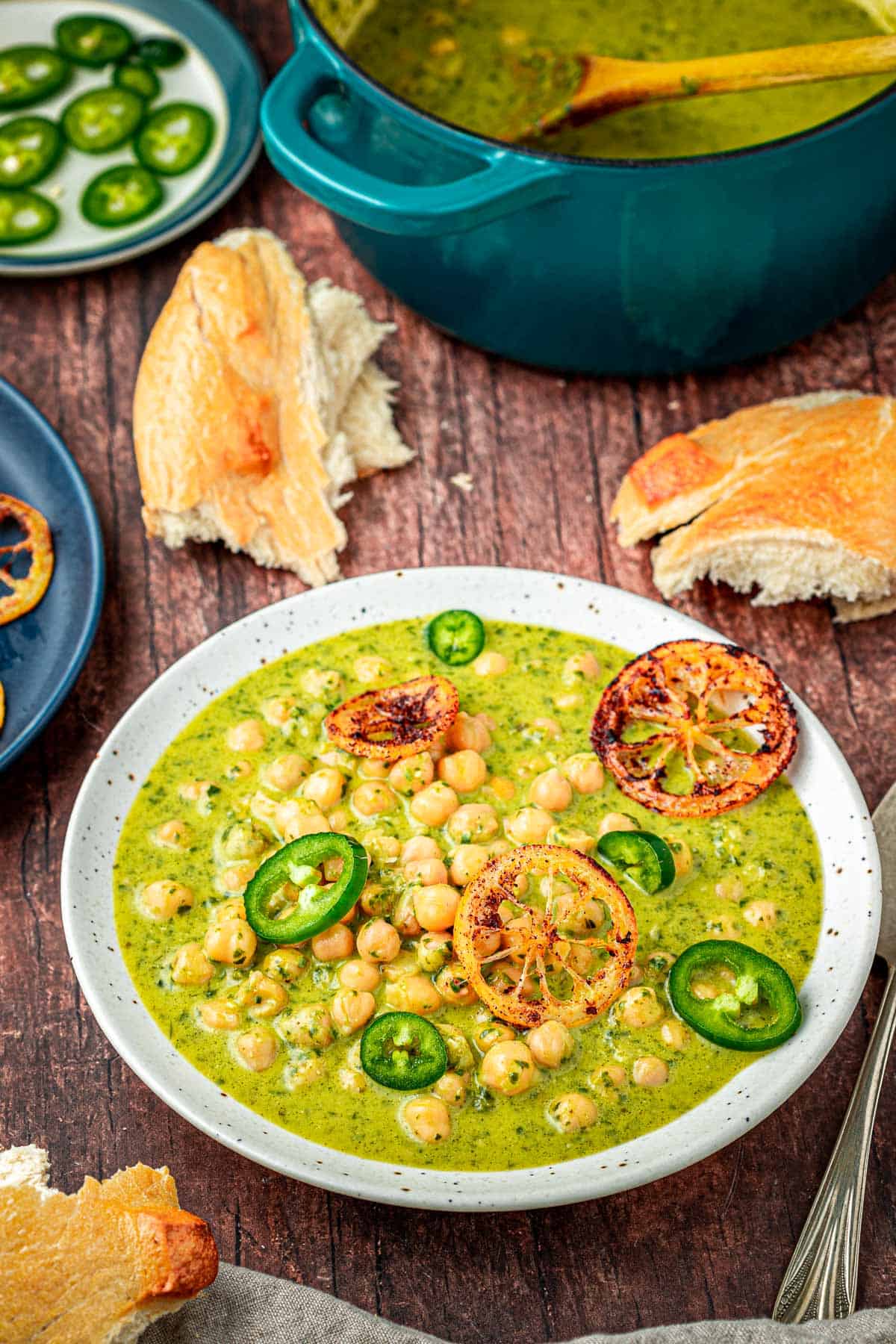 What to Serve with Chickpeas in Creamy Pesto Sauce
This simple pantry dinner is hearty enough to satisfy two hungry people on its own. If you have more mouths to feed or want leftovers, this recipe can easily be doubled, tripled, and so on.

I also love these braised chickpeas as an unexpected appetizer for 4. Kick things off with small servings of creamy pesto chickpeas, passing a baguette around the table for dipping. For the main course, go with something light and delicate, like One-Pan Baked Halibut With Vegetables. Or, for a vegetarian dinner, serve with Roasted Fennel With Parmigiano Cheese.
More Canned Chickpeas Recipes
Browse all Mediterranean recipes.

Visit Our Shop.
Nocellara - Italian EVOO
Buttery and smooth, our Nocellara-Italian Extra Virgin Olive Oil will add just the right amount of richness to your braised chickpeas.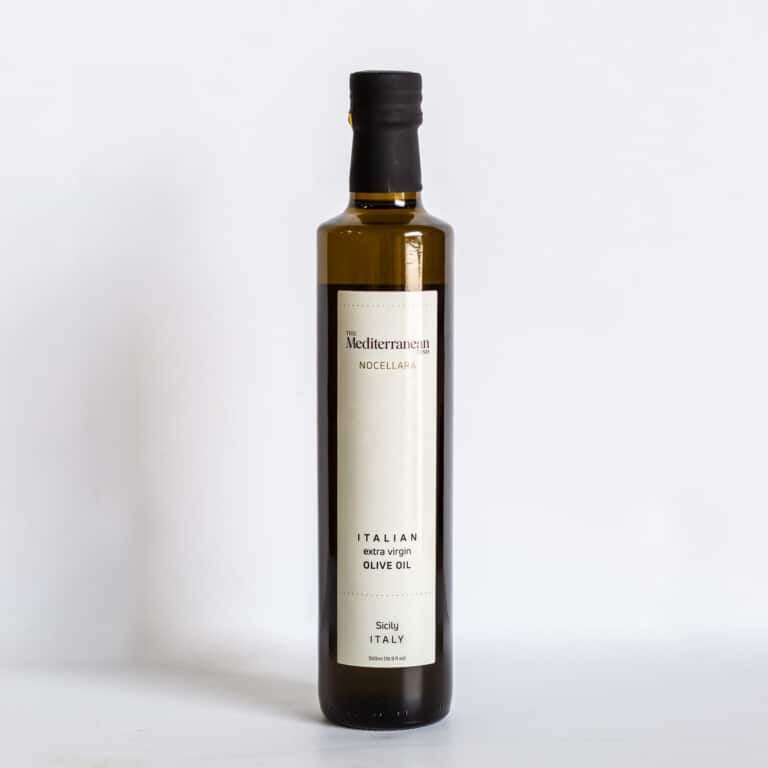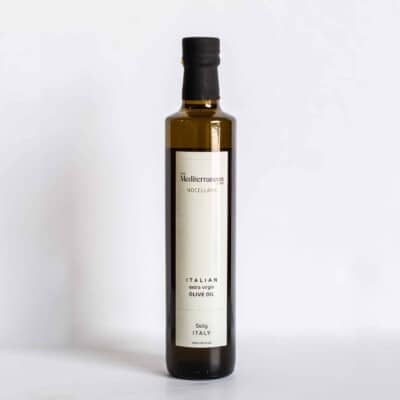 Braised Chickpeas in a Creamy Pesto Sauce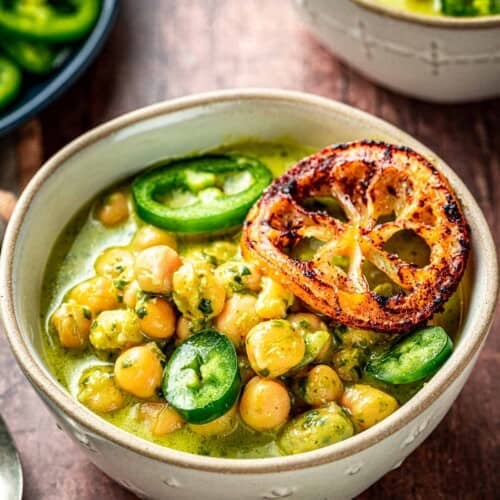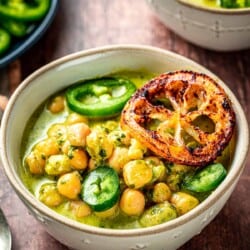 Ingredients
For the Fried Lemon Rings
2

Large lemons,

washed dried and very thinly sliced

Kosher salt

½

teaspoon

sumac,

optional
For the Chickpeas
2

(15-ounce) cans chickpeas

Kosher salt

Juice of 1 lemon

⅓

cup

basil pesto,

more for later

⅓

cup

whole milk or cream

1

Jalapeno,

seeds removed, chopped

1

Fried Lemon Rings,

optional

Crusty bread,

for serving
Instructions
For the fried lemon rings:
Fry the lemon rings: Make sure you've removed any seeds from the lemon slices. In a small skillet set over medium heat, add ¼ cup olive oil. Once the oil begins to shimmer (don't let it smoke). Use tongs to carefully slide the lemon slices into the oil. They could splatter so if you have a splatter guard this is a good time to use it. Cook, turning the lemon slices occasionally, until they are crisp, about 3 to 5 minutes.

Drain the lemons: Line a plate with paper towels and set aside. Remove the skillet from the heat. Use a slotted spoon to transfer the fried lemons to the paper towel-lined plate. Immediately season with a big pinch of salt (about ½ teaspoon) and sumac, if using. Set aside. Don't toss the lemon infused oil in the pan. Let it cool then add it to vinaigrettes, use for dipping crusty bread or drizzle over roasted vegetables.
For the chickpeas:
Heat the chickpeas: Into a medium saucepan, add 2 to 3 tablespoons extra virgin olive oil. Once the oil is shimmering, add the chickpeas and their liquid. Season with a big pinch of kosher salt. Bring to a boil, then lower the heat and allow the chickpeas to simmer for about 15 to 20 minutes or until very soft. Remove from the heat.

Finish the chickpeas: Off the heat, stir in the lemon juice, basil pesto, milk (or cream). Garnish with sliced jalapeños and fried lemon rings (if using).

Serve: Transfer the braised chickpea to serving bowls and serve with a side of crusty bread.
Notes
Remember to wash your hands with soapy water after slicing the jalapeño (or wear gloves). Avoid touching your face or eyes for a bit!
The braised chickpeas can be stored in an airtight container in your refrigerator for up to three days.
Visit our shop to browse quality Mediterranean ingredients including olive oils, honey, jams and spices.
Nutrition
Calories:
241.9
kcal
Carbohydrates:
29.7
g
Protein:
9.6
g
Fat:
11.3
g
Saturated Fat:
2
g
Polyunsaturated Fat:
1.4
g
Monounsaturated Fat:
0.8
g
Cholesterol:
4.1
mg
Sodium:
596.8
mg
Potassium:
357.5
mg
Fiber:
9
g
Sugar:
3.9
g
Vitamin A:
526.8
IU
Vitamin C:
48.1
mg
Calcium:
129.8
mg
Iron:
2.4
mg