Boasting the colors of the Italian flag, Caprese Salad is one of the prettiest, tastiest, and easiest salads you'll ever make. Fresh mozzarella, ripe red tomatoes, and emerald green basil, plus robust olive oil and a pinch of salt are all you need to make this stunning summer salad recipe.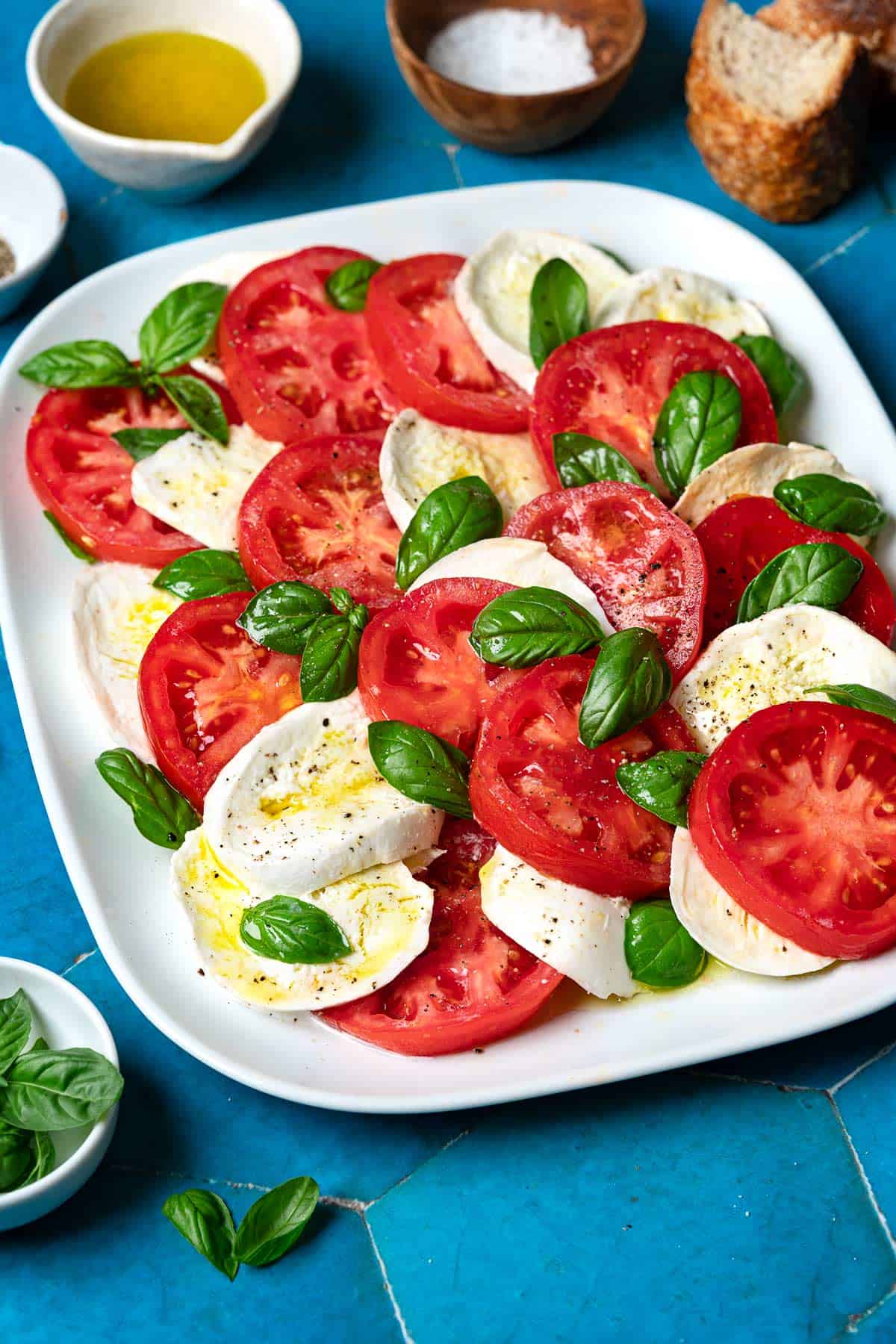 In a perfect world, we would all be given an opportunity to enjoy an Insalata Caprese while sitting on a balcony on the island of Capri, overlooking the Mediterranean Sea while we sip on Limoncello or an Aperol Spritz. What better way to experience this colorful salad of sun-kissed tomatoes, fresh mozzarella, and fragrant basil than the island where it was invented?

Luckily, though, you don't have to travel all the way to Capri to enjoy a simple yet exquisite Caprese Salad. Using just a handful of easy-to-source ingredients, you can make an authentic Caprese salad at home in less than 30 minutes.

To do justice to it, though, use the best ingredients you can find. Spring for perfectly ripe summer tomatoes, Italian extra virgin olive oil, and the freshest milky mozzarella available. The rest is easy!
Table of Contents
History of the Caprese Salad
"Caprese" literally translates to "from Capri," a small island located in a small part of the Mediterranean sea just off the coast of southern Italy near Naples. As with many Italian dishes, though, further details on the exact history of Caprese salad is less clear.
According to one popular story, the tri-color salad was invented in 1920 at the Hotel Quisisana. Legend has it that it was first made for the French-Italian poet and father of the Futurist Movement, Filippo Tommaso Marinetti.

Marinetti was said to be critical of traditional southern Italian food (think pasta and pizza!), which he considered heavy. But when he was served this composed salad of overlapping slices of tomatoes and milky white mozzarella, garnished with sweet basil while visiting the Island, he fell head over heels for it, as did everyone else.
More than a century later, this Caprese salad recipe is still one of the most popular dishes in Italian cuisine.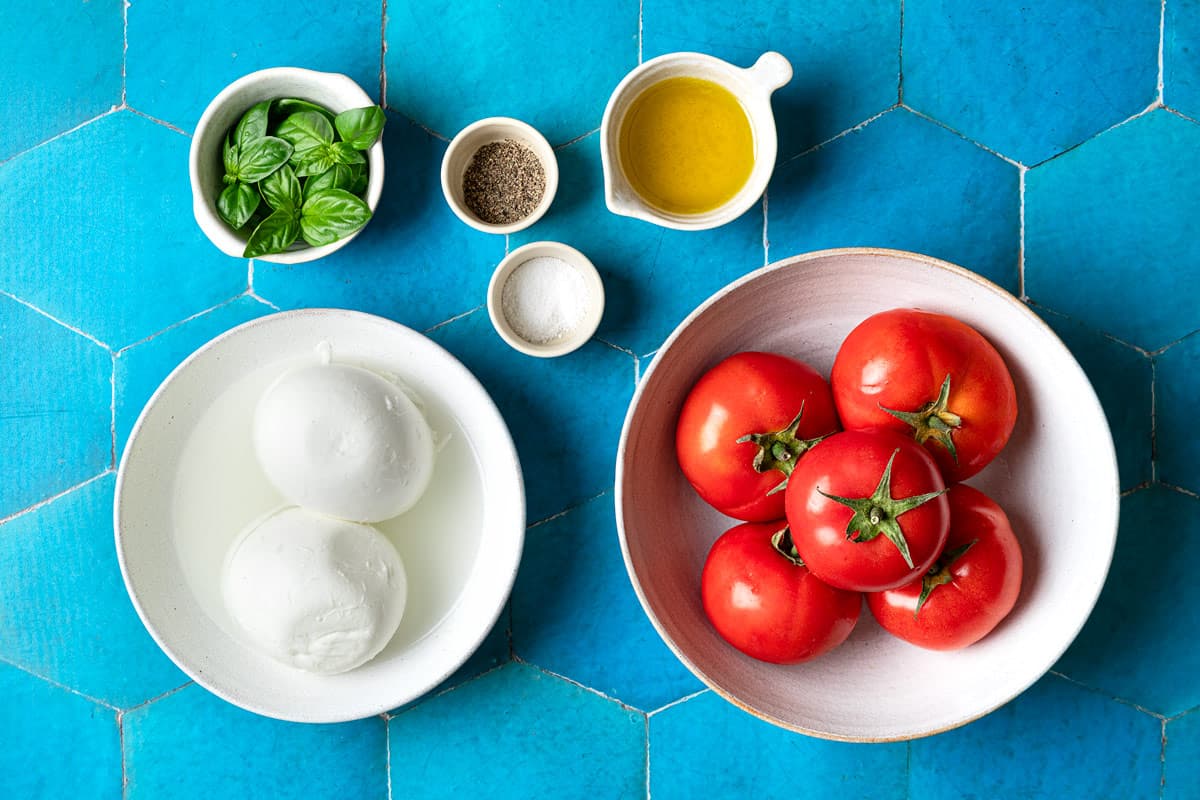 Caprese Salad Ingredients
Caprese salad is all about color and fresh, in-season ingredients. The best time to make it is in high summer when tomatoes are at their ripest and most flavorful. Here's what you'll need:
Ripe tomatoes: In Italy, the preferred tomato for Caprese salad is cuore di bue, which means "bull's heart." It's heart-shaped and heavy with lots of umami flavor. A good heirloom or salad tomato captures the same feeling. For salad tomatoes, think Beefsteak, Red Brandywine, Cherokee Purple, or other juicy, rich tomatoes. Summer farmers markets are a great source for ripe, flavorful tomatoes.
Mozzarella cheese: Fresh cow's milk mozzarella, known as fior di latte in Italian, is the traditional cheese for Caprese salad. It is produced near Sorrento, close to the island of Capri. Look for milky balls of mozzarella packed in brine rather than vacuum-sealed balls, which are dry and sometimes rubbery. Check the date it was packed and the sell-by date. The best mozzarella is perishable, so the fresher the better.
Fresh basil: Look for leaves that are a deep emerald green. Young, small leaves are best, as they are tender and have a sweet perfume and flavor.
Olive oil: Invest in a high-quality extra-virgin olive oil, like our Italian Nocellara. Look for oil from a recent harvest (within a year). It should taste fresh and grassy, with notes of tomatoes and artichokes and a slightly bitter finish.
Sea salt: Either fine or flaky sea salt will do. Sometimes I use a little of both—fine salt for the tomatoes, and a sprinkle of flaky salt as a garnish to add texture.
Black pepper: This is an optional addition, but pretty common in southern Italy. Grind just a little bit right on top of the salad at serving time so the spicy aroma shines through.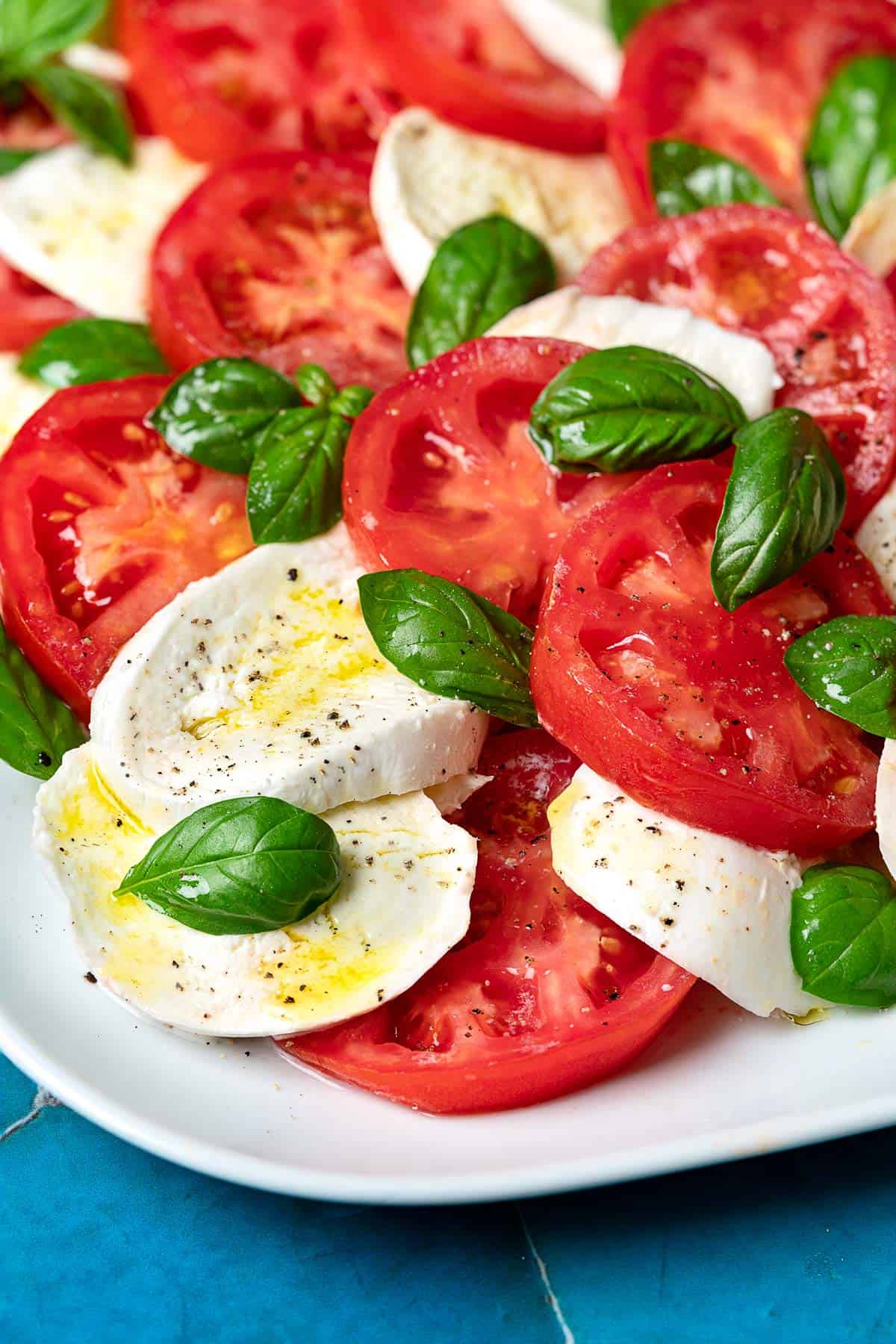 How to Make Caprese Salad
It's hard to call this a recipe when you're basically arranging great ingredients on a plate. But the details matter. Follow these steps to get it just right! To serve 4-6 people:
Drain and slice the cheese. Set 2 (8 ounce) balls of mozzarella on a clean kitchen towel or paper towels for about 15 minutes, then slice to ¼-inch thick. They don't have to be completely dry—you want that soft, milky texture without a puddle of brine on your serving plate.
Slice the tomatoes. Use a serrated knife to first cut off the stem of 2-3 medium to large ripe tomatoes, then slice the tomatoes crosswise to about ⅜-inch thick. You want them slightly thicker than the mozzarella. Lay on a cutting board and sprinkle with salt.
Arrange the tomatoes and mozzarella a serving platter. Alternate between the two, overlapping. For an oval or rectangular plate, line the slices up along the center of the plate. For a round plate, arrange the slices in a circle and place a slice of tomato in the center, topped with a slice of mozzarella.
Add the basil. Tuck whole basil leaves between the slices, making sure most of the leaves are visible to add bright flashes of green.
Season with olive oil and pepper. Drizzle your best extra-virgin olive oil over the salad. Add enough oil so that the flavor is evident, about 3 to 4 tablespoons. Grind just a touch of black pepper over top and let the salad rest for 5 to 10 minutes—no longer—to allow the juices to mingle.
Add a pinch of flaky salt and serve. This last step is optional, but I like the texture of flaky salt. Sprinkle just a pinch on top of the salad as a final touch right before I set it on the table. Serve right away.
Caprese Salad Recipe Tips
This simple salad is easy to make, but there are a few ways to finesse the best flavor. Here are my tips to make the best Caprese salad:
Make caprese shortly before you serve it. Caprese salad is not a make-ahead salad. If you assemble it ahead of time and refrigerate it, you'll compromise the texture of the cheese and tomatoes, and you'll end up with a giant puddle of tomato juice and mozzarella milk at the bottom of your serving plate. After assembling, let it rest just a few minutes before serving.
Take the chill off. All the ingredients for Caprese salad should be at room temperature. In fact, tomatoes should never be refrigerated, as this can ruin their texture and dull their flavor. Ideally, remove the mozzarella from the refrigerator 1 to 2 hours before you plan to serve the salad to allow it to come to room temperature.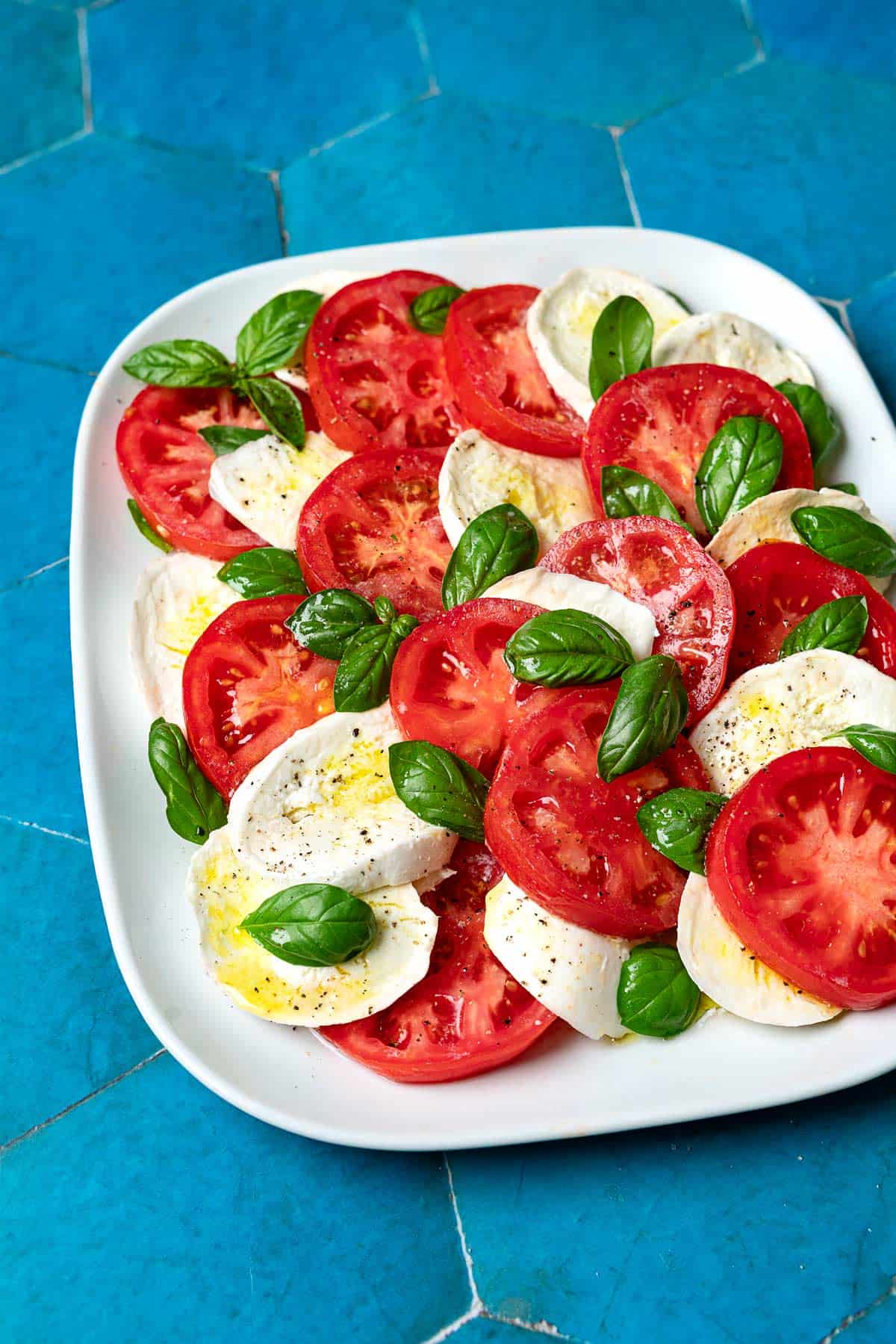 Variations on the Caprese Salad
The popularity of Caprese salad has spawned many variations, including versions drizzled with balsamic glaze or with pesto spooned on top. Like any famous national dish, from traditional Greek salad to Slata Tounsiya, this simple salad has been interpreted in countless different ways–often to the local's dismay!

Remember that when it comes to Caprese, less is more. If you start with pristine ingredients you won't need to add extra flavors. Here are some ways you can create fun variations without ruining the integrity of your Caprese salad recipe:
Use a variety of tomatoes: I sometimes use a mix of tomatoes—green, yellow, red, purple—to add color. I also halve cherry tomatoes and arrange them here and there on the plate for interest.
Swap with buffalo mozzarella: Southern Italy is home to water buffalo farms, where the world's best buffalo mozzarella is produced. This tangy, spongy cousin of cow's milk mozzarella is a great substitute for fior di latte. Just be sure to drain it well before slicing.
Use burrata: Originally produced in Puglia, burrata is a luxurious combination of mozzarella and cream. Burrata can't be neatly sliced, as the creamy interior spills out into a puddle when it's cut open. But, you can place the whole burrata in the center of the plate and arrange the tomato slices and basil around it. Tuck in a small spoon in the burrata for scooping. Or, scoop out the creamy center and dollop it on top of the tomato slices. It's not traditional, but it is delicious.
Add summer fruit: Ripe summer fruit, especially stone fruits like peaches and nectarines, are perfectly at home in a Caprese salad. Slice the fruit into thin wedges and alternate it with slices of tomato and mozzarella. Or, arrange the wedges in a pretty spiral in the center of the plate.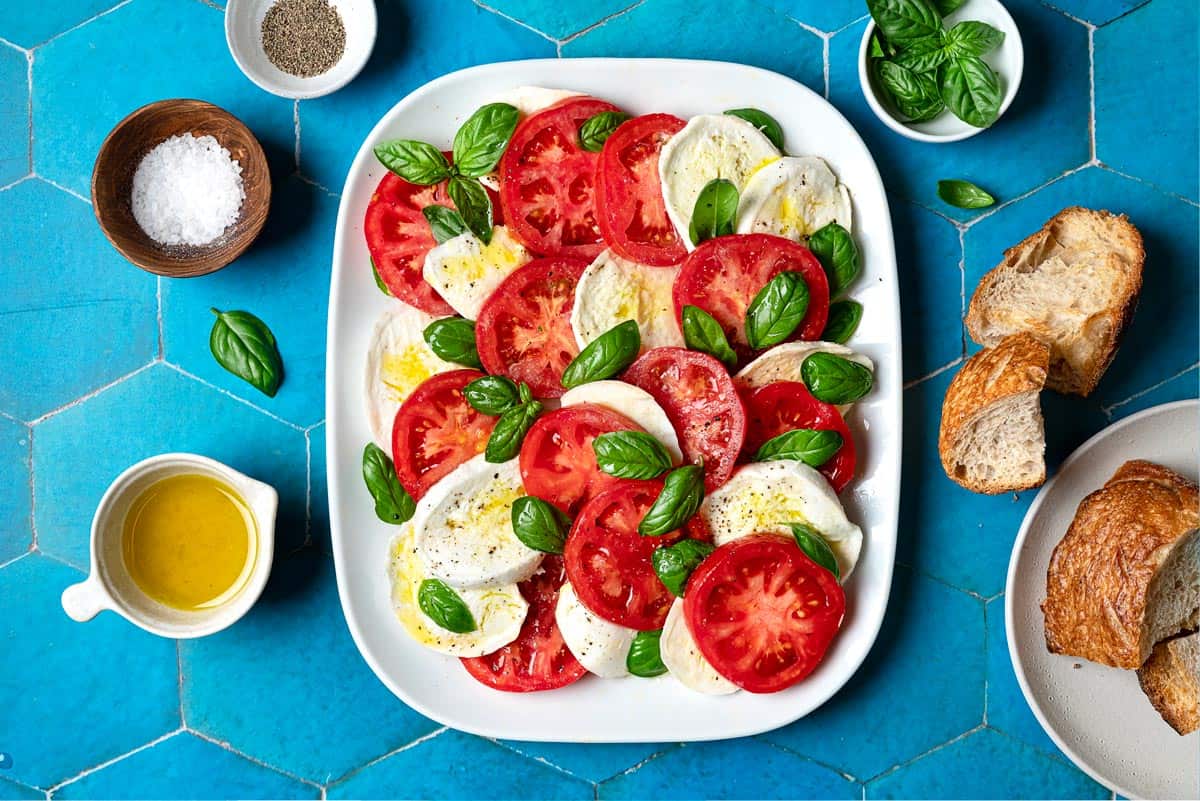 What to Serve with Caprese Salad
On hot summer nights, I sometimes want nothing more than a Caprese salad and some good crusty bread or bruschetta (grilled bread) on the side. But this Caprese salad recipe also makes a great appetizer, side dish, or a light entrée.
If you're serving as a side or appetizer, shrimp, like Easy Shrimp Scampi or Easy Mediterranean Shrimp Kebobs would match the Caprese's light and fresh summer feeling. Or, go for a classic Italian pasta, like Linguine alle Vongole or Cacio e Pepe for a heartier meal.
More Simply Delicious Salad Recipes
Browse all Mediterranean Recipes.
Visit Our Shop.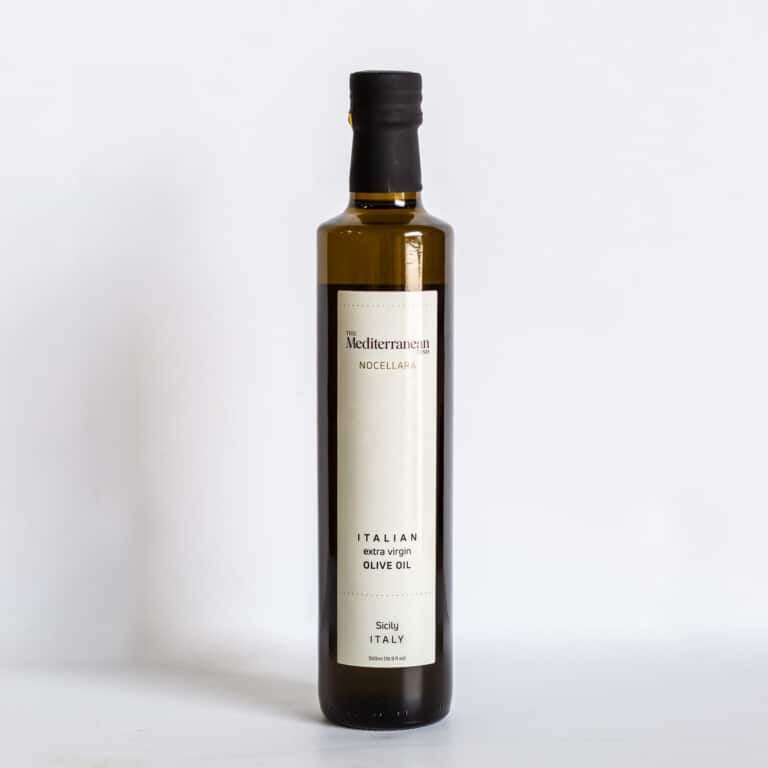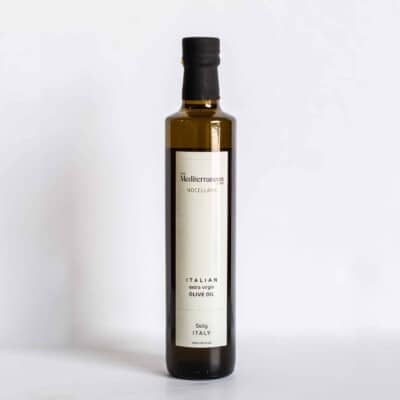 Make Authentic Caprese with Real Italian EVOO
Extra Virgin Olive Oil from hand-picked, cold-extracted Nocellara olives.
Caprese Salad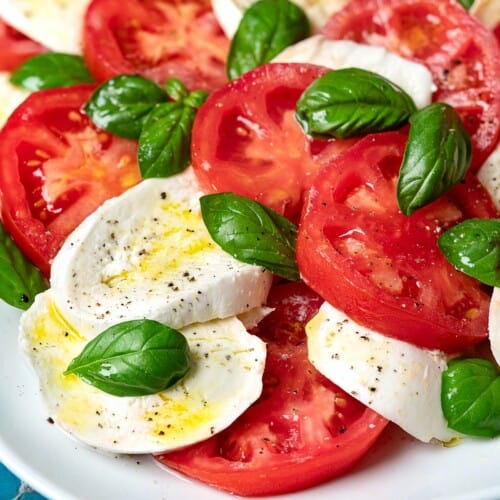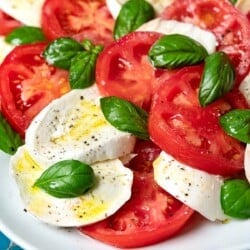 This is my favorite Caprese salad, where the ingredients speak for themselves with little embellishment necessary. It all starts with fresh ingredients: ripe, flavorful summer tomatoes, creamy mozzarella, fragrant basil, and your best olive oil. The rest is simple.
Ingredients
2

(8 ounce ) balls whole milk mozzarella in brine

2

pounds

ripe salad or heirloom tomatoes (such as Beefsteak, Big Boy, or Purple Cherokee)

Fine sea salt

1

handful basil leaves

(smaller, more tender stems preferred)

3

tablespoons

best-quality extra-virgin olive oil

Freshly ground black pepper

Flaky sea salt

(optional)
Instructions
Drain the mozzarella: Remove the balls of mozzarella from the brine and let it drain on a clean kitchen towel or paper towels for 15 minutes. Lightly pat the mozzarella and slice it into ¼-inch-thick slices.

Slice the tomatoes: Using a serrated knife, slice the stem end off the tomatoes. Cut the tomatoes into slices about ⅜-inch thick, slightly thicker than the mozzarella. You'll need 12 slices, not including the ends (discard the ends or eat them as a snack!). Lay the slices out on the cutting board and sprinkle with fine sea salt.

Layer the salad: Arrange the tomatoes and mozzarella on a serving plate so that they are overlapping slightly. Tuck in the basil leaves between the slices, and sprinkle or arrange a few more on top.

Season: Drizzle the olive oil over the salad and grind a little black pepper on top. Let the salad rest briefly—no more than 5 to 10 minutes. Right before serving, sprinkle a pinch of flaky sea salt on top (optional). Serve immediately.
Notes
Try to buy tomatoes that are about the same size as the mozzarella balls. This will make the salad more visually appealing.
If you have time, allow the mozzarella to sit at room temperature for one hour before serving. The delicate mozzarella's flavor shines brighter at room temperature.
Caprese salad is not a make-ahead salad. If you assemble it ahead of time and refrigerate it, you'll compromise the texture of the cheese and tomatoes, and you'll end up with a giant puddle of tomato juice and mozzarella milk at the bottom of your serving plate.
After assembling, let it rest just a few minutes before serving.
Visit our shop to browse quality Mediterranean ingredients including olive oils, honey, jams and spices.
Nutrition
Calories:
90.4
kcal
Carbohydrates:
5.9
g
Protein:
1.4
g
Fat:
7.4
g
Saturated Fat:
1.1
g
Polyunsaturated Fat:
0.9
g
Monounsaturated Fat:
5.2
g
Cholesterol:
0.3
mg
Sodium:
9.8
mg
Potassium:
362.6
mg
Fiber:
1.8
g
Sugar:
4
g
Vitamin A:
1332.1
IU
Vitamin C:
21
mg
Calcium:
19.2
mg
Iron:
0.5
mg