With just a few ingredients and simple tips, you can make the perfect shrimp scampi recipe that's better than you'll have at the restaurant! Ready in 10 minutes.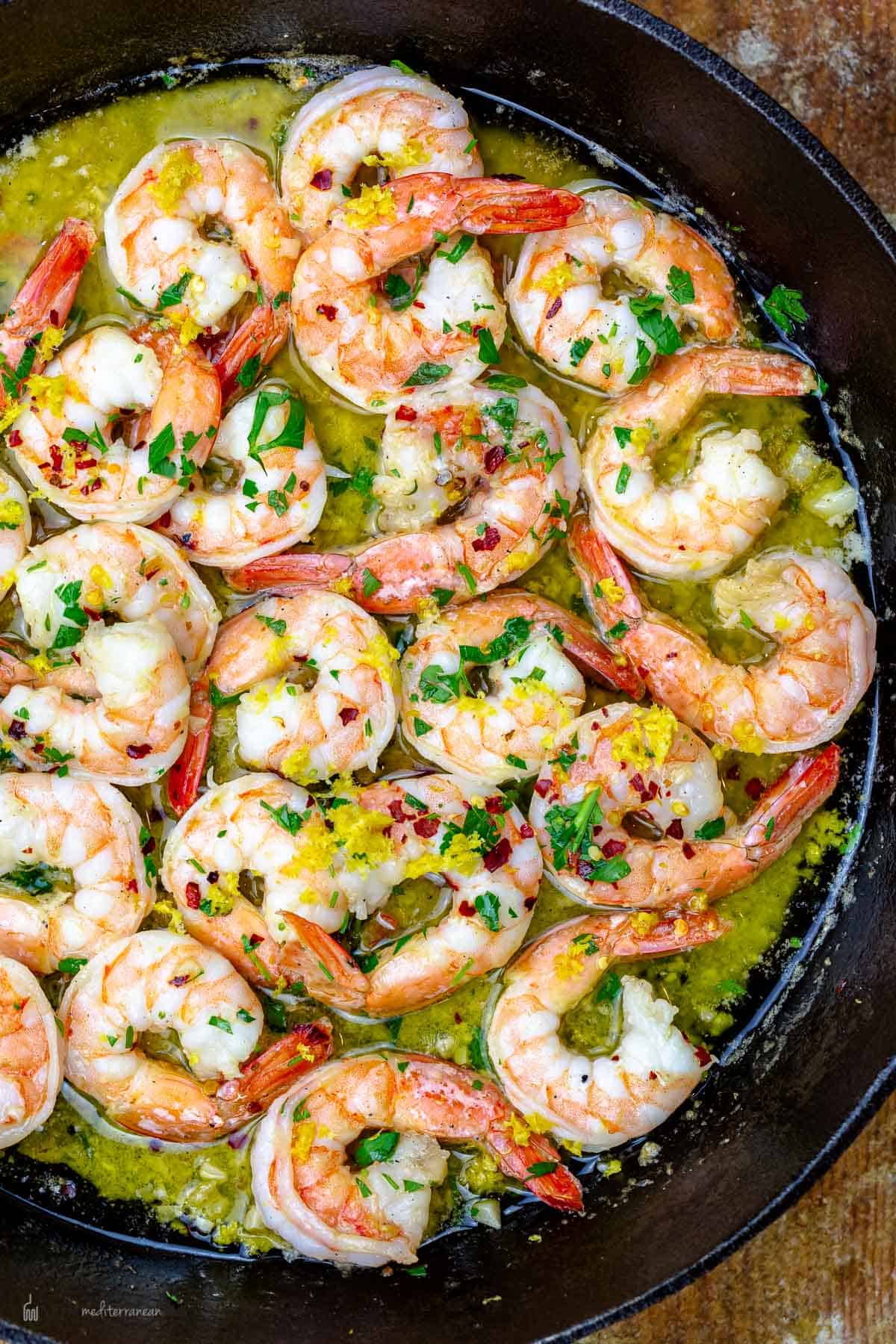 Another easy shrimp recipe!
I think you've heard me say this a bunch of times already, but one of my freezer staples is a bag of wild-caught shrimp. Because shrimp thaw fast and cook even more quickly, they're easy to use in last-minute to top a big farro salad. Or, I to turn into a meal like garlic shrimp with bell peppers, shrimp and rice, or shrimp and polenta.
Shrimp scampi is another recipe I love to make because it feels a bit fancy, but there really is no need to pay the high-ticket restaurant price. This easy shrimp scampi recipe comes together in 20 minutes and takes a few simple ingredients. And if you're a garlic lover, you might even double the sauce so you have plenty to toss this shrimp with your favorite. Shrimp scampi with angle hair or spaghetti is great, the garlicy flavor might remind you of spaghetti aglio e olio, but richer given the addition of butter and shrimp.
But if you don't feel like pasta, then just grab your favorite crusty bread to dunk in the delicious scampi sauce!

What is scampi?
Traditionally, Italian cooks used small, lobster-like crustaceans called scampi, also known as Dublin Bay Prawns or Norway Lobsters, to make this dish. Now, it is more commonly made with shrimp--hence the name "shrimp scampi."
Shrimp scampi is made with a simple sauce of garlic, butter, and white wine. For me, I like to use a bit of extra virgin olive oil to support the butter, I find that it gives the dish good flavor and helps reduce the butter intake.
As with all beloved classics, this recipe has many variations and additions. Some may add a sprinkle of parmesan, and others may even thicken the sauce a bit with some cream or a dash of corn starch. I don't find that necessary.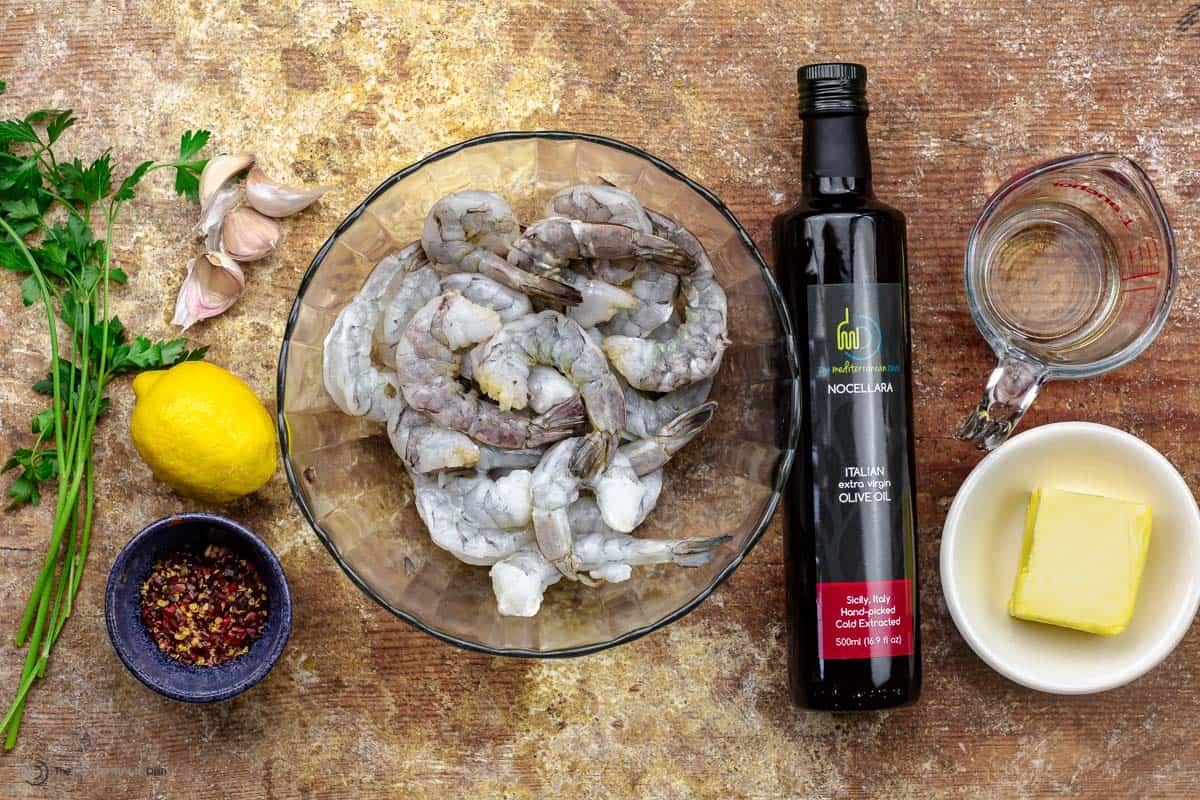 Shrimp Scampi Ingredients:
The components of this recipe are simple: shrimp and scampi sauce
Shrimp. You'll need only one pound of shrimp to make this recipe. Look for larger shrimp which are more meaty and juicy. Here in the US, shrimp are sold by count, so if you buy jumbo shrimp, you'll end up with roughly 20 shrimp or so vs. colossal shrimp which will give you about 12 to 15 shrimp per pound. Frozen shrimp is fine to use here. And if you're after best flavor, buy shrimp with the peel on as opposed to already peeled and devined shrimp--the peel protects the shrimp, keeping its texture and providing flavor.

Scampi sauce. In this garlic shrimp scampi, the sauce is made with a bit of butter, olive oil, white wine, garlic, red pepper flakes, and lemon juice. If you like, a little parsley for garnish.

Shrimp scampi without white wine
Scampi sauce typically calls for a dry white wine, but if you don't use wine in your cooking, you can easily make this garlic shrimp with broth instead (as long as you keep the citrus from the lemon juice). Basic low sodium chicken broth will work, but avoid beef broth as it will change the flavor.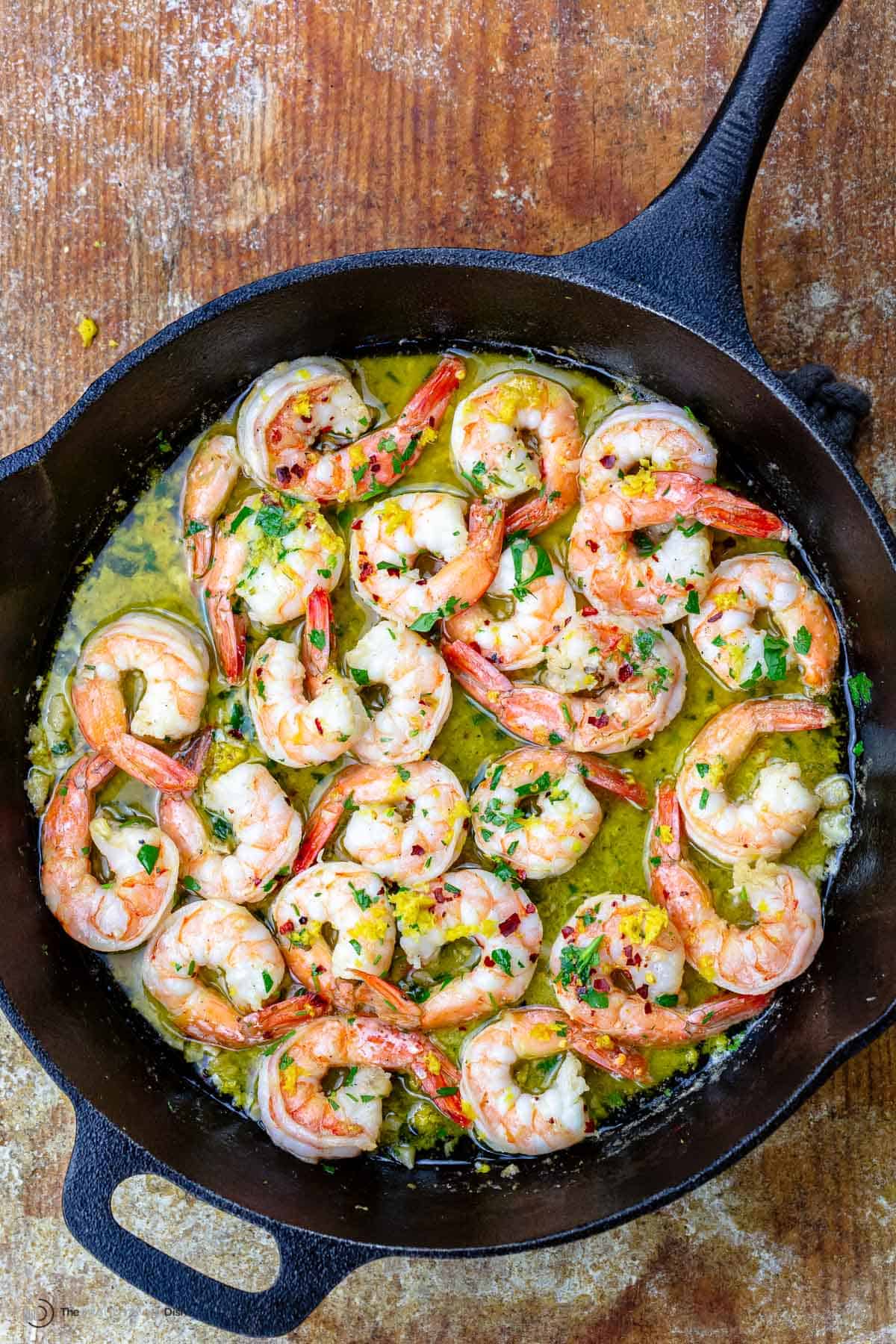 How to make shrimp scampi
Making a restaurant-quality dinner at home doesn't have to be hard. Garlic butter shrimp scampi comes together in under half an hour with just a few steps, and if you have a few extra minutes, don't skimp marinating the shrimp. Here's how it goes:
Prepare and marinate the shrimp. Pat the shrimp dry and toss them with salt, half of the garlic, and some olive oil. Set aside.


Cook the shrimp. Cook the shrimp in the olive oil for 1 to 1 ½ minutes on each side, until it just begins to turn pink (it's totally fine if there is some still grey remaining, it will finish cooking later). Remove from the skillet and set aside.
Make the scampi sauce. Briefly cook the remaining garlic and red pepper flakes, then add the wine and lemon juice. Cook until reduced by ½, then add the butter.
Add the shrimp. Add the shrimp back to the pan and toss to coat. Allow to warm through and for any grey shrimp to turn pink. As soon as that happens, immediately remove the pan from the heat.


Serve Immediately! Garnish with parsley, lemon zest, and additional red pepper flakes if desired, and serve right away!

Tips for success
For perfectly cooked, juicy and flavorful shrimp scampi, keep these tips and suggestions in mind before, during and after cooking!
Use large shrimp. Small shrimp will cook too fast and are easy to overcook and turn dry or rubbery. So as I mentioned earlier, if you can, opt for larger shrimp (no more than 20 shrimp per pound).
Allow the shrimp to marinade. For best flavor, allow the shrimp about 15 minutes to absorb the garlic and olive oil flavor. You can even pop it in the fridge for 30 minutes, while you prepare a salad or work on other things.
Do not overcook the shrimp! The trick with shrimp is to cook them just long enough that they turn pink, but not too long that they shrink and turn rubbery in texture. So watch your shrimp carefully
Serve immediately. Shrimp with garlic and lemon should be served immediately. Remember, shrimp will continue to cook in the hot sauce, so don't allow it to turn rubbery.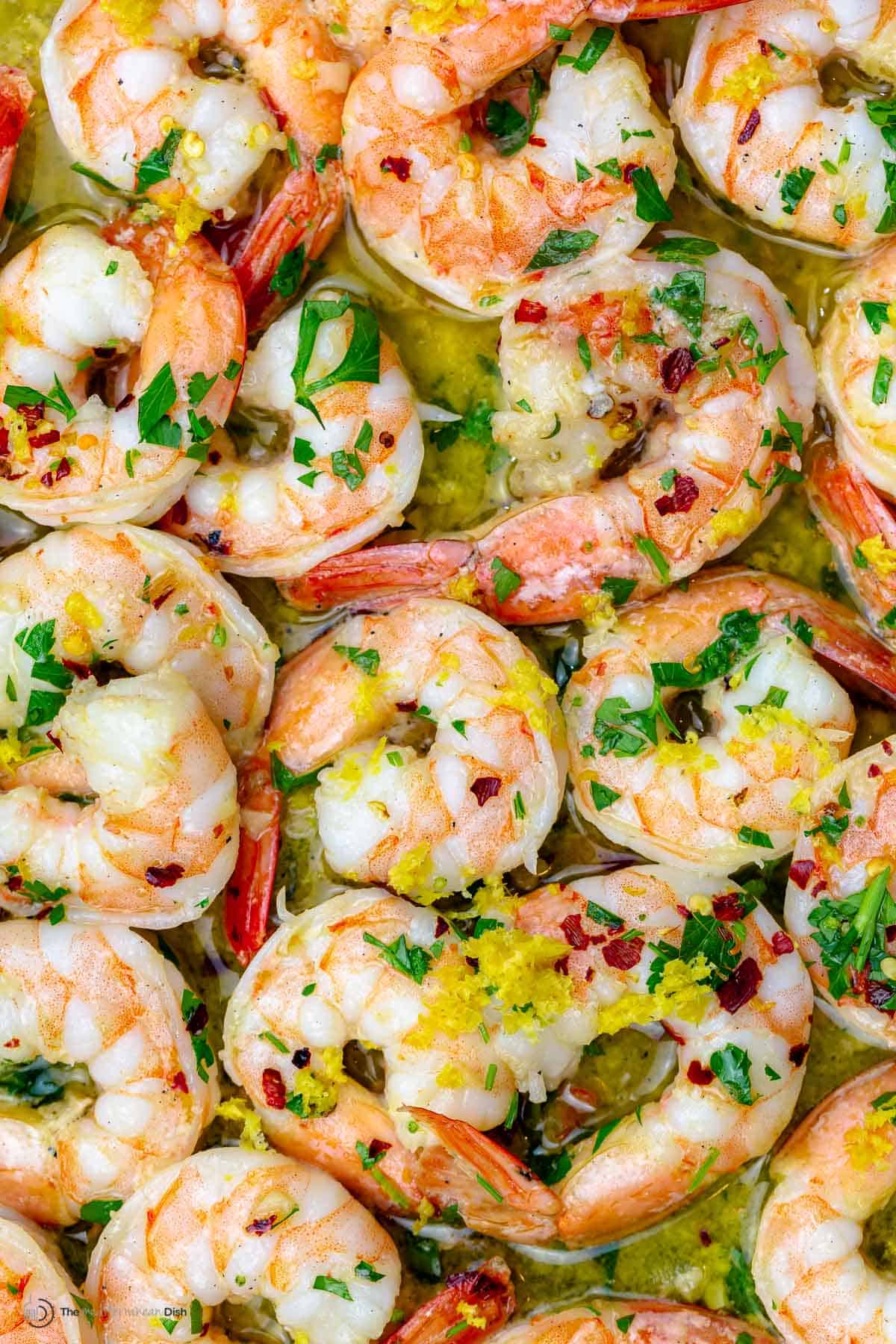 What's the best pasta to serve with shrimp scampi?
Shrimp scampi is typically served over pasta. Any type of thin long noodles like spaghetti, angel hair, capellini or spaghettini are all good options. Their delicate thin strands pair well with the light garlic and butter sauce, as the sauce will coat the strands without weigh them down too much.
If you love extra saucy pasta, double the sauce portion of the recipe.
For a low-carb option, you can easily serve shrimp with garlic and butter over zucchini noodles or cauliflower rice. I also tend to pair dish with a bright and colorful side salad to balance out the meal.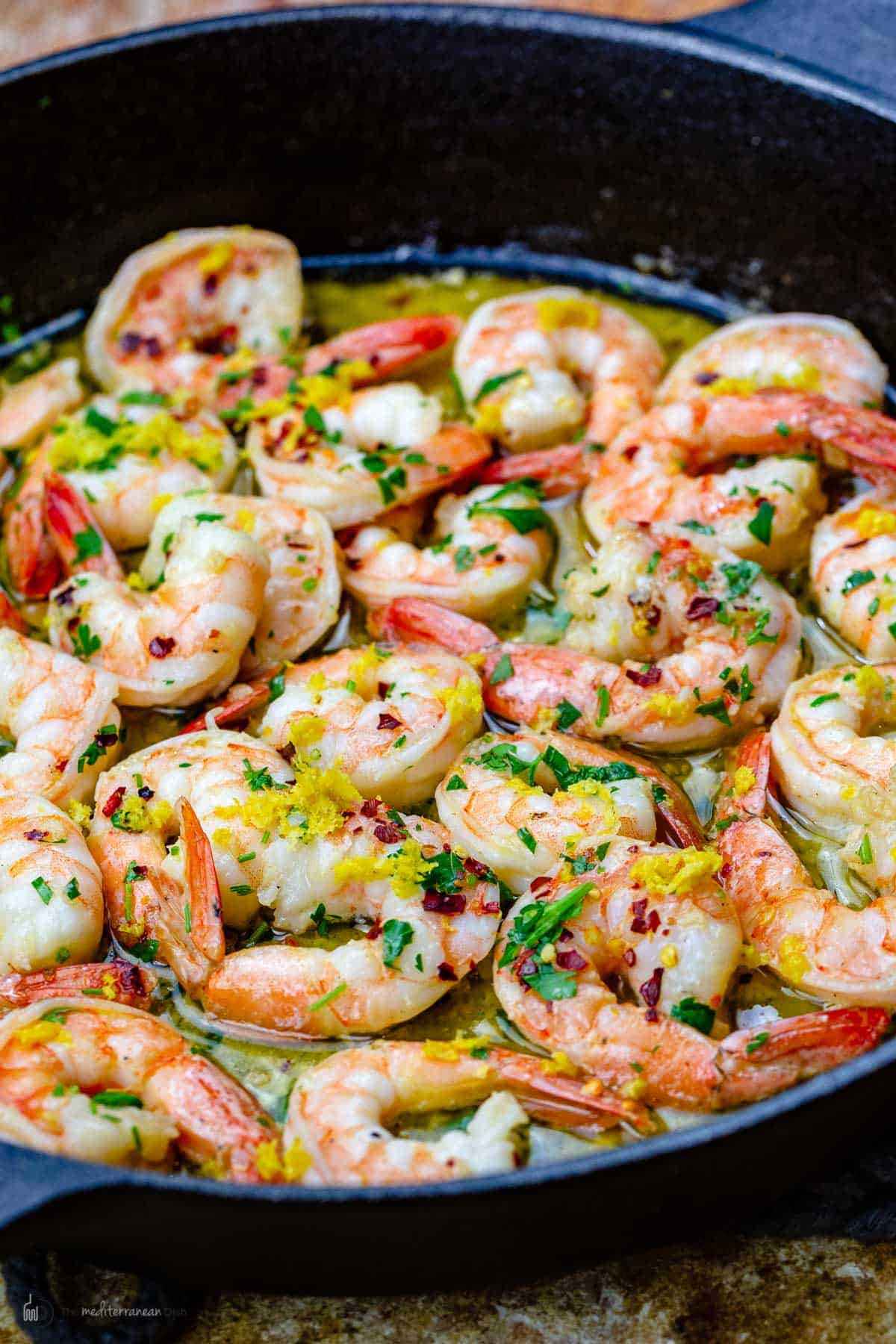 How to store leftovers
Shrimp scampi is best when served fresh but leftovers can be stored in an airtight container in the fridge for up to 3 days. For best results, reheat quickly on the stovetop and take care to not overcook the shrimp. Shrimp reheated in the microwave can be tough and rubbery.
More easy shrimp recipes:
Browse more Italian recipes. Browse all recipes here.
Visit Our Shop to browse quality Mediterranean ingredients.
Easy Shrimp Scampi Recipe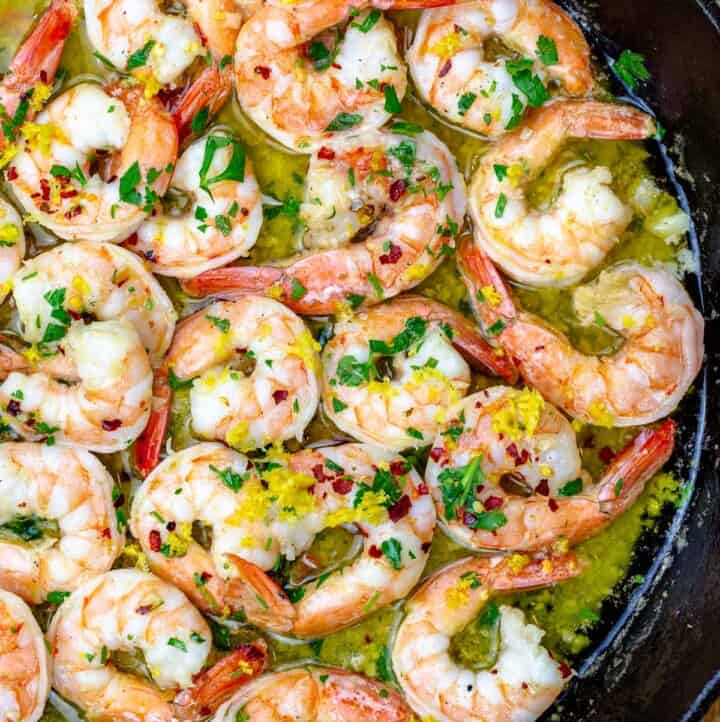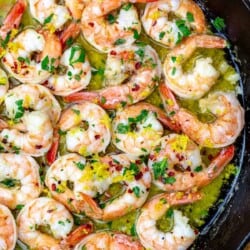 This easy shrimp scampi cooks in 10 minutes or less for the perfect fancy Italian dinner at home! Make use of the delicious garlic scampi sauce, and serve it over your favorite pasta or even rice. You can also just dunk your favorite bread in the sauce of this garlic shrimp.
Ingredients
1

pound

large shrimp,

peeled and deveined

4 to 5

large garlic cloves,

minced

Kosher salt

3

tablespoons

extra virgin olive oil

½ to 1

teaspoon

red pepper flakes,

or more to your liking

3 to 4

tablespoons

unsalted butter

¼

cup

dry white wine,

or use broth if you don't want to use wine

juice of ½ lemon

¼

cup

fresh parsley,

chopped

zest of 1 lemon
Instructions
Pat the shrimp dry and put them in a mixing bowl. Add a pinch of kosher salt, half the garlic, and 1 tablespoon extra virgin olive oil. Toss to combine. Set aside for 15 to 20 minutes (or refrigerate for 30 mins to 1 hour).

In a large cast iron skillet, heat the remaining olive oil over medium-high heat. When the oil starts to shimmer, add the marinated shrimp mixture. Cook the shrimp for about 1 to 1 ½ minutes on each side or until it begins to turn pink. Remove the shrimp and set it aside on a plate (if some of the shrimp is still a little grey, do not worry, it will fully cook through when you put it back in the skillet).

To the skillet, now add the remaining garlic and red pepper flakes and cook briefly until fragrant (careful not to brown the garlic). Add the wine, and lemon juice and cook for a couple minutes until reduced by ½.

Add the butter and cook until melted.

Return the shrimp back to the pan and toss to coat. Allow the shrimp a couple minutes to warm through (and for any grey shrimp to turn pink).

Turn the heat off and add the parsley, lemon zest, and more red pepper flakes if you like. Serve immediately.
Notes
Shrimp scampi cooks quickly, be sure to prepare salads or sides before the shrimp hits your pan.
Serve it with pasta or crusty bread. If going the pasta route, select a long pasta such as angle hair, spaghetti, or linguine for this garlic butter shrimp recipe.
Double the sauce! If you plant to serve it with pasta or rice, it's not a bad idea to double the sauce so you have plenty to toss it.
Low-Carb serving options: zucchini noodles or cauliflower rice will also work in place or pasta or bread to serve.
Visit Our Shop to browse quality Mediterranean ingredients including extra virgin olive oils and spices
Nutrition
Calories:
268.7
kcal
Carbohydrates:
3.2
g
Protein:
15.9
g
Fat:
20.3
g
Saturated Fat:
7
g
Polyunsaturated Fat:
1.6
g
Monounsaturated Fat:
10
g
Trans Fat:
0.4
g
Cholesterol:
165.5
mg
Sodium:
650.7
mg
Potassium:
184.9
mg
Fiber:
0.3
g
Sugar:
0.4
g
Vitamin A:
857.1
IU
Vitamin C:
8.1
mg
Calcium:
77
mg
Iron:
0.7
mg