Cacio e pepe is a deceptively simple recipe to make. This classic Italian pasta dish requires only three ingredients — pasta, freshly ground pepper, and real pecorino Romano cheese.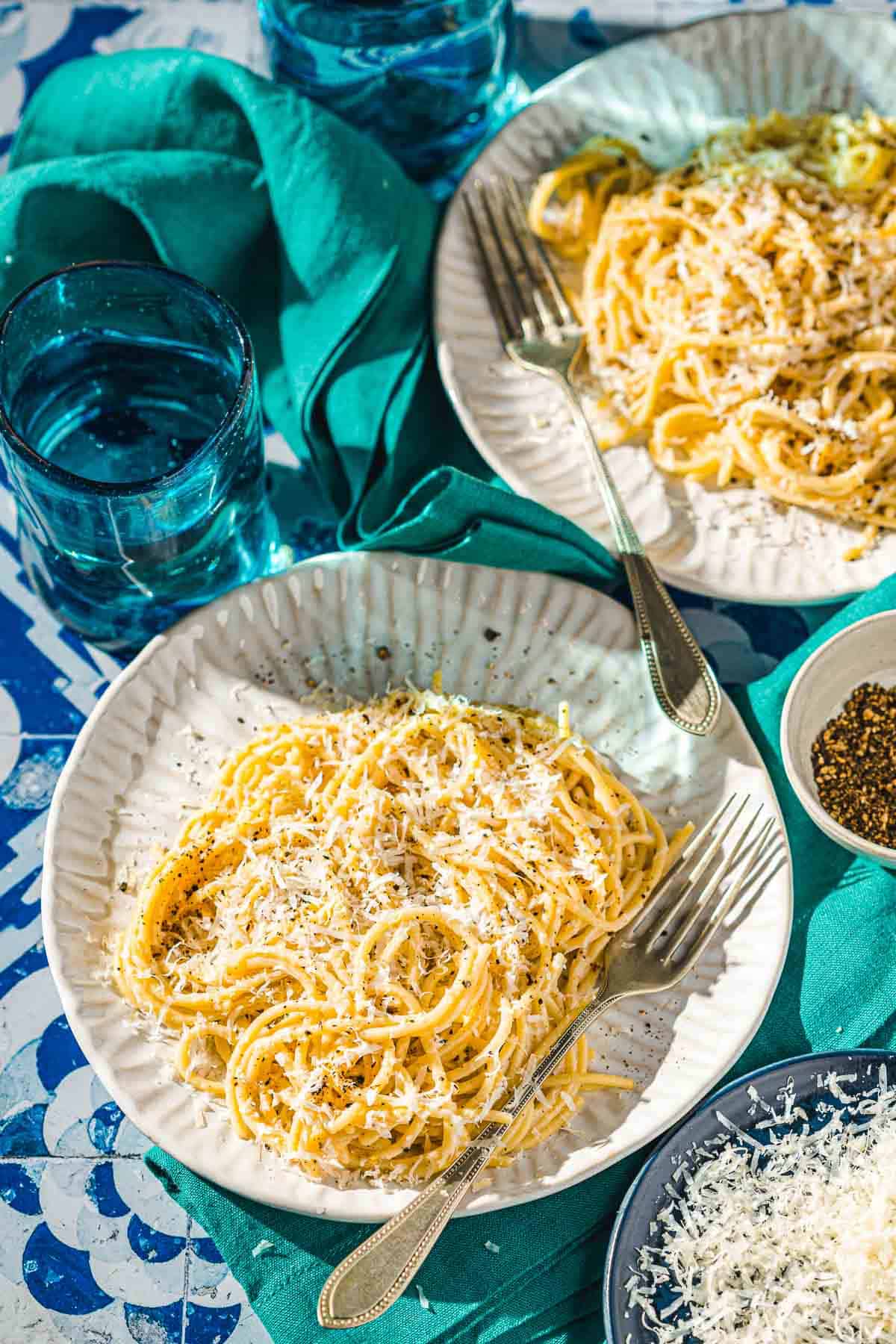 Whenever I'm in Rome, I always order a bowl of cacio e pepe at least once. This peppery and cheesy pasta dish is served in nearly every osteria (restaurant) in the Eternal City.

Traditionally, cacio e pepe (pronounced: kaa-chee-ow ee peh-pay) is made with just three ingredients: aged pecorino Romano cheese, freshly ground black pepper, and pasta, usually spaghetti; plus the starchy water from cooking the noodles.

You don't have to go to Rome to enjoy cacio e pepe. In fact, it's one of my favorite weeknight dinners to make at home because I almost always have everything I need on hand.

It comes together quickly, and all I need to do to round out the meal is to put together a simple salad, some nice bread, and pour a glass of wine.
Table of Contents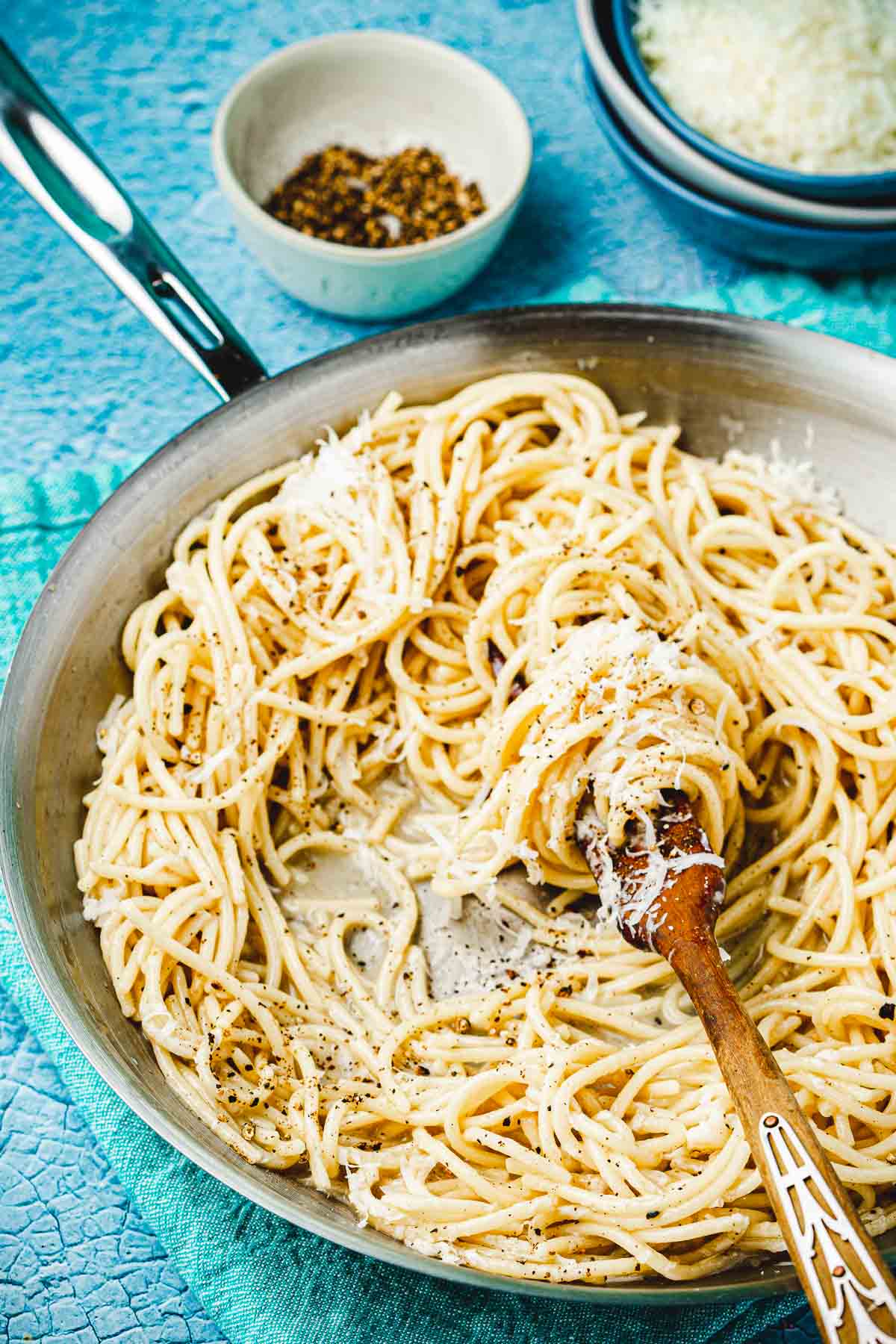 Food Stories
It's likely that this frugal but substantial dish originated with the shepherds of the Roman countryside. They needed to travel with non-perishable ingredients such as dried pasta and hard cheese as they moved around the hills and mountains with their grazing flocks.

By the mid-20th century, cacio e pepe had made its way into the city itself, along with other now-iconic "peasant" pastas—spaghetti alla carbonara and bucatini all'amatriciana.

It's said that the owners of Rome's osterie liked serving cacio e pepe because the salty cheese and copious amounts of pepper in the sauce prompted diners to order wine to wash it down—a clever business ploy by the restaurateurs.
What is Cacio e Pepe?
Cacio e pepe is a popular Roman pasta dish. The word 'cacio' is Roman dialect for cheese. In this case, the cheese is Pecorino Romano, a salty, aged sheep's milk cheese that dates to the Roman Empire.

The finely grated cheese is mixed with freshly ground black pepper—lots of it—and starchy pasta cooking water. When brought together these simple ingredients create a richly flavored emulsified sauce that beautifully coats the noodles.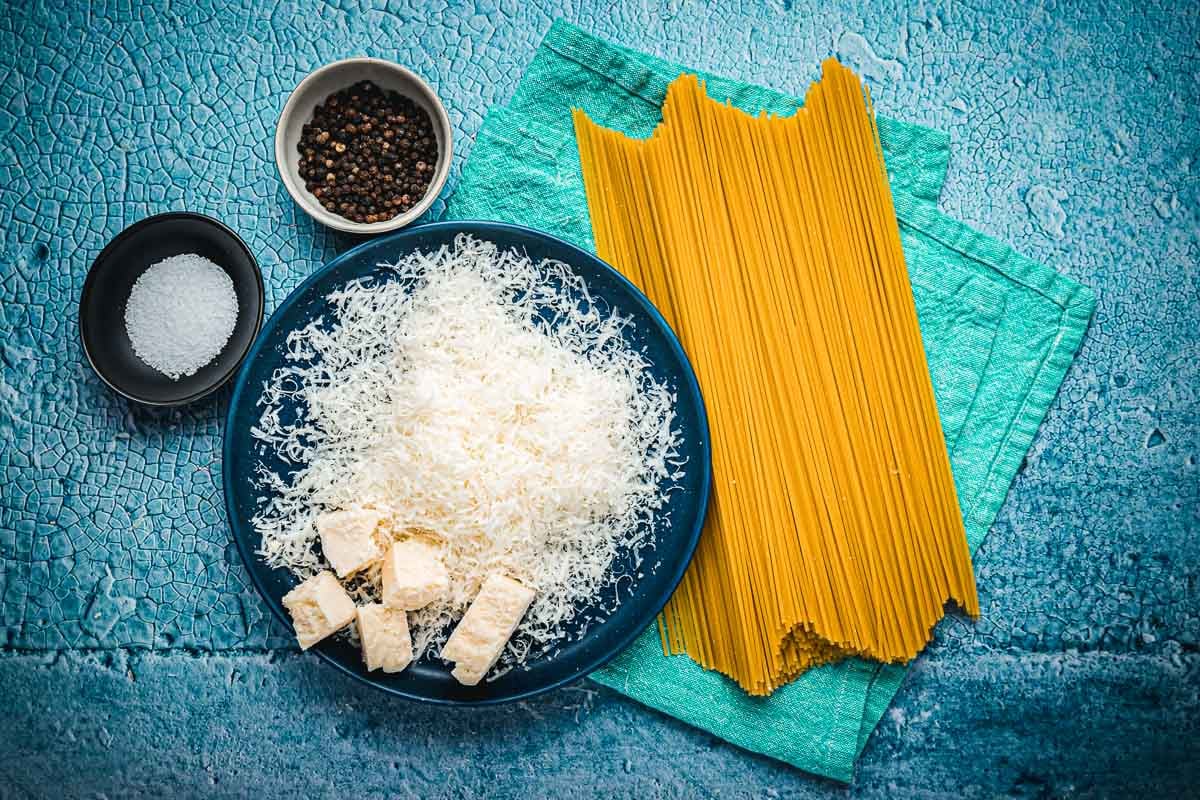 What is in Cacio e Pepe?
You only need a few ingredients to make this cacio e pepe recipe, and if you're like me, you already have them in your pantry.
Pecorino Romano cheese: This aged sheep's milk cheese has a pale hue, black rind, and a dry, crumbly texture that makes it good for grating. These days, pecorino romano is available at most well-stocked supermarkets. You'll need about 2 ½ cups finely grated Pecorino Romano for this recipe. Avoid the temptation of buying pre-shredded cheese. It's too thick and won't melt quickly enough to create the creamy sauce you're after. I recommend using a microplane and grating it yourself so it's light and fluffy.
Black pepper: To get the most flavor, start with whole black peppercorns. Grind them yourself, either with a mortar and pestle or a spice grinder.
Pasta: You'll need a pound of boxed or packaged pasta for this recipe, enough to serve 4 to 6. Spaghetti is the traditional pasta for cacio e pepe, but even Roman establishments now use popular shapes such as rigatoni, bucatini, and thick, square-cut noodles called tonnarelli. Use a good quality brand that cooks evenly and retains its al dente bite.
Pasta water: The salted water in which you boil your pasta is a key ingredient in this recipe. The boiling hot, starchy water helps to melt the pecorino cheese, forming a creamy, emulsified sauce.
How to Make Cacio e Pepe
Technique is everything with cacio e pepe. Making a creamy sauce that coats the noodles takes a bit of elbow grease and vigorous stirring, but once you've done it a couple of times it becomes easy.
Put a pot of water on to boil. Fill the pot with just enough water to submerge the pasta. Use a little less water than you normally would so the water will be extra starchy as the pasta cooks. This will help in making a creamy sauce. When the water comes to a boil, add salt. Adding salt to pasta water helps to flavor the pasta. But remember that pecorino cheese is also very salty, so go easy when you salt the water. Boil the pasta, whether spaghetti or another shape, according to the package instructions, until al dente. It should be cooked through but firm to the bite.
Grate the pecorino cheese. While the pasta boils, use a microplane or the small 'star' holes of a box grater to finely grate 4 ounces Pecorino Romano cheese. You'll need about 3 very loosely filled cups. I use a microplane, as it produces a light, fluffy grated cheese that melts easily in the hot pasta water.
Toast and grind the pepper. Place 1 tablespoon whole peppercorns in a small non-stick skillet and set it on medium-high heat. Toast the peppercorns, shaking the pan often, for 2 to 3 minutes, just until they release their fragrance. Let the peppercorns cool slightly, then pour them into a spice grinder or a mortar. Grind or pound the peppercorns until coarsely ground. The coarsely ground pepper adds both flavor and texture to cacio e pepe.
Drain the pasta. Set a colander in the sink, with a heat-proof 2-cup measuring cup nearby. When the pasta is al dente, drain it in the colander set over a bowl. Reserve about 1 ½ cups of the boiling water in the measuring cup. Return the pasta to the pot and pour in about ⅓ cup of the water. Return the pasta to the stove but don't turn on the heat.
Dress and serve the pasta. Sprinkle 2 teaspoons of pepper and a handful of pecorino into the pot followed by another splash of hot pasta water and immediately begin stirring as vigorously as you can to mix the cheese with the noodles and water. Add another splash of water and another handful of cheese and stir, stir, stir to create a creamy sauce. Elbow grease is the key here to prevent the cheese from clumping. Add one more, small handful of cheese—reserve a little for garnish—and a final splash of hot water. Stir until everything is nicely combined and the noodles are well coated. Transfer the pasta to bowls, garnish each serving with a sprinkle of pepper and pecorino cheese and serve immediately, while still hot.
Tips and Tricks
Cooks of my mother's generation didn't worry so much about creating the 'perfect' creamy sauce for cacio e pepe. They drained the noodles, added cheese and pepper, tossed to combine everything, and served.

It's only in recent years that chefs and cooks have become fixated on obtaining an emulsified sauce for cacio e pepe. Here are some tips that will help you achieve cacio e pepe success every time.
Grate the pecorino as finely as possible. A microplane is the best tool for this job. The grated cheese should be light and airy, not densely packed.
Use more pepper than you think you should. Most of us use pepper in small quantities when we cook, almost as an afterthought. But pepper is central to cacio e pepe so it needs to shine. Use at least 2 teaspoons and toast before grinding to bring out the pepper's spicy and fruity notes. Pounding the peppercorns in a mortar will give you a mix of coarsely and finely ground pepper, an ideal combination in my opinion. Whatever you do, don't use ground pepper from a shaker or canister, as it won't be nearly as fragrant or potent.
Don't dawdle. Cacio e pepe must be eaten hot. No matter how creamy you manage to get your sauce, it will stiffen as it cools. So: Mix, serve, enjoy!
Find a mixing method that works for you. My preferred method to mix cheese, pasta water, and noodles together in the pasta pot and stir as if my life depends on it. But some cooks prefer to make a paste of cheese and pasta water and then mix everything together in a large bowl. Here's how to do it: Combine ⅔ of the grated pecorino with the pepper and enough hot pasta water to create a paste. Whisk to work out any lumps, adding more water to help melt and dissolve the cheese. Using a pasta server or tongs, transfer the noodles from the pot straight to the bowl and stir vigorously to coat the noodles. Add more pasta water from the pot as needed to make a creamy sauce. While I have tried this method, I've found it to be extra messy, as bits of cheese and drops of sauce tend to fly out of the bowl. Give both methods a try and see which works best for you.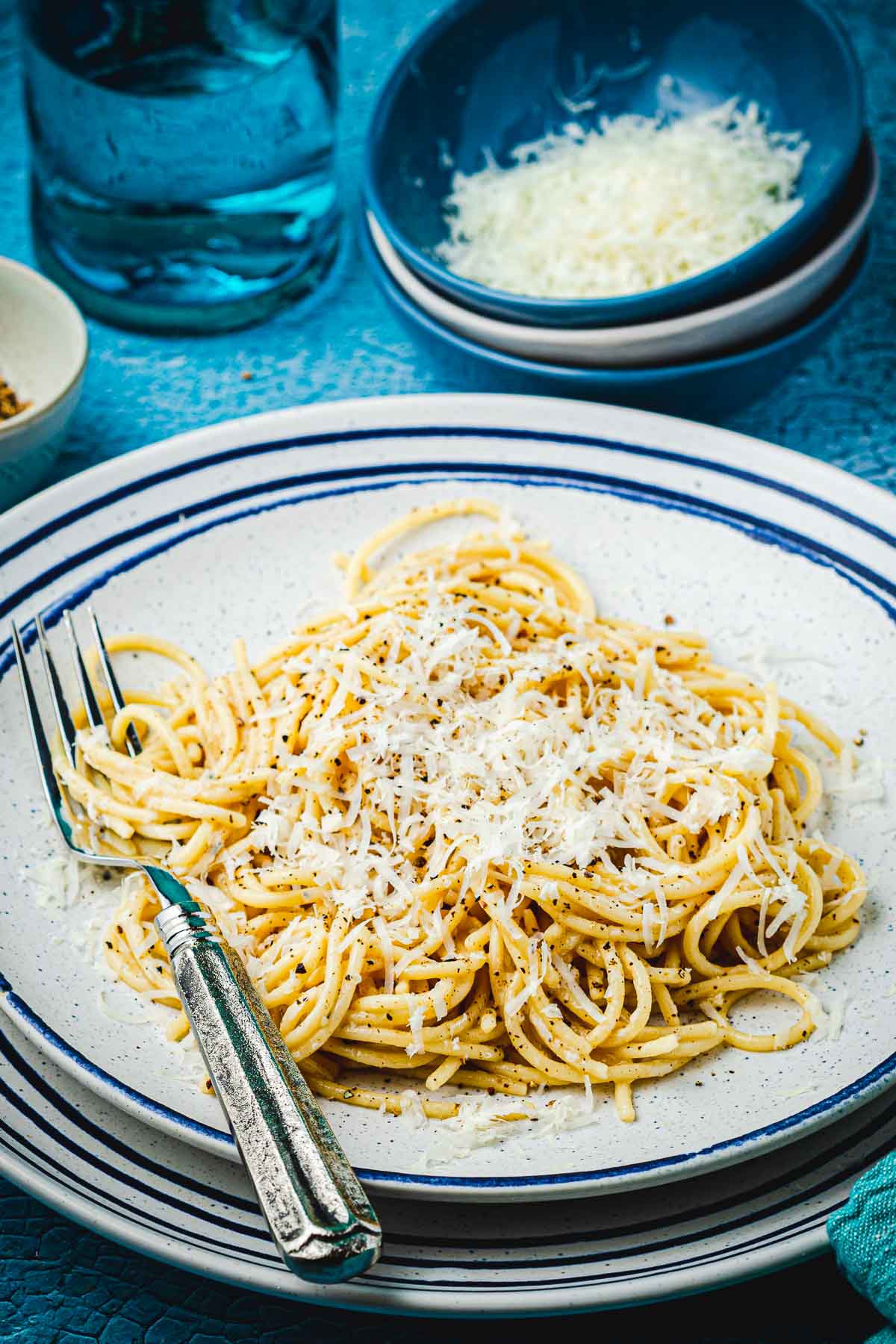 What to Serve with Cacio e Pepe
Cacio e pepe may be simple, but it's rich. If you're serving it as the main course, you can round it out with a salad, simply dressed with good olive oil and wine vinegar.

I also like to serve it with broccoli, dressed with a squeeze of lemon juice, flaky salt, and my best olive oil. Cacio e pepe also makes a good primo piatto (first course), served in smaller portions. It goes especially well with vegetarian mains, such as stuffed peppers or zucchini. To drink, try a white wine with good acidity, such as Verdicchio or Vermentino. Or, if you prefer red, something on the lighter side, like Pinot Nero.
Leftovers
Leftover cacio e pepe makes an excellent spaghetti frittata: Mix the leftover pasta with beaten eggs and cook the mixture in an oiled cast iron skillet until browned on the bottom; then pass it under the broiler for a couple of minutes to finish cooking and brown the top.
More Pastabilities!
Browse all Mediterranean recipes.

Visit Our Shop.
Try our Nocellara-Italian Extra Virgin Olive Oil!
This EVOO is produced from hand-picked, cold-extracted Nocellara olives. High in polyphenols with aromas of fresh tomatoes and vegetables with a mildly bitter and spicy finish.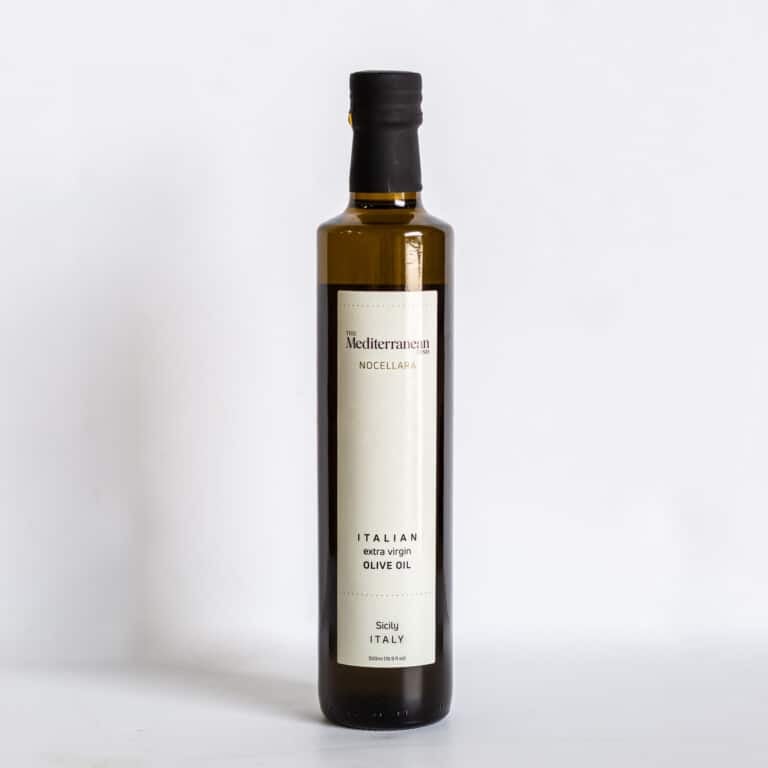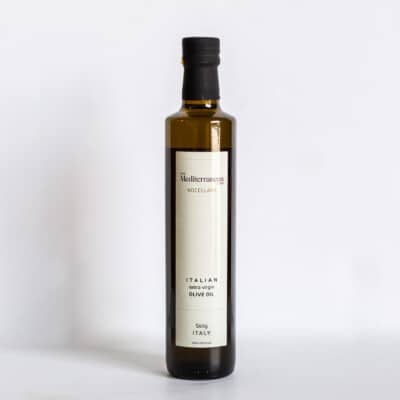 Cacio e Pepe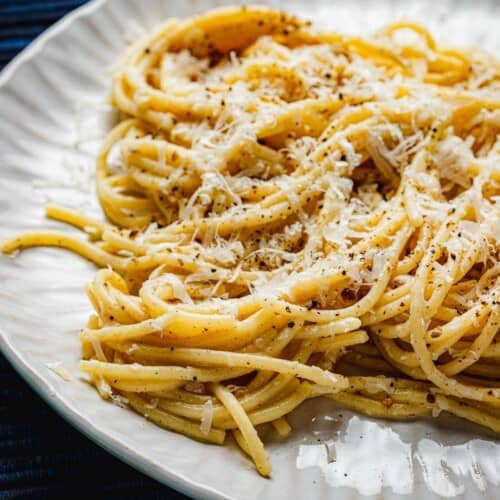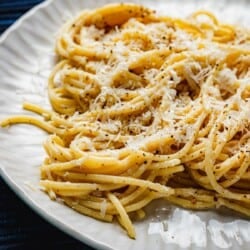 Rome's classic pasta combination of spaghetti, pecorino cheese, and black pepper can be a bit tricky to make at home but give it a whirl. All it takes is a little practice and some elbow grease to make a luscious, cheesy dish of pasta. Spaghetti and tonnarelli—thick, square-cut noodles—are my two favorite shapes, but rigatoni and bucatini (fat, hollow noodles) are also good.
Ingredients
2

teaspoons

salt

1

pound

package spaghetti,

tonnarelli or bucatini pasta

4

ounces

Pecorino Romano cheese,

finely grated

1

tablespoon

whole peppercorns
Instructions
Salt the water: Fill a large pot with water, and set it over high heat. Bring it to a boil and add two teaspoons of salt.

Boil the pasta: Add the pasta to the boiling water, reduce heat to medium high and cook according to package instructions until the pasta al dente.

Grate the cheese: While the pasta is cooking, grate the cheese with a microplane or on the small star holes of a box grater. You should have about 3 cups of very fluffy cheese.

Toast and grind the peppercorns: In a small skillet set over medium-high heat, add the peppercorns. Toast the peppercorns, stirring occasionally or just until they release their aroma. Cool slightly, then transfer them to a mortar or a spice grinder. Pound or grind the peppercorns to a mostly coarse grind with some finer specks but no large pieces.

Drain and reserve pasta water: When the pasta is done, set a colander over a bowl, and drain the pasta. You want to reserve 1 ½ cups of the boiling pasta water in a heat-proof measuring cup or bowl.

Make the sauce: Do this part quickly! Return the pasta to the cooking pot and add ⅓ cup reserved pasta water. Set the pot on the burner but don't turn the burner on. Sprinkle about ⅓ of the cheese, 2 teaspoons pepper, and a splash of the reserved pasta water. Use tongs or a pasta spork to stir vigorously to combine the ingredients. Add another splash of reserved pasta water and another ⅓ of the cheese and continue to stir to coat the noodles evenly. The sauce should look smooth and creamy. Add more cooking water, a splash at a time (if necessary) to loosen the sauce. You may not use all of the pasta water.

Serve: Transfer the pasta to individual bowls. Top each serving with a spoonful of reserved pecorino and a pinch of pepper and serve.
Nutrition
Calories:
357.8
kcal
Carbohydrates:
58.2
g
Protein:
16
g
Fat:
6.3
g
Saturated Fat:
3.5
g
Polyunsaturated Fat:
0.6
g
Monounsaturated Fat:
1.6
g
Cholesterol:
19.7
mg
Sodium:
1006.8
mg
Potassium:
207.1
mg
Fiber:
2.8
g
Sugar:
2.2
g
Vitamin A:
87.6
IU
Calcium:
224.8
mg
Iron:
1.3
mg