You'll love this simple beet salad recipe with arugula, oranges, and feta, tossed in a lemony and bright Greek dressing! Orange beet salad is a restaurant-fancy salad that you can make at home any night of the week. Make-ahead tips included below.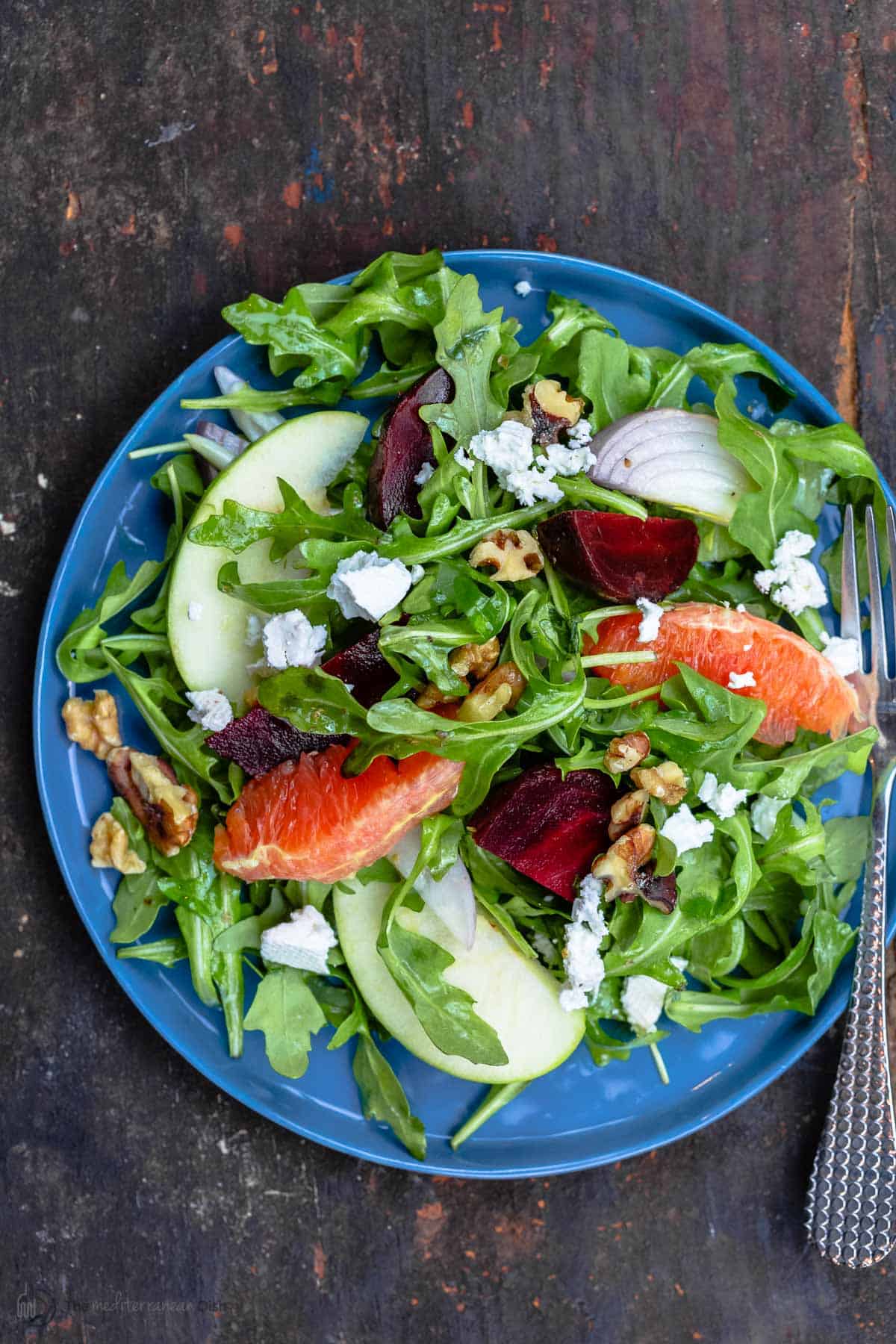 Beet salad recipe with a Mediterranean twist
Nutrition-packed cooked beets are earthy, sweet, and juicy. Slice them up and toss with peppery arugula, bright oranges, green apples, and some shallots, and you have yourself a fancy restaurant salad right at home!
Beet salad goes best with something creamy and tangy and sweet and bright, like our Roasted Beet Salad with Pears and Goat Cheese. In this version, I can't help but add two very Mediterranean elements: crumbles of creamy feta (trust me, sweet beets and feta are a match made in heaven), bright citrus, and a handful of walnuts, which add crunch and some good omega-3 ALAs!
My choice for a Mediterranean dressing to bring this roasted beet salad together is ladolemono , a Greek dressing with lots of lemon juice and quality extra virgin olive oil!
Beet salad dressing so lemony and bright!
To complement the sweetness of cooked beets, the best beet salad dressing I can think of is my easy Greek dressing. The basic ratio to make this multipurpose dressing it is 1:3--one part lemon juice to three parts excellent extra virgin olive oil. And aside from kosher salt and black pepper, I like to add a bit of fresh garlic and a dash of dry oregano. Check out how to make ladolemono Greek dressing.
You will end up with more dressing than this salad needs, but that's not a problem! You can store it in tight-lid mason jar the fridge to use throughout the week on things like my grilled chicken salad or to drizzle on anything grilled including salmon kabobs or even souvlaki.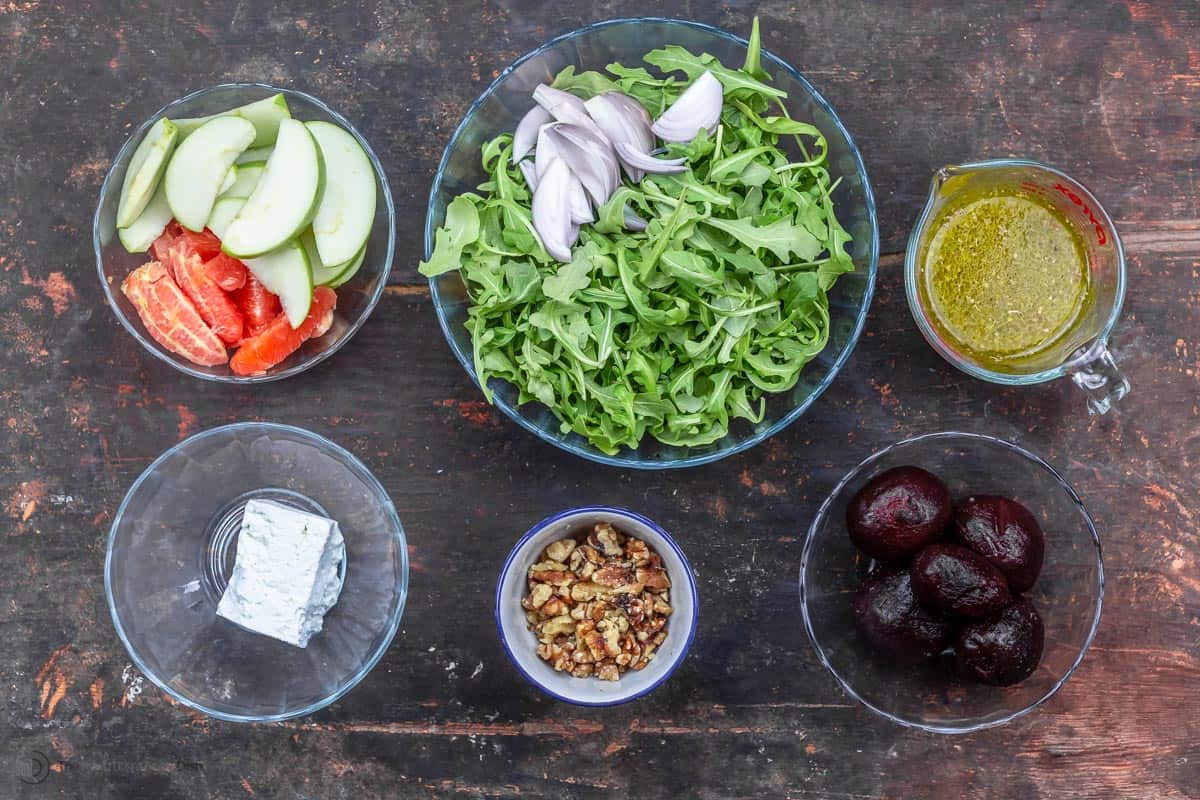 Ingredients: What you'll need for orange beet salad
This beet salad with arugula requires just a few simple ingredients. Here's what you'll need to make it:
• Homemade Greek Salad Dressing (Ladolemono)
• Baby arugula - I like the delicate, mild flavor of baby arugula in this salad.
• Cooked beets, sliced into wedges - I like using roasted beets, but you can also boil them (tips below) or buy pre-cooked beets (not canned). If you don't like the mess that can sometimes happen with cooking beetroot, use golden beets instead. To still have some contrasting color, use blood oranges or even a grapefruit instead of navel oranges. (Note: If you use grapefruit, it might be a good idea to add a light drizzle of honey to the dressing offset the fruit's inherent bitterness).
• Cara cara or navel orange, peeled and sliced into wedges - If you can't find navel oranges, tangerines or clementines would work as well. Just segment them instead of slicing.
• Granny Smith apple, sliced into wedges - Adds crisp, sharp flavor.
• Shallots - Shallots are a wonderful way to add "oniony" taste to this beet salad recipe that is not overwhelming.
• Toppings - Feta cheese for a little creamy saltiness, and walnuts for crunch and texture.
Tips for cooking with beets
If you aren't very familiar with beets, buying and cooking them can seem overwhelming -- especially since they can stain surfaces so easily! But with a few simple tips, you'll be cooking beetroot like a pro in no time!
Choose smaller beets for best flavor
Wear gloves. Beets stain like crazy, so wear gloves to protect your hands.
Wash any cutting boards immediately to lessen the chance of them staining. I tend to use an older cutting board, so a bit of red tint doesn't bother me too much.
Beets can be roasted, boiled, steamed, and even microwaved. Roasting beetroot helps to coax out its natural sweetness. (Tips below)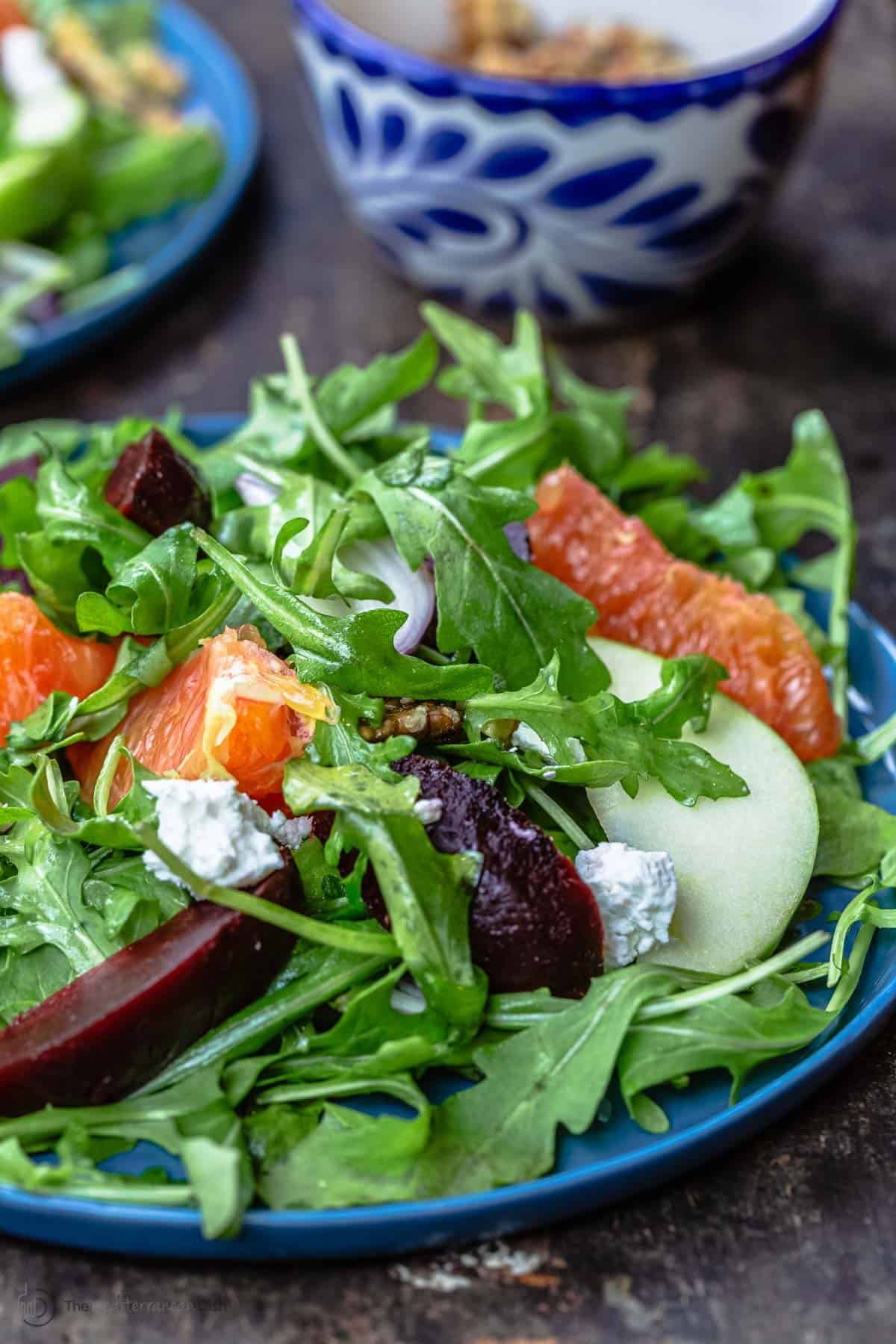 How to cook beets
For this cold beet salad recipe, you can take a shortcut by using ready cooked beets that you can find in the fridge section at the grocery store (something like Love Beets). But you can easily cook the beetroot a couple days ahead of time to use in this recipe.
Before you cook the beets, wash and scrub the dirt off and dry well. Trim the beetroot leaving a bit of the stem on. From there, you can boil or roast beets for this salad. Here is how:
For roasted beets: Heat your oven to 400°F and put a rack in the middle. Put the beets in a large piece of foil (large enough to make a pouch). Drizzle a good bit of extra virgin olive oil. Season with a good dash of kosher salt and black pepper. Rub the beets to make sure they are well-coated, then tightly warp them in the foil pouch. Put the foil pouch on a sheet pan and roast on the center rack of your heated oven anywhere from 45 minutes to 1 hour or until fork-tender (your fork should easily go through the beetroot without much resistance). Allow them to cool, then trim and peel. Another option is to trim and slice the beetroot into wedges before roasting like I do in my earlier roasted beet salad with kale.
For boiled beets: Fill a large pot with water and stir in about 1 tablespoon of vinegar and 1 teaspoon of kosher salt. Add the beets and bring the water to a boil, then reduce to a simmer. Cook the beets for about 30 minutes or until tender . When cool enough to handle, trim and peel the beets.
How to make orange beet salad
Once the beets are prepared, the heavy lifting for this salad recipe is done! Here's how you make it (printer-friendly recipe below):
Make the Ladolemono dressing and set aside.
Add 5 ounces baby arugula and 1 or 2 sliced shallots to a mixing bowl. Drizzle a few tablespoons of the dressing over and toss to coat the vegetables in the dressing.
Transfer the arugula and shallots to a large platter. On top, arrange slices of a navel orange, some Granny Smith apple wedges, and roasted beets sliced into wedges. Chill in the refrigerator for at least 30 minutes.
Remove the salad from the fridge and drizzle generously with the salad dressing.
Top with a few tablespoons of crumbled feta and ⅓ cup chopped walnuts. Serve and enjoy!


Make-ahead tips for beet salad recipe
One of the things I love is that you can prepare parts of this arugula beet salad with feta in advance so that you're ready to put it together any night of the week. The two things that take a little bit of time are cooking the beets (unless you buy pre-cooked beets, which is fine), and making the dressing.
Cook the beets up to 2 nights in advance and keep in the fridge. Make sure the beets are fully cooled before you store them in an airtight container in the fridge.

The Greek salad dressing can be made one week ahead of time. Be sure to store it in a tight-lid mason jar in your fridge.
How to serve orange beet salad
This beets and oranges salad is best served cold. Beet salad goes with so many things. I can think of a few proteins you can add to this salad to make the perfect warm weather dinner! Try something like swordfish, grilled harissa chicken, chicken kabobs, or even shrimp kabobs.
Leftovers and storage
Roasted beet salad with arugula (without dressing) can be stored in an airtight container in the fridge for up to 5 days. The beets may bleed onto the oranges and other ingredients, but this will not affect the salad's flavor.
More frequently asked questions
Can you eat beets raw in a salad?
In this orange beet salad, I use cooked beets. But unlike other root vegetables, beets can be eaten raw in a salad. To many people, raw beets are too earthy and maybe even taste a bit like dirt. That's why, when serving them raw, it's a good idea to use a little bit of raw beetroot just as a topping or garnish. Be sure to peel them well and then grate or finely slice them. This preparation is not suitable for today's orange beet salad, though.
Do you peel beets before boiling?
You can peel beets before you cook them, but they are actually easier to peel after you've boiled them. The skin just slides right off! My biggest tip for you is to use some disposable kitchen gloves so that your hands don't stain.
More roasted vegetable salad recipes to try
Browse Mediterranean Recipes.
Visit our Online Shop.
Orange Beet Salad with Arugula and Feta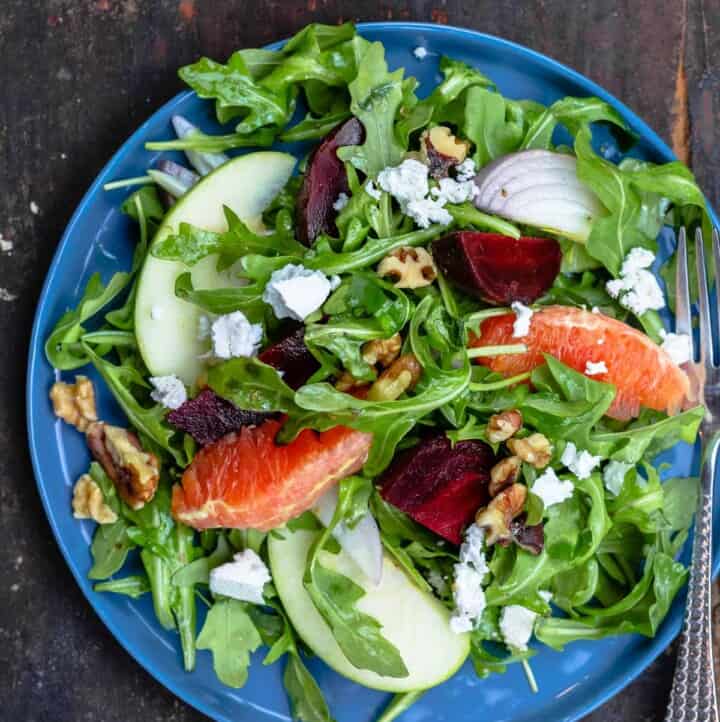 Simple cold beet salad recipe with feta, arugula, and oranges, tossed in my bright, lemony ladolemono Greek dressing! It's a restaurant-fancy salad that you can make at home any night of the week. Use golden beets instead of red beets, if you like. And serve it with your favorite protein as a beautiful side dish. Orange beet salad pairs great with swordfish, grilled harissa chicken, chicken kabobs, and even shrimp kabobs.
Ingredients
Homemade Greek Salad Dressing (Ladolemono),

use this recipe

5

ounces baby arugula

5

cooked beets,

sliced into wedges, see notes below

1

cara cara or navel orange

peeled and sliced into wedges

1

Granny Smith apple

sliced into wedges

1 to 2

shallots

Feta cheese

about 3 tablespoons

⅓

cup

coarsely chopped walnuts
Instructions
In a mixing bowl, add the arugula and shallots. Drizzle about 2 to 3 tablespoons of the dressing and toss to combine.

Transfer the arugula mixture to a serving platter. Arrange slices of orange, apples, and beets on top. Add another drizzle of the dressing all over.

Sprinkle the feta cheese and chopped walnuts on top. Enjoy!
Notes
This recipe uses already cooked beets, you can use ready cooked beets from the fridge section at your grocery store (something like Love Beets, for example). Or you can cook the beets from scratch.
Make ahead: make the Greek salad dressing up to 1 week ahead and store it in the fridge in a tight-lid mason jar. And if you plan to cook the beets from scratch, you can make them up to 2 nights in advance and store them in a tight-lid container in the fridge.
To cook beets from scratch: once washed and trimmed you can boil or roast the beets for this arugula beet salad. Boil them in plenty of water with a little vinegar (about 1 tablespoon) and a dash of kosher salt for about 30 minutes or until tender. To roast, put the beets in a large piece of foil and drizzle with a good bit of extra virgin olive oil. Season with kosher slat and pepper and rub the beets to make sure they are well-coated. Put them on a sheet pan and roast in 400 degrees F heated oven for about 45 minutes to one hour or until tender. Then once cooled, you can remove the skins and slice the beets to use for this salad (more detailed instructions for how to cook beets are in the post as well).
Visit Our Shop to browse quality Mediterranean ingredients, including extra virgin olive oils and spices.
Nutrition information is a best estimate and does include the dressing (although you may not use all the dressing in this salad)
Nutrition
Calories:
288.7
kcal
Carbohydrates:
16.4
g
Protein:
3.7
g
Saturated Fat:
3.2
g
Cholesterol:
0.4
mg
Sodium:
348.9
mg
Potassium:
411.7
mg
Fiber:
4.2
g
Vitamin A:
662.5
IU
Vitamin C:
25.8
mg
Calcium:
77
mg
Iron:
1.4
mg