Roasted Asparagus with Tomatoes and Halloumi Cheese, all tossed in a light sherry vinaigrette! A bright– and almost indulgent–Mediterranean salad (or the perfect spring side dish!)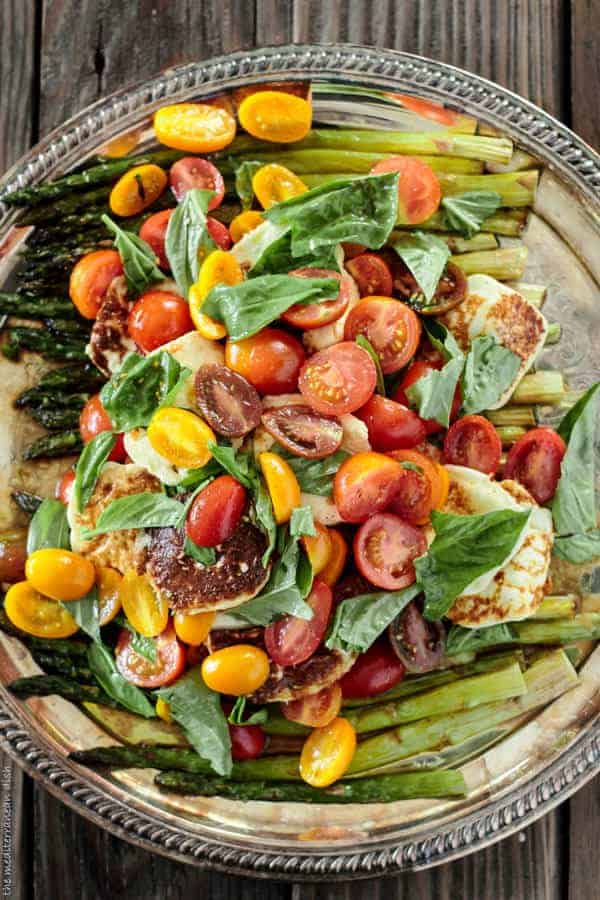 When it comes to recipes, there is no shortage of places from which to glean inspiration. But it's often the bright ingredients– cooked simply, with as little embellishment as possible– that make the best recipes. Like today's roasted asparagus with tomatoes and halloumi cheese.
Or we can call it: spring on a platter.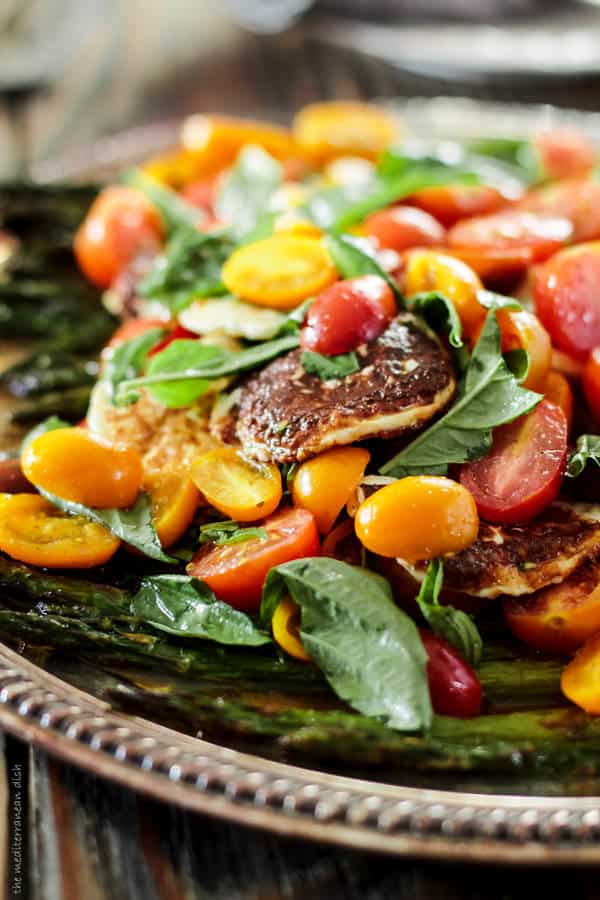 This simple recipe begins with asparagus, seasoned only with a dash of salt and roasted in olive oil. The roasted asparagus then serves as a bed to grape tomatoes, fresh basil, and halloumi cheese. A light sherry vinaigrette finishes the dish!
I should say though, this is every bit a fried halloumi cheese recipe as it is a roasted asparagus recipe.
What is Halloumi Cheese?
Halloumi is a firmer, brined cheese that's popular in places like Cyprus, Greece, Turkey, and parts of the Middle East.
Halloumi holds its shape beautifully even as it cooks, which is why it's perfect for grilling or frying in olive oil (like we have here).
You can typically find Halloumi cheese at specialty grocers, but I often buy it online here. 
And if you've not tried fried halloumi cheese before, you are in for a real treat! It's hard to fully describe how wonderfully indulgent, yet not at all overbearing, every bite is.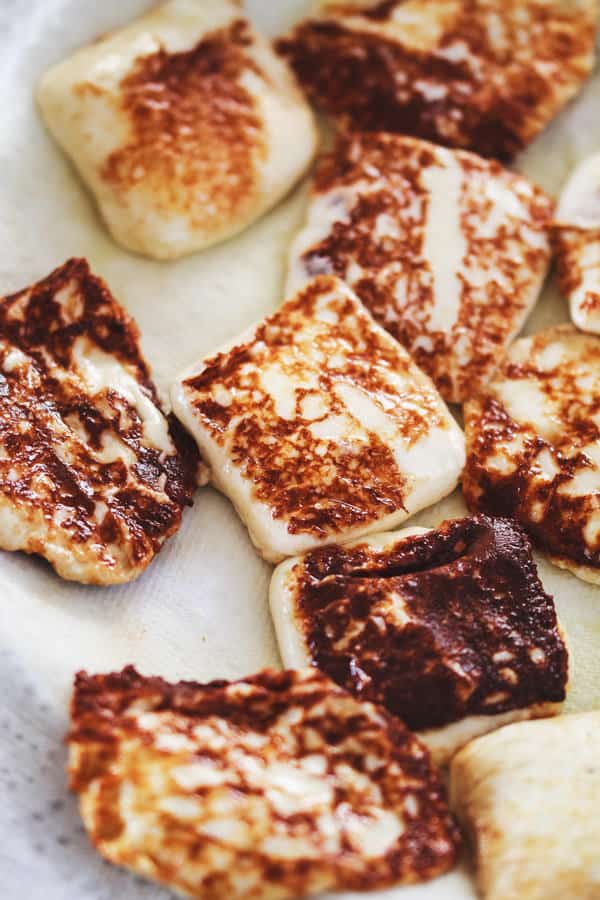 What can be used in place of Halloumi in this recipe?
There are other cheeses that can be grilled or fried in place of Halloumi cheese.
But on occasion, I'll make this recipe substituting creamy Greek feta pieces for halloumi (of course, I don't fry the feta cheese. See the recipe notes if you need to substitute).
Note: This post was originally published in 2015 and has been edited to provide more information.
Print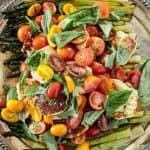 Roasted Asparagus with Tomato, Halloumi Cheese and Sherry Vinaigrette
---
Ingredients
1.5 lb asparagus, hard end trimmed
Salt
Extra Virgin Olive Oil
8 oz Halloumi cheese, sliced into squares 1/2 inch in thickness
3 cups grape tomatoes, halved
15 large basil leaves, torn
For the Sherry Vinaigrette
1/4 cup sherry reserve vinegar
1/4 cup extra virgin olive oil
1/2 tsp garlic powder
salt and pepper
---
Instructions
Preheat the oven to 400 degrees F.
Place the asparagus spears on a large oiled baking sheet. Sprinkle with salt. Drizzle generously with olive oil. Roast in the 400 degrees F heated-oven for 15-20 mins. Remove from heat and let cool briefly.
Meanwhile, in a large nonstick skillet, heat 2 tbsp olive oil on medium heat. Pat the halloumi cheese squares dry and fry them in batches for 1-2 minutes, turning over once with a spatula. When the cheese turns golden brown, remove from heat and set aside briefly.
To make the vinaigrette, whisk together the sherry reserve vinegar with the olive oil and spices.
In a mixing bowl, combine the grape tomatoes with the fried halloumi and toss them together with the sherry vinaigrette.
Assemble the roasted asparagus on a serving platter and top with the tomato and halloumi mixture. Finally, add the basil leaves. Enjoy.
Variation: If you decide to use a different cheese instead, squares of Greek feta cheese would work well in this recipe. IMPORTANT, do not fry the feta cheese, of course. Simply add them at the very end when you add the basil leaves.
More Recipes to Try:
Mediterranean Potato Hash with Chickpeas and Asparagus
Mediterranean Herb Tomato Salad
Chickpea Salad with Za'atar and Eggplant