Must-try creamy chicken pasta and vegetables. All you need for a silky pasta sauce is milk, parmesan, and pasta cooking water — no heavy cream necessary! Add some sun-dried tomatoes, artichokes, and spinach, and you have a delicious 15-minute pasta dinner.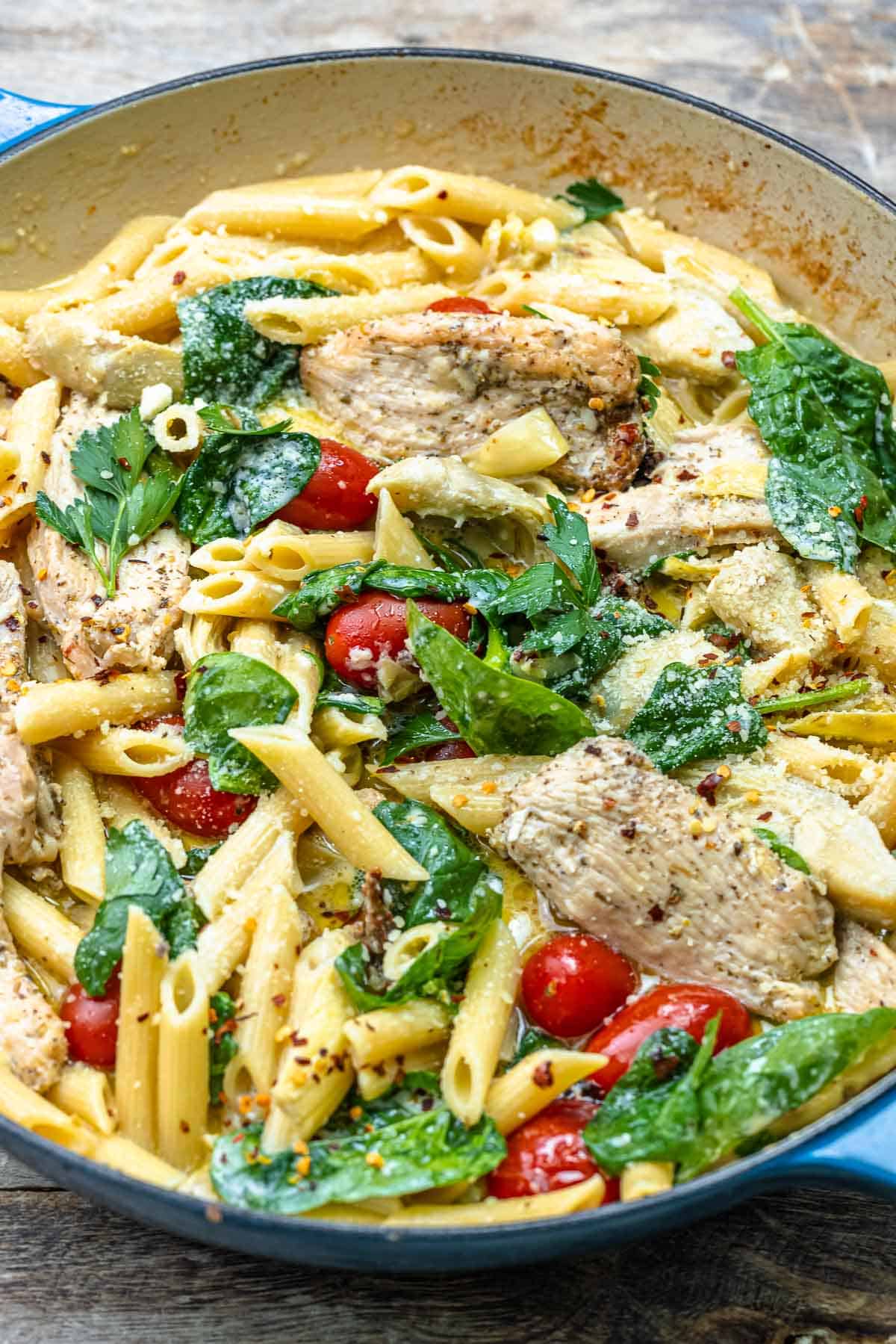 This 15-Minute pan of penne chicken pasta is one of my go-to recipes whenever I crave a little comfort food.
If you're anything like me and don't use heavy cream much in your cooking, the good news is, you can achieve a silky, creamy sauce with a combination of milk, flour, parmesan cheese, and the all-essential pasta cooking water. Bring some sun-dried tomatoes, spinach, artichoke hearts and chicken to the party and you'll have an easy penne pasta recipe your whole family will love.
This chicken pasta feels like a restaurant-fancy meal with such little effort. And if you like my easy sun-dried tomato pasta you'll love this one!
Table of Contents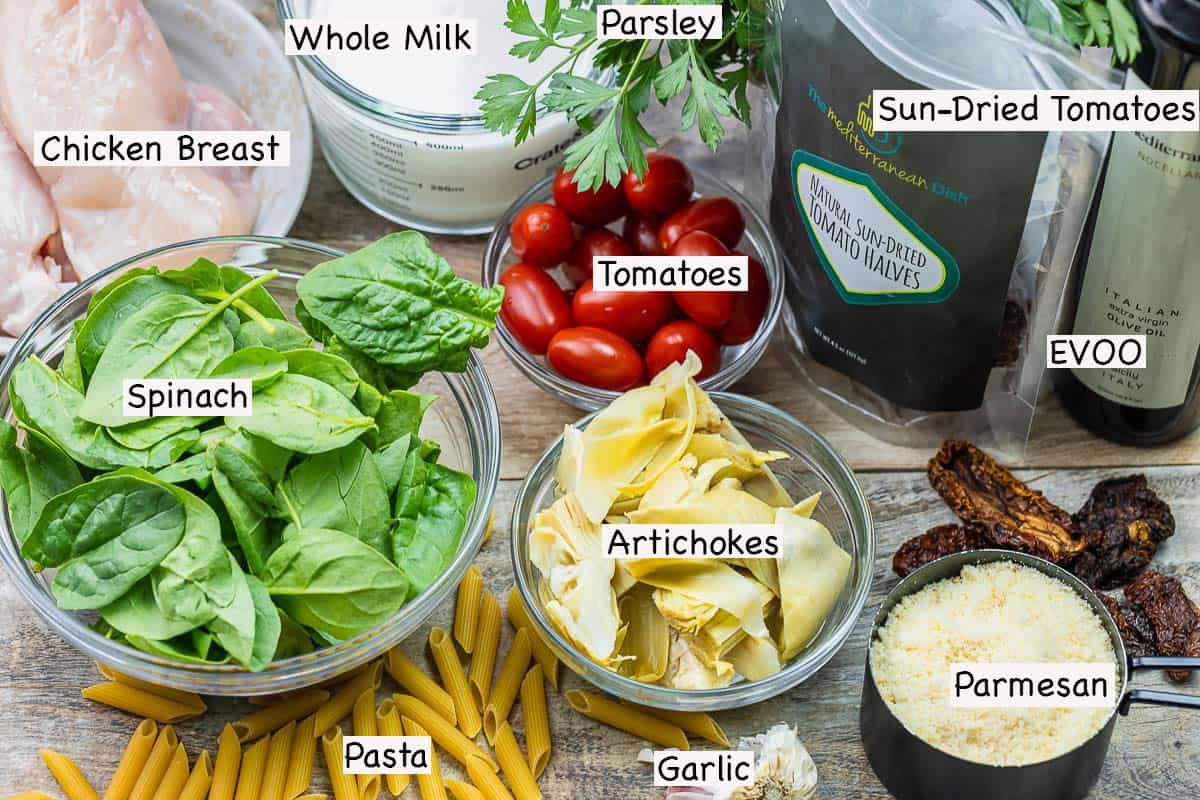 Chicken penne ingredients
Pasta: You'll need 8 ounces of pasta. I used penne, but I have more recommendations below!
Chicken: Boneless skinless chicken breasts work well, but you can use thighs if you prefer.
Extra virgin olive oil: I like our Nocellara Italian EVOO here. It smells and tastes like a summer afternoon in the garden, and pairs well with the other flavors in this dish.
Dried oregano: For some earthiness.
Garlic: Mince a few garlic cloves for a slightly spicy kick.
Sun-dried tomatoes: Sun-dried tomatoes add a hint of sweetness and tang.
Cherry or grape tomatoes: Toss them in whole! We don't cook them down too much in this recipe, so they retain their shape and bright flavor.
Artichoke hearts: Canned artichoke hearts add brininess, texture, and heft.
Whole milk: Instead of heavy cream, we make a lighter sauce using whole milk. If you can't tolerate dairy, try a creamy non-dairy alternative like cashew cream.
All-purpose flour: To thicken the sauce (see ideas below for gluten-free options).
Parmesan cheese: Use a wedge or block of parmesan and grate it instead of buying the pre-grated kind from the store. Freshly grated parmesan melts much better.
Baby spinach: We are using 2 cups, but the spinach will wilt down a lot.
Fresh parsley: A generous sprinkle of fresh Italian parsley adds a pop of color and a fresh herbal element.
Best pasta for a light cream sauce
My favorite type of pasta to use with a cream sauce is penne. It has ridges, which it gives the sauce something to cling to. You can use any textured pasta, though. Here are some ideas:
Rigatoni: Very similar to penne, just longer and larger.
Rotini: The corkscrew-shaped pasta is also great for holding lighter sauces.
Fusilli: Another corkscrew-shaped pasta, fusilli has a looser screw shape than rotini.
How to make chicken pasta
Chicken penne comes together in about 15 minutes, making it an excellent choice for a last-minute dinner. Here's how to make it:
Cook the pasta. Add 8 ounces of penne pasta to a pot of salted boiling water and cook until al dente. Before draining, reserve about ½ cup of the pasta cooking water.
Pasta water is key for a silky sauce: It acts as both an emulsifier and thickener, so the sauce can cling to the pasta.
Prepare the chicken. While the pasta cooks, pat dry 1 pound boneless skinless chicken breasts and slice them into strips or cubes. Season with kosher salt and black pepper to taste, and 2 teaspoons dried oregano.
Cook the chicken. Heat 2 tablespoons of extra virgin olive oil in a large pan and add the chicken. Cook for 7 to 8 minutes, or until the chicken is done.



Add tomatoes and artichokes. To the same pan, add 3 minced garlic cloves and ¼ cup chopped sun-dried tomatoes and toss for 30 seconds or so, then add 1 cup whole cherry or grape tomatoes and a drained 15-ounce can of artichoke hearts. Toss and turn the heat to medium-low.
Make the sauce. Whisk together 1 cup whole milk, 2 tablespoons flour, and 1 cup grated parmesan cheese. Pour the mixture into the pan before adding 2 cups of baby spinach. Add 2 tablespoons of the pasta cooking water to the pan and stir to help the sauce thicken. You can add more pasta water if you need to.



Finish and serve. Add the cooked pasta and mix to combine. Add ¼ cup chopped fresh parsley and serve.
Kitchen Swaps
This recipe is so versatile! If you realize you're missing an ingredient just look around your kitchen and swap it for something you do have on hand. The recipe will still taste delicious. Here are a few ideas to get you started:
Use chicken thighs instead of breasts. Chicken thighs will just take a few minutes longer to cook than breasts.
Skip the milk in favor of a non-dairy alternative like oat milk or cashew cream. The taste will be a little different (perhaps a tiny bit sweet). I recommend creamy, thicker non-dairy options: Almond milk, for example, is too watery. Think of it like the difference in richness between whole milk and skim milk.
Change up the vegetables: Swap artichokes out for sliced mushrooms or chopped thin spears of asparagus. Use roughly chopped Roma tomatoes instead of cherry tomatoes. No spinach? Leave it out, and sprinkle some arugula onto the completed pasta dish along with fresh parsley.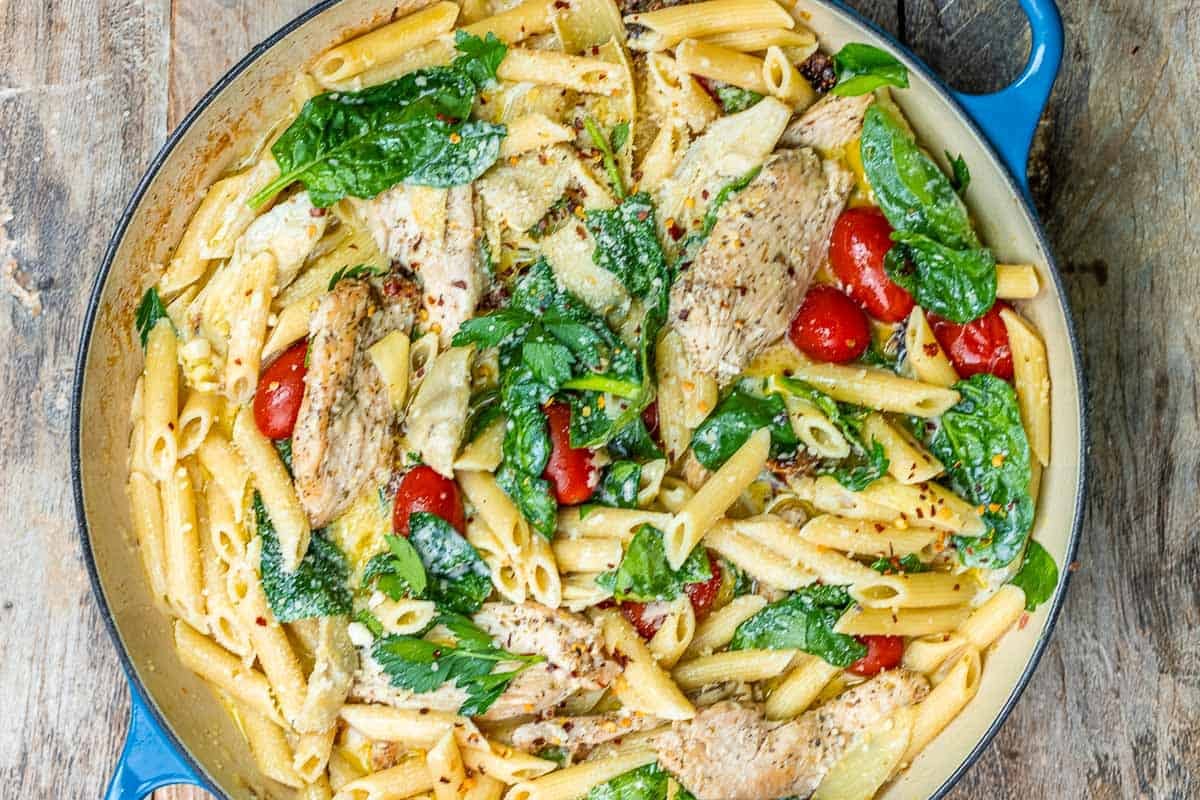 How to make this gluten free
Both the pasta and flour contain gluten in this chicken pasta recipe, but, luckily, there are easy ways to make this dish gluten-free!
Today, there is an abundance of gluten-free pasta options available. A couple of good ones are Tinkyada (the brown rice pasta spirals and penne work well) and Barilla gluten-free penne.
To replace the flour, you have two options:
Cornstarch: Skip the step where we mix the milk, flour, and parmesan. Instead, whisk together the milk and parmesan and add that to the pan. While it's heating, make a slurry with 1 tablespoon of cornstarch mixed with 1 ½ to 2 tablespoons cold water. Once the milk and parmesan mixture is heated through, stir in the cornstarch slurry.
Gluten-free flour: Follow the recipe as written, and simply swap out regular flour for your favorite gluten-free flour. Bob's Red Mill and Pillsbury both have great all-purpose gluten free flour blends.
What to serve with creamy chicken pasta
To be honest, this chicken pasta is so satisfying, you don't really need a side, but a little something extra never hurts.
I like serving this chicken pasta with some crunchy garlic bread or homemade focaccia to sop up the sauce! If you start baking the garlic bread a few minutes before you start working on your pasta dinner, they'll both be done around the same time!
If you want something green, a quick salad is never a bad idea! Try my parmesan lettuce salad (ready in just 5 minutes!).
How to store and reheat leftovers
This chicken penne recipe serves 4, so there are no leftovers in my house. If you do have leftovers, though, they will keep in the fridge for 3 to 4 days in an airtight container.
Milk- and cream-based sauces tend to thicken up a lot in the fridge. To reheat and thin the sauce out again, grab a shallow, wide pan. Add a few tablespoons of milk to the pan and heat until the milk is warm but not yet simmering.
Immediately add the pasta to the milk on the stove and stir rapidly. This will help the sauce re-emulsify if it has separated. Remove from the heat and serve.
More pasta recipes
Browse All Mediterranean Recipes.

Visit Our Shop
Creamy Chicken Pasta Recipe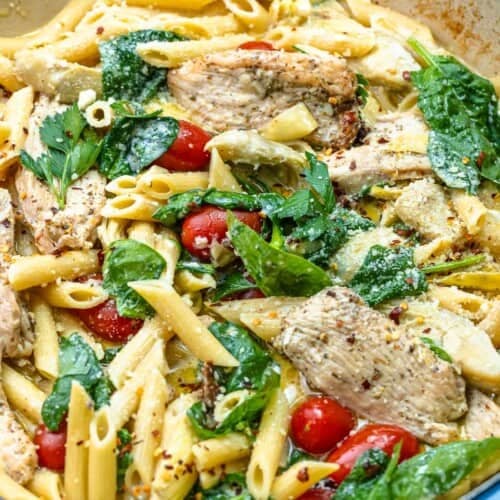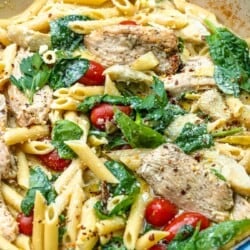 You don't need heavy cream for a silky pasta sauce! This sauce relies on whole milk, parmesan cheese, and a bit of pasta cooking water. A couple tablespoons of flour help to thicken the lighter sauce. Use a textured pasta, like penne or fusilli, so the sauce can cling to it. Serve creamy chicken pasta with a parmesan lettuce salad or garlic bread.
Ingredients
8

ounces

penne pasta,

or pasta of your choice

Kosher salt

1

pound

boneless skinless chicken breast

1

teaspoon

black pepper

2

teaspoons

dried oregano

3

large garlic cloves,

minced

1

cup

cherry or grape tomatoes

1 15-

ounce

can artichoke hearts,

drained

1

cup

whole milk,

or a creamy non-dairy alternative such as cashew cream, room temperature

2

tablespoons

all-purpose flour

1

cup

grated Parmesan cheese

2

cups

packed baby spinach

¼

cup

fresh parsley,

chopped, for garnish
Instructions
Boil a large pot of water and salt it well. Add the pasta and cook according to package instructions or until al dente. Reserve about ½ cup of the cooking water before draining the pasta.

While the pasta is cooking, work on the chicken. Pat the chicken dry, then using a sharp knife, slice into small bite-size pieces or strips. Season with a good dash of kosher salt, black pepper, and dried oregano.

In a large pan, heat about 2 tablespoons extra virgin olive oil over medium-high until shimmering. Add the chicken and cook, tossing occasionally until the chicken pieces are cooked through (they should have a delicious golden-brown hue); about 7 to 8 minutes.

Add the garlic and sun-dried tomatoes to the pan with the chicken and stir it around for about 30 seconds or so, then add the grape tomatoes and artichoke hearts. Toss to combine and turn the heat to medium-low.

In a small bowl, whisk the milk, flour, and Parmesan cheese. Pour the mixture into the pan and add the baby spinach. Add a little bit of the pasta cooking water (just a couple tablespoons or so) and stir for a few seconds to help the sauce thicken a bit.

Add the pasta and mix to combine. Add the parsley and serve.
Notes
Best pasta to use: I like textured pasta, like penne or fusilli, so the sauce has something to cling to.
For the best silky sauce, save some pasta cooking water. It helps to emulsify and thicken sauces.
Gluten-free option: Swap the pasta out for your favorite gluten-free brand, and use a cornstarch slurry or gluten-free flour instead of regular all-purpose flour.
Serve it with:

Parmesan lettuce salad

and crunchy

garlic bread

.
How to store leftovers: Store leftovers in an airtight container in the fridge for 3 to 4 days.
Visit Our Shop for quality Mediterranean ingredients including extra virgin olive oils and spices.
Nutrition
Calories:
518.9
kcal
Carbohydrates:
51.4
g
Protein:
35.6
g
Fat:
18.2
g
Saturated Fat:
5.6
g
Polyunsaturated Fat:
1
g
Monounsaturated Fat:
2.4
g
Trans Fat:
0.01
g
Cholesterol:
81.3
mg
Sodium:
818.9
mg
Potassium:
915.5
mg
Fiber:
5.1
g
Vitamin A:
2820
IU
Vitamin C:
33.1
mg
Calcium:
311.2
mg
Iron:
3.2
mg