You'll be making this creamy pesto ravioli recipe on repeat! With just 5 simple ingredients and 10 minutes, this ravioli recipe is a special dinner you can enjoy any night of the week!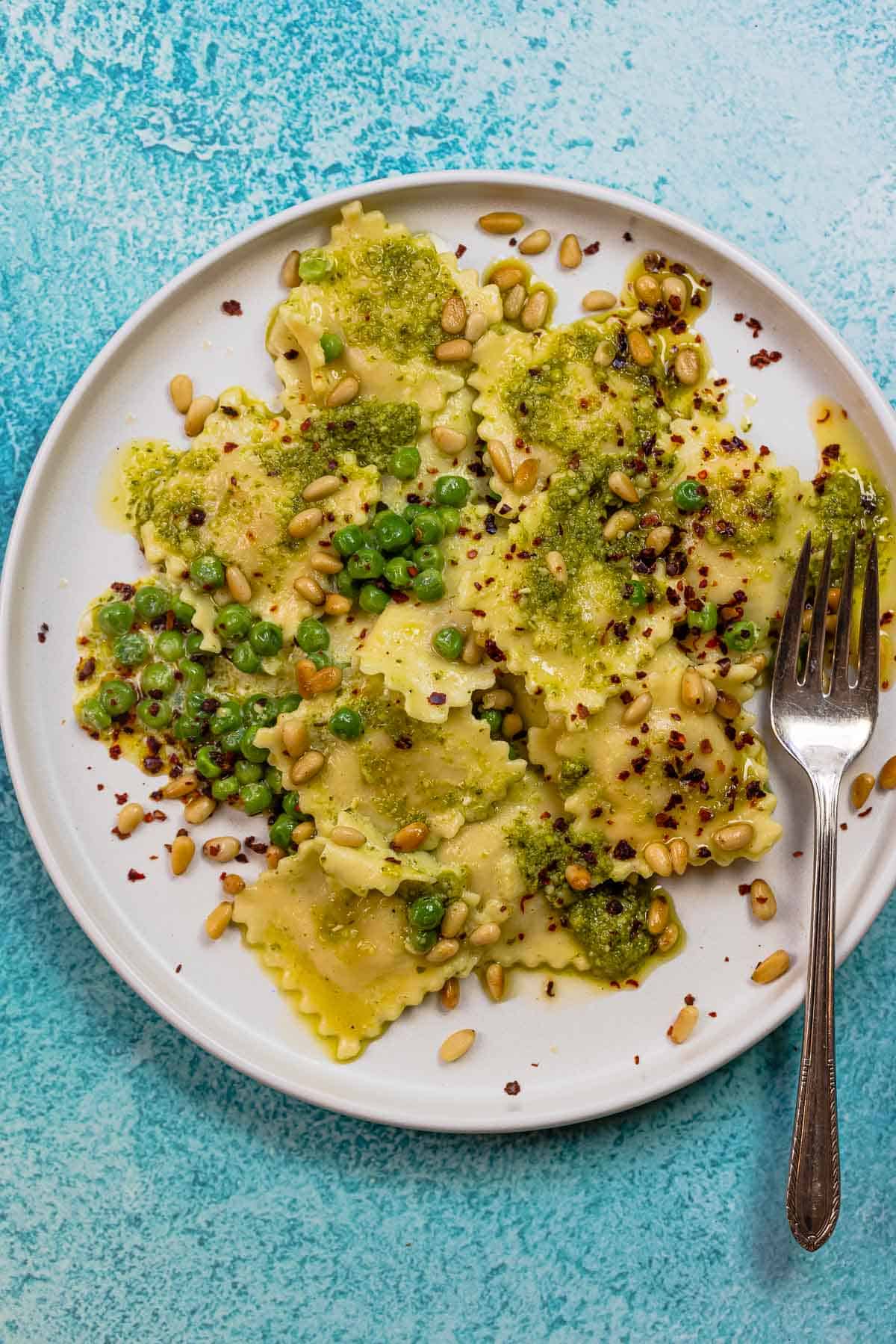 Ravioli!
Ravioli, plural for raviolo, are delicate pillow-shaped pasta made from flat egg noodle squares that are often stuffed with a delicious mixture of ricotta cheese. Like tortellini, you may find ravioli pasta with different fillings like four cheese, meat, or vegetables.
Some specialty grocery stores will make fresh ravioli daily, but most grocery stores will carry it in the refrigerator section. If you have a bag of refrigerated cheese ravioli, you can toss it with your favorite pasta sauce or even just some good olive oil, and you can add any number of vegetables or greens to your ravioli to amp up the nutrition factor without much work! My favorite veggies to toss with ravioli pasta are peas, asparagus, broccolini, or baby spinach.
In this pea ravioli recipe, a bag of cheese ravioli, some frozen peas, vibrant basil pesto, and a hint of cream give you a restaurant-fancy dinner in 10 minutes or less! And thanks to the delicious pesto-cream sauce and tender peas, it tastes as close to ravioli made from scratch as you can get.
Ravioli sauce
A simple cheese ravioli can be dressed in any number of sauces, including a rich homemade spaghetti sauce.
But I'm a big fan of basil pesto with ravioli – actually, any pesto pasta is great in my book. Bold, herby, garlic pesto is the star flavor maker in this recipe, but to give the pasta sauce a hint of creamy goodness, I added a splash of heavy cream with a bit of the starchy pasta cooking water.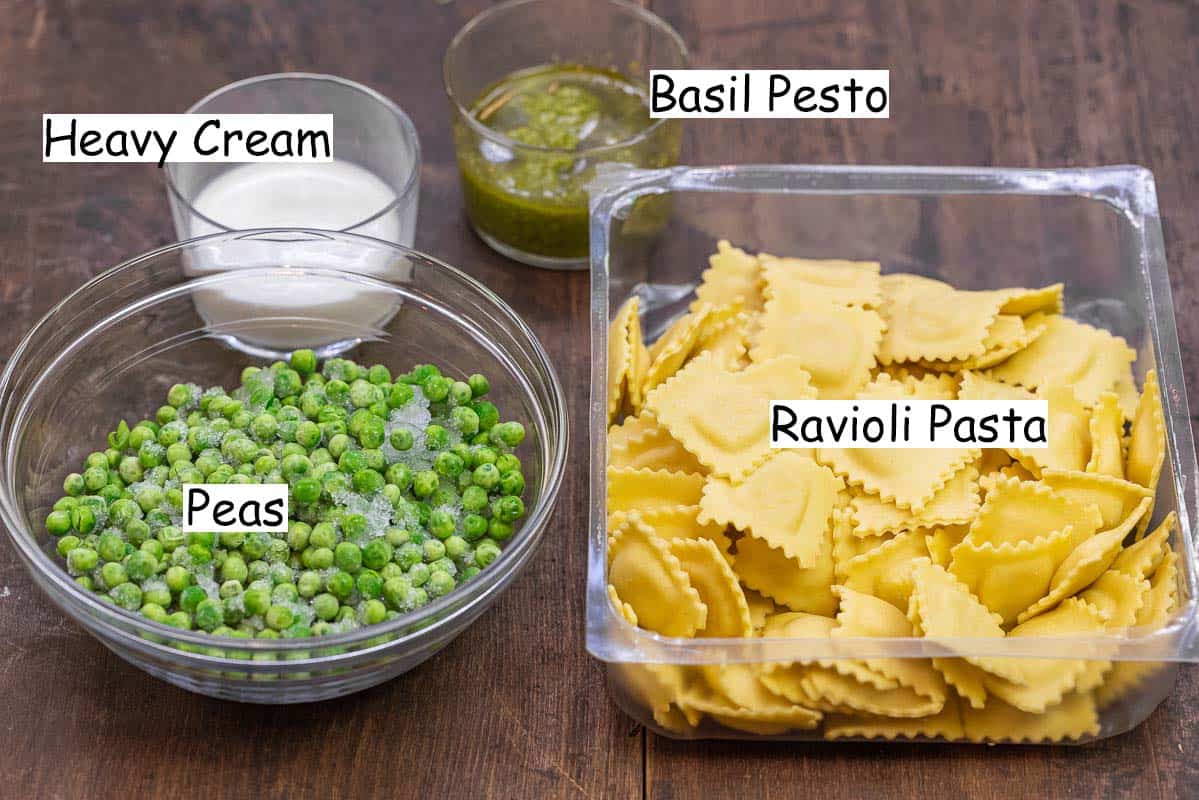 Ingredients you need to make pesto ravioli
Ravioli- I used store-bought four-cheese ravioli, which I find in the refrigerator section at my grocery store.
Frozen peas- No need to thaw out the peas, they will cook right in the water with the ravioli.
Basil pesto - If you have homemade pesto on hand, use that. Otherwise, quality store-bought pesto is a great shortcut option to keep this dish super quick to make.
Heavy cream - You only need ¼ to ⅓ cup heavy cream for some richness. You can use a plant-based cream such as oatmilk, although the taste will be slightly different. Or, you can absolutely omit the cream here and rely only on the basil pesto with the starchy pasta water.
Garnish of red pepper flakes and pine nuts- If you have them, you can add a pinch of red pepper flakes and about 3 tablespoons of toasted pine nuts to finish this pasta recipe. They are both optional but will add flavor and texture.
How to make creamy pesto ravioli
In 10 minutes or less, you can have a delicious cheese ravioli and pesto dinner – with almost no prep! Here's how to make this ravioli recipe:
Other vegetables to use with ravioli
Various greens go well with this pasta, like asparagus, broccoli, or spinach. You can simply cook cut asparagus or small florets of broccoli in the pasta cooking water. In the case of baby spinach or similar tender greens, you can even toss them in with the cooked ravioli at the very end. The heat from the freshly cooked pasta will quickly wilt the leaves.
If you have leftover cooked veggies, like Italian roasted vegetables, you can simply toss them with ravioli for a quick vegetarian dinner.
Ravioli with chicken
I'm a big fan of meatless pasta nights, but if you want some extra protein, you can add cooked chicken breast cut up into small pieces. Italian baked chicken breast, lemon chicken, or some leftover rotisserie chicken would work well here.
Simply add the chopped chicken to the large bowl with the pesto-cream mixture along with the cheese ravioli and peas. You may need to add a couple more spoons of pesto, but no one will be mad about it. (Of course, if you've made my pesto chicken, you know that you can just add some cooked pasta to it!)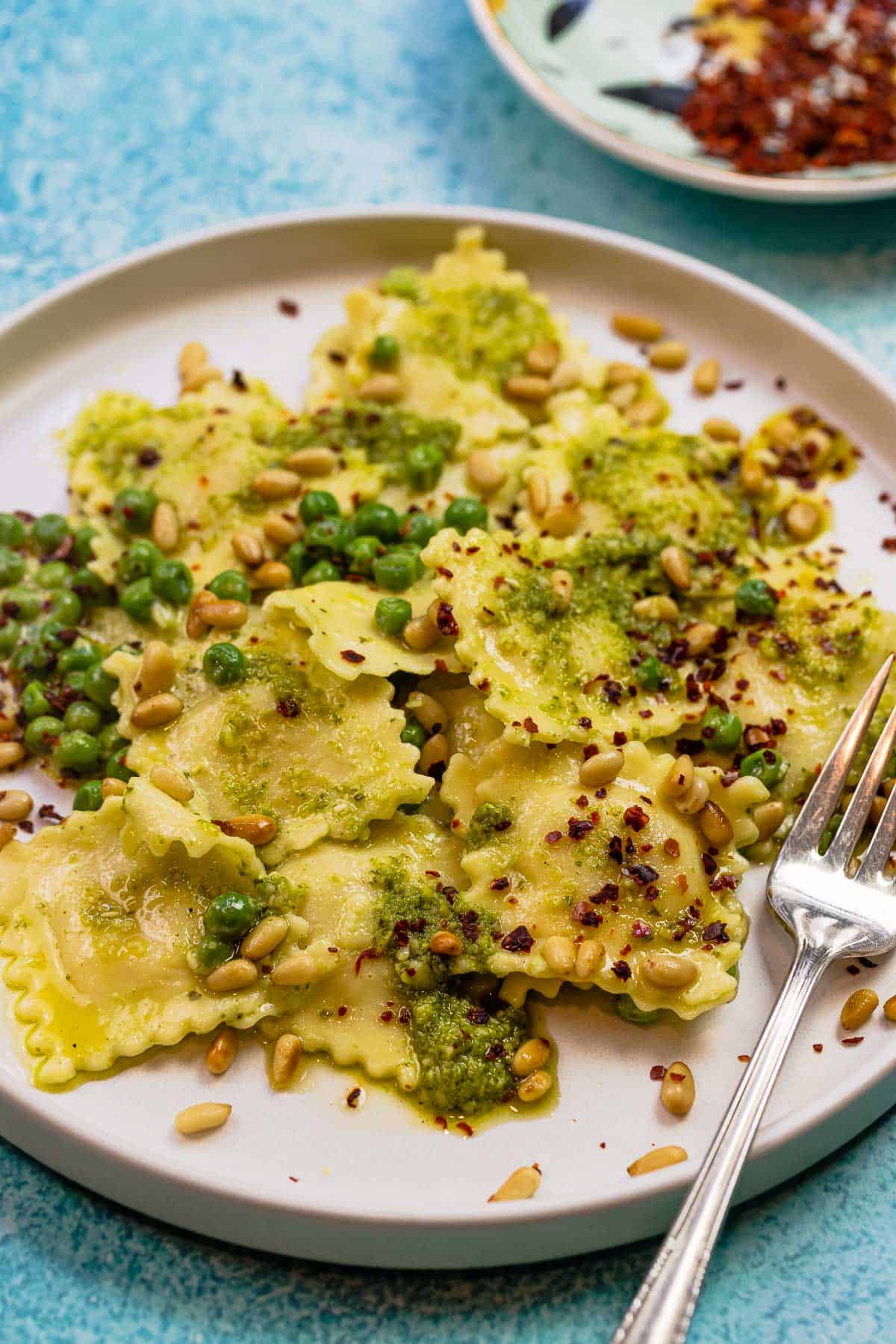 Serve it with
Try this pesto pasta with a big salad to start. I recommend white bean salad or my panzanella.
For some crunch, serve it with some ciabatta garlic bread.
Leftovers and storage
Store leftovers in an airtight container in the fridge for up to 3 days. To reheat, add the cheese ravioli with pesto sauce to a saucepan and reheat gently over medium-low heat to medium heat until warmed through. If the sauce has thickened too much in the refrigerator, you can add a little water to thin it out while it reheats.
More pesto pasta recipes
Browse all Mediterranean recipes

Visit Our Shop
10-Minute Creamy Pesto Ravioli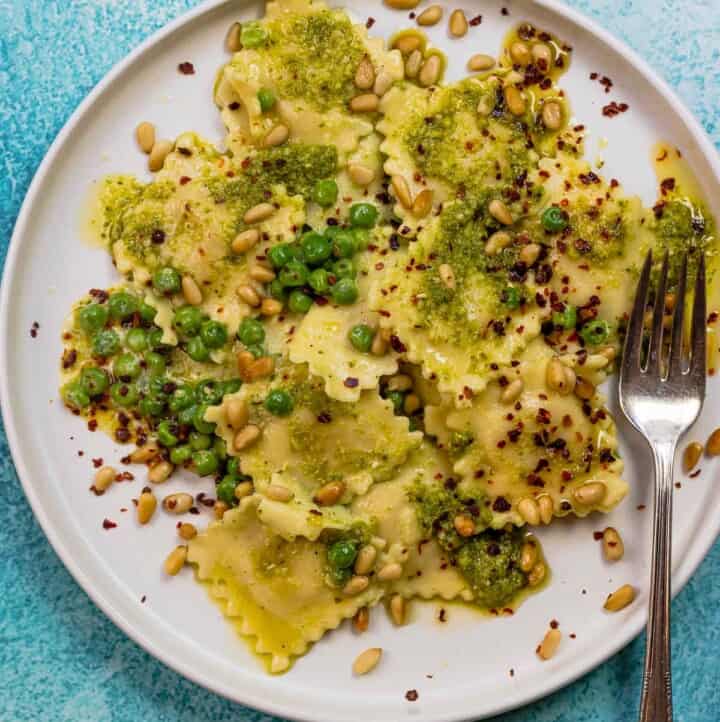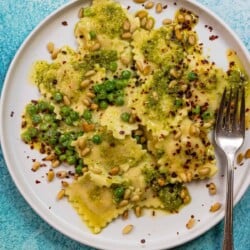 This pesto ravioli recipe takes just 5 ingredients and 10 minutes to make! And with the silky pesto-cream sauce, it tastes just as fancy as ravioli made from scratch. A couple cups of frozen peas get cooked right along with the pasta for some nutrition, but other veggies like asparagus, broccoli, or leafy greens would taste great as well. For a simple Italian dinner, you can serve this quick creamy pesto ravioli with some crunchy ciabatta garlic bread, white bean salad, or panzanella.
Instructions
Fill a large pot with water about ¾ of the way. Bring the water to a boil and season with kosher salt. Add the ravioli and frozen peas to the boiling water. Follow the ravioli package instructions for cooking time (mine only took 5 minutes total). Reserve about 1 cup of the pasta cooking water before draining.

In a large bowl, combine the basil pesto and heavy cream, stir to mix well.

Add the cooked ravioli and peas to the pesto mixture. Add a little of the pasta cooking water (about ¼ cup to start), and a good drizzle of extra virgin olive oil. Toss to combine.

Taste and adjust seasoning or add more pesto to your liking. Finish with a sprinkle of red pepper flakes or Aleppo Pepper. Serve immediately.
Notes
Additional optional garnish: Pine nuts make a nice garnish as well. If you have some, you can toast about 3 tablespoons of pine nuts to add at the end with the red pepper flakes.
Other vegetables you can use: Cut asparagus and small broccoli florets can be thrown in with the ravioli to cook. Leafy greens like spinach can simply be tossed with the warm ravioli -- its heat will wilt the leaves.
Ravioli with chicken: If you want some extra protein, add some leftover rotisserie chicken, Italian baked chicken breast, or lemon chicken.
Serve pesto ravioli with: White bean salad or panzanella, perhaps with some crunchy ciabatta garlic bread to start.
Leftovers and storage: Leftovers will keep in an airtight container in the fridge for up to 3 days. To reheat, add it to a saucepan over medium-low to medium heat until warmed. If the sauce has thickened too much, add a small amount of water to thin it out.
Visit our shop to browse our all-natural and organic spices (like the Aleppo pepper used in this recipe), olive oils, and much more!
Nutrition
Calories:
410
kcal
Carbohydrates:
33.9
g
Protein:
17.8
g
Fat:
24.6
g
Saturated Fat:
7.3
g
Monounsaturated Fat:
0.9
g
Cholesterol:
63.9
mg
Sodium:
781.4
mg
Potassium:
127.4
mg
Fiber:
5.8
g
Vitamin A:
932.2
IU
Vitamin C:
19.4
mg
Calcium:
70.8
mg
Iron:
10.7
mg