Flavorful, tangy, and light, this simple lemon pasta without cream is the perfect meal in 15 minutes or less! With good extra virgin olive oil, fresh garlic and a good sprinkle of Parmesan cheese, this is the best lemon spaghetti you'll try!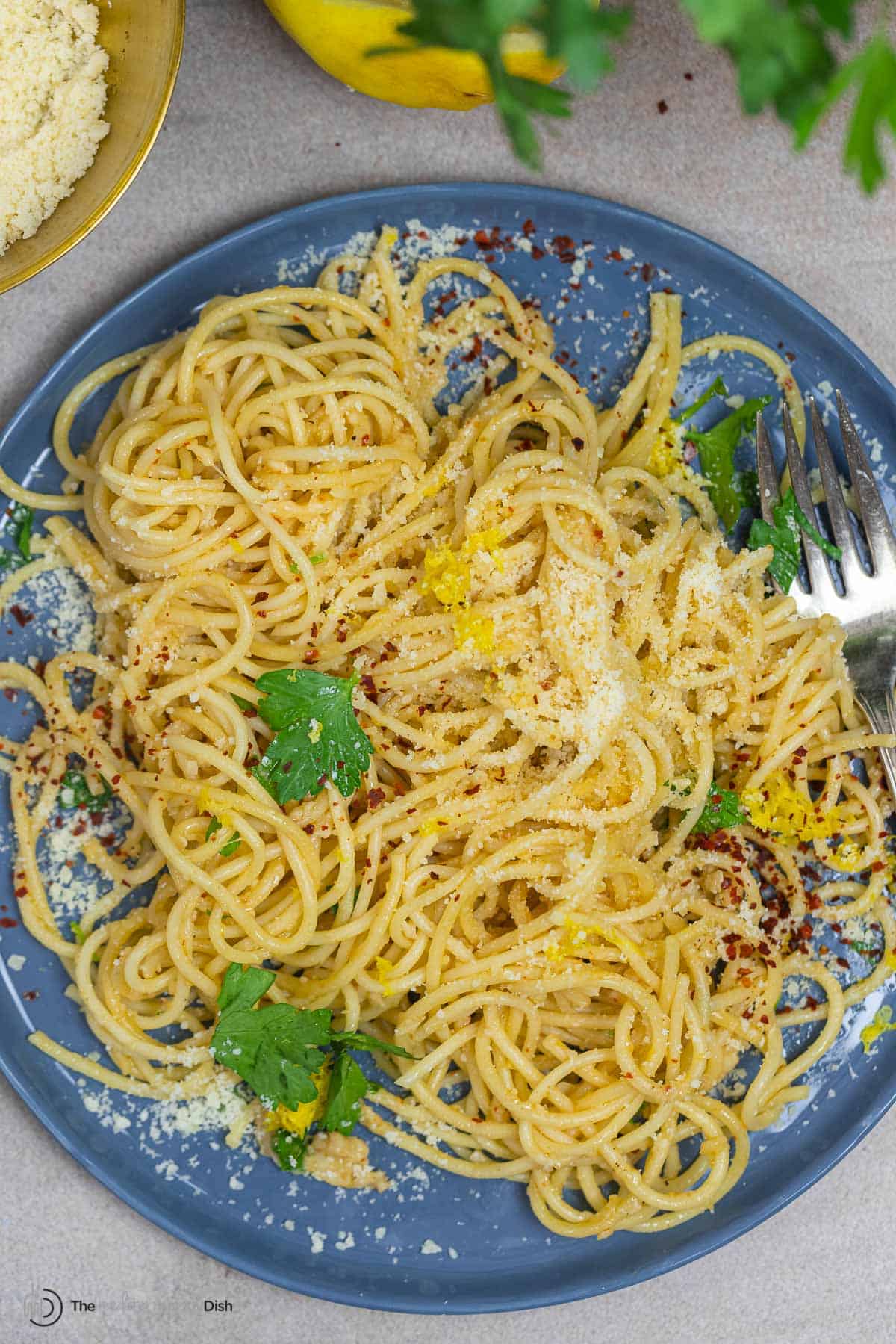 You won't ever hear me say no to a traditional Italian pasta al limone! But I'm all in with this lighter lemon pasta that skips the heavy cream and butter in favor of a silky sauce made of olive oil and a bit of the pasta starchy water. It's the same approach as the classic spaghetti aglio e olio, only this sauce is perfectly tangy, thanks to fresh lemon juice and zest.
Just as with my lighter take on Pasta Primavera, a little bit of garlic and a good sprinkle of grated Parmesan cheese means it is not short on flavor.
You'll still end up with a perfectly elegant, and just enough creamy lemon spaghetti–except the lemon is more pronounced and tangy in the best way. Seven ingredients and only 15 minutes to make this lemon spaghetti. Let's go!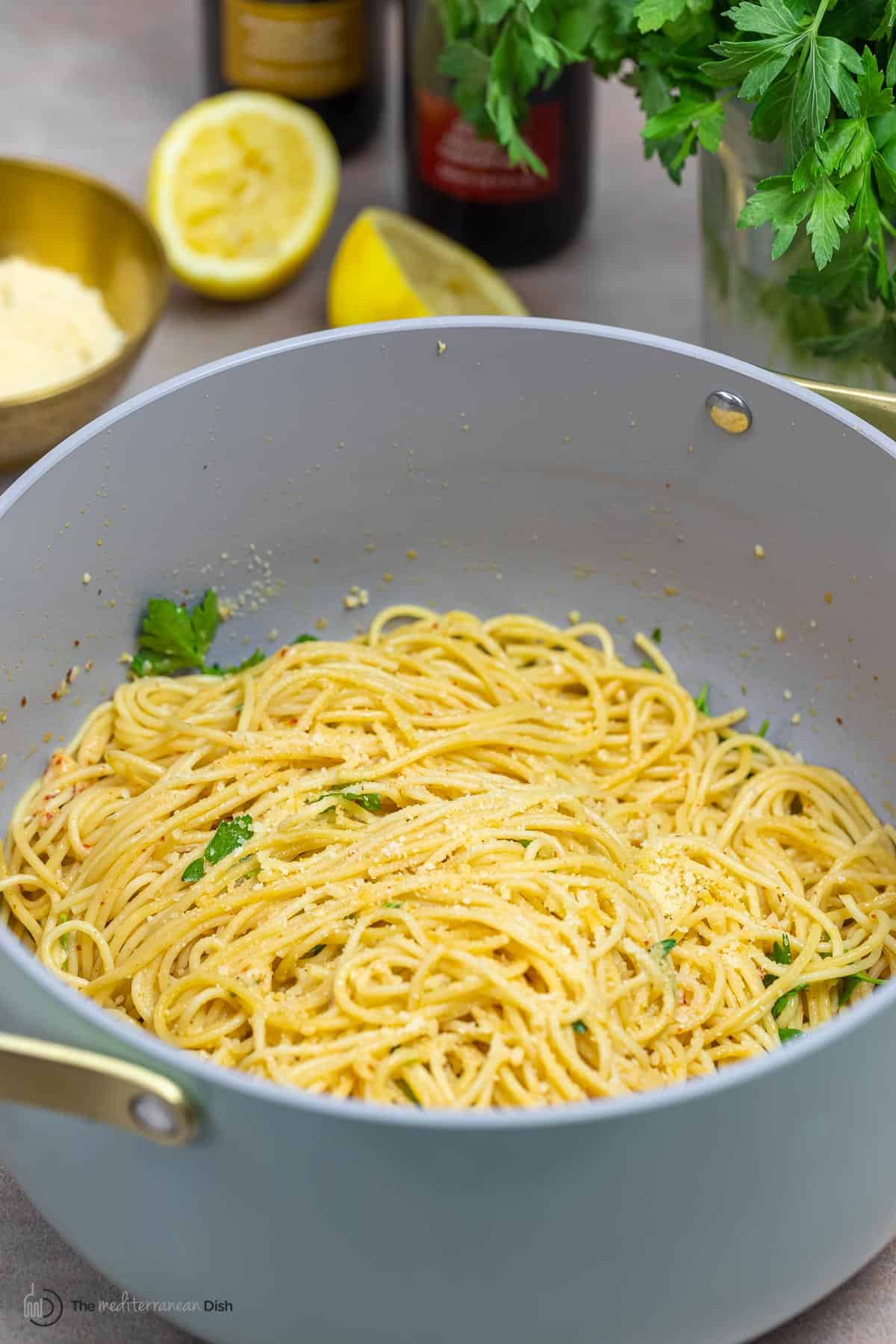 What kind of pasta to use for this lemon pasta recipe?
You'll need 12 ounces of a thin, long pasta. My personal preference is spaghetti, but you can also use angel hair pasta. These types of noodles are best for lighter sauces like this lemon spaghetti sauce because it's easier to coat them evenly with sauce.
The lemon pasta sauce
This light, lemony pasta sauce makes use of some starchy pasta cooking water, which acts as a thickener and, when combined with some good olive oil, forms a silky sauce, augmented with fresh garlic and sharp, nutty Parmesan cheese for loads of flavor. No heavy cream or butter needed!
Ingredients you'll need for the sauce
Extra virgin olive oil - Because this sauce relies heavily on olive oil, choose the best kind you can! (My favorites are here)
Garlic - You need 6 large cloves of minced garlic to flavor the sauce.
Crushed red pepper flakes - You only need a little, so the lemon pasta will not taste spicy. For a milder option, swap it out for Aleppo pepper flakes.
Lemon juice and zest - Zest 2 lemons for the sauce, but you only need the juice of 1 lemon for just enough tang.
Fresh parsley - A good half cup of chopped Italian parsley goes in at the end for color and a peppery bite.
Parmesan cheese - Freshly grated parmesan cheese melts into the light lemon pasta sauce, making it perfectly creamy and adding some nuttiness. I used ¼ cup, but you can add more to your liking.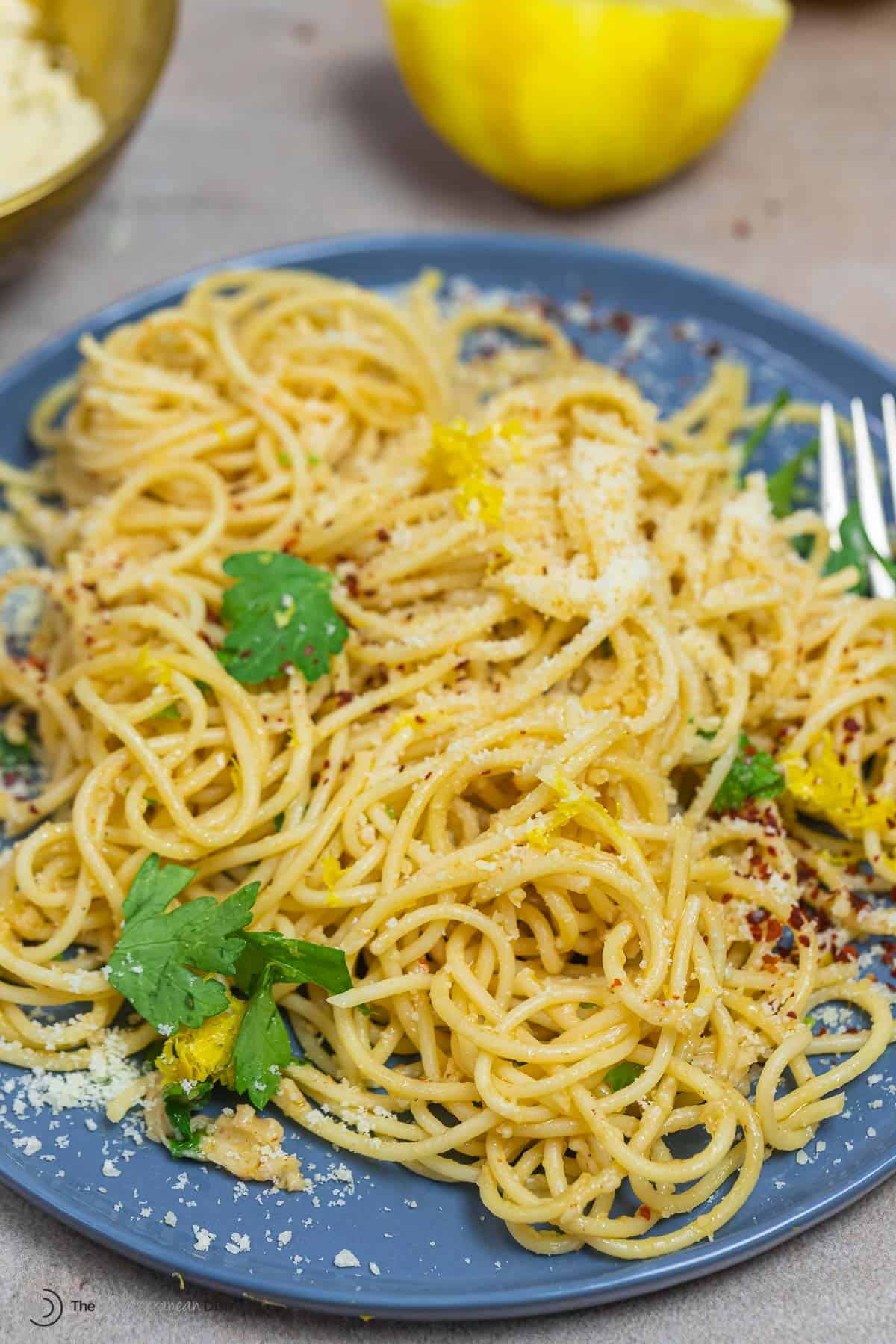 How to make lemon pasta
Lemon spaghetti is so easy to make! And you can quickly whip up the sauce while the pasta cooks, so the dish is ready in 15 minutes or less! Here's how to make it:
Cook the pasta. Cook 12 ounces spaghetti in a large pot of well-salted boiling water. Follow package instructions and cook until the pasta is al dente so that it is tender but still has a bite. This will take about 8 minutes.
Make the lemon spaghetti sauce. About 5 minutes or so into cooking the pasta, start the lemon sauce. Heat ¼ cup extra virgin olive oil over medium heat in a large skillet until shimmering. Add 6 large cloves minced garlic and ½ teaspoon red pepper flakes. Cook for about 30 seconds, stirring the whole time, until fragrant. Add fresh lemon juice and about ¼ cup of pasta cooking water.
Combine the pasta with the sauce. Once the pasta is al dente, save more cooking liquid before draining it. Then add it to the skillet and toss. Remove from the heat and add ½ cup chopped flat-leaf parsley, the zest of 2 lemons, and ¼ cup grated parmesan cheese. Season with kosher salt and black pepper to taste. Toss again and add more pasta water and olive oil if necessary until the sauce reaches your desired consistency. You can garnish with more fresh parsley if you like. Spoon the pasta into bowls and serve hot!
Lemon pasta with chicken
This vegetarian spaghetti dish is super satisfying as is, but it pairs perfectly with chicken piccata! Or, you can always shred leftover baked chicken (or even rotisserie chicken) and throw it in the pasta. (Lots more chicken recipes here to pair with this lighter spaghetti al limone). When I'm in the mood for seafood, I love to toss in some sautéed shrimp for a little extra protein.
Serve lemon spaghetti with
I like serving some crunchy garlic bread or blistered tomato bruschetta as a quick starter before we dig into the lemon garlic pasta.
And for a fresh side dish, I always make a big salad to go with this pasta dish. Try this quick lemony arugula salad, a summery peach salad, or colorful pomegranate tomato salad.
Leftovers and storage
Leftover lemon spaghetti will keep for about 3 days in an airtight container in the refrigerator. To reheat, add it to a skillet on the stove over medium heat with a little water and heat for a few minutes until warmed through.
More light and easy spaghetti recipes
Browse all Mediterranean Recipes

Visit Our Shop
15-Minute Lemon Pasta (No Cream or Butter!)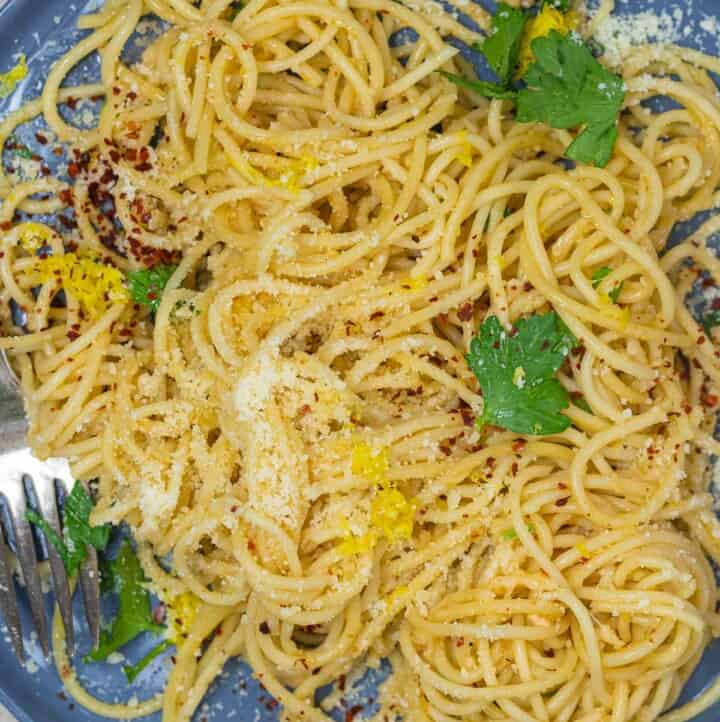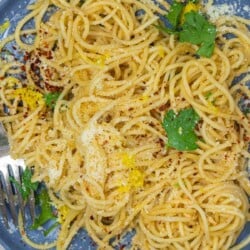 This is not quite the traditional spaghetti al limone, but a close version that is a tad less creamy, but still elegant and delicious. It will come together in 10 to 15 minutes, making it an ideal easy weeknight dinner! I like using spaghetti in this lemon pasta, but angel hair pasta will work nicely as well. Keep it vegetarian, or pair it with chicken piccata or shredded leftover chicken!
Ingredients
12

ounces

spaghetti

Kosher salt

¼

cup

extra virgin olive oil,

more if needed

6

large garlic cloves,

minced

½

teaspoon

crushed red pepper flakes,

more to your liking

Zest of 2 lemons

Juice of 1 lemon

½

cup

fresh parsley,

chopped

kosher salt and freshly ground black pepper to taste

¼

cup

Parmesan cheese to finish,

more to your liking, optional
Instructions
Bring a pot of water to a boil and salt the water well. Cook the spaghetti according to package instructions to al dente (about 8 minutes). Reserve 1 cup of the pasta cooking water before draining.

When the pasta is nearly done (about 5 minutes into cooking it), heat the olive oil in a large skillet over medium heat. Add the minced garlic and crushed red pepper flakes, and cook, stirring until fragrant, about 30 seconds. Add the lemon juice and about ¼ cup of the pasta cooking water for now.

Drain the pasta and add it to the skillet and toss over medium heat.

Remove the skillet from the heat and add the parsley, lemon zest and grated parmesan. Season with kosher salt and black pepper to taste. Toss again to combine, and if needed, add a little bit more of the pasta cooking water and a drizzle of extra virgin olive oil. Serve immediately!
Nutrition
Calories:
313
kcal
Carbohydrates:
43.9
g
Protein:
9.2
g
Fat:
11
g
Saturated Fat:
2.1
g
Polyunsaturated Fat:
1.3
g
Monounsaturated Fat:
7
g
Cholesterol:
2.8
mg
Sodium:
76.4
mg
Potassium:
173.3
mg
Fiber:
2.1
g
Sugar:
1.6
g
Vitamin A:
503.4
IU
Vitamin C:
7.6
mg
Calcium:
74.2
mg
Iron:
1.2
mg