Ready to take your chicken dinner to a new level of delicious?! In just over 20 minutes, you can make this easy stuffed chicken breast recipe with a tasty mixture of cheese, spinach, walnuts, sundried tomatoes and fresh herbs! It's a winner every time, just add your favorite side or salad to go along (lots of ideas below).
This post is brought to you in partnership with California Walnuts.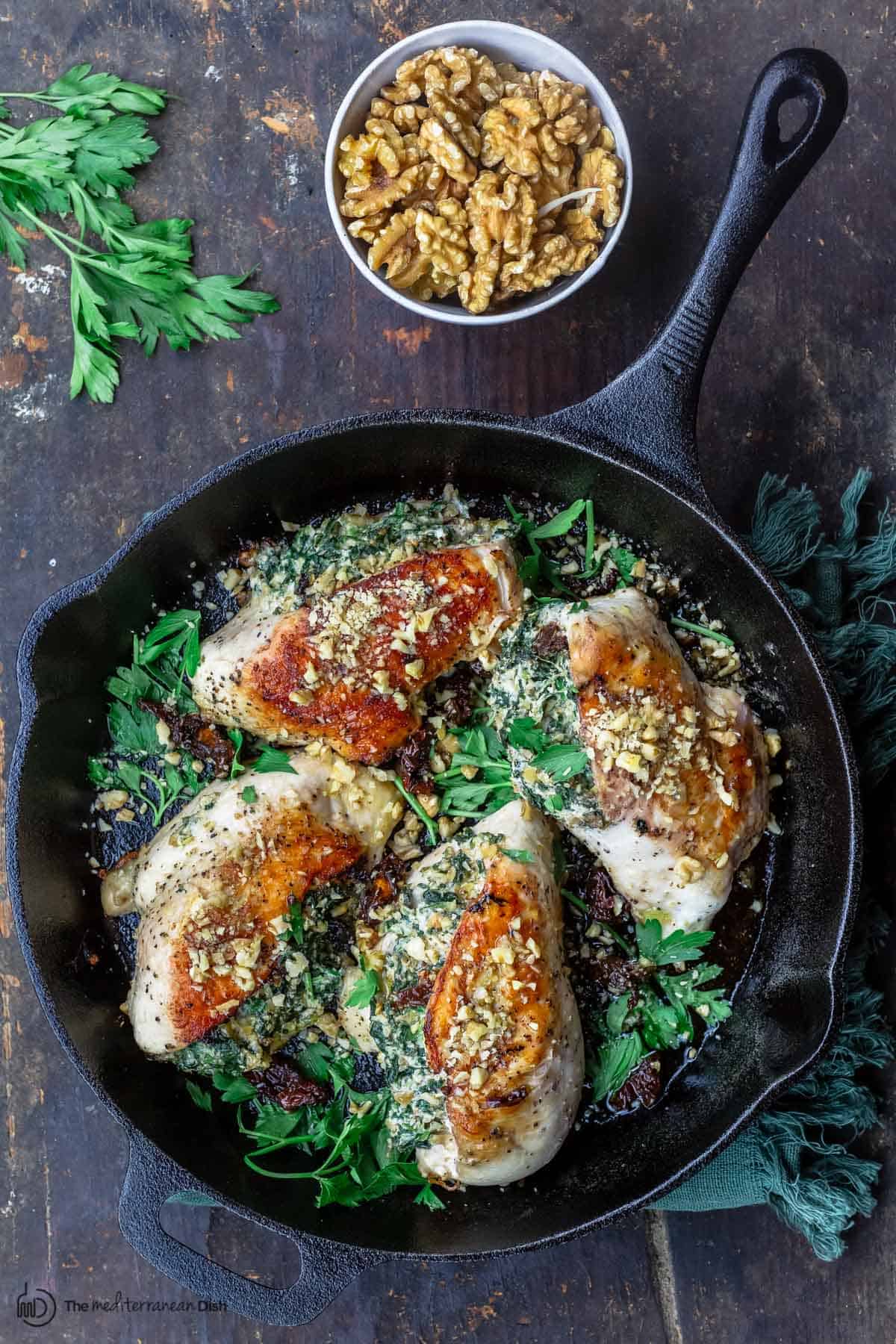 Boneless skinless chicken breasts are a convenient ingredient that's a staple in most kitchens. But let's face it, sometimes it can be hard to get excited about another chicken breast dinner.
If that's where you are, let me tell you: slicing a chicken breast open and stuffing it with a little bit of melty cheese and loads of Mediterranean flavors, is next level delicious!
Best part? You can make this stuffed chicken breast recipe in just over 20 minutes!
What do you stuff chicken breast with?
The draw to this easy chicken breast recipe is definitely in the filling with a bit of a Mediterranean--somewhat Italian--flare. Here's what I used:
Cheese: a combination of ½ cup ricotta and ¼ cup each part-skim mozzarella and grated Parmesan (melty tasty goodness without overwhelming the stuffed chicken).
Spinach: because we're using 5 ounces of thawed frozen spinach, we really don't need to spend time cooking it. It can just go right into the filling mixture, but be sure to wring out all the liquid.
Sundried tomatoes, fresh garlic, parsley, oregano, and a drizzle of extra virgin olive oil: Mediterranean favorites that give our cheese and spinach filling so much flavor! The olive oil also helps to moisten the filling mixture so that everything is well-incorporated.
Walnuts! Now this is the secret ingredient here, and yes, it's another Mediterranean favorite. I used ¾ cup of walnut hearts. The walnuts (finely chopped) truly elevate the filling by adding texture, flavor, and nutrition.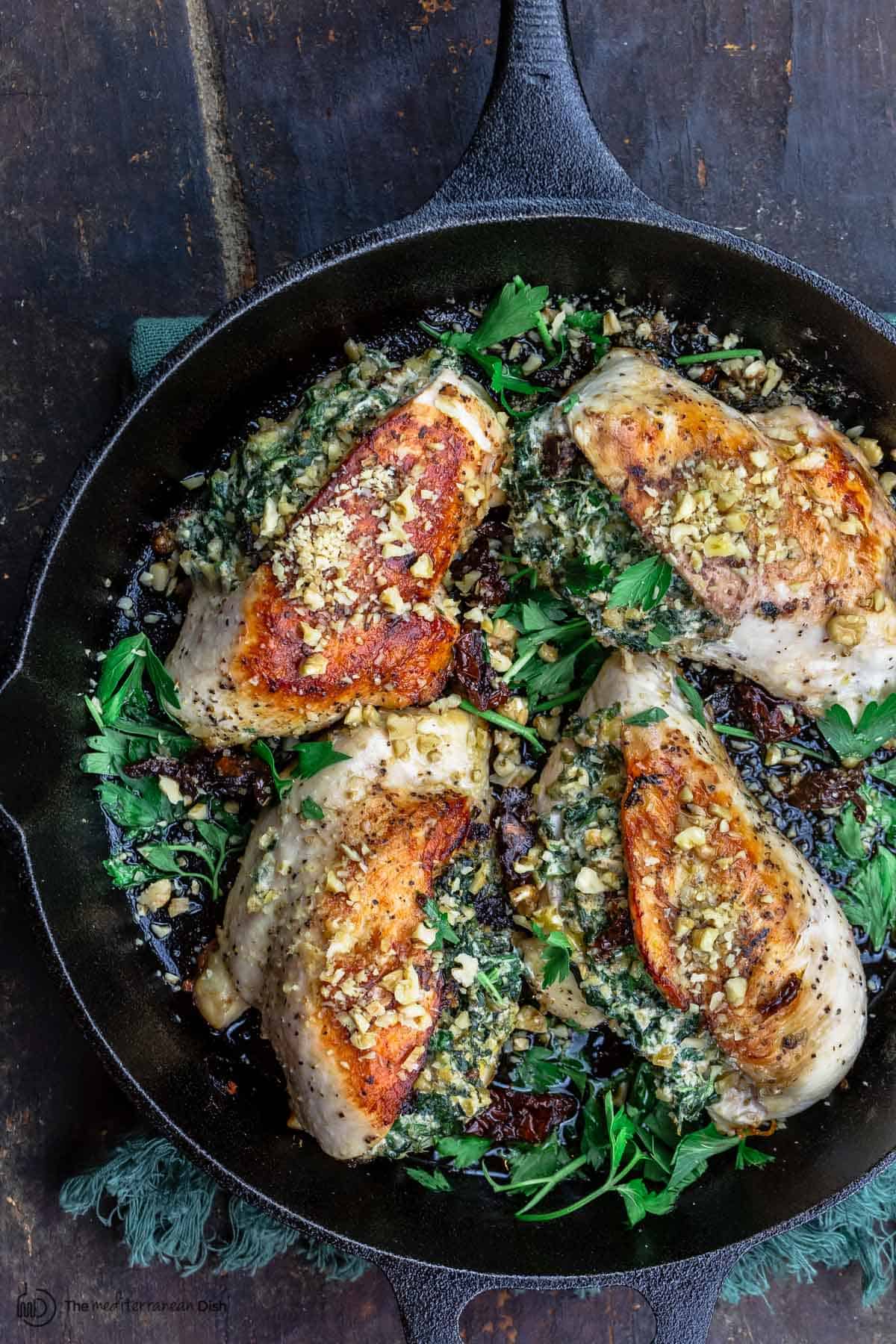 The secret ingredient: California walnuts
When it comes to walnuts, many of us think of sweets like banana walnut bread or apple strudel. But in my mother's Mediterranean kitchen, they were also used in a lot of savory dishes (you may have come across my Muhammara walnut dip and this fried eggplant recipe).
So when I was thinking of a way to amp up the flavor and add more texture and substance to the filling for today's stuffed chicken, walnuts were a no brainer. You'll love the subtle nuttiness and extra crunch in this recipe!
Fun fact! For those who follow the Mediterranean diet, incorporating walnuts in your cooking or even as a daily snack can have some great benefits. I recently attended an amazing virtual harvest tour with California Walnuts and learned that one ounce of walnuts is a powerhouse of important nutrients for optimum health, including: 2.5 g of ALA Omega-3 fatty acids, 4 grams of protein, and 2 grams of fiber. (Lots more good information here).
Lucky for us, there is no shortage of quality walnuts here in the States, thanks to the fertile soils of California's central valley!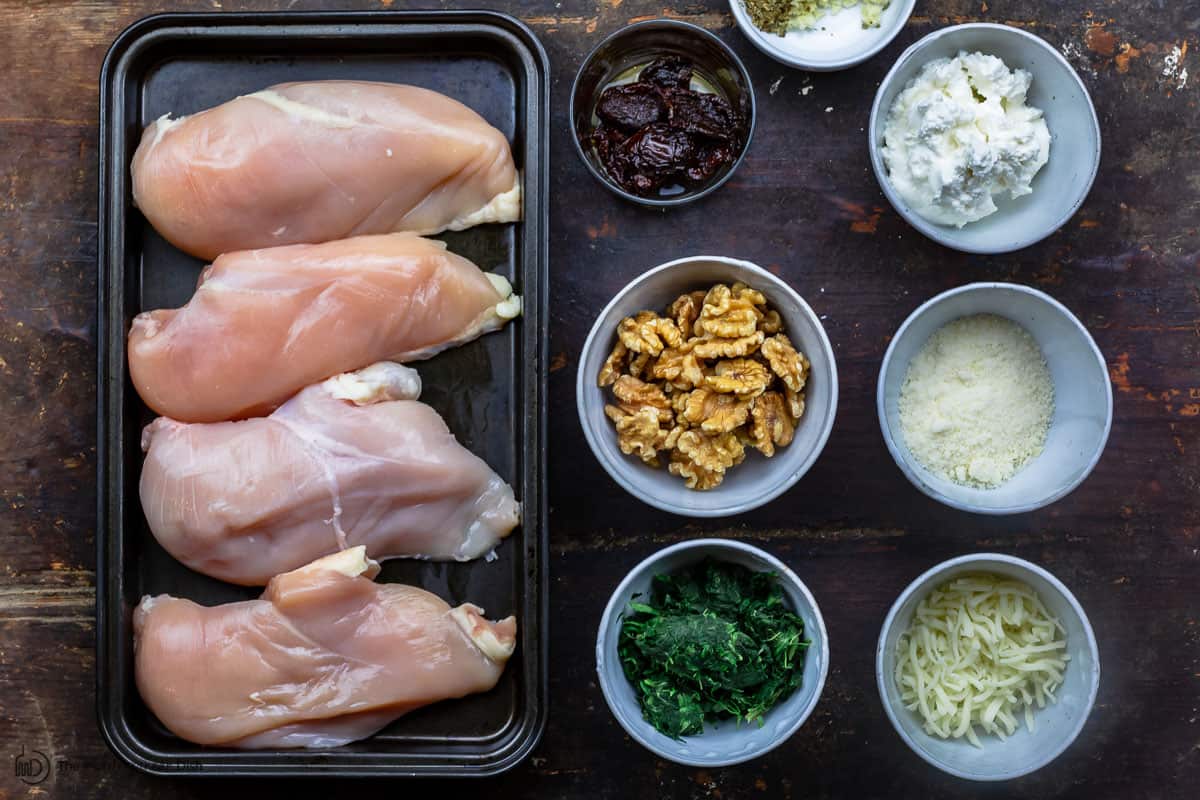 Cooking this spinach stuffed chicken breast is fairly easy. Once you mix the filling ingredients together, make a little "pocket" for the filling in each chicken breast. From there, cook the chicken in a pan or cast iron skillet for about 10 to 12 minutes in total. Here's how it goes.
How to make stuffed chicken breast: step-by-step
(print-friendly recipe just below)
Make the filling. In mixing bowl, combine the ricotta, mozzarella, Parmesan, finely chopped walnuts (save a bit for garnish), spinach, sundried tomato, parsley, garlic, and oregano. Add a pinch of kosher salt and drizzle of good extra virgin olive oil, mix well with a spoon.

Cut a "pocket" into each chicken breast. Season the chicken with kosher salt and black pepper. Then, you'll want to make a horizontal cut about 3 to 4 inches or so. Place a hand on the chicken breast and use a good knife to cut through the thick part, but cut only cut ¾ of the way in so you don't split the breast open completely (remember, you're making a pocket).

Stuff the chicken breasts. Divide the filling among the chicken breasts. Open up the "pocket" and spoon in a bit of the spinach and cheese mixture.

Cook! In a large pan, heat up about 3 tablespoons of extra virgin olive oil. Add the chicken breasts in (make sure they are arranged in one single layer. If your pan is not large enough, do this in batches). Cook for about 5 to 7 minutes on one side, then turn over and cook for another 5 minutes or so. (Stuffed chicken breast should take a total of 10 to 12 minutes or until fully cooked through and international temperature of the chicken registers 165 degrees F).
Garnish and Serve! Let the chicken rest for about 5 minutes. You can serve the whole breast or cut them into pieces. Garnish with the remaining walnuts and parsley.

How to serve it
Allow the chicken about 5 minutes to rest before serving.
From there, you can decide whether to serve each person their very own chicken breast (this is a very satisfying and generous portion). Or, you can slice each breast into smaller portions. This will show off the beautiful filling inside and will also allow you to serve more people (up to 6 people).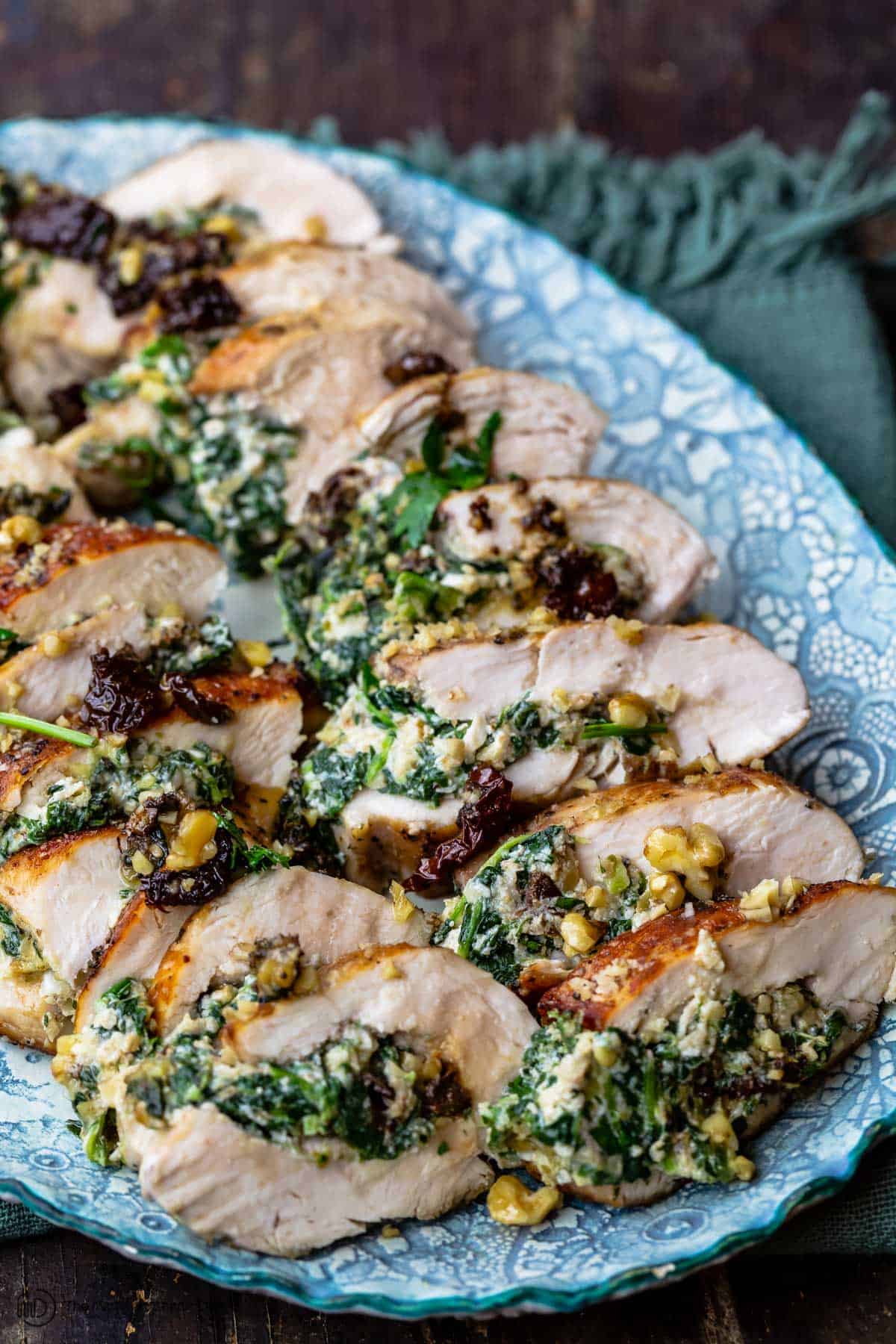 What to serve with it?
Here are some ideas for what you can serve with spinach stuffed chicken breast:
Sides: Roasted Greek Potatoes; Italian Roasted Vegetables; Or Grilled Zucchini
Salads: White Bean Salad; Blanched Asparagus with Mediterranean Salsa; or Traditional Greek Salad
Craving more? Check out all our Mediterranean recipes. Browse our Top 50 Mediterranean Diet Recipes.
JOIN MY FREE E-MAIL LIST.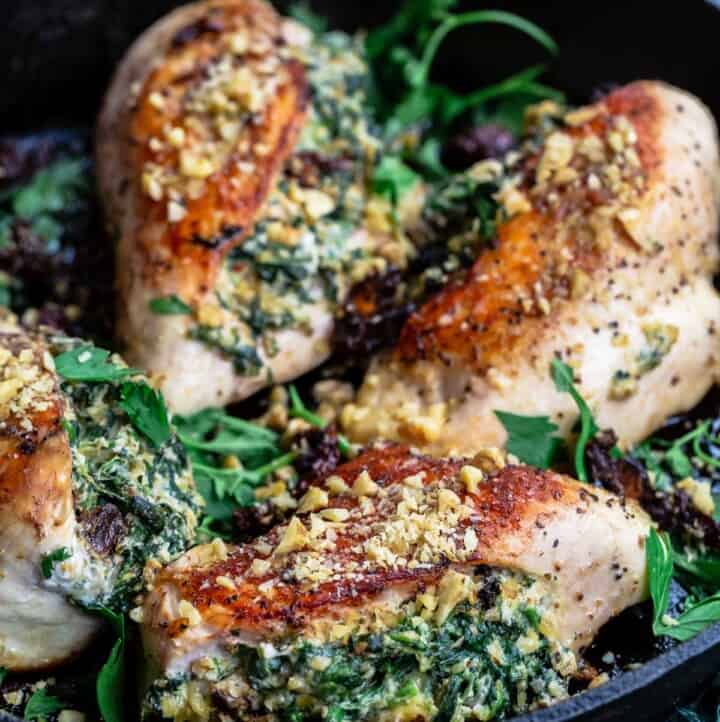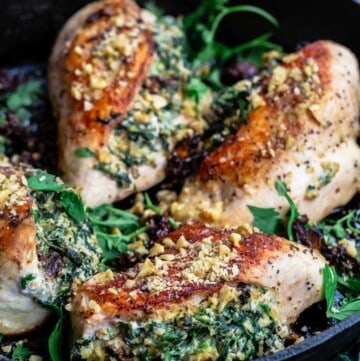 Easy Stuffed Chicken Breast Recipe
In just over 20 minutes, you can make this easy stuffed chicken breast recipe with a tasty mixture of cheese, spinach, walnuts, sundried tomatoes and fresh herbs! A winner every time!
Ingredients
4

boneless skinless chicken breasts

Kosher salt and black pepper

For the filling/stuffing

½

cup

Ricotta cheese

¼

cup

shredded mozzarella

¼

cup

grated Parmesan

¾

cup

walnut halves,

finely chopped, divided

5

ounces

frozen spinach

thawed and drained (squeeze all the water out of the spinach

6

sundried tomatoes in olive oil

chopped (more for garnish)

¼

cup

chopped fresh parsley

more for garnish

2

garlic cloves

minced

1

teaspoon

oregano
Instructions
Make the filling. In a mixing bowl combine the ricotta cheese, mozzarella, Parmesan, chopped walnuts (save ¼ cup walnuts for later), spinach, sundried tomatoes, parsley, garlic and oregano. Add a pinch of kosher salt and black pepper. Drizzle with a little bit of extra virgin olive oil. Mix until well combined.

Pat the chicken breast dry and season on both sides with Kosher salt and black pepper.

Now, you need to make a pocket in each chicken breast. Lay a chicken breast flat on a cutting board. Place a hand firmly on top of the breast. Insert a good chef's knife in the thickest part of the breast and cut through to make a pocket about 3 to 4 inches wide (only cut ¾ of the way in or you will split the chicken breast).

Spoon the stuffing mixture into the pocket of each chicken breast (try to equally divide the stuffing among all four pieces).

In a large cast iron skillet, heat 3 tablespoons extra virgin olive oil over medium-high heat until shimmering but not smoking. Add the chicken in and cook on one side for 5 to 7 minutes, then turn over and cook on the other side for another 5 minutes or so (chicken's internal temperature should register 165 degrees F).

Remove from heat and allow the chicken 3 to 5 minutes to rest. If you like, slice the chicken up into smaller pieces and garnish with the remaining walnuts, a bit of parsley and sundried tomatoes. Enjoy!
Nutrition
Calories:
259.3
kcal
Carbohydrates:
4.3
g
Protein:
24.2
g
Saturated Fat:
4.4
g
Cholesterol:
66
mg
Potassium:
460.3
mg
Fiber:
1.9
g
Vitamin A:
3162.2
IU
Vitamin C:
6
mg
Calcium:
171.4
mg
Iron:
1.5
mg