Pasta e ceci, pronounced pasta eh cheh-chee, is a traditional Italian dinner of pasta with chickpeas, rosemary, and vegetables. This weeknight-friendly recipe is the best kind of comfort food—nourishing and cozy.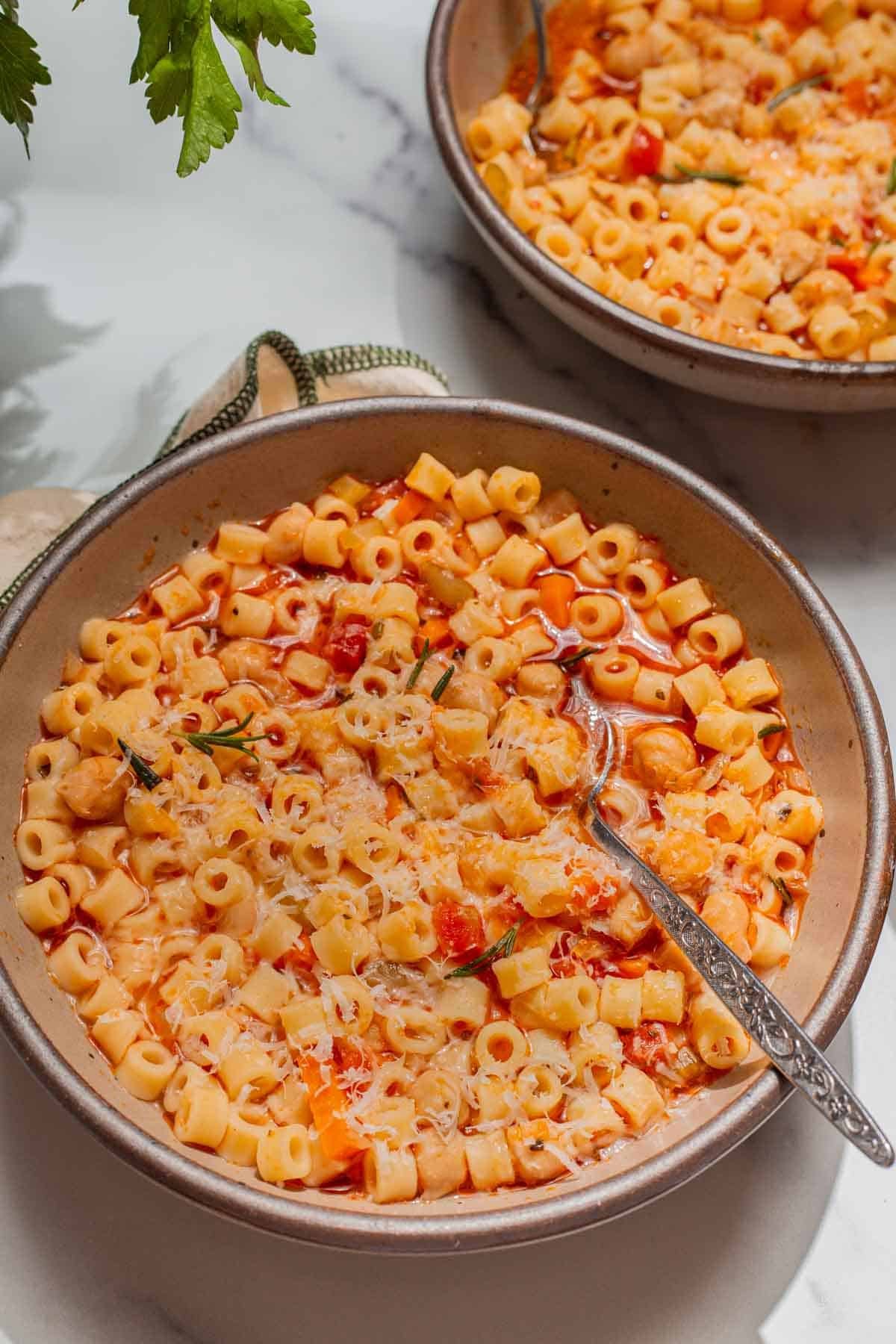 Pasta e ceci has become popular in recent years but it's been a favorite of mine ever since I was a young child, and my own kids love it too! My version stars ditalini (small tube) pasta, plus nutrient-rich chickpeas, carrots, celery, tomato, and lots of fresh rosemary. We love to enjoy it as a one-dish dinner. Or, we pair it with a colorful Caprese salad or Lemon Parmesan Lettuce Salad depending on the season.
This pasta with chickpeas recipe hails from Rome and southern Italy, where chickpeas grow in abundance. My mother, who was from Abruzzo on Italy's Adriatic coast, made pasta e ceci often for a quick and nutritious weeknight dinner. It's vegetarian, full of hearty flavor, and packed with an abundance of vegetables.
Pasta e ceci is one of those accommodating recipes that you can vary according to your own taste. I like ditalini pasta's small size as it's the perfect shape for scooping up into a spoon, but any short and sturdy pasta works.
I love to add loads of finely chopped fresh rosemary, like my mom did. But you can substitute any fresh assertive herb, such as parsley, sage or even mint. Use more broth for soupy pasta e ceci, less for a denser version.
Table of Contents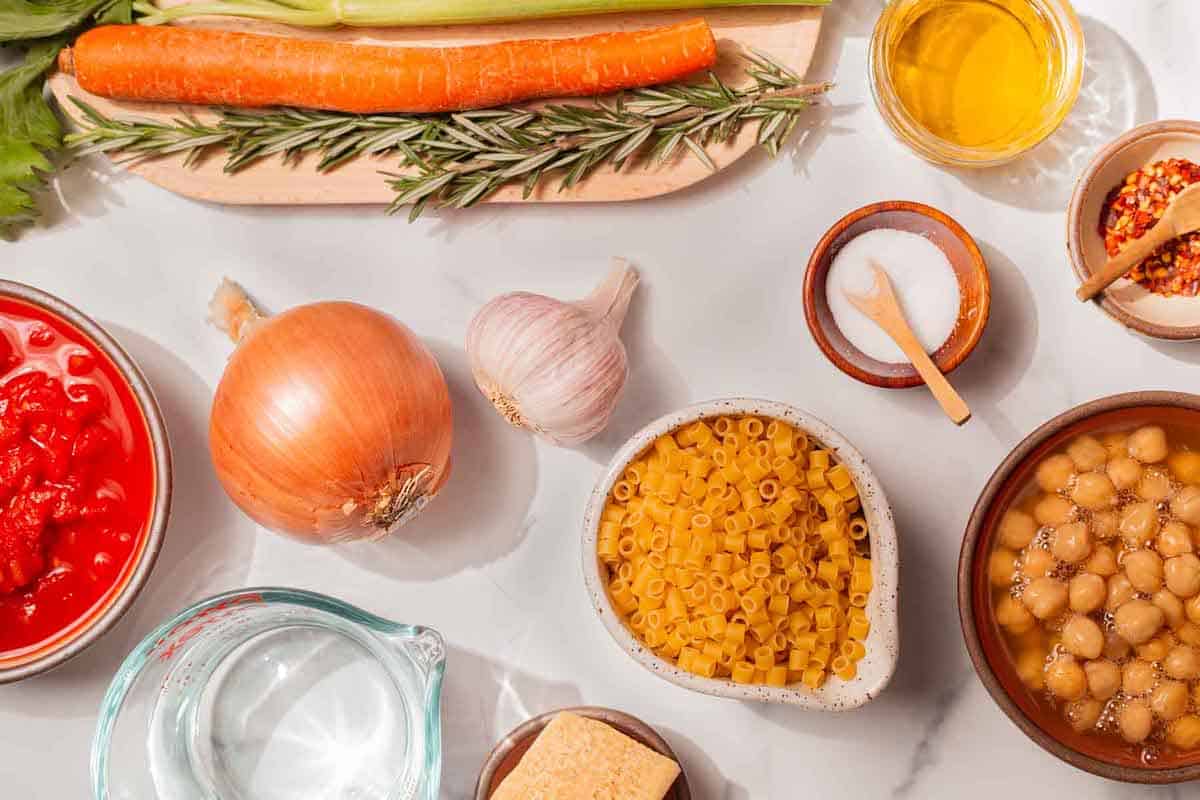 Pasta e Ceci Ingredients
This pasta with chickpeas recipe uses humble ingredients to make a dish that's hearty, comforting, and nutritious. Here's what you'll need:
Chickpeas: Canned chickpeas are convenient and can certainly be used, but your pasta e ceci will have more flavor and texture if you cook your own.
Olive oil: I use a generous glug of high-quality, medium-intensity extra-virgin olive oil, like our Italian Nocellara, to start the soup and gently sauté the vegetables. At serving time, I drizzle a thread of robust olive oil, like our Spanish Hojiblanca, over each serving.
Aromatics: Garlic, rosemary, and a small hot pepper or pinch of red pepper flakes—either works. These aromatics really boost the flavor of the soup, and they pair well with the mild, nutty flavor of chickpeas. Salt enhances the flavor.
Vegetables: Carrot, celery, and onion are the so-called "holy trinity" of many Italian soup and stew recipes.
Tomatoes: Chopped or finely diced canned tomatoes add depth and a hit of acidity.
Water or broth: I use water or vegetable broth for this soup, but chicken broth also works.
Parmesan rind: I save all my Parmigiano-Reggiano cheese rinds in a container in the freezer. It's an umami flavor bomb that brings all the other flavors together.
Pasta: I like to use ditalini, which translates to "little fingers." A small tubular pasta with a hollow center, it's easy to spoon up and appeals to both kids and adults—at least this adult!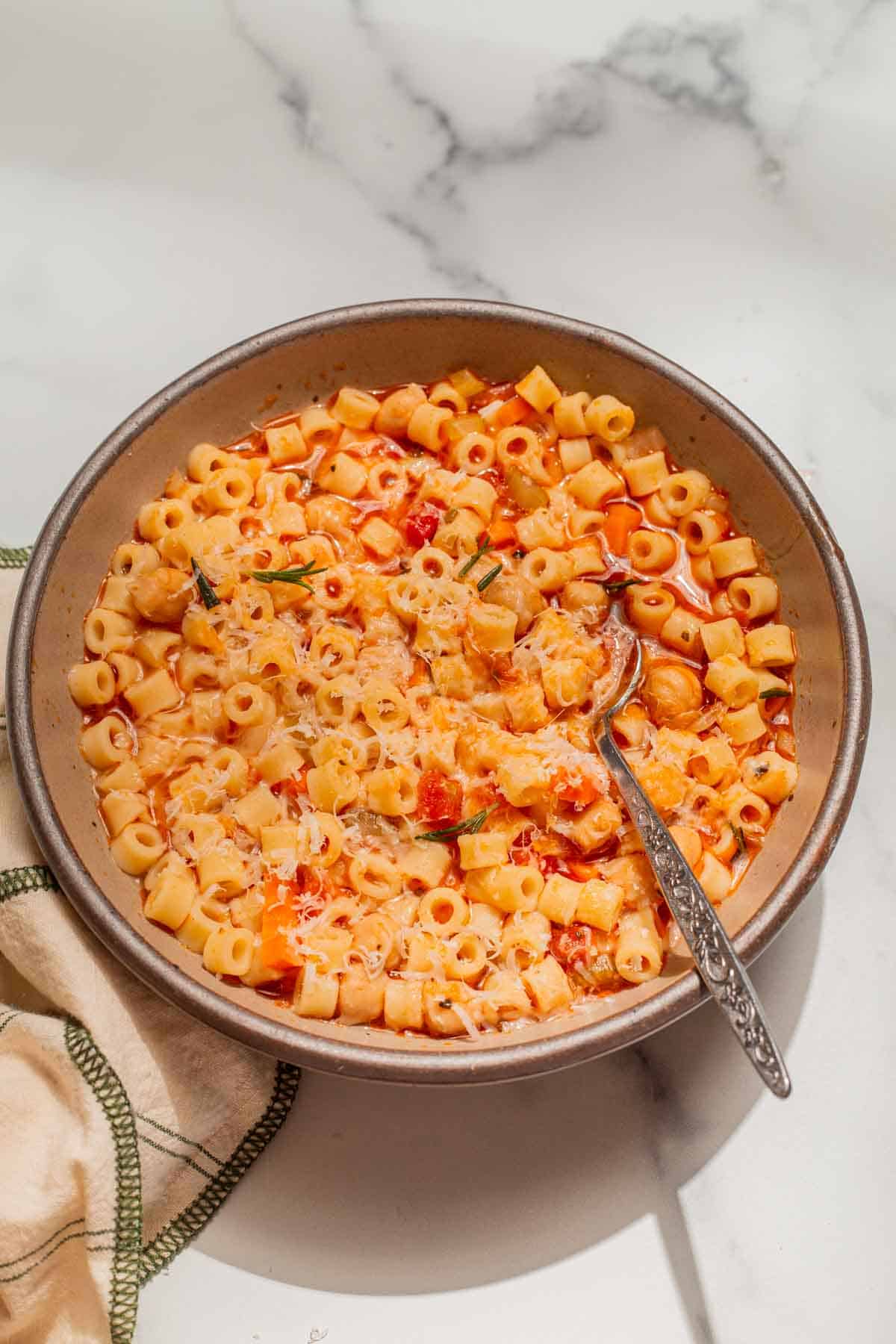 How to Make Pasta with Chickpeas
Pasta e ceci is simple to make and it comes together quickly, especially if you have cooked chickpeas on hand. Here are the steps:
Prepare the chickpeas. If you're starting with dried chickpeas, follow the instructions here—I use the quick-soak method. You'll need 2 cups cooked chickpeas for this recipe or one 15-ounce can. If you're using canned chickpeas, strain them over a bowl to reserve both the chickpeas and their liquid.
Sauté the vegetables and aromatics. Meanwhile, finely chop the carrot, celery, and onion and cook them in olive oil, along with a crushed garlic clove, until softened. Stir in finely chopped fresh rosemary and a pinch of hot pepper.
Add the tomatoes and chickpeas. Stir in 1 cup of tomato passata and the chickpeas, plus a ladleful of water, broth, or chickpea cooking liquid. If you want to thicken the broth a bit, set aside ½ cup chickpeas and purée them with a splash of their cooking liquid and pour this into the soup.
Simmer. Bring the soup to a boil and lower the heat. Cover partially and simmer for a few minutes until the tomato purée is partly cooked and the liquid has reduced to a saucy consistency.
Pour in water or broth and add the parmesan rind. If you have additional chickpea cooking liquid, add it, along with enough water or broth to make 6 cups in total (or add I'm 6 cups of water or broth). Add a generous pinch of salt and toss in the parmesan rind.
Add the pasta. Bring the liquid to a simmer and add 2 cups of ditalini pasta. Return the soup to a boil and cook until the pasta is just tender. You can adjust the amount of liquid depending on whether you prefer a thicker or thinner soup.
Add the finishing touch and serve. Ladle the pasta e ceci into bowls, drizzle each serving with your best extra-virgin olive oil and serve.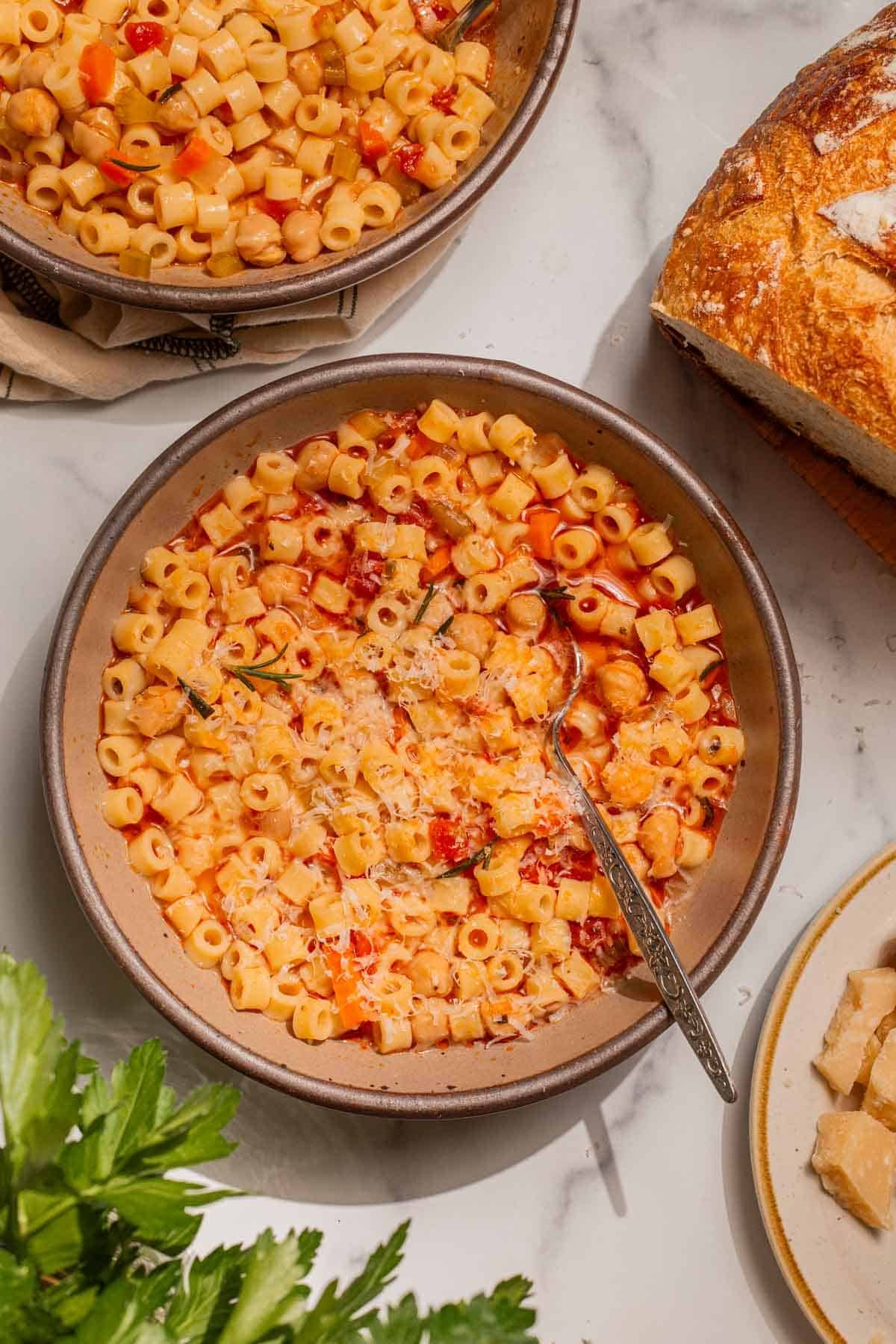 What to Serve with Pasta e Ceci
I make pasta e ceci all year long, but my favorite time to make it is in late summer, when I serve it with Caprese Salad. In cooler months, I love to serve big bowls of this soup, with a simple salad, like this Lemon Parmesan Lettuce Salad, on the side.

How to Store Leftover Pasta
Store any leftover pasta with chickpeas in a sealed container in the refrigerator for up to three days. Reheat it in the microwave or on the stovetop.
Add a splash of broth or water to loosen the soup as it heats. The pasta will continue to absorb liquid and lose its al dente (firm) texture. But it will still be delicious.
You'll Also Like: Vegetarian Pasta Recipes
Browse all Mediterranean recipes.
Visit Our Shop.
Recommended For This Recipe: Nocellara
Buttery smooth Italian Extra Virgin Olive Oil from hand-picked, cold-extracted Nocellara olives.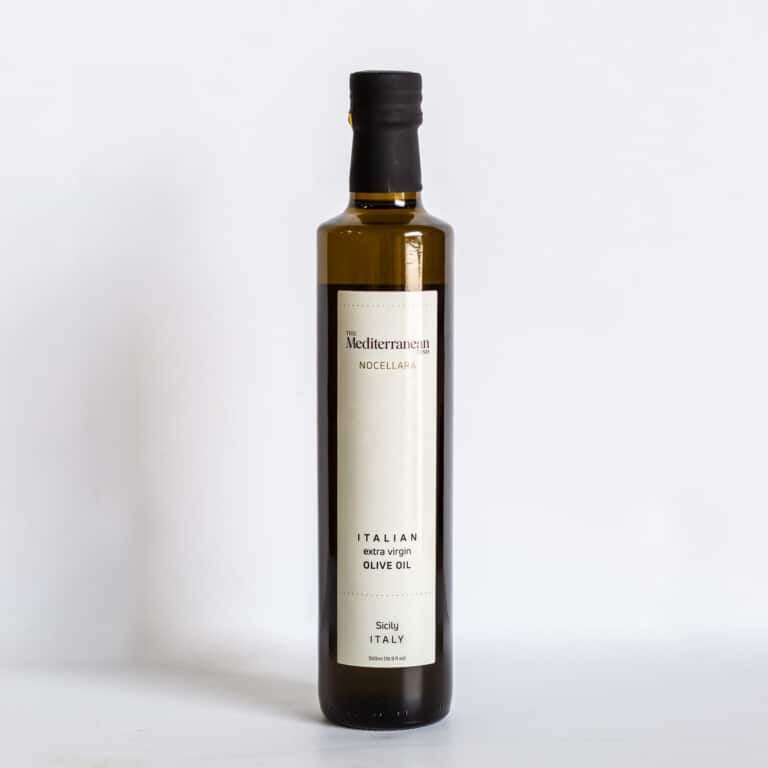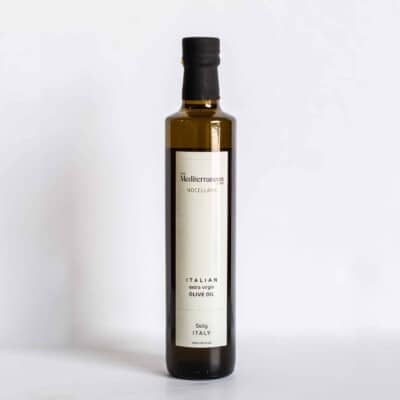 Pasta e Ceci (Pasta with Chickpeas)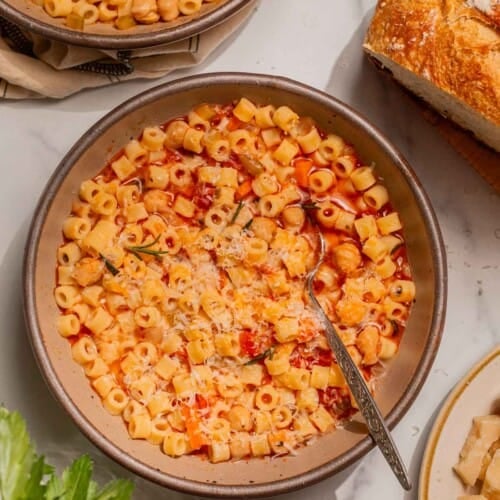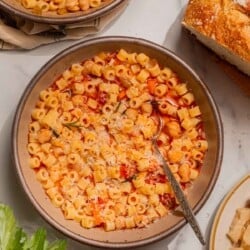 One of Italy's favorite comfort food dishes, pasta e ceci is easy to make, hearty and healthful and full of robust flavor. Serve it as a first course, or as a main course for a nutritious weeknight dinner.
Ingredients
¼

cup

extra-virgin olive oil,

plus more for garnish

2

garlic cloves,

lightly crushed

1

medium carrot,

finely diced

1

celery stalk,

finely diced

1

small onion,

finely diced

1

tablespoon

minced fresh rosemary

1

fresh chili pepper

(or a generous pinch of red pepper flakes)

1

(15-ounce)

can chickpeas in their liquid

(or 2 cups cooked chickpeas and their cooking liquid)

1

14-ounce can diced or chopped tomatoes

6

cups

water,

vegetable, or chicken broth

1

parmesan rind,

plus freshly grated parmesan for serving

Kosher salt

2

cups

ditalini pasta

(or small, short pasta of your choice)
Instructions
Sauté the vegetables. Heat the olive oil in a heavy-bottomed saucepan or Dutch oven over medium. Once shimmering, stir in the garlic, carrot, celery, and onion. Cook on medium to medium-low to avoid scorching the onion and garlic until softened, about 6 minutes. Stir in the rosemary and chili pepper or red pepper flakes and cook for another 2 minutes to blend the flavors.

Simmer the chickpeas. Stir in the chickpeas, along with a ladleful of their cooking broth (or the liquid from the can). Stir in the tomatoes and bring to a simmer, then cover partially and simmer until the liquid is slightly reduced to a saucy consistency, about 5 minutes. Lower the heat if necessary to prevent burning.

Make the broth. Add 6 cups of liquid–this can be water, broth, chickpea cooking liquid, or a combination. Add the parmesan rind and season with a pinch or two of salt. Bring to a simmer and cook until the vegetables are completely soft and the parmesan rind has softened about 20 minutes.

Add the pasta. Stir in the pasta and boil gently for about 15 minutes, until the pasta is just tender. Taste and adjust the seasoning with salt, if needed. Ladle the soup into bowls and drizzle your best olive oil over each serving. Serve with grated parmesan cheese.
Notes
I like to use a medium bodied extra virgin olive oil for sauteeing, then a more robust variety for finishing.

If you like a thicker broth, puree ½ cup of the chickpeas with a splash of cooking liquid or water and stir this mixture into the pot along with the whole chickpeas (step 2).

Visit our shop

to browse quality Mediterranean ingredients including

olive oils

,

honey

,

jams

, and

spices

.
Nutrition
Calories:
353.3
kcal
Carbohydrates:
53.1
g
Protein:
10.6
g
Fat:
11.1
g
Saturated Fat:
1.6
g
Polyunsaturated Fat:
1.8
g
Monounsaturated Fat:
6.9
g
Cholesterol:
0.1
mg
Sodium:
179.5
mg
Potassium:
296.7
mg
Fiber:
5.1
g
Sugar:
3.2
g
Vitamin A:
1793.6
IU
Vitamin C:
13.3
mg
Calcium:
55.1
mg
Iron:
1.7
mg