Lablabi, also known as Tunisian Chickpea Soup or Stew, is a hearty North African meal featuring chickpeas, rustic bread, warm spices, and more. Served with a variety of garnishes, my version of this cozy, comforting dish makes an easy vegetarian dinner.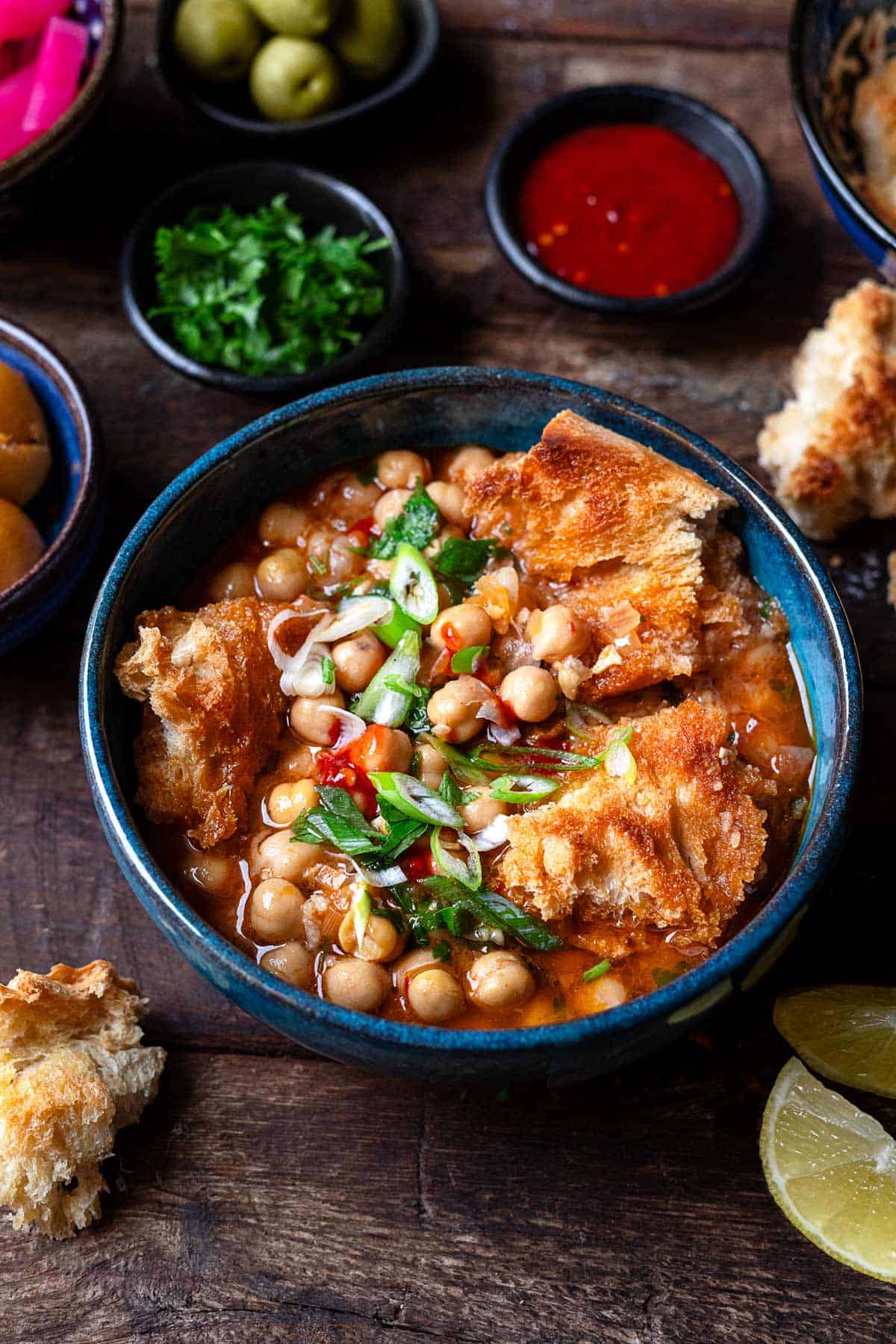 The simplicity of this recipe will lure you in — a couple cans of chickpeas, crusty bread and spices serves as the foundation of this North African chickpea stew. But it's the gentle warmth from harissa, and the deep-breath inducing first bite that will have you making it over and over again.
Often served for breakfast or enjoyed as street food, lablabi, also known as Tunisian chickpea stew, is a simple, satisfying stew made with canned or cooked chickpeas, rustic bread, harissa paste, garlic, cumin, lemon, and plenty of fresh parsley. Traditionally it is served with tuna and an egg, then mixed up tableside. However, I was craving a vegetarian dinner so this is my quick and easy adaptation. As a result, it packs in a bunch of nutrients and is bursting with smokey flavor and just a touch of heat in every bite.
Keep this recipe super simple, or dress it up with garnishes! I usually make this chickpea stew and serve it with toppings like a poached egg, pickled turnips, or preserved lemons. Of course, if you want to add some fish, it's still a quick an easy meal when topped with tuna from the pantry.
Versatile, nourishing, and most of all easy, this vegetarian recipe is sure to become a regular in your kitchen!
Table of Contents
What's in Lablabi (Tunisian Chickpea Stew)?
A great budget-friendly option, this chickpea stew is made with a handful of simple, vegetarian pantry staples. Combine a few ingredients to create bold flavors that will even have meat eaters asking for more.
Chickpeas: To cut down on prep work, I used two 15-ounce cans, but if you've got the time, you could also cook them yourself. I'll teach you how here!
Rustic bread: Toast bread to golden perfection and add to the bottom of your bowl to soak up the liquid from the chickpea stew and add an irresistible crunchy, chewy texture.
Extra virgin olive oil: You know how much I love olive oil, and this Tunisian chickpea stew has an abundance! I used our Private Reserve olive oil throughout the entire recipe to help toast the bread, sauté the veggies, and add extra flavor to the finished soup!
Aromatics: Yellow onion and garlic are sautéed until they're golden and fragrant to add extra savory goodness and a bit of kick to this recipe.
Spices: Salt, cumin, coriander, and paprika creates the warm, complex flavor for which lablabi is known.
Harissa paste: This North African chili paste is made with red chilies, garlic, olive oil, citrus, and warm spices. We have a recipe on the site for homemade harissa or you can pick up some jarred harissa from the shop so it's ready when you are. We'll start with just 1 tablespoon and add more to individual servings.
Lemons: We'll need two for this lablabi recipe. One will be juiced, and the other will be sliced for serving. The bright notes of this citrus fruit lightens the dish, creating a delicious well-rounded flavor.
Finishing touches: Don't forget your garnish! Ladle your chickpea stew into bowls, and top it off with fresh parsley, a drizzle of olive oil, extra toasted bread, harissa paste, chopped green onions, and lemon wedges. You can even add a poached egg if you want to make it extra filling!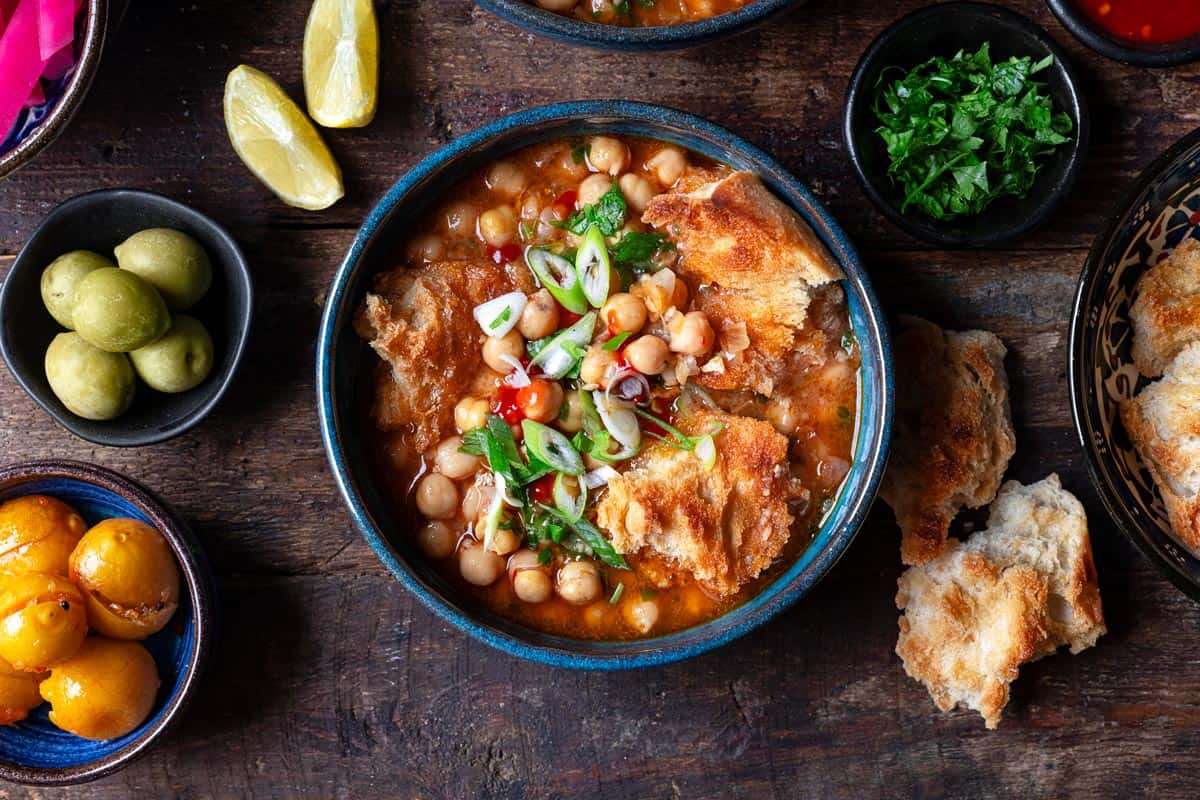 How to Make Lablabi
Learning how to make a perfect Tunisian chickpea stew requires a few quick and easy steps. I've broken from tradition a little bit, but here's the way I enjoy making lablabi.
Prepare the chickpeas: Add your canned chickpeas with their liquids to a saucepan. Cover them with water, making sure they're submerged by roughly an inch. Bring the liquid to a boil. Then, lower the heat to medium-low. Cover the pot partially with the lid and let the beans simmer until they're super tender. This should take about 30 minutes.
Toast the bread: While the chickpeas cook, tear your bread into pieces that would take about two to three bites to eat. Feel free to give it a taste test to make sure you're measuring correctly! Arrange the pieces on a baking sheet and give them a good drizzle of olive oil. Toss to coat them well. Next, make sure the pieces are facing crust side down. When ready, place the baking sheet in the oven about 6 inches from the broiler just until the bread is golden brown. Be sure to keep a close eye on them, because they can burn fast!
Sauté the aromatics: Add more olive oil to a medium-sized non-stick skillet over medium heat. Once the oil begins to shimmer but isn't so hot it's sizzling, and add your onions, garlic, and spices. Cook the ingredients, stirring frequently until the onions are translucent and the mixture is fragrant.
Season the chickpea stew: Transfer the onion mixture to the pot of chickpeas, and add the remaining ingredients. Give them all a good stir, and adjust the seasonings to suit your preferences.
Portion, garnish, and serve: Now comes the fun part! Grab your serving bowls, and add some of the toasted bread to the bottom of each. Ladle the chickpea stew on top followed by extra flavor enhancers like more harissa, green onions or a poached egg. Sprinkle your favorite garnishes on top, and dig in while it's warm!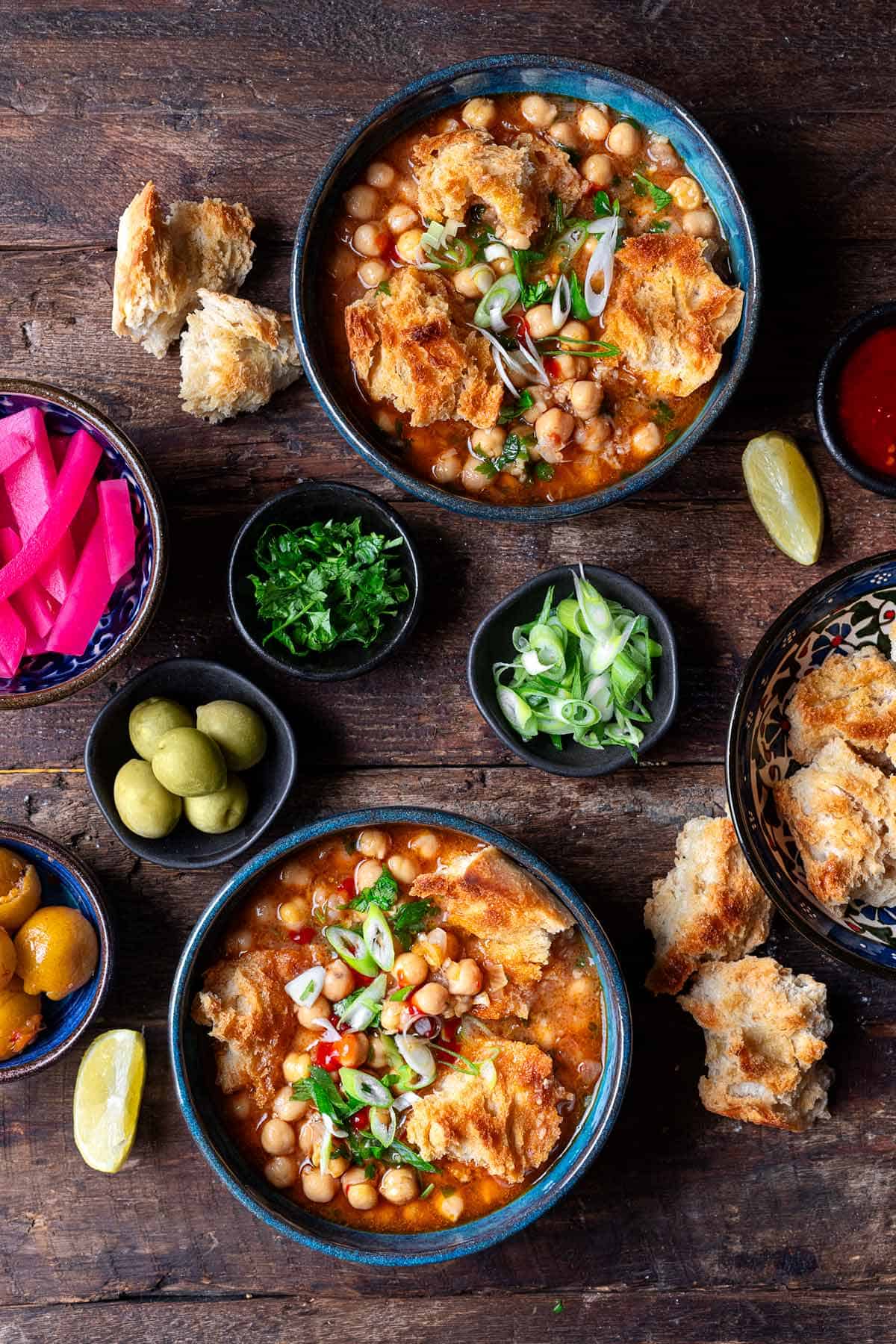 What to Serve with Lablabi
In Tunisia, they usually serve this chickpea stew for breakfast. It always includes lots of accompaniments including a poached egg, pickled turnips, or preserved lemons. You can also enjoy it with olives, chopped almonds, a dollop of yogurt, fresh mint, capers, and tuna.
More Amazing Stew Recipes
Browse all Mediterranean recipes.

Visit Our Shop.
Try our Harissa Paste!
Slightly sweet, smoky and tangy with just the right amount of spice. The perfect addition to your Lablabi.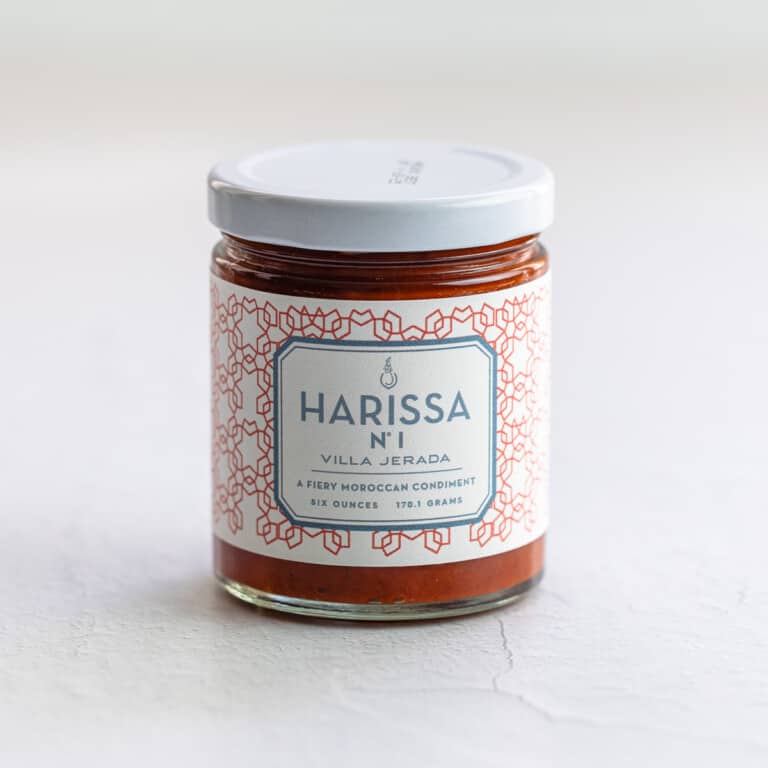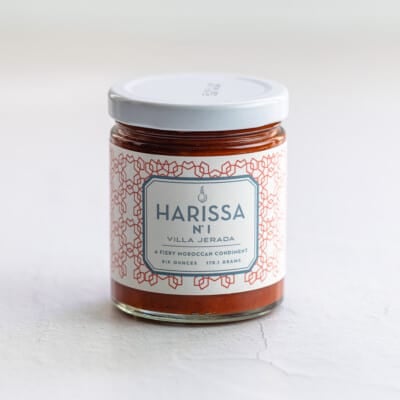 Lablabi (Tunisian Chickpea Stew) Recipe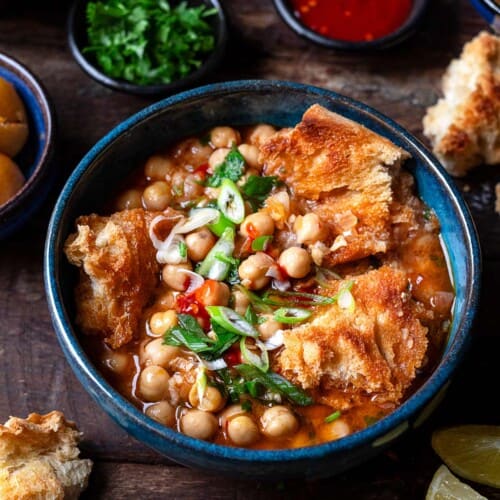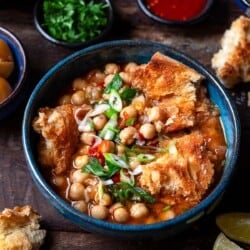 This comforting Tunisian chickpea stew is so simple to put together and made with pantry staples you may already have on hand. Nutritious and satisfying, it's usually served for breakfast, but can really be enjoyed any time of the day.
Ingredients
2

(15-ounce) cans chickpeas

½

loaf rustic bread

1

small yellow onion,

finely chopped

3 to 4

large garlic cloves,

minced

Kosher salt,

divided

1

teaspoon

ground cumin

½

teaspoon

ground coriander

½

teaspoon

paprika

1

tablespoon

harissa paste,

more for later

2

lemons

½

cup

roughly chopped parsley,

plus more for garnish

2

green onions,

trimmed and chopped (both white and green parts)
Instructions
Prepare the canned chickpeas: In a medium saucepan, set over medium-high heat add the chickpeas with their liquids and cover the chickpeas with water by about 1 inch.

Boil then simmer the chickpeas: Bring the chickpeas to a boil, then lower the heat and cover part-way with a lid. Simmer the chickpeas over low heat for about 30 minutes or until very tender.

Toast the bread: Set your oven rack about 6 inches beneath the boiler and set the broiler to high. While the chickpeas cook, tear some hearty crusty bread into a little larger than bite-size pieces and arrange them on a large sheet. Drizzle the bread with extra virgin olive oil, toss to coat and arrange them so the pieces are crust side down. Broil briefly, maybe a minute or so just until the bread turns golden brown. Watch carefully, as the bread can go from golden brown to burnt quickly!

Saute the onions and garlic: Add 2 tablespoons extra virgin olive oil in a medium non-stick skillet set over medium heat. When the oil begins to shimmer, add the onions and garlic, a dash of kosher salt, cumin, coriander, and paprika. Cook over medium heat, tossing regularly until the onions are tender and translucent.

Season the chickpea stew: When the chickpeas are ready, transfer the onion and garlic mixture to the saucepan with the chickpeas. Add 1 tablespoon harissa paste, a big pinch of kosher salt, juice from 1 lemon, chopped parsley, and a good drizzle of extra virgin olive oil. Stir to combine. Taste and adjust seasoning.

Serve: Slice the remaining lemon into wedges. Prepare serving bowls and place a few pieces of toasted bread on the bottom. Ladle the lablabi chickpea stew on top of the bread and add a good drizzle of olive oil, a dollop of harissa, more parsley, and the chopped green onions. Serve immediately with lemon wedges and more of the toasted bread to the side.
Notes
Additions: Lablabi can be served with poached eggs on top for an even heartier meal. You can also add sides of preserved lemons, pink pickled turnips, and olives.
Rustic bread: If you have leftover toasted bread use it in salads, pulse it in your food processor to make bread crumbs. Add some Italian Seasoning to the bread crumbs and sprinkle over pasta, or add to meatballs.
Visit our shop to browse quality Mediterranean ingredients including olive oils, honey, jams and spices.
Nutrition
Calories:
196.2
kcal
Carbohydrates:
40
g
Protein:
7.8
g
Fat:
1.9
g
Saturated Fat:
0.4
g
Polyunsaturated Fat:
0.6
g
Monounsaturated Fat:
0.4
g
Sodium:
400
mg
Potassium:
281.2
mg
Fiber:
4
g
Sugar:
5.9
g
Vitamin A:
859.4
IU
Vitamin C:
43.2
mg
Calcium:
76.5
mg
Iron:
3.7
mg