A satisfying vegan stew, straight from my mom's Egyptian kitchen! Humble peas and carrots, quickly braised in a tasty, aromatic tomato sauce. Best served with a generous drizzle of our quality Private Reserve extra virgin olive oil!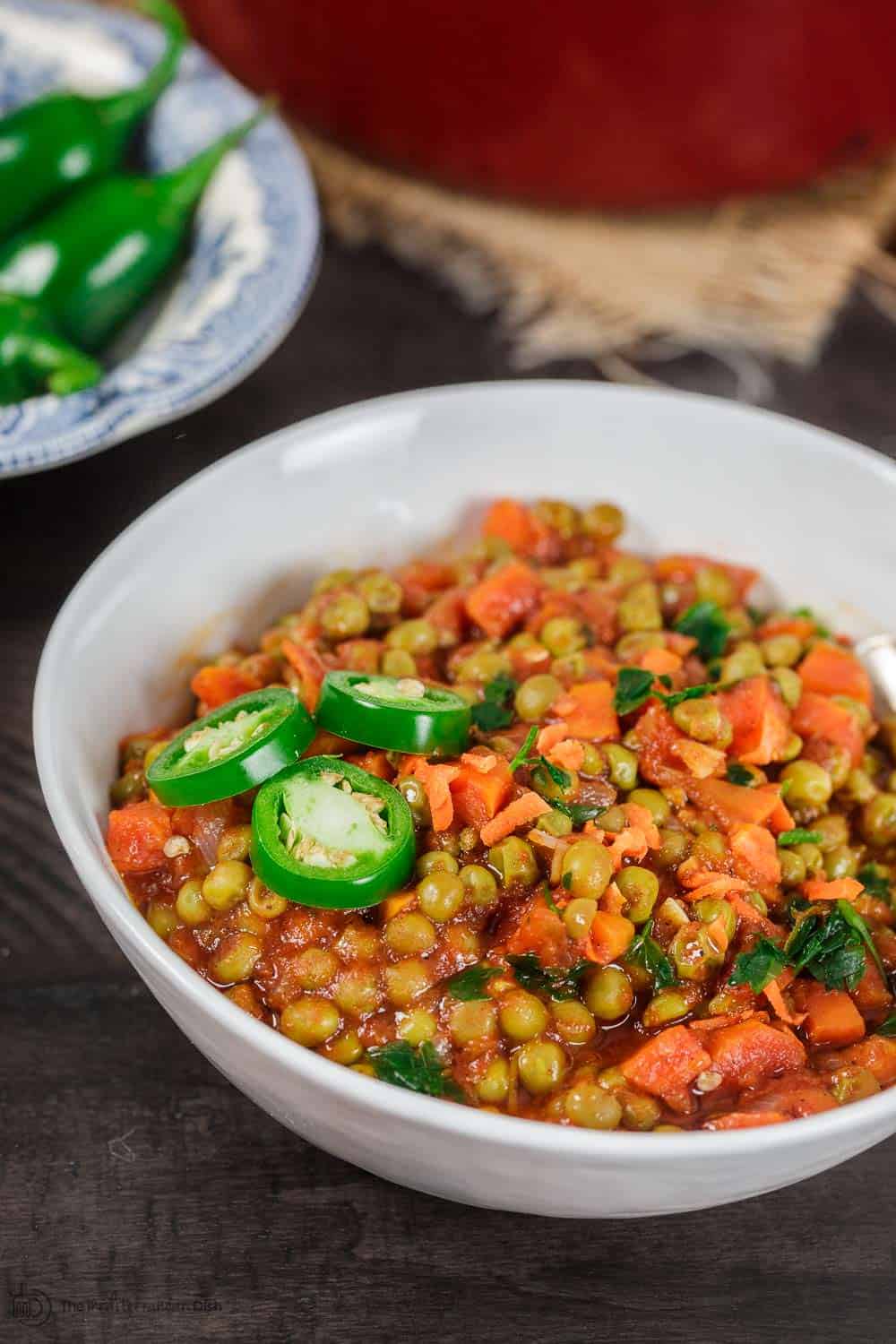 Known as "bisala wa gazar," this peas and carrots stew is a staple of the Egyptian kitchen.
For a good portion of the year when Coptic Christians are fasting, they make it in the form of a simple vegan stew. It's basically peas and carrots doused in a tomato sauce fragrant with onions and spices. The most humble of dishes, but so satisfying.
VIDEO TUTORIALS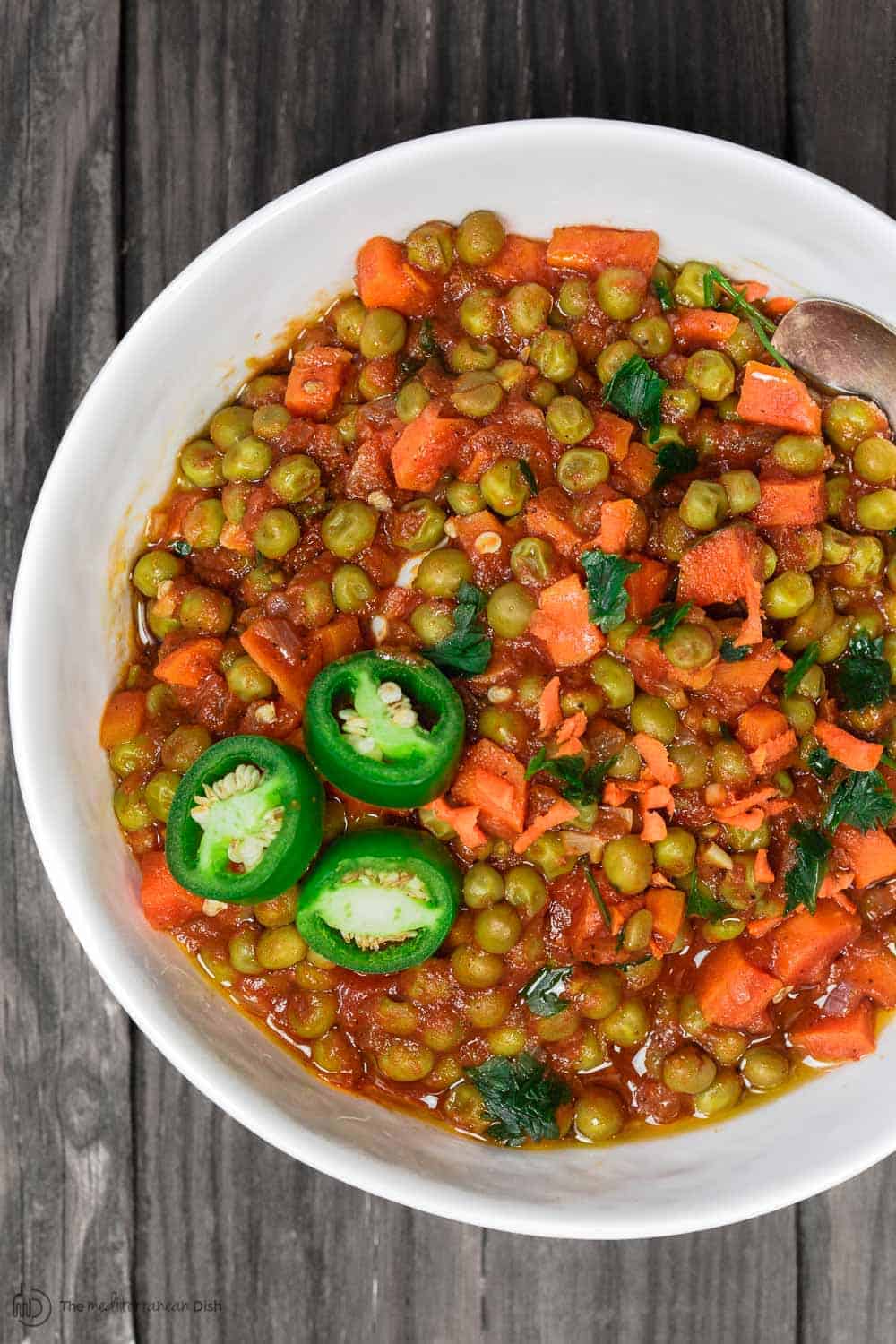 Occasionally, it turns into a meaty stew with the addition of small-diced lamb or beef, but I much prefer it as a vegan stew.
Like we do with Fasolakia (Greek green beans), serve this peas and carrots stew in bowls, topped with a generous drizzle of quality extra virgin olive oil (I used Private Reserve EVOO here, just what is needed to finish this dish!). Add warm pita bread to sop up the tasty sauce, or if you prefer, try Lebanese rice.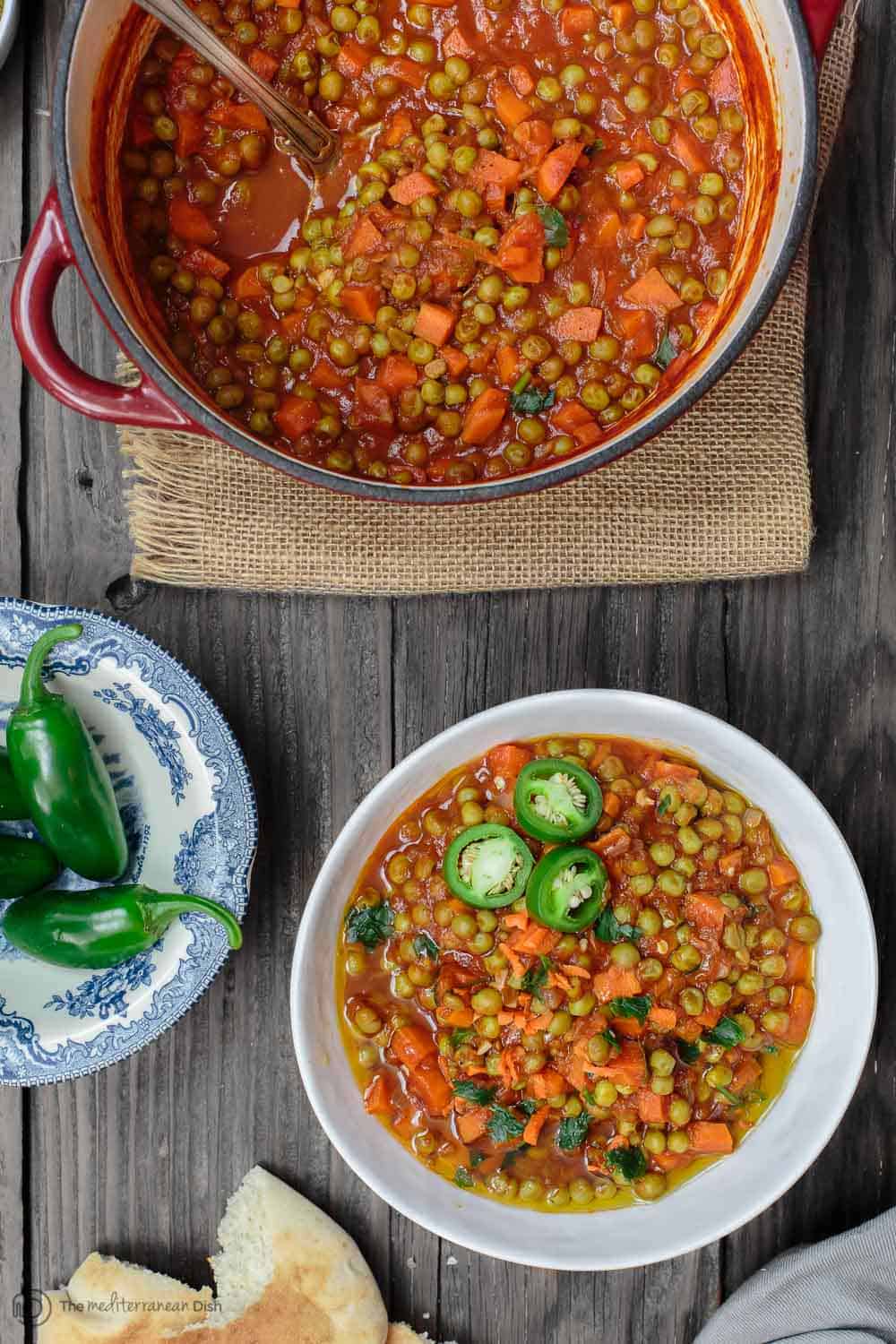 What else serve with this vegan stew?
A few starters can turn this into a meatless feast. Think salad like like fattoush or this simple Mediterranean salad; roasted red pepper hummus ; or even a meatless Mezze platter! Keep the pita plentiful. Enjoy.
Print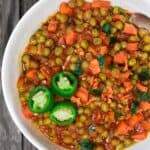 Egyptian Vegan Stew with Peas and Carrots
---
Author:

Prep Time:

5 mins

Cook Time:

25 mins

Total Time:

30 minutes

Yield:

4
Ingredients
Private Reserve Extra Virgin Olive Oil
1 medium yellow onion, chopped
1 garlic clove, minced
3 carrots, chopped or diced small
1 lb frozen sweet peas
Salt
1 tsp coriander
1/2 tsp black pepper
1/2 tsp sweet Spanish paprika
15-oz can tomato sauce
2 cups quality vegetable broth
Fresh parsley for garnish, optional
jalapeno peppers for garnish, optional
Suggested sides and starters
---
Instructions
Note: If you're making Lebanese rice, a salad or another dish to serve along, make those first as the stew is quick to cook.
In a 3-quart dutch oven like this one, heat 2 tbsp Private Reserve extra virgin olive oil over medium-high heat.
Add chopped onions and cook until translucent, stirring frequently. Add the garlic, carrots, peas, a pinch salt, and spices. Toss to combine. Cook for 5 minutes or so over medium-high heat, until fragrant, stirring regularly.
Add broth and tomato sauce raise the heat. Bring to a boil for 5 minutes, then turn the heat to medium. Cover and simmer for 15 minutes or so. Occasionally, uncover and stir the stew. Taste and adjust seasoning.  Peas and carrots should be cooked through and tender, but not mushy. Once you achieve that, it's ready!
Transfer the stew to serving bowls. Add a generous drizzle of Private Reserve extra virgin olive oil on top. Garnish with parsley, and a few slices of jalapeno if you like a little heat! Serve with warm pita or your favorite crusty bread. (See suggested starters above)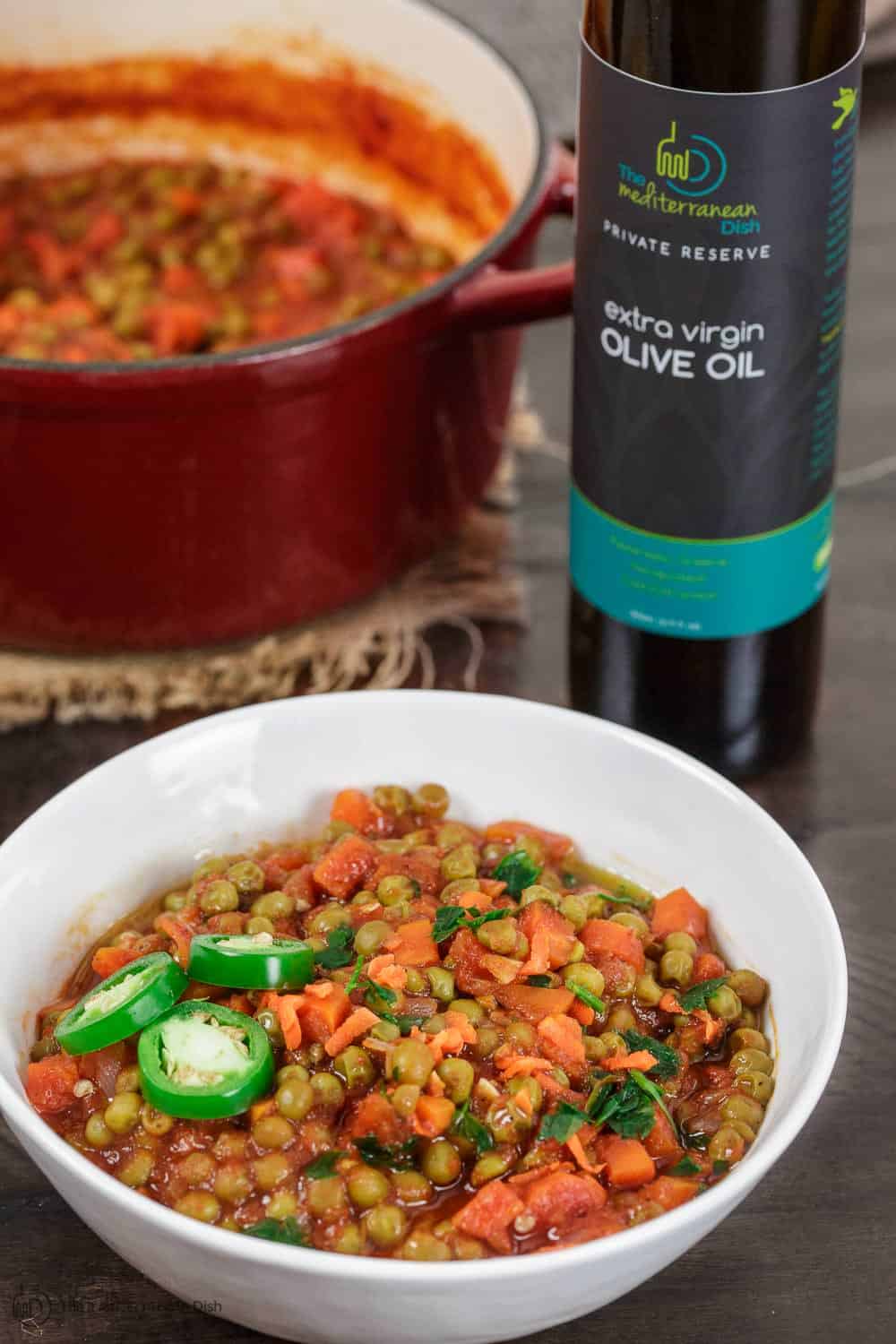 More Recipes to Try:
Mediterranean Vegan Wraps with Roasted Cauliflower
Egyptian Koshari: Rice and Lentils 
Open-Faced Greek Omelet with Tomatoes