This Mediterranean Spinach Stew turns frozen spinach into a meal with simple but powerful flavors and ingredients. With chickpeas, spinach, tomatoes, and vermicelli this vegan spinach chickpea stew is delicious and satisfying, you won't miss the meat!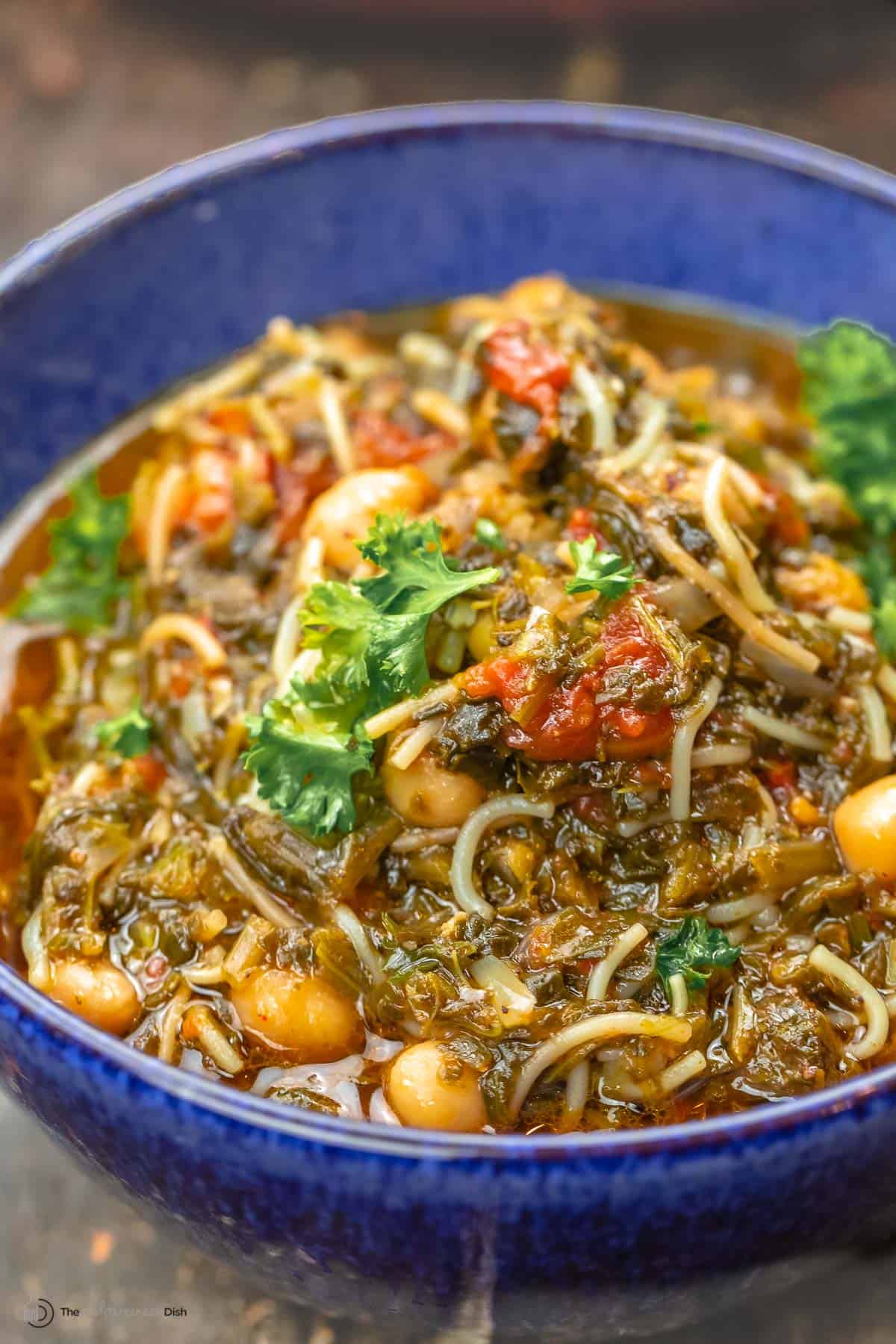 An easy spinach recipe!
Spinach is often seen as an ingredient of many in something like a salad, a small side, or maybe thrown in a pot of soup. But in this spinach recipe, it is the star ingredient.
This vegan chickpea stew turns chickpeas and a bag of frozen spinach into a hearty meal with onions and bold Eastern Mediterranean flavors including allspice, coriander and paprika, all balanced out with a splash of citrus!
There are variations of this spinach stew recipe with tomatoes throughout the Mediterranean and the Middle East. My mom made her spinach stew, Egyptian-style using lean ground beef, but I opted for a vegan option, which is just as hearty and satisfying, thanks to chickpeas!
Not only is it hearty and healthy, but this vegan chickpea and spinach stew is also easy to make too. Perfect for busy nights as the weather gets a little chilly!
Spinach: a powerhouse food
It's no secret that spinach is healthy, some even call it a superfood. But the benefits of spinach are far more what most people realize. Spinach is low in calories and high in protein - just 23 calories and a whopping 2.9 grams of protein in 3.5 ounces, filling you up while keeping calorie count low.
But, spinach is also high in:
Fiber
Vitamins A, C and K1
Folic acid
Iron
Calcium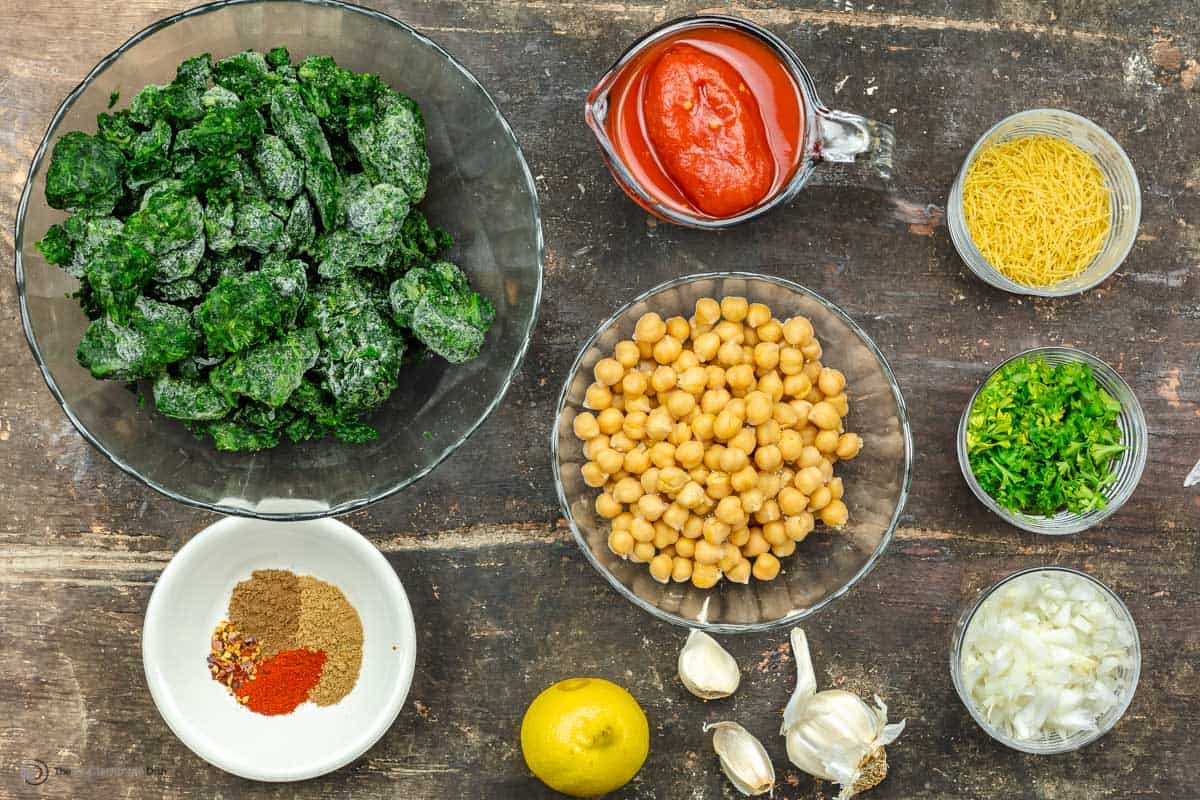 What you'll need to make this spinach chickpea stew
This spinach stew recipe is made with lots of warm spices, vermicelli noodles, chickpeas to make it extra filling and, of course, a healthy amount of spinach.
Extra virgin olive oil - Use a quality olive oil, like my favorites here.
Yellow onion - Finely chopped to infuse flavor throughout the stew.
Garlic cloves - Minced garlic adds flavor while not making the dish too garlicky.
Kosher salt
San Marzano tomatoes - Add them to the stew with their juices.
Broth - Chicken and vegetable broth will both work but be sure to use vegetable broth to keep this recipe fully vegan or vegetarian.
Spinach - I found frozen chopped spinach to be easiest for this recipe, but see below for instructions on using fresh spinach.
Chickpeas - Add protein and work as a replacement for the ground beef often found in this recipe. 1 small can of chickpeas is all you need here, but if you want to cook your own chickpeas from scratch, check out my earlier post for how to cook chickpeas
Fresh parsley - Be sure to use fresh parsley, not dried!
Spices - This spinach stew is seasoned with a combination of allspice, coriander, paprika, red pepper flakes and black pepper.
Vermicelli noodles - You can broken vermicelli noodles or orzo instead
Lemon - A splash of lemon juice lightens up the flavors of the dish.
How to substitute fresh for frozen spinach in this recipe?
I used one 16-ounce bag of frozen spinach for a shortcut, and you do not have to thaw it ahead of time! But if you want to use fresh, you'll need quite a bit more fresh spinach leaves
(stems removed) to make this spinach recipe. The approximate conversion here:
16 ounces frozen spinach = 2 ½ pounds fresh spinach leaves
If you choose to use fresh spinach, you'll need to add an extra step to this spinach recipe. First, you'll sauté the fresh spinach in a pan with olive oil until it cooks down. Then, strain it through a colander to press out any extra water and juices. You can season with salt if you desire.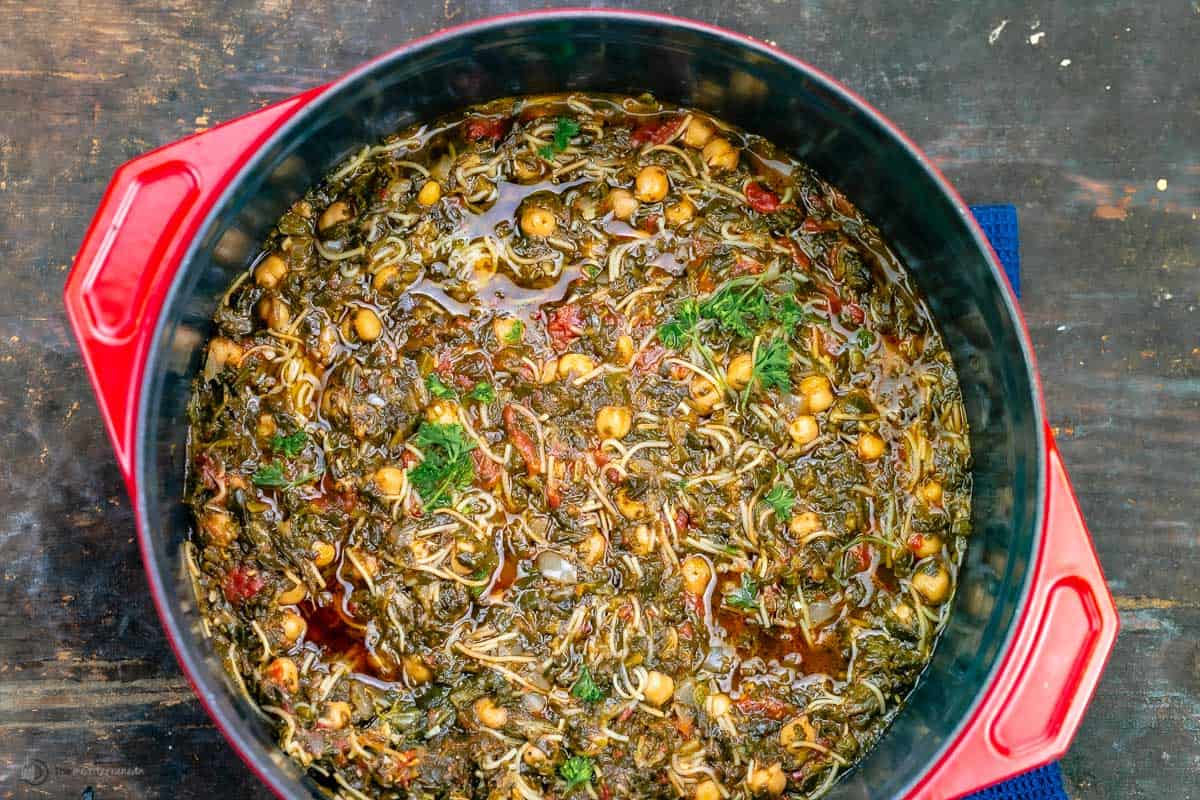 Tips for success
I love how quick and easy this spinach recipe is - it's one recipe I'm certain that anyone can make! Here are just a few helpful hints.
Don't skip the lemon juice. The final squeeze of lemon juice really pulls all of the flavors in this recipe together and brightens up the dish.
Use all of the spinach! A pound of spinach may seem like a lot (and even more if you're using fresh) but, trust me, you need all of the spinach. Don't skimp out on the nutrients or flavors it provides!
Simmer for the full flavor. Once the stew boils, it's important to reduce it to a simmer. While the ingredients may cook faster on high heat, the simmer is essential for infusing all the warm, hearty flavors throughout the dish. Otherwise, you'll end up with a boring and bland bowl of spinach and chickpeas!
Serving suggestions
Serve this spinach recipe with your favorite bread - day-old crusty bread is perfect for this! - or over rice. Since I include the vermicelli in the recipe, I find that alone turns it into a hearty, filling meal and don't find the need for extra rice or another grain.
You can always add a splash of lemon juice or some fresh parsley on top of the individual bowls. If desired and you're not keeping this vegan, you can even add a sprinkle of feta on top for some added salty flavor.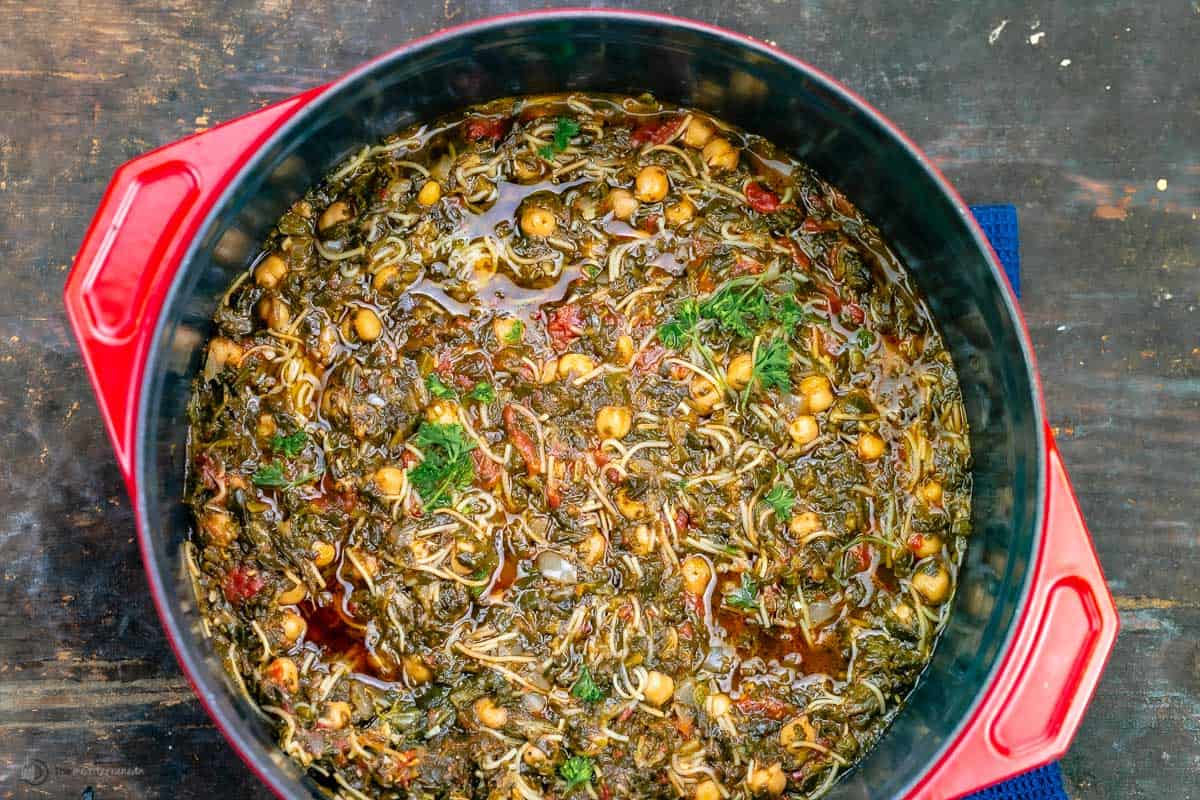 How to store leftovers
This spinach recipe is great for leftovers! Store in the fridge in an airtight container for up to 4 days. Reheat on the stove. This is a great stew for lunch meal prep, so you can even store the stew in individual servings for a grab-and-go lunch.
Can I freeze this?
Like most stews, this Mediterranean spinach stew does freeze well. Allow it to cool completely then transfer to freezer safe containers. It will last for up to 3 months in the freezer. Just allow to thaw in the fridge and reheat on the stovetop.
For another cozy chickpea stew, be sure to check out our Lablabi recipe. Another delicious vegetarian comfort food!
More spinach recipes:
Browse 21+ Mediterranean Chickpea Recipes that Aren't Hummus. Browse Mediterranean diet recipes.
Mediterranean Spinach Chickpea Stew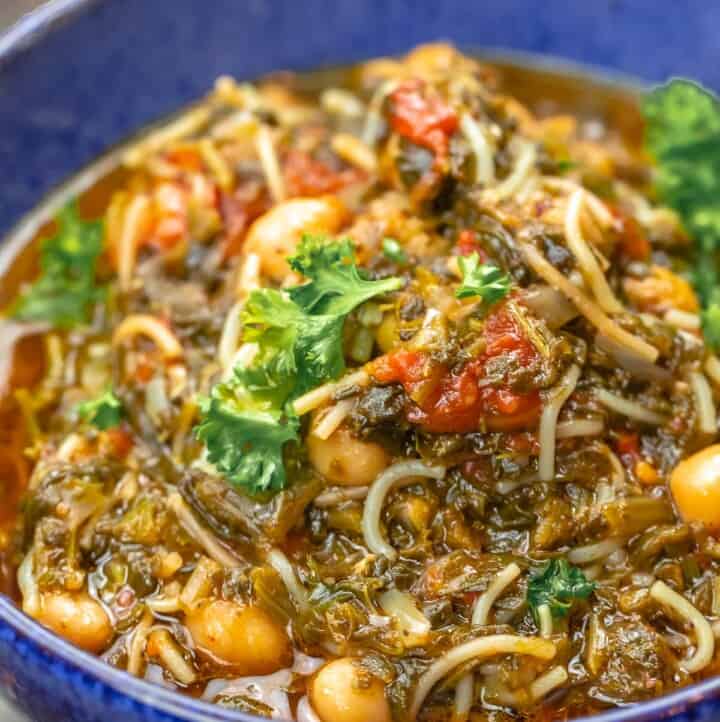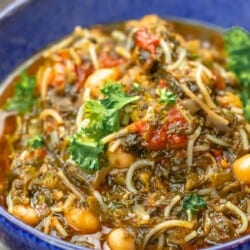 This spinach chickpea stew turns a bag of frozen spinach and some chickpeas into a wholesome one-pot dinner to feed a crowd! There are variations of this spinach stew recipe with tomatoes throughout the Mediterranean and the Middle East. My mom made her spinach stew, Egyptian-style using lean ground beef, but I opted for a vegan option, which is just as hearty and satisfying, thanks to chickpeas!
Ingredients
1

medium yellow onion

(finely chopped)

4

garlic cloves

(minced)

kosher salt

1

cup

san Marzano tomatoes

(with their juices)

2

cups

chicken broth

(or vegetable broth)

1

pound

frozen spinach

(chopped)

15

ounces

canned chickpeas, drained and rinsed

(or 1 ¼ cup cooked chickpeas)

1

cup

fresh parsley

(chopped)

1

teaspoon

allspice

1

teaspoon

coriander

1

teaspoon

paprika

½

teaspoon

red pepper flakes

black pepper

½

cup

broken vermicelli noodles

(or orzo)

1

lemon

(juice of)
Instructions
In a large pot, heat ¼ cup extra virgin olive oil over medium heat until shimmering. Add the onions and garlic and cook, tossing regularly, for 3 to 5 minutes or until softened.

Add the tomatoes, spinach, chickpeas, and chicken broth. Add the parsley and season with a good dash of kosher salt and black pepper. Stir in the spices.

Bring to a boil of medium-high, then turn the heat down to low and cover partway, leaving part of the top open. Allow the spinach to simmer for 25 minutes over low heat, stirring occasionally.

While the spinach stew is simmering, toast the vermicelli. In a small pan, heat about 1 tablespoon olive oil over medium-high. Add the vermicelli and continuously stir to toast it evenly. Vermicelli should turn a nice golden brown, but watch carefully not to over-brown or burn. Remove from heat.

Stir in the toasted vermicelli in the spinach stew and cook for another 10 minutes or until the vermicelli noodles are cooked to tender.

Remove from the heat and finish with lemon juice and a good drizzle of extra virgin olive oil.
Notes
To use fresh spinach in place of frozen spinach: you'll need about 2 ½ pounds of fresh spinach leaves (stems removed). You'll start by quickly sauteing the fresh spinach in olive oil until it wilts some, finishing it with a splash of lemon juice. Once you've done that, you'll set it aside and proceed with the recipe.
Leftovers: properly stored in the fridge, this spinach soup will keep in the fridge for 3 to 4 days
Visit our shop to browse quality Mediterranean ingredients including olive oils and spices used in this recipe.
Nutrition
Calories:
245.3
kcal
Carbohydrates:
42.2
g
Protein:
15.4
g
Fat:
4
g
Saturated Fat:
0.4
g
Polyunsaturated Fat:
1.5
g
Monounsaturated Fat:
0.7
g
Sodium:
536.8
mg
Potassium:
990.9
mg
Fiber:
13.5
g
Sugar:
7.9
g
Vitamin A:
14923
IU
Vitamin C:
53.4
mg
Calcium:
250.5
mg
Iron:
6.8
mg