With fresh ingredients and a delicious Mediterranean twist, this Mango Salad with Spinach, tossed in fresh lime juice and olive oil, is the perfect summer side! Ready in just 15 minutes.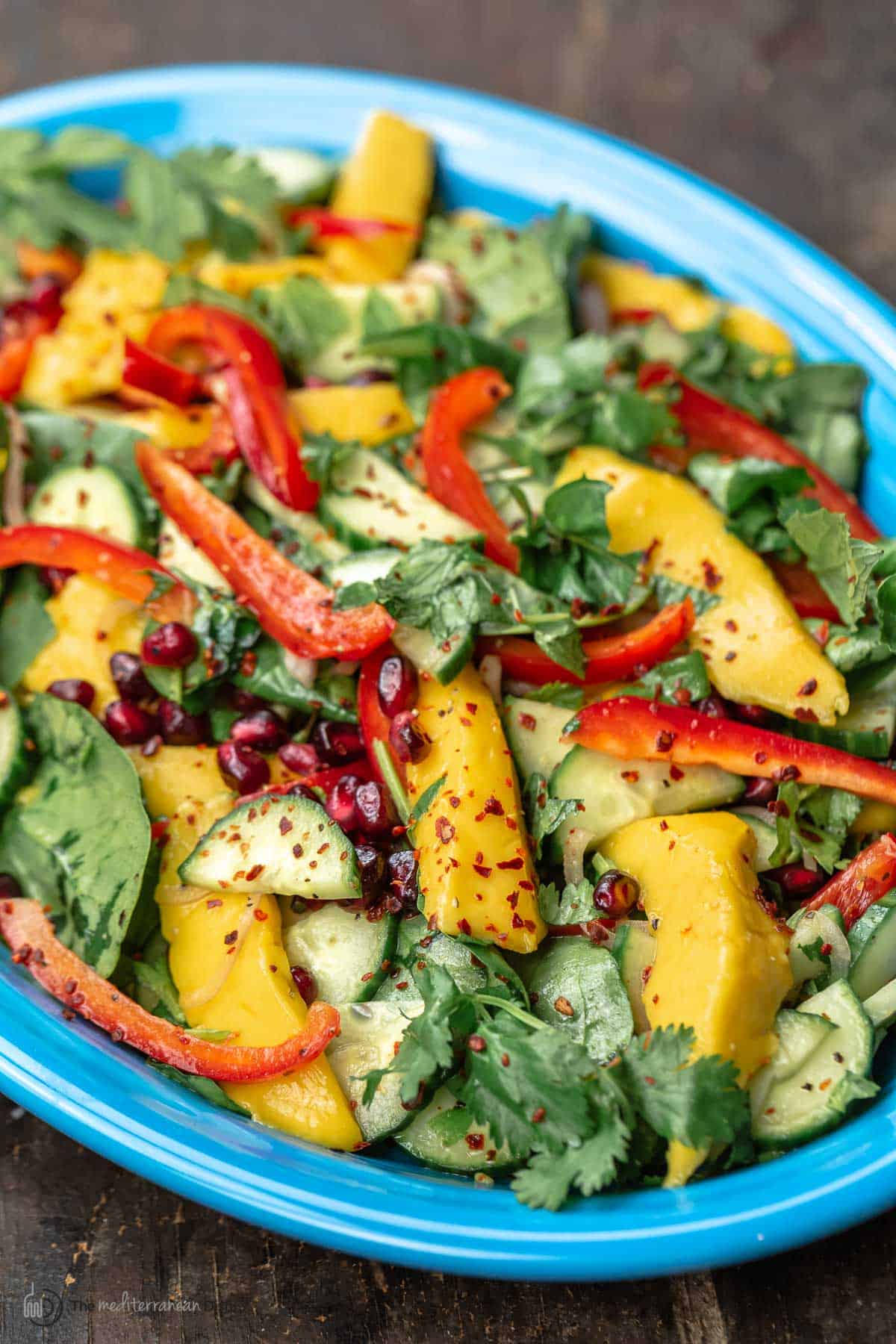 An easy & healthy mango salad
The best salads, in my opinion, are those that are packed with a variety of flavors and textures and bright colors. Salads are one of the easiest ways to "eat the rainbow" and there are so many ways to switch them up depending on the season.
This savory mango salad with spinach is one of my current summer favorites. It features a bit of a Mediterranean twist, thanks to pomegranate arils, fresh herbs, and a light dressing of freshly squeezed limes and quality extra virgin olive oil.
Like our famous watermelon and feta salad recipe, the draw to this salad is the perfect balance of flavors. Ripe and sweet mango slices, cool cucumber, crunchy red pepper, and refreshing herbs, are all pulled together with a little heat from Aleppo pepper and tang from the lime juice.
Each bite in this mango salad recipe is a little sweet, a little savory, a little citrusy, and a little warm - the perfect explosion of flavor!
This little recipe comes together in about 15 minutes, and I've got you covered with a few tips and ways to turn this mango salad into the perfect summer lunch or dinner.
How to select mangos
Contrary to popular belief, color is not the main factor to look for when buying mangos. With hundreds of possible mango varieties, the colors will differ from one to another. And that bright red or orange color you see on a mango is not necessarily always a sign of ripeness.
Mangos are actually similar to avocados and peaches in that the best way to tell if they're ripe is to give them a gentle squeeze. If there's a little bit of give but still holds its shape, the mango is ripe. On the other hand, mangos that feel too soft or squishy may be too ripe and would be best used in a smoothie and not a salad.
Give your mango a quick sniff near the stem. A ripe mango will have a nice fragrant smell.
How to cut a mango
Not sure how to slice a mango for salad? Here is how I do it:
Hold the mango straight up and slice lengthwise down each side. There is a large seed in the center and you want to cut as closely to that as possible.
If there's still flesh on the seed, slice it off, then discard the seed.
Use a vegetable peeler or sharp knife to peel each section of mango.
Cut the sections of mango into long, thick wedges (ideal for this salad) or dice them into smaller chunks.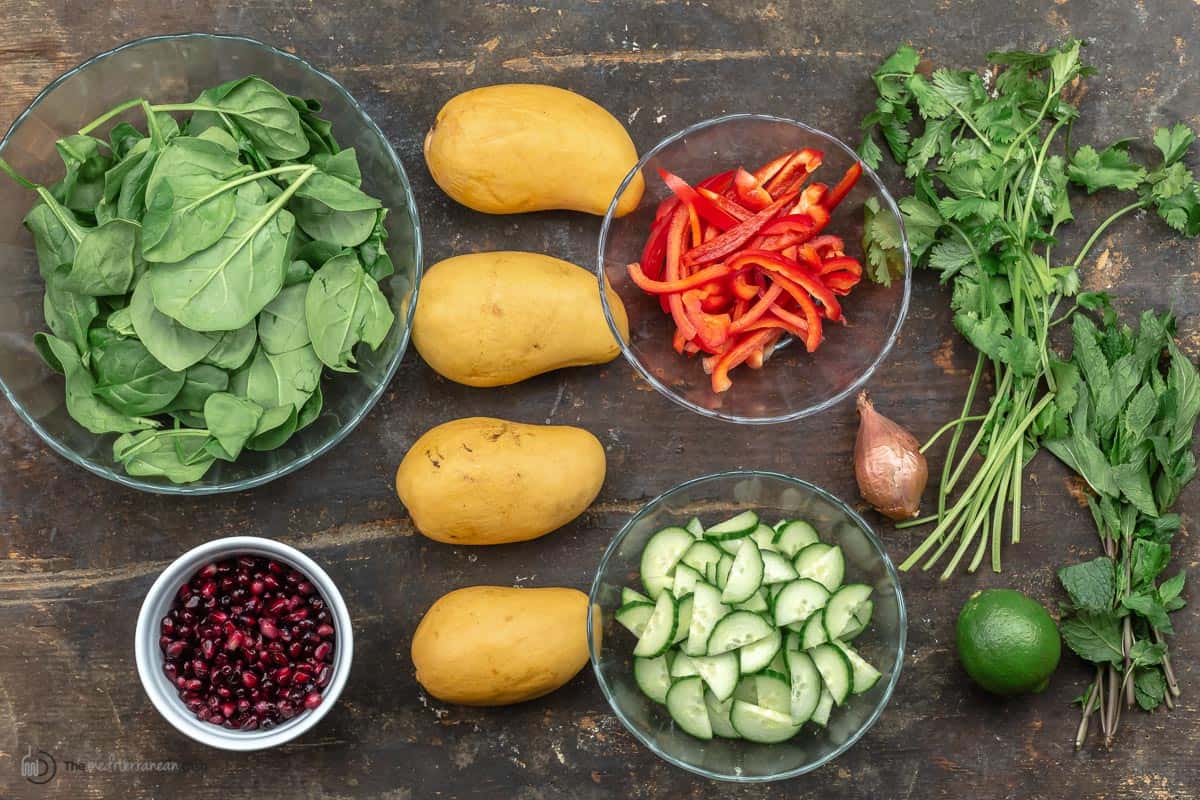 What goes well with mangos in a salad? Ingredients
This easy savory mango salad is made with lots of fresh ingredients and a handful of seasonings. I like the combination of mangos with some green leaves, like spinach, and crisp vegetables like cucumbers and bell peppers. If you like heat, mango and chiles is a great match! Here's what you'll need to make this salad:
Mangoes- 4 to 5 fresh ripe mangos (any variety of mangoes you like)
Baby spinach - 2 cups of baby spinach, or you can use spring greens or other greens of your choice. I think the subtle flavor and crisp texture of baby spinach is the perfect complement to juicy mangos and the other ingredients in this salad.
Cucumber - I prefer English cucumbers, also known as seedless cucumbers, because they don't have a tough outer skin and have a sweeter flavor.
Red bell pepper - You can also use yellow or orange bell pepper. Remove the seed and thinly slice the pepper.
Mangos - You'll want about 2 and a half pounds of peeled and sliced mangos.
Shallots - One to two shallots, which are milder tasting onions. You can use red onions or green onions instead.
Pomegranate arils (seeds) - These seeds add a sweet but tart flavor to the salad.
Fresh herbs - A combination of fresh cilantro and mint gives this salad a savory but refreshing Mediterranean flavor.
Aleppo pepper - Adds a mild heat to the salad. You can also substitute red pepper flakes if you don't have Aleppo pepper. If you're not familiar with Aleppo-style pepper, check out my handy guide where I explain all about it!
Lime juice - From one or two limes.
Extra virgin olive oil - For this particular salad, I like to use a flavorful olive oil that has a bit of a peppery finish such as our Spanish Hojiblanca extra virgin olive oil, which is moderately intense, fruity with a slight bitterness. Browse all my favorite olive oils here.
How to make mango salad
This savory mango and spinach salad comes together in just 15 minutes! It's a quick, easy and light side dish or summer meal.
Combine all ingredients. Combine the mangos, spinach, vegetables (cucumber, bell peppers, and shallots), pomegranate seeds, and herbs in one large bowl



Season and dress the salad. Just a big dash of kosher salt, black pepper pepper, and for a little bit of heat, Aleppo pepper.
And for the dressing, squeeze a large lime and add a drizzle of good extra virgin olive oil (Try our Spanish extra virgin olive oil or
Tip: if you're not serving the salad immediately, you can hold off on the seasoning and dressing until you are ready. Once seasoned, give the salad a taste to see if you need to add more of something, whether it's some extra salt, a bit more heat from Aleppo pepper, or an extra squeeze of lime



Serve. Transfer the salad to a serving platter, top with more Aleppo pepper flakes.
Variations
Mangos in salads are surprisingly versatile, with their soft but not mushy texture and sweet, but not overly so, flavor. If you want to change up this savory mango salad, here are a few suggestions of things that pair well with mangos in salads:
Greens. Spinach is the go-to for mango salads but crisp lettuce and kale also work.
Nuts and seeds. Cashews, pecans, sesame seeds, and other nuts and seeds all add a nice crunch and flavor to balance the soft mango texture.
Vegetables. Any crisp veggie works with mangos - think peppers, onions, and cucumbers.
Other fruit. Berries tend to pair well with mangos, especially blueberries.
Seasonings. Surprisingly, mango pairs well with spices that provide a kick of heat, chile peppers Aleppo in this recipe. Other savory options include garlic and basil.
Dressing. Lime or lemon juice both complement the flavors of mango. If you don't want to use olive oil, apple cider vinegar is another option. Honey can be used to add a hint of sweetness as well.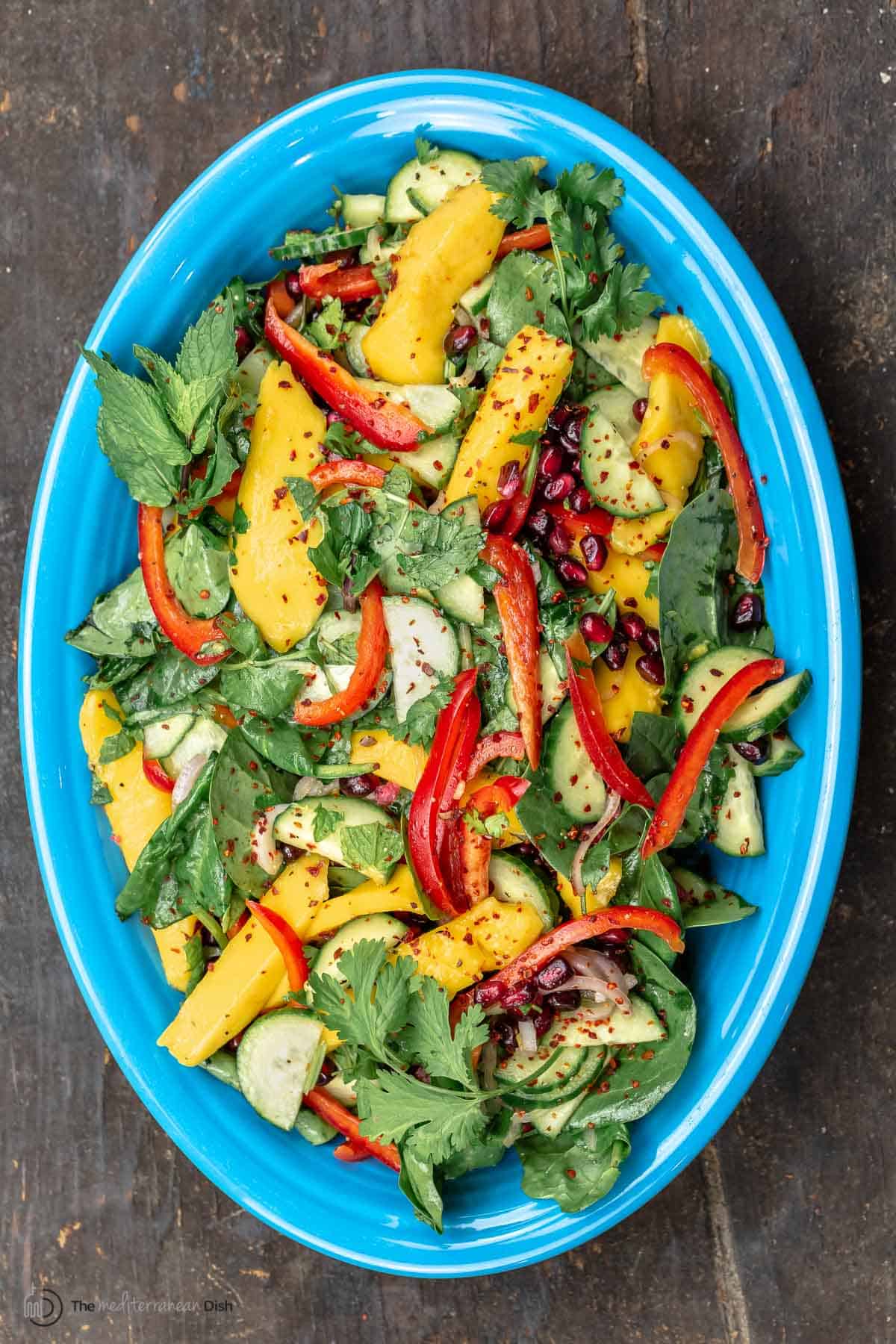 Tips for success
For the best mango salad, keep these things in mind while preparing it.
Use fresh, ripe ingredients. The beauty of this salad is that it's made with lots of fresh vegetables, plus the mango. Whether you're pulling the ingredients from your own garden or picking them up at the market, be sure to opt for the freshest ingredients possible.
Start with less seasoning - and add more. I always err on the side of "less is more" when it comes to adding spices, so I recommend adding the least amount to the salad, stirring, taste-testing and adding more as necessary. This is especially true with salt and the Aleppo pepper, as you'll need more or less depending on your personal preference.
Serve immediately. Due to the ingredients, this is not a salad you want to make in advance. Serve it as soon as it's assembled or shortly after.
Serve it with
As a side, this savory spinach and mango salad pairs wonderfully with fish, chicken, or meat, and particularly grilled items! A few favorites are grilled chicken wings, grilled harissa chicken, swordfish, or salmon kabobs, or shrimp skewers!
More healthy salad recipes you'll love:
Hungry for more? Browse all Mediterranean recipes or top Mediterranean diet recipes.
Visit Our Shop
Mediterranean-Style Mango Salad Recipe with Spinach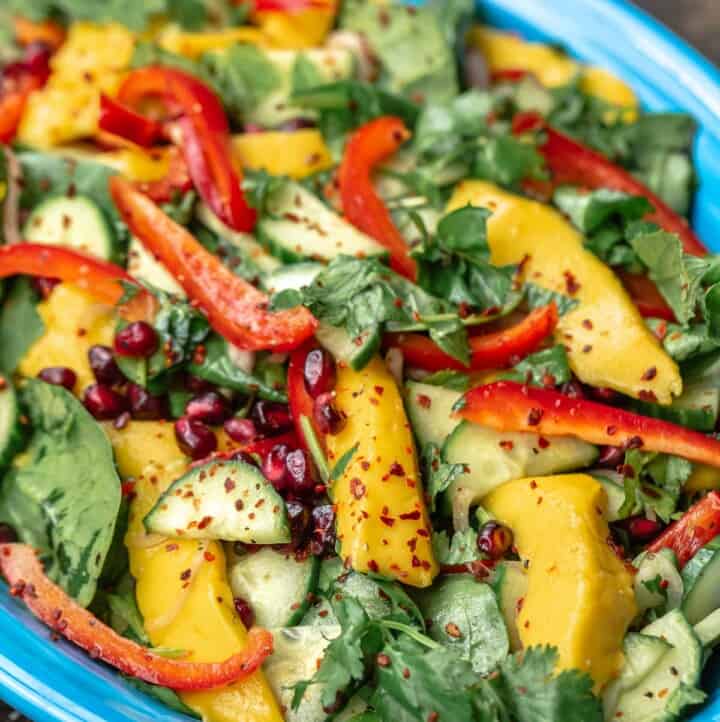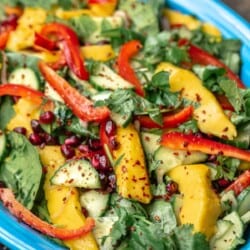 Healthy Mango Salad with Spinach, prepared Mediterranean-style with pomegranate arils and fresh herbs, and tossed with fresh lime juice and extra virgin olive oil.
Ingredients
2

cups

baby spinach

½

English cucumber,

halved and sliced into half moons

1

small red bell pepper,

cored and thinly sliced

2 ½

pounds

fresh ripe mangos,

peeled and sliced (about 4-5 mangos)

1

shallot, halved and thinly sliced

1

cup

pomegranate seeds

½

cup

chopped fresh cilantro

½

cup

chopped fresh mint

salt and pepper

1 to 2

teaspoons

Aleppo pepper

juice of 1 large lime
Instructions
In a large bowl combine the spinach, cucumber, bell pepper, mangos, shallot, pomegranate seeds, and herbs. Season with kosher salt, black pepper, Aleppo pepper flakes (or another chile pepper you like).

Add the lime juice and about 2 tablespoons of extra virgin olive oil. Toss to combine. Taste and adjust seasoning.

Transfer the salad to a serving plate. Sprinkle a bit more pepper flakes all over. Serve immediately.
Notes
Leftovers and storage: store any leftover mango salad in a tightly covered glass container in the fridge for up to 3 days.
Recommended for this recipe: Aleppo-style pepper for a subtle heat. And as far as olive oils go, for this salad, I like to use a flavorful olive oil that has a bit of a peppery finish such as our Spanish Hojiblanca extra virgin olive oil, which is moderately intense, fruity with a slight bitterness.
Visit Our Shop for quality Mediterranean products including extra virgin olive oils, spices and more!
Nutrition
Calories:
227.8
kcal
Carbohydrates:
54.9
g
Protein:
4.3
g
Fat:
1.9
g
Saturated Fat:
0.4
g
Monounsaturated Fat:
0.5
g
Sodium:
27.8
mg
Potassium:
816.4
mg
Fiber:
7.9
g
Sugar:
46.3
g
Vitamin A:
5832
IU
Vitamin C:
152.4
mg
Calcium:
73.5
mg
Iron:
1.6
mg