This easy Nicoise Salad with tuna and hard-boiled eggs is bursting with flavor from fragrant basil, juicy tomatoes, crisp radishes, briny olives and a light Dijon dressing. It is a delicious meal any night of the week!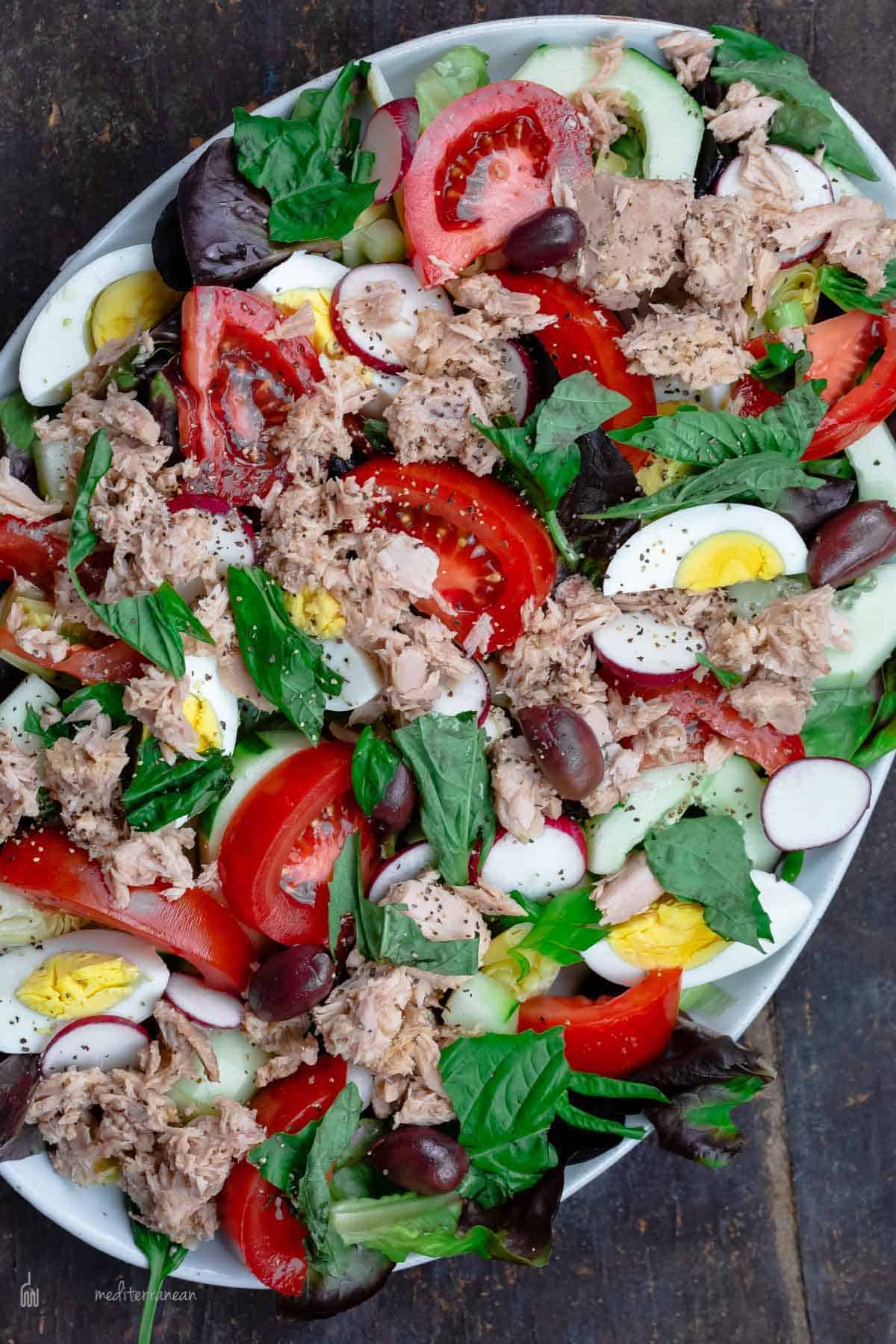 What is Niçoise salad?
Named after the city of Nice, classic Salade Niçoise, pronounced nee.swaaz, is a popular French salad that typically contains raw produce or vegetables such as tomatoes, radish, spring onions, and tender leafy greens with hardboiled eggs, olives, and tuna or anchovies. Everything is dressed in light and zingy dressing.
Niçoise salad has been around for a very long time, and there are many variations of it that you'd be hard pressed to find a recipe for the original, truly traditional Niçoise salad.
Here in the U.S, we're used to seeing this salad with cooked potatoes and green beans, but in doing some research, I've learned from David Lebovitz and other sources that if you want to make something closer to a classic salade niçoise, you would omit those two (I don't mind less cooking anyway).
Traditionalists will also use either quality canned tuna or anchovies, but never both, and never salmon. And some experts even claim that lettuce doesn't have a place here! They say that Niçoise was mainly tomatoes, anchovies and hard-boiled eggs. But a recipe dating from 1903 gives specific instructions to use artichokes, red peppers and black olives, while still another "traditional" recipe includes day-old bread, a little reminiscent of panzanella.
In this recipe we are going to aim for something easy and as close to a classic tuna salade Niçoise as possible.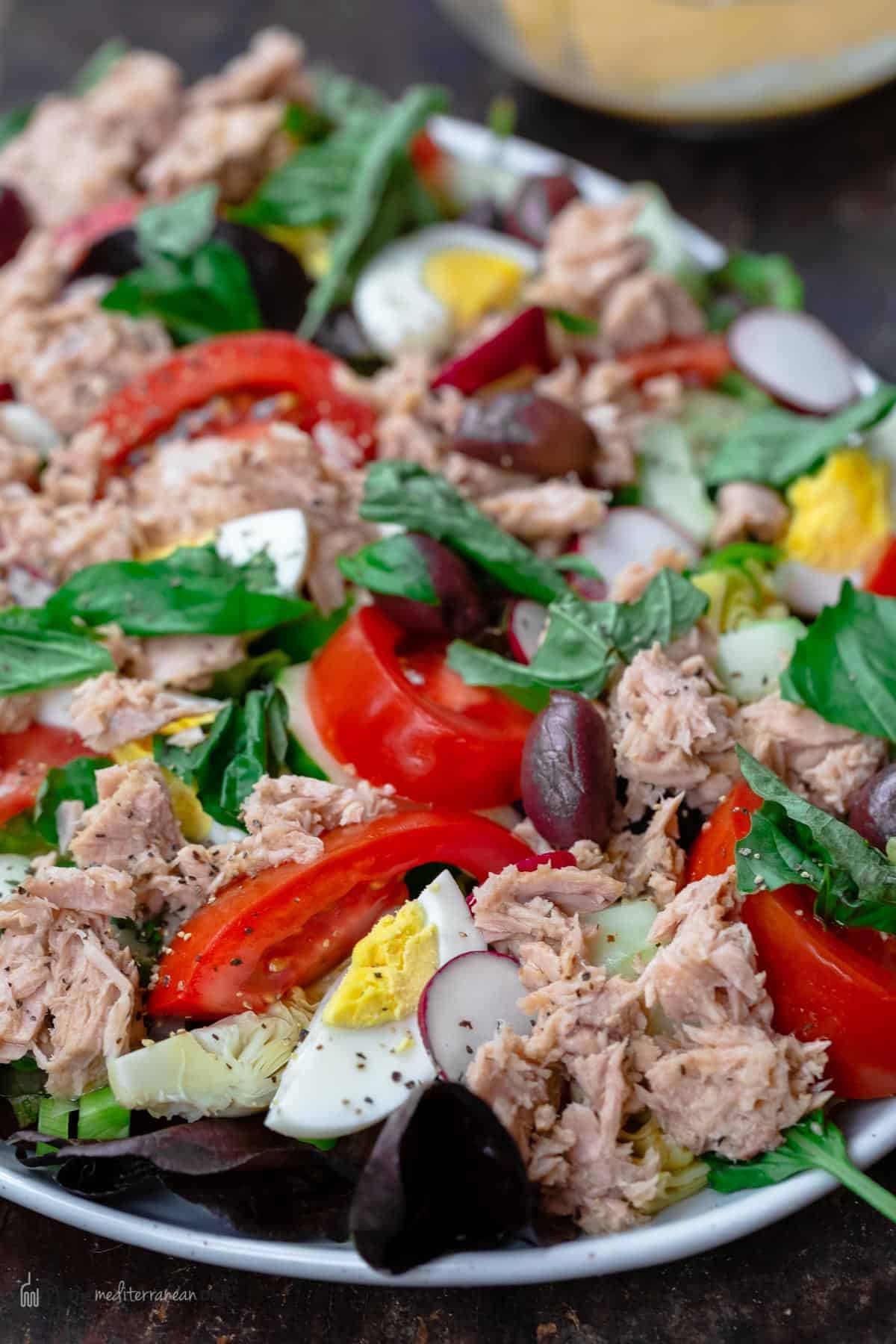 What you'll need for this recipe
I have not met a Niçoise salad I didn't love, but in this version, I wanted to try something closer to the classic. The only thing cooked here are the hard-boiled eggs. I am using tuna rather than anchovies, and mainly raw ingredients, starting with the typical tomatoes and tender lettuce. To make things interesting, I'm also adding fragrant and flavorful ingredients that are common in Niçoise, including olives, artichoke hearts, radish, spring onions, cucumbers, and basil.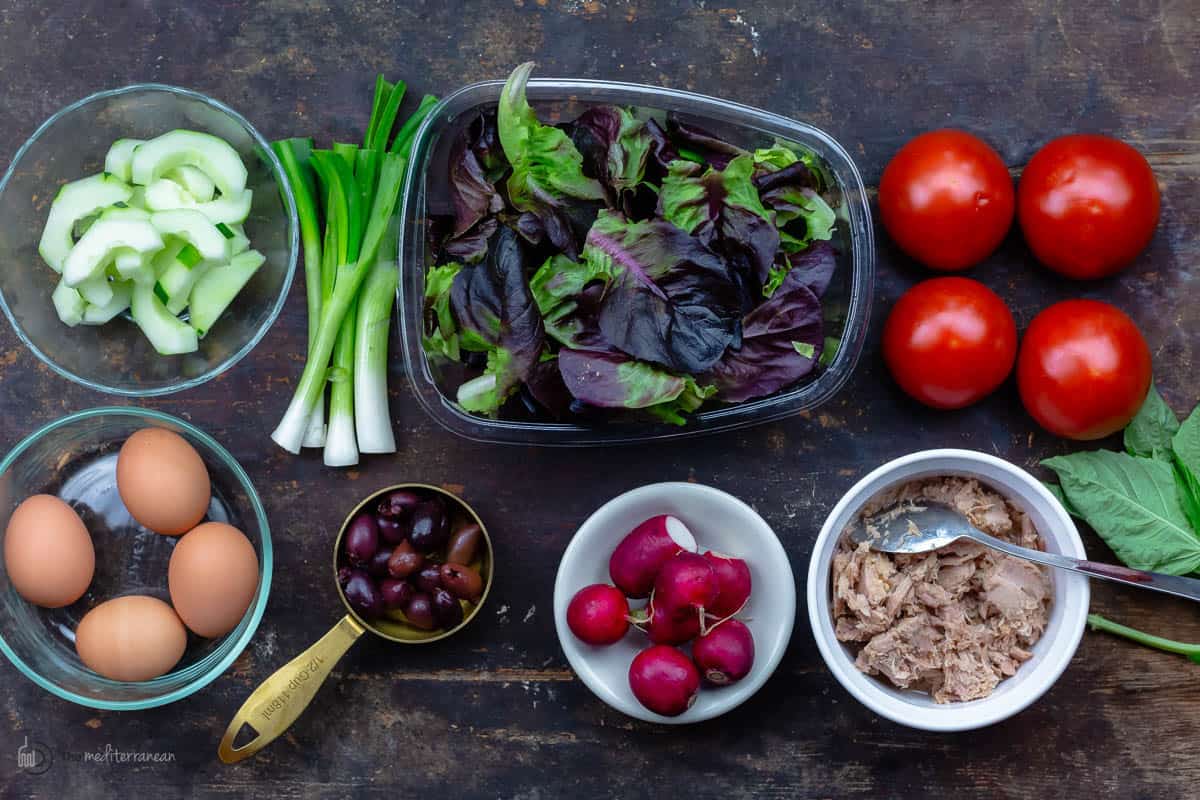 Tuna Niçoise ingredients
Fresh Tomatoes – Choose the best quality tomatoes available, no matter the size. I used medium tomatoes, halved and sliced into wedges, but you could certainly substitute halved grape tomatoes, cherry tomatoes, or even larger tomatoes cut into bite-sized pieces.
Lettuce – You could certainly use Romaine, but I prefer a softer lettuce such as Bibb or Boston.
Radishes – Scrub and thinly slice six fresh radishes for a peppery crunch.
Cucumber – Cucumbers add a wonderful juicy crunch. I peel the cucumber, and then halve it so that the seeds can be scooped out. From there, slice it into thin half-moons.
Black Olives – Niçoise olives are the natural choice for this recipe, but you can substitute another black olive that is more available to you. I like to use pitted olives rather than dealing with the pits.
Artichoke Hearts – For the artichoke hearts, choose canned in water and drain well before using.
Hard-Boiled Eggs – You could use slightly soft-boiled eggs here, if you'd prefer, but hard-boiled eggs will be neater to cut and serve, and are the more traditional choice.
Tuna – This is the not-so-secret ingredient that makes this salad so delicious, and so easy. Use a 5-ounce can of good-quality, canned tuna, packed in oil.
Spring Onions – To add a little bite to the flavor profile of this salad, thinly slice the white and pale green parts of four spring onions.
Black Pepper – Freshly ground, if you have it.
Fresh Basil – If you have a fresh basil plant, here's a good way to use those basil leaves. You'll need about ten.
For the dressing
Vinegar – Our vinaigrette for Nicoise salad gets a deliciously tangy base from two tablespoons of red wine vinegar. If you prefer, you could also use apple cider vinegar here.
Dijon Mustard – Dijon mustard helps to emulsify and thicken the vinaigrette while adding a little zing and a wonderful depth of flavor.
Salt – I use Kosher salt, to taste.
Extra Virgin Olive Oil – Use the best quality you can; check out my favorite olive oils.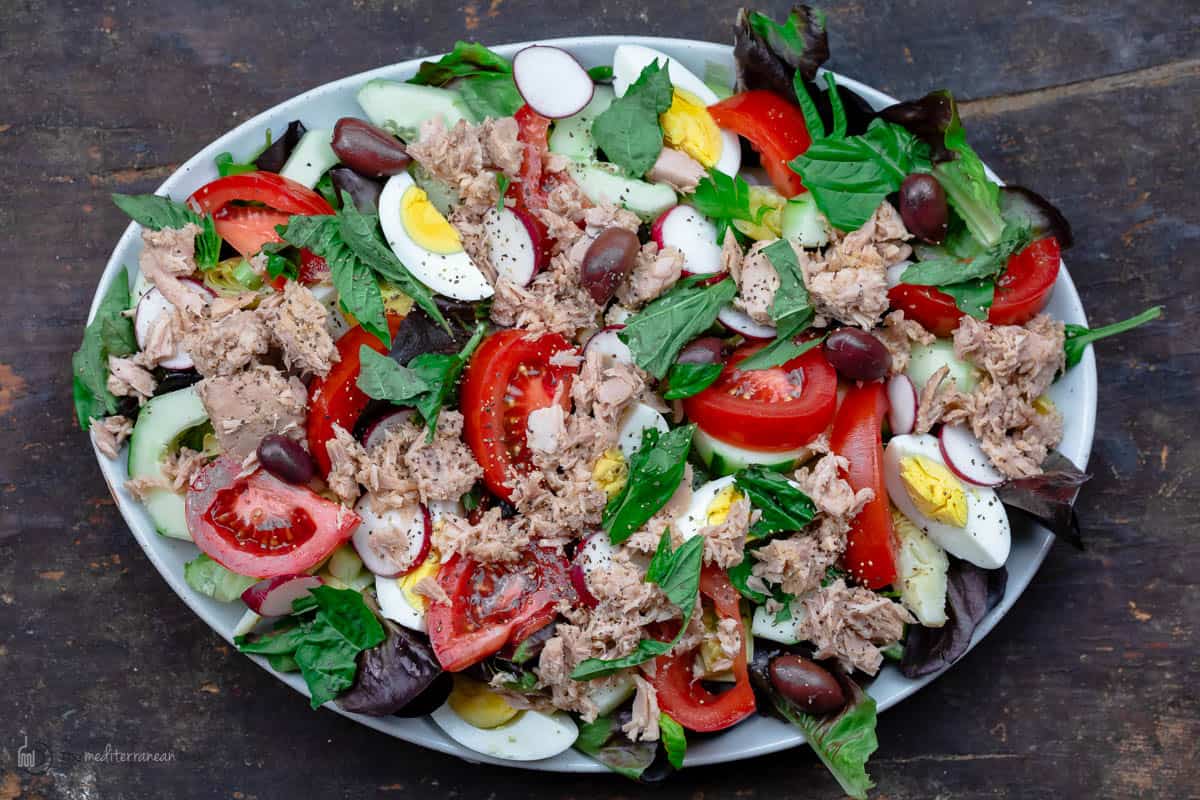 How to make tuna Niçoise salad with dressing
I consider this recipe the perfect no-cook dinner any night of the week. Because this is a composed salad, you will need a large platter to serve it. Here's how to make it:
Salt and drain the tomatoes. Lay the tomato wedges inside a large colander, in a single layer if possible. Set the colander on top of a large bowl to catch the tomato juices. Lightly salt the tomatoes with kosher salt, and let them rest while you arrange the rest of the salad.



Arrange the salad ingredients on a platter: Start with the lettuce, and then top it with the radishes, cucumber slices, olives, artichokes, and hard-boiled eggs. Give the tomatoes a little toss in the colander, and then arrange over the salad. Finish with chunks of tuna, green onions, and torn basil leaves all over. Sprinkle it with some black pepper.
Make the dressing: Now we get to use those salted tomato juices. In the same bowl as the juices, add the red wine vinegar, Dijon mustard and salt. Whisk to combine, and continue whisking while you gently pour in the olive oil in a thin, steady stream. The olive oil will emulsify into the vinaigrette, making it creamy. Taste the dressing, and add salt if needed.


Serve the salad with the dressing: You can simply place the salad and dressing on the table and allow everyone to help themselves, or you can drizzle the dressing evenly all over the salad and gently toss, so that you don't disturb the beautifully arranged ingredients too much.
Tips for success
The perfect Nicoise salad is well-balanced, from the fresh veggies to the zingy vinaigrette. Each ingredient has its own unique contribution, with the overall effect being bright and flavorful – not too sour, not too salty or sharp. A few tips to help you:
Choose Tuna in Oil: Quality tuna is worth the splurge because you do want it to taste delicious. I find tuna that packed in olive oil to be less dry than tuna packed in water. Drain the tuna well (be patient, the oil can take time to seep out!).
Choose Produce Carefully: For fresh lettuce, tomatoes and cucumbers, be choosy and select the best that your produce department has. I like English cucumbers that are sweeter and seedless. Select tomatoes that seem heavy for their size and are firm but have some give. For the lettuce, select tender Boston Bibb lettuce with leaves that look clean and unblemished.
Use quality Dijon mustard and extra virgin olive oil for the Nicoise dressing which pulls this salad together.
For easy peel hard boiled eggs, don't use super fresh eggs. Also, once you boil the eggs, allow them to soak a cold water bath for about 10 minutes, then gently tap the eggs on a hard surface to crack the shell.
What to serve with it?
This salad is a meal in itself, and if you serve it with a side of your favorite crusty bread, or even pita wedges, and a bottle of chilled white wine, you'd be all set. But if you want to add something more for a soup and salad night, try a chilled cucumber soup (what a refreshing meal for a hot day!). Or, if you bought more tomatoes, try this roasted tomato soup!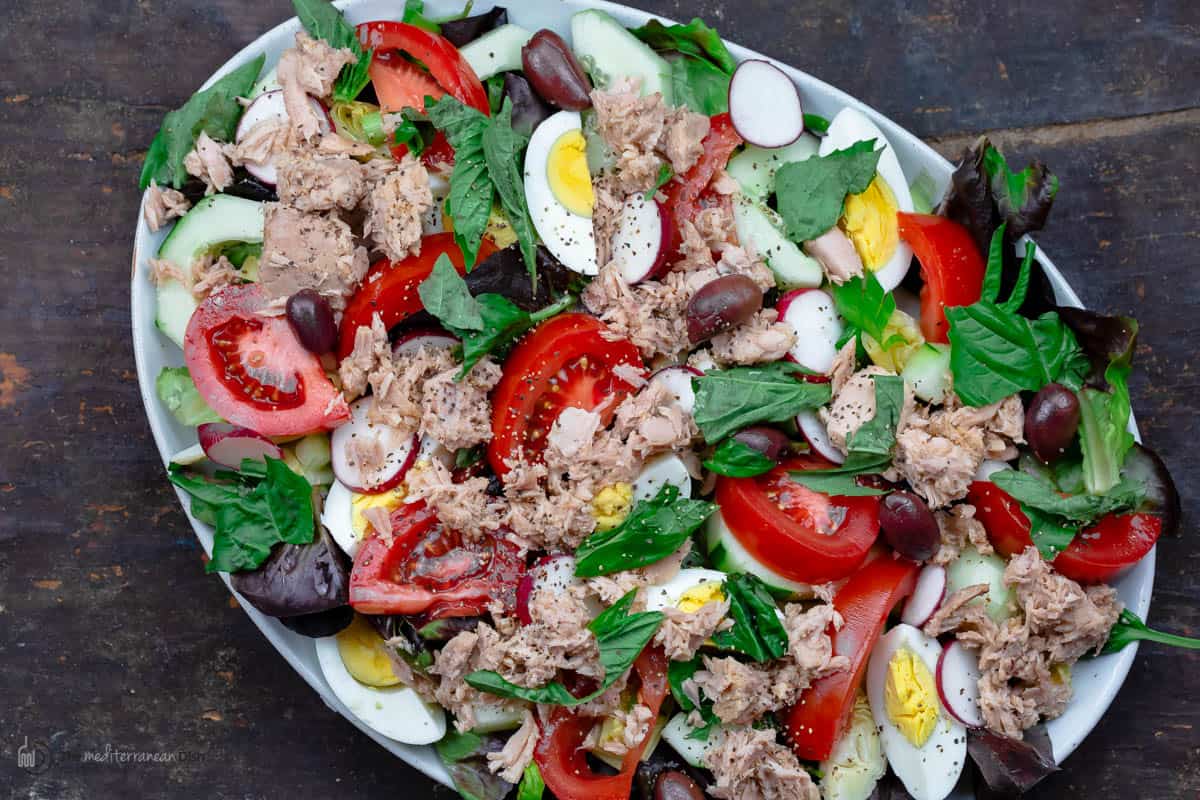 How to store leftovers
Nicoise salad will not stay fresh very long, especially if you've added the dressing. You can store leftovers in the fridge in a tight-lid glass container for a few hours and up to 1 night.
Can I make this recipe ahead?
You can certainly prep some of the components of this salad ahead of time, and store them separately in the refrigerator. Hard boiled eggs (in the shell) keep for days in the refrigerator, as does washed and dried lettuce. Even the sliced cucumbers, radish, and onions can be made a day or so in advance.
You can also make the nicoise salad dressing and store it in the fridge in a tightly closed mason jar for up to 2 nights.
You may also like
Browse all Mediterranean recipes. Browse top Mediterranean diet recipes.
Niçoise Salad Recipe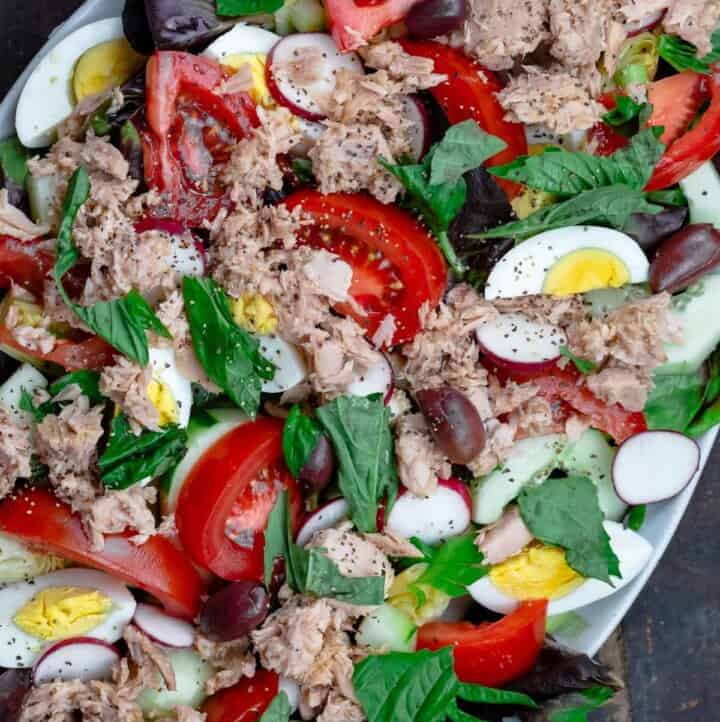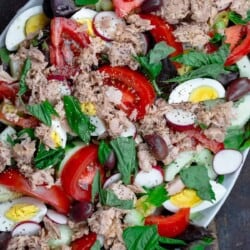 This easy Niçoise Salad with tuna and hard-boiled eggs is bursting with flavor from fragrant basil, juicy tomatoes, crisp radishes, briny olives and a light Dijon dressing. It is a delicious meal any night of the week! This recipe will make 4 to 5 generous lunch portions with a side of your favorite crusty bread.
Ingredients
For the Salad
3 to 4

medium tomatoes

halved and sliced into wedges

4

ounces

soft lettuce such as Bibb or Boston

6

radishes

thinly sliced

1

cucumber

peeled, halved lengthwise, seeded and sliced

½

cup

pitted black olives, Niçoise olives or other black olives

1

cup

quartered artichoke hearts

canned in water, drained

4

hard-boiled eggs

peeled and quartered

1

5-ounce can

quality tuna packed in oil

4

spring onions

white and light green parts only, thinly sliced

freshly ground black pepper

10

basil leaves
Instructions
Put the tomato wedges in a large colander and place the colander over a bowl. Season the

tomatoes with kosher salt and let them sit in the colander while you prepare the rest of the

salad. Do not discard the tomato juices.

Arrange the lettuce on a platter and top with the sliced radishes, cucumber, olives, artichoke heart quarters, eggs, and

drained tomato wedges over the lettuce. Arrange chunks of tuna, green onions, and torn basil leaves all over. Sprinkle some black pepper.

Make the dressing. In the same bowl with the juices from your tomatoes, add the red wine vinegar, Dijon mustard and salt. Whisk to combine. While you are whisking, pour the olive oil until the dressing is emulsified. Taste and adjust salt

Serve the dressing next to the composed Nicoise salad and allow everyone to help themselves. Otherwise, you can pour a bit of the dressing over the salad and toss very gently so that the salad does not lose its beautiful composition.
Notes
To make perfect hard-boiled eggs, you can either pressure-cook them in an Instant Pot, or use the stovetop method. Place the eggs in a large saucepan and cover with 1 inch of water. Bring the eggs to a boil over MEDIUM heat (not high). This may take some time. Once the water has come to a boil, turn it off, and allow the eggs to sit in the hot water, covered, for twelve minutes. Drain the eggs and rinse under cool running water and allow them to sit in the cool water for 10 minutes or so (this makes them easier to peel).
Nicoise Variations: Omit the tuna for a vegan option, or you can use anchovies or cooked salmon in place of tuna (as mentioned earlier, cooked salmon is not a traditional option for this salad. You can also add cooked green beans and boiled potatoes to this salad, if you prefer.
Leftovers & Storage: Leftover nicoise salad does not last very long. Transfer to a tight-lid glass container and save in the fridge for a few hours or no more than 1 night.
Recipe is adapted from David Lebovitz
Visit our shop to browse quality Mediterranean ingredients including olive oils and spices.
Nutrition
Calories:
332.8
kcal
Carbohydrates:
13.7
g
Protein:
9.8
g
Fat:
26.6
g
Saturated Fat:
4.5
g
Cholesterol:
186.6
mg
Sodium:
911.8
mg
Potassium:
522.5
mg
Fiber:
5.2
g
Sugar:
5.9
g
Vitamin A:
2265.9
IU
Vitamin C:
19.6
mg
Calcium:
80.3
mg
Iron:
1.9
mg