Looking for the perfect way to cool off, detox, and reset your body? This tasty cold cucumber soup with fresh herbs and toasted walnuts will do the trick! Think of this as a cucumber gazpacho with a cool, creamy yogurt base. This is great to prepare in advance so it has time to chill in the fridge.
This "cucumber gazpacho" makes the perfect start to a summer meal, especially if grilled lamb chops or chicken kabobs are involved! Of course, you can just serve it as an appetizer in little cups or as a light lunch with some Barbari Persian Flatbread.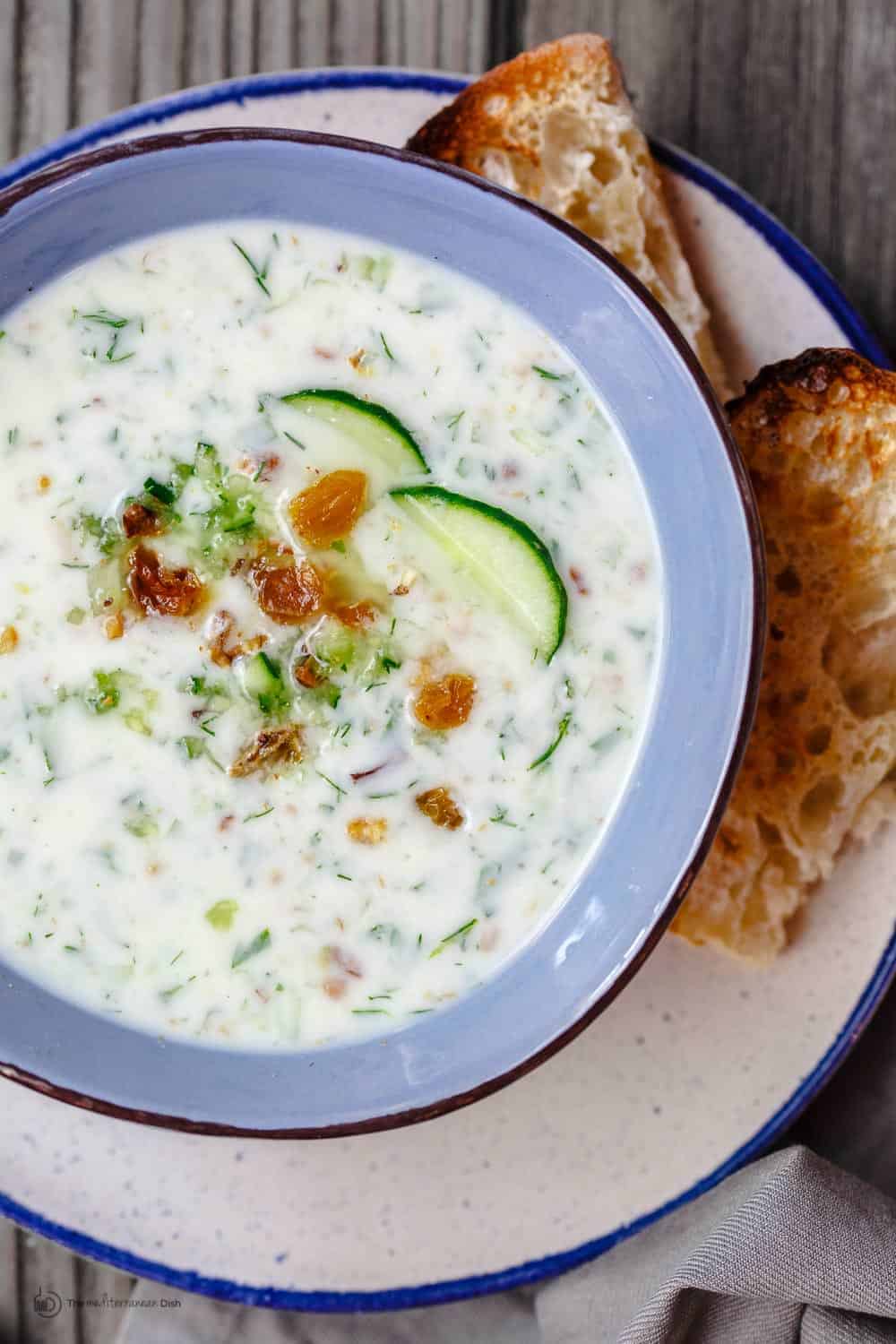 There are a couple of local Persian restaurants we frequent as a family. Without fail, every time we go, we are greeted with the usual freshly baked bread and a platter of feta, walnuts, and fresh olives. And on occasion, during the hot summer months, they may also serve a cup or small bowl a delightful cold cucumber soup called Abdoogh Khiar.
This cucumber soup is so refreshing and has become one of my favorite things to make at home (in the summer time, I make this soup almost as often as I make my cucumber tea sandwiches). It is really simple to make and has some great detox benefits: cucumbers helps cleanse the liver, while, yogurt contributes good-for-your-gut probiotics. So if you've had a particularly indulgent weekend, for example, this cucumber soup can be just the way to reset your body and get back on track.
Let's chat some more about what goes into this Persian-style cucumber soup...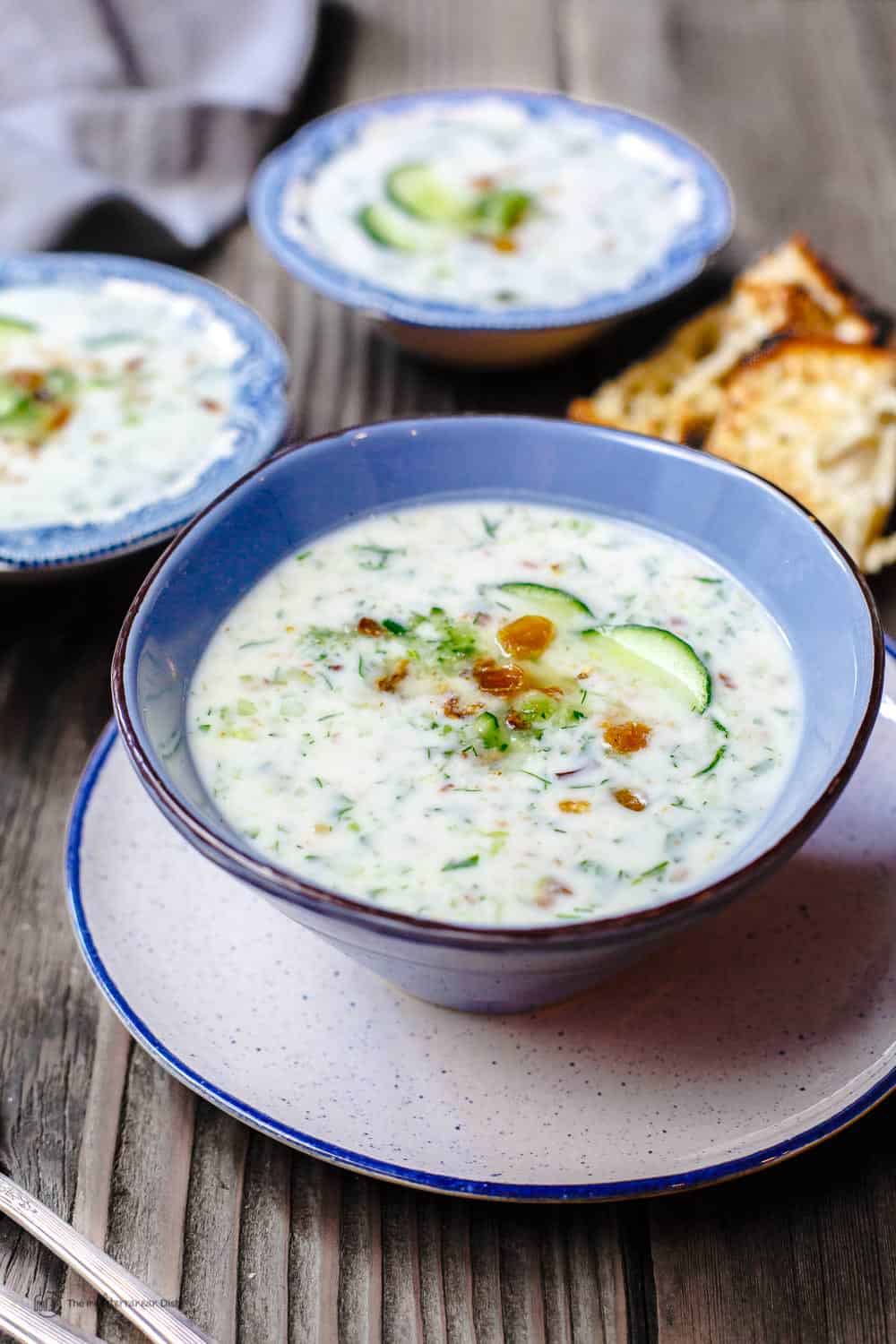 Cucumber Soup, Persian-Style
In this cucumber soup recipe, yogurt and ice water make the soup base in which finely chopped English cucumber, fresh herbs, and toasted walnuts are stirred.
I talked about English cucumbers in my earlier cucumber salad post, but as a refresher here, English cucumbers are also known as hot house cucumbers. They are longer cucumbers that are seedless, slightly sweeter, and have a much thinner skin that other varieties. That is why the are perfect to use in this cucumber soup.
The flavor and texture of this cucumber soup is what makes it so unique. Our main flavor makers are fresh herbs--a handful of chopped fresh parsley, basil, dill and mint. You can use just a couple of fresh herbs or all four. Then we have toasted walnuts and golden raisins, these bot add substance and great contrast. The finishing touch here is a sprinkle of quality sumac, rounding up this chilled soup with just enough tang.
Some Persian cucumber soup recipes call for rose pedals, those add a beautiful touch, but since I don't buy them often, I chose to go without.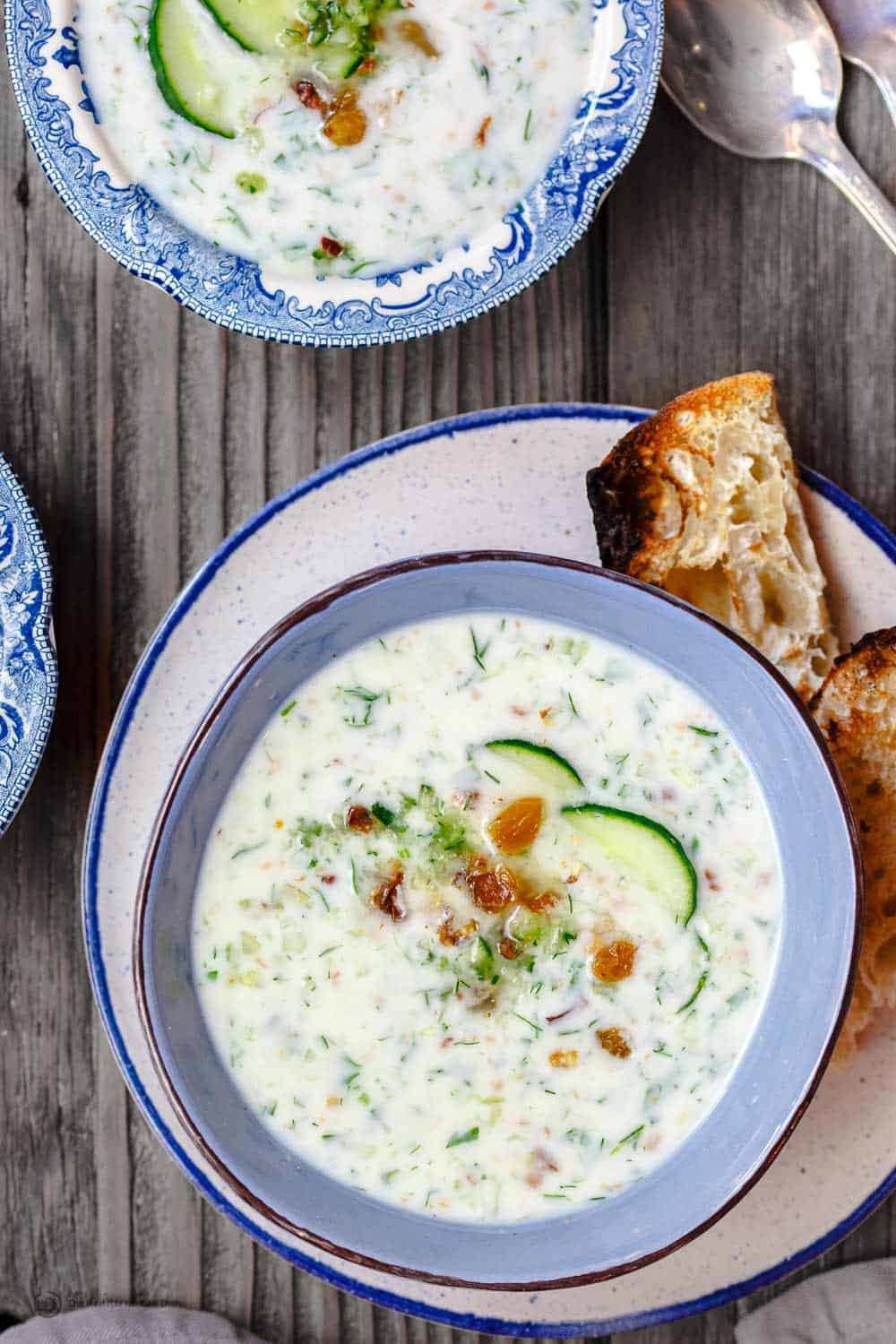 A few Tips for this Cucumber Soup or Cucumber Gazpacho
1. Prefer a smooth, blended cucumber soup? Although I love the texture of this cucumber soup, and I love that one can discern its elements from the tiny chopped cucumbers to nutty walnuts and a little raisins, I know some prefer a perfectly smooth soup. For that, all you need to do is blend the yogurt with the cucumbers, and chopped herbs in a food processor. Use a little bit of ice water, not too much, and add as needed. Hold the walnuts and raisins to top the soup as garnish.
2. Allow time for the soup to chill. This soup is best prepared at least 1 hour in advance and chilled in the fridge. You can put it in a large glass bowl and cover tightly with plastic wrap or an airtight container.
3. Which cucumbers to use? As mentioned earlier, the best option is English cucumbers which are seedless and have a thinner skin. If you end up using slicing cucumber (the ones with the dark and waxy thick skin), start by peeling them, then remove the seeds and chop from there.
4. Flavor variations. I use four different herbs in this cucumber soup--parsley, basil, dill, and mint. You can use only couple of these herbs, if you like. And you can also add some chopped chives.
5. How long will this keep? This cucumber soup will keep well for a couple of days refrigerated in an air-tight glass container
Serve this Cucumber Soup as Lunch or Starter
If you make this chilled soup for a light lunch, you should be able to easily serve four people. Just add some good crusty bread to go along!
Want to serve it to a larger crowd as a starter? A fun way to do this is to serve it in smaller glasses to kick-start a summer dinner! This goes with many Mediterranean entrees from kabobs or Souvlaki to lamb burgers, baked salmon, or even moussaka!
More Recipes to Try
Mediterranean Bean Soup with Tomato Pesto
NEVER MISS A RECIPE! JOIN MY FREE E-MAIL LIST HERE TO RECEIVE NEW RECIPES, WEEKLY MEDITERRANEAN DINNER PLANS, AND MY FREE E-COOKBOOK WITH 15 HEALTHY RECIPES TO TRY!
SHOP OUR ONLINE STORE FOR QUALITY OLIVE OILS, ALL-NATURAL SPICES AND MORE.
Print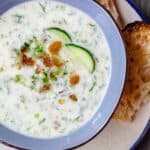 Persian Chilled Cucumber Soup
---
Description
Tasty cold cucumber soup with fresh herbs and toasted walnuts will do the trick! Think of this as a cucumber gazpacho with a cool, creamy yogurt base. This is great to prepare in advance so it has time to chill in the fridge. The perfect start to a summer meal like chicken kabobs or grilled lamb chops (more ideas up in the post.)
---
½ cup

walnut hearts, toasted and finely chopped

2 cups

plain yogurt (not Greek yogurt)

1 ½ cup

ice water

½

to

¾

of a seedless English cucumber, finely chopped (about

1

to

1 ½

cups chopped), plus a few cucumber slices for serving

1 cup

chopped fresh herbs (parsley, basil, dill, mint)

½ cup

gold raisins
Salt

¾ tsp

sumac, more for later
---
Instructions
In a large bowl, whisk together yogurt and iced water. Stir in finely chopped cucumbers, herbs, raisins, and toasted walnuts. Season with salt and sumac. Cover and chill for about one hour.
When ready, divide chilled cucumber soup into four serving bowls. Sprinkle more sumac on top and add a few cucumber slices to each bowl. Enjoy with your favorite toasted bread or pita.
Notes
Cook's Tip: Allow about 1 hour of inactive time for chilling.
Cook's Tip: If you need to toast the walnut hearts, heat the oven to 350 degrees F. Spread walnuts on a baking sheet, toast in oven for 10 minutes or so, until fragrant. Remove from heat and let cool, then chop finely to use for this recipe.
Leftovers? Keep leftovers refrigerated in an airtight container for a couple of days or so.
Recommended for this recipe: All-natural ground sumac.
Visit our shop to browse our spices, olive oils and bundles!
Prep Time:

10 minutes

Category:

Soup

Method:

Chilled

Cuisine:

Persian
Keywords: Cucumber Soup, Chilled Cucumber Soup, Persian Yogurt Cucumber Soup
*This post originally appeared on The Mediterranean Dish in 2017 and has been recently updated with new media and information for readers' benefit.