Looking for the perfect way to cool off, detox, and reset your body? This Persian Chilled Yogurt and Cucumber Soup is it!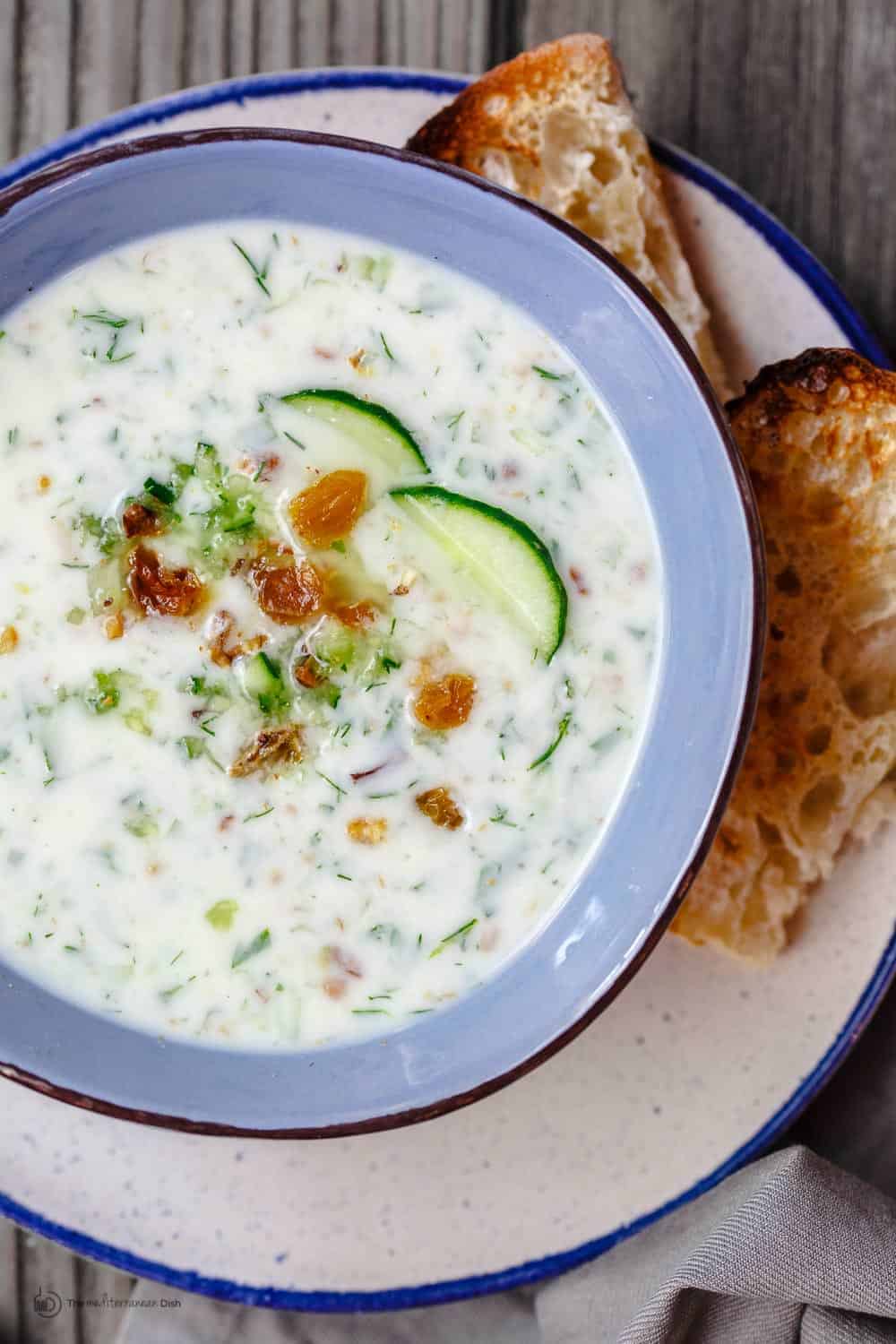 If you frequent Persian restaurants, you may have been greeted with the usual freshly baked bread and a platter of nuts and feta. Some may even serve you a small bowl of Abdoogh Khiar.
Abdoogh Khiar is basically a chilled yogurt and cucumber soup. A delightful Persian take on Gazpacho!
VIDEO TUTORIALS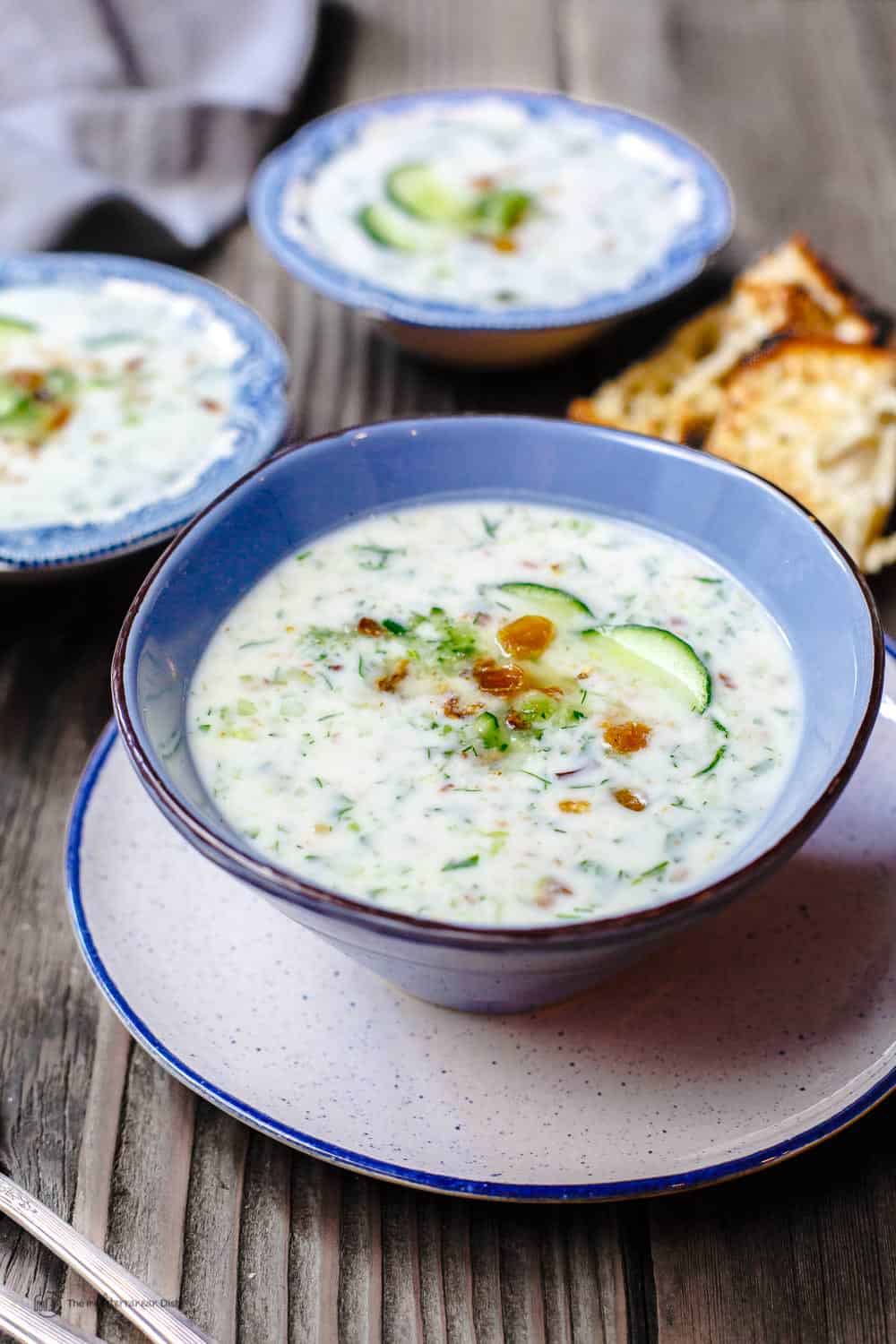 Low-fat yogurt and iced water make the soup base in which finely chopped cucumbers are stirred. Equally important here is a handful of fresh herbs: parsley, basil, and dill. Toasted walnuts and raisins add substance and contrast. A little quality sumac goes a long way in giving this soup just enough tartness to balance things out.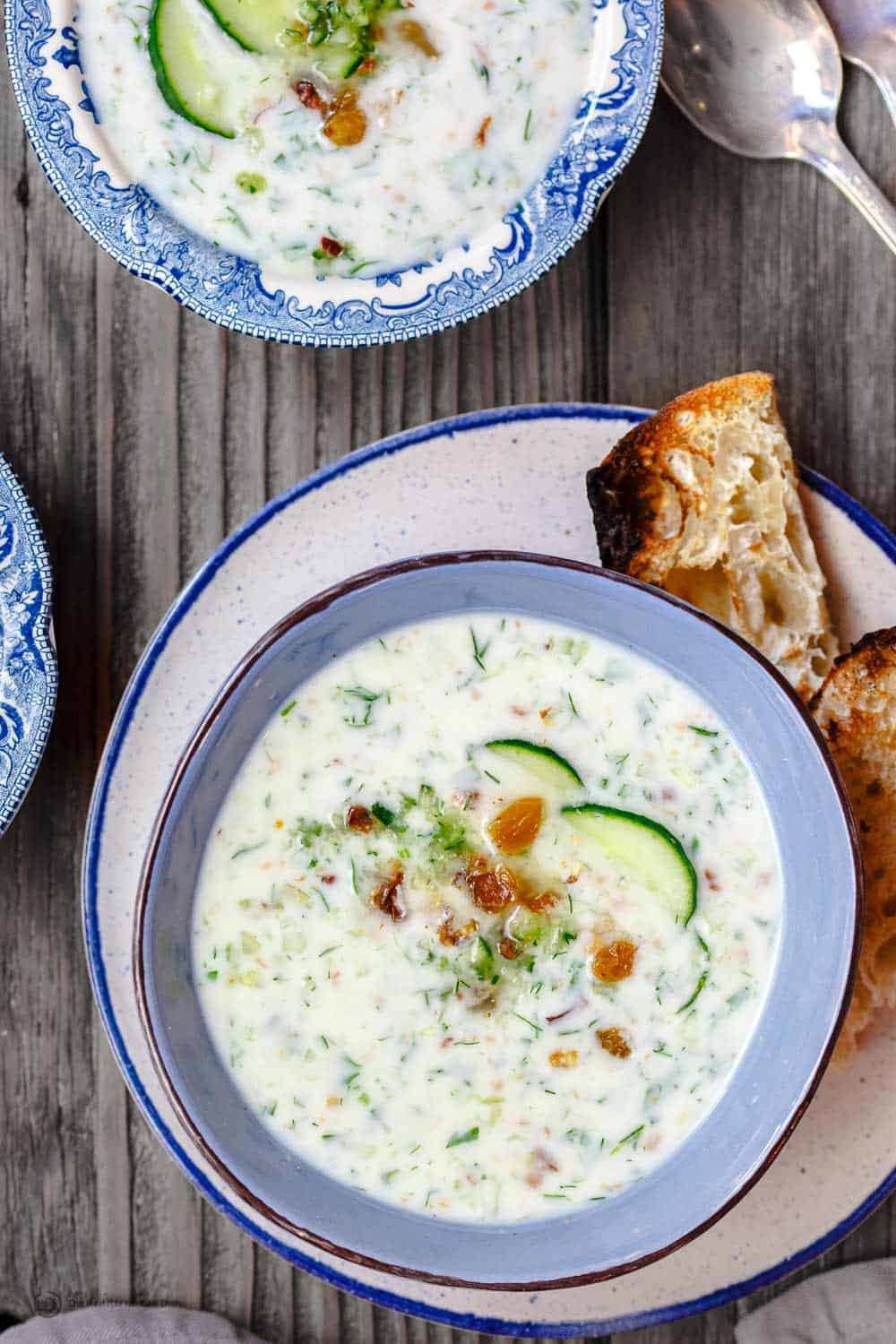 Why this cucumber soup works!
This cucumber soup is the perfect way to cool off on hot summer days. It also has some good detox benefits; cucumbers hep cleanse the liver, while, low-fat yogurt contributes good-for-your-gut probiotics. So if you've had a particularly indulgent weekend, for example, this can be just the way to reset your body and get back on track.
Print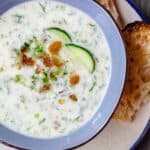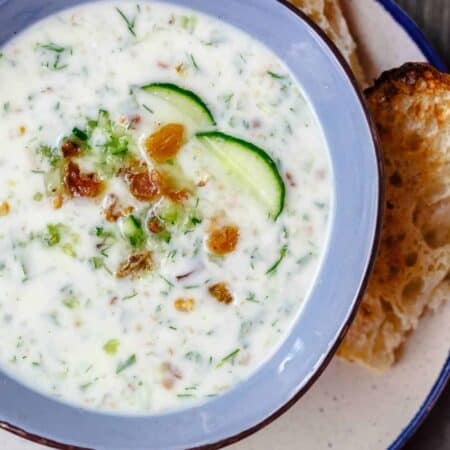 Persian Chilled Cucumber Soup
---
Ingredients
1/2 cup walnut hearts (shelled walnuts)
2 cups reduced-fat plain yogurt (not Greek yogurt)
1 1/2 cup ice water
1/2 large seedless English cucumber, finely chopped (about 1 cup), plus a few cucumber slices for serving
1 cup chopped fresh herbs (parsley, basil, dill, mint)
1/2 cup gold raisins
Salt
1/2 tsp sumac, more for later
---
Instructions
Heat the oven to 350 degrees F. Spread the walnuts on a baking sheet, toast in oven for 10 minutes or so, until fragrant. Remove from heat and let cool, then chop finely.
In a large bowl, whisk together yogurt and iced water. Stir in cucumbers, herbs, raisins, and toasted walnuts. Season with salt and sumac. Cover and chill for about one hour.
When ready, divide chilled yogurt and cucumber soup into four serving bowls. Sprinkle more sumac on top and add a few cucumber slices to each bowl. Enjoy with your favorite toasted bread or pita.
Notes
Recommended for this recipe All-natural ground sumac. SAVE! Create your own 3-pack or 6-pack of our premium all-natural and organic spices
More Recipes to Try:
25 Summer Picnic Recipes with a Mediterranean Twist
How to Make Labneh (yogurt cheese)
This post may include affiliate links