Cool off with a delicious bowl of Salmorejo, Spain's cold tomato soup. Similar to Gazpacho this soup is dairy-free but super creamy and totally refreshing summer comfort food.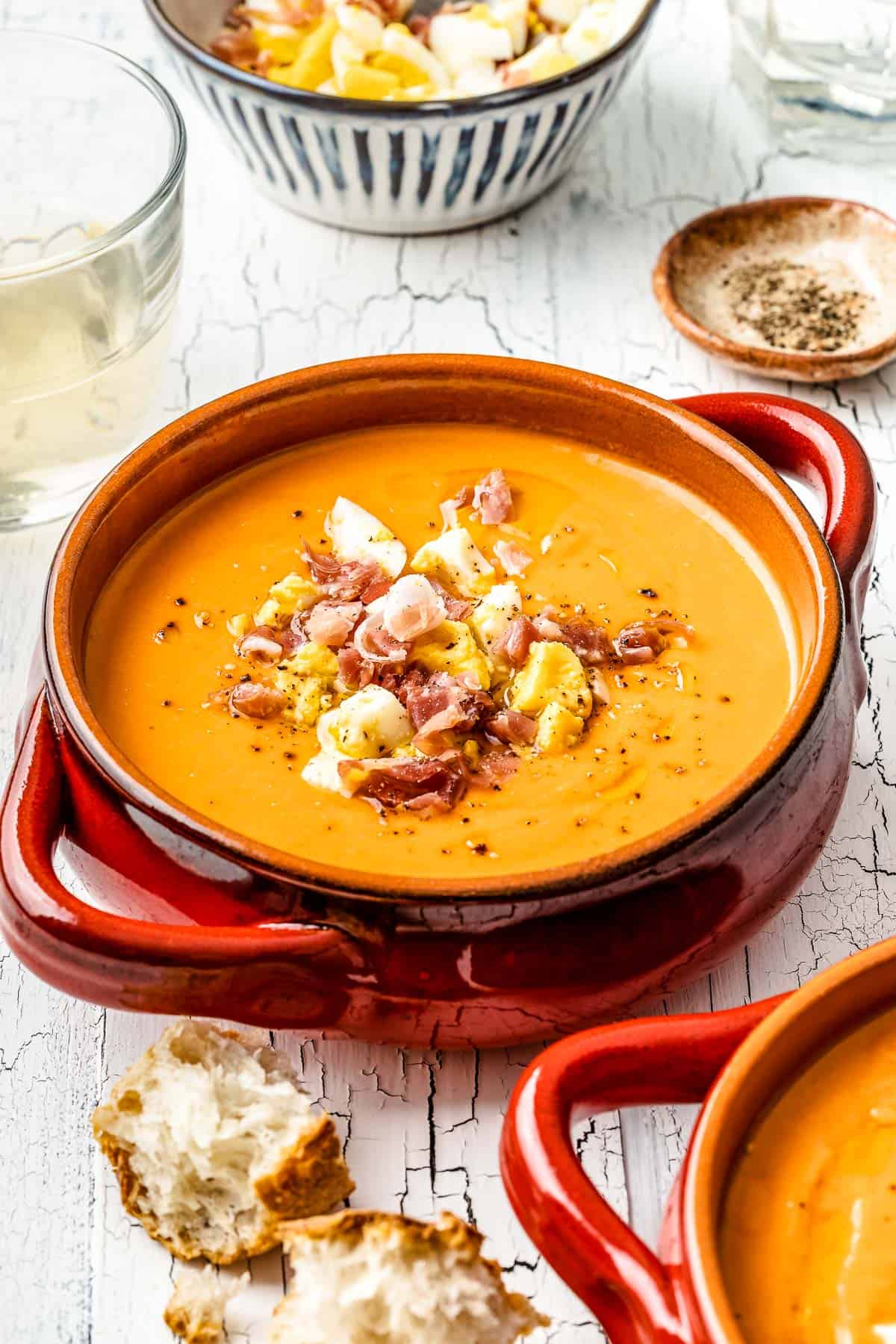 A few years ago, I went on a road trip along the coast of Cádiz, an astounding, wind-swept region within Andalusia. We drove from Gibraltar to Sanlúcar de Barrameda over the course of a week. We stopped in a new town every day for the beaches, the white-walled cities, and most importantly, the Spanish food.
Each neighboring town had its own specialty. One town was known for their mojama, or thinly sliced cured tuna. Another boasted famous tortillitas, or fried shrimp cakes. And in yet another, pescaito frito—little fried fish that were crispy and salty like calamari but with a more delicate center. What was constant in each place we visited, however, were refreshingly chilled bowls of salmorejo.
This garlicky, creamy, cold tomato soup may be from Córdoba further north in the mountains, but in Cádiz, that hot summer week, I truly discovered salmorejo. Sure, I'd had it in Barcelona and Madrid before. But in its native southern Spain, it constantly surprised me.
One restaurant served it as its own course with lots of cubed Spanish ham, chopped hard-boiled eggs, and bread for dipping. In another place, it was thicker and served as a base sauce for a small plate of grilled sardines. I even remember dipping my calamari in it.
This adaptable recipe, inspired by my favorite restaurant in Cádiz, can be served as a light lunch or easy appetizer. Dairy free, it gets its creaminess from stale bread and olive oil. Like Pan Con Tomate, it's a great way to make sure no bread goes to waste!

Leave off the ham and egg to make it vegan. Or, leave out the water to make a flavorful fresh tomato sauce that's perfect for spooning over grilled chicken or salmon.
Table of Contents
What is Salmorejo?
Thanks to its notoriously warm summers, Spain is home to many cold soups. Gazpacho gets all the fame, with so many variations like watermelon gazpacho keeping things interesting. And the almond-based ajo blanco is not to be missed. With so many options, my favorite always comes back to salmorejo.
Salmorejo skips the cucumber and green pepper included in gazpacho. At its core, it uses just five ingredients: ripe tomatoes, bread, extra virgin olive oil, sherry vinegar, and garlic. Compared to gazpacho, it is thicker and creamier with a slightly sharper acidity.
Gazpacho will often be served in a glass, but salmorejo is almost always served in a bowl. To make it more substantial, salmorejo is topped with Spanish ham and chopped boiled egg.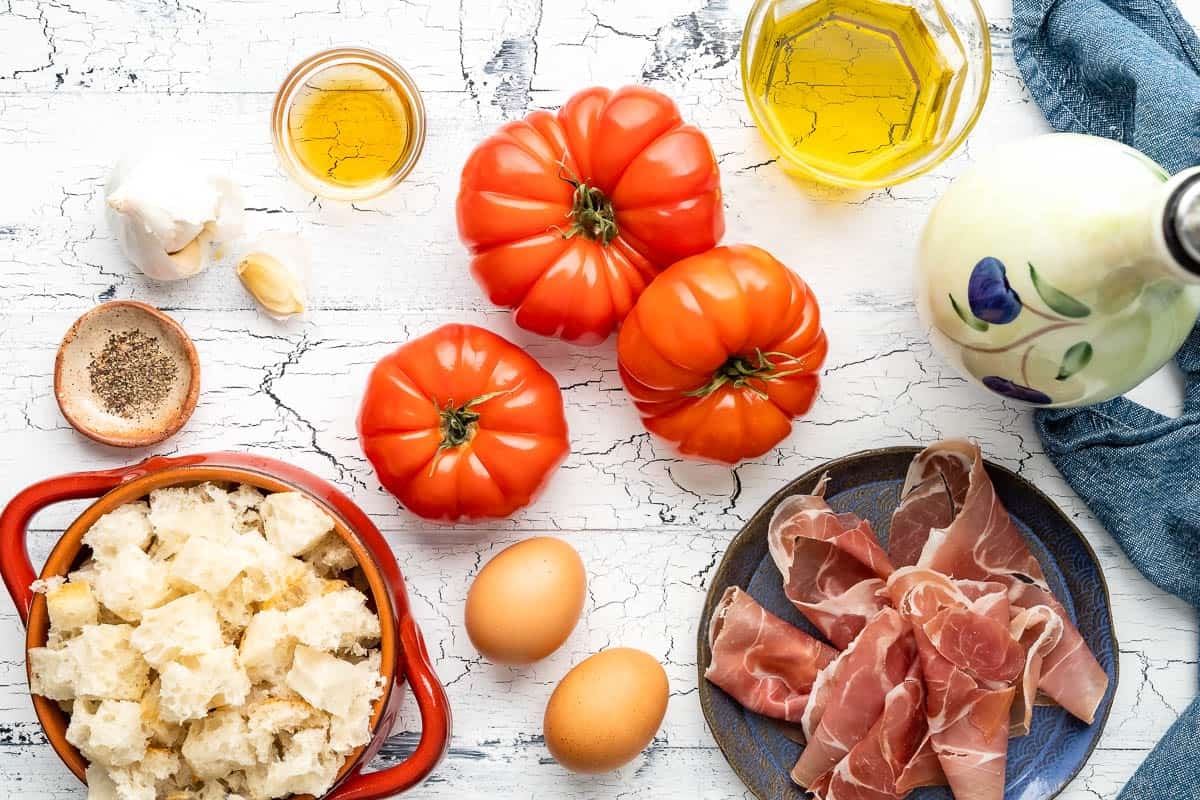 Salmorejo Ingredients
Salmorejo is a simple, cold soup from humble ingredients, putting stale bread and almost-too-ripe tomatoes to good use. So good that sometimes I purposely let bread get stale for it. Here's what you'll need:
Tomatoes: Use in-season, very ripe tomatoes. As tomatoes are the major component of salmorejo, they will have the biggest influence on the soup's taste.
Bread: If you ever have leftover, stale bread, this is the recipe to rescue it with. Use crustless, stale white bread from a baguette or a boule. If you don't have any stale bread on hand, you can dry fresh bread in your oven. Cube and toast at 300°F until it's dry but not browned, about 15 minutes.
Extra virgin olive oil: Olive oil helps make salmorejo seem creamy without using any cream. Use high-quality extra virgin olive oil. Hojiblanca is a natural pairing, since it's from the same region where salmorejo originates. It will impart a nice peppery note.
Garlic: Because it's raw, just one garlic clove adds a delicious punch. If you're a garlic fiend like me, try two cloves.
Sherry vinegar: Sherry vinegar has a slight caramel taste and a milder flavor and acidity level than red or white wine vinegar. Rice vinegar happens to be the closest substitute in terms of taste.
Fine sea salt: Because salmorejo is a no-cook, blended soup, I prefer fine sea salt. Fine salt dissolves better than coarse or kosher salt.
Black pepper: Black pepper adds a little heat and brings out the other flavors in the soup.
Hard-boiled eggs: Salmorejo is typically garnished with chopped hard-boiled eggs (check out our guide for how to hard boil eggs for all of our tips and tricks). They help make the meal more substantial. You can leave them off to keep this soup vegan.
Jamón serrano: Spanish cured ham is another traditional, but optional, garnish. It adds a salty umami flavor to the soup.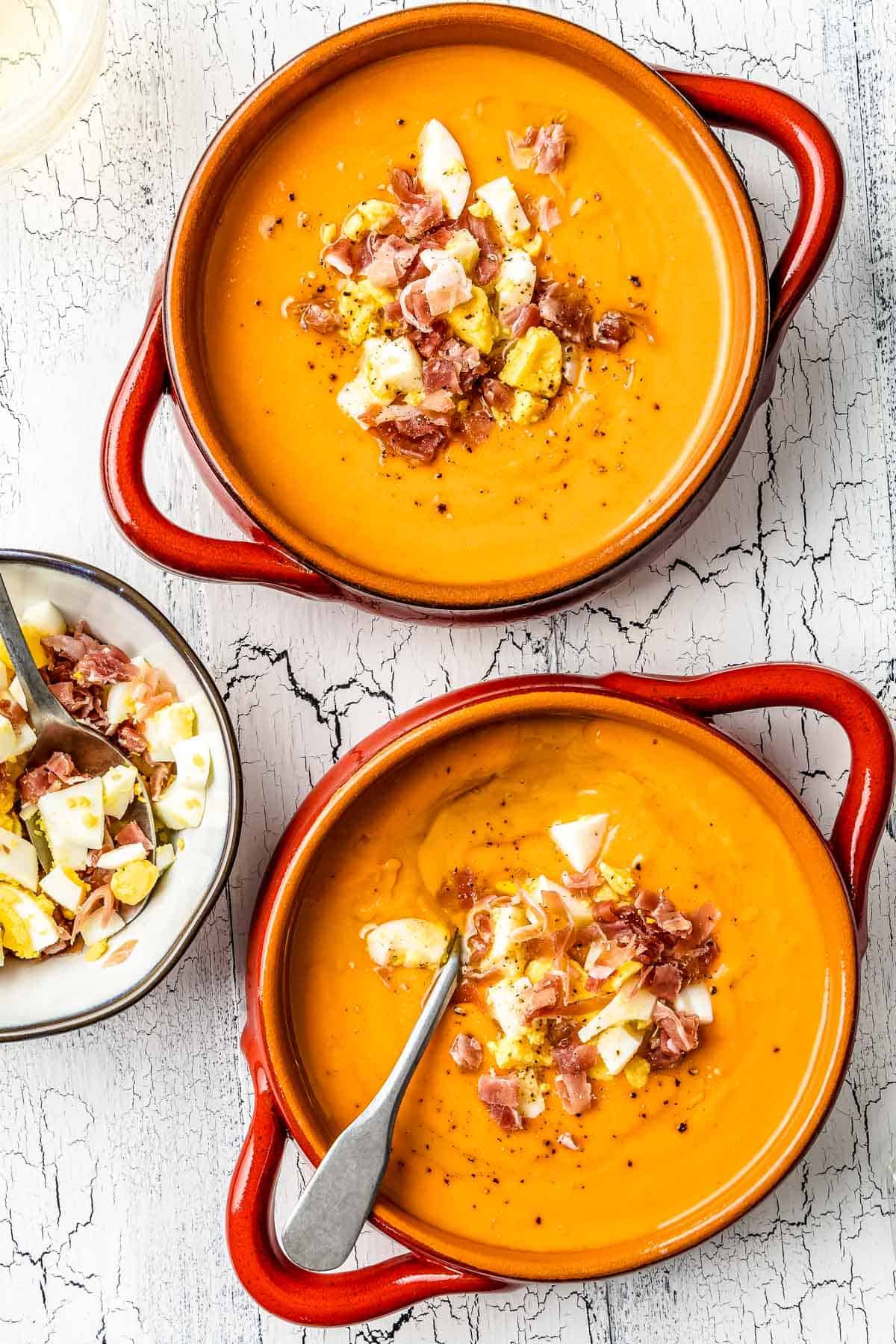 How to Make this Salmorejo Recipe
Making salmorejo couldn't be easier. Add all the ingredients to a blender and puree until completely smooth and creamy. You'll need to factor in some time for the soup to chill before serving, about 1 hour.
Blend: Core and coarsely chop 1 ½ pounds of ripe tomatoes. Add to a blender. Add 5 ounces of stale crustless bread, ⅓ cup of olive oil, and 1 crushed and peeled garlic clove. Season with 1 tablespoon of sherry vinegar ¾ teaspoon of fine sea salt, and ¼ teaspoon of black pepper. Blend on high speed until very smooth, 1 to 2 minutes. The soup should be thick and creamy, similar to the consistency of yogurt.
Thin: Depending on how juicy the tomatoes are, add up to ⅓ cup of cold water to thin the soup.
Chill: Cover and refrigerate the soup until chilled, at least 1 hour. Salmorejo is eaten cold, but this rest also gives time for the flavors to meld.
Serve: Divide the soup among four bowls. Garnish with 2 chopped hard-boiled eggs and ¼ pound of sliced ham. Drizzle with some extra-virgin olive oil and finish with a grind of black pepper.
The Best Tomatoes for Salmorejo
Your salmorejo will only be as good as your tomatoes! It's worth searching for the best, juiciest, and most flavorful tomatoes you can find.
In Spain, they use vine-ripe tomatoes. I've found that the vine-ripened tomatoes in US supermarkets aren't quite as flavorful.
Red heirloom varieties bred for flavor and picked at their peak are the optimal choice.
Check out your farmers' market in the summer months or try growing your own if you have a garden.
At the grocery store, I typically opt for plum tomatoes unless they have an heirloom variety available.
Choose tomatoes that are a deep red color, very juicy, and have a little give when gently squeezed.
There's no need to peel them before chopping and tossing them into the blender.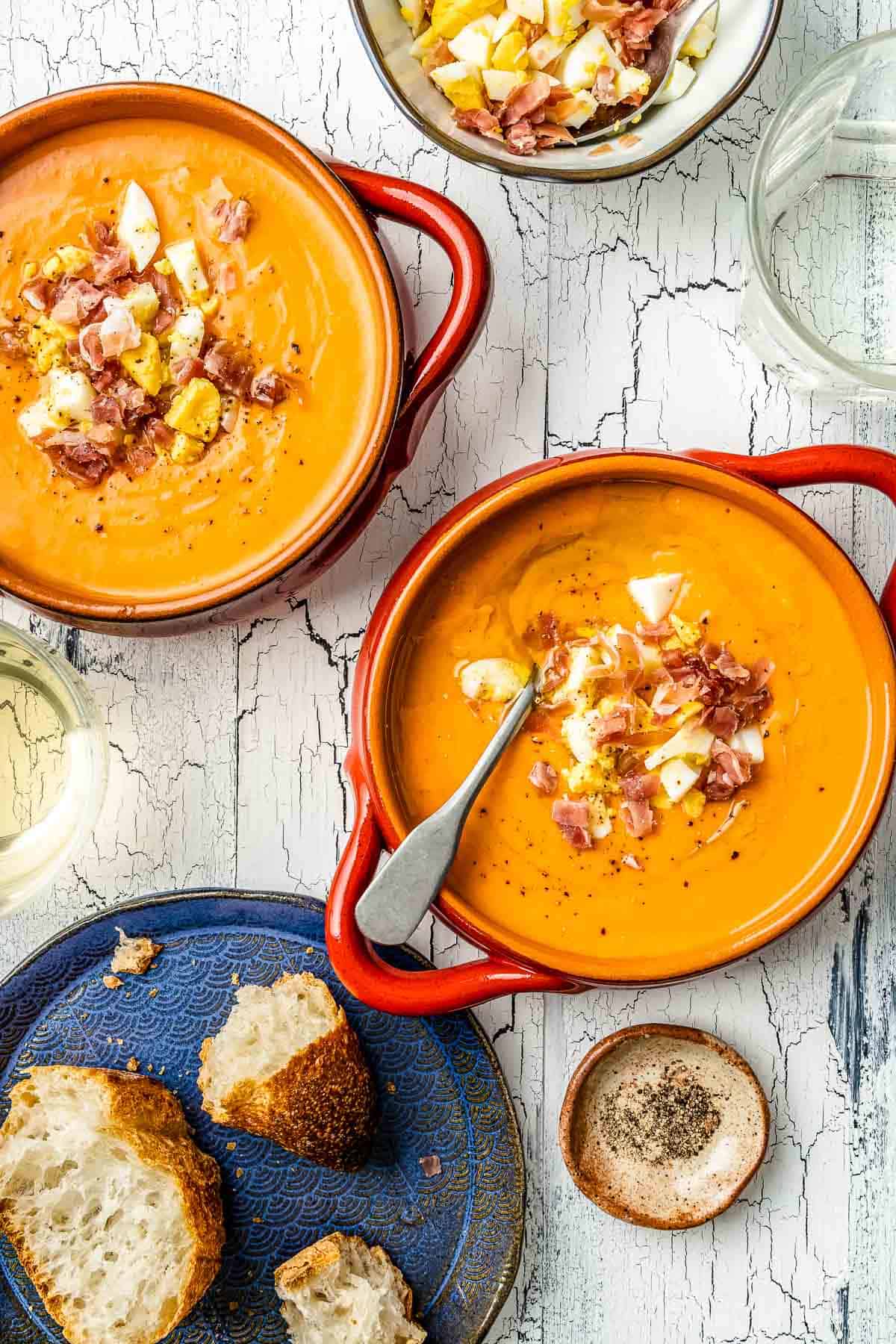 Salmorejo Tips
I've picked up a few tips and tricks over the years from friends. I've also kept track of my favorite ways restaurants serve salmorejo. Here are a few I've been known to use, depending on the occasion:
Make it richer: Add half a boiled egg into the blender with the other ingredients for a richer soup.
Make it vegetarian or vegan: For a vegetarian version, skip the ham. For a vegan version, skip both the egg and the ham. Instead, you can garnish the soup with diced bell peppers, cubes of roasted eggplant, sauteed mushrooms, croutons, or roasted spiced chickpeas.
Salmorejo sauce: Salmorejo isn't just a tapa! It also acts as a sauce for fried or grilled fish, especially sardines. If you'd like to use it as a sauce, leave out the water to keep its thick consistency.
What to Serve with Salmorejo
Salmorejo is often served as a light meal with some bread for dipping, or as a first course in a larger meal. You can also include it as a tapa with other Spanish small plates. Because Andalusia is bordered by both the Atlantic Ocean and the Mediterranean Sea, so locals serve salmorejo with a spread of seafood tapas. It works particularly well with gambas al ajillo, grilled or fried sardines, or fried calamari.
More Spanish Recipes to Try
Browse all Mediterranean recipes.
Visit Our Shop
Finish your Salmorejo with a drizzle of Spanish Extra Virgin Olive Oil
Bold and peppery, our Spanish olive oil is harvested from 100% Hojiblanca olives.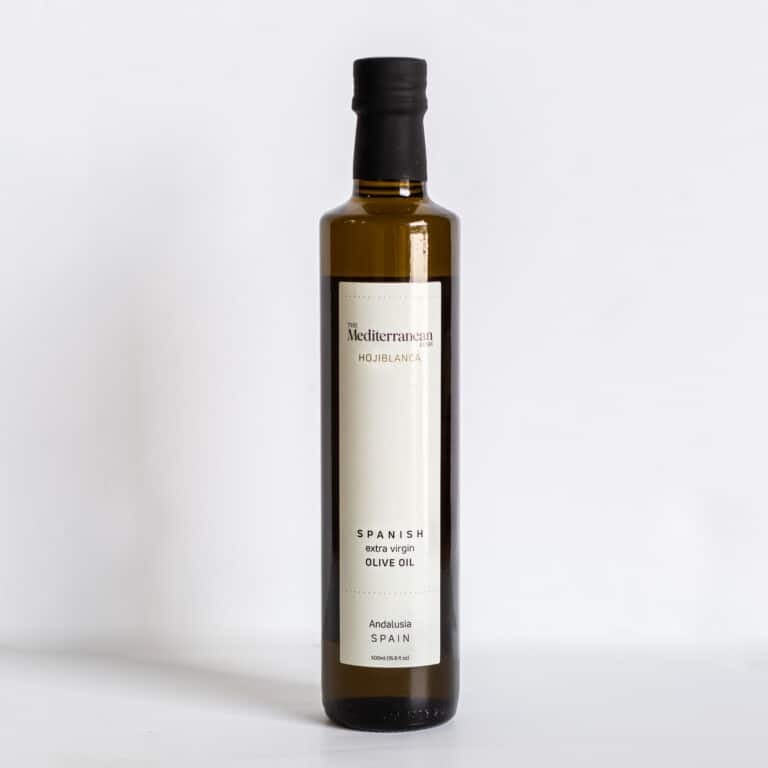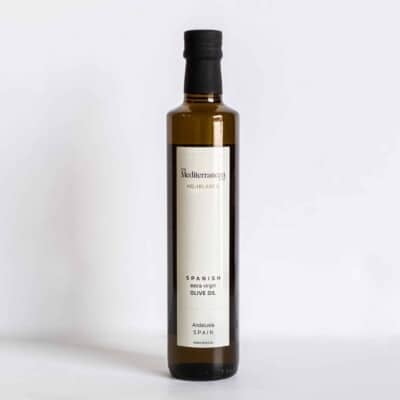 Salmorejo (Spanish Chilled Tomato Soup)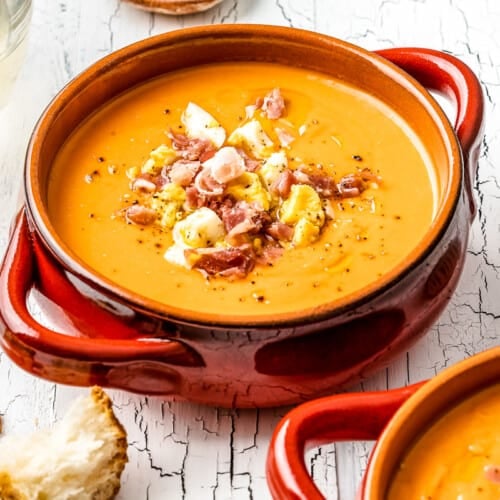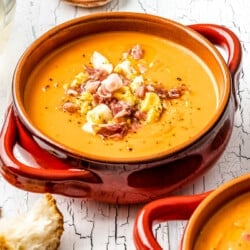 This traditional Spanish chilled tomato soup is a refreshing and flavorful dish, perfect for a hot summer day. Topped with sliced boiled egg and ham, it makes for a delicious and satisfying meal. Skip the toppings for an equally delicious vegan meal. With only a handful of ingredients and a few simple steps, you can get this classic Andalusian recipe chilling in your refrigerator in just 10 minutes.
Ingredients
1 ½

pounds

ripe tomatoes,

cored and coarsely chopped

5

ounces

stale (or lightly toasted) bread,

crust discarded, inside torn or chopped into bite-size pieces

⅓

cup

extra virgin olive oil,

plus more for drizzling

1

garlic clove,

crushed and peeled

1

tablespoon

sherry vinegar

¾

teaspoon

fine sea salt

¼

teaspoon

freshly ground black pepper,

plus more for serving

⅓

cup

80ml cold water

2

hard-boiled eggs,

chopped (optional)

¼

pound

diced jamón serrano or prosciutto,

finely chopped (optional)
Instructions
Puree the soup: In a blender, add the tomatoes, bread, olive oil, garlic, vinegar, salt, and pepper. Blend on high speed until very smooth, 1 to 2 minutes. The soup should be thick and creamy, similar to the consistency of yogurt. Depending on how juicy the tomatoes are, add up to ⅓ cup of cold water to thin the soup.

Chill: Cover and refrigerate until chilled, at least 1 hour.

Serve: Divide the soup among 4 serving bowls. Garnish with the hard-boiled eggs and ham if using. Drizzle with olive oil and sprinkle with a grind of black pepper. Serve cold.
Notes
To make this soup into a sauce, don't add water. Spoon onto grilled salmon or grilled chicken breast.
Check out our guide for how to hard boil eggs to perfection every time.
Visit our shop to browse quality Mediterranean ingredients including olive oils, honey, jams and spices.
Nutrition
Calories:
445.9
kcal
Carbohydrates:
24.4
g
Protein:
12.1
g
Fat:
33.9
g
Saturated Fat:
7.4
g
Polyunsaturated Fat:
4.8
g
Monounsaturated Fat:
19.4
g
Trans Fat:
0.05
g
Cholesterol:
112
mg
Sodium:
832.6
mg
Potassium:
547.1
mg
Fiber:
3.5
g
Sugar:
6.8
g
Vitamin A:
1558.9
IU
Vitamin C:
23.6
mg
Calcium:
78.4
mg
Iron:
2.3
mg