Pan con Tomate (Spanish Tomato Bread) is a popular Catalan tapa made with simple ingredients including fresh tomatoes, hearty bread, garlic, and olive oil! A few tips make all the difference...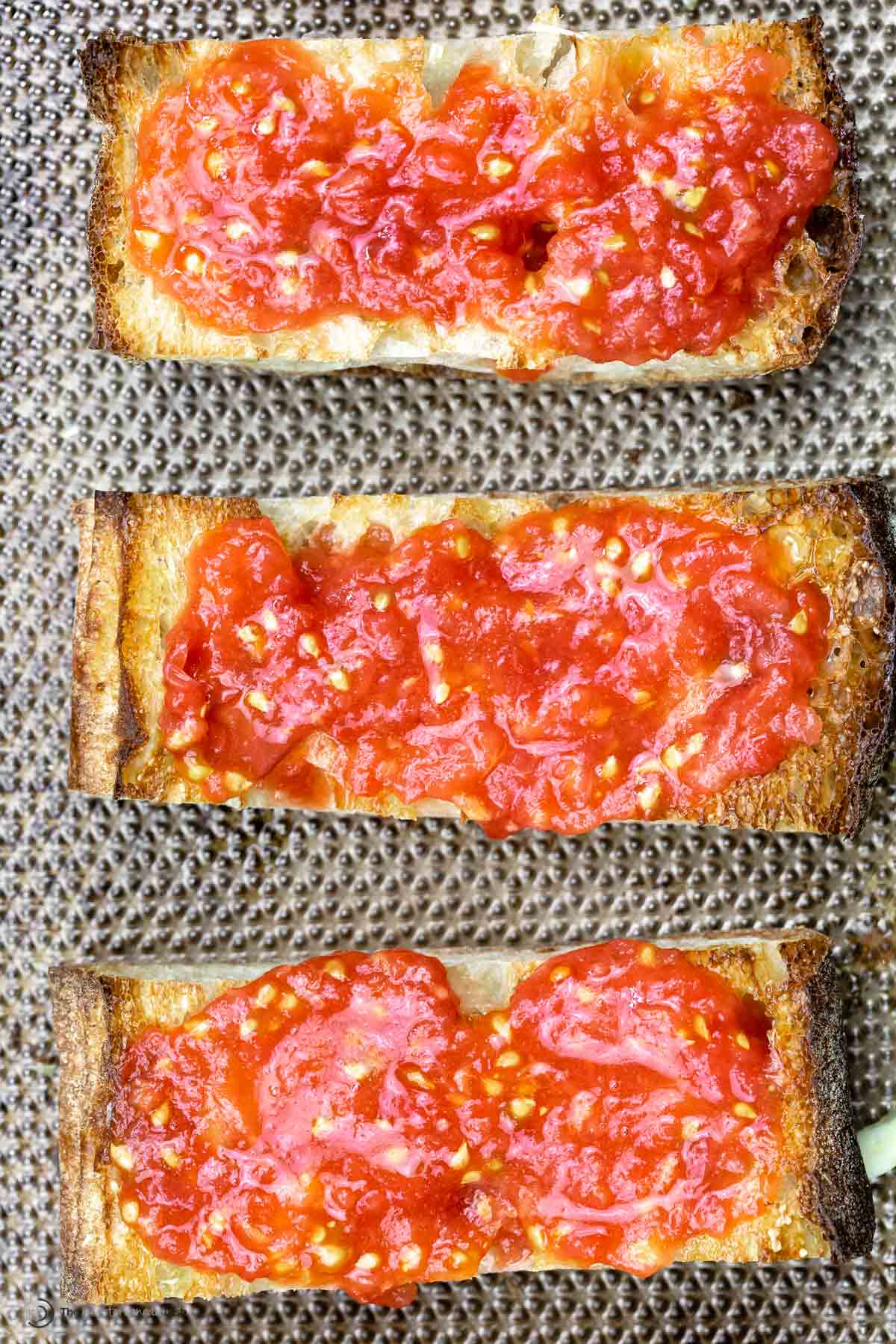 I love a good garlic bread to start a meal, but today's recipe is next level bread deliciousness!
Tomato bread the Spanish way!
Also known as pan tumaca or pa amb tomaquet, pan con tomate literally translates to "bread with tomato." It is made with a few simple ingredients: fresh ripe tomatoes, garlic, good extra virgin olive oil, and a dash of salt.
This tomato bread is a prime example of turning a few humble fresh ingredients into something that is far more than the sum of its parts. So good, you'll be hard-pressed to find a tapas bar in Catalonia where several tables are not enjoying this dish!
Next to my heirloom tomato salad, this is one of my favorite ways to use up summer tomatoes, especially when they get too ripe in my basket.
Pan con tomate vs bruschetta
What's the difference between Spanish tomato bread and bruschetta? Both are ways of serving tomato atop slices of bread, but they are slightly different.
Bruschetta is served with small chopped tomatoes, often mixed with other herbs and ingredients, atop of crostini or small pieces of crusty bread. Pan de tomate is even simpler and is made by rubbing fresh garlic and ripe tomatoes directly over warmed rustic bread.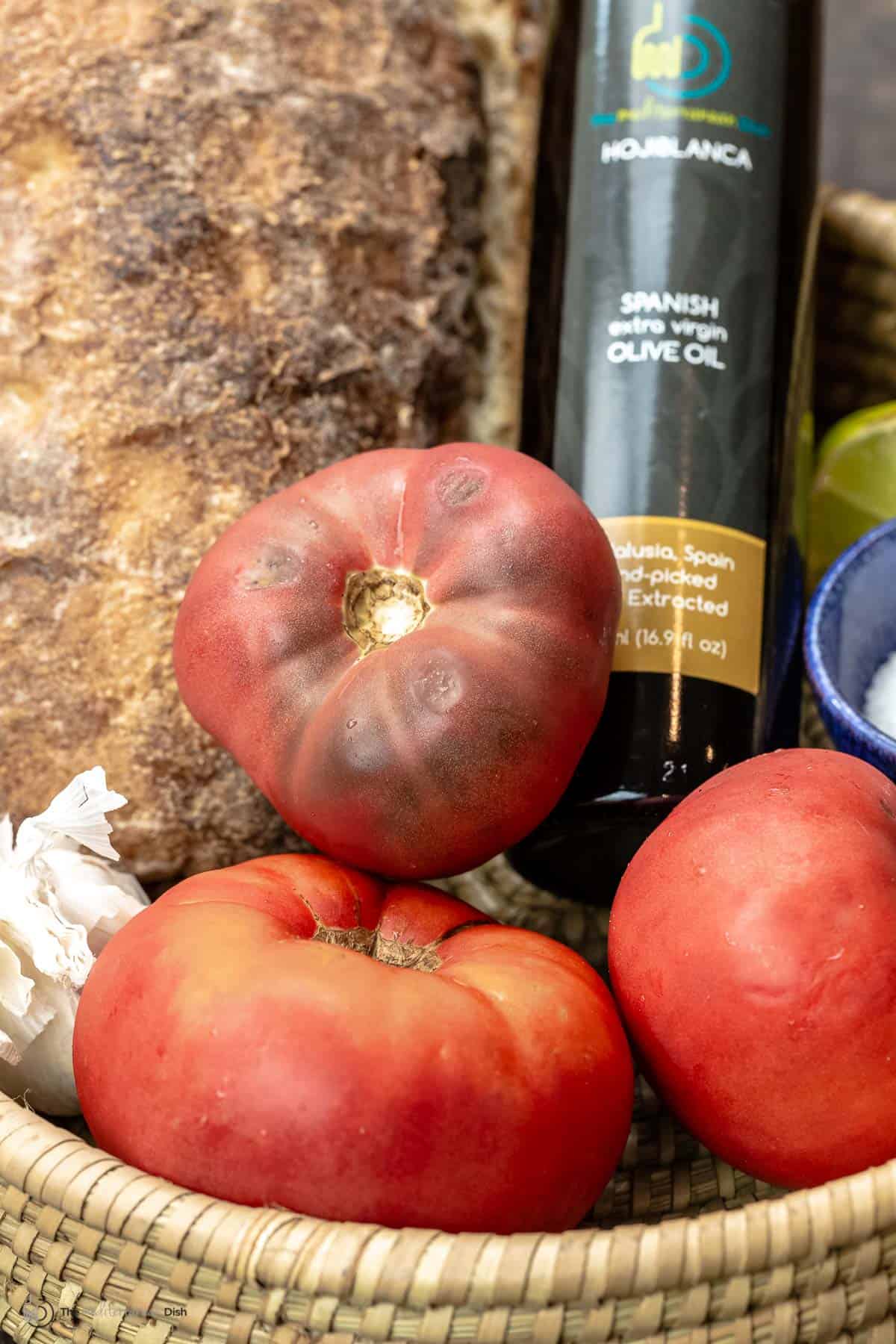 A twist on the traditional Spanish pan con tomate
While the list of ingredients in today's pan con tomate recipe stays pretty true to tradition, the preparation is slightly different. Traditionally, you would be served bread, tomatoes, and garlic at the table and you would proceed to make your own tomato bread by simply rubbing your sliver of garlic and your tomato directly over the bread and eating it. But in today's recipe, to make things easier, I choose to serve the tomato bread already assembled.
Using an old fashioned box grater is the easiest way to get rid of the tomato skins and turn your fresh, extra ripe tomatoes into a bit of a puree to spread over some lightly oiled and toasted bread slices.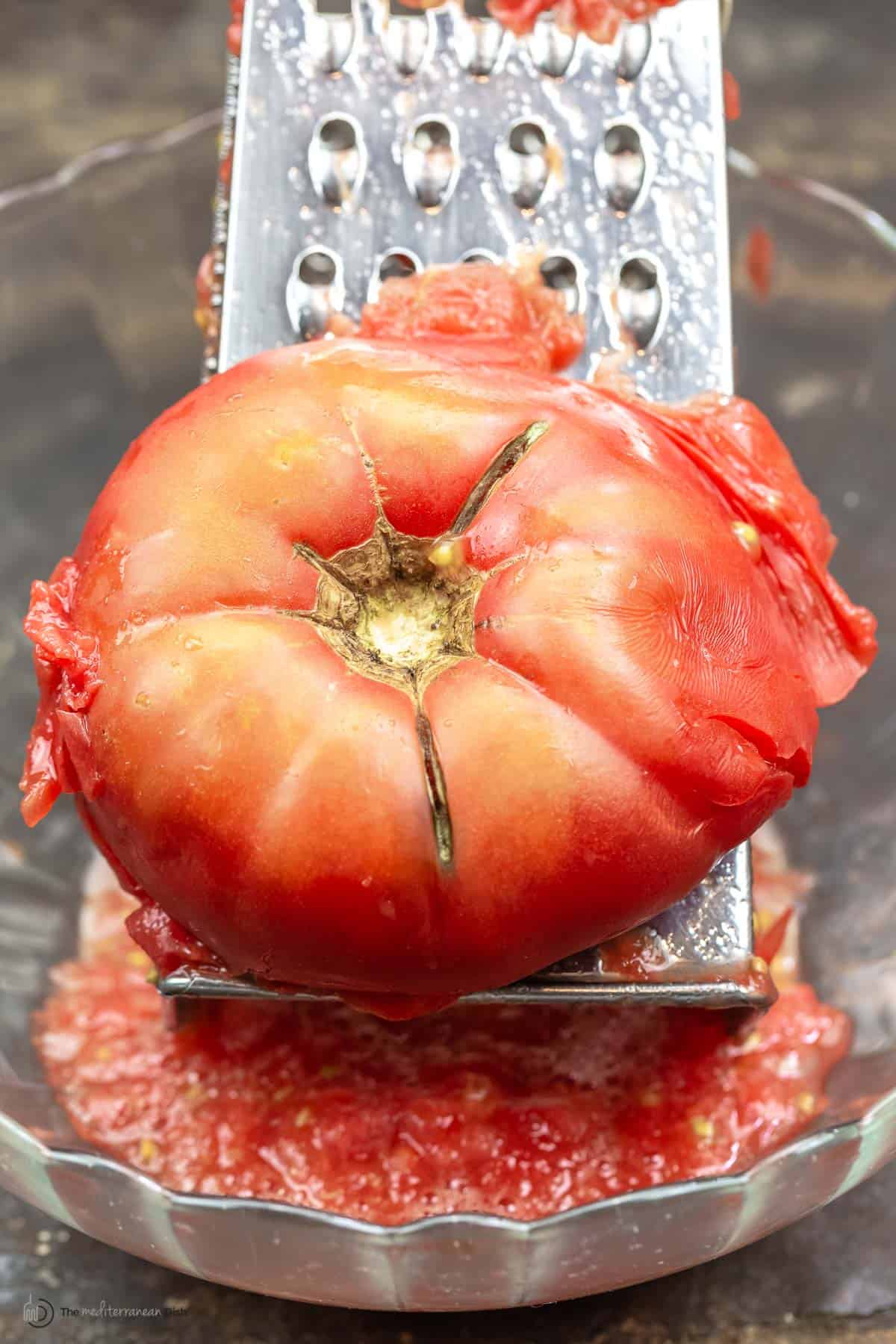 Ingredients you need to make pan con tomato
This Catalan tomato bread is made with just a few basic ingredients. But it's important to start with quality ingredients from good hearty bread, to fresh tomatoes, and delicious olive oil. Here is what you'll need to make this pan con tomate recipe
Russtic bread (I used Ciabatta bread) - Day old bread is fine here, but make sure it is thick artisan-style bread that can make a sturdy base for the tomatoes.
Tomatoes - You'll need 3 large and very ripe tomatoes. I went with heirloom tomatoes this time.
Extra virgin olive oil - For this recipe, I can't help but use my Hojiblanca Spanish Extra Virgin Olive oil, which is moderately intense and fruity with aroma reminiscent of fresh cut grass, apple, and tomato!
Garlic - A large clove is best for rubbing all over the bread.
Salt - You can use sea salt or kosher salt in this recipe.
Lime juice - Optional but adds a nice flavor to contrast the tomato and garlic.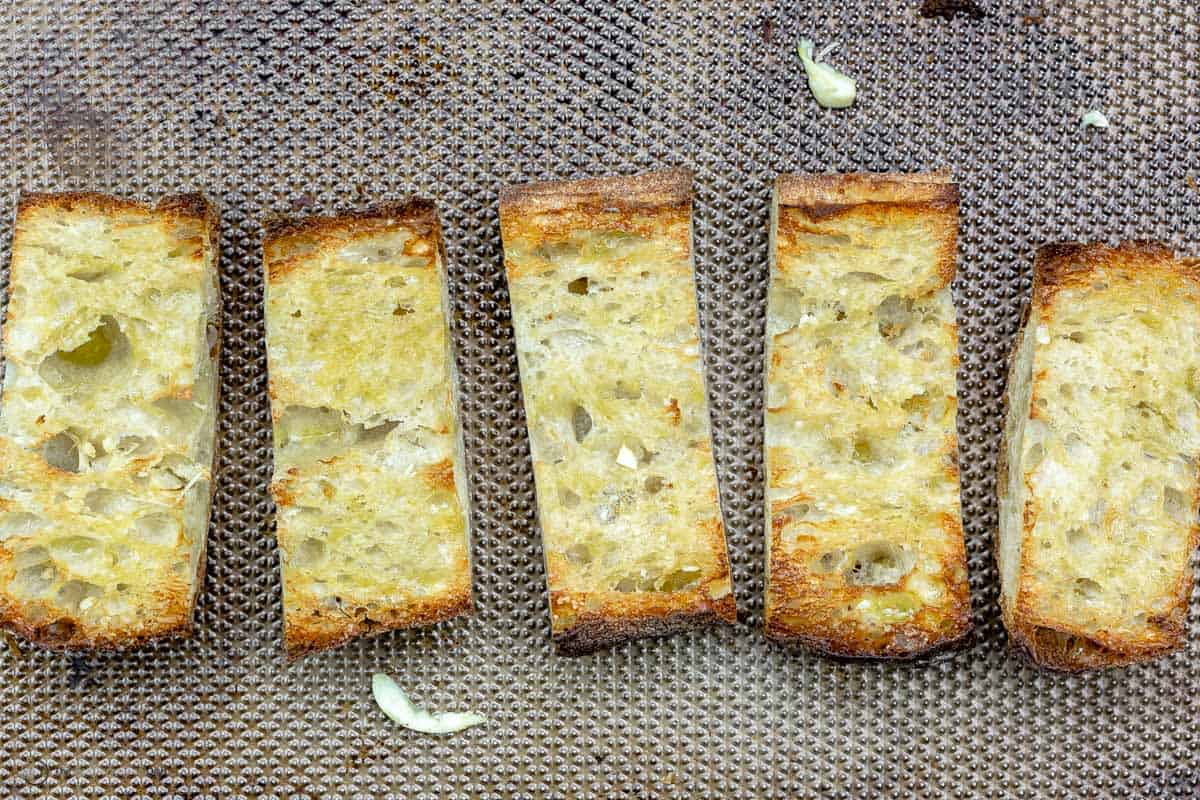 How to make pan con tomate
This easy tapa recipe comes together in under 10 minutes, making it a quick and easy appetizer, snack or side dish!
Oil and toast the bread. Slice the ciabatta loaf in half length-wise then into 2-inch slices. Brush with good olive oil and arrange on a sheet pan. Toast about 6 inches from the broiler for 3 minutes or less, until golden brown.
Grate the tomatoes. Make a small cut at the top of the tomato an over the large holes of a box grater. Season with salt and a splash of lime juice (optional).
Assemble the tomato bread. When the bread is ready, rub the garlic cloves over the hot bread. Spread the tomato puree over the bread and then serve.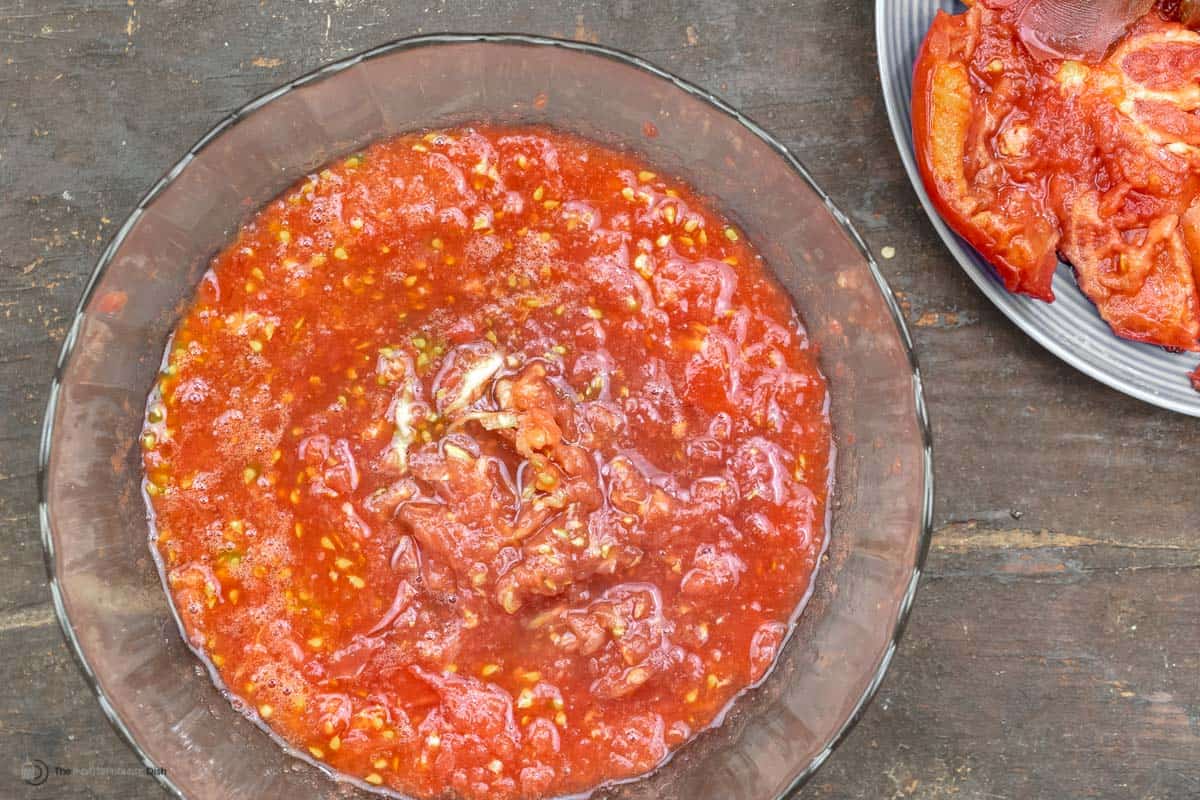 Tips for success
With such simple ingredients and so few steps, there's little you can do wrong when making pan de tomate! Just keep these few in mind for the best-tasting tomato bread possible:
Slice the bread nice and thick. Select a hearty bread and slice it a bit thicker than you might for sandwiches, this will give you a sturdier base for the tomato puree.
Use ripe tomatoes. Super ripe, juicy tomatoes are key to making pan con tomate.
Season simply. Aside from the garlic rubbed all over the warmed bread, a good pinch of sea salt or kosher salt is all you need to season. And if you want to amp up the flavo of the tomatoes, a splash of lime juice is a great idea. But otherwise, nothing else is needed.
Serve soon after you prepare the tomato bread. It's a good idea to wait a few minutes for the juices and flavors to absorb into the bread. However, be sure to serve pan con tomate quickly, to pevent the bread from becoming soggy.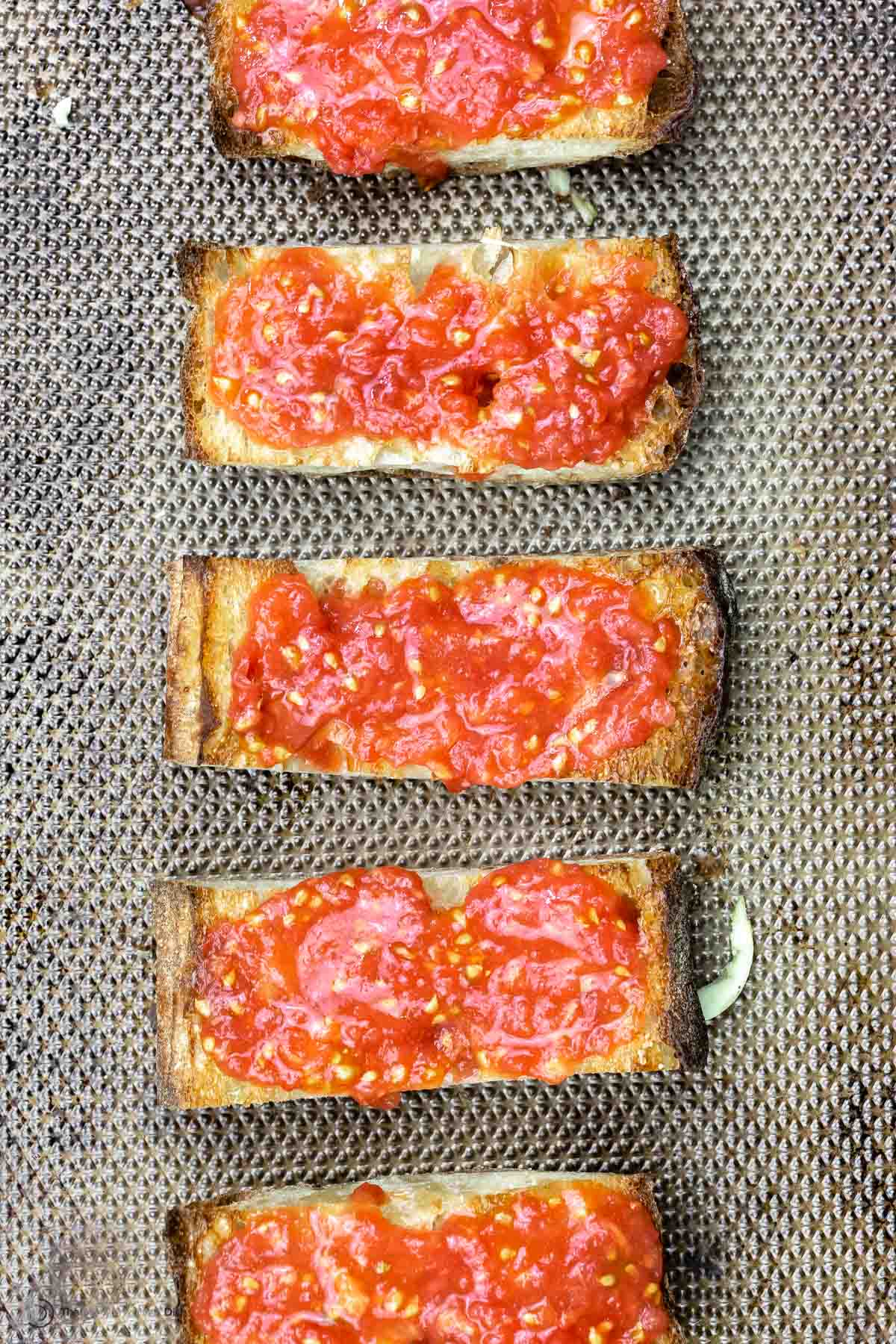 Serving ideas and suggestion
While this Spanish tomato bread is most often served very simply, with just the ingredients described above, you can also serve it with toppings. Some common, popular toppings are Spanish serrano ham, Manchego cheese, roasted mushrooms and olives.
Serve pan con tomate tapas-style with easy Spanish cocktails, like Tinto De Verano or Agua De València. Or as an appetizer or side dish to any meal. Just be sure to serve and enjoy within a few minutes of preparing, as the tomato puree juices can make the bread soggy if it sits for too long.
More easy tomato dishes:
Browse 30+ Mediterranean Fresh Tomato Recipes. More Spanish-inspired recipes.
Pan Con Tomate (Spanish Tomato Bread)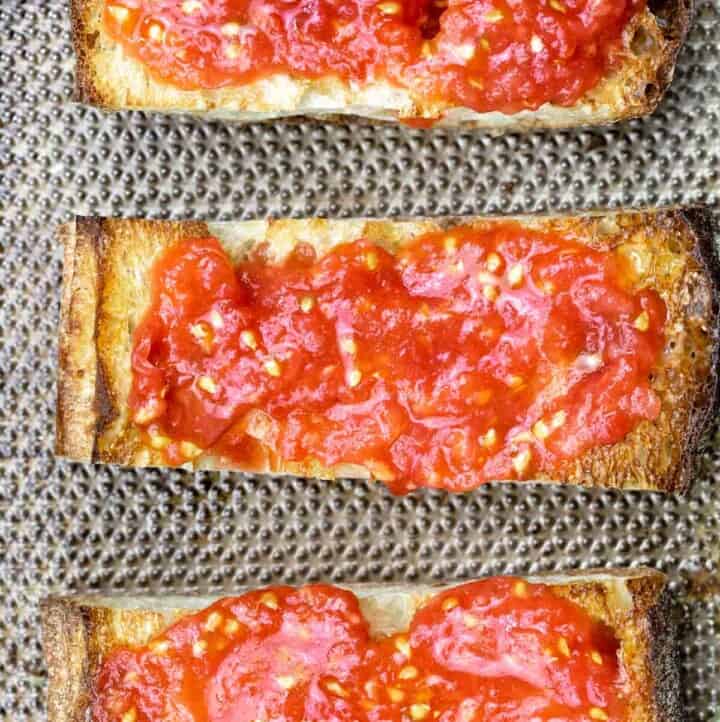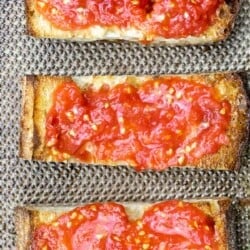 A perfect use of ripe summer tomatoes and day-old bread, Pan con Tomate (Spanish Tomato Bread) is an easy Catalan tapa, made with just 5 ingredients: bread, tomatoes, garlic, salt, and a splash of lime juice. Use hearty artisan bread and cut it thick so that it can serve as good, sturdy base for your grated tomatoes.
Ingredients
1

loaf

ciabatta bread,

or similar hearty bread

3

tomatoes,

large and very ripe tomatoes are best, I used heirloom tomatoes

1 to 2

garlic cloves,

sliced in half

sea salt,

or kosher salt

splash of fresh lime juice

(optional)
Instructions
Turn the broiler function of your oven and position a rack about 6 inches away from the heat source.

Slice the bread loaf in half length-wise then in 2-inch slices. Brush the bread generously with extra virgin olive oil and arrange on a sheet pan. Toast in the heated oven about 6 inches from the broiler for 3 minutes or until the bread is lightly golden brown.

Slice a small part at the very tip of the tomatoes and grate the tomatoes over the large holes of a box grater. Discard the peels. Season the tomato puree with salt and a splash of lime juice, if you like.

When the bread is ready, rub the garlic cloves over the hot bread, then spread the grated tomatoes over the bread. Serve.
Notes
This tomato bread is best served soon after you prepare it. Do not wait too long where the bread can get soggy.
This recipe makes about 10 slices of tomato bread, you can plan on 2 slices per person.
Visit Our Shop to browse quality Mediterranean ingredients including extra virgin olive oils and spices
Nutrition
Calories:
110.1
kcal
Carbohydrates:
22.6
g
Protein:
4.2
g
Fat:
0.4
g
Saturated Fat:
0.2
g
Sodium:
222.4
mg
Potassium:
88.7
mg
Fiber:
0.9
g
Sugar:
1
g
Vitamin A:
307.4
IU
Vitamin C:
5.1
mg
Calcium:
4.2
mg
Iron:
0.1
mg