There are so many ways to use fresh, juicy, perfectly ripe tomatoes. And today, we go beyond the obvious and dig into the BEST fresh tomato recipes that are NOT salads--from simple dinners like chicken caprese, to flavor-packed olive oil pasta, salmon dinners and more!
Tomato recipes for every meal of the week. And best part? They are all easy and loaded with Mediterranean flavors. There is something for everyone on this list of tomato recipes.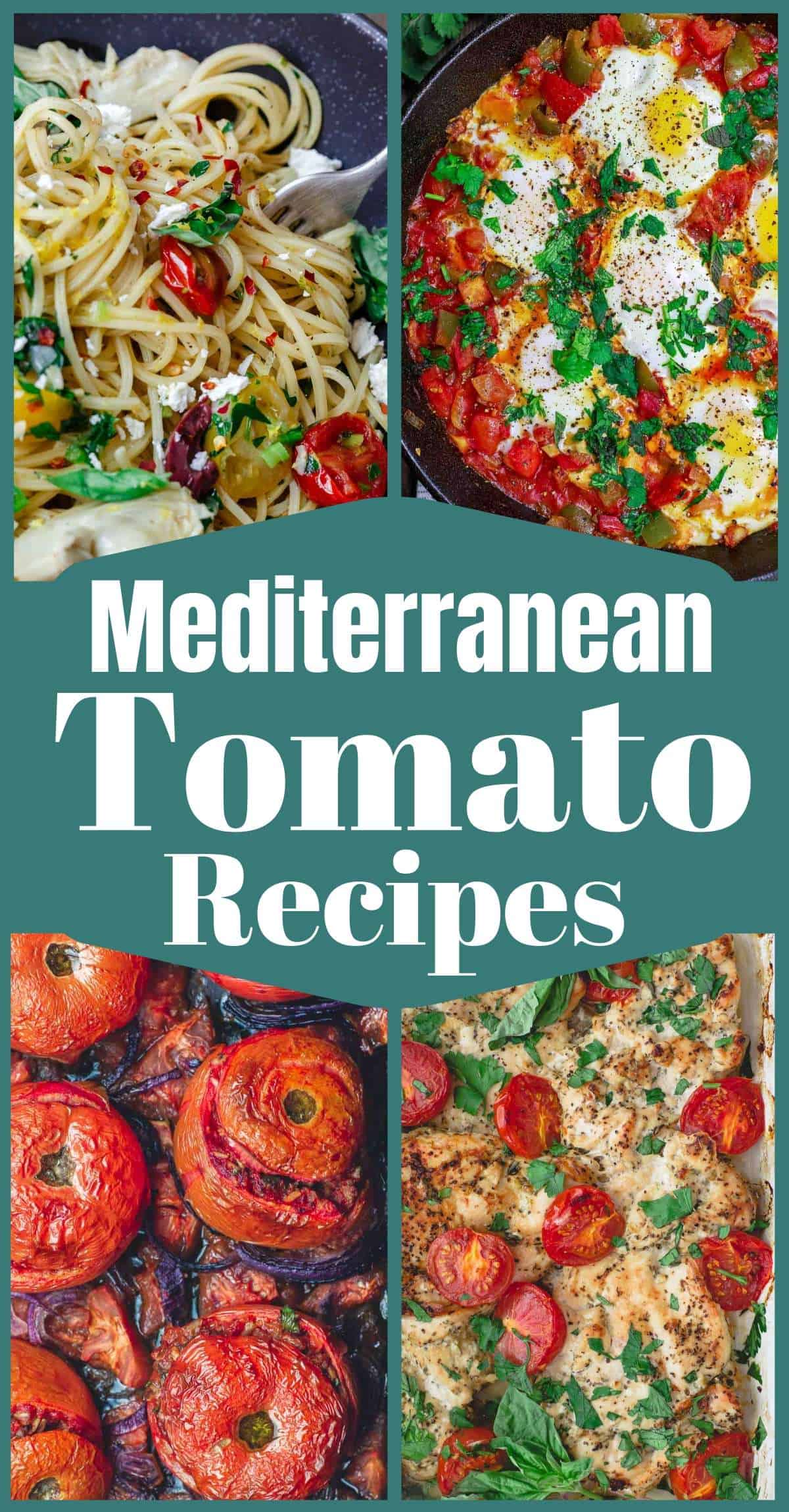 Tomato Recipes and Eating The Mediterranean Way
If you've been cooking the Mediterranean way for any amount of time, you probably noticed that tomatoes are a constant on the Mediterranean shopping list. A truly Mediterranean kitchen utilizes tomatoes almost on a daily basis and in all forms tomatoes come in--fresh, canned, stewed, roasted, you name it!
Fresh tomato season is one of my absolute favorite times of the year. I mean, is there anything better than biting on a juicy, sweet tomato?! Of course, the obvious use of fresh ripe tomatoes is all sorts of beautiful salads from tabouli to Greek salad and this beautiful herby tomato salad. But, today, we're going to focus on tomato recipes that are NOT salads.
There are literally hundreds of ways to use tomatoes in Mediterranean cooking--from quick Mediterranean skillet chicken, to baked fish, stuffed tomatoes and everything in between! And yes, the humble tomato can even make the best of breakfasts...Shakshuka, anyone?
Because it is so hard for me to share just a few fresh tomato recipes, today's selection of tomato recipes represents fan-favorites. A handful of tried-n-true tomato recipes that readers of this blog deemed a must-try! And I think you'll love the variety this list of tomato recipes offers.
And as fresh tomatoes are the subject of today and a main ingredient in our list of recipes, it's important that you select the best ripe tomatoes to begin with.
How can you tell if your tomatoes are ripe?
A perfectly ripe tomato, is, first of all, still somewhat firm but yielding slightly to the touch. The skin is glossy. And you can easily smell the tomato's fragrant and fruity scent.
I generally keep my tomatoes in a bowl on the kitchen counter; unless they are too ripe. And when I have tomatoes that are not perfectly ripe and ready for use, I simply employ the paper bag trick--put them in a paper bag with a banana or apple and check up on them in a day or two.
Okay, so what to do with those perfectly ripe tomatoes? Let's get to the tasty recipes of today...
15 Mediterranean Tomato Recipes that are Not Salad
(click on recipe name to see the full recipe)
Yes, it's completely possible to make the best, super rich, delicious, to-die-for roasted tomato basil soup that is vegan and gluten free! And this one is it! You'll love the layers of flavor in this easy tomato soup. Best part? You can make a big batch and freeze it for later!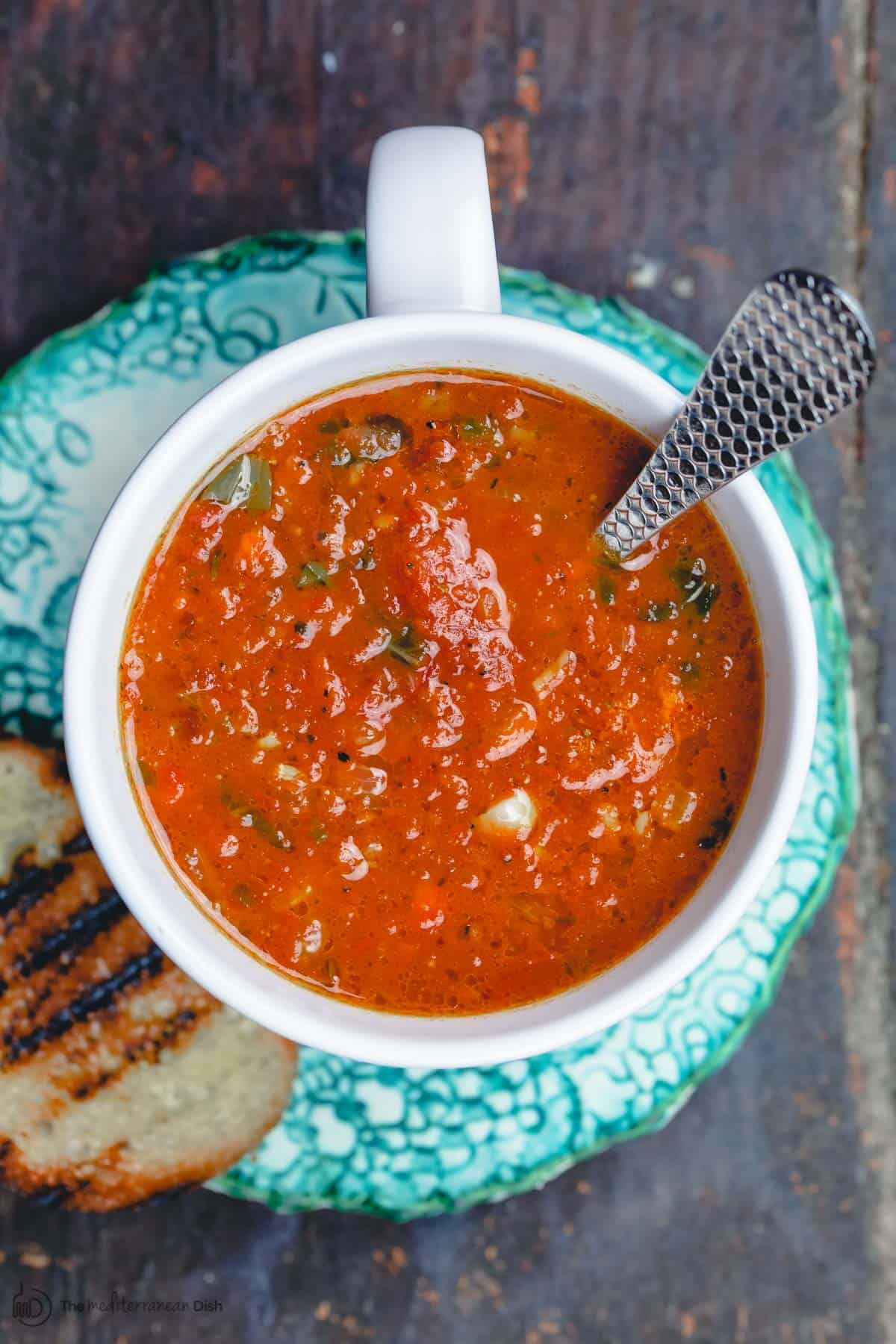 Shakshuka is your excuse to turn a few eggs and some ripe tomatoes into breakfast, lunch or dinner. If you're not familiar, shaskhuka is basically eggs poached in a perfectly-spiced vegetarian stew of tomatoes and green peppers. Add your favorite crusty bread to sop up all the goodness.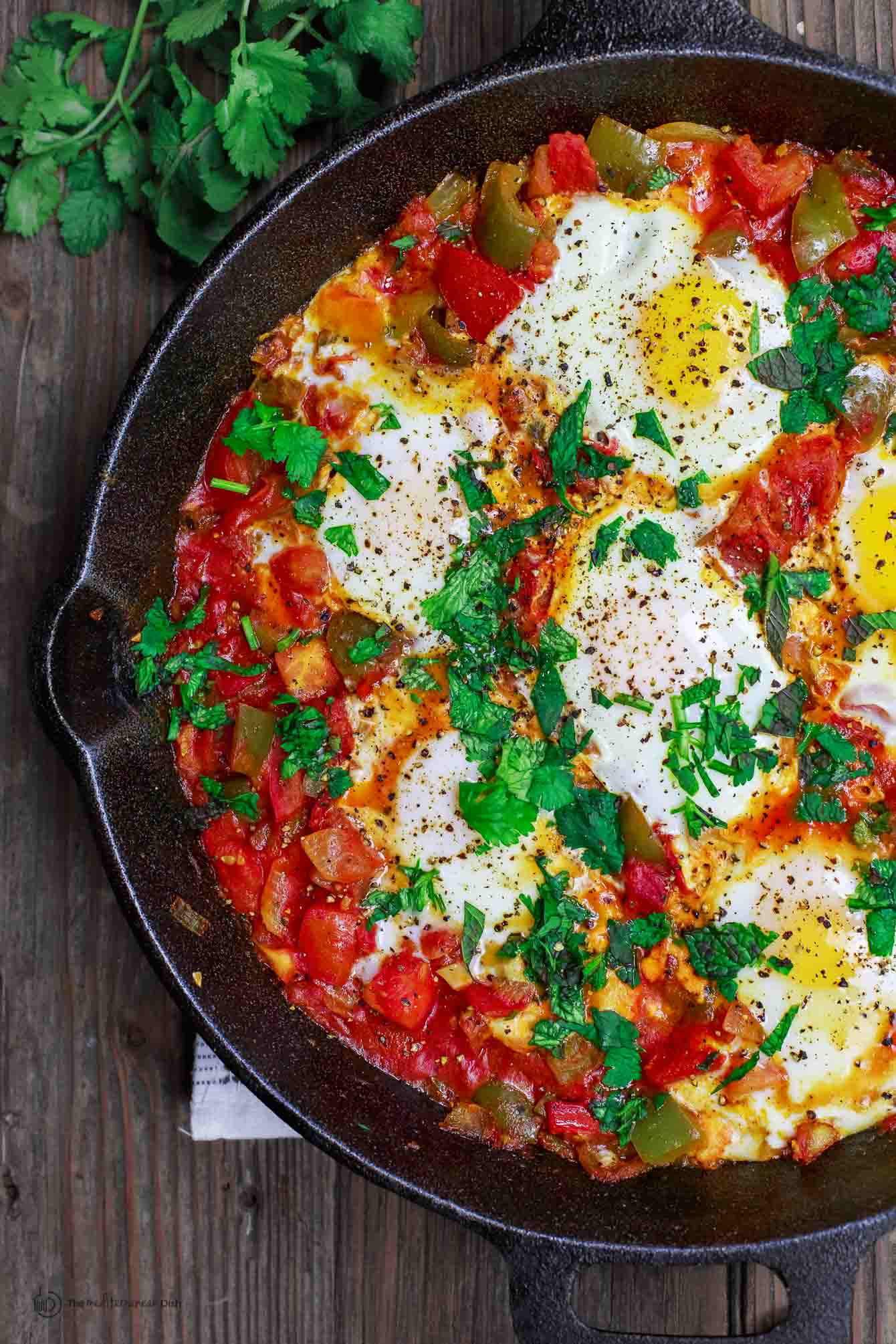 Real talk: this is the perfect weeknight dinner. It takes very little prep and only 15 minutes to cook! Lots of bright Mediterranean flavors from tomatoes to fresh herbs, olives and a sprinkle of feta.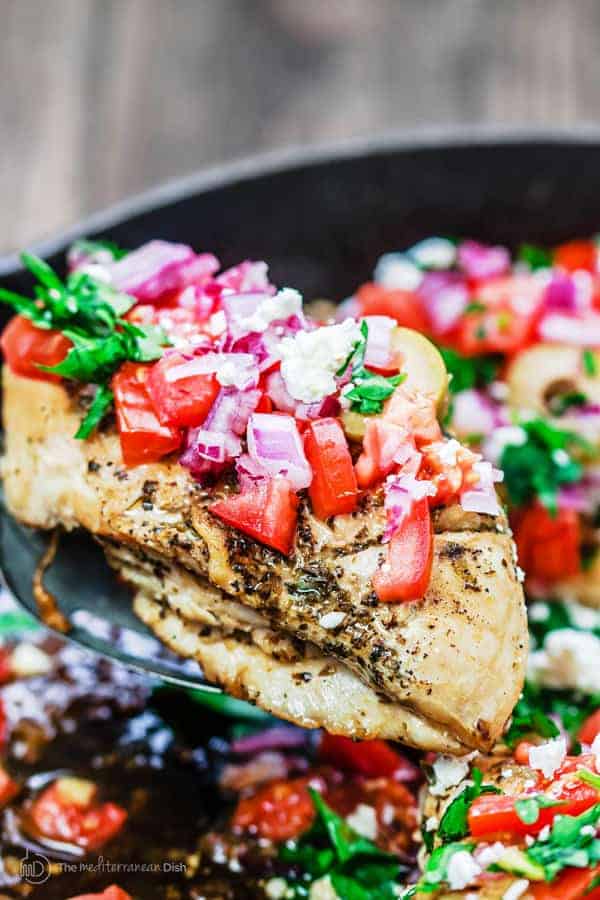 Beautiful ripe tomatoes stuffed with a hearty Greek-style mixture of ground meat, rice with onions, garlic, and fragrant spices like cumin, oregano, and nutmeg, and fresh herbs. A generous drizzle of extra virgin olive oil helps these stuffed tomatoes as they bake to delicious, tender perfection.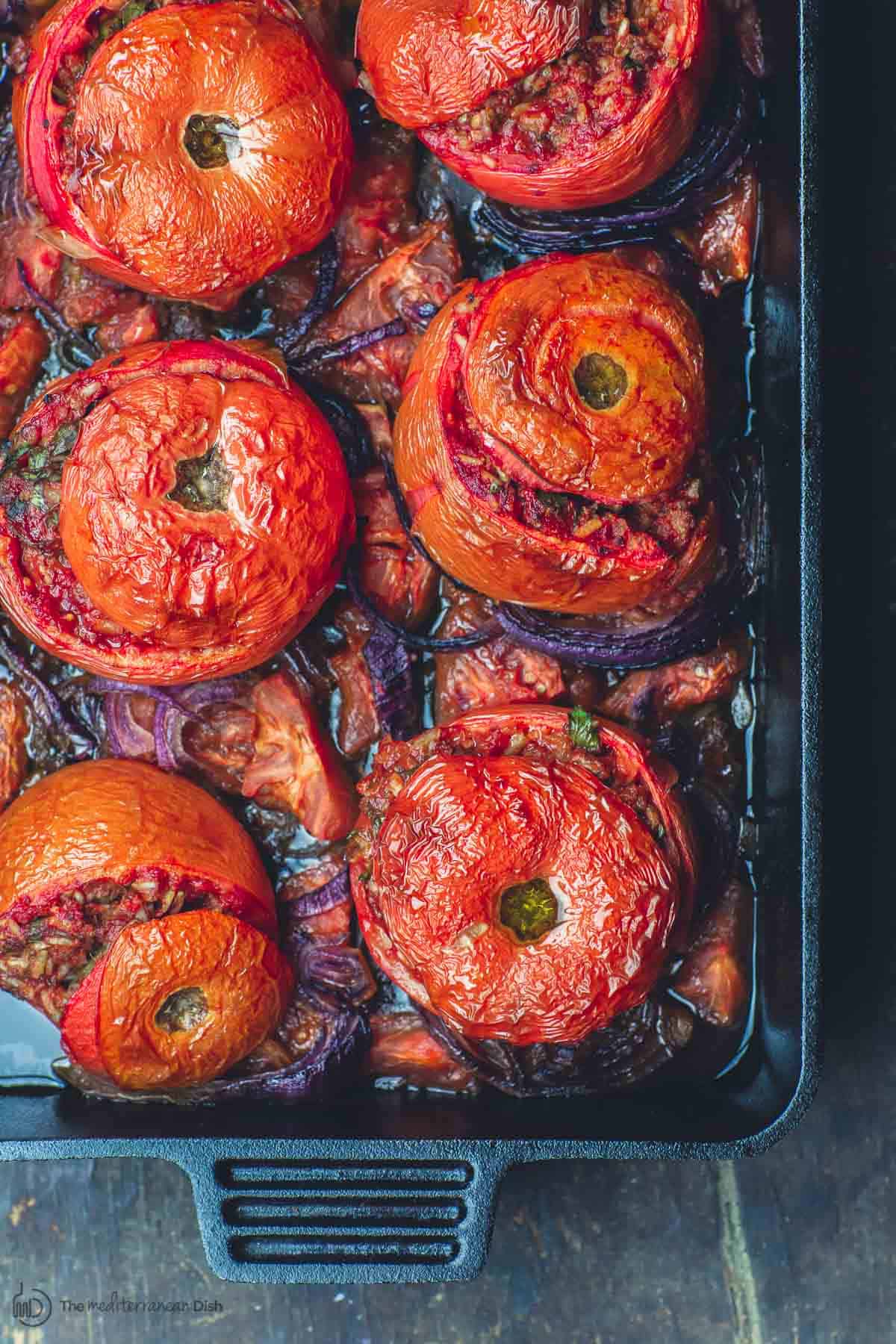 This is a fan-favorite for a reason! No heavy sauce needed, this pasta is tossed in a delicate sauce with extra virgin olive oil with garlic, tomatoes, fresh herbs and other Mediterranean favorites like artichoke hearts, olives and feta.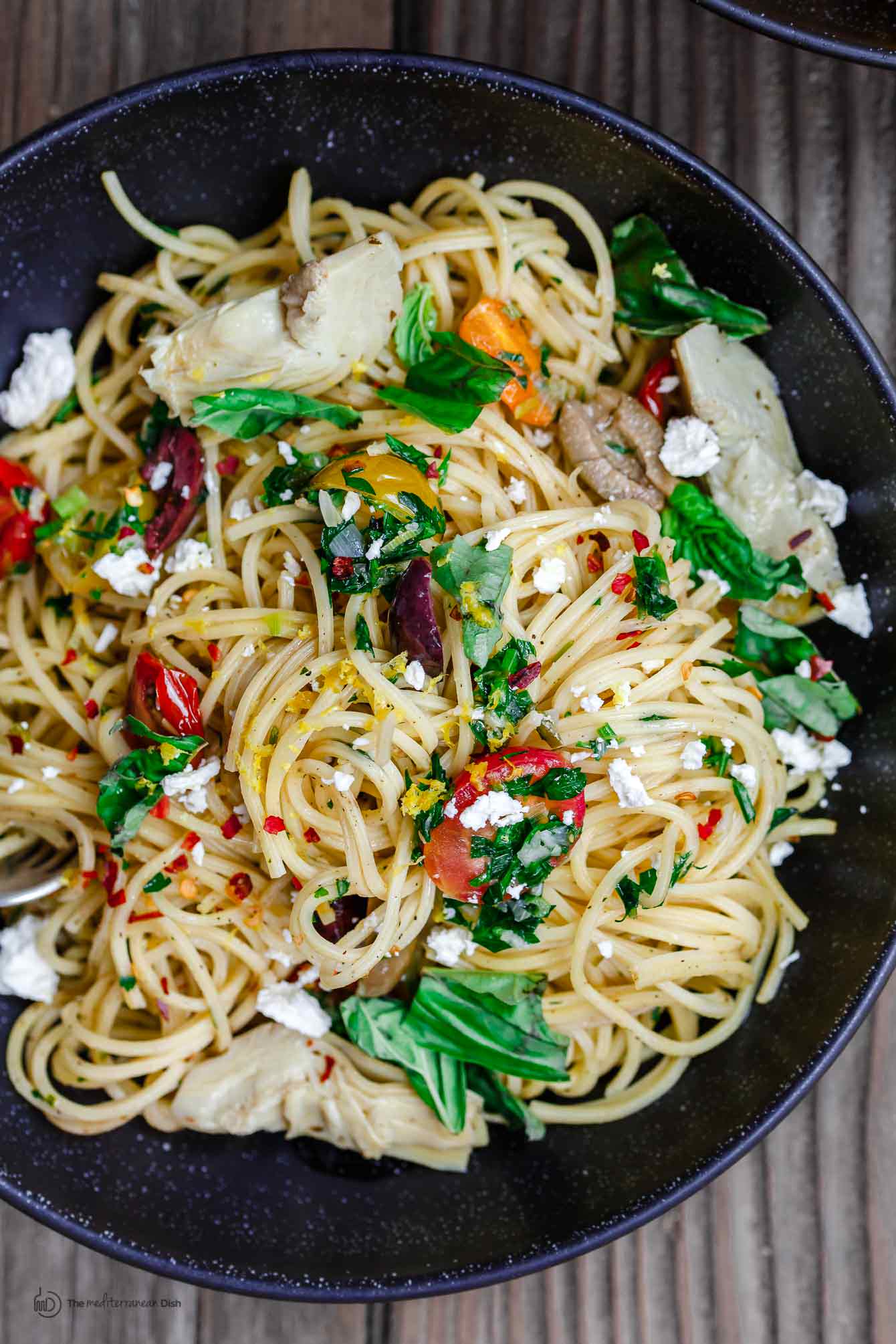 Roasting tomatoes is a sure way to coax out all the flavor! In this recipe, Campari tomatoes take a quick toss with extra virgin olive oil, garlic, and fresh thyme, then roasted quickly in a a high-heated oven until super tender and bursting with intense, concentrated flavor! Perfect as a side dish or to use in soups or pastas...so many ways to use roasted tomatoes!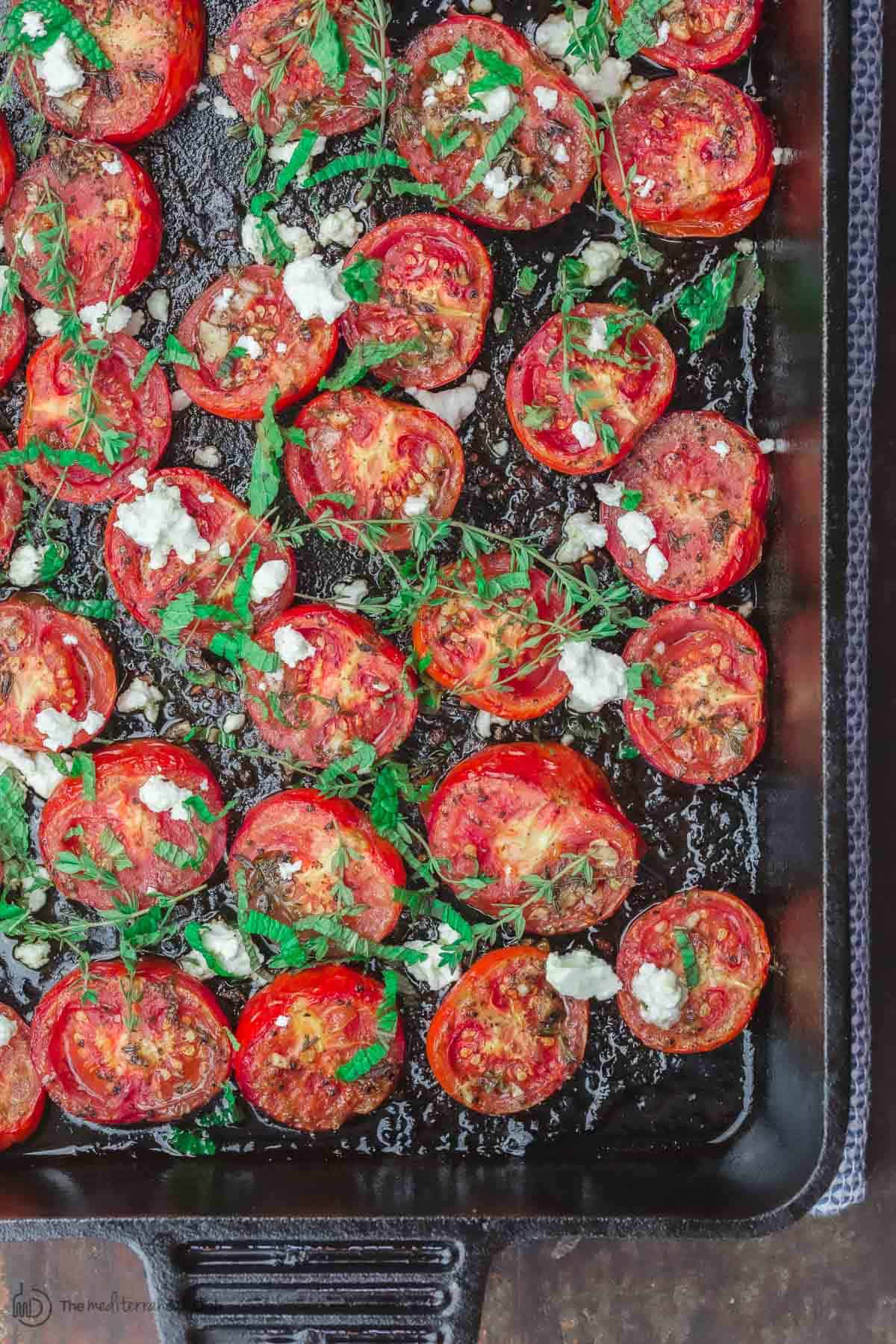 Give your baked fish dinner a Sicilian twist the secret to this recipe is in the simple fresh tomato sauce with tomatoes and capers. Comes together in 35 minutes! Tip: Serve it with this Lebanese rice.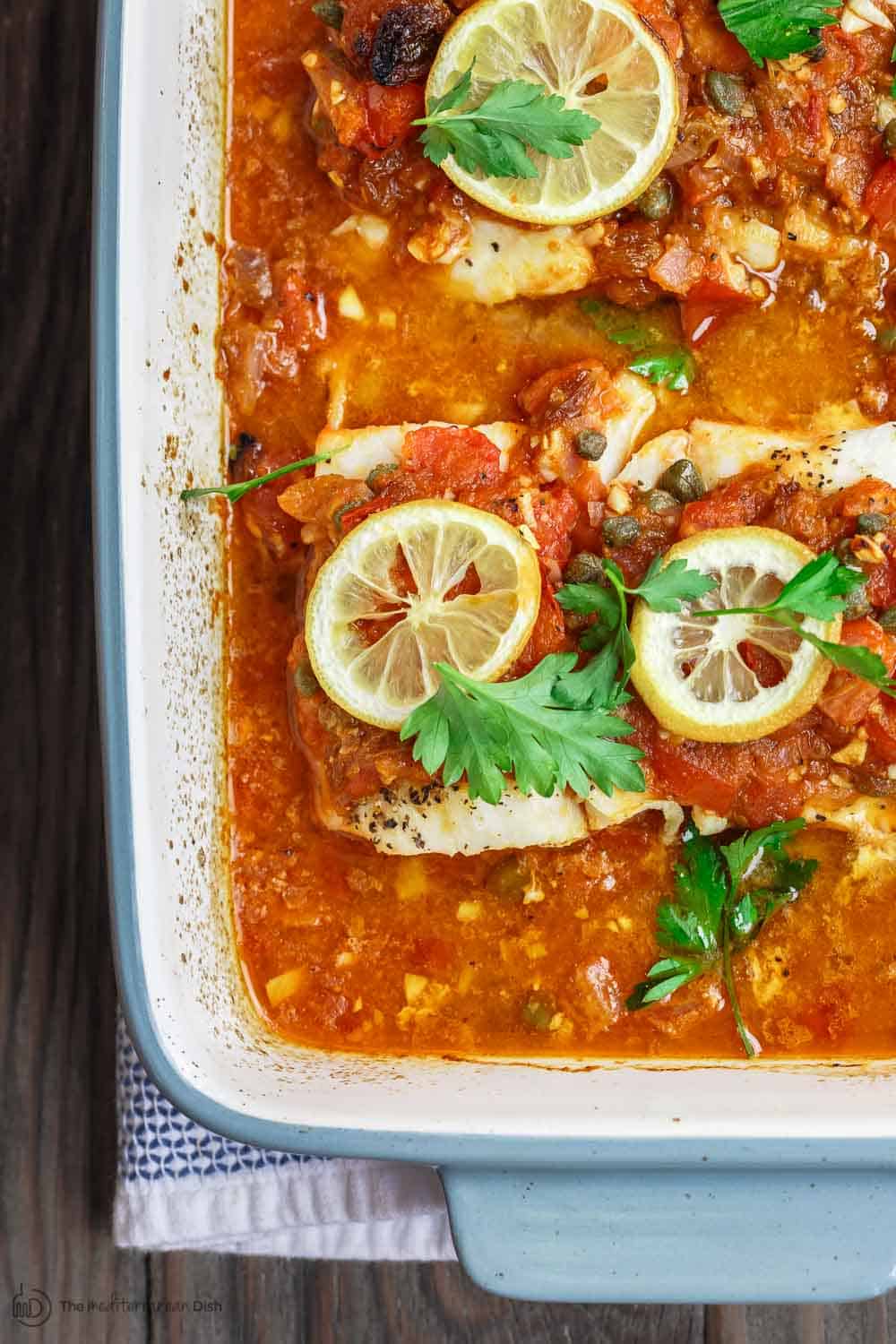 Spanish chilled tomato and vegetable soup that is fresh, light, and packed with flavor. Perfect for a summer lunch or party appetizer! Comes together in 15 minutes, and you can make it ahead and chill overnight for more developed flavor.
Tip: Gazpacho is the perfect starter to a fun Spanish feast that may include something like this easy Seafood Paella!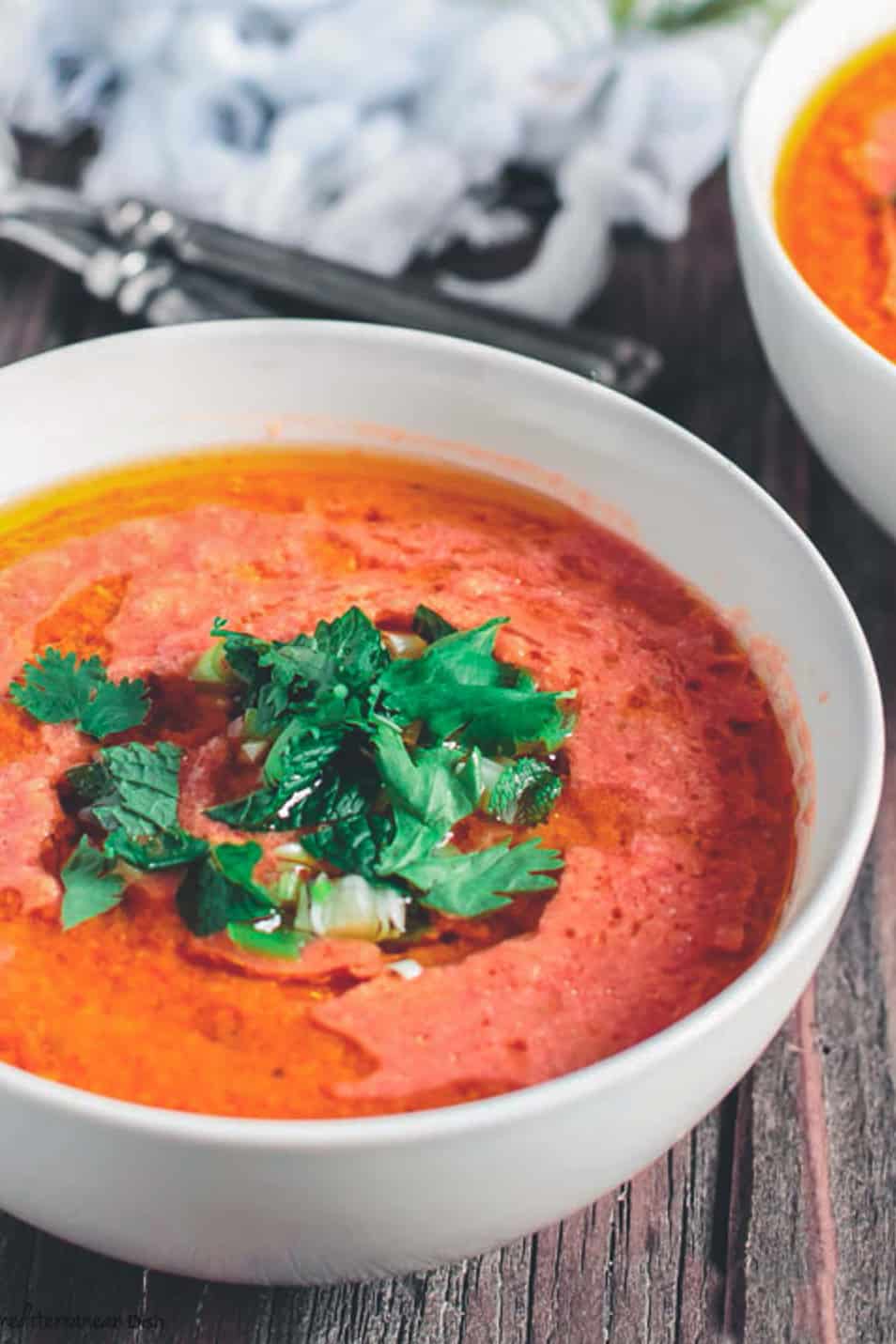 BEST Caprese Chicken Recipe with basil pesto, fresh mozzarella and ripe tomatoes. Ready in 20 minutes, this is perfect for any night of the week, but totally company-worthy! Plus, it's gluten free, low-carb, and only 288 calories per serving. You can make this chicken caprese in an indoor pan or griddle or fire up the grill, if you like.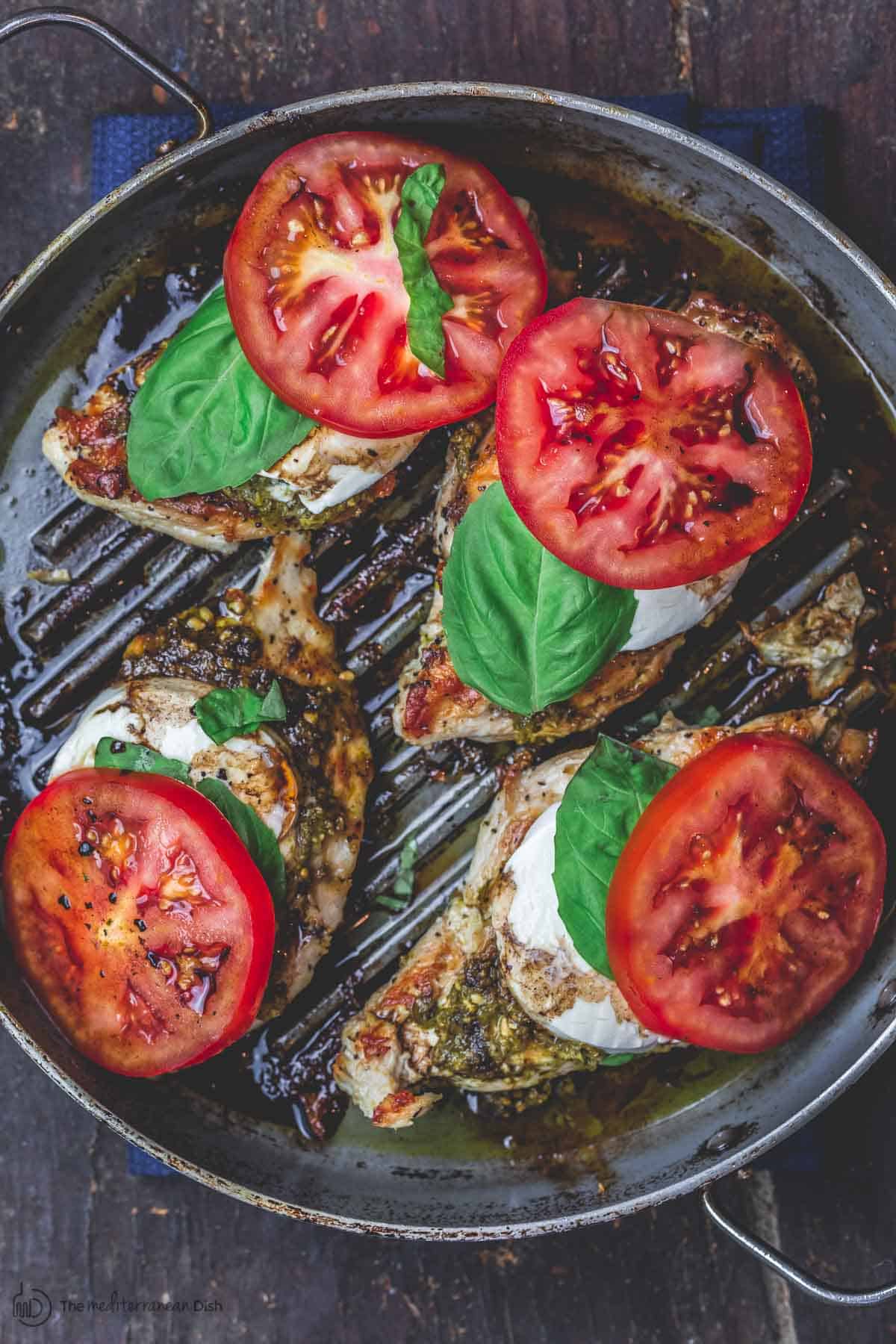 The perfect side dish with big Italian flavors! Along with baby potatoes, I like to use small tomatoes, mushrooms and zucchini. The flavor makers here are dried oregano, thyme, lots of garlic and a generous drizzle of extra virgin olive oil.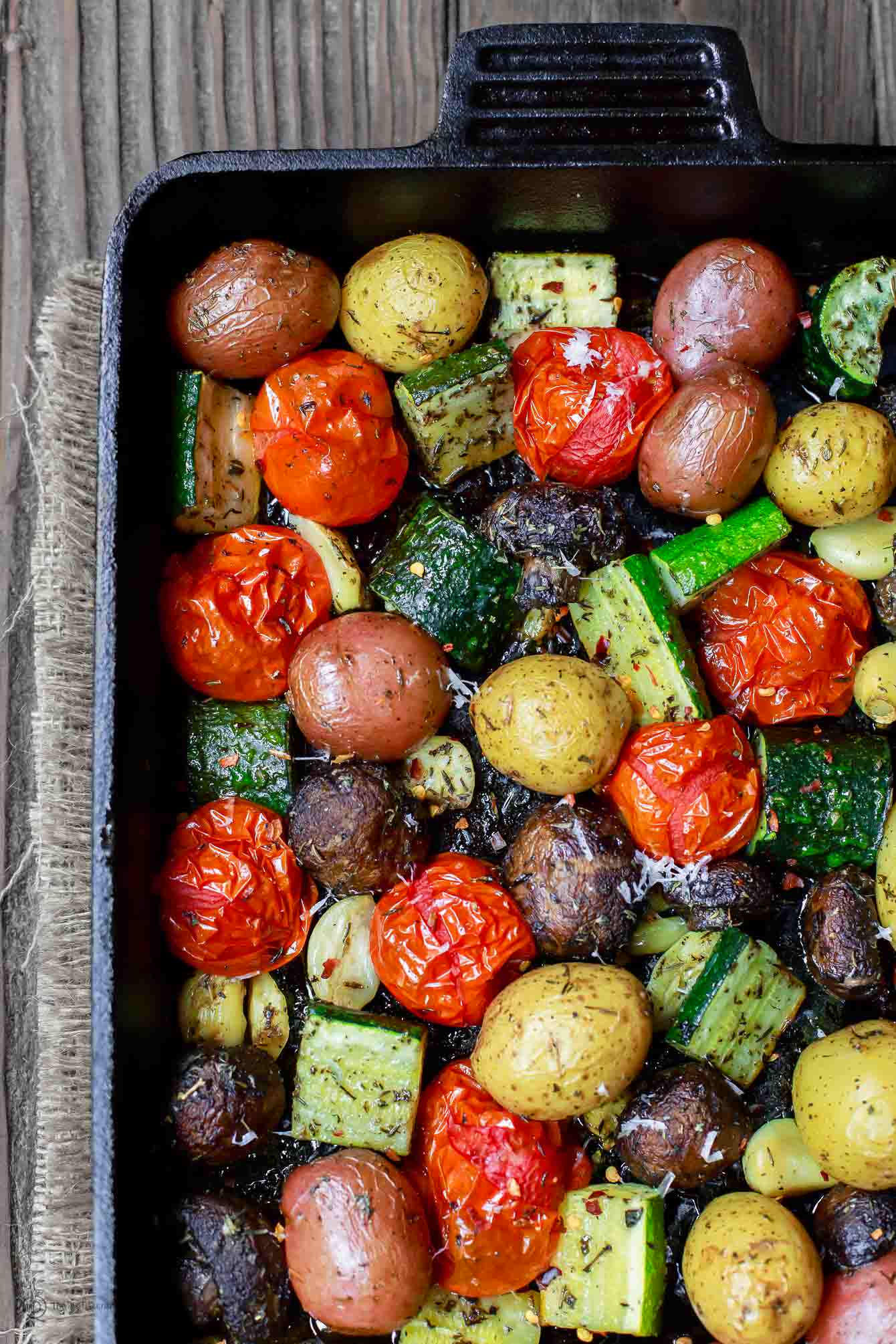 As long as we're talkin' Italian, this easy Italian baked chicken with tomatoes is a must-try! A couple tips make all the difference in making the juiciest, most tender baked chicken. Comes together in less than 30 minutes!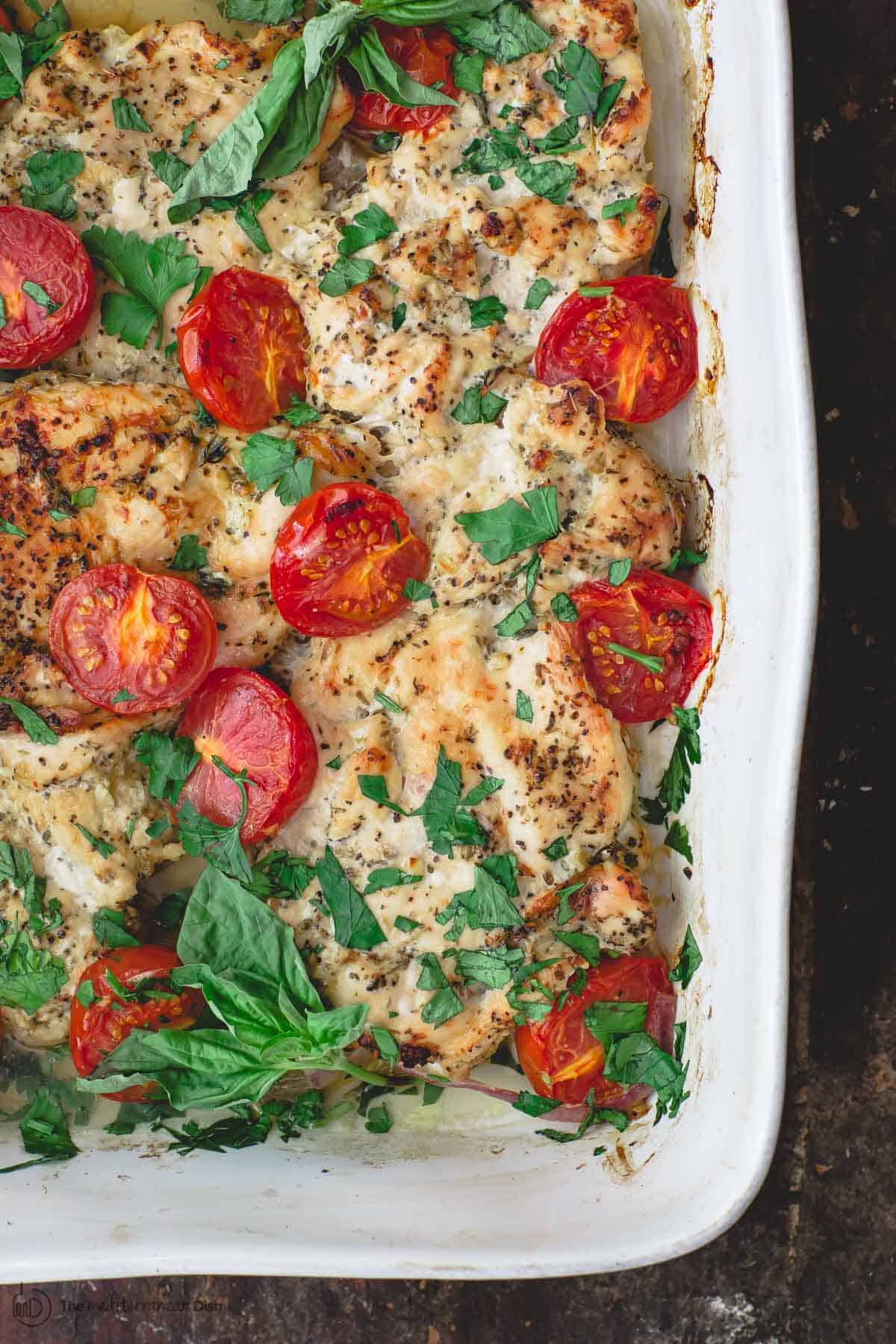 This one is on repeat at my house all summer long! You'll love these loaded Mediterranean zucchini boats with tomatoes and feta. Great appetizer or side dish.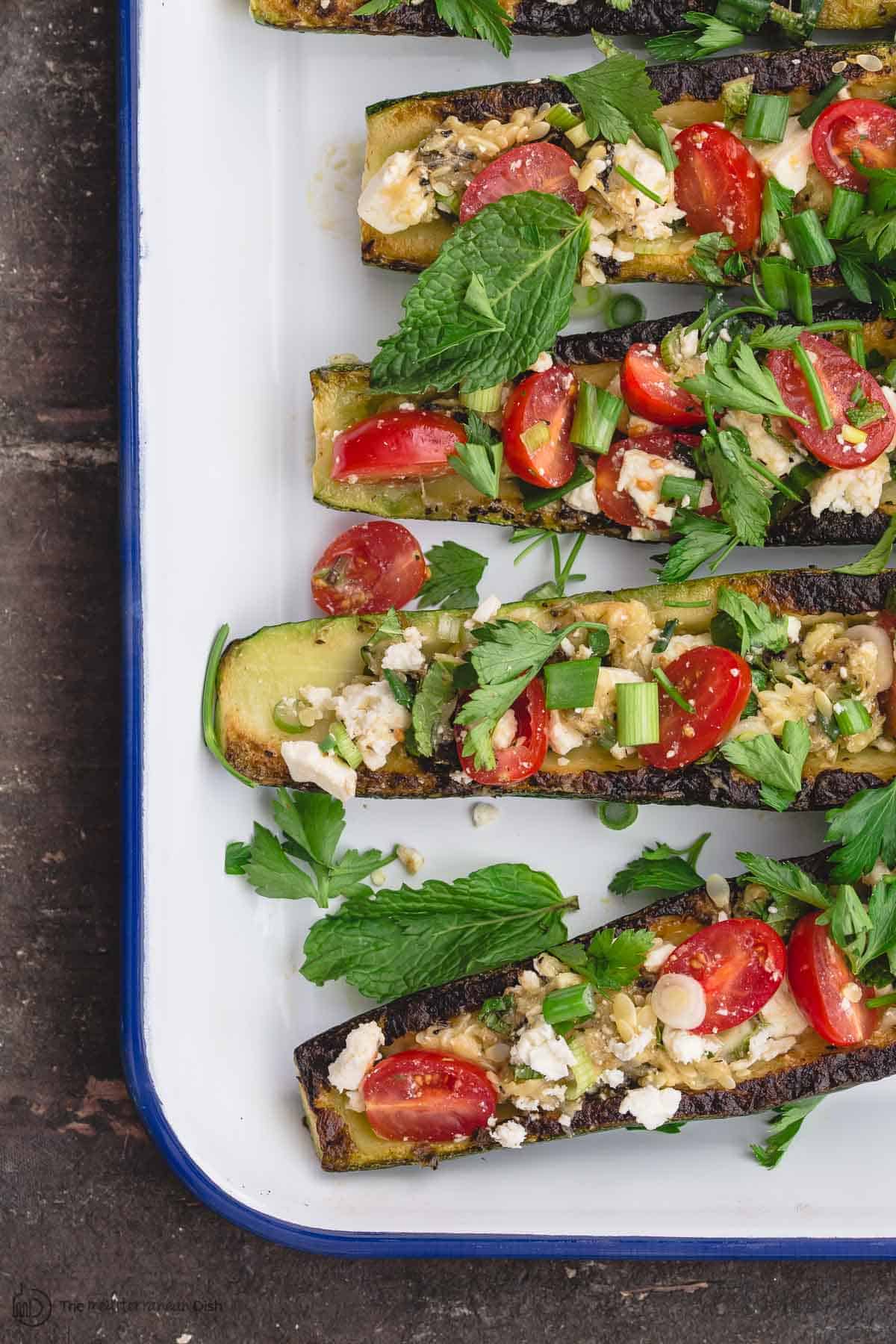 Love easy sheet-pan dinners? This Mediterranean baked halibut with cherry tomatoes, onions and green beans is your ticket. You'll love the bright citrus sauce pulling everything together!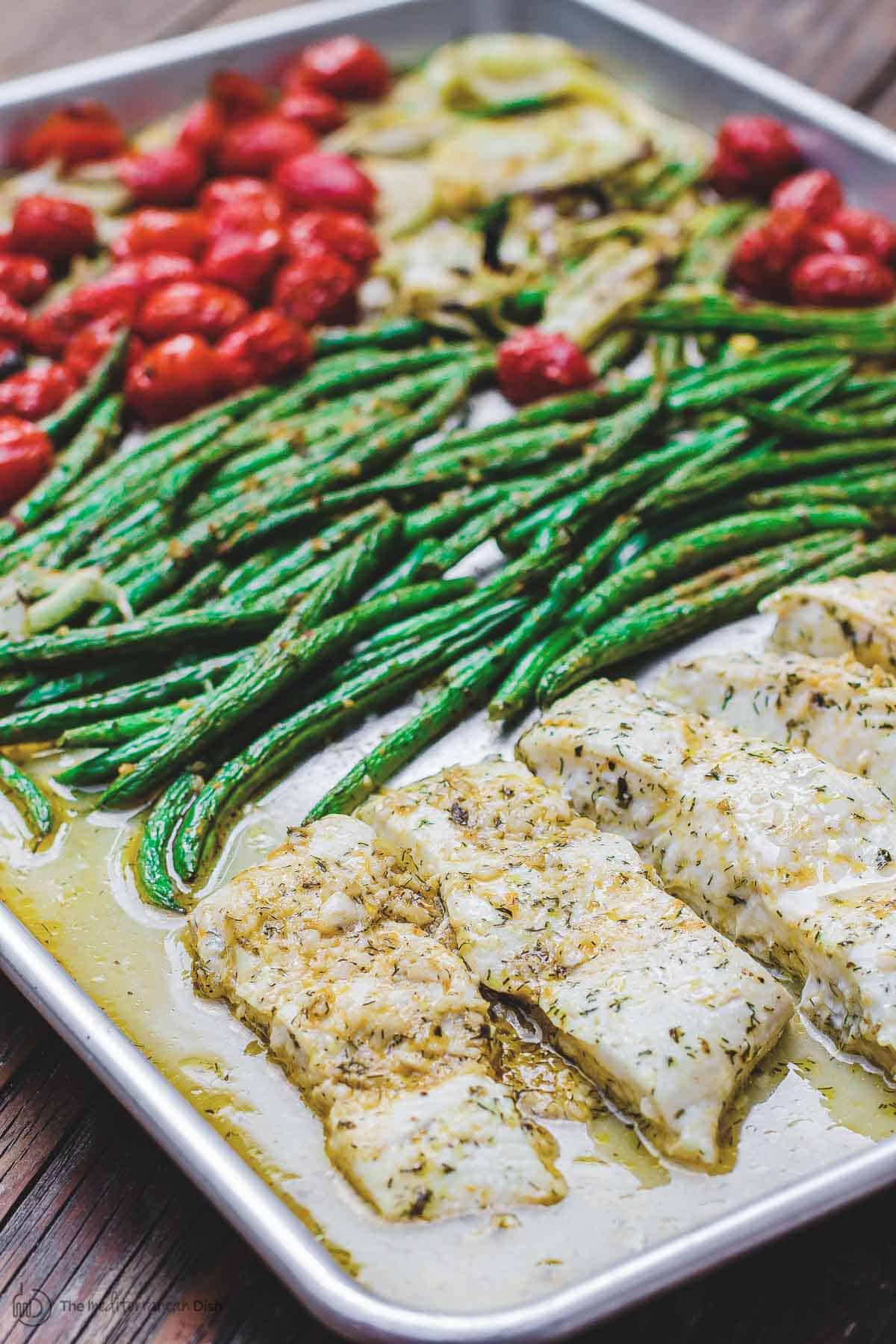 This is another breakfast, lunch or dinner type dish and it is absolutely packed with Mediterranean flavors! Small-diced potatoes share the glory with asparagus, chickpeas, fresh tomatoes, and herbs in this skillet meal. Add a poached egg on top or not!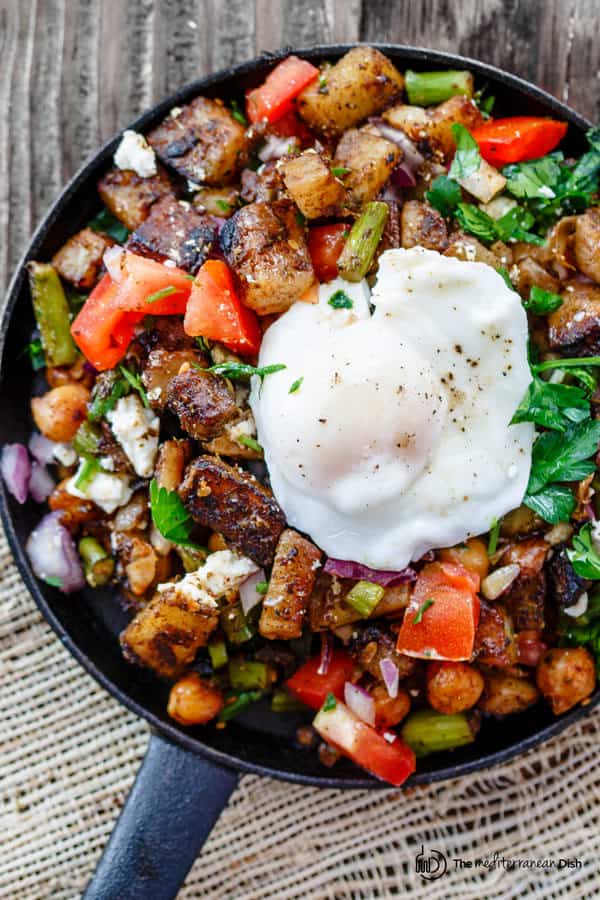 A foil-packet dinner with all sorts of bold Mediterranean flavors from garlic, fresh thyme, earthy paprika, and a buttery lemon sauce. The foil parcels make for easy clean-up, but they also lock in the moisture and flavor for tender, flaky salmon and evenly cooked veggies!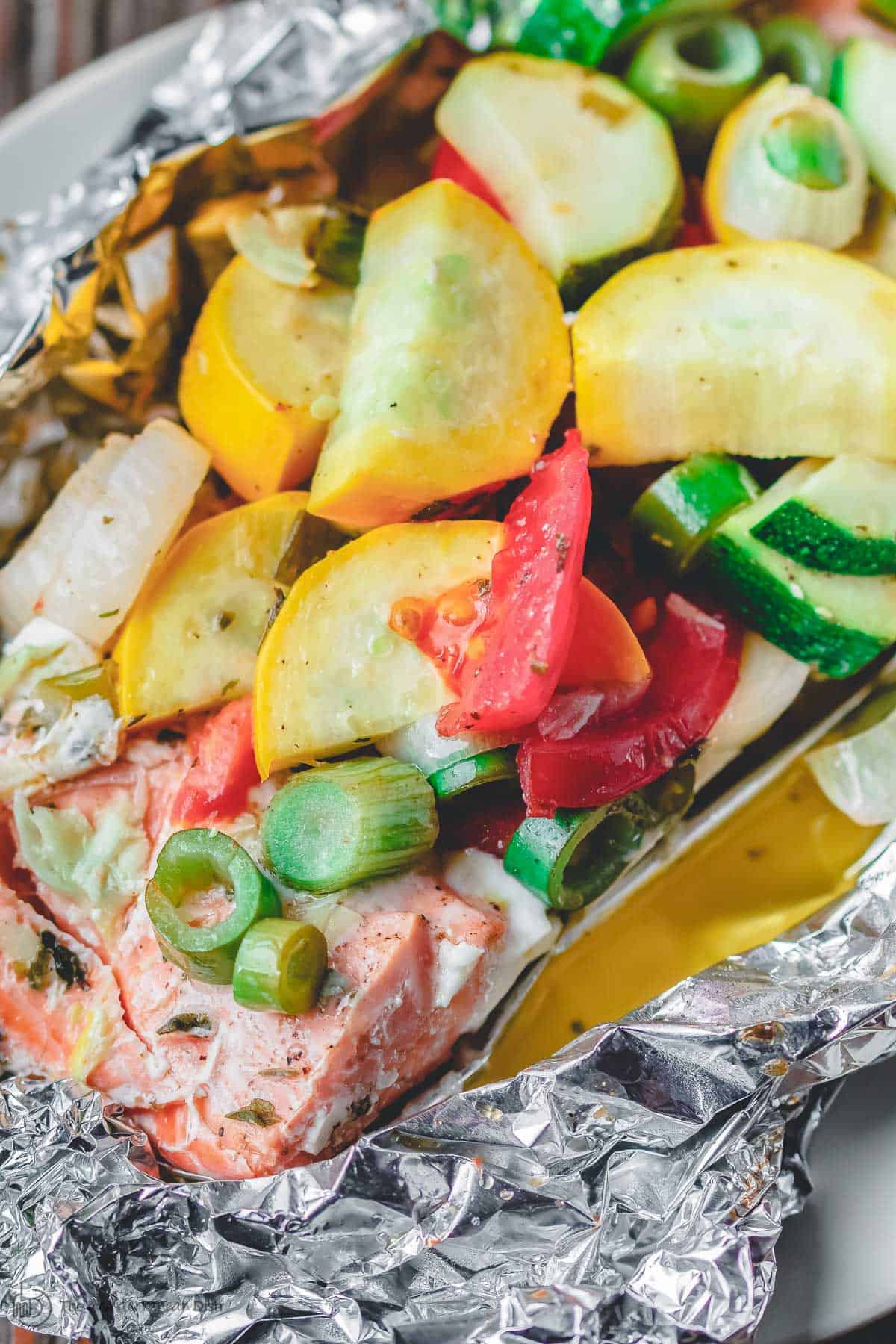 NEVER MISS A RECIPE! JOIN MY FREE E-MAIL LIST HERE.
SHOP OUR ONLINE STORE FOR QUALITY OLIVE OILS, ALL-NATURAL SPICES AND MORE.