What do you make with tomatoes? This list of AMAZING and easy fresh tomato recipes w/ big Mediterranean flavors is all you need! Tips included.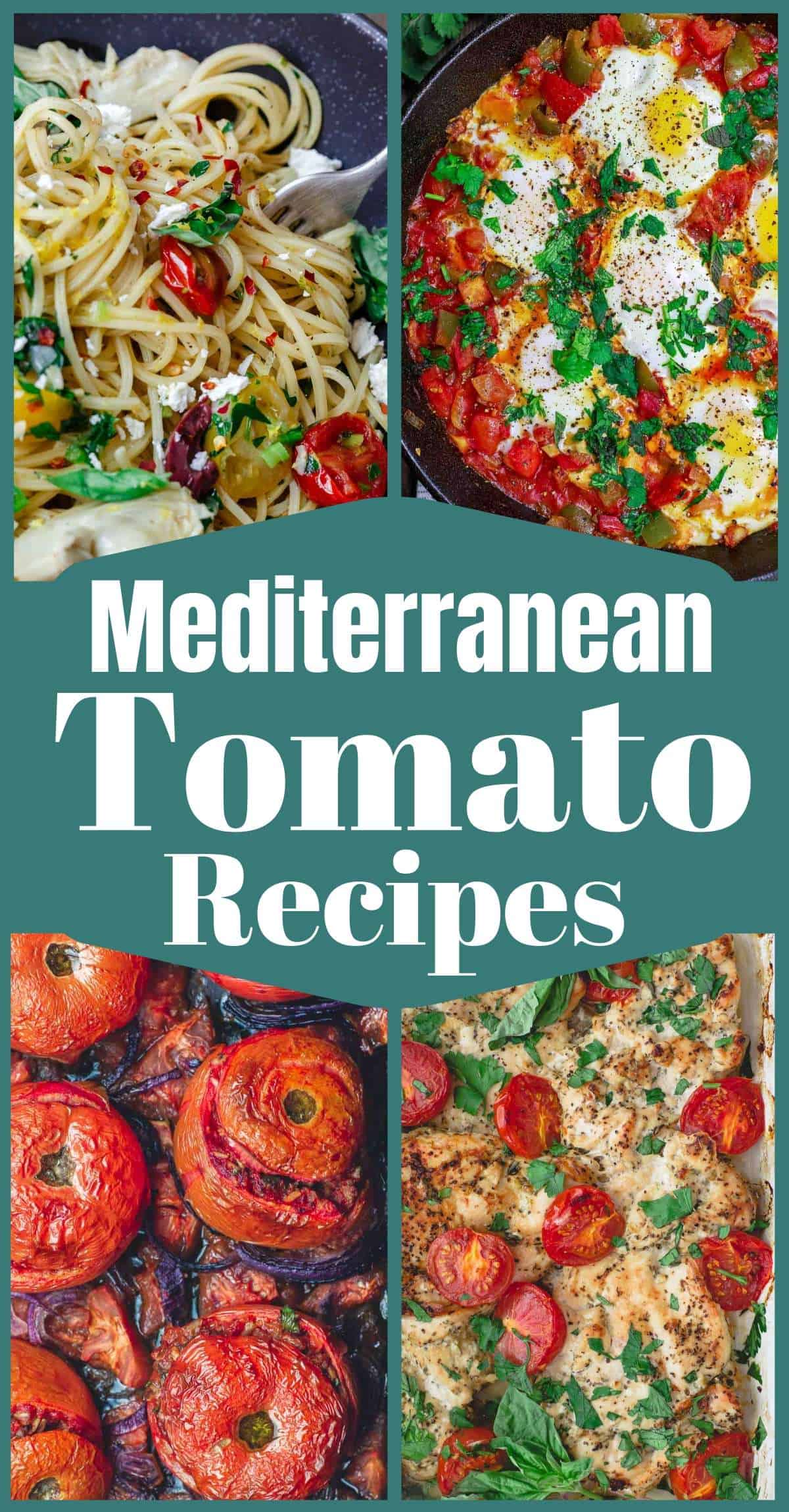 Tomatoes and the Mediterranean diet
If you've been cooking and eating the Mediterranean way for any amount of time, you probably noticed that tomatoes are a constant on the shopping list.
Tomatoes are an essential ingredient in cooking and eating the Mediterranean way. And, not only are they rich in vitamin C, potassium, folate, and vitamin K, they are known for their lycopene content, an antioxidant that's been linked to many health benefits, including reduced risk of heart disease and cancer.
Fresh tomato season is one of my absolute favorite times of the year. To me, there is nothing better than biting on a juicy, sweet, perfectly tomato! And if you have a lot of tomatoes and wondering what to make with them, this list of recipes is your ticket! These are handful of tried-n-true tomato recipes that readers of this site deemed a must-try!
First, because fresh tomatoes are the subject of today and a main ingredient in our list of recipes, it's important that you select the best ripe tomatoes to begin with.
How do you know if tomatoes are ripe?
Tomatoes are in season from May to early October, depending on where you live, but mid July is when tomatoes reach their peak. Look for perfectly ripe tomatoes that are firm but yielding slightly to the touch. The tomato skin should be glossy. And you should be able to easily smell the tomato's fragrant and fruity scent.
Best way to store tomatoes
Use fully ripened tomatoes as soon as you can. Should you refrigerate tomatoes? If the tomatoes are fully ripe and you're not able to use them immediately, you can refrigerate them but make sure bring them to room temperature before using.
Tomatoes purchased from the grocery store are previously refrigerated. Leave them on the counter until they are fully ripe, then store them in the fridge for later use.
Home garden tomatoes and tomatoes you buy at a farmers market stand you trust will not have been previously refrigerated. If they are not ripe yet, remove the stems and store the tomatoes upside down on a large tray until they ripen.
Now, the big question, what do you make with a lot of tomatoes?! You'll love these easy and delicious Mediterranean recipes using fresh tomatoes. There are so many ways to incorporate tomatoes in your meals, from breakfast to dinner and everything in between. Let's start with some basic recipes and make our way to delicious dinners that use tomatoes.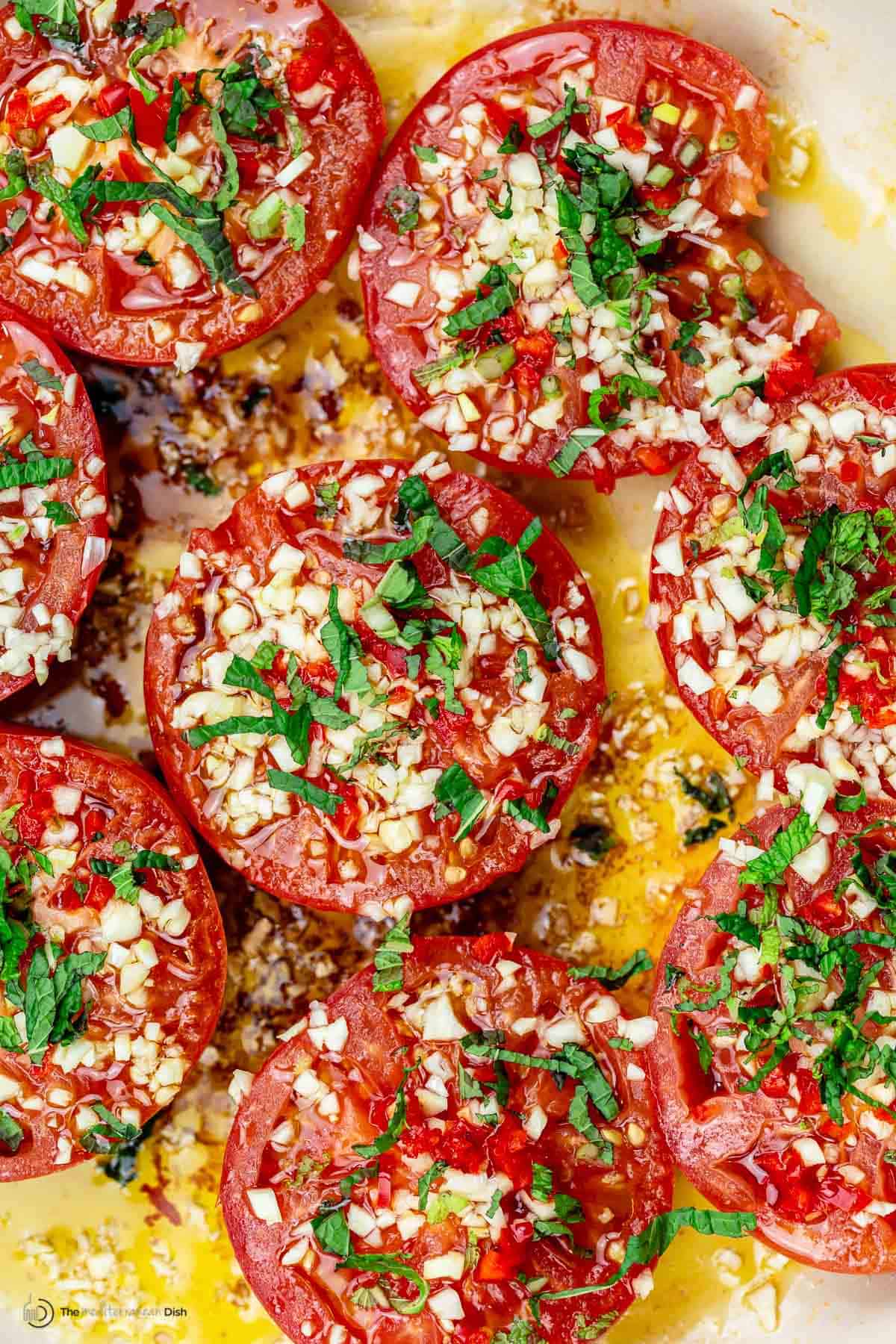 Basic tomato recipes
If you have an abundance of tomatoes, you can roast or fry them to use as building blocks for pasta, soup, pizza, or to use as simple sides next to your favorite entrees.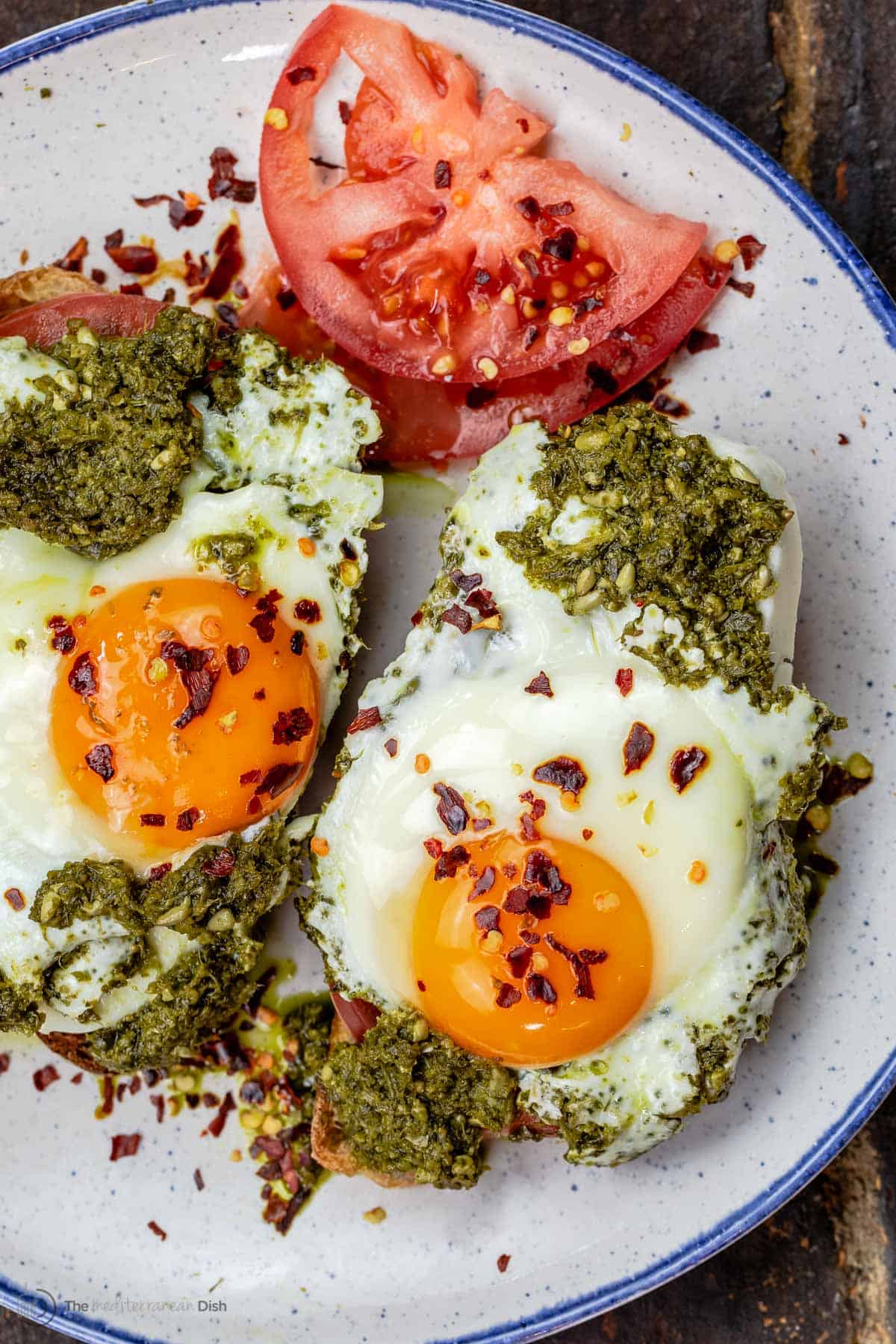 Savory breakfast ideas with tomatoes
I almost always top my breakfast sandwiches with sliced tomatoes, but there are many ways to add them to your breakfast like...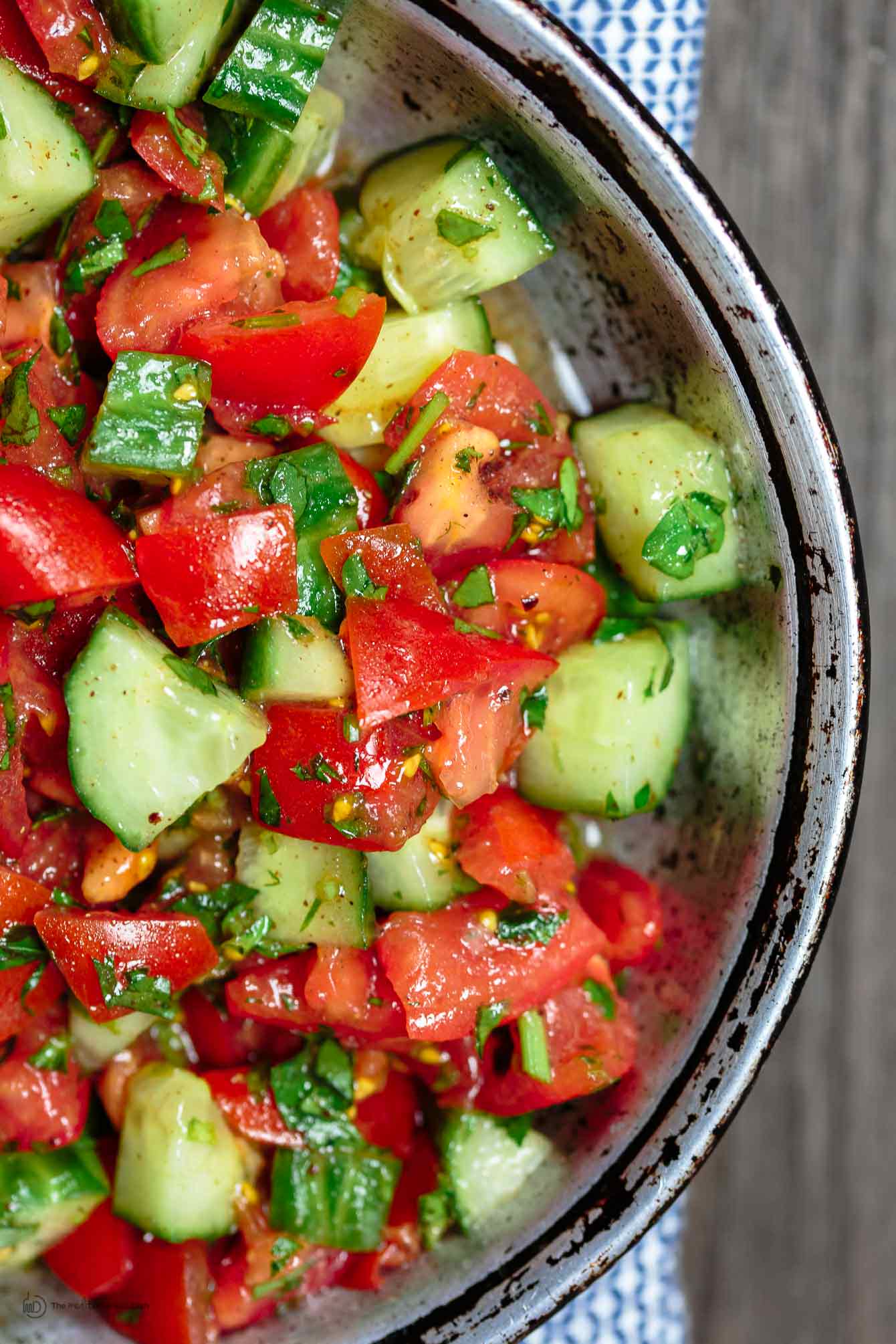 Favorite Tomato Salad
Most Mediterranean salads will incorporate some juicy tomatoes, here are five salads you should try: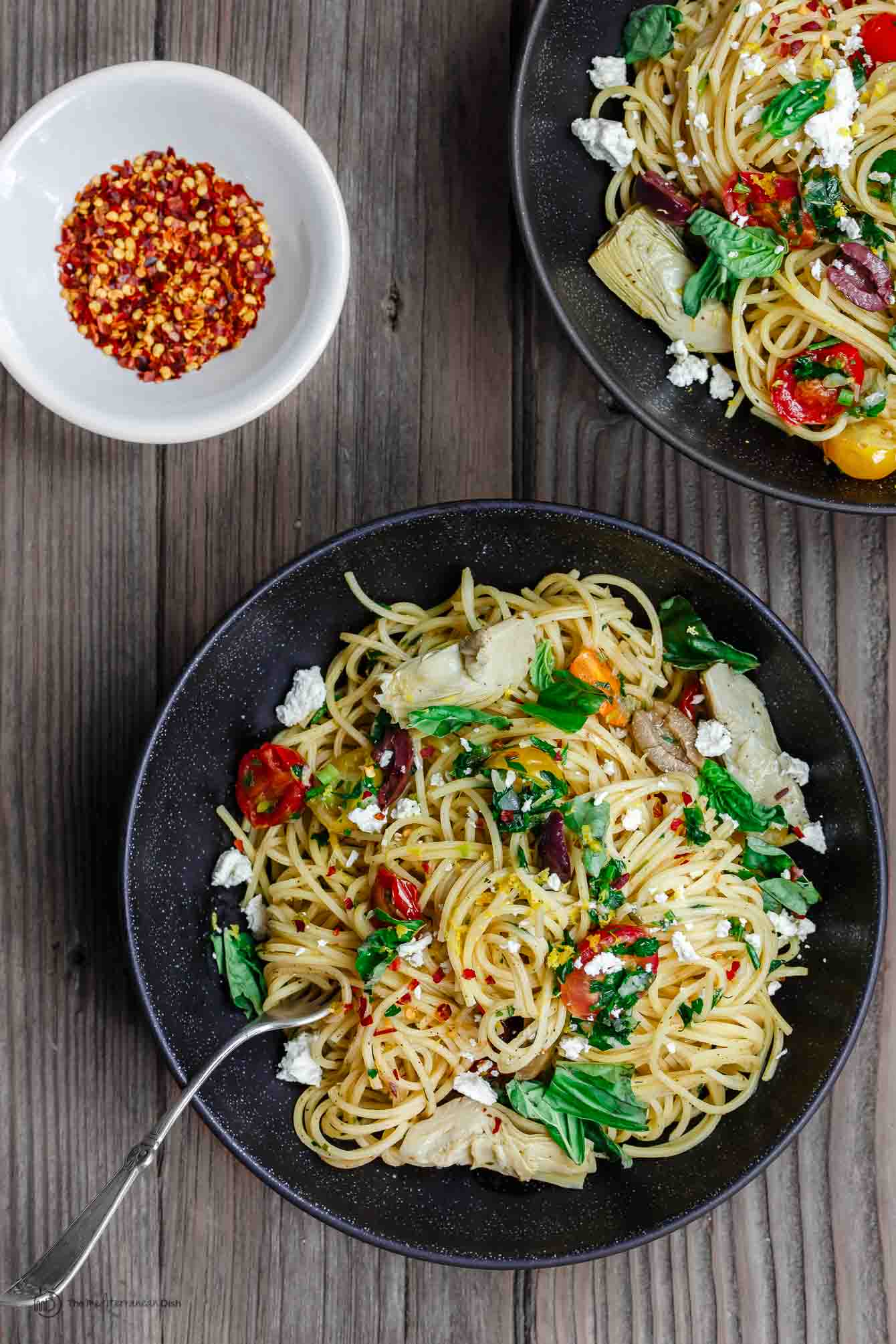 Pasta recipes with tomatoes
Just like pizza, pasta and tomatoes are a match made in heaven. You can do more with fresh tomatoes to elevate your pasta dishes by adding color and flavor. Here are some pasta recipes I love adding tomatoes to: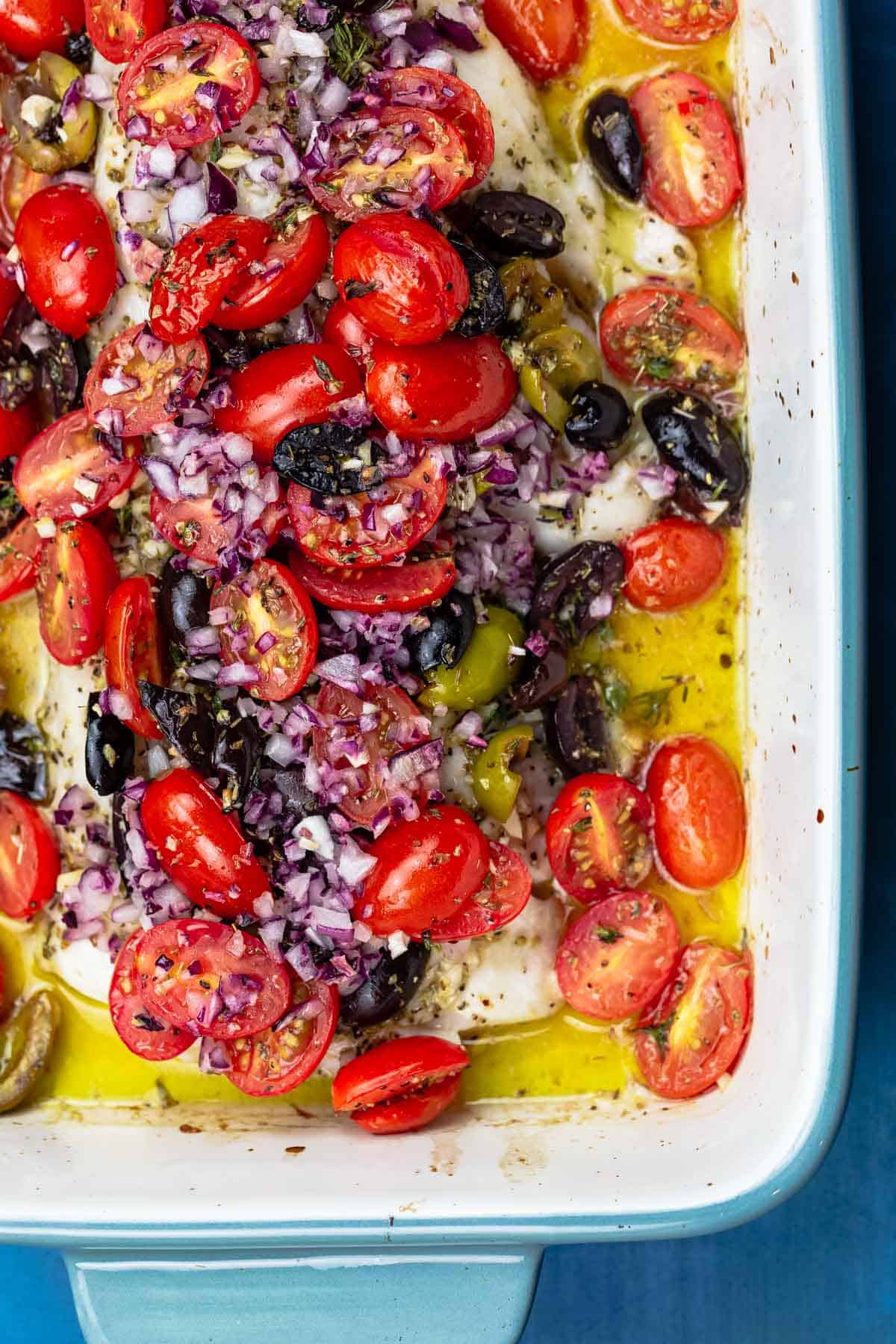 Favorite entrees with tomatoes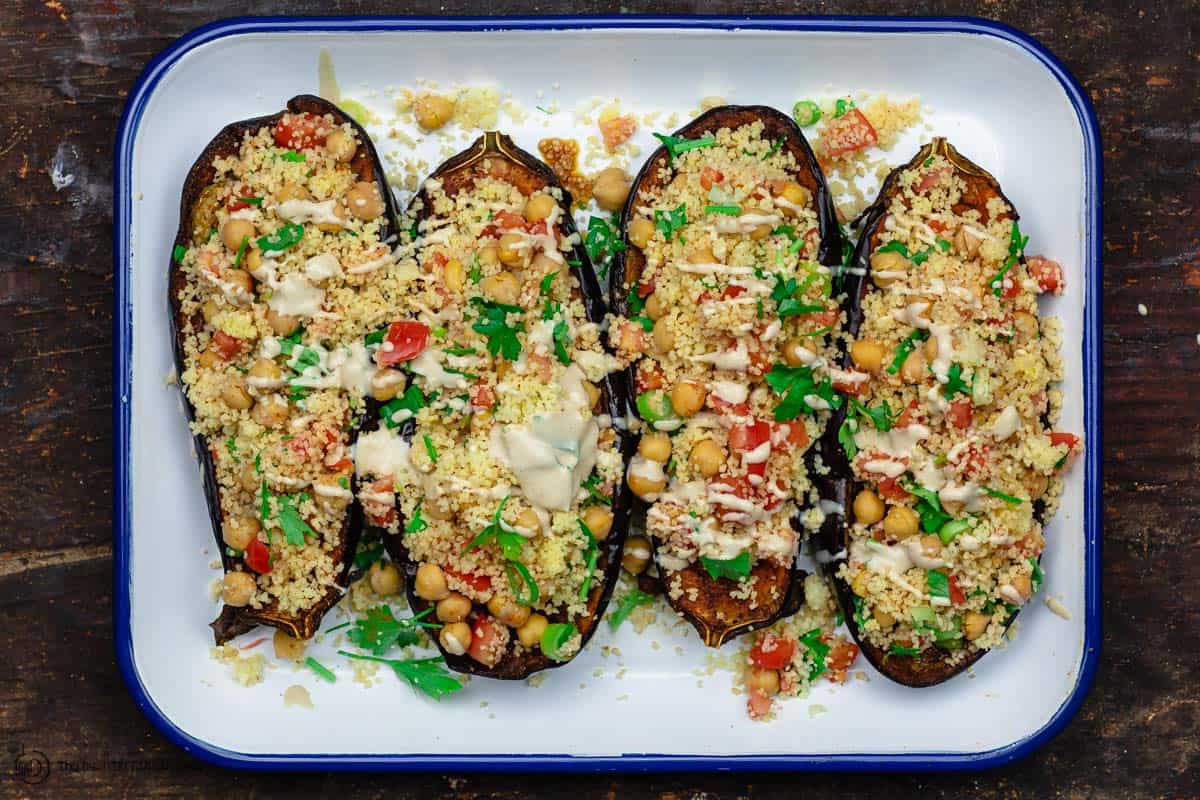 Vegetarian tomato recipes
If you're looking for vegetarian mains or more sides to use your garden tomatoes, here you go...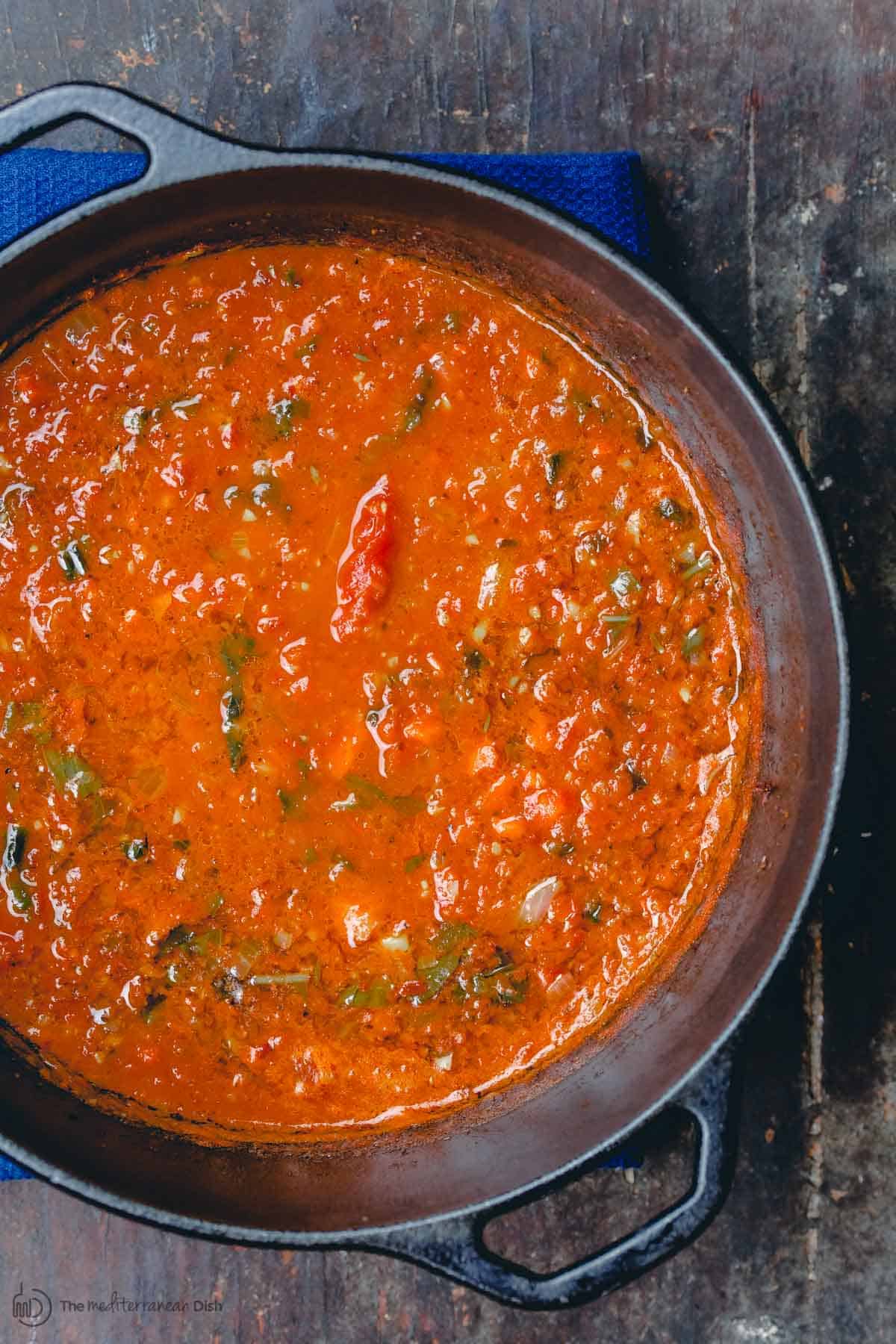 Favorite tomato soup
When it comes to soup, I have two options to use fresh tomatoes as the star ingredient:
Roasted Tomato Basil Soup. Yes, it's completely possible to make the best, super rich, delicious, to-die-for roasted tomato basil soup that is vegan and gluten free! And this one is it! You'll love the layers of flavor in this easy tomato soup. Best part? You can make a big batch and freeze it for later!
Gazpacho. This classic Spanish cold soup using tomatoes and other produce is so refreshing and comes together in 10 minutes or less. I make it all summer long!
Browse Top Mediterranean diet recipes. All Mediterranean Recipes.
Visit Our Shop for quality Mediterranean goods.
30+ Tomato Recipes: Oven Roasted Tomatoes Recipe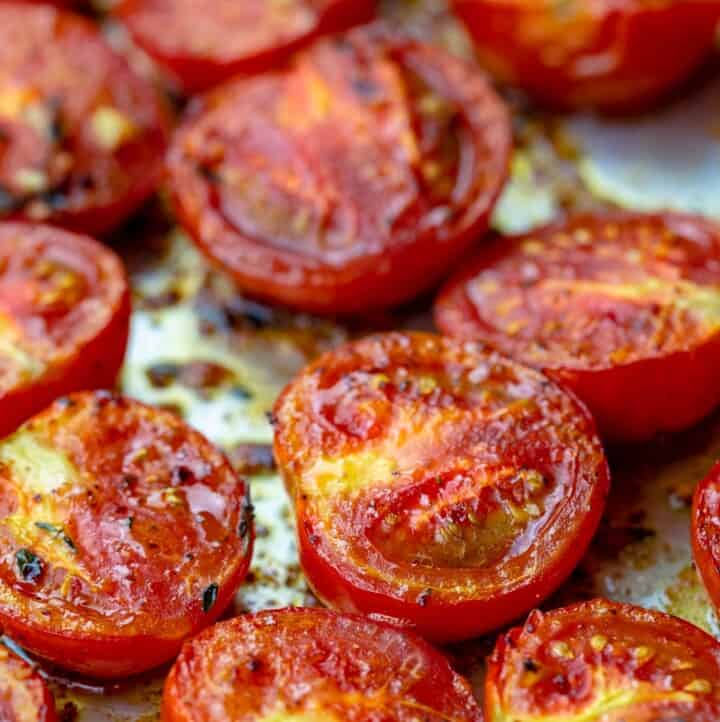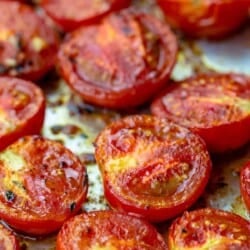 There are so many ways to use your beautiful garden tomatoes! This basic roasted tomatoes recipe is one I make often to use as an easy side, delicious appetizer with pita chips, or to toss in pasta or soup! You can make it ahead and store it in the fridge for a few days.
Ingredients
2

lb

Roma tomatoes or Campari tomatoes,

halved (I used Campari tomatoes)

2 to 3

garlic cloves,

minced

Kosher salt and black pepper

2

teaspoon

fresh thyme,

stems removed

1

teaspoon

sumac

½

teaspoon

dry chili pepper flakes, I used Aleppo Pepper which is milder
Extra virgin olive oil, I used Private Reserve Greek extra virgin olive oil

Crumbled feta cheese,

optional
Instructions
Preheat the oven to 450 degrees F.

Place the tomato halves in a large mixing bowl. Add minced garlic, salt, pepper, fresh thyme, and spices. Drizzle a generous amount, about ¼ cup or more, quality extra virgin olive. Toss to coat.

Transfer the tomatoes to a baking sheet with a rim. Spread the tomatoes in one single layer, flesh side up.

Roast in your heated oven for 30 to 35 minutes or until the tomatoes have collapsed to your desired doneness.

Remove from heat. If you are planning to serve it soon, feel free to garnish with more fresh thyme and a few sprinkles of feta cheese. Enjoy warm or at room temperature.
Notes
What kind of tomatoes to use? You can use a different tomato variety in this recipe. I typically avoid using larger steak tomatoes, but you can use Roma tomatoes, smaller vine-ripe tomatoes and the like. Just be sure to cut them in halves or quarters as needed depending on their size. If you use smaller tomatoes such as cherry or grape tomatoes, you can leave them whole or you can also reduce the oven heat to 400 degrees F for those.
Make extra to store: You can simply double or triple this recipe if you plan on storing the roasted tomatoes for later use. You may need to go a little bit longer in the oven, just watch for the tomatoes to get super tender and begin to release their juices.
Storage: Do not add the feta cheese if you plan to store the roasted tomatoes for later. Bring them to room temperature and store in fridge in a tight-lid mason jar for 3 to 5 days. You can also freeze them in freezer bags for up to 4 months! Thaw in fridge overnight before use.
Visit our Shop to browse quality Mediterranean ingredients including olive oils and spices used in this recipe.
Nutrition
Calories:
30.4
kcal
Carbohydrates:
5.6
g
Protein:
1.4
g
Fat:
0.5
g
Saturated Fat:
0.1
g
Sodium:
201.5
mg
Potassium:
358.3
mg
Fiber:
1.8
g
Sugar:
4
g
Vitamin A:
1272.1
IU
Vitamin C:
21.5
mg
Calcium:
16.9
mg
Iron:
0.5
mg