White Sangria, or "Sangría Blanca" as it's called in Spain, is an easy-to-make pitcher cocktail of crisp white wine, fresh fruit, and sherry. It's a lighter twist on the classic Red Wine Sangria. For a festive summer brunch or afternoon cocktail hour make a big pitcher of this white wine sangria recipe. Sip, catch up with friends and relax a bit!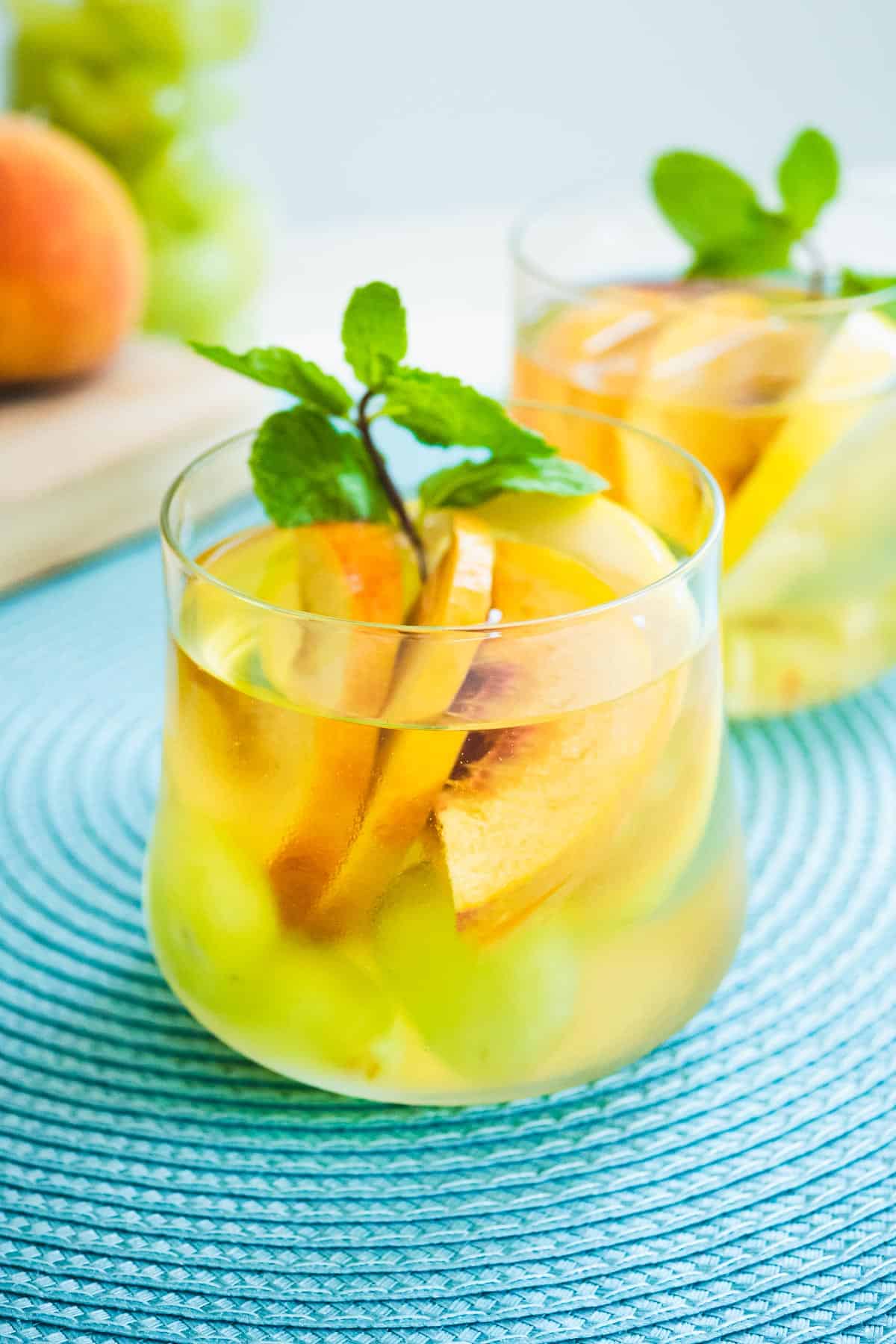 Sangria is a popular wine-based drink that originated in Spain in the early 19th century. Chopped fruit marries with wine, something sweet like sugar, honey, or orange juice, and something boozy like brandy or vodka until the fruit macerates and flavors the drink.
For my white wine sangria recipe I combine fresh peaches, green grapes, wine, and sherry for a colorful, summery pitcher cocktail. Make a batch for a weekend brunch or an evening on the patio with a few close friends.

Sometimes finished with bubbly water, it's a light and refreshing cocktail that's become famous around the world. Like Rosé Lemonade or Agua De València, this white wine sangria recipe is made in a big pitcher as an easy and delicious way to please a crowd!
Table of Contents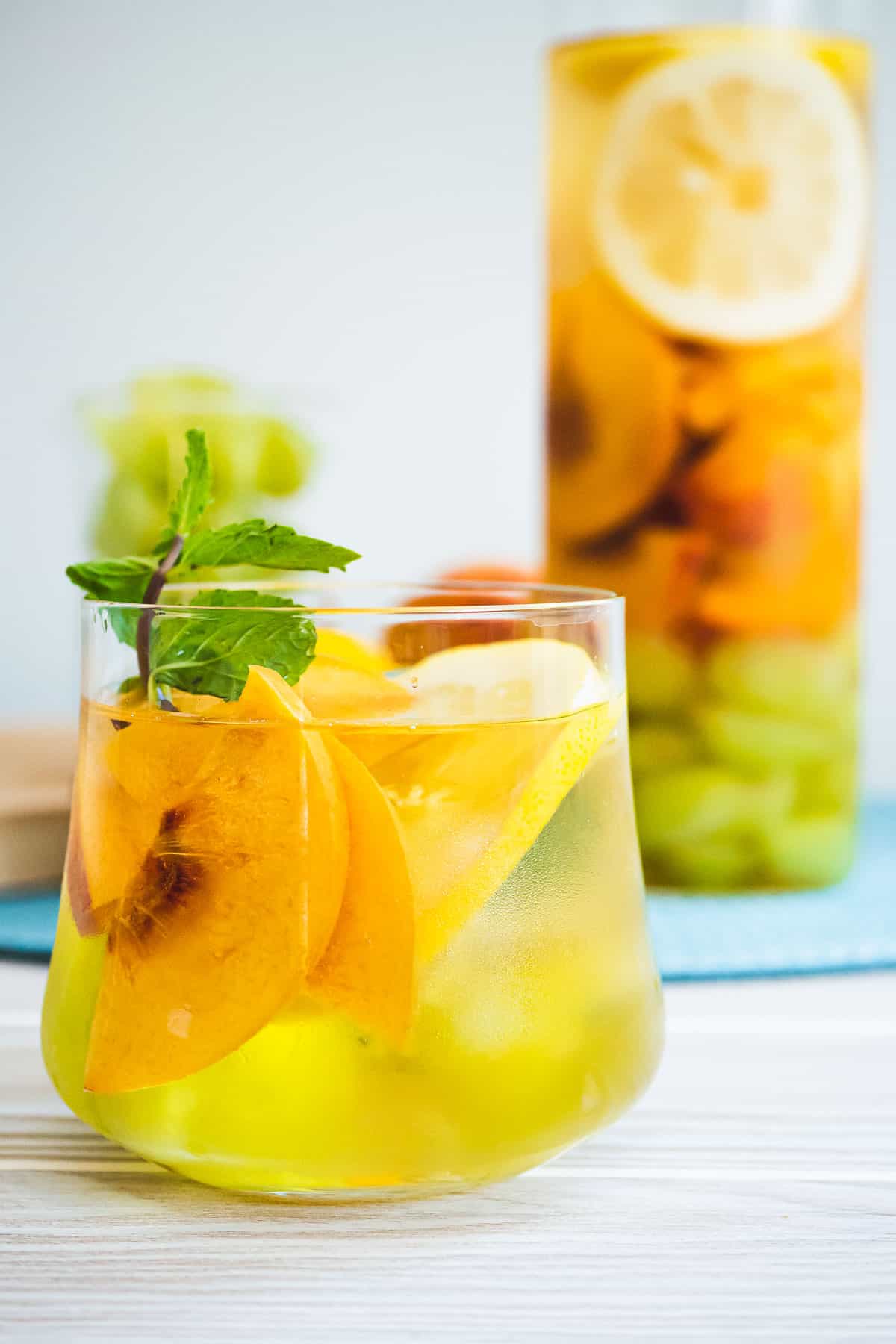 What is White Sangria?
White sangria is actually a modern interpretation of traditional Sangria, which is made with red wine. White wine, although also produced in Spain, simply wasn't as commonly available as red.

Spain's climate has historically been more conducive to growing red wine varietals.

White wine didn't really come into its own until the mid-20th century, when vineyards started experimenting and creating white wines to export. (The most notable exception being Cava, which started being produced in the late 19th century.)

Rich and fruity Red Wine Sangria clamors for attention, but don't overlook its cool, crisp White Wine cousin!
Ingredients for White Sangria
While you can make most white wines work with the right combination of fruits, to make a traditional Spanish-style Sangria, I advise using a Spanish wine. To make this white wine sangria recipe you'll need:
White wine: My preference is an Albariño white wine, which is citrusy, tart, and herbaceous. You can also use a Garnacha Blanca, which is a more fruity, berry-forward Spanish white wine, with less acidity than the Albariño.
Fresh fruit: Peaches and seedless green grapes flavor the mixture. I like to use peaches and grapes because they have a nice balance of sweetness and acidity. Plus, I try to take full advantage of the stone fruit season! You can substitute with citrus, mangoes, pineapple, or any ripe seasonal fruit you have on hand.
Lemons: Sliced lemons bring balance to the sweetness of the sangria. Limes would also work.
Fino sherry: Adds some salinity and toasted almond flavor. While this might sound excessively savory, it balances the juicy fruits and simple syrup.
Simple syrup (optional): Sweetens the drink to balance the citrus, wine, and fino. You can buy simple syrup at the store, but it's easy to make with just sugar and water (learn how to make simple syrup in my Rosé Lemonade recipe).
Garnish: Additional sliced fruits and mint adds color and liveliness to the sangria.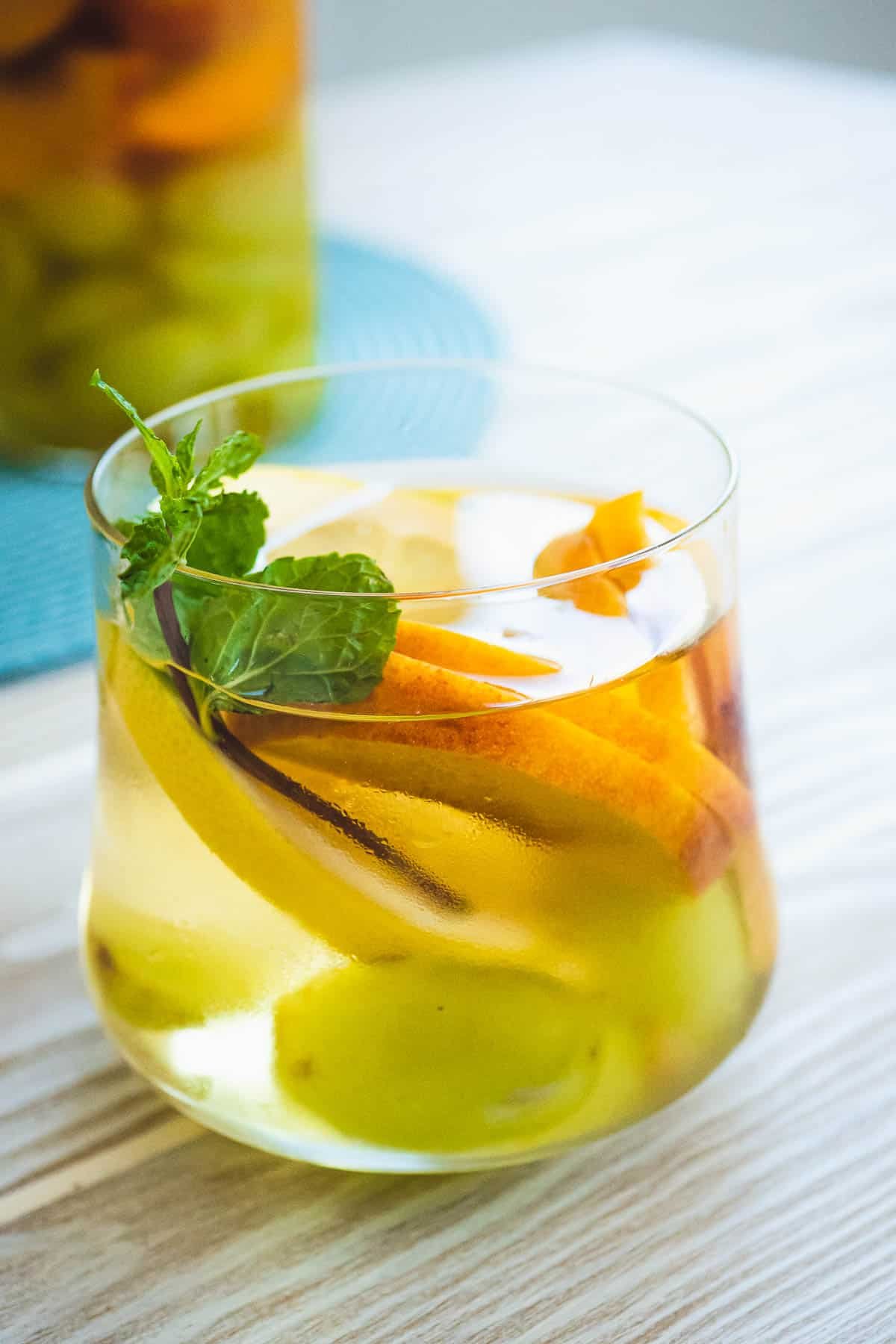 How to Make Sangria
This white sangria recipe is easy, just be sure to give yourself time to allow the fruit to macerate. At least four hours in the refrigerator does the trick.
Mix: Thinly slice two peaches and add to a large pitcher. Scrub and slice 2 lemons into ¼-inch rounds and add. Slice ½ cup of green grapes and add them to the pitcher. Pour in one (750ml) bottle Spanish white wine and ½ cup of fino sherry.
Macerate: Set in your refrigerator and let the mixture sit overnight, or for at least 4 hours.
Sweeten: When the fruit has softened and broken down, taste and add simple syrup to your liking.
Serve: Divide among wine glasses and garnish each glass with sliced fruit and a sprig of mint. Salud!
Ways To Mix It Up
When it comes to white wine sangria recipes or any sangria recipe for that matter flexibility is key. Tailor the fruit, sugar levels, alcohol, and more according to the time of year, occasion, and taste preferences.
Make it bubbly: Add effervescence with a sparkling wine like Cava.
Add fruit: Experiment with adding your favorite fruit, from berries to apples to tropical fruits for a non-traditional twist. Around the holidays I especially love to use in-season citrus and to cut up starfruit for a festive-looking drink. In the warmer months I enjoy stone fruits, grapes, and lemons.
Make it punchy: You can bump up the alcohol content and flavor of your Sangria with the addition of liquor. Many traditional Spanish Sangrias will use a brandy, sherry, or vermouth to accompany the wine.
Adjust the sweetener: With the infusion of fruit, many Sangrias will not need an additional sweetener. The fruits will impart their own sweetness to the sangria. I suggest adding sweetener at the end of the resting period and adjusting for taste. You can use simple syrup, or an agave sweetener for convenience.
Play with the flavor: A white wine Sangria can be overwhelmed by too many herbs or spices. Stick to one flavor like mint, basil, or rosemary. Any Mediterranean herb will complement the wine's flavor profile. Sliced ginger also has a pleasant kick, and works well with citrus-forward white wine sangrias.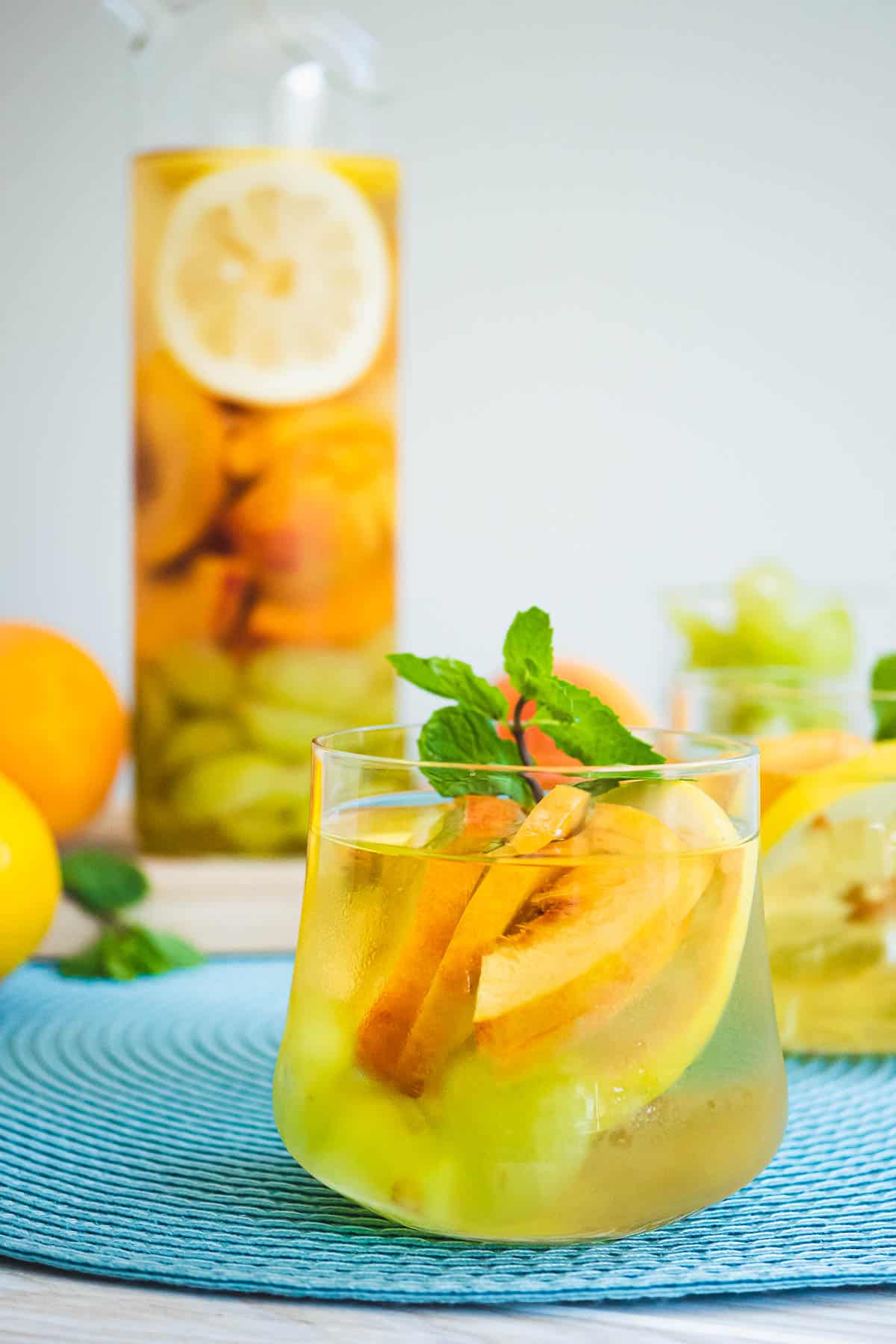 Sangria: The Perfect Make Ahead Drink
For a white wine Sangria, you can combine the wine, liquor, and fruit in a serving vessel and let it sit overnight in the refrigerator.

If you're serving on the same day, you can achieve a similar flavor by macerating the fruit in the wine and liquor for at least 4 hours. Add the simple syrup and some additional fruit just before serving.
What to Serve with White Sangria
White sangria is a delightfully crisp and refreshing beverage that is best enjoyed in the company of friends. To fully embrace sangria's casually festive personality, serve with savory Spanish foods like Seafood Paella and Pan Con Tomate. Pitcher cocktails make for an effortless atmosphere where your guests can unwind and enjoy the party.
Refreshing Pitcher Cocktails
Browse all Mediterranean recipes.

Visit Our Shop.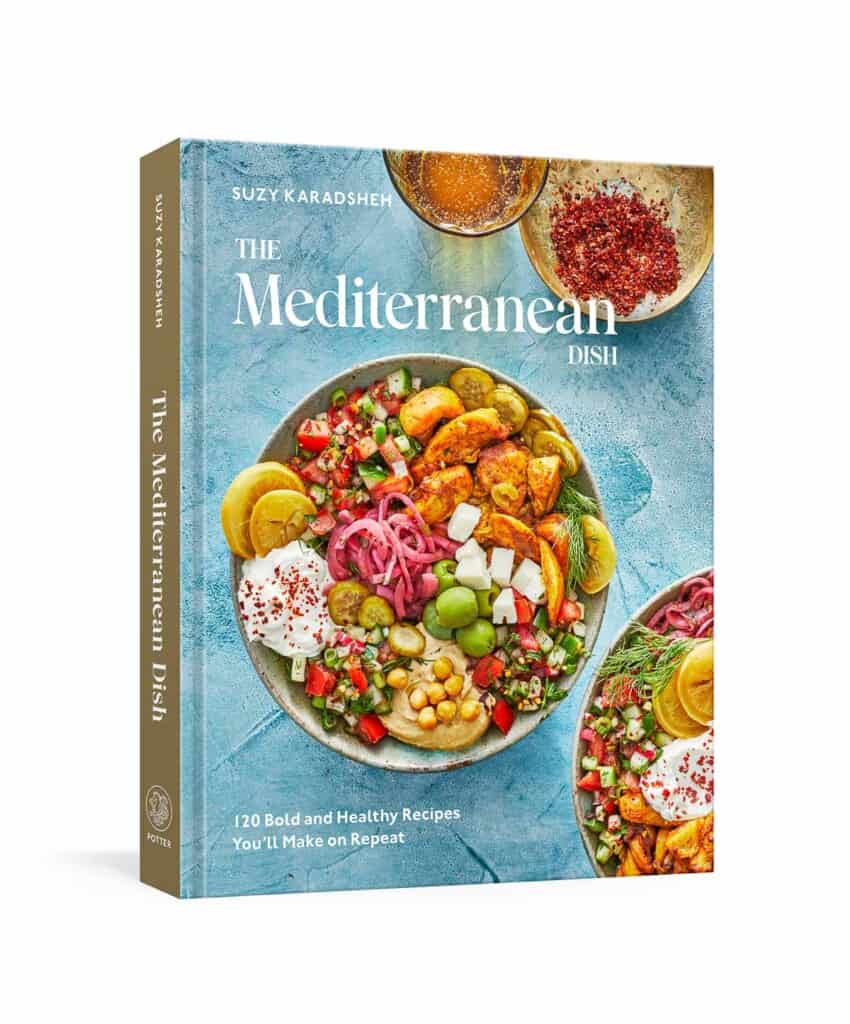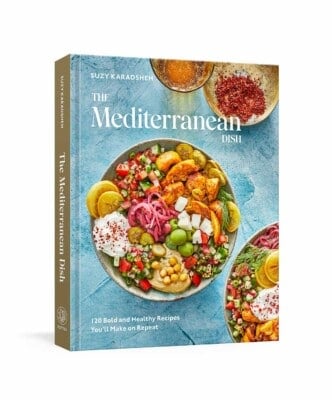 White Wine Sangria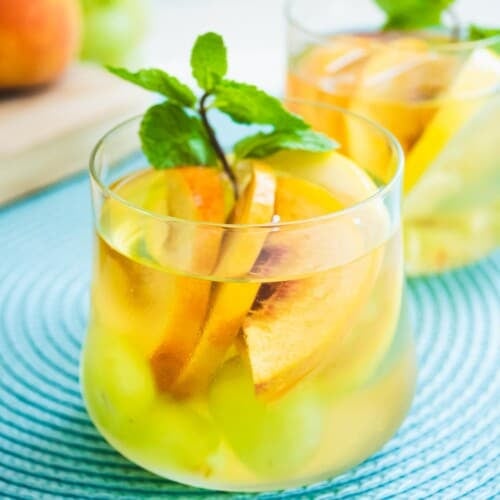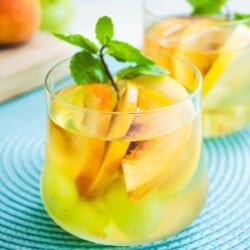 White wine sangria is a light and refreshing twist on traditional red wine sangria. Made in a big pitcher, it's perfect for fuss-free entertaining.
Ingredients
2

peaches,

thinly sliced

2

lemons,

scrubbed and sliced in ¼-inch rounds

½

cup

green grapes,

halved

½

cup

fino sherry

1

(750ml) bottle Spanish white wine,

like Alariño or Garnacha Blanca

¼

cup

simple syrup or to taste,

optional

Sliced fruits and mint,

for garnish
Instructions
Combine fruit and alcohol: In a large pitcher, place the peaches, lemons, and grapes in the bottom. Pour the fino sherry and white wine over the fruit. Stir.

Let it rest: Set in your refrigerator and let sit overnight, or for at least 4 hours .

Sweeten (optional): When you're ready to serve, stir in simple syrup to taste (if using).

Serve: Pour the sangria into glasses and garnish with additional fruit and mint. Salud!
Notes
You can make this recipe your own! Adjust the amount of sugar, top with sparkling wine, or try rosemary or basil in place of mint.
If you're adding sparkling wine like cava, wait to add until just before serving and stir gently. You don't want to lose the bubbles!
Visit our shop to browse quality Mediterranean ingredients including olive oils, honey, jams and spices.
Nutrition
Calories:
148.7
kcal
Carbohydrates:
18.6
g
Protein:
0.8
g
Fat:
0.2
g
Saturated Fat:
0.02
g
Polyunsaturated Fat:
0.1
g
Monounsaturated Fat:
0.03
g
Sodium:
17.2
mg
Potassium:
185.8
mg
Fiber:
1.4
g
Sugar:
14
g
Vitamin A:
134.4
IU
Vitamin C:
16.1
mg
Calcium:
20.7
mg
Iron:
1
mg