Whether you call it a Holiday Sangria, Winter Sangria, or Christmas Sangria, this easy wine cocktail recipe is a delightfully cozy twist on the classic red or white Spanish Sangria. Simply stir together a big pitcher (or punch bowl!) for fuss-free entertaining this holiday season.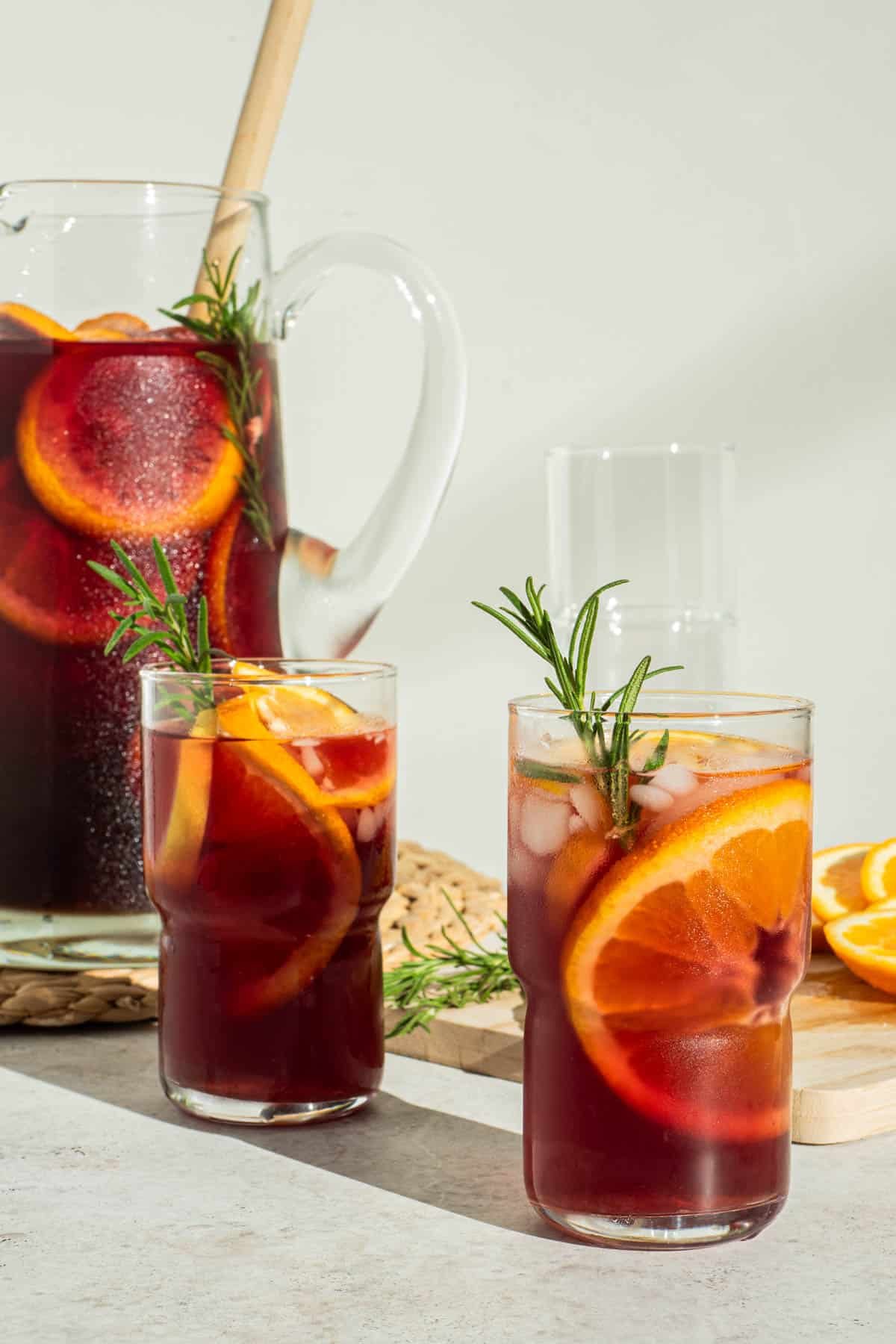 Spanish sangria may bring to mind chilled glasses on a hot, sunny day, but think again—winter is citrus season! Fresh citrus is at its most lively during winter's coldest days, which is why holiday sangria should be part of your festivities this year!
To bring a winter spirit to this sangria recipe, I infuse a bold red wine with aromatic spices like black peppercorn, cinnamon, and clove. This spiced concoction is then mixed with the vanilla and orange-scented Spanish liqueur Licor 43, and dressed with slices of fresh citrus and piney rosemary. It's best to make holiday sangria at least 4 hours before you plan to serve it, for the most vibrant flavor. Making it ahead of time also means one more thing you can check off of your holiday to-do list!

Winter sangria is a no-fuss holiday punch recipe perfect for serving a crowd around the holidays. You can always be certain there's a beverage on hand for guests dropping in. Simply allow people to help themselves while you mingle and enjoy.
Obviously, this sangria recipe is made with red wine, but no worries. I have your white wine drinking friends covered too! Just whip up a batch of White Wine Sangria, add a few cranberries to the glass, and swap the peaches for orange slices to make it festive for the holidays.
Table of Contents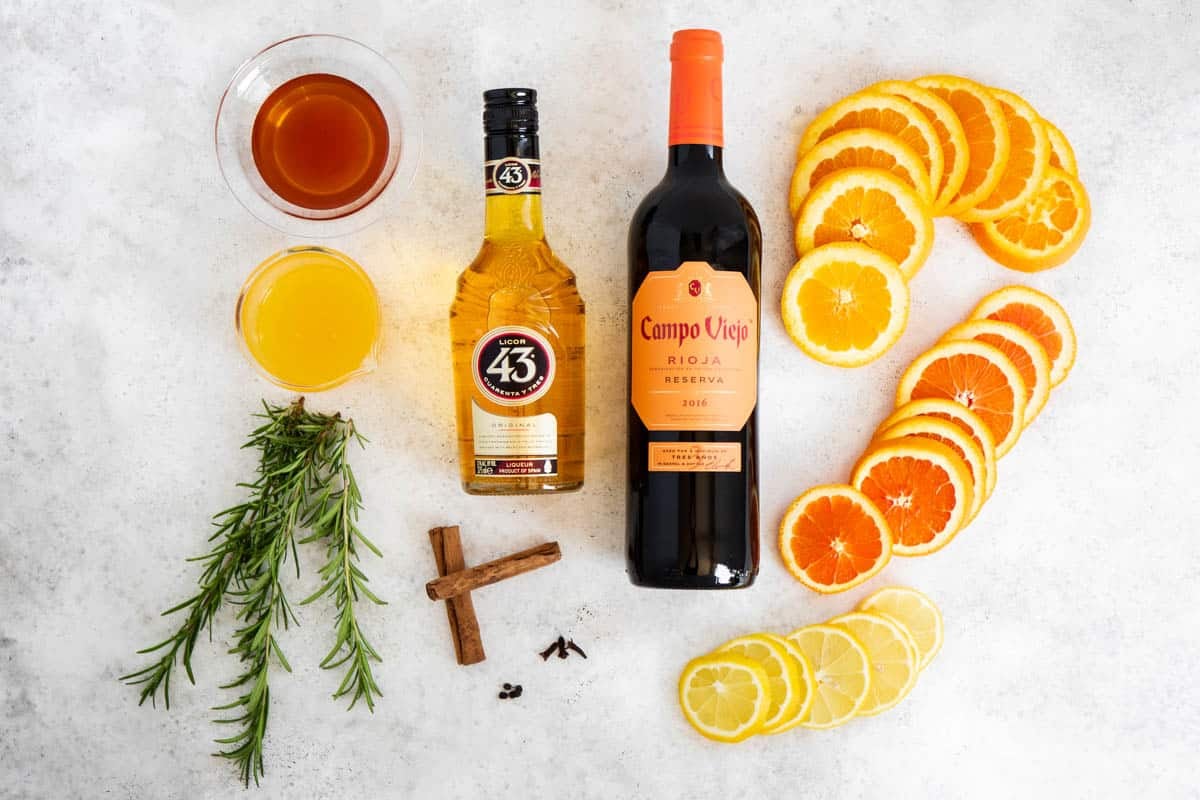 What's in this Holiday Sangria Recipe
Winter sangria uses the standard formula of macerating citrus in fruit juice and wine. This version introduces some winter flavors, like warming spices and savory herbs. Here's what you'll need:
Wine: If we're talking sangria, we're talking wine! This Winter Sangria uses Rioja, the quintessential red wine used in sangrias throughout Spain. It's a bold red with low acidity and bursting with berry flavor and some spice—a great choice for warming your spirits during winter. If you cannot find a Rioja wine near you, try a Priorat or a Grenache style.
Fruit: After the wine, the fruit you use will contribute significantly to the flavor. Oranges and lemons are in season during the winter and at their sweetest and juiciest—great for adding tangy citrus to the mix. Feel free to change up the citrus to your liking. Sweet and bitter oranges, meyer lemons, and grapefruit will all work here, as long as there is a balance between sweet and tart.
Sweetener: To give this festive drink a touch more flavor, we add orange juice and the Spanish liqueur Licor 43. The orange juice naturally sweetens the sangria and mellows the alcohol content, while the Licor 43 introduces additional sweetness, spicy vanilla notes, and highlights the citrus flavor. The Winter Sangria has a subtle fruity sweetness to it, but if you prefer a slightly sweeter drink, you can additionally add in a ¼ cup of a high quality honey, like our Greek Alfa honey. Just make sure you warm it with 2 tablespoons of water before adding it to the pitcher.
Spices and herbs: Fresh rosemary and cinnamon sticks give a punch of holiday spice as well as a festive aroma to each glass, while peppercorns and cloves add some earthy flavor to balance the sweet citrus.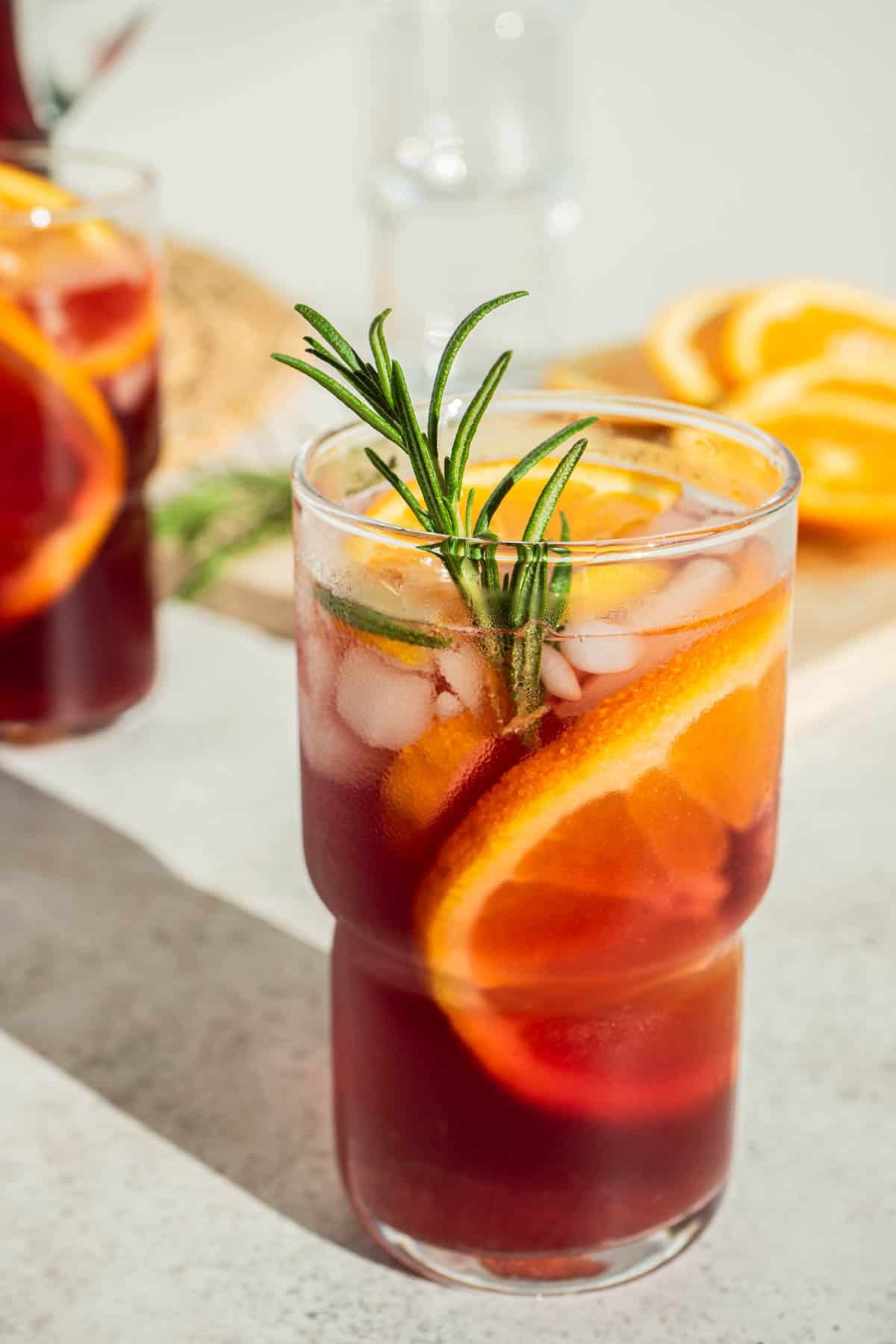 How to Make Holiday Sangria
Most sangria recipes are no-fuss, making them suitable for even the most novice bartender. The most effort you'll spend is slicing citrus! Just be sure to give yourself at least 4 hours to allow the drink to rest.
Slice the citrus. Slice 2 oranges and 1 lemon into ¼-inch wheels. Layer into a large pitcher, along with 2 cinnamon sticks and 3 sprigs of rosemary. You can tuck the cinnamon and rosemary between slices or put them up against the edge of your container. This will ensure everything stays submerged to make for a bolder flavor.
Sweeten. Add ½ cup each of Licor 43 and orange juice. Add honey to taste (about ¼ cup for a sweeter sangria). If your honey is hard to pour, warm it in the microwave with 2 tablespoons of water until pourable. Working in 10-second bursts, it should need no more than 20 to 30 seconds total to loosen up.
Spice. Add 5 black peppercorns and 3 cloves. find it easier to add them all to a tea bag, or make a small pouch with cheesecloth and tie that together so they are not loose in the Sangria. If that's not available you can always press them into the rind of an orange slice.
Steep. Add a bottle of red wine and give everything a good stir, being careful to leave the citrus layers intact. Cover tightly with a lid or plastic wrap and refrigerate overnight (or for at least 4 hours).
Serve. When your guests arrive, pull the Winter Sangria out of the fridge, stir again, and then pour into ice-filled tumblers or wine glasses. You can garnish with fresh fruit slices (your fruit from the pitcher will have taken on a purple hue; some people like to enjoy these with their sangria, some do not) and a sprig of rosemary. Cheers!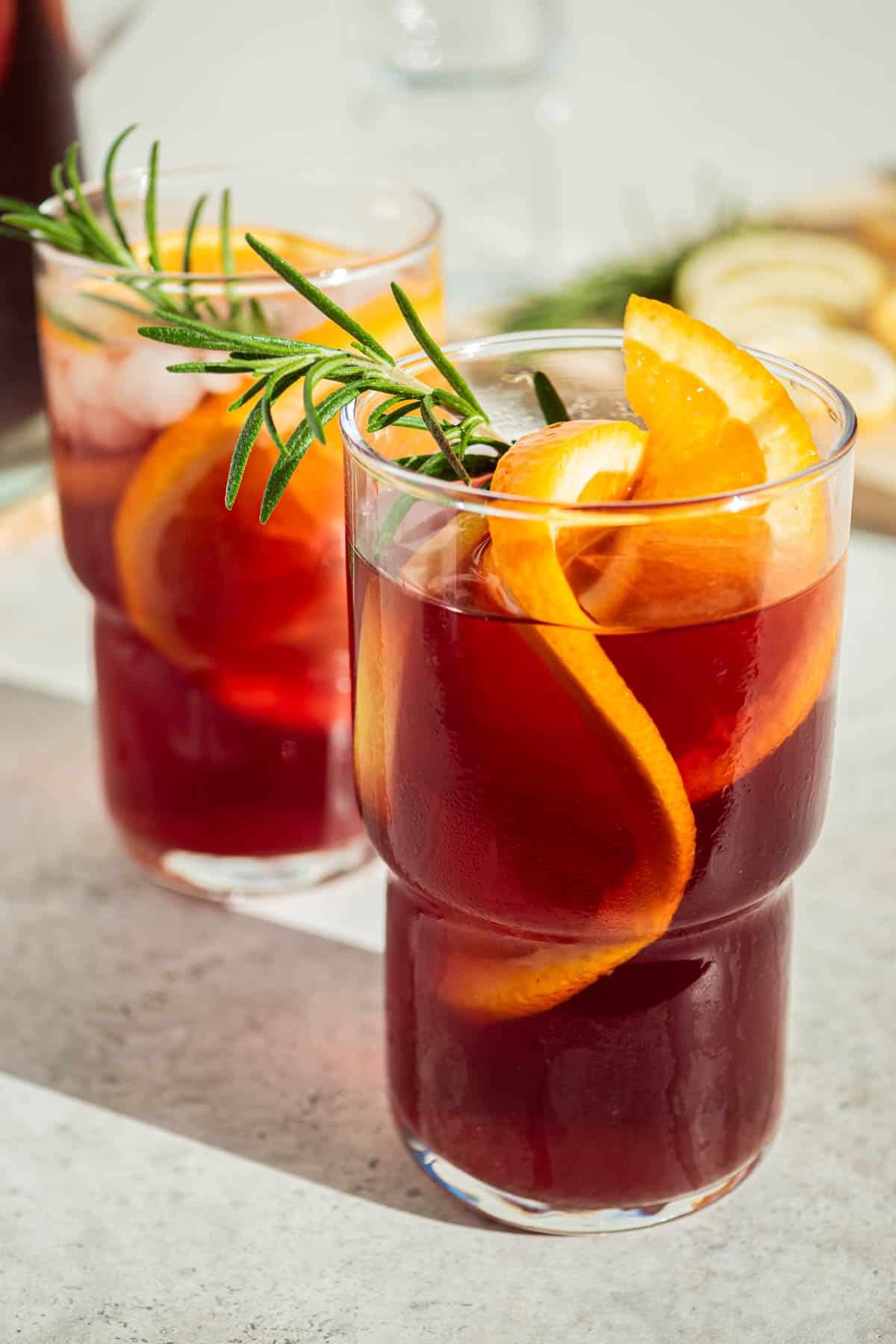 Ways to Mix It Up
Orange and lemon add a delicious tartness and balance in this winter Sangria recipe. But, with citrus at its peak, feel free to experiment with any interesting seasonal varieties you find. Here are some ways you can play around with your Christmas sangria:
For a touch of bitterness: Use half navel oranges and half Seville oranges.
For a sweeter profile: Substitute all of the navel oranges with Cara Cara oranges or Valencia oranges.
Try a variety of seasonal citrus: Like grapefruit, kumquats, pomelos, and tangerines.
Add sparkle & lower the alcohol: Mix in 2 cups of club soda just before serving.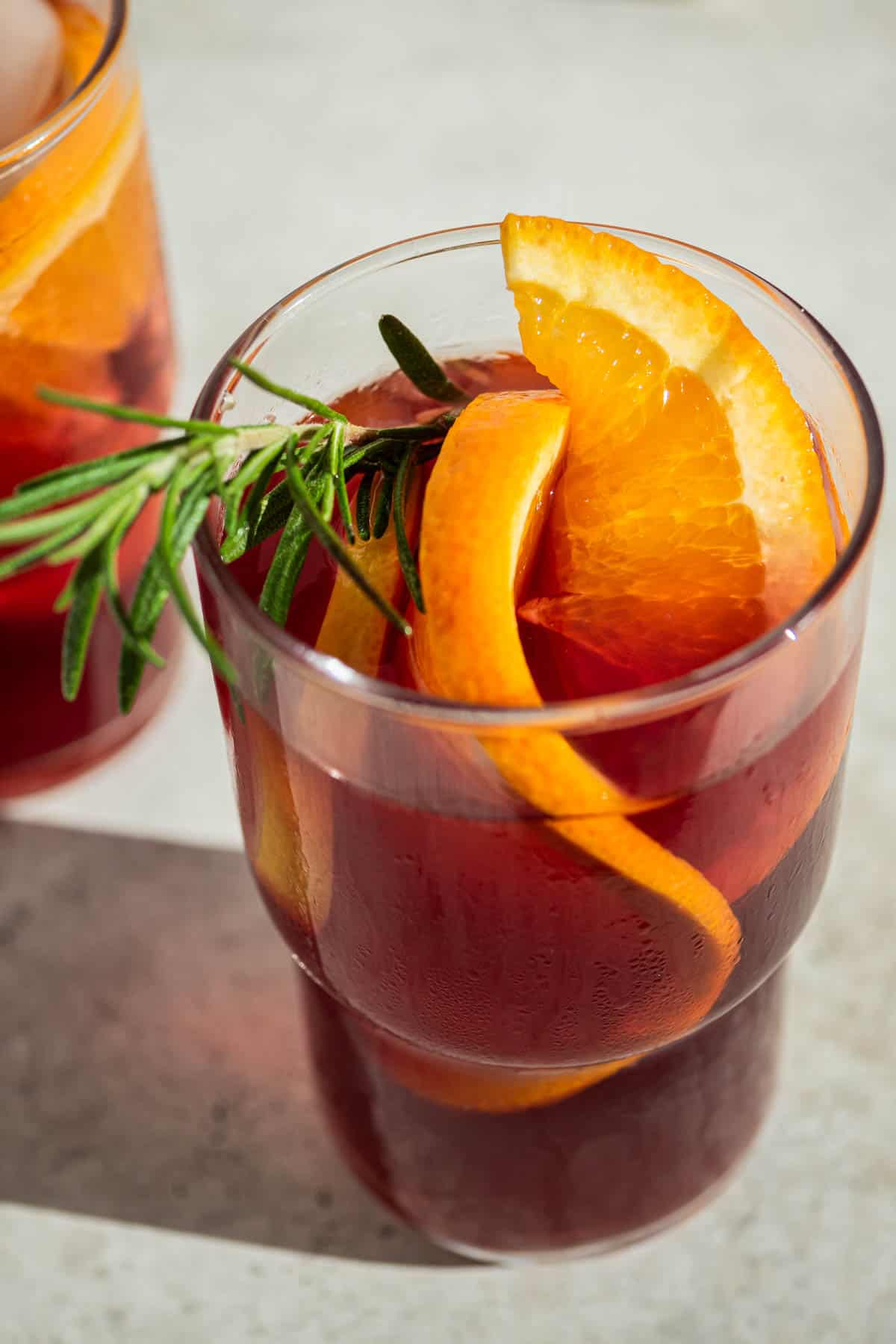 What to Serve with Winter Sangria
Winter Sangria is ideal for entertaining, so festive foods and plates make a great pairing. Keep it classic with a cheese board, mezze platter, or crudites.
You'll Also Like: More Winter Cocktail Recipes
Try Our Greek Alfa Honey!
Sweeten your Holiday Sangria with the best.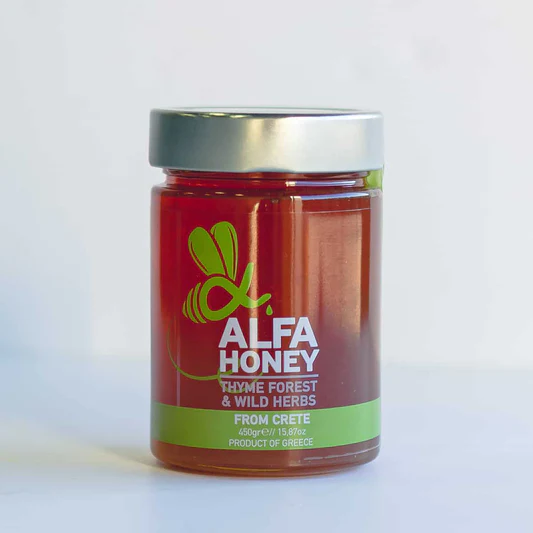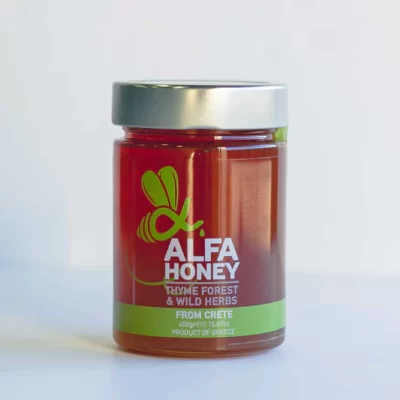 Holiday Sangria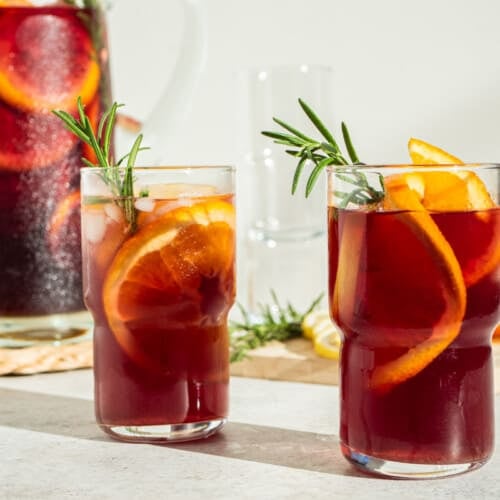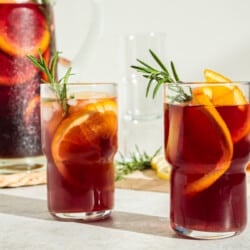 Classic Spanish sangria gets a winter twist with this easy cocktail recipe! A bold red wine steeps with seasonal citrus, warming spices and aromatic rosemary for a cozy take on the classic. Make in a big pitcher for fuss-free entertaining this holiday season.
Ingredients
5

oranges

(I like navel)

1

lemon

2

cinnamon sticks

3

rosemary sprigs,

plus more for garnish

½

cup

Licor 43

Honey, to taste

(optional)

5

black peppercorns

3

cloves

1

(750ml) bottle red wine

(I like Rioja)

Seasonal fruit,

like sliced citrus, apples, cranberries, pomegranates, and grapes, for garnish
Instructions
Layer the citrus. Juice enough of the oranges to yield ½ cup juice (about 2-3), then slice the remaining oranges and lemon into ¼-inch rounds. Layer the citrus slices in the bottom of a large pitcher, along with the cinnamon sticks and rosemary sprigs.

Sweeten. Pour in the orange juice, Licor 43, and honey (if using, about ¼ cup for a sweeter drink).

Add the peppercorns and cloves. You can either place them loose into the pitcher or use a tea bag or cheesecloth tied tightly with kitchen twine to hold the spices.

Add the wine and rest. Pour in the red wine and give everything a stir to combine. Be careful to leave the citrus layers intact so they remain submerged. Cover tightly with a lid or plastic wrap and refrigerate to allow the spices to infuse the wine and the flavors to become more vibrant. Overnight is best, but you'll want at least 4 hours or up to 2 days.

Serve. Pour the Sangria into ice-filled glasses and garnish with additional fruit slices and rosemary sprigs. Salud!
Notes
I like the boldness of a Spanish Rioja, along with its low acidity and notes of berries and spice. If you cannot find a Rioja wine near you, try a Priorat, Grenache, or any low acidity, full bodied red you like.

If you're serving a large crowd, use a large punch bowl and double the recipe.

If your honey is hard to pour, warm it in the microwave until pourable. Working in 10 second bursts, it should need no more than 20 to 30 seconds total to loosen up.

Visit our shop

to browse quality Mediterranean ingredients including

olive oils

,

honey

,

jams

, and

spices

.
Nutrition
Calories:
159.7
kcal
Carbohydrates:
14.2
g
Protein:
1
g
Fat:
0.2
g
Saturated Fat:
0.04
g
Polyunsaturated Fat:
0.04
g
Monounsaturated Fat:
0.03
g
Sodium:
4.6
mg
Potassium:
294.1
mg
Fiber:
2.9
g
Sugar:
8.6
g
Vitamin A:
203.1
IU
Vitamin C:
50.8
mg
Calcium:
54.5
mg
Iron:
0.7
mg