Carajillo is a coffee drink typically made with rum or brandy. Many people throughout Spain, Latin America and the Caribbean enjoy it with their own twist. Once you try it, you'll make this coffee cocktail on repeat!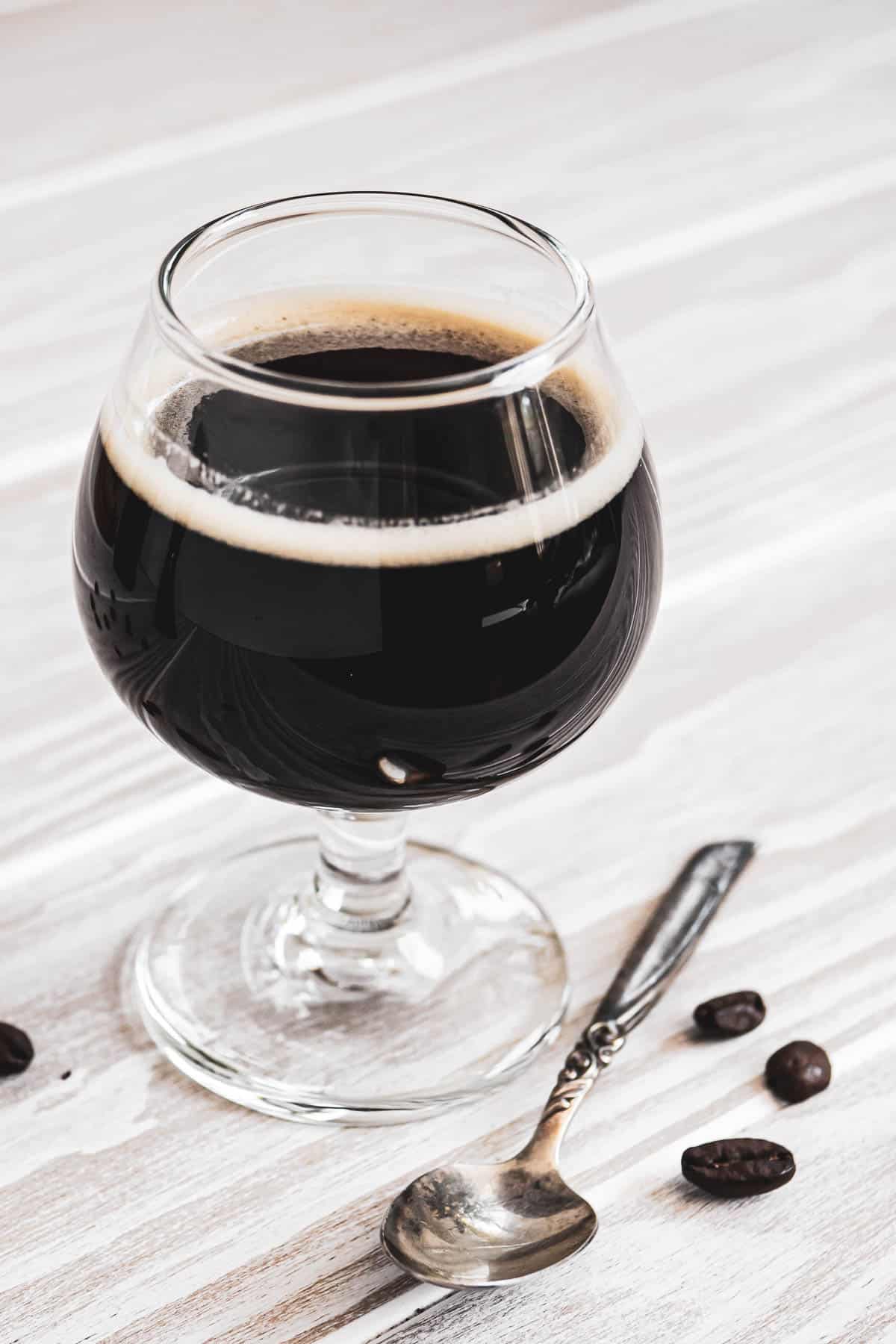 You could almost consider coffee a universally appreciated, if not loved, beverage. Millions of people throughout the world drink it every day. But how people enjoy coffee is expressed in endless distinct variations including one of my favorites coffee cocktails — carajillo.
Carajillo is an any-time-of-day coffee drink with a secret punch: booze.
Many in Spain, Cuba, Mexico, and other Spanish speaking countries enjoy this coffee cocktail hot or cold and with different alcohol variations. In this recipe we are sharing a Spanish approach to carajillo, with a touch of Brandy or rum.

If you're not into overly sweet drinks and love coffee this is the drink you've been waiting for!
Table of Contents
What is carajillo?
Carajillo is an espresso and liquor cocktail. The type of booze can vary as can the presentation. You can find the drink served with a sugar rim, the alcohol and coffee poured in distinct layers, or even set on fire. Yes, fire! If I'm making it at home, I tend to keep things pretty simple and leave the flames to the professionals.

For this recipe, I follow a Spanish tradition using brandy or rum, with a touch of sugar. It's simple, not overly boozy and makes a great brunch or after dinner drink. You can enjoy carajillo hot or over ice depending upon your personal preferences and the time of year.
In Mexico and certain parts of Spain Carajillo is spiked with Licor 43, a sweet, orange-scented liqueur. (Licor 43 is one of my favorite liqueurs. I recommend you try it in sangria some time.)
In the States, carajillo is better known as Spanish coffee, which is an entirely different drink altogether. It includes whipped cream, flames, and coffee liqueur. James Louie, a restauranteur, created the now famous riff on carajillo in the 1970s. While the American Spanish Coffee drink is delicious it's not carajillo.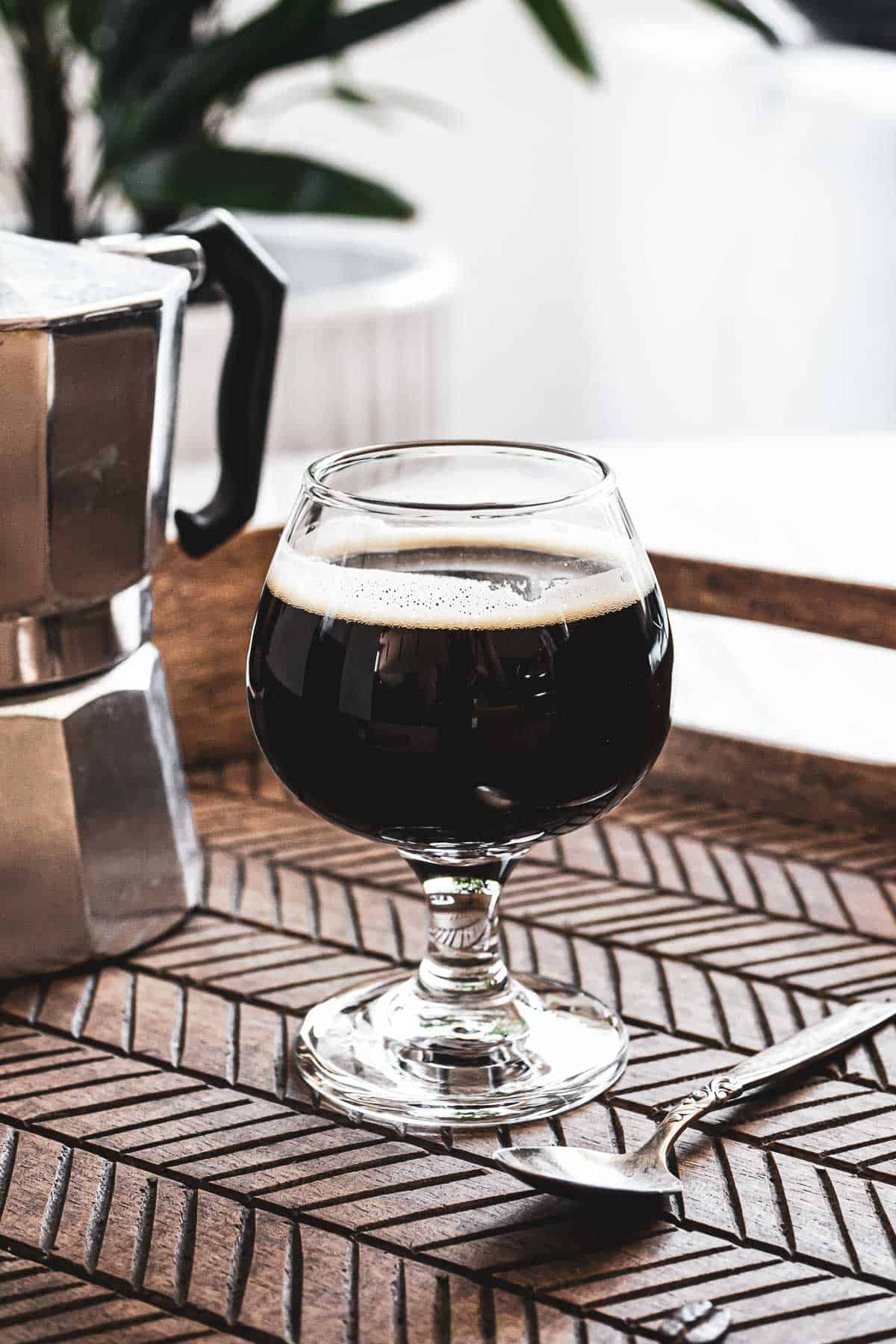 Where did carajillo begin?
The origin story of the Carajillo — like many drinks that come to us from the mists of history — is rather murky. In fact, there are several, very different, origin stories surrounding the drink.

One of the most popular stories originates in Spanish-occupied Cuba. It is believed laborers on plantations drank coffee and a shot of rum for "courage" or coraje in Spanish. Many believe, carajillo is derived from the word.
It evolved from there to become a common neighborhood drink. Easy and acceptably consumed from morning to night. If that story doesn't satisfy, then turn toward another story where workers invented the drink so they could toss it back quickly and get back to work.
Much like red sangria, Carajillo's popularity in Spain and around the world is widespread (regardless of where or how it started) and for a good reason: It's a wonderfully delicious drink.
What's in carajillo?
There are just two basic ingredients in a Carajillo: espresso and liquor. For the liquor, I prefer a strong brown liquor because those taste great with coffee, but if you prefer things on the sweeter side try it with Licor 43 instead. Honestly, your favorite brand of any of the options below will be delicious:
What if I don't have espresso?
Don't let lack of an espresso machine prevent you from making carajillo! You can still make a great coffee cocktail with a pot of strongly brewed coffee. If you only have a coffee machine or a French press at home, brew an extra strong pot and use that in place of espresso.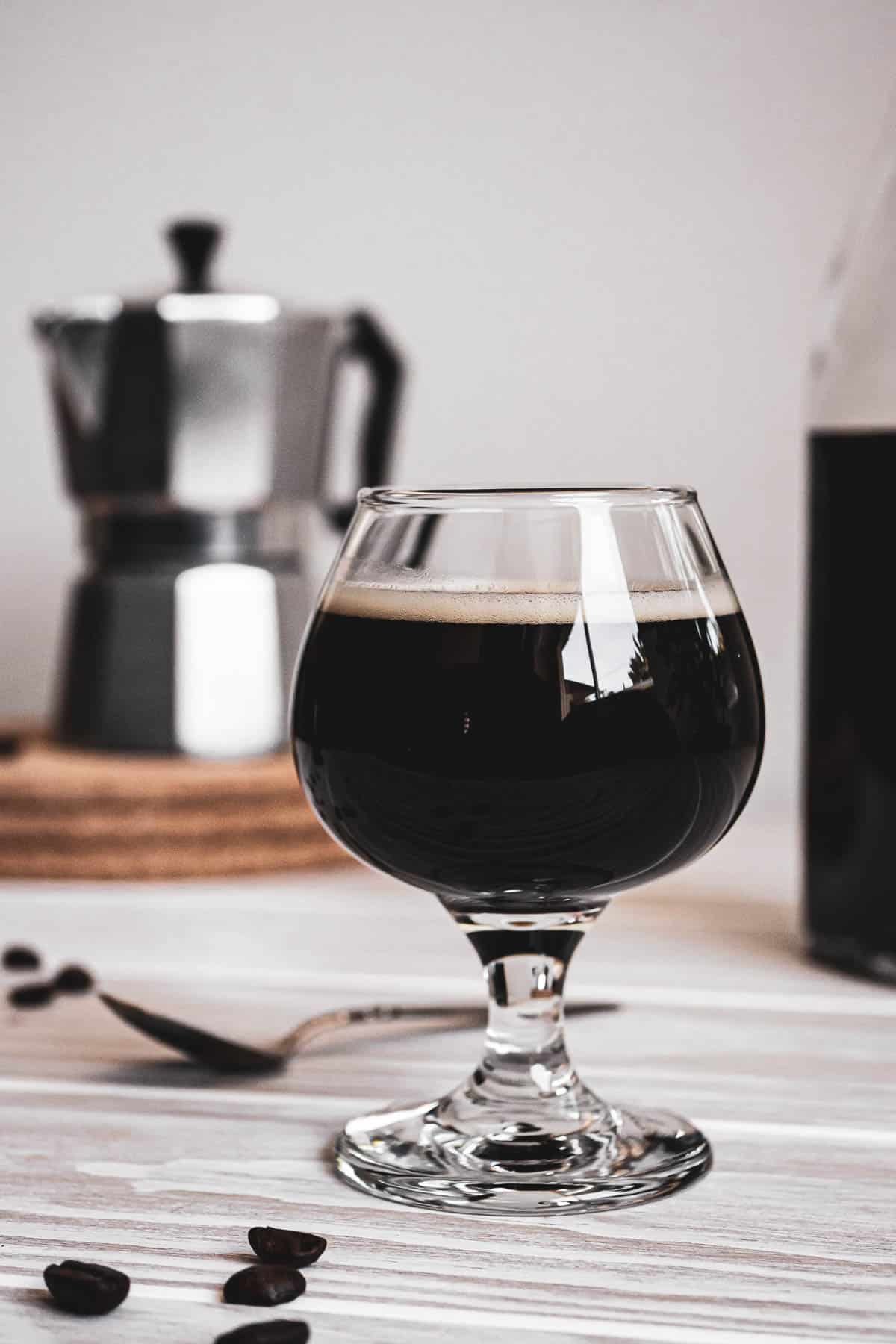 Make carajillo your own
With a simple drink like carajillo, you will always find variations. Don't like black coffee, or need some sugar with your boozy cup of joe? I have you covered! I do recommend, however, trying the typical recipe first presented here, and then try any of these variations once you've mastered this coffee cocktail. Here are some ways to make a carajillo your own:
Sugar is optional. Depending on the region in Spain, it may come separately, or not at all. My personal preference is coffee without sugar, as the liquors recommended for this coffee cocktail carry a subtle sweetness anyway. If you absolutely cannot drink coffee without sugar, a half teaspoon stirred into the hot espresso should be sweet enough for you here. After all, it's not a particularly large drink.
Add a spoonful of whipped cream to top your drink for a creamy carajillo.
Set the alcohol aflame. Okay, I'm only recommending this for my blow torch aficionados! If you are not comfortable lighting alcohol on fire, maybe avoid this variation. This works best if using high proof rum.
Layer the liquor and coffee by pouring the coffee down a spoon on top of the booze for a fancier presentation.
Add ice to the glass for a cold version.
Dinner and drinks
Depending upon where in the world you're drinking carajillo, you can enjoy it with a variety of small plates, after a large meal (perhaps with some Turkish Delight), or with brunch.
Create a Spanish feast of tapas like patatas bravas and pan con tomate and a main like Paella. Stick with the evening's theme and sip sangria during dinner. As the evening winds down, pass the carajillo — your soon-to-be favorite caffeinated cocktail — to keep the party going!
More drink recipes to try
Browse all Mediterranean recipes.

Visit Our Shop.
Carajillo (Spiked Coffee Drink)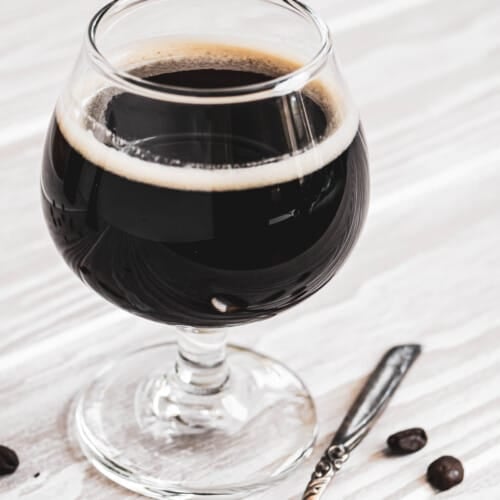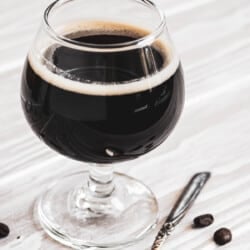 Must-try recipe for Carajillo, a Spanish coffee drink made with a little booze. All you need is espresso (or very strong coffee) and liquor like rum or brandy! Drink it as is, or add some sugar to sweeten it up. This recipe is for 1 serving, so feel free to double or triple it if you have company over.
Ingredients
2

ounces

espresso

1

ounce

brandy,

rum, or liquor of choice (see notes for options)

½

teaspoon

sugar,

optional
Instructions
In a small heat proof glass, pour in your espresso and then liquor.

Add sugar if using and stir. Enjoy!
Notes
Alcohol options: Brandy, rum, whiskey, cognac
What to do if you don't have espresso: Simply brew an extra strong pot of coffee.
Variations: Add sugar, whipped cream, or ice (for a cold version).
Visit Our Shop for quality Mediterranean ingredients including extra virgin olive oils, spices, lentils, and grains.
Nutrition
Calories:
70.6
kcal
Carbohydrates:
0.9
g
Protein:
0.1
g
Fat:
0.1
g
Saturated Fat:
0.1
g
Polyunsaturated Fat:
0.1
g
Sodium:
8.2
mg
Potassium:
65.8
mg
Vitamin C:
0.1
mg
Calcium:
1.1
mg
Iron:
0.1
mg