Mix a little ouzo, the Greek anise-flavored liqueur, with some lemon juice, ice, honey, and fresh mint, and you have a refreshing ouzo drink to enjoy with your favorite mezze. You'll love this simple Greek-style cocktail!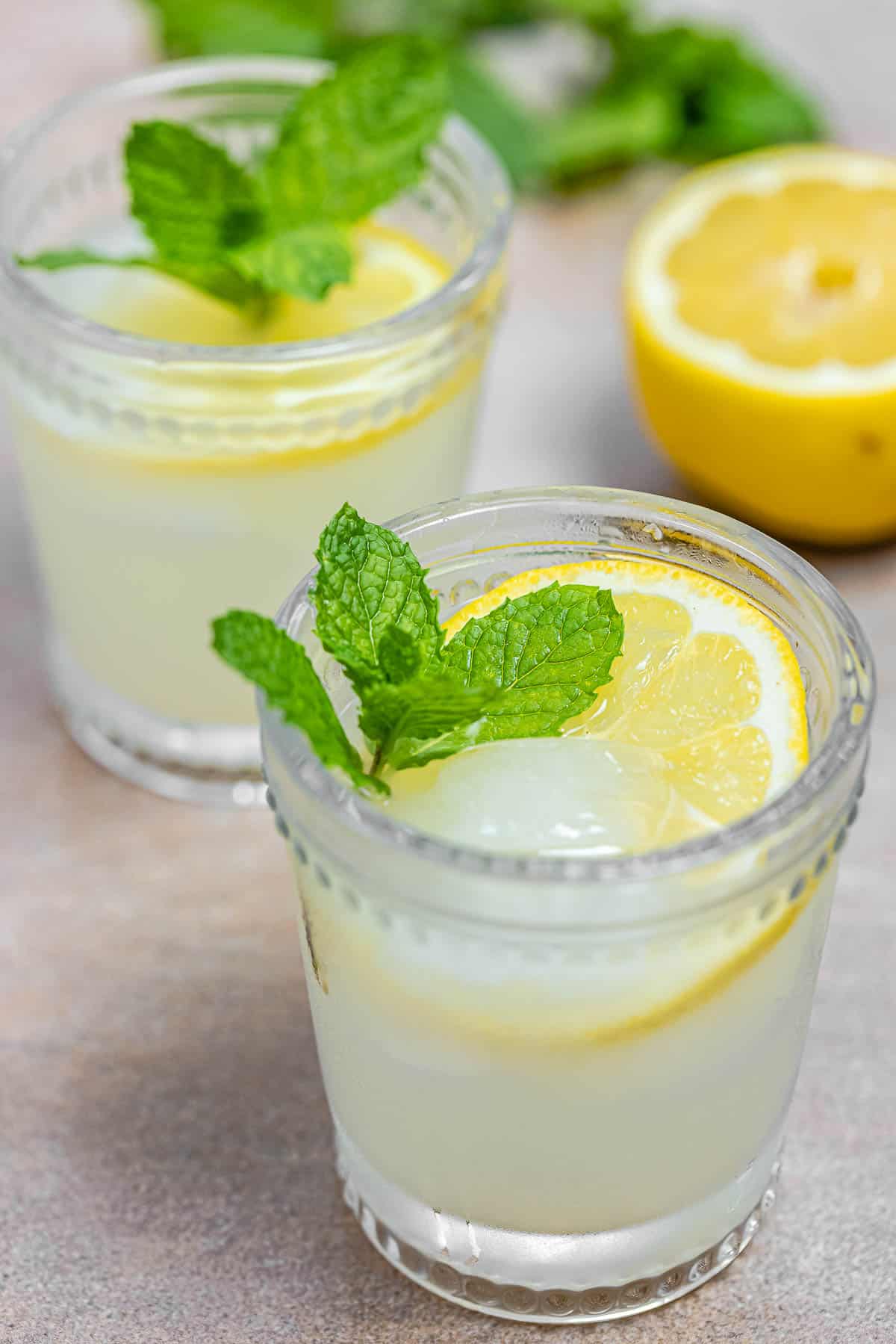 Considered Greece's national spirit, ouzo (the anise-flavored liqueur) is a fairly boozy drink that is typically served neat in small skinny glasses. (Yes, it's the stuff you see in the infamous drinking scene in the movie My Big Fat Greek Wedding, where they raise their glasses and say OPA!)
Drinking ouzo straight is not for the faint of heart; for most of us, a little ice is helpful to dilute it just a bit. And if you're anything like me, you may even like your ouzo drink better as a cocktail with a splash of fresh lemon juice and a little sweetener. (I like a touch of honey to soften the licorice-y taste a bit.) A fresh mint leaf is the perfect finishing touch.
I was first introduced to this ouzo lemonade idea at a Greek restaurant in the Buckhead area here in Atlanta. It is fresh and summery, and you can serve it with any number of delicious mezze from warm pita chips with tzatziki or melitzanosalata, to Greek-style fries or little keftedes (just a few ideas for you).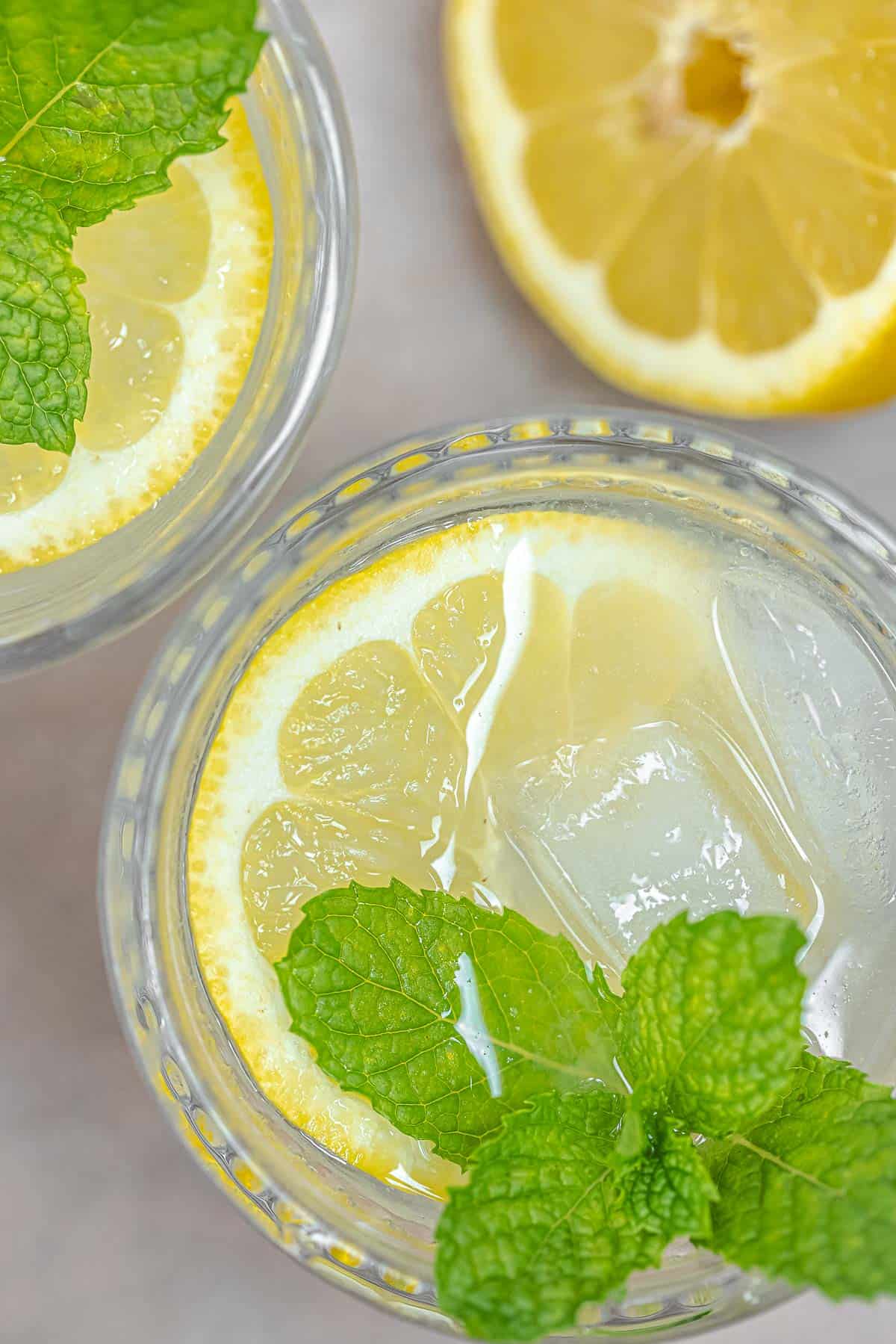 What is ouzo?
Ouzo, Greece's national spirit, is a clear colored liqueur made from grape must (unfermented juice remnants pressed from grapes for winemaking) and has a very strong anise taste. Along with anise, ouzo may contain other spices like fennel, cinnamon, or cardamom.

It has an alcohol content (ABV) of 37.5 to 50%, or 75- to 100-proof. (For reference, vodka and gin usually have a 40% ABV). And because ouzo has a relatively high sugar content, it can delay the absorption of alcohol, which can cause it to sneak up on you if it's consumed too quickly.
Anise-forward alcohol is popular around the world, and several countries have their own special version of it – arak from the Middle East, pastis from France, aquavit from Scandinavia, absinthe in Switzerland, raki from Turkey, and sambuca from Italy, among others.
Now, if you don't like anise or licorice-flavored things, this will likely not tickle your tastebuds in a good way. But when you mix ouzo with a bit of ice and a splash of water and lemon juice, it takes the edge off just a tad, making it tempting to even the most licorice-skeptical palates.
Note that when you mix ouzo with ice or liquid, it will turn from clear to a milky-white color.

Looking for a liqueur with less of a bite? Don't miss our refreshing limoncello recipe.
Ingredients you need to make this ouzo drink
All you need are a few simple ingredients to make a refreshing ouzo cocktail:
Ouzo: Greek ouzo is easy to find in liquor stores and even some grocery stores here in the US. If you can't find it, try Middle Eastern arak, Italian Sambuca, French pastis, or another anise-forward liquor. While they all taste different, they will be relatively close cousins in terms of flavor.
Fresh lemon juice: I use ½ to 1 ounce of lemon juice, depending on how much of the licorice-y flavor I want. You can also add a little water to temper the taste even more.
Mint: There's a reason mint is the most popular herb in cocktails! A few leaves add fresh coolness to your drink. Pro tip: Muddle the leaves a bit to release the mintiness, and save some whole leaves for garnish.
Optional sweetener: A teaspoon of honey, agave, or simple syrup can elevate an ouzo drink, especially if you like your cocktails on the sweeter side.
Ice: Ice chills this Greek-style cocktail, and also appropriately dilutes the other ingredients to balance the flavors.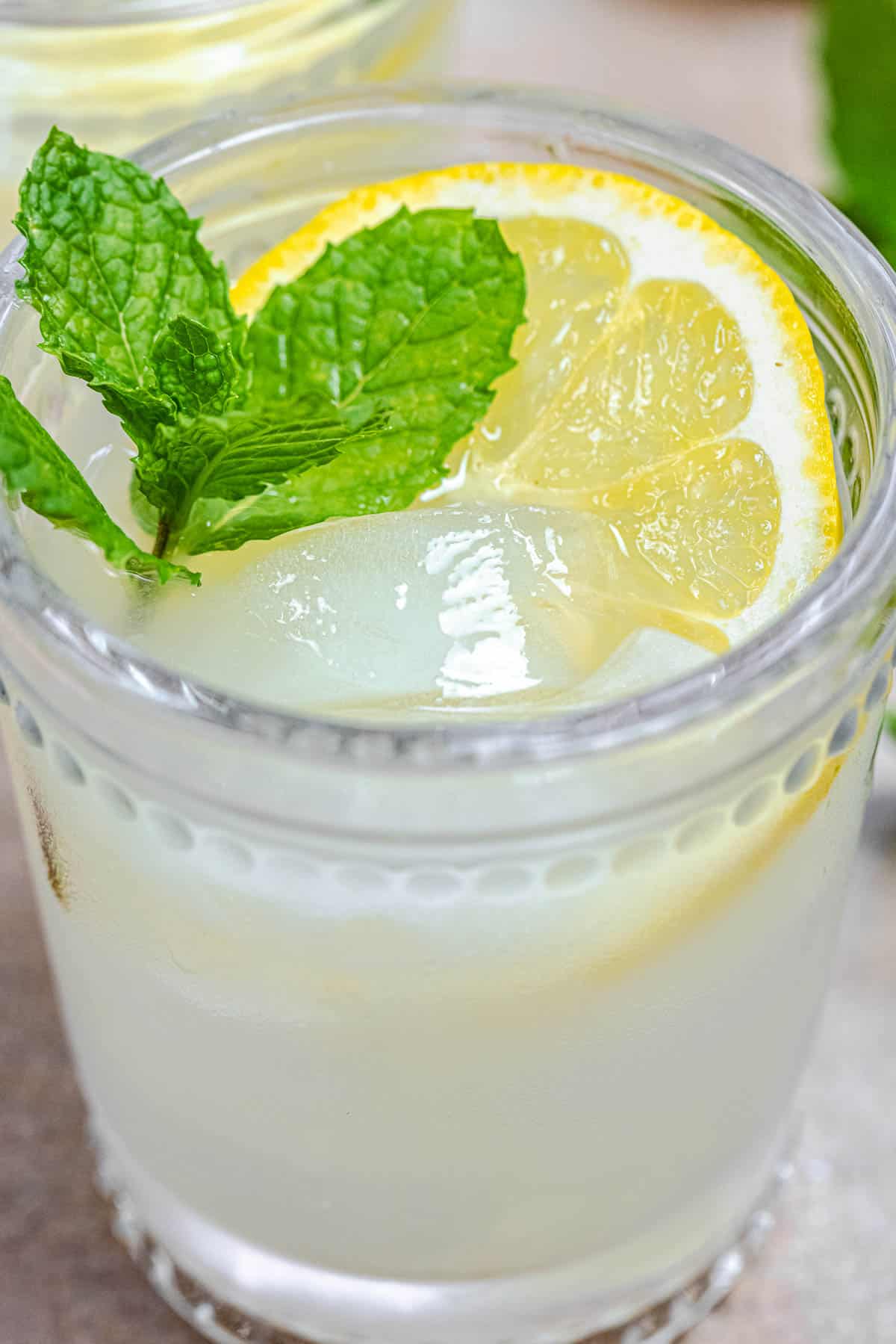 How to make this ouzo cocktail
This ouzo drink recipe makes one drink, but you can double or triple it to serve more people. Here is how to make it:
Make the ouzo cocktail. In a mixing jug or cup, stir together 2 ½ ounces ouzo, ½ to 1 ounce lemon juice (or more if you prefer), and 1 teaspoon of honey if you want some sweetness. You'll notice that ouzo turns from clear to cloudy when you mix it with other ingredients, so don't be alarmed when this happens to your ouzo drink! It is called the "Ouzo Effect". Add 1 or 2 fresh mint leaves and muddle briefly. If you don't have a muddler, a small wooden spoon works just as well.
Serve. Fill a small glass with ice cubes and pour the ouzo lemonade over. Garnish with more fresh mint, swirl, and taste. If the drink is too strong for your liking, add more lemon juice or a splash of cold water. Enjoy!
For more classic cocktails, be sure to check out our pomegranate martini and limoncello recipes.
Snacks to serve along
Ouzo pairs beautifully with a variety of cold and hot snacks. In Greece, it is often served with mezze and things like olives, cheeses, and seafood.
Here are some ideas for the kinds of dish to serve with your ouzo drink:
More drinks to try
Browse all Mediterranean recipes.

Visit Our Shop.
Simple Ouzo Drink with Lemon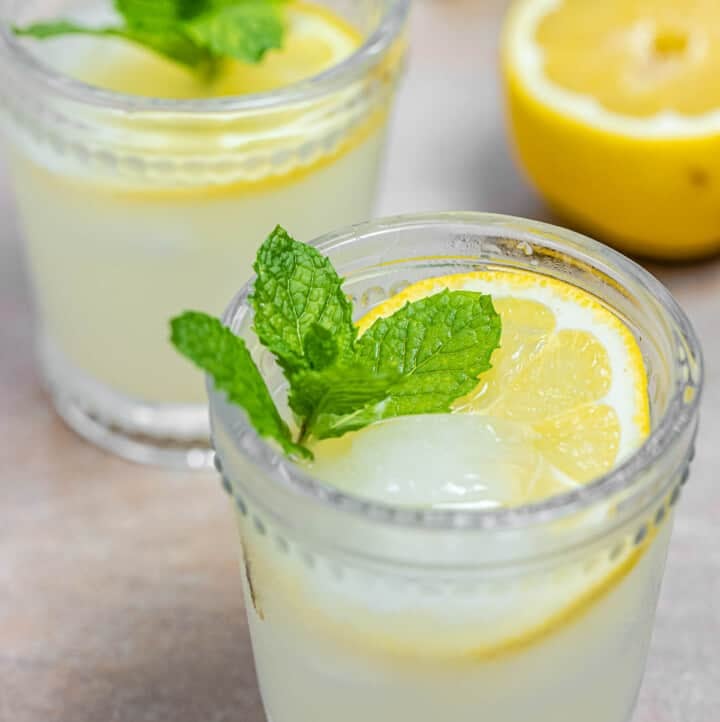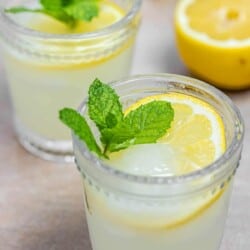 You'll love this simple Greek-style ouzo cocktail! Made with ouzo (an anise-flavored Greek liqueur), lemon juice, honey, fresh mint, and ice, this ouzo drink is refreshing and just licorice-y enough. Ouzo is pretty easy to find in the US, but if you have trouble, you can swap it for Middle Eastern arak, Italian sambuca, French pastis, or another anise-forward liquor. They all taste different, but will give you a similar cocktail. Serve this ouzo drink with mezze like marinated feta, fried calamari, steamed clams, or shrimp skewers (lots more ideas in the post!).
Ingredients
2 ½

ounces

ouzo

½ to 1

ounce

fresh lemon juice,

more if you prefer

1 to 2

Fresh mint leaves,

more for garnish

1

teaspoon

honey,

agave, or simple syrup (optional)

Ice
Instructions
In a mixing jar or cup, add the ouzo, lemon juice, and honey if using. Stir.

Add the mint and muddle a bit (if you don't have a muddler, you can use a small wooden spoon).

Prepare a small glass and fill it with ice. Pour the ouzo cocktail over the ice. Garnish with fresh mint. Give the ouzo a quick swirl in the ice and enjoy.
Notes
Use more water or lemon juice if you want to dilute the ouzo even more.
Substitutes: If you can't find ouzo, you can use another anise-forward liquor such as sambuca, arak, or aquavit. The flavor will be different, but similar.
Serve it with: Serve ouzo drinks with mezze like

marinated feta

,

fried calamari

,

steamed clams

, or

mini souvlaki skewers

(lots more ideas in the post!).

Visit our Shop to browse quality Mediterranean ingredients including extra virgin olive oils, all-natural honey, organic spices, and more.
Nutrition
Calories:
189.8
kcal
Carbohydrates:
7.2
g
Protein:
0.2
g
Fat:
0.1
g
Saturated Fat:
0.01
g
Polyunsaturated Fat:
0.02
g
Sodium:
1.6
mg
Potassium:
30.3
mg
Fiber:
0.5
g
Sugar:
6.1
g
Vitamin A:
45.6
IU
Vitamin C:
7.9
mg
Calcium:
6.5
mg
Iron:
0.2
mg