The Negroni is an easy 3-ingredient cocktail recipe that's just as refreshing on a hot day as it is comforting on a chilly night. With its striking ruby-red color, and not-so-subtle bittersweet taste the negroni is a beloved Italian aperitif enjoyed across the globe.
The Negroni became an overnight sensation in the US during the mid to late 2000s. The simple classic drink has since established a permanent home on cocktail menus throughout the country.
Not only does the Negroni boast a beautiful vibrant red color, but it's also beautifully simple to make. It's made from equal parts of just three spirits: gin, sweet vermouth, and Campari. Like with our Eternal Sunshine Gin Cocktail, there's no extra syrups, juicing, or even shaking necessary!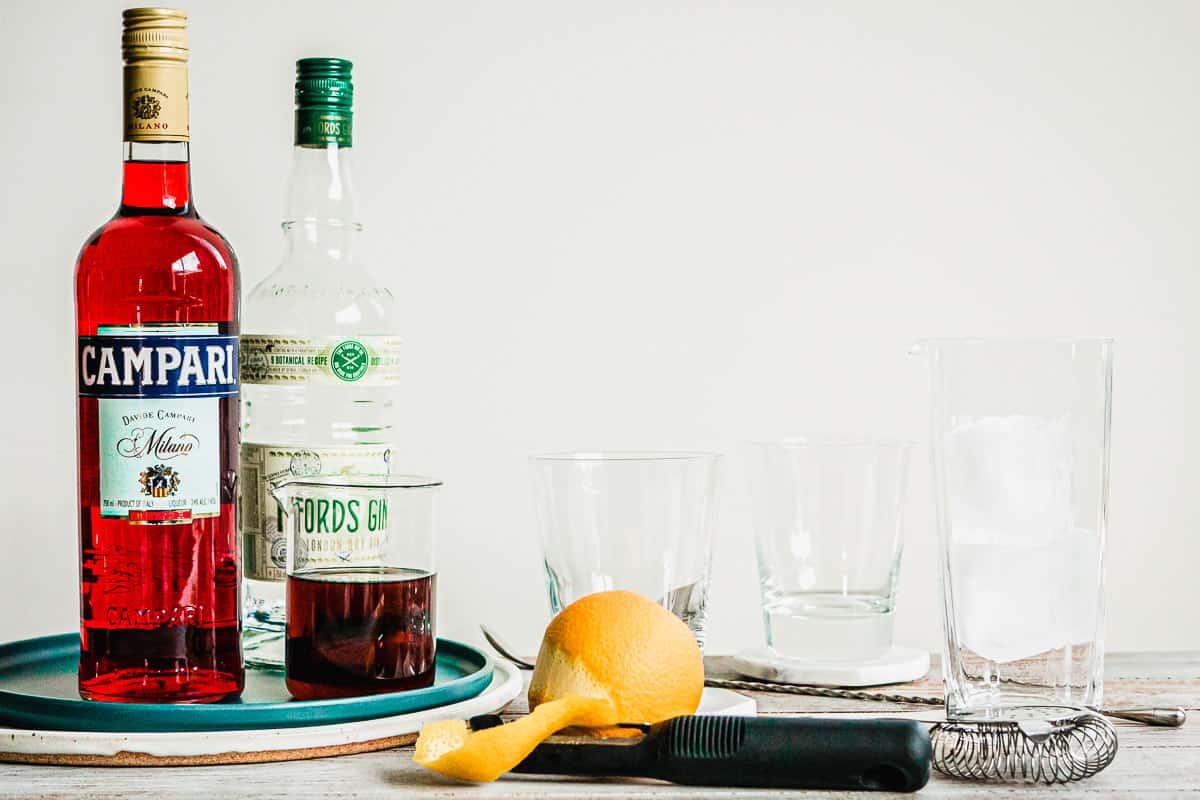 What's in a Negroni?
A traditional Negroni is made of equal parts gin, Campari, and sweet (or red) vermouth.
Gin: This cocktail requires a straightforward flavor profile, so a London Dry-style gin is best, and Fords Gin is a particular favorite of mine.
Sweet vermouth: Too many botanicals can drastically change the flavor profile, so go Italian with Cinzano Rosso or Carpano Antico.
Campari: An Italian liqueur from a blend of herbs and fruits, including bitter orange, rhubarb, ginseng, and cascarilla bark. Campari gives the Negroni its signature bittersweet taste.
Orange zest (optional): An orange peel is gently squeezed, orange side-down over the drink just before serving. This releases some of the fragrant orange oils from the peel. The lovely citrus aroma highlights the citrus in the Campari. While optional, I urge you to try it once and taste the difference.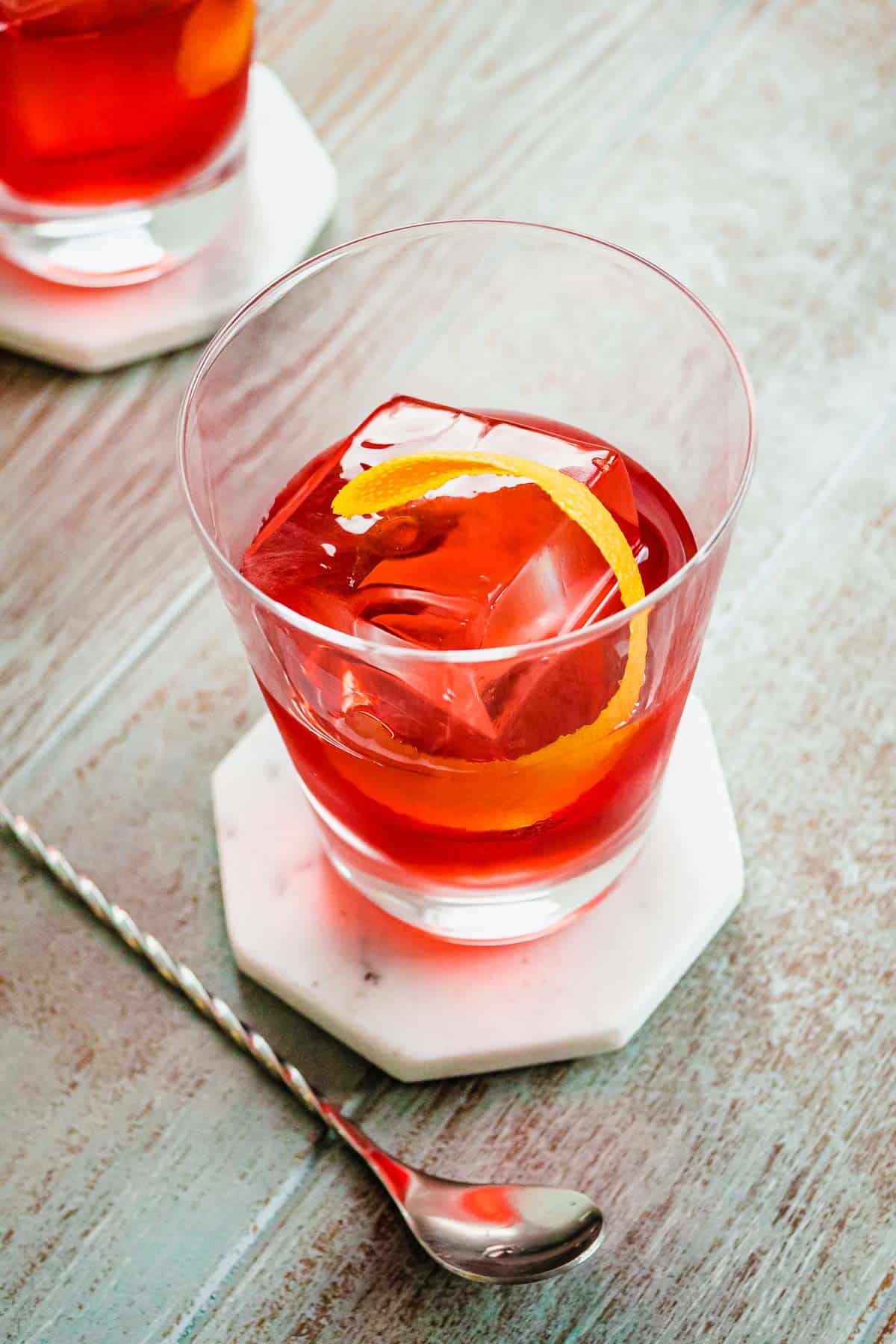 Ways to Mix Up the Traditional Negroni
This is a tried-and-true classic negroni recipe, however, this versatile cocktail can be tweaked, changed and altered to your liking. Get playful with your cocktails! Here are a few ideas to get you started:
Adjust the bitterness: If you like your drinks a little less bitter, go easy on the Campari. On the other hand, if you love a strong, bitter cocktail, add more Campari and less sweet vermouth.
Adjust the serving glass: You can serve a negroni straight up in a coupe glass, or over ice in a rocks glass. Ice will dilute the drink further and give you something to sip on for a while. Serving up makes it a stronger cocktail.
Lower the ABV: If you like cocktails that are lower in alcohol, switch out the gin for soda water and you've got yourself an Americano cocktail!
Negroni Fizz: Top the negroni with soda water to make a Negroni Fizz.
White Negroni: Use Lillet Blanc instead of sweet vermouth and Suze instead of Campari.
Boulevardier: Pack a boozy punch with whisky in place of gin.
Negroni Sbagliato: With Prosecco in it (instead of gin). Oh, stunning!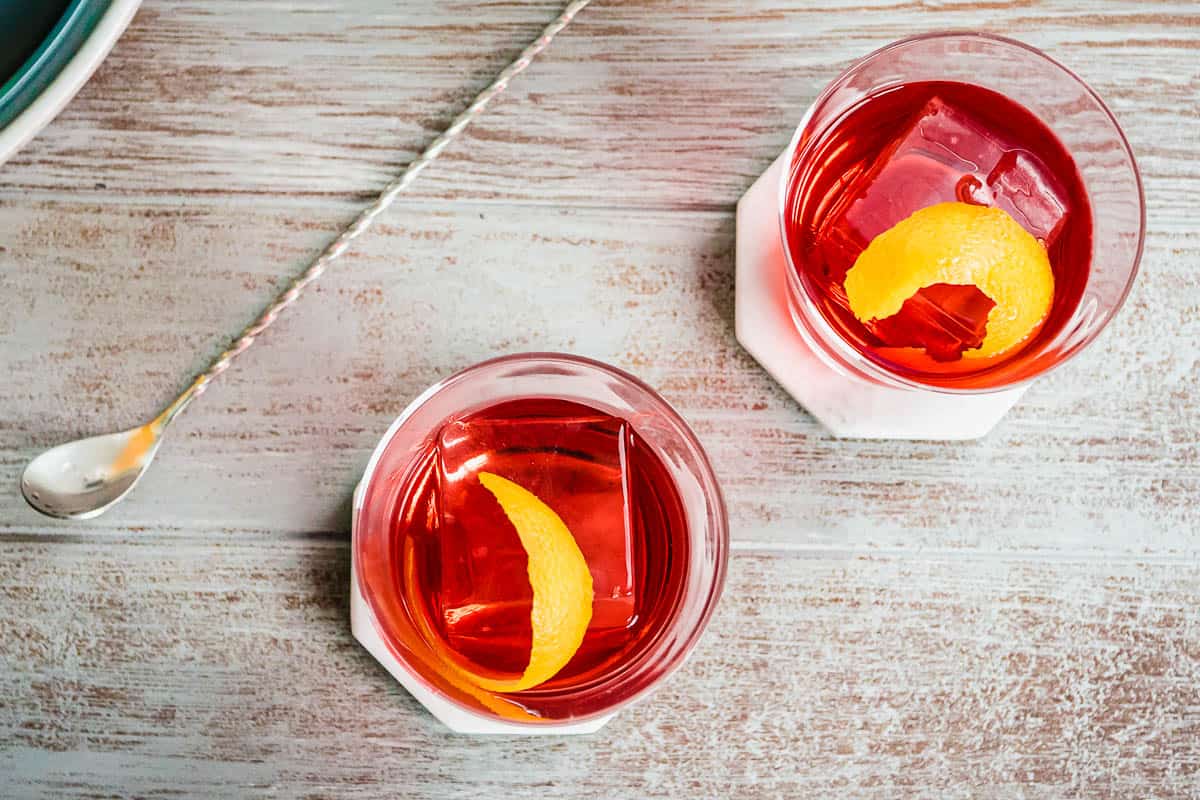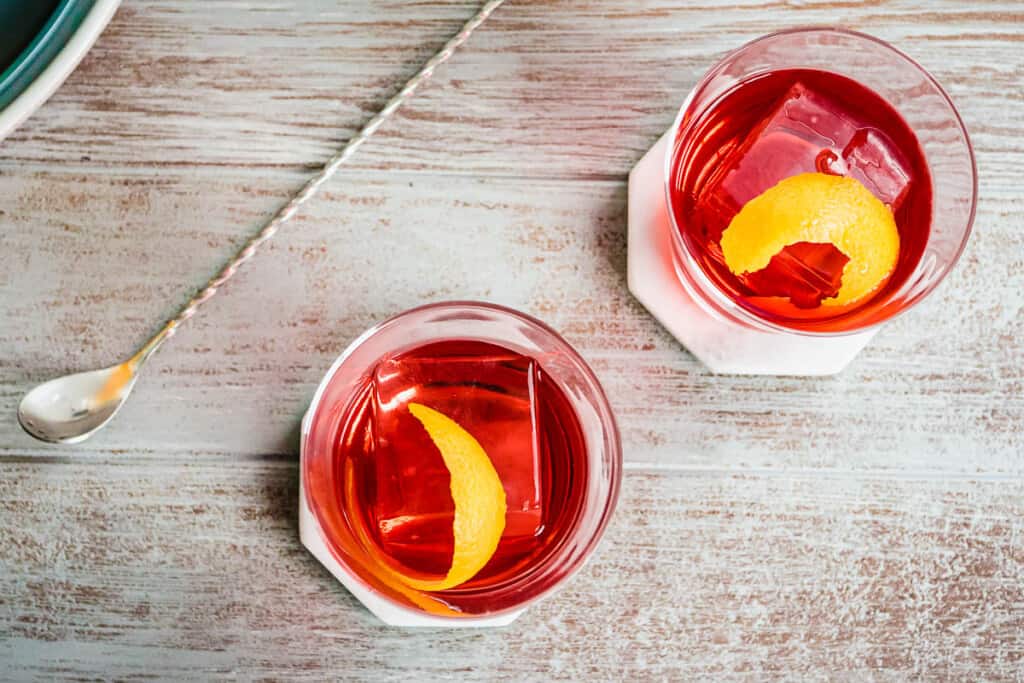 How to Make a Negroni
A good rule of thumb when making cocktails is if there is juice, dairy, or an ingredient, like egg whites, that should be incorporated well, you shake. If it's all booze, you stir.
There are exceptions, but the classic Negroni follows the latter rule. Follow this guideline and you'll have a perfectly mixed cocktail every time.:
Stir: Fill a mixing glass (like a pint glass) ¾ of the way up with ice. Add ¾-ounce each of gin, Campari, and sweet vermouth. Stir until very cold, then strain it into your serving glass.
Serve: Optionally, add fresh ice. Squeeze a 1-inch wide orange peel over the glass to express its oils. Pinch and turn to make a twist and add to the drink as garnish. Cheers!
Make a Pitcher of Negronis
Drinks like negronis are perfect for making in batches—just stir together in a pitcher and set out next to a bucket filled with ice and a few glasses for guests to fill at their leisure. A pitcher should serve 8 people.
To make a pitcher negroni: Combine 8 ounces each of gin, campari and sweet vermouth. Stir to combine and pour over ice.
What Does a Negroni Taste Like?
And the result? Overall, negronis are known for being a well-balanced, refreshing, bittersweet drink with notes of spice and fruit.
Although the herbal flavors of the gin and the spiciness from the sweet vermouth are present, it's really the Campari that boldly takes charge.
What to Serve with Negronis
In true aperitif fashion, Negronis bring on an appetite. They're best served with appetizers or small bites before the main course.
Serve with Prosciutto e Melone in the summer months when melons are sweet and juicy. Or, serve with Roasted Artichokes to match the Negronis' herbal qualities with Aioli on the side for dipping. Or, keep it easy and classic with an Italian-style Antipasto Platter or Cheese and Charcuterie Board.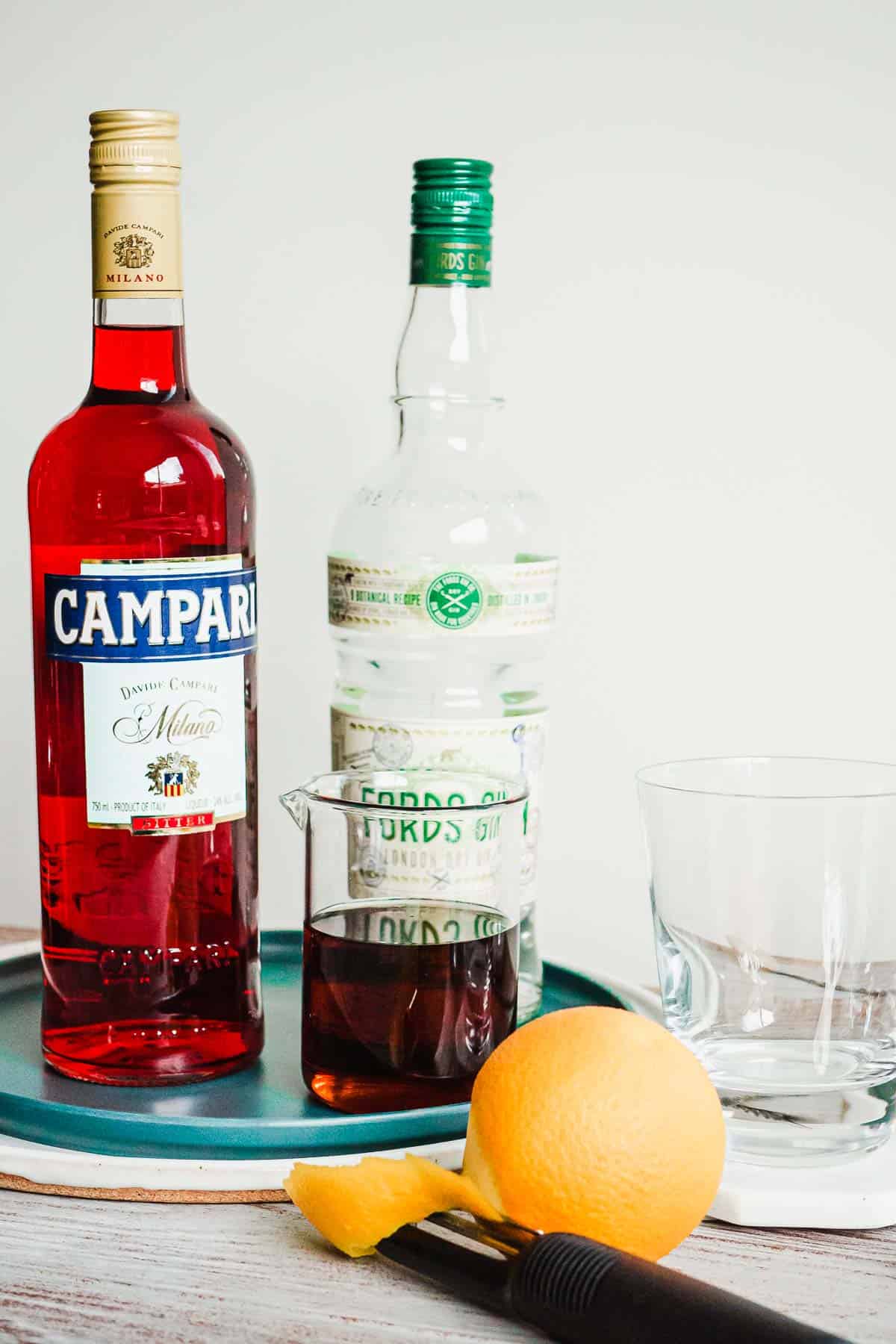 Cocktail Recipes to Try
Browse all Mediterranean recipes.
Visit Our Shop.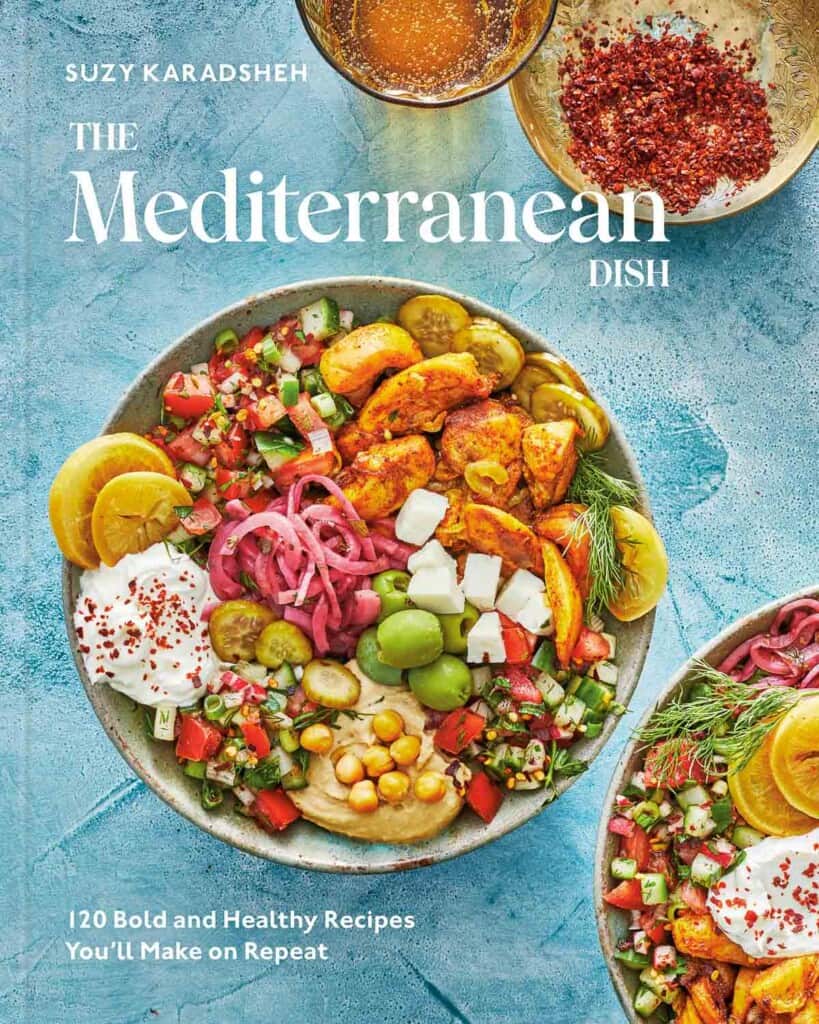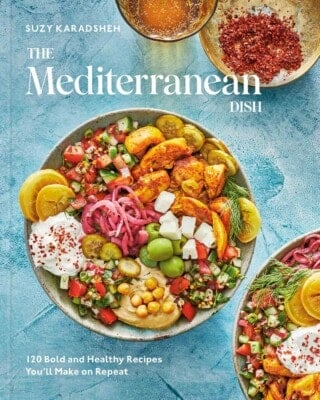 Negroni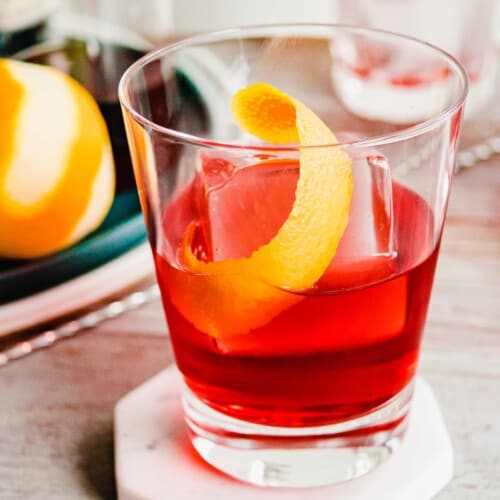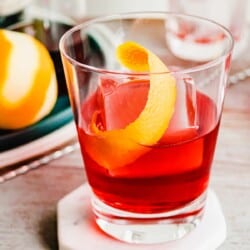 Made with just three basic ingredients and an optional orange garnish, this Negroni is sweet, bitter, herbaceous, and refreshing.
Ingredients
1

ounce

London Dry-style gin

1

ounce

Campari

1

ounce

sweet vermouth

½

inch

orange peel,

optional, for garnish
Instructions
Mix the cocktail: In a mixing glass filled ⅔ with ice, pour in the gin, Campari, and sweet vermouth. Stir for 20 seconds to chill and mix, and then strain into a rocks glass with fresh ice.

Serve: Garnish with the orange peel and serve.
Notes
If you want to go the extra mile, chill your serving glass. Store for a few hours in your freezer, or fill with ice water and dump before adding the cocktail.
You can serve a Negroni straight up in a coupe glass, or over ice in a rocks glass.
Serve over ice if you want something to sip on for a while, or serve up for a stronger drink.
Visit our shop to browse quality Mediterranean ingredients including olive oils, honey, jams and spices.
Nutrition
Calories:
165.9
kcal
Carbohydrates:
8.7
g
Protein:
0.04
g
Sodium:
1.7
mg
Potassium:
31.3
mg
Fiber:
0.1
g
Sugar:
0.2
g
Vitamin A:
5.3
IU
Vitamin C:
1.7
mg
Calcium:
4.3
mg
Iron:
0.1
mg