Perfectly tender roasted artichoke recipe, prepared Mediterranean-style with olive oil, capers and a roasted garlic-dill vinaigrette. I dare say, this may become your favorite way to enjoy roasted artichoke!
More Ideas to Try: Easy Antipasto Skewers; Mediterranean Couscous Salad ;Roasted Eggplant Caprese; Mediterranean Roasted Tomato Nachos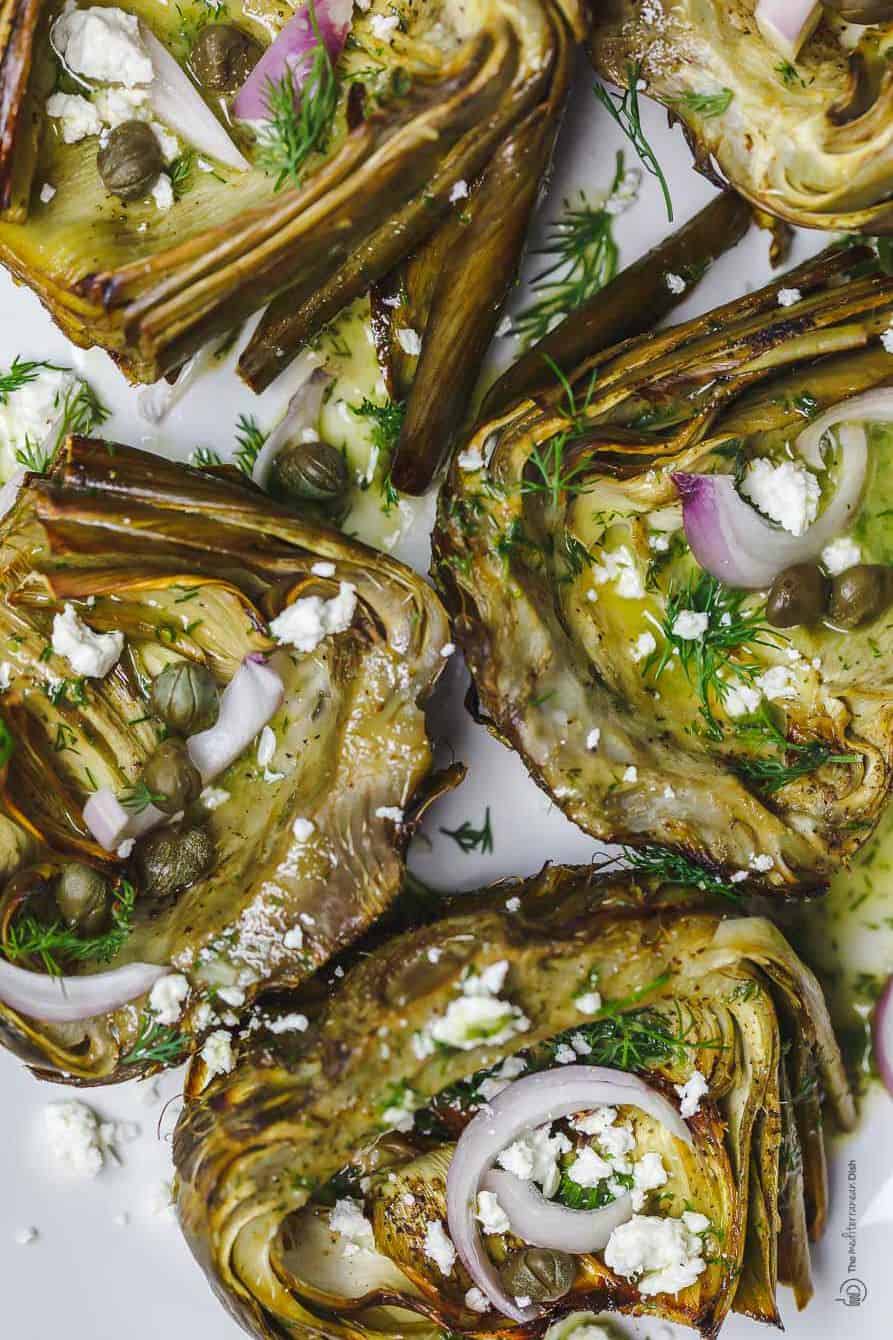 One of my mom's signature dishes was meat-stuffed artichoke hearts. They weren't something she made too often because they were a bit of an undertaking. Plus, my brother and I didn't much appreciate them.
Thankfully, our palates matured as we aged. Now,  I can't stop eating artichokes!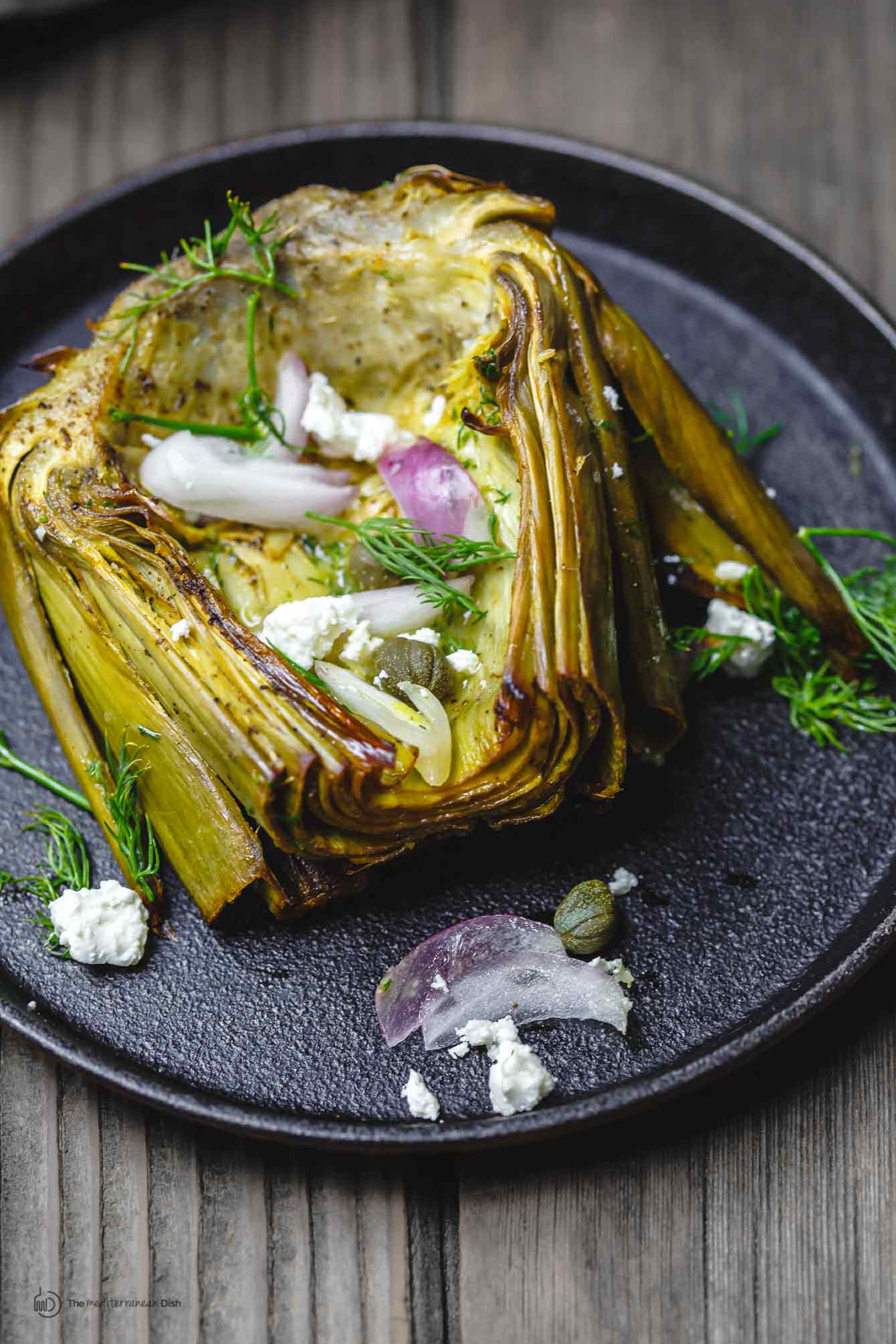 I keep jars of marinated artichoke hearts. You never know when I'll need them to fancy up a mezze platter, or to add some substance to an easy couscous salad or this olive oil pasta!
It took me a while to warm up to the idea of preparing artichokes from scratch, though. At last, I did. And it was roasted artichoke.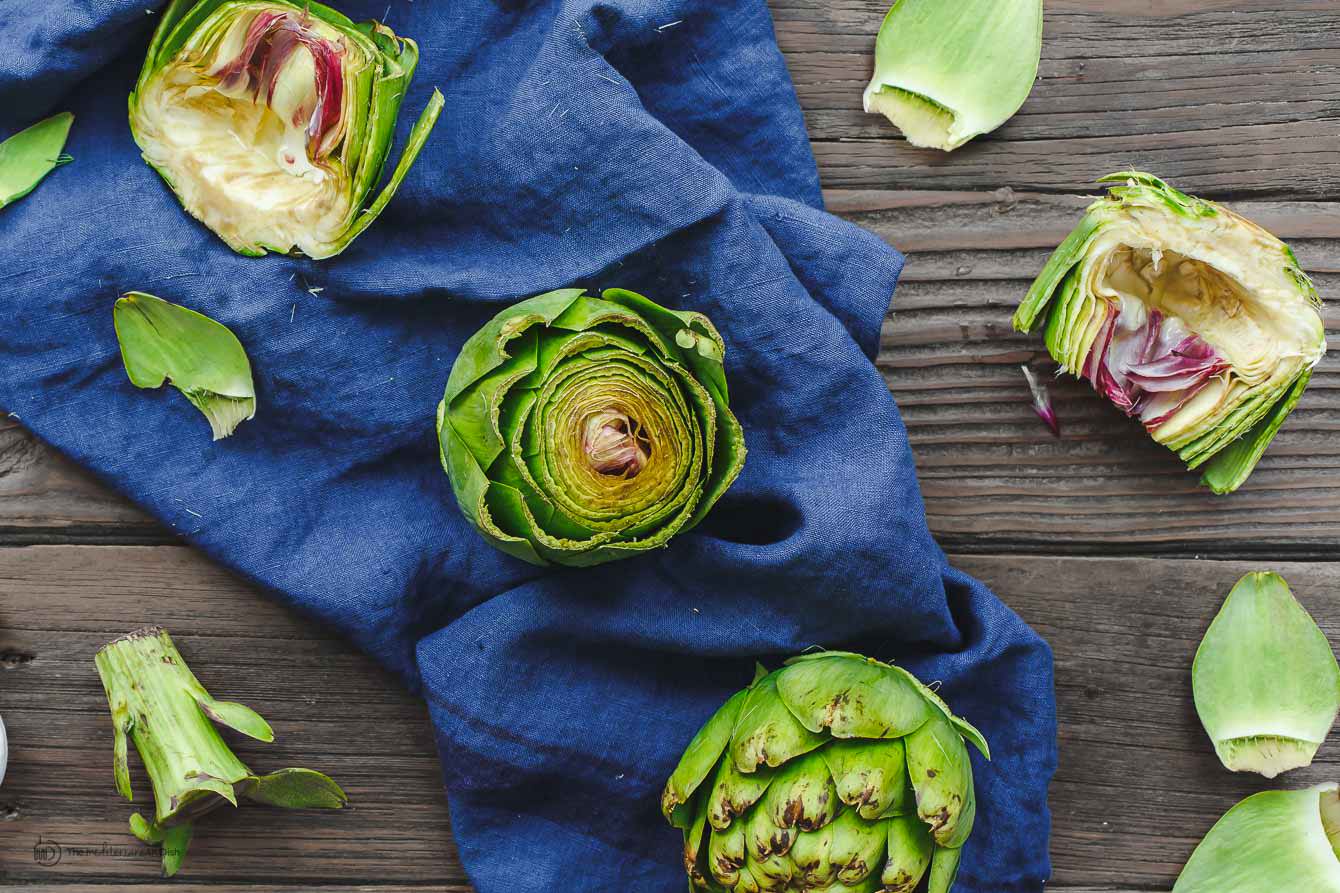 If I'm being completely honest with you, roasted artichoke isn't going to be a quick go-to appetizer. But, this roasted artichoke recipe is not as fussy as you'd expect. And the result is delicate, tender (almost melt-in-your-mouth) flavorful artichokes.
Now would be a good time to admit, even-though this recipe feeds 6 people, it was only my husband and I who quickly inhaled these artichokes!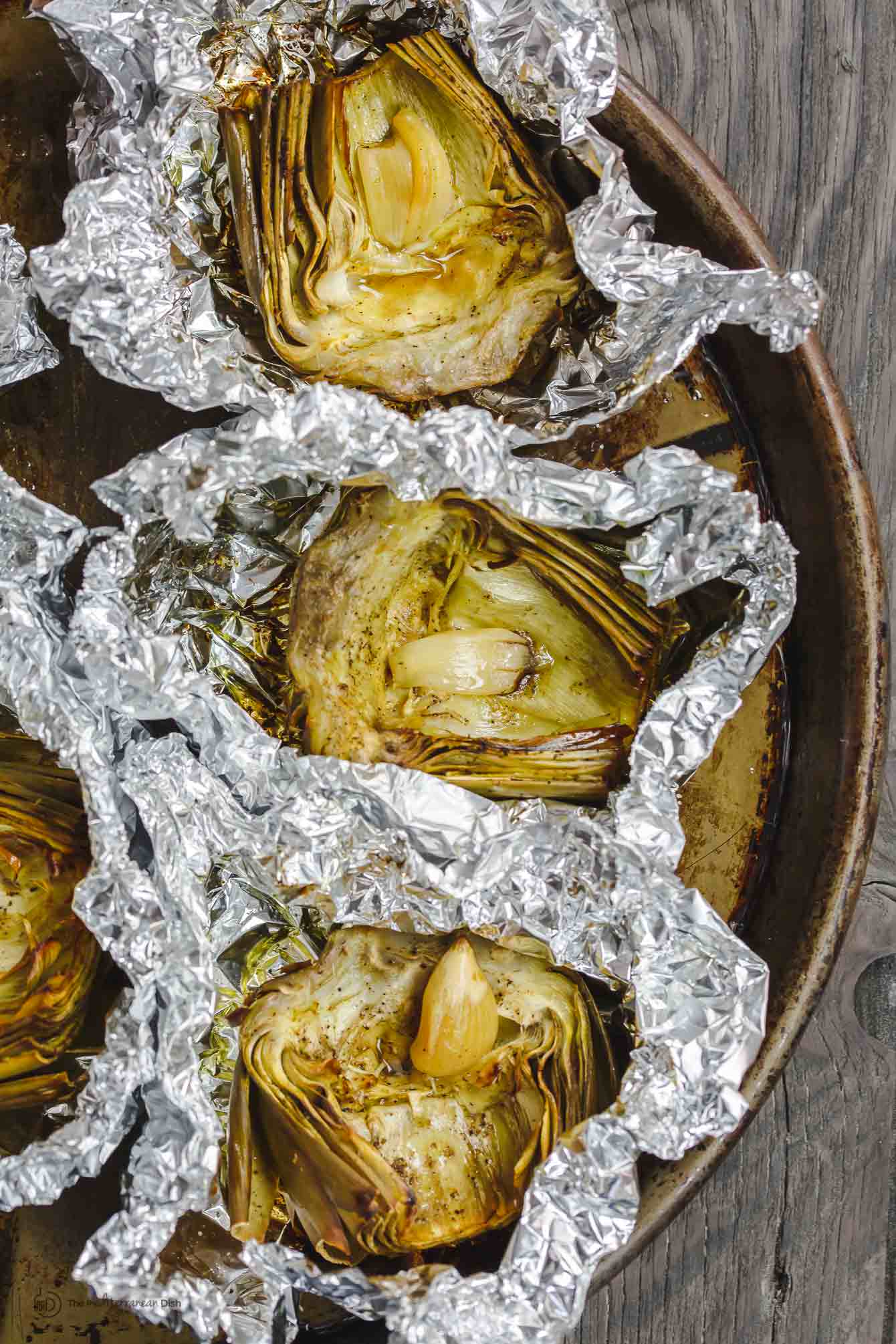 The secret to these roasted artichokes?
The  secret to these tender roasted artichokes lies in the little foil pouches they're nestled in nicely; a good way to trap the heat and allow the artichokes to cook well. The flavor makers here include quality extra virgin olive oil to aid the roasting, and then a tangy, garlic and dill vinaigrette. I ended up using the garlic cloves that have been roasted right with the artichokes.
The finishing touches? Capers, and feta.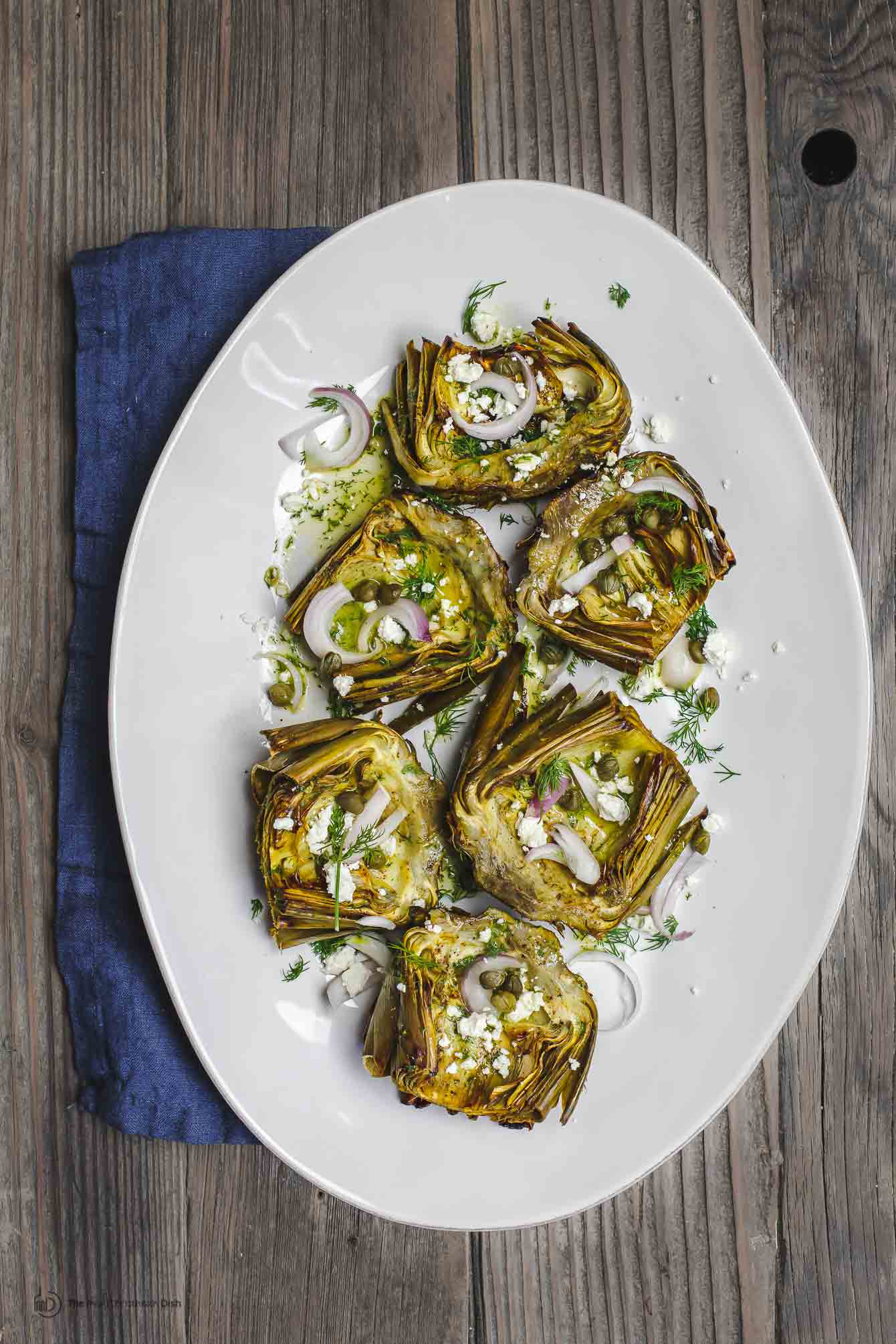 NEVER MISS A RECIPE! JOIN MY FREE E-MAIL LIST HERE TO RECEIVE NEW RECIPES, WEEKLY MEDITERRANEAN DINNER PLANS, AND MY FREE E-COOKBOOK WITH 15 HEALTHY RECIPES TO TRY!
SHOP OUR ONLINE STORE FOR QUALITY OLIVE OILS, ALL-NATURAL SPICES AND MORE.
Print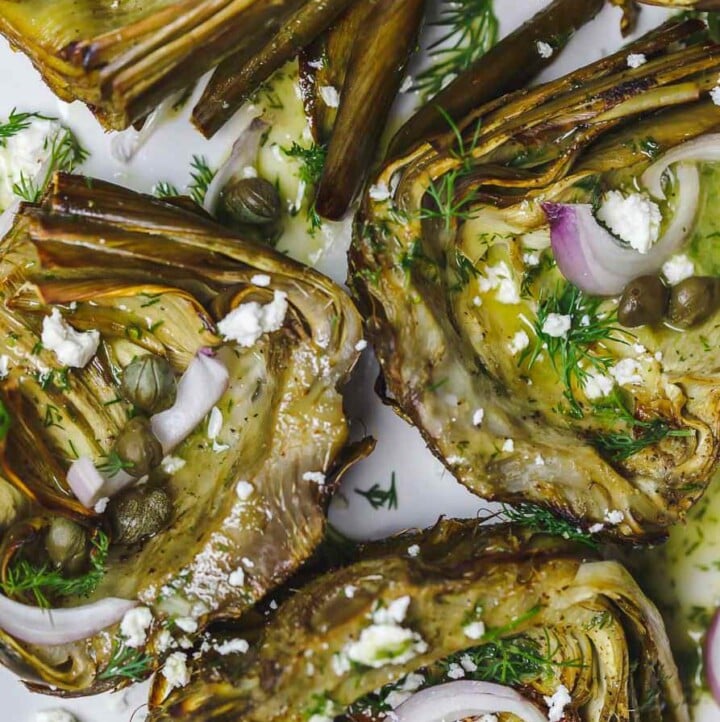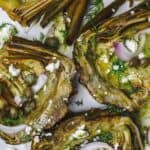 Mediterranean Roasted Artichoke Recipe
---
Description
Mediterranean roasted artichoke recipe with capers and roasted garlic-dill vinaigrette. Perfectly tender. Flavor-packed. I dare say, this may become your favorite way to enjoy roasted artichoke!
---
Scale
Ingredients
3

large globe artichokes

3 tsp

lemon juice
Salt and black pepper

6

garlic cloves, peeled

1

small shallot, thinly sliced

1 tbsp

capers
Crumbled feta cheese to taste
For the Roasted Garlic-Dill Vinaigrette 
Same

6

garlic cloves roasted earlier with the artichoke (see above ingredients)

1/2 cup

chopped fresh dill

1/4 cup

fresh lemon  juice

1 tsp

honey
Salt and Black Pepper
---
Instructions
Preheat oven to 400 degrees F.
To clean artichokes, first, cut off the stem/stalk. Peel off the tough outer layers by hand. When you reach the softer layers, use a serated knife to cut off about 3/4 inches from the top. Now, cut artichoke in half length-wise. Then, using a sharp pairing knife, remove all the "hairs" on the inside.
As you clean the inside of each artichoke half,

immediately

add 1/2 tsp lemon juice to cover the surface to prevent the artichoke from discoloring.
On a large baking sheet, place each artichoke half in a piece of lightly-oiled foil paper that is large enough to fold around.
Season artichokes with salt and pepper, and nestle 1 garlic clove in the center of each artichoke half. Drizzle generously with quality olive oil (it's okay if some of the olive oil pools in the center or overflows onto the foil). Close the foil around artichokes.
Roast in the 400 degrees F heated-oven for 40 minutes.
Carefully open the foil pouches using tongs. Remove the roasted garlic from the center of artichoke, and close the foils back until ready to serve. Let garlic cool.
In the bowl of a small food processor, add the roasted garlic with the remaining vinaigrette ingredients. Pulse until smooth.
Remove the artichokes from foil. Arrange on a serving platter, generously drizzle the roasted garlic-dill vinaigrette. Top with shallots, capers and crumbled feta cheese. Enjoy!
---
Notes
Recommended for this recipe our Private Reserve or Early Harvest extra virgin olive oil, from organically grown and processed Koroneiki olives.
Visit our store to browse our spices, olive oils and bundles!
Category:

Side dish

Method:

Baked

Cuisine:

Mediterranean
Keywords: Roasted artichoke, oven roasted artichoke, Mediterranean-style artichoke, vegan artichoke, vegetarian artichoke
Try these delicious recipes:
Feta and Spinach Frittata Recipe
Best Roasted Cauliflower with Lemon and Cumin
Mediterranean Style Stuffed Acorn Squash Recipe
Grilled Cod Recipe, Gyro-Style