What is your favorite meal of the day? I am pretty sure mine is brunch; and I am always in search for yummy brunch ideas. Today, I have a quick and delicious egg casserole recipe that I'm excited to share with you.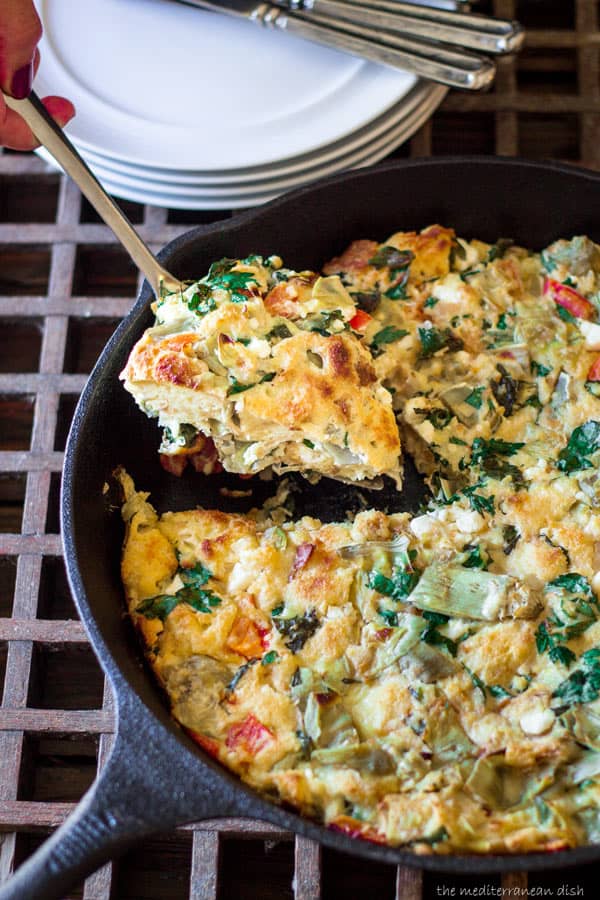 There is something about skipping the line at the local diner and making your own brunch, right? Eggs, just the way each family member likes them; bottomless coffee; and I get to stay in sweats all morning.
Sundays brunch at my house often feature this Mediterranean-style, easy egg casserole!
In my opinion, an egg casserole like this is meant to help you use up what you already have on hand. You can really make this egg casserole  your own by changing up some of the ingredients. I chose to  keep it vegetarian, adding artichokes, tomatoes, shallots, feta, and two of my favorite fresh herbs, parsley and mint. If I had olives, I would have added them for a little Greek.
Ready? Let's make this easy egg casserole recipe together:
Preheat oven to 375 degree F.
Prepare artichokes (I microwaved mine according to package). Chop tomato, shallot, parsley, mint leaves. Prepare some feta and ground Parmesan. Set aside.
Take six slices of fresh toast and cut them each into 1/2-inch pieces. Place in a large bowl and set aside.
In a separate bowl, whisk together milk, eggs, baking powder, nutmeg, hot paprika, salt and pepper.
Pour milk-egg mixture into the bread bowl. Now mix in the vegetables, herbs and cheese you prepared earlier.
Combine everything together and then transfer to a lightly oiled cast-iron skillet or oven-safe baking dish.
Bake in 375 degree F-heated oven for 35 minutes or until cooked through. Enjoy!
You might also like the Shakshuka recipe; a warm bed of tomato and green bell peppers topped with sunny-side-up eggs!
Print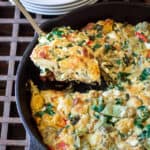 Easy Egg Casserole Recipe with Artichokes, Parsley and Feta
---
Author:

Prep Time:

15 mins

Cook Time:

35 mins

Total Time:

50 minutes

Yield:

6

Category:

Entree

Cuisine:

Mediterranean
Ingredients
10 oz frozen artichokes, microwaved according to package instructions, roughly chopped
1 large tomato, chopped
1 large shallot, chopped
1 cup fresh parsley leaves, stems removed, roughly chopped
1 cup fresh mint leaves, stems removed, roughly chopped
1 1/4 cup good crumbled feta cheese
1/2 cup ground Parmesan cheese
6 slices fresh toast, cut into 1/2-inch pieces
1 1/2 cup milk
6 eggs
1/2 tsp baking powder
1/4 tsp ground nutmeg
1 tsp hot paprika
salt and pepper to taste
---
Instructions
Preheat oven to 375 degree F.
Prepare artichokes, chopped tomato, chopped shallot, parsley, mint leaves, feta and ground Parmesan. Set aside.
Take six slices of fresh toast and cut them each into 1/2-inch pieces. Place in a large bowl and set aside.
In a separate bowl, whisk together milk, eggs, baking powder, nutmeg, hot paprika, salt and pepper.
Pour milk-egg mixture into the bread bowl. Now mix in the vegetables, herbs and cheese prepared earlier.
When all the ingredients are well-combined, transfer in a lightly oiled cast-iron skillet or oven-safe baking dish.
Bake in 375 degree F-heated oven for 35 minutes or until cooked through. Enjoy