This Mediterranean Orange and Pomegranate Salad Recipe is a new favorite here on the blog.  Slices of sweet Navel oranges are given a lift with the addition of pomegranate seeds (arils), fresh mint, and a honeyed lime dressing. A festive and light addition to any dinner!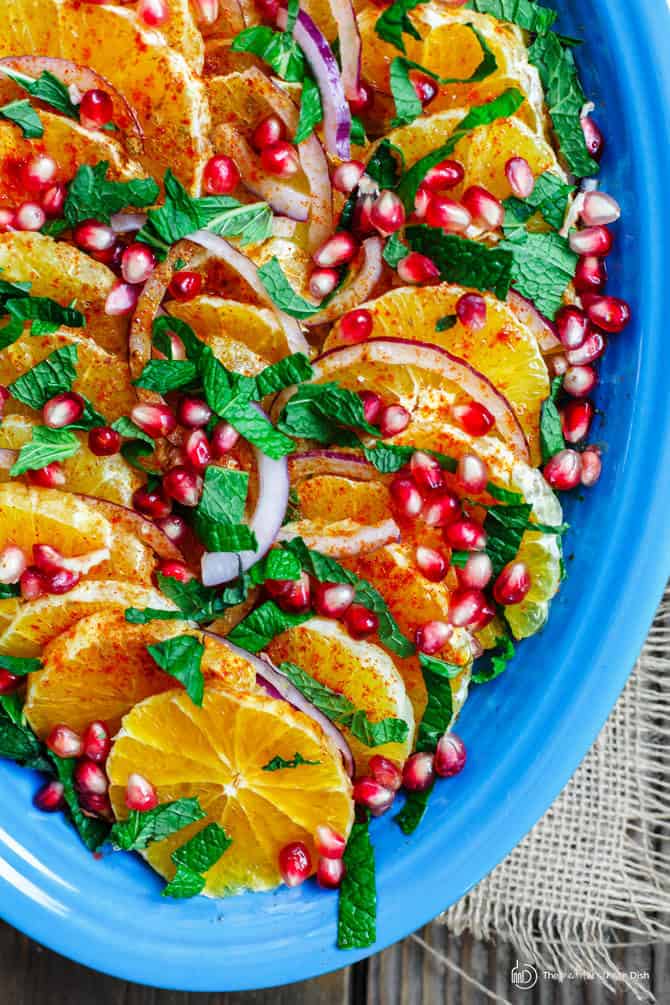 There are probably a dozen or so variations  of this Mediterranean orange and pomegranate salad recipe. This recipe is closest to one  you would see in North Africa; places like Morocco, Tunisia or Egypt.
Only three ingredients are required to put together this refreshing, festive salad: oranges–I like sweet Navel oranges, pomegranate seeds (or arils) and red onions.  There is a trick to taming the pungent red onions; simply soak them in iced water for a few minutes before using in the salad. That way, you still get that great crunch, but a much mellowed flavor–just enough to compliment the sweetness of the oranges in this orange pomegranate salad.
A generous sprinkle of fresh mint and a honeyed lime dressing finish this salad. I like to use a little orange blossom water in the dressing for added festive aroma.
This salad works great to finish a heavy holiday meal. Or next to grilled meat, chicken or fish.
Print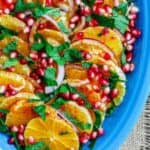 Easy Mediterranean Orange Pomegranate Salad
---
Author:

Prep Time:

15 mins

Total Time:

15 mins

Yield:

6

Cuisine:

Mediterranean
Ingredients
1 1/2 oz thinly sliced red onions (about 1 cup)
25 fresh mint leaves, chopped
6 Navel oranges, peeled, sliced into rounds
Pinch salt
Pinch sweet paprika
pinch ground cinnamon
Seeds (arils) of 1 pomegranate
Dressing
---
Instructions
Make the dressing. In a small bowl, mix together the lime juice, olive oil, honey and orange blossom water. Set aside.
Place the sliced onions in a bowl of ice cold water. Set aside for 5-10 minutes, then remove the onions from the water and dry them completely.
Prepare a serving platter. Sprinkle half the amount of chopped mint leaves on the platter, then arrange the orange slices and onions on top. Sprinkle a pinch of salt, sweet paprika, and cinnamon. Now spread the pomegranate seeds on top.
Drizzle or spoon the dressing over the orange pomegranate salad (You can add as little or as much as you want of the dressing.)
Finally top the salad with the remaining fresh mint leaves. Set aside for 5 minutes or so before serving.
Recommended for this recipe: orange blossom water; a serving platter like this one
More Recipes to Try
Spinach Salad with Blood Orange Vinaigrette