An especially satisfying omelette recipe, loaded with Mediterranean favorites. With a side of warm pita bread and Greek Tzatziki sauce, you can even turn this into lunch or simple dinner for two!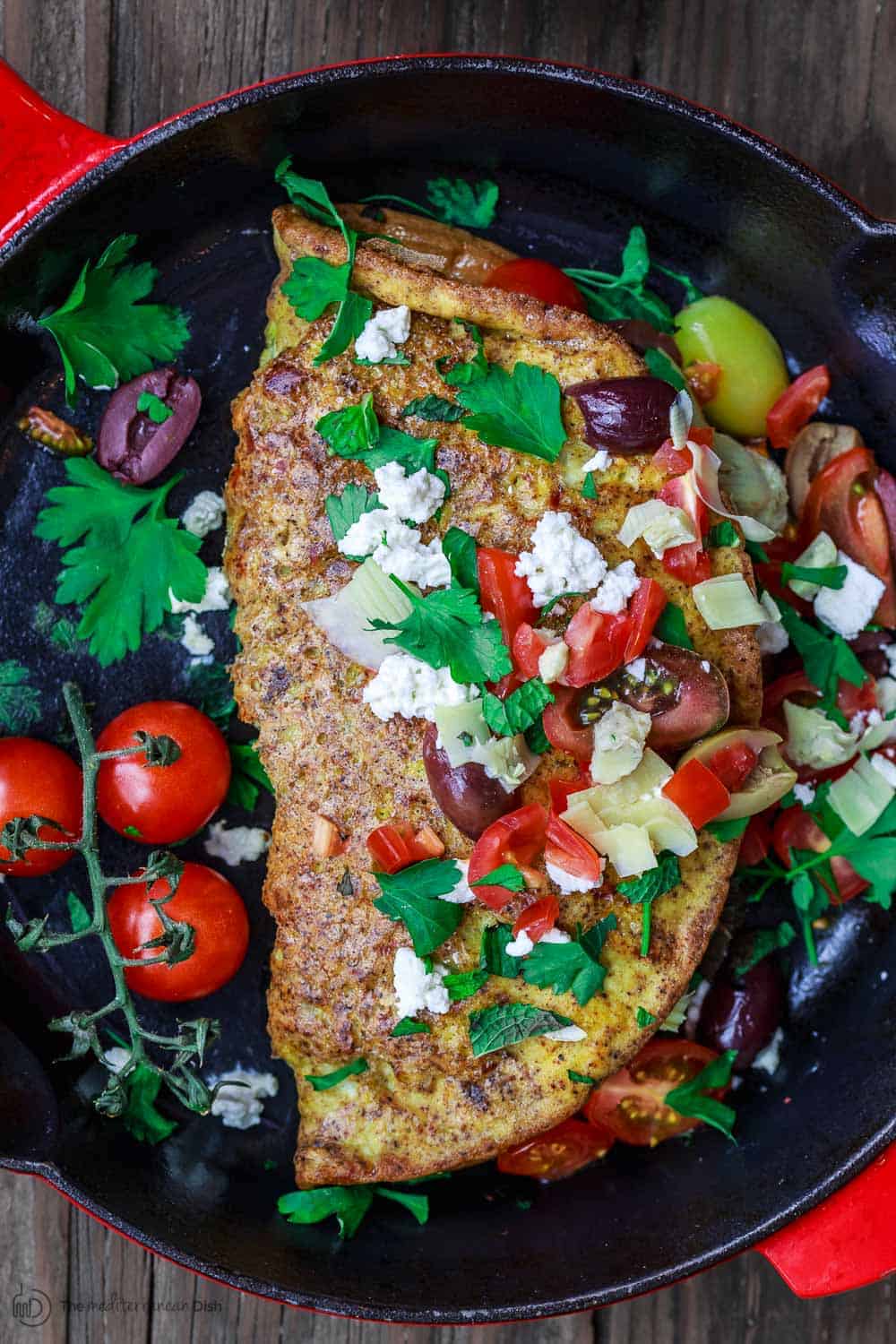 Ah...the humble omelette! The omelette is truly more than breakfast, isn't it?
When nothing else will satisfy my hunger...and admittedly, when I'm out of dinner ideas, it's omelettes to the rescue.
This folded omelette recipe is one that I make often. And you've probably noticed, I like my omelette quite loaded. I make no fuss about what toppings to use or how much...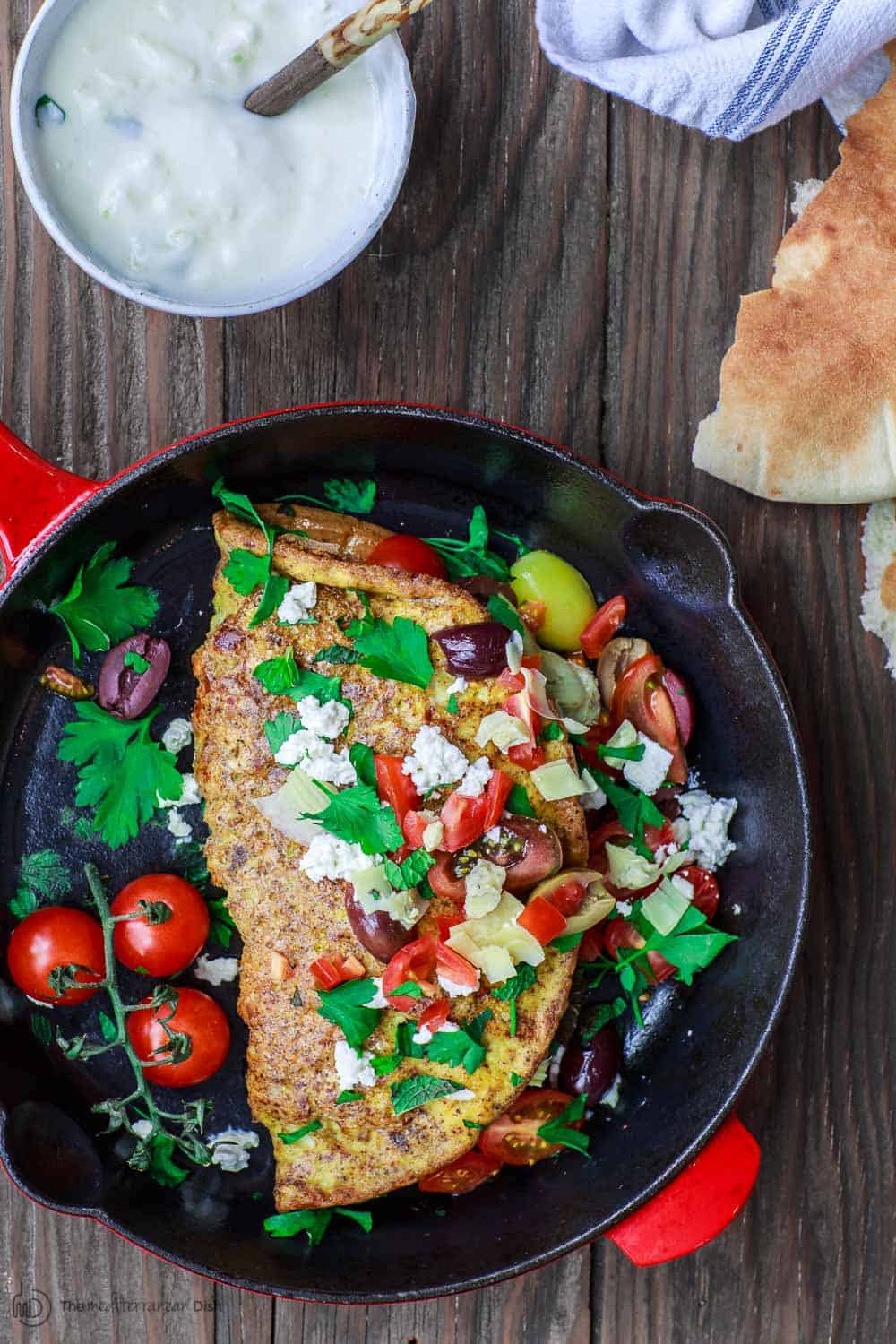 At the very least, I'll throw in tomatoes, feta, and fresh herbs. But olives and marinated artichokes are great tangy, salty additions in this omelette recipe.
Small tricks I use in this omelette recipe
What the pictures don't reveal (unless you look super hard) are these two simple things I do with my omelettes. First, I like to season my eggs with a little more than salt and pepper.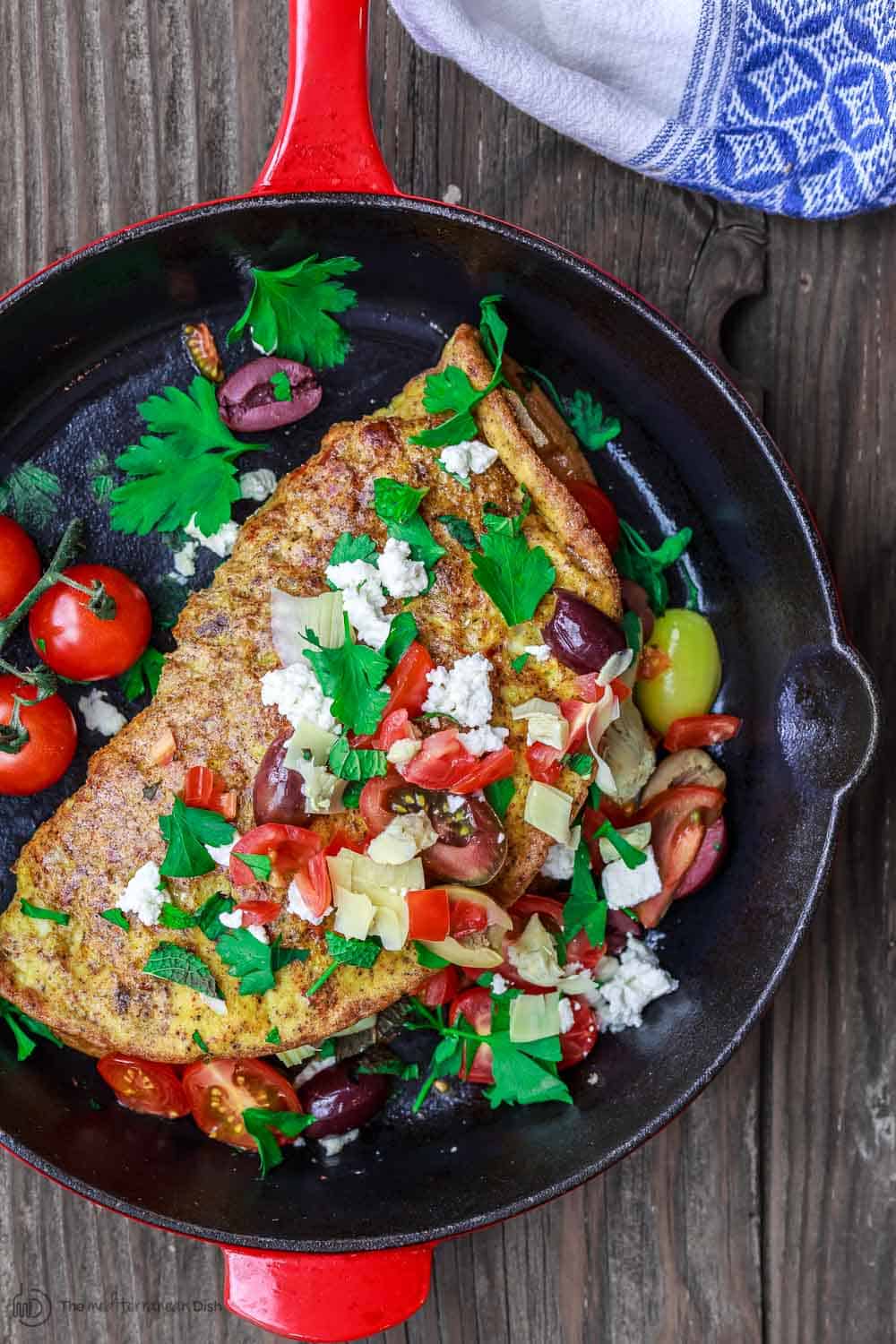 When I'm in the mood for a spicier omelet, I'll add a pinch of cayenne and some harissa spice. But this time, for just a little depth, I added a pinch of sweet paprika and ground allspice.
And for a more airy, fluffy omelette, I add a pinch of baking powder. And it goes without saying, a good, vigorous whisk makes all the difference in an omelette recipe!
Print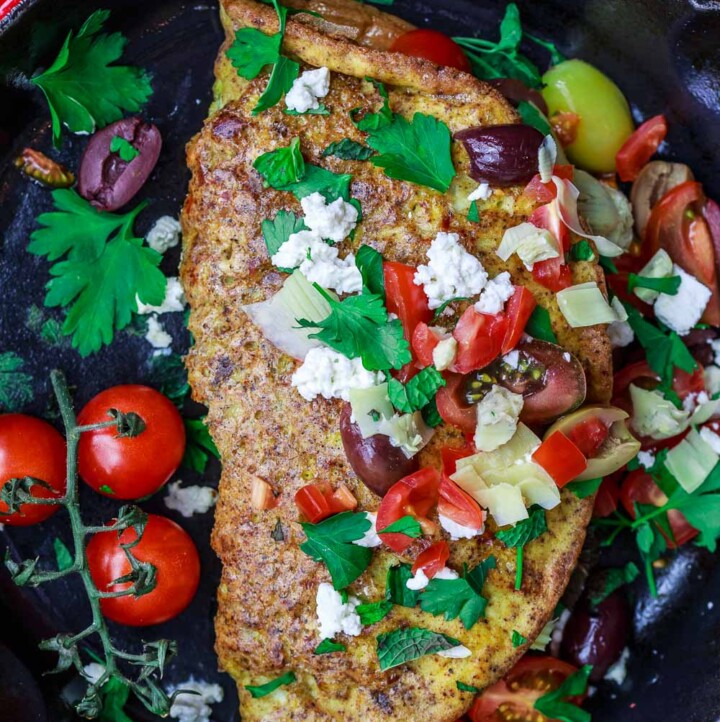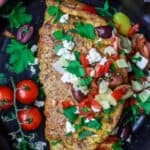 Loaded Mediterranean Omelette
---
Description
An especially satisfying and perfectly fluffy omelette, loaded with Mediterranean favorites. Turn it into lunch or a simple dinner for two with a side of warm pita bread and Greek Tzatziki sauce!
---
Toppings
½ cup

cherry tomatoes, halved

2 tbsp

sliced pitted Kalamata olives

¼

to

⅓

cup marinated artichoke hearts, drained and quartered

2 tbsp

chopped fresh parsley, more for later

2 tbsp

chopped fresh mint, more for later
Crumbled feta cheese, to your liking, optional
---
Instructions
In a mixing bowl, add the eggs, milk, baking powder (if using), spices, salt and pepper. Quickly and vigorously whisk to combine.
In a 10-inch non-stick skillet, heat extra virgin olive oil until shimmering but not smoking. Be sure to tilt the skillet to coat the bottom well with oil.
Pour the egg mixture in and immediately stir with a heat-resistant spatula for like 5 seconds. Then push the cooked portions at the edge toward the center, tilting the pan to allow uncooked egg to fill in around the edges. When no more egg runs to the sides, continue to cook until almost set and the bottom is light golden (about 1 minute.) Remember, the omelette has more time to cook once filled and folded.
Remove the skillet from the heat. Spoon a good portion of the toppings onto the center third of the omelette. Use the spatula to fold. Add the remainder of the toppings on top. Sprinkle a little more fresh herbs.
Slice the omelette into two halves and serve hot. If you like, add a side of Greek tzatziki sauce and warm pita bread. Enjoy!
Notes
Cooking notes: 1) Be sure to prepare the toppings first. Whisk the eggs together just before cooking. 2) the baking powder is optional, but as a leavening agent, it's what adds volume and makes the omelet extra fluffy.
Recommended for this recipe: Private Reserve Greek extra virgin olive oil. And from our all-natural spice collection, Spanish Paprika and ground Allspice.
SAVE! Try our Ultimate Mediterranean Spice Bundle, or create your own 6-pack or 3-pack from all-natural or organic spice collections!
Visit our store to browse our spices, olive oils and bundles!
Cook Time:

2 mins

Category:

Breakfast

Method:

Stove Top

Cuisine:

Mediterranean
Keywords: Mediterranean Omelette, Omelette, Breakfast,
More Recipes To Try
Middle Eastern Zucchini Baked Omelet
Greek baked chicken wings with Tzatziki
Mediterranean Pomegranate Tomato Salad
Easy One-Pot Middle Eastern Chicken and Rice