Simple crustless zucchini quiche recipe with fresh herbs, tomatoes, and shallots. An egg casserole that is perfect for breakfast, lunch, or light dinner. Add your favorite salad to go along (I have some ideas for you below.)
Be sure to check out my tips and watch the video for how to make this crustless quiche recipe toward the bottom of this post!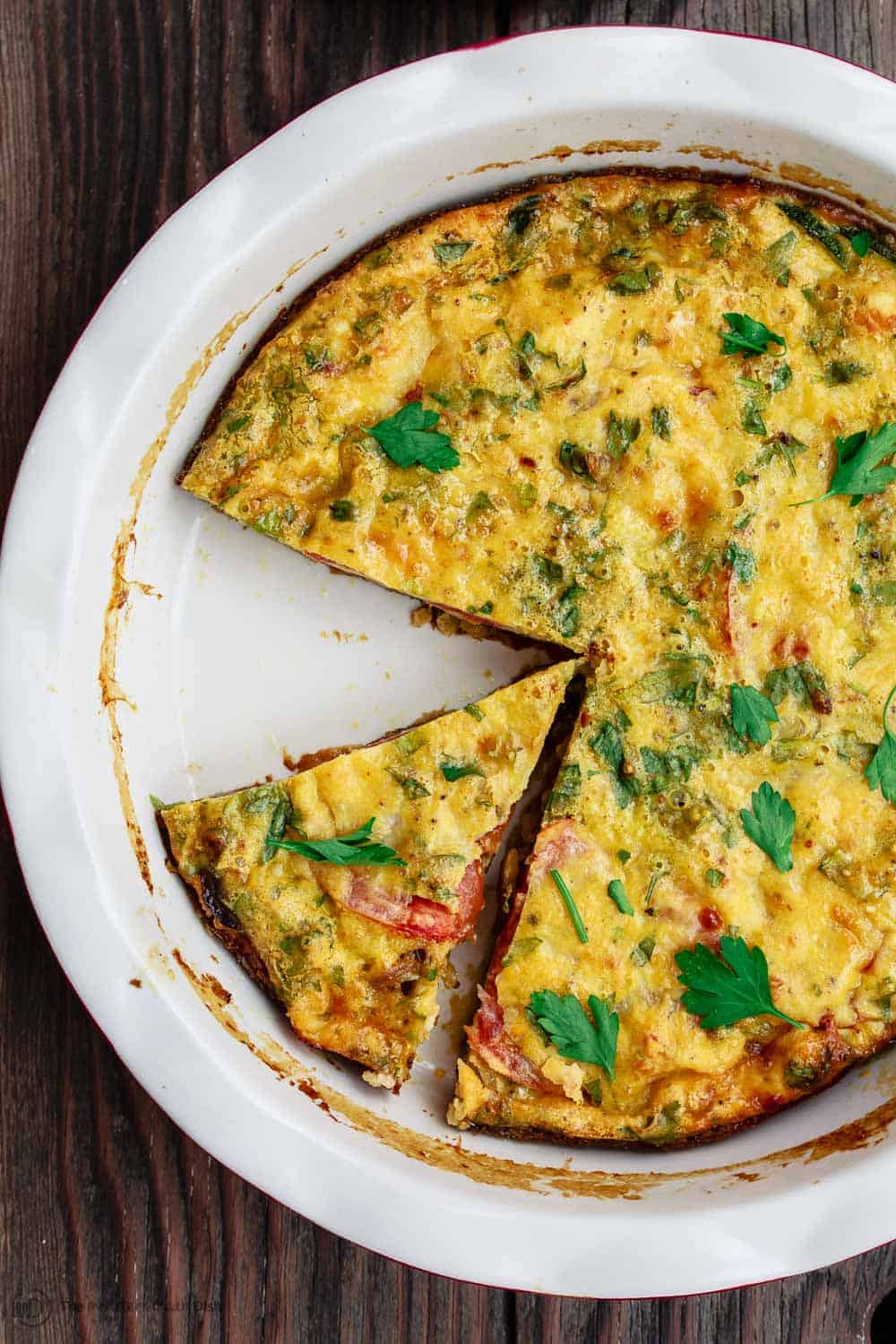 What is Crustless Quiche?
I have a big love relationship with healthy quiche, and in particular, crustless quiche. Think of crustless quiche as egg bake or egg casserole that's a bit lighter than quiche because, aside from not including a heavy crust, you can use milk as opposed to heavy cream. Plus, obviously, since we're not making a crust here, it's easier and quicker to make.
Crustless quiche is one of those foods that are fancy and, at the same time, so deeply practical. And it's a great way to use up those veggies forgotten in the back of the fridge. Case in point, today's crustless zucchini quiche.
This simple zucchini quiche recipe came about at the tail end of a long week--when I'd run out of ingredients but one lone zucchini, a tomato, and some shallots. Talk about turning a few humble ingredients into a wholesome meal, eh?!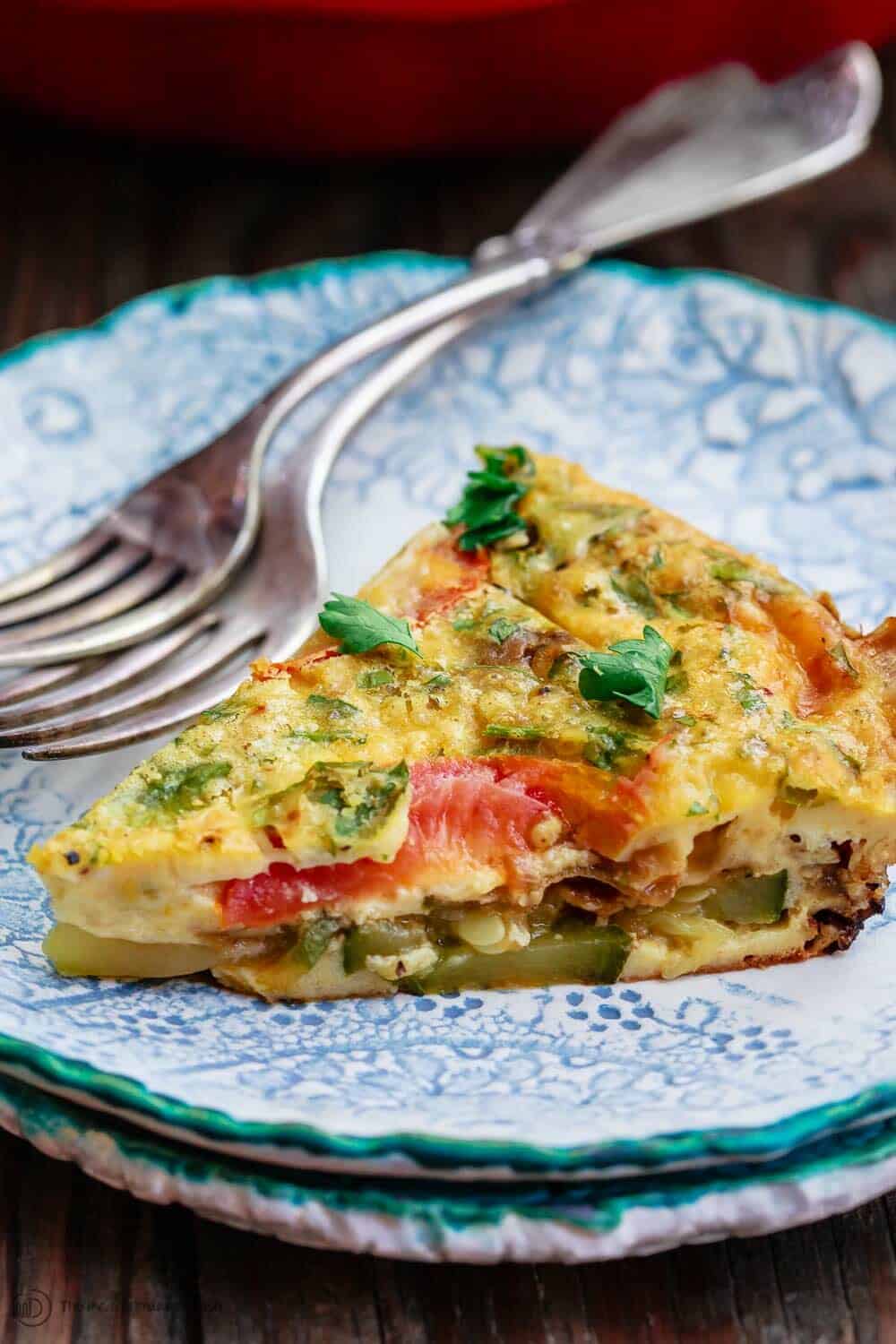 Why this curstless zucchini quiche works
This zucchini quiche starts with sauteing zucchini slices along with shallots in extra virgin olive oil. This rids us of zucchini moisture, while already building flavor as the zucchini browns and the shallots caramelize nicely.
The cooked zucchini and shallots also serve as the "crust" lining the bottom of my quiche dish, because here, I don't even bother making pastry. Still, I augmented the egg mixture with just a little bit of white wheat flour, so we still get a hearty quiche without the crust. Throw in some fresh parsley, or your favorite fresh herb, for a little flavor lift.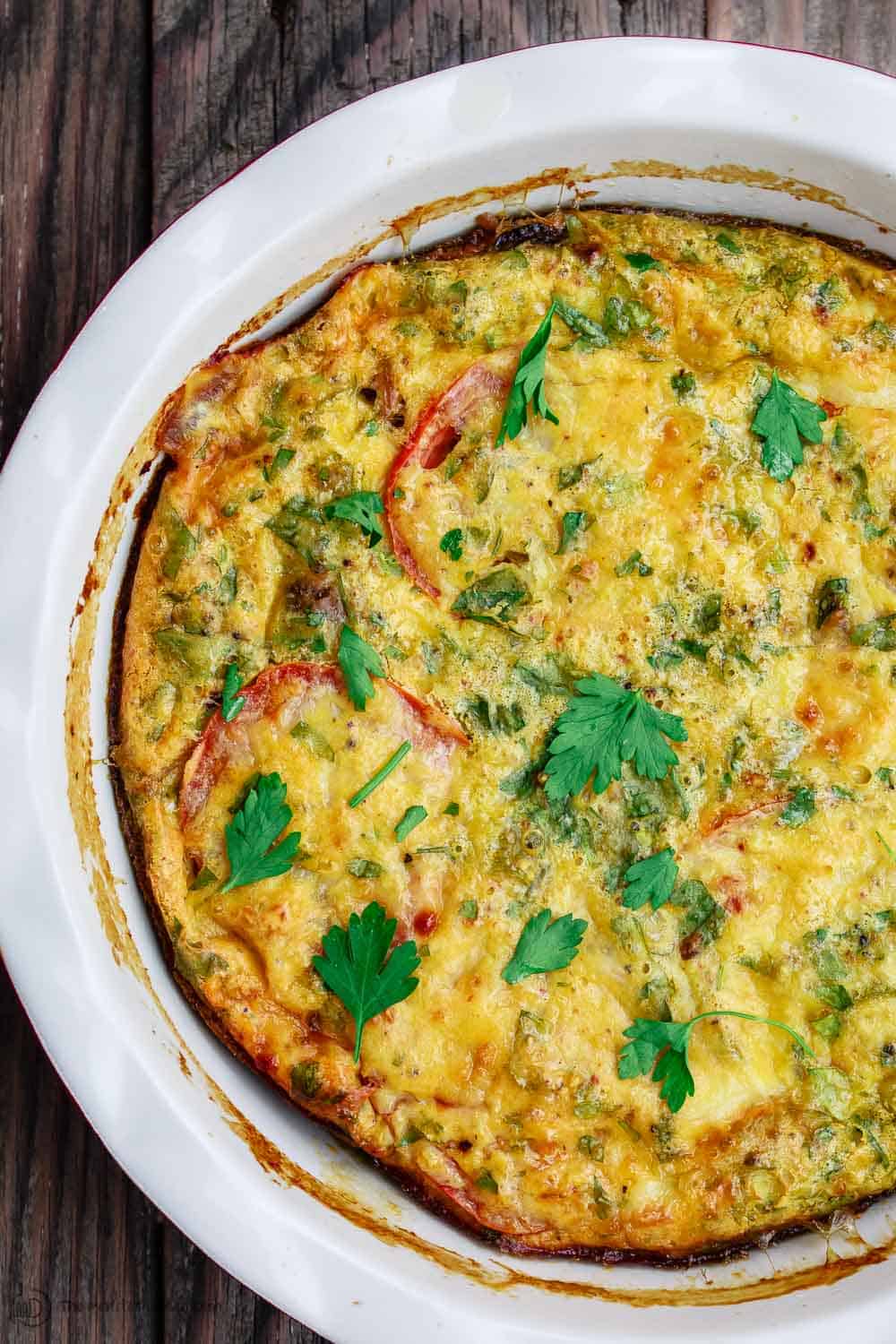 Now, as you would expect, this crustless zucchini quiche does utilize some cheese. I kept things light by using only ½ cup part-skim mozzarella and a sprinkle of Parmesan.
What to serve with this crustless zucchini quiche
I like to serve this zucchini quiche with a bright, flavor-packed Mediterranean salad (or two) next to it. My first choice here is Balela salad because it is a more substantial salad with loads of chickpeas. But a few other options: Fattoush Salad; Tabouli; 3-ingredient Mediterranean salad; and Orange and Pomegranate salad.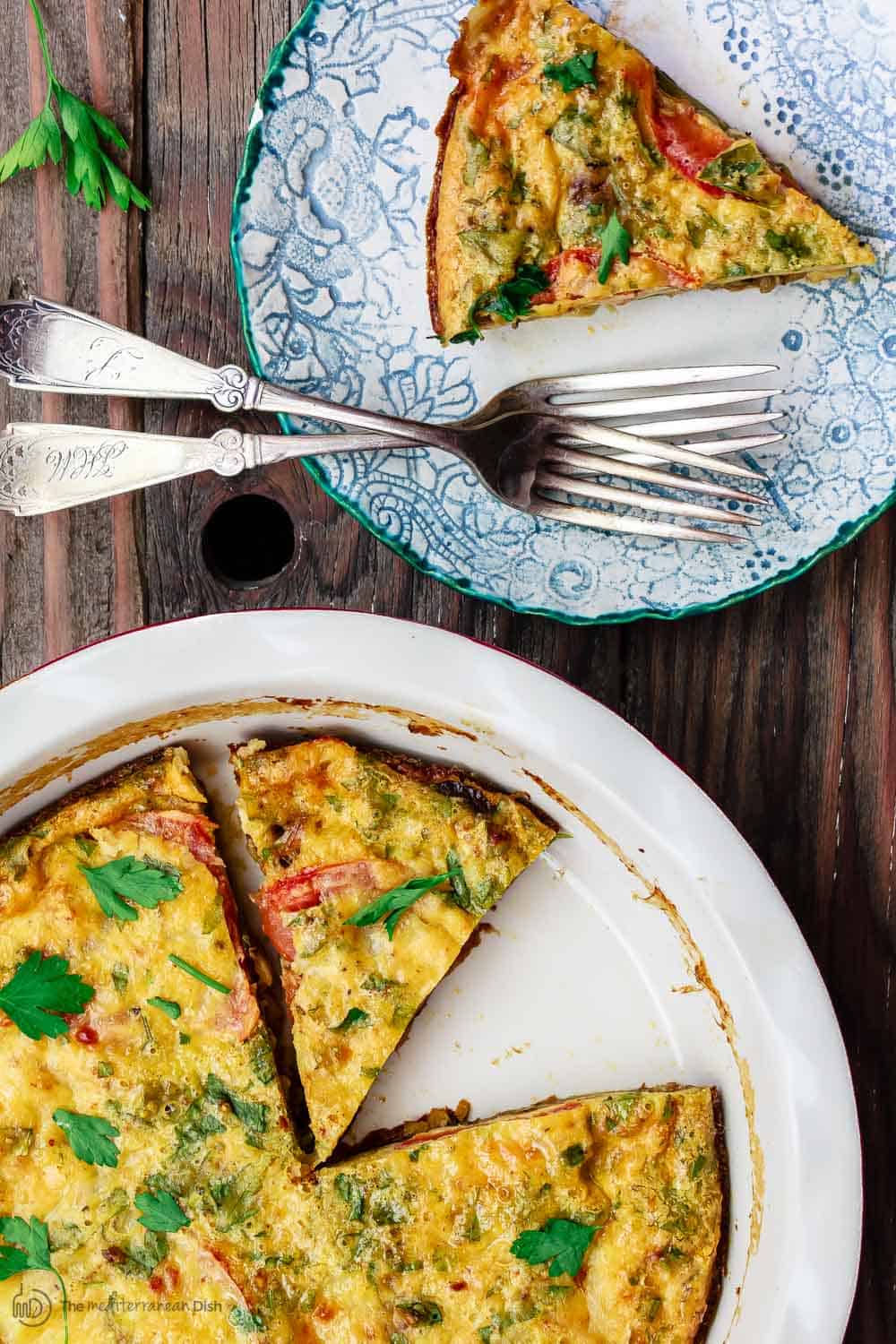 A couple more notes on this zucchini quiche
This recipe is quite forgiving, and you can make it your own by adding in a handful of leafy greens like spinach, for example, or try different veggies according to what's in season.
If you're into meal prep, you can make this crustless zucchini quiche a few days ahead and refrigerate. Simply reheat a slice or two as needed (or eat it cold, which I really enjoy!)
Watch the Video for How to Make This Zucchini Quiche Recipe:
More recipes to try
Simple Spanish Tortilla with Spinach Arugula Salad
Farro Risotto with Mushrooms and Peas
Moroccan Vegetable Tagine Recipe
NEVER MISS A RECIPE! JOIN MY FREE E-MAIL LIST HERE
SHOP OUR ONLINE STORE FOR QUALITY OLIVE OILS, ALL-NATURAL SPICES AND MORE.
Print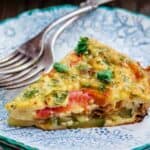 Crustless Zucchini Quiche Recipe
---
Description
Simple crustless zucchini quiche recipe with fresh herbs, tomatoes, and shallots. Perfect for breakfast, lunch, or a light dinner.
---
1

medium tomato sliced into thin rounds
Private Reserve extra virgin olive oil

1

zucchini, sliced into rounds (about

8 ounces

sliced zucchini)

3

shallots, sliced into rounds (about

3.5 ounces

sliced shallots)
Kosher salt and pepper

1 tsp

sweet Spanish paprika, divided

½ cup

part-skim shredded mozzarella (nearly

2 ounces

)

2 tbsp

grated Parmesan (about

0.35 ounces

)

3

large eggs, beaten

⅔ cup

skim milk
¼ teaspoon baking powder

½ cup

white whole wheat flour OR all-purpose flour (about

2 ounces

), sifted

¼ cup

packed fresh parsley (about

0.2 ounces

)
---
Instructions
Preheat the oven to 350 degrees F.
Arrange sliced tomatoes on paper towel and sprinkle with salt. Leave for a few minutes, then pat dry.
Meanwhile, in a large cooking skillet, heat 2 tablespoon Private Reserve extra virgin olive oil over medium heat until shimmering but not smoking. Add zucchini and shallots. Season with kosher salt, pepper, and ½ teaspoon sweet paprika. Raise heat slightly, and sautee, tossing regularly, until vegetables are tender and nicely colored (with some brown spots on zucchini).
Transfer the cooked zucchini and shallots mixture to the bottom of a lightly oiled 9-inch pie dish like this one. Arrange sliced tomatoes on top. Add mozzarella, and Parmesan (spread evenly across).
In a mixing bowl, whisk together eggs, milk, remaining ½ teaspoon paprika, baking powder, flour, and fresh parsley.
Pour egg mixture into the pie dish on top of the cheese mixture.
Bake in 350 degrees F heated-oven for about 30 minutes or until the egg mixture is well set in the dish. Remove from oven and wait 5 to 7 minutes before slicing to serve (Quiche will puff up slightly because of the baking powder, but will quickly go down as it sits.)
Prep Time:

10 mins

Cook Time:

35 mins

Category:

Entree

Method:

Baked

Cuisine:

French/Mediterranean
Keywords: Zucchini quiche, crustless zucchini quiche, crustless zucchini quiche recipe, zucchini quiche recipe, quiche recipe, vegetarian quiche recipe