Warm days call for simple drinks, and this Rosé Lemonade is bright, refreshing, and so simple to make. Serve this big batch easy cocktail recipe in a pitcher for effortless entertaining at brunch and beyond.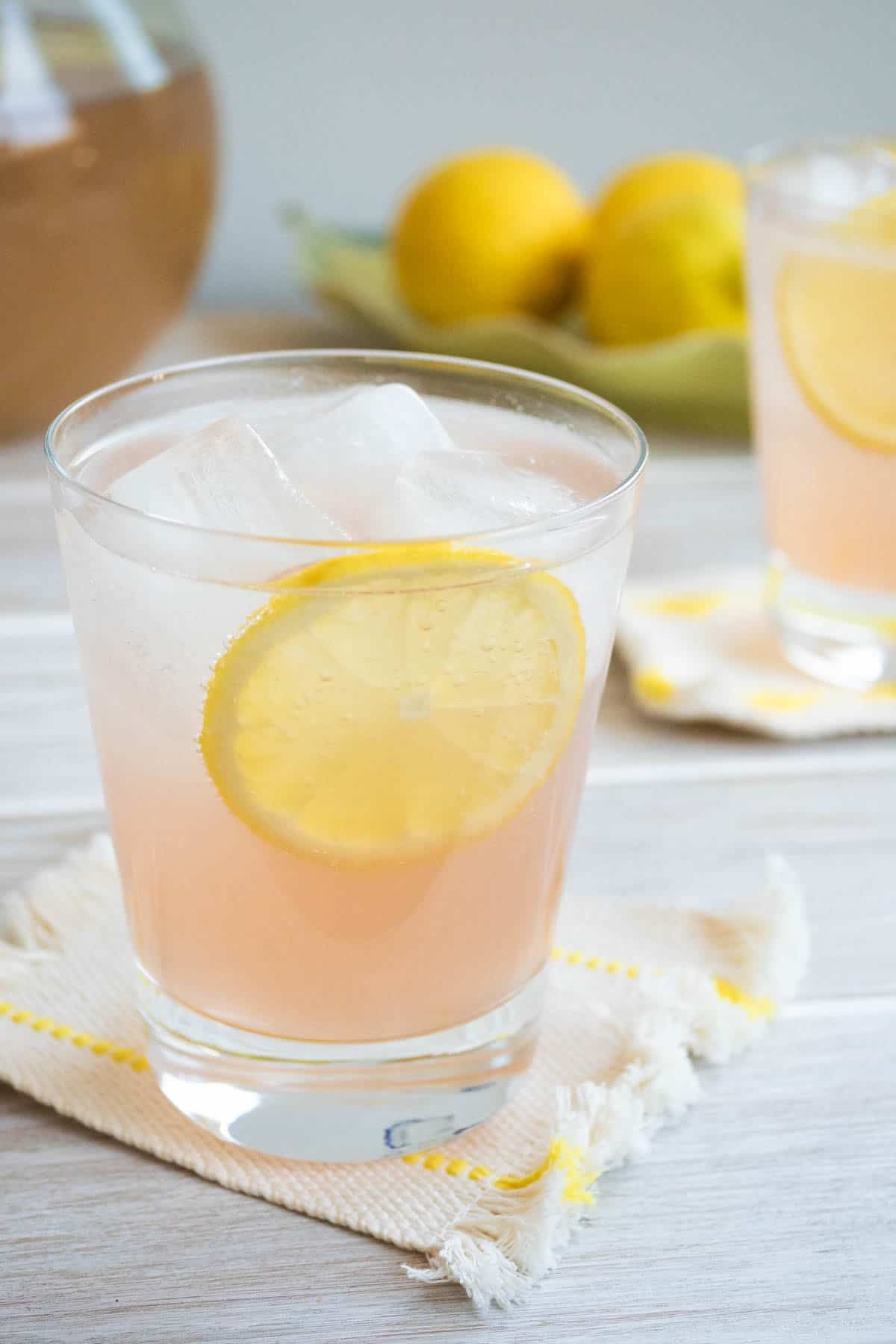 Rosé Lemonade is a refreshing addition to the more traditional brunch cocktails like mimosas and bloody marys. After all, brunches are best when you have a delicious drink to linger over!

This citrusy, tart Rosé Lemonade is not too sweet, with a good balance between dry, berry-forward rosé wine and homemade lemonade. Like White Sangria or Agua De València, it's made in a big pitcher for easy entertaining.
Serve with savory and sweet foods for brunch like Easy Oven Baked Eggs and Baked French Toast. But don't limit this easy cocktail recipe to just brunch! This is a great go-to cocktail to kick off those warm summer nights when you need to throw something delicious together quickly. Serve with appetizers like Easy Antipasto Skewers, or sip by the grill as you fire up some Grilled Harissa Chicken.

From brunch to dinner, this versatile cocktail recipe may just be your favorite drink this summer!
Table of Contents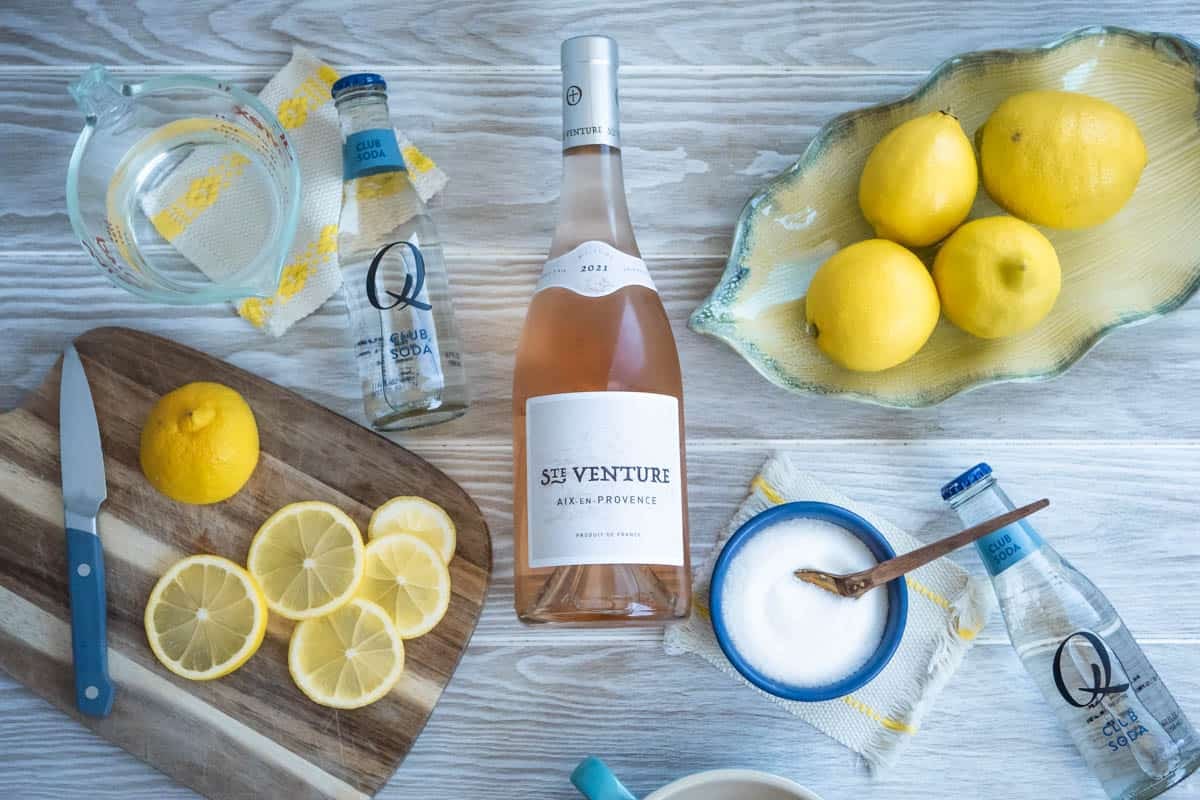 What You'll Need to Make Rosé Lemonade?
This easy summer cocktail recipe starts with homemade lemonade, which is totally worth the squeeze so to speak! Store bought lemonade is often made using concentrate, powder, and preservatives, is typically over sweetened, and just can't replicate that fresh taste. Plus, you can make a double batch of fresh-squeezed lemonade, sweeten to your liking, and freeze any extra for later.
Lemons: I use Eureka lemons for both the juice and garnish, which are commonly found in most grocery stores. A mix of tart Eureka and sweet Meyer lemons would also work (you may want to adjust the amount of simple syrup you add).
Sugar: Used to make a simple syrup for the lemonade, use white sugar for a bright yellow color. Organic sugar works well but often has a slightly darker tint, so the lemonade will be slightly darker.
Rosé wine: A dry rosé is preferred for this cocktail (see my favorites below).
Club soda (optional): You can make this drink bubbly by topping off each glass with club soda. The effervescence gives some lightness to the drink, which I like especially when serving this Rosé lemonade at brunch.
How to Make Simple Syrup
You can absolutely buy simple syrup at the store, where you can usually find it in the mixer aisle liquor department. However, it's really easy to make simple syrup at home.
To make simple syrup, combine equal parts water and sugar in a small saucepan over set over medium-high heat. Stir until the sugar has dissolved and the liquid changes from gray to clear. Set the pan aside to cool to room temperature. For this recipe you'll need ¾ cup sugar and ¾ cup water. It will keep in your fridge for up to 30 days.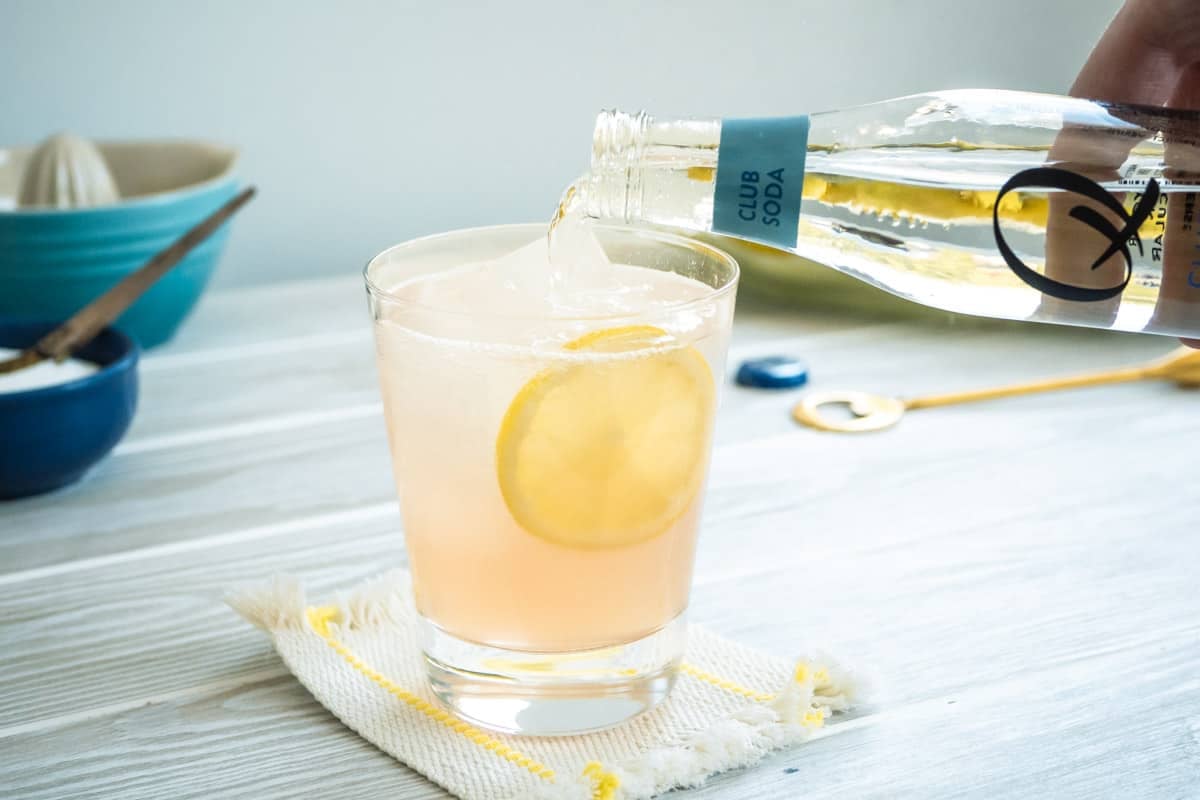 How Do You Make Rosé Lemonade?
Rosé Lemonade is my go-to in the summertime when it's hot and I want a cocktail that's refreshing but super easy. It's especially perfect for serving a crowd, as you can make a big batch and don't need to spend the first hour of the party mixing individual drinks. To make Rosé Lemonade:
Prep the lemons: Scrub one lemon and slice into wheels. Juice enough of the remaining lemons to yield 1 cup of juice. Use a sieve to strain out any pulp.
Mix: In a large pitcher, stir together the simple syrup, lemon juice, remaining 2 cups of water, and one bottle of rosé wine. Add the reserved lemon wheels and set in your refrigerator until you're ready to serve.
Serve: If you're using club soda, fill 6-8 iced tea glasses with ice and divide the cocktail amongst the glasses, leaving about 2-inches of room at the top. Top with club soda. Or, ladle the mixture into ice-filled wine glasses. If you have any lemons left over, you can garnish with additional lemon wheels if desired. Cheers!
The Best Rosé for Rosé Lemonade
Picking a wine for making drinks can feel daunting, but I'm here to tell you not to fret! Don't feel like you have to splurge on the nicest bottle of Rosé at the store, just look for something pleasantly dry that you'd drink on its own.

I really enjoy some of the rosé wines made in Provence, as they are high in quality and typically a good value.

I especially love La Grand' Vigne Rose Provence Coteaux Varois or Aix Rosé, which are both under $20. Avoid rosé wines that are higher on the sweeter scale, as that will throw off the balance of the lemonade. Skip Moscato varieties, bottles with "Dolce" listed in the title, or anything with an ABV under 12%.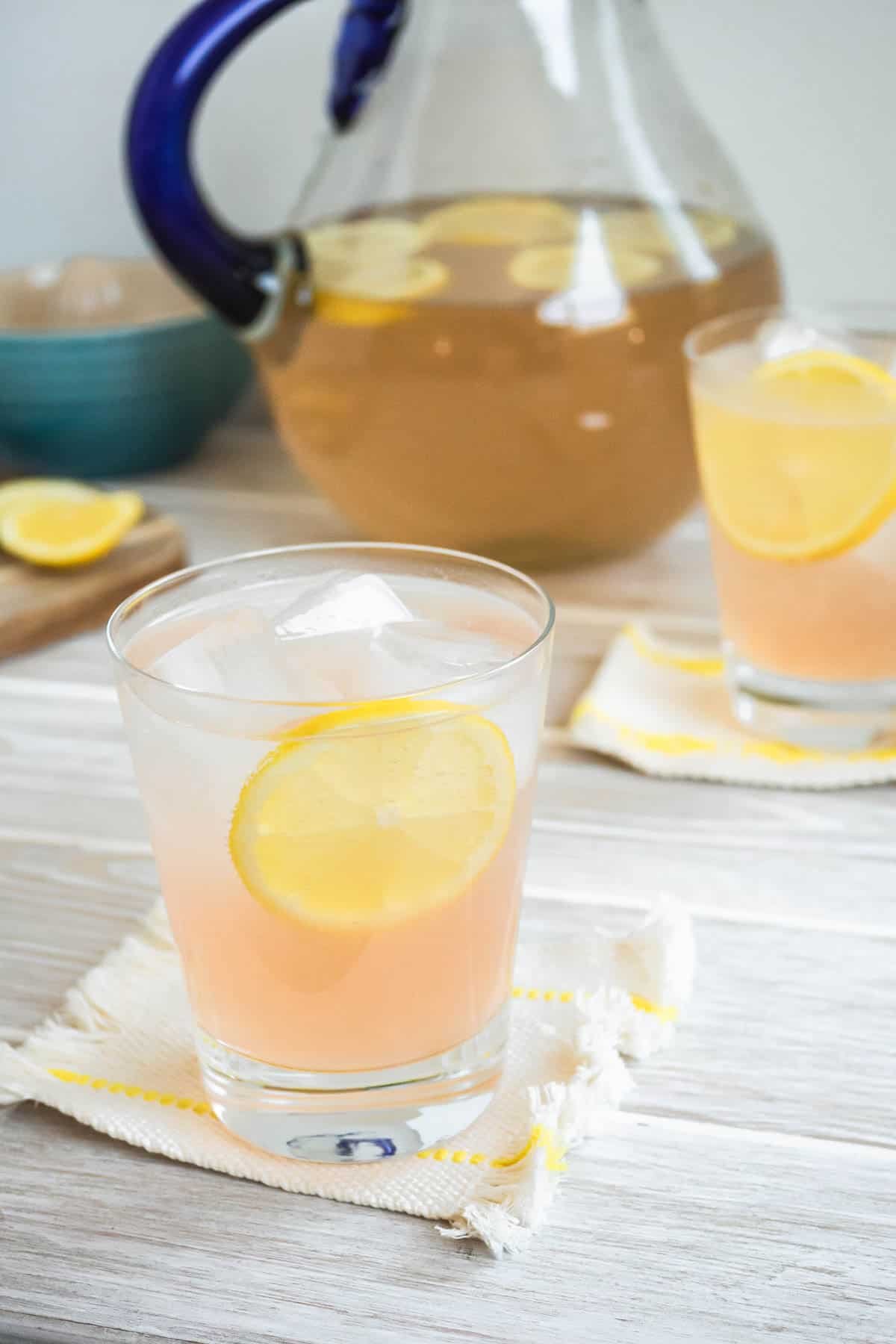 What to Serve with Rosé Lemonade
This versatile cocktail recipe is bright and refreshing, so it goes best with Broiled Salmon, Cucumber Sandwiches, Easy Shakshuka, or Linguine with Clams. Just think of summer by the seaside! If you have kids joining the party and you want to let them in on the fun, make a big pitcher of strawberry lemonade–just be sure to keep track of which is which!
More Refreshing Cocktail Recipes to Love
Browse all Mediterranean recipes.

Visit Our Shop.