Healthy & budget-friendly, oven baked eggs are incredibly easy and so delicious! Once you learn how to bake eggs in the oven, you'll whip up a batch for for weekend brunches, weekday breakfasts, & more!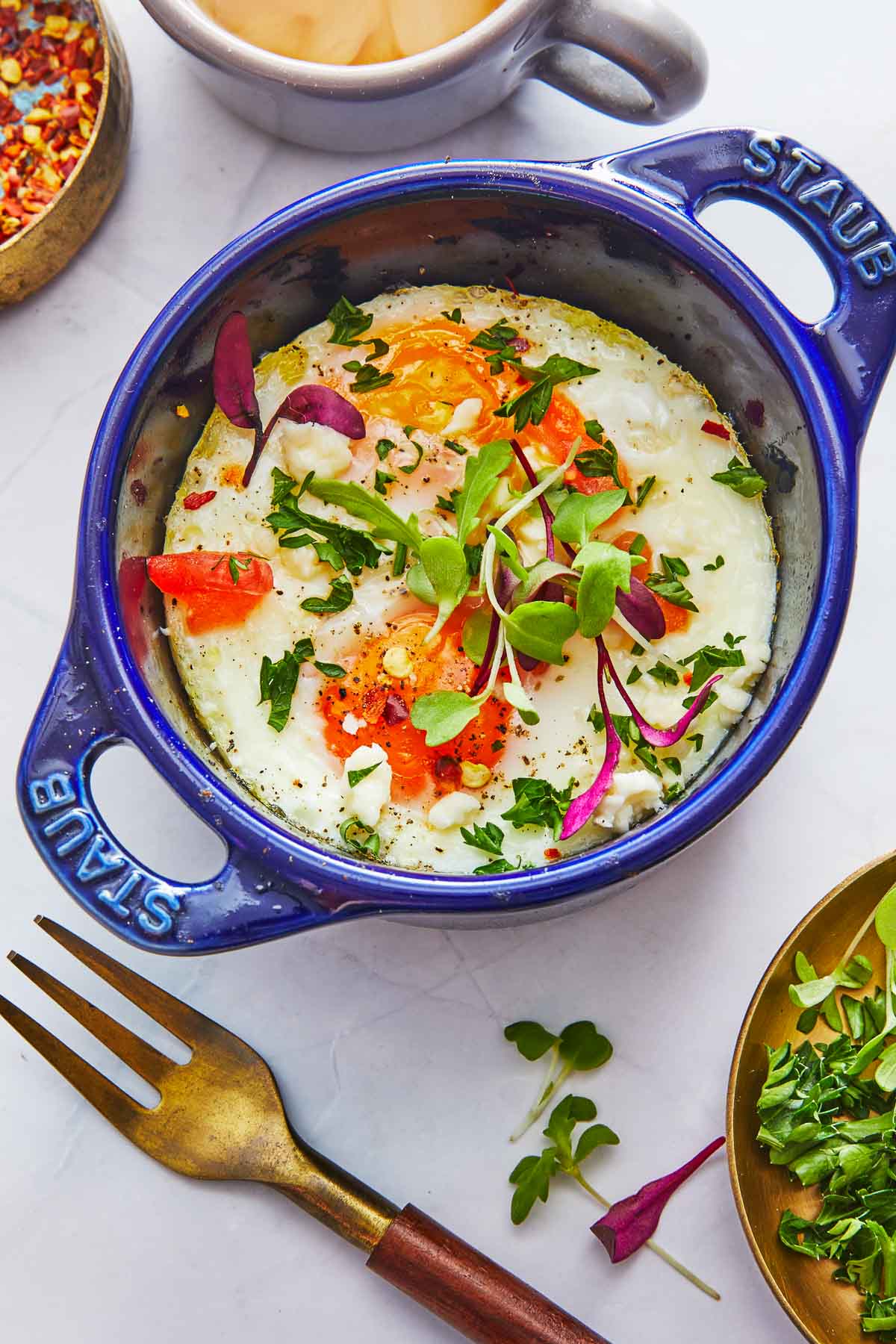 Learning how to bake eggs in the oven was a complete game-changer for me. Seriously, you won't believe how easy it is to do!
I use ramekins but you can use well-greased muffin tins, to create the most beautiful runny eggs in a matter of minutes. The rich flavor of runny yolks dressed up with fancy garnishes like feta cheese, chives, and more will have your guests singing your praises and raving for days.

It's no secret I love a good savory breakfast or brunch! Whether I'm cooking for myself or feeding a crowd, eggs are one of my go-to ingredients for a simple, healthy and satisfying meal. After all, with recipes like Easy Sheet Pan Baked Eggs and Vegetables, Healthy Breakfast Egg Muffins, and Easy Shakshuka, there's something for everyone!

Topped off with creamy feta, fresh veggies, and bright herbs, oven baked eggs are the ultimate easy breakfast or brunch. These eggs are simple enough to serve every day, but pretty enough for a celebration. I promise you they are guaranteed to become your new favorite recipe.
Whip them up in no time for casual gatherings, weekday mornings, weekend brunch and everything in between!
Table of Contents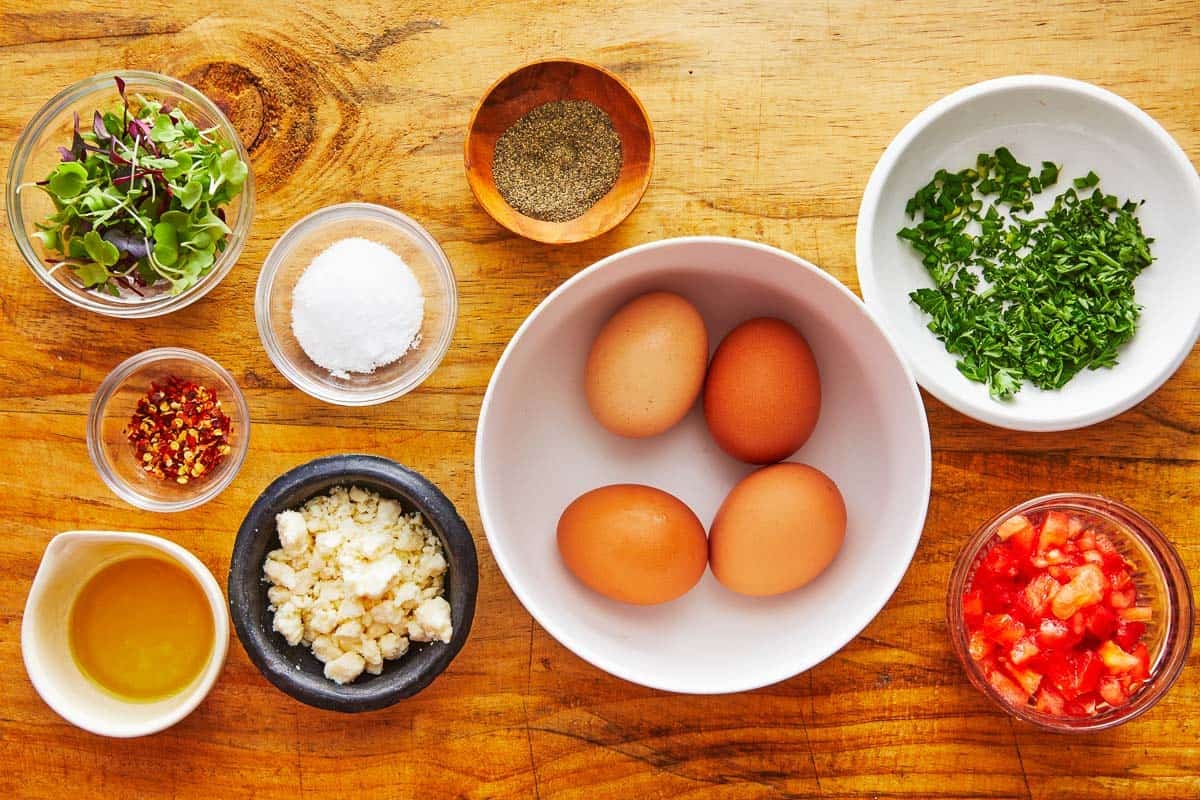 Ingredients: What You'll Need to Make the Best Baked Eggs
Made with just a handful of simple ingredients, this baked eggs recipe proves that healthy eating doesn't have to be complicated or expensive. Take a look at everything you'll need:
Extra virgin olive oil: Any of our extra virgin olive oils will work great with these baked eggs to prevent them from sticking to the ramekins while adding a slight boost of savory flavor and healthy fats.
Eggs: Large eggs are best. Use 1-2 for every person you're serving.
Salt and pepper: A good sprinkle of both helps enhance the rest of the ingredients for a delicious, bold taste.
Aleppo pepper flakes: Technically optional, this adds just a pinch of sweet heat that takes this recipe to the next level. If you don't have Aleppo pepper, red chili flakes taste great as well!
Optional toppings: Of course, you can serve baked eggs on their own, but what fun is that? Make them truly showstopping with toppings like feta cheese, chopped chives, parsley, microgreens, and chopped tomatoes!
How to Bake Eggs in the Oven
Learning how to bake eggs in the oven might be the single most important culinary skill to keep in your arsenal. Kidding! Kind of. Ready in roughly 10 minutes, this recipe is truly a lifesaver when you need a delicious meal ASAP! Here's how it's done:
Prepare: First things first, don't forget to preheat your oven to 375°F and position a rack in the middle of your oven.
Fill the ramekins: Using a liberal hand, coat the bottoms and sides of your ramekins (or muffin tins) with extra virgin olive oil, and carefully crack 1-2 eggs in each dish. Ramekins that are 4 ½ inches round can hold 2 eggs. Otherwise, just stick with 1!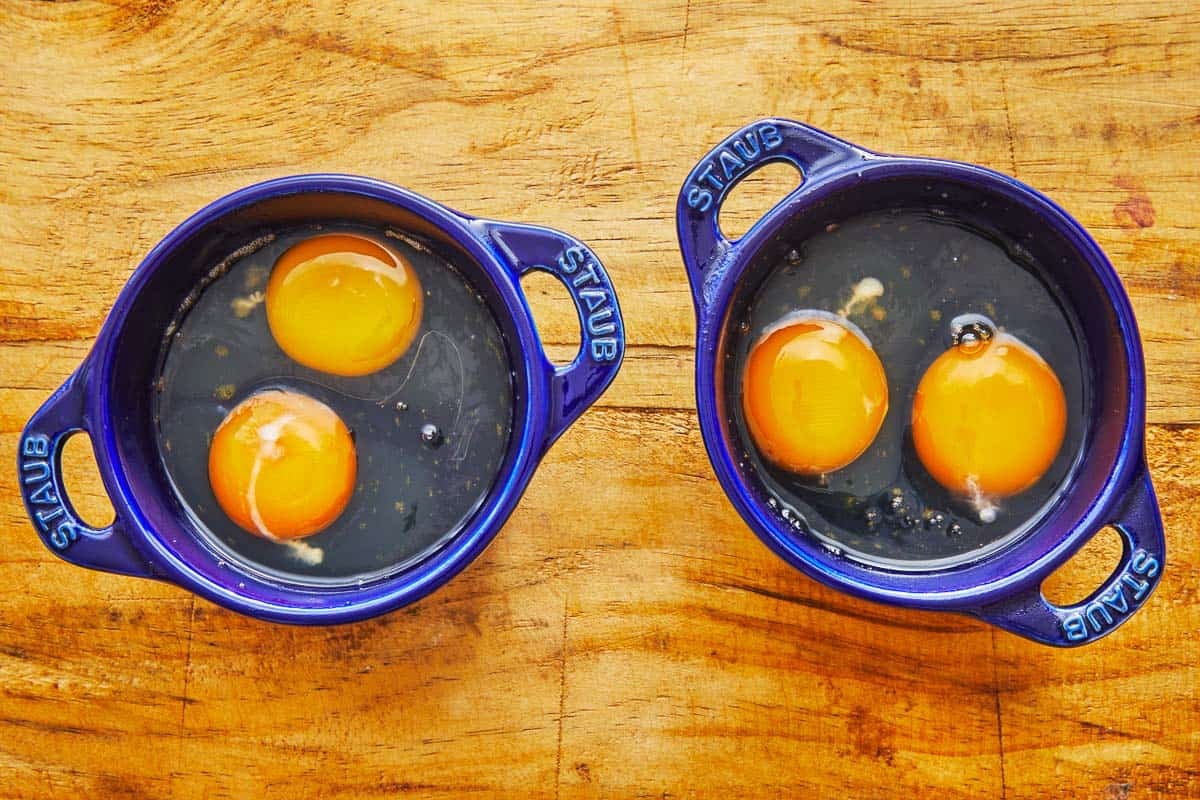 Bake: Place the ramekins on a sheet pan, and bake for about 8 minutes or until the egg whites are slightly set. Remember, the eggs will continue to cook and set after they are removed from the oven. So, it's important to keep a close eye on them to prevent overcooking and achieve the beautiful runny yolk. If, however, you prefer yolks on the firmer side, leave them in the oven for a minute or two longer.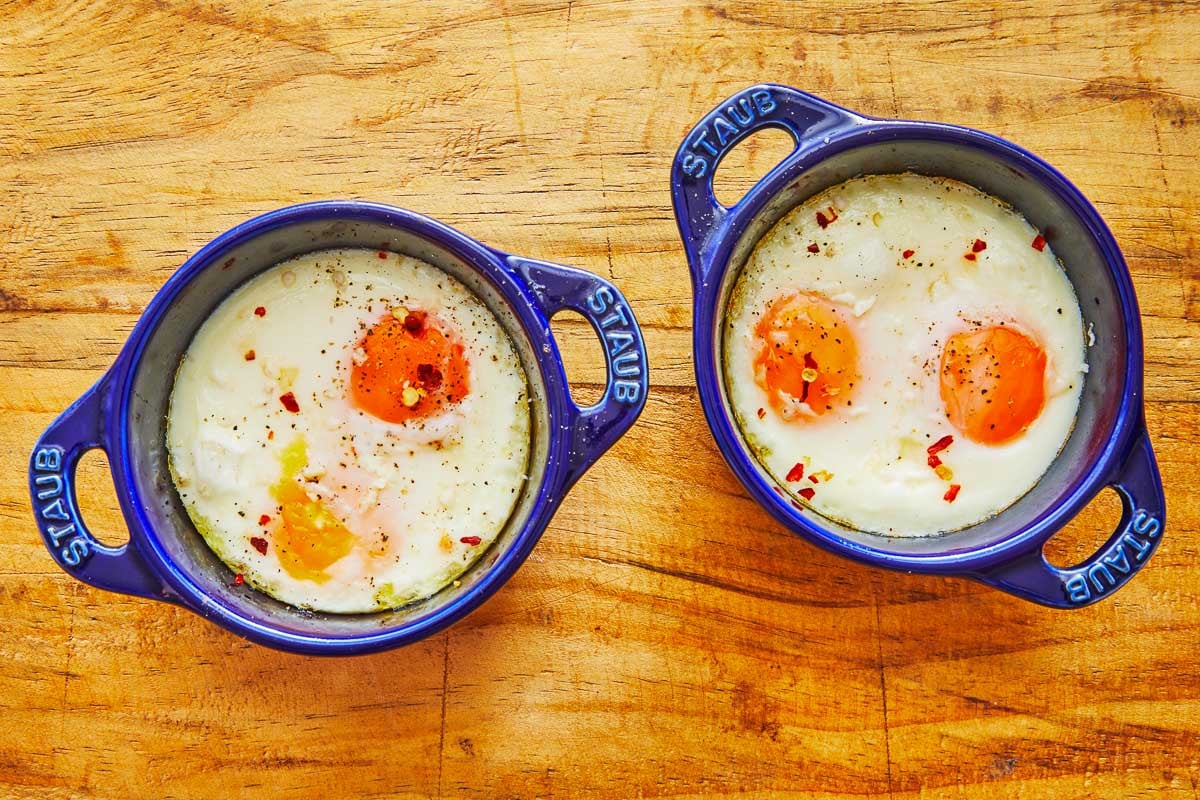 Garnish and serve: To finish up, ad an extra dash of seasonings for even more flavor, and go to town with all your favorite toppings! Once you're satisfied serve your baked eggs immediately, and enjoy!
Oven Baked Eggs Redesigned
Now that you've learned how to bake eggs in the oven, it's time to experiment and make this recipe your own! Luckily, it's super easy to customize and adapt. For instance, some of my favorite variations include:
Fully baked eggs: Don't like runny eggs? No worries! Simply prick the yolks with a fork, and let them cook a little longer. Or, cover them with foil to help them set.
Add cheese: A healthy dose of cheese makes everything better. Of course, fetais my favorite, but feel free to mix and match and use whatever you like best.
Use fresh herbs: A sprinkle of fresh herbs like chopped chives, parsley, or coriander adds bright, fresh flavors that lightens the dish and complements the otherwise savory ingredients.
Include fresh produce: A topping of chopped tomatoes, sliced avocado, or even a handful of spinach can be included for added flavor and extra nutrients!
Spice it up: If you don't mind a bit of heat, add a drizzle of hot sauce or harissa paste to your baked eggs.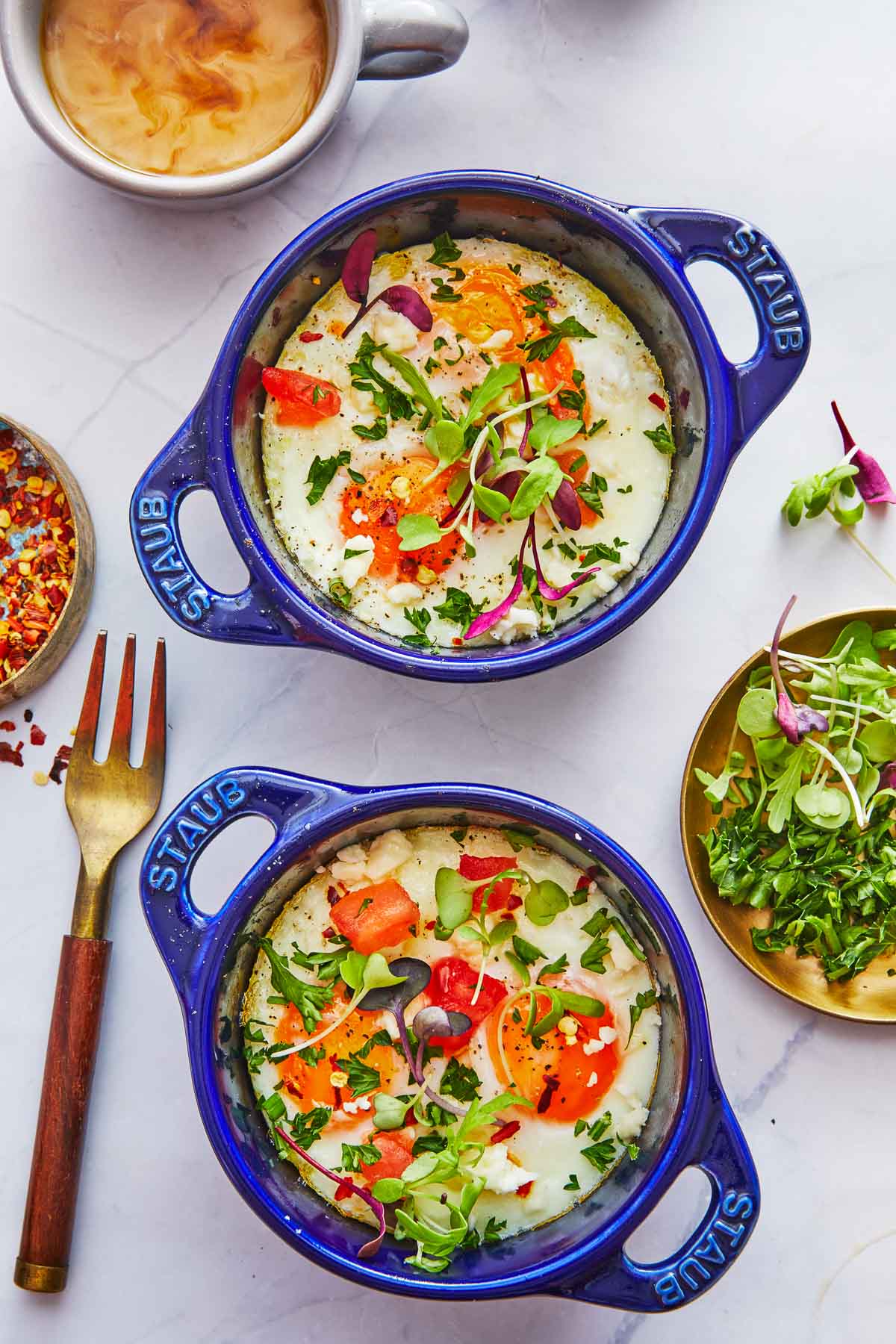 What to Serve with Baked Eggs
You can easily serve these oven baked eggs on their own for a light meal. However, if you know me, you know I can never resist the opportunity to create a full spread!
When it comes to runny eggs, I always have a side of Easy Homemade Pita Bread, Easy Challah Bread, or even Pan Con Tomato (Spanish Tomato Bread) to soak up all the goodness.
While the bread is baking, you might as well whip up a few sides, too! I can never say no to a helping of Crispy Garlic Smashed Potatoes with Garlic and Za'atar or Quick Roasted Tomatoes with Garlic and Thyme!
Finally, don't forget to wash it all down with a glass of Simple Green Juice or Arabic Tea with Fresh Mint.
More Amazing Egg Recipes
Browse all Mediterranean recipes.

Visit Our Shop.
Bundle and Save!
Be sure to check out our Everyday EVOO Bundle. Four signature branded olive oils that are perfect for everyday use.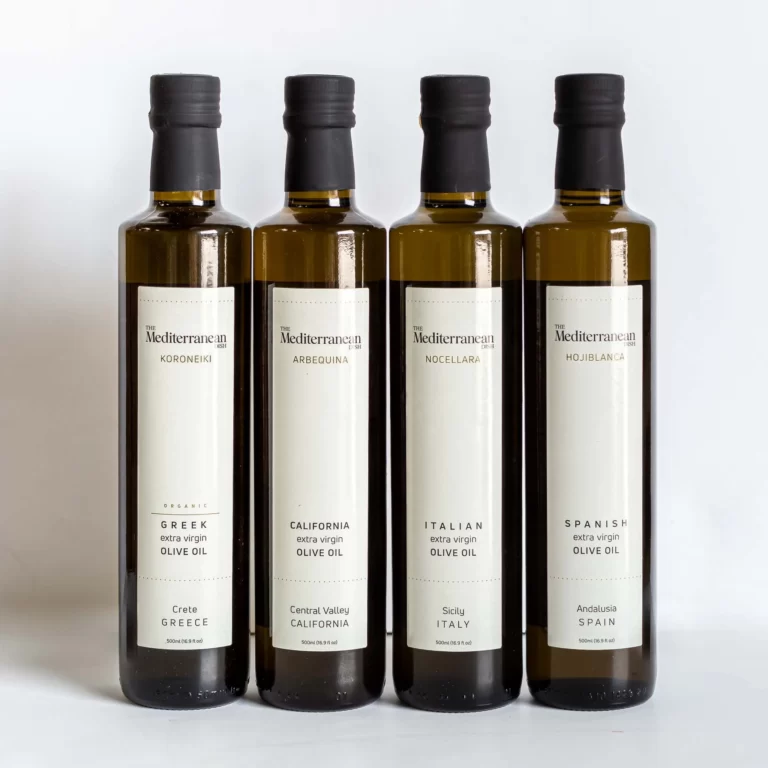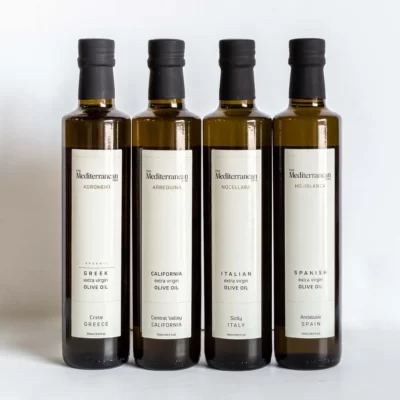 Simple Oven Baked Eggs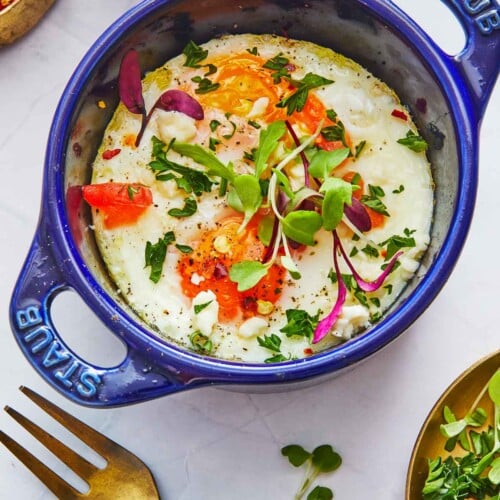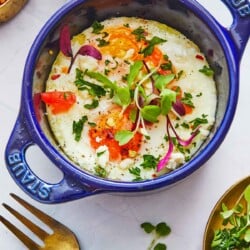 Learning to bake eggs in the oven is a total game-changer! They are so easy to whip up in no time and you can top them with just about anything you have on hand.
Ingredients
2 to 4

Large eggs

Kosher salt and black pepper

Red pepper flakes

or Aleppo pepper, optional
Optional Toppings:
Crumbled feta cheese

Chopped chives

Chopped parsley

Microgreens

Small diced tomatoes
Instructions
Prepare the oven: Preheat the oven to 375°F and position a rack in the middle.

Coat ramekins with oil: Brush the bottoms and sides of 2 to 4 small ramekins or oven-safe dishes with extra virgin olive oil.

Add egg(s): Crack 1 egg in each dish, depending on the size of the dish (a 4 ½ -inch round ramekin will take 2 eggs).

Bake: Arrange the ramekins on a sheet pan and place the sheet pan on the middle rack of the heated oven. Bake for about 8 minutes or until the egg whites are just set. The yolk should still be runny, so watch closely so you don't overcook them (remember, the egg whites will continue to set when you take them out of the oven). If you like the yolks to be on the firmer side, leave the eggs in the oven for a couple more minutes.

Garnish and serve: When the eggs are done to your liking, remove them from the oven and season with kosher salt, black pepper and, if you like a little heat, add a dash of red pepper flakes or Aleppo pepper. Garnish with the toppings of your choice (feta, fresh herbs, or small diced tomatoes). Serve immediately!
Nutrition
Calories:
125.8
kcal
Carbohydrates:
0.6
g
Protein:
11.1
g
Fat:
8.4
g
Saturated Fat:
2.8
g
Polyunsaturated Fat:
1.7
g
Monounsaturated Fat:
3.2
g
Trans Fat:
0.04
g
Cholesterol:
327.4
mg
Sodium:
415.6
mg
Potassium:
121.5
mg
Sugar:
0.3
g
Vitamin A:
475.2
IU
Calcium:
49.5
mg
Iron:
1.5
mg