Pasta Pomodoro, or Pasta al Pomodoro as it's called in Italy, is a simple yet delicious dish of spaghetti or rigatoni tossed with a rich, basil-infused tomato sauce. Is there anything better? This go-to weeknight recipe is one of my family's favorites, and it's sure to become a favorite with yours too.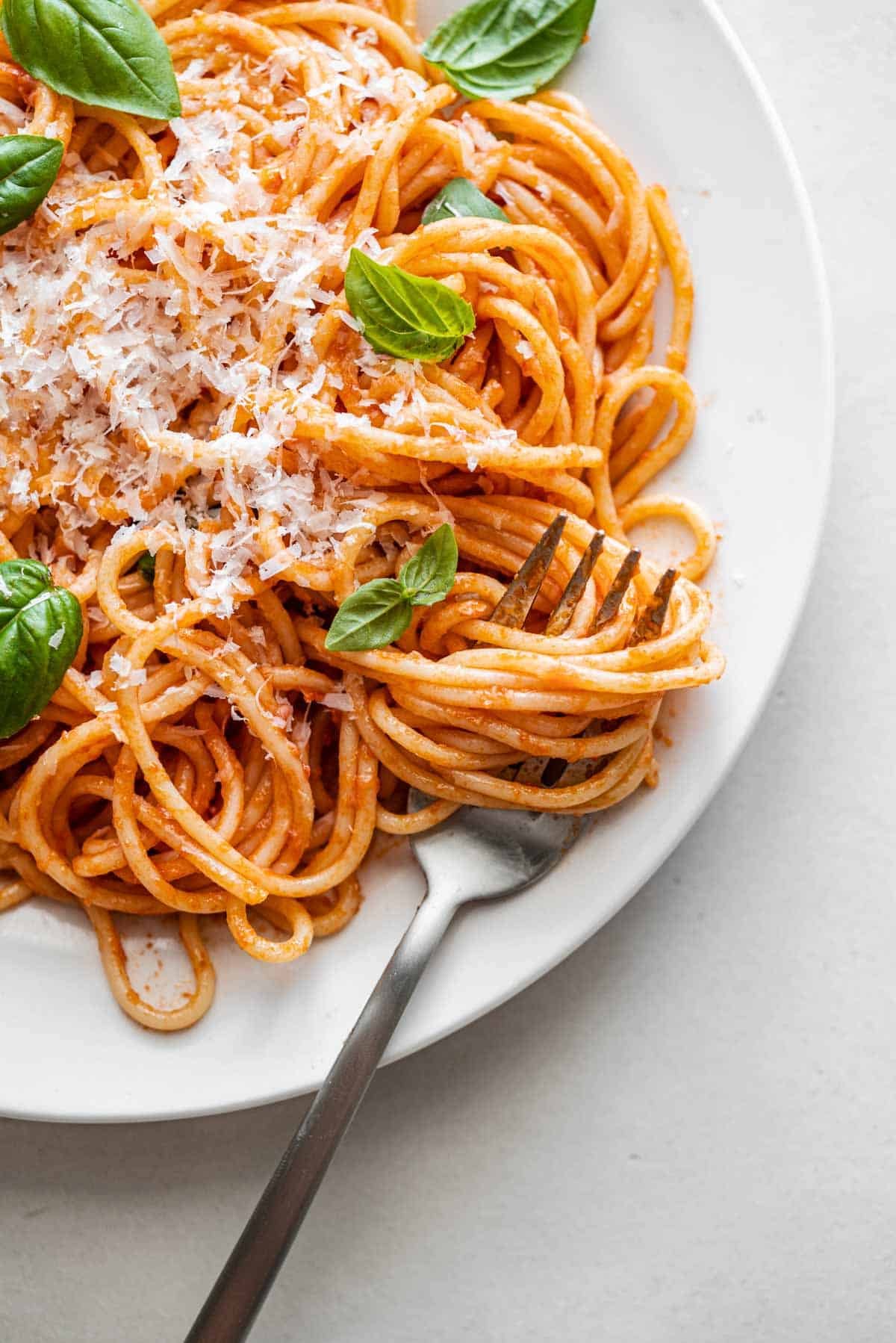 Italians pride themselves on their emphatically regional cuisine. But if a national dish did exist, it would be Pasta al Pomodoro.
After all, what is more Italian than a nice dish of pasta tossed with fresh tomato sauce, perfumed with basil, and garnished with a shower of Parmigiano cheese? Pasta pomodoro contains all those quintessentially Italian ingredients that have made everything from the Caprese Salad to Eggplant Parmesan so beloved. But that's not all! It also showcases the colors of the Italian flag.
If you've never made pomodoro pasta before you'll be surprised at how easy it is. And, even better, you may never need to buy a jar of sugar-laden commercial tomato sauce again.

Spaghetti pomodoro is the first pasta dish I learned to make growing up, and this pasta pomodoro recipe is the one I make when I want an easy and delicious dinner. It always brings me joy and satisfaction when I'm craving simple Italian comfort food.
Table of Contents
What is Pasta Pomodoro?
"Pomodoro" is the Italian word for tomato. So, simply put, pasta al pomodoro is pasta with tomato.

Although the comforting pasta is embraced by Italians everywhere, pasta al pomodoro originated in Naples. This makes perfect sense; after all, Naples is where dried pasta was invented in the 19th century. It is also where San Marzano tomatoes, widely considered to be the best tomatoes for sauce, are grown.
Not surprisingly, recipes and techniques for pasta al pomodoro vary from region to region and cook to cook. Some prefer their pomodoro sauce completely smooth, while others like a little texture. My preference is smooth.
Some cooks flavor their sauce with garlic and basil. Others add a small amount of chopped onion. I prefer crushed garlic, which infuses the olive oil with an irresistible flavor.
Spaghetti is the classic pasta pairing for pomodoro sauce. That said, other shapes like rigatoni, penne, and even potato gnocchi are perfectly acceptable. Whatever your personal preferences, the key to great pasta al pomodoro is to use high quality ingredients.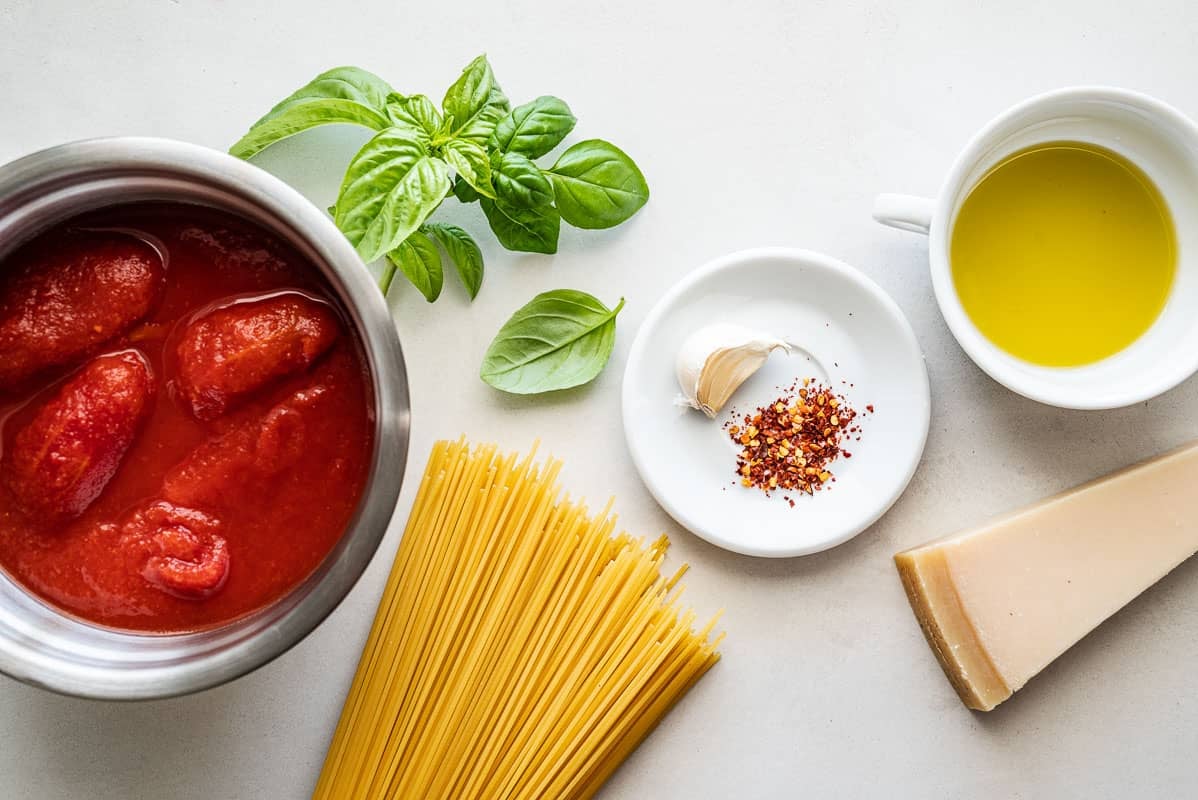 Pasta Pomodoro Ingredients
The rule for pasta al pomodoro is: Simple is best. You need only a few ingredients to make this luscious dish of pasta and tomato sauce, so make sure they are top-notch.
Extra-virgin olive oil: Use a nice olive oil that tastes fresh and vibrant, like our
Italian Nocellara.
Garlic: One clove should be plenty. The garlic should be in harmony with the other ingredients, not the dominating flavor.
Chili pepper: In my family's region of Abruzzo and in other southern regions, we often add chopped fresh hot pepper or a pinch of crushed red pepper flakes to our pomodoro sauce. This is optional.
Canned tomatoes: Italians sometimes use fresh tomatoes to make pomodoro sauce. They do this only when meaty sauce tomatoes such as San Marzano or Roma tomatoes are in season. Most of the time, they (and I) prefer to use good-quality canned whole tomatoes or tomato passata (purée).
Salt: Season with fine sea salt or kosher salt to taste. I add a pinch of sea salt at the beginning of the cooking process. Then I adjust the seasoning with a second pinch, if needed, when the sauce is nearly done.
Basil: A branch (large sprig) of fresh basil or a handful of basil leaves perfumes the sauce with the herb's sweet fragrance. Save some of the smaller, more delicate leaves for garnish if you'd like.
Pasta: Spaghetti is the traditional choice for pasta pomodoro. However, plenty of shapes go well with this classic Italian sauce. After spaghetti, my favorites are penne, rigatoni, and potato or ricotta gnocchi.
Parmigiano cheese: Pasta pomodoro is delicious on its own, but it's even better with a shower of freshly grated Parmigiano-Reggiano cheese on top. It gives it that ultimate savory kick.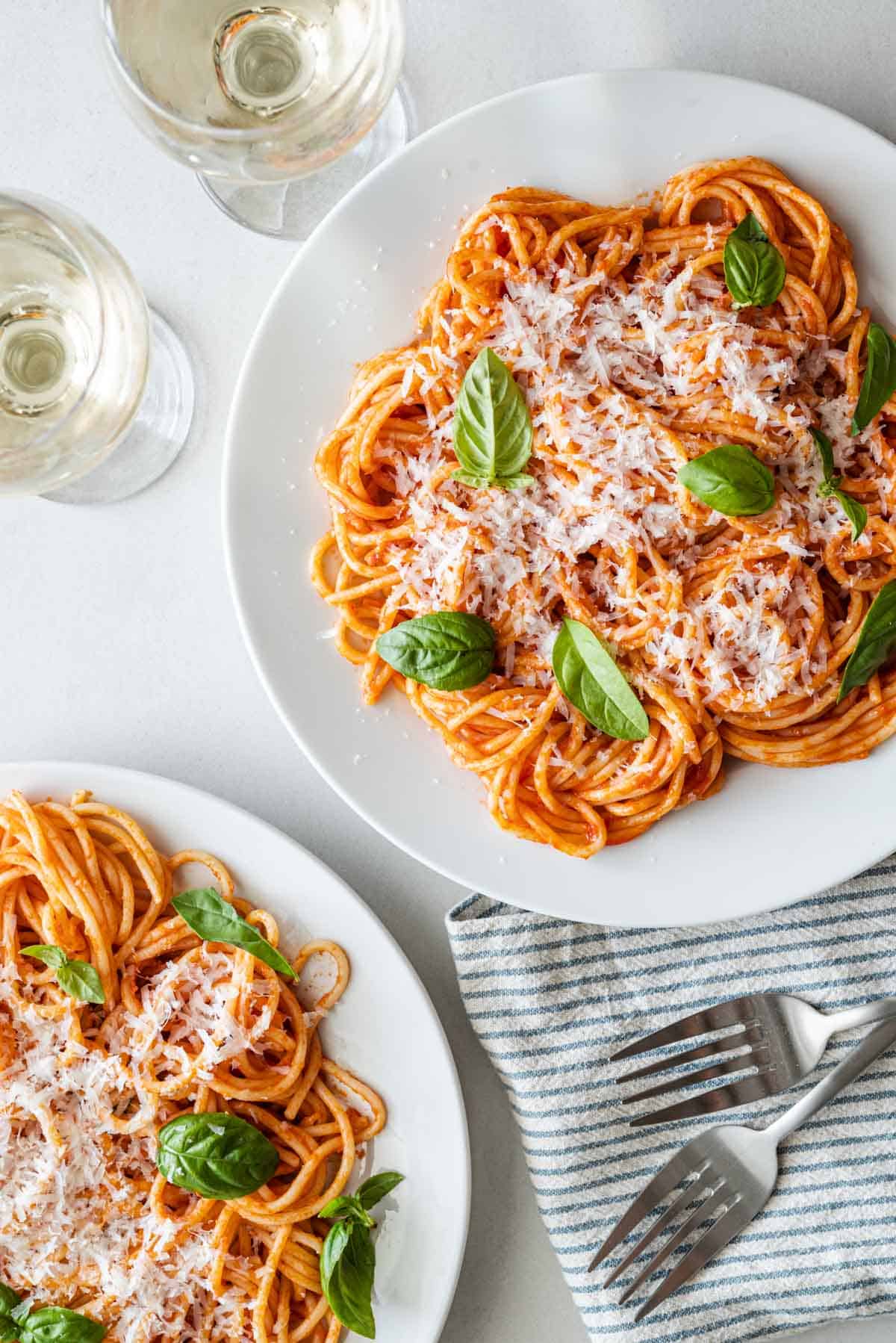 The Best Tomatoes for Pasta Pomodoro
You might assume that fresh tomatoes are better than canned or bottled, but the truth is more complicated.
The best fresh tomatoes for sauce are only available toward the end of summer. We're not talking about big round salad tomatoes or heirloom tomatoes. Those are great for Caprese or Panzanella salads, but too watery and not pulpy enough for sauce. Sauce tomatoes are the meaty, "drier" oval tomatoes. Plum tomatoes, Roma tomatoes, or San Marzano tomatoes are all ideal for making tomato sauce.
In mid to late August, countless Italian families get together for a weekend of tomato processing. They put up hundreds of jars of whole peeled tomatoes and bottle the reduced tomato purée. It's a lot of work but, preserved this way, the tomatoes keep their fresh flavor for an entire year. With all the messy work done, making a batch of pomodoro sauce is as easy as grabbing a couple of jars off the pantry shelf.
Even if you don't preserve your own tomatoes, you can still make excellent pomodoro sauce with store-bought canned tomatoes. The key is to use a high-quality brand that tastes fresh and juicy.

Stay away from canned tomatoes packed in heavy paste-like purée. I avoid cans whose ingredient lists show additions like sugar, diced peppers, or oregano. Look for whole peeled tomatoes packed in juice or light purée and have a fresh, unadulterated flavor. Take the time to taste a few brands to find one you like.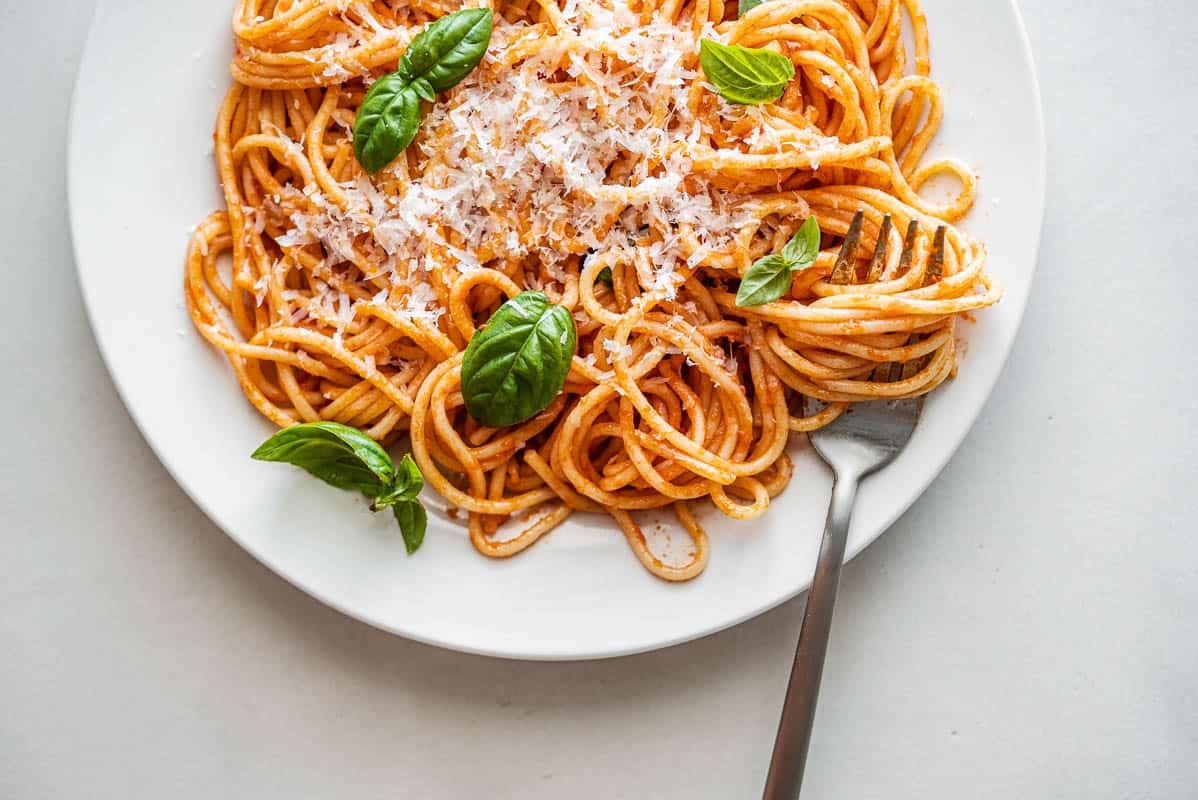 What are San Marzano Tomatoes?
San Marzano tomatoes are similar to plum tomatoes in shape, but with a pointed tip. They have become world-famous for their intense, sweet tomato flavor and excellent sauce-making qualities. They are named for an area near Mount Vesuvius, outside of Naples, where they are cultivated in rich volcanic soil.
True canned San Marzano tomatoes have a Protected Designation of Origin (D.O.P.) seal. This seal is meant to ensures the tomatoes were grown in the San Marzano area according to certain standards.
However, there is much confusion about canned tomatoes labeled San Marzano. There are many producers, in Italy, the U.S., and elsewhere, who grow the same variety of tomato outside of the officially designated San Marzano area. These tomatoes are sometimes labeled as San Marzano, but without the D.O.P. seal. Some, though not all, are just as good, or nearly as good, as those with the protected designation label. Plus, they are less expensive, so they make a great alternative for sauce.
If you want to use true San Marzano tomatoes grown in the specific San Marzano area, look for the "DOP" seal on the can. Whatever the label, my recommendation is always to taste the tomatoes to make sure they have a fresh, untainted tomato flavor.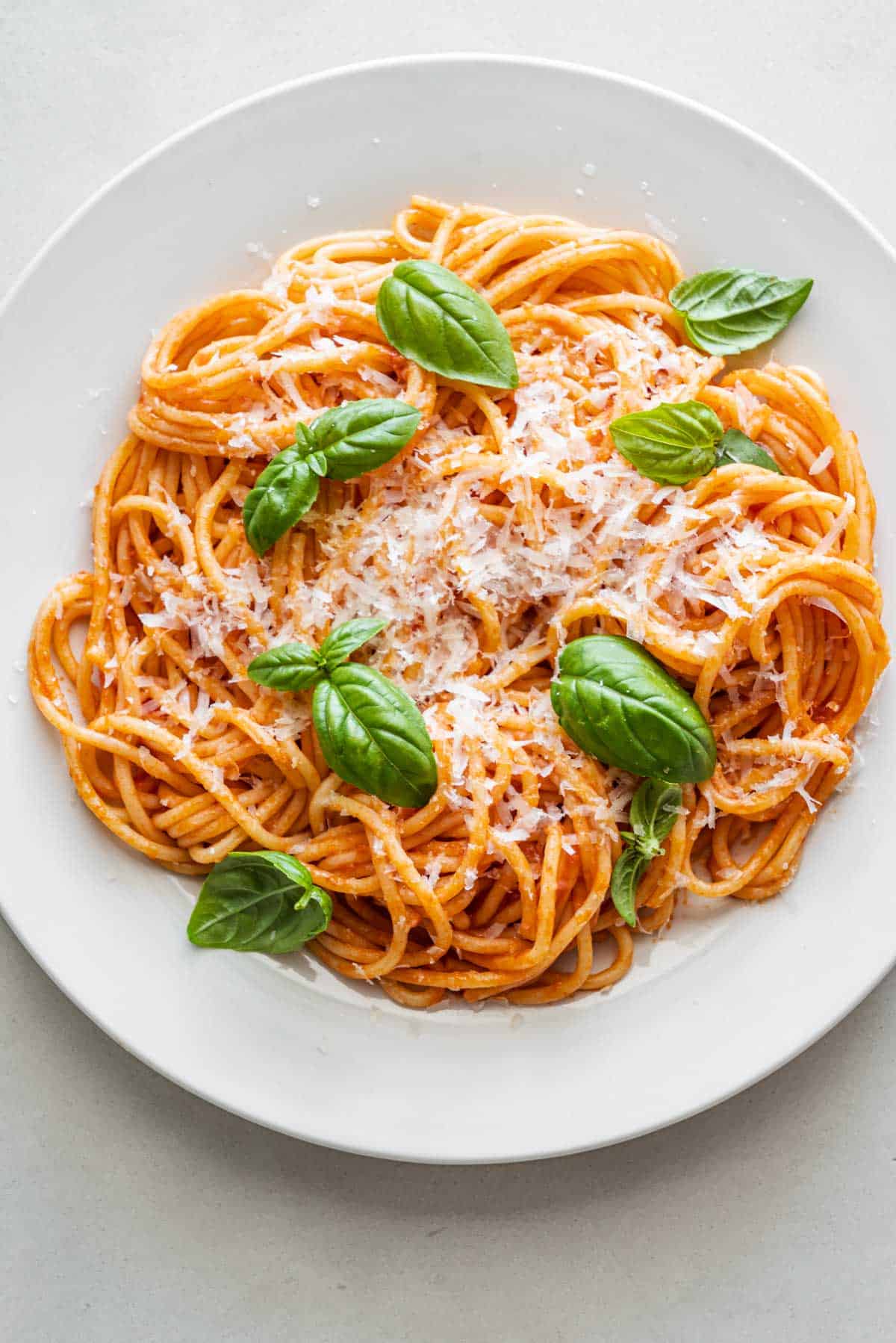 What's the Best Pasta for Pasta Pomodoro?
There's a reason that spaghetti is the traditional pasta choice to pair with pomodoro sauce. Both the shape and the sauce originated in Naples, so they naturally go together. The velvety, cooked-down tomatoes coat the noodles beautifully. Plus, it's always fun to twirl spaghetti onto your fork. But with so many pasta shapes available, it doesn't hurt to switch it up.
Hollow, quill-shaped penne, another shape from Naples, captures sauce inside and out.
Rigatoni's ridged tubes are also great for catching sauce.
Bucatini, a fat chewy noodle.
Fettuccine, a flat noodle.
Don't forget about gnocchi—potato or ricotta gnocchi and pomodoro sauce are a winning combination.
I don't recommend tiny shapes, such as pastina stars or small shells, which are better for soup.
How to Make Pasta Pomodoro
Making homemade tomato sauce is so easy that once you try it, you may never go back to store-bought jarred pasta sauce again. Pay attention to the quality ingredients, balanced flavors, and proper cooking time. You're aiming for mellow and savory with no hint of raw tomato taste, but not so cooked that it tastes like tomato paste.
Start with oil and garlic. Pour 4 tablespoons of extra-virgin olive oil into a wide saucepan and add one lightly crushed garlic clove. If the clove is mature (old), cut it in half first and remove the green heart, which has an aggressive flavor, then lightly crush the halves and then add them to the oil. Turn the heat on to medium-low and cook for 2 minutes, until the garlic is just beginning to sizzle. Press down on the garlic to release its flavor into the oil, but don't let it brown or it will overpower the sauce. If you want a hint of spice in the sauce, stir in a pinch of crushed red pepper. At this point, you can either remove the garlic or leave it in (I leave it in).
Pour in the canned tomatoes and their juices. Be careful; the tomatoes will spatter briefly when they hit the oil before subsiding. Once the tomatoes have settled, use a potato masher or wooden spoon to mash them up and release their juice. Stir in a pinch of salt, about ½ teaspoon.
Simmer the sauce. Raise the heat to medium and bring the tomatoes to a simmer. Then, lower the heat and partially cover the saucepan. Simmer gently for 30 to 40 minutes, until the sauce has turned a couple of shades darker, and the oil has started to pool on the surface.
Process the sauce. Turn the heat off and let the sauce cool briefly, about 10 minutes. Scoop out and discard the garlic and pass the sauce through a food mill fitted with the disk with the smallest holes. This will get rid of the seeds and any lingering bits of skin and create a smooth sauce. If you don't have a food mill, press the sauce through a sieve or strainer, using a wooden spoon or sturdy silicone spatula to force it through. If you prefer a sauce with texture, you can skip the milling, but mash it up again with a potato masher to break down any large pieces.
Finish cooking the sauce. Scrape the sauce back into the saucepan and taste it. Add more salt if needed. Stir in 2 tablespoons of olive oil and lay a branch of fresh basil on top of the sauce, or add a handful of leaves. Set over medium-low heat and bring to a simmer once more. Let the sauce simmer gently for about 15 minutes, stirring occasionally until it is glossy and infused with the flavor of the basil. Remove and discard the basil branch. The purpose of the basil branch is to infuse the sauce with the herb's flavor without having bits of dark green floating around. However, if you used just the leaves, you could leave them in. In either case, toss in a few more fresh leaves once the sauce is done cooking. Turn off the heat and cover the sauce to keep it warm.
Cook the pasta. Bring a pot of water to a rolling boil and salt it generously. Drop in the pasta and stir to prevent clumping. Cook until the pasta is very al dente—about a minute less than the recommended cooking time on the pasta package.
Combine the pasta and pomodoro sauce. When the pasta is nearly ready, begin reheating the sauce over low heat. Using a pasta fork, tongs, or a skimmer, transfer the pasta directly from the cooking water into the sauce, allowing some of the starchy pasta water to drip into the sauce. Raise the heat to medium and gently toss the pasta with the sauce for a couple of minutes, until it is al dente and nicely coated. Add a splash of cooking water if necessary to loosen the sauce.
Serve. Divide the pasta among individual bowls. Spoon any leftover sauce from the pan on top of each serving. Garnish with freshly grated Parmigiano cheese and basil and serve.
Tips and Tricks for Pasta Pomodoro
Pomodoro sauce can be every bit as satisfying as a good meat ragù or even a mushroom ragú. Here are some tips for making a full-flavored pomodoro sauce, and for making an extra batch.
Make the sauce ahead of time. Like many sauces, pomodoro sauce benefits from a rest. This allows the flavors to come together and usually makes for a more vibrant sauce. If you have the time, make the sauce a day in advance. Store it in a container in the refrigerator, and then reheat it when you want to cook and serve the pasta.
Make a double batch. I usually make twice the amount called for in the recipe. That way, I can store half of it in a container in the freezer, where it will keep for at least 3 months. To defrost, just remove the container from the freezer and let it sit at room temperature to thaw before reheating.
Dress the pasta well. In this recipe, I call for transferring the cooked pasta directly into the pan with the pomodoro sauce. This technique is useful for creating a velvety, emulsified sauce. However, if your pan isn't large enough to fit the pasta, you can drain the cooked pasta in a colander set in the sink. Be sure to set aside about 1 cup of the starchy pasta water. Return the drained pasta to the pot and spoon in half to ⅔ of sauce, along with a splash of cooking water. Toss the hot pasta and sauce together over low heat until the pasta is well coated. Add a splash of reserved cooking water to loosen the sauce if needed. Divide the pasta among bowls and spoon any additional sauce on top.
What to Serve with Pasta Pomodoro
One of the great features of pasta al pomodoro is that you can serve it as a main dish or in smaller portions as a primo piatto (first course).

To serve as a main course, pair it with a simple salad dressed with good olive oil, like lemon parmesan salad. Finish with a healthy-ish dessert, like Italian carrot cake.

If I'm serving pasta al pomodoro as a first course, I pair it with something on the lighter side, like these grilled garlic-parmesan shrimp or chicken piccata meatballs.
Pasta Perfection: Italian Spaghetti Recipes to Try
Browse all Mediterranean recipes.

Visit Our Shop.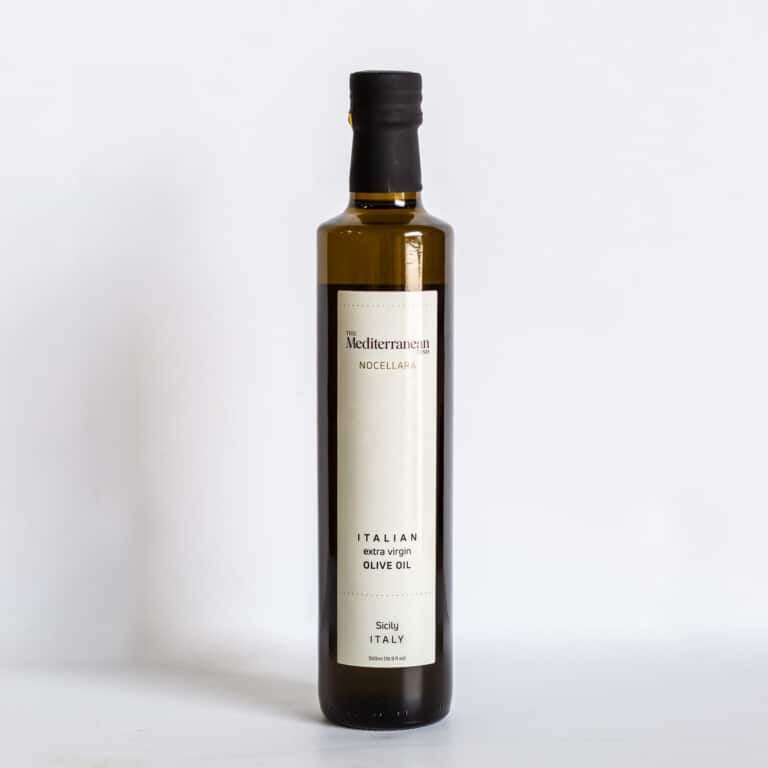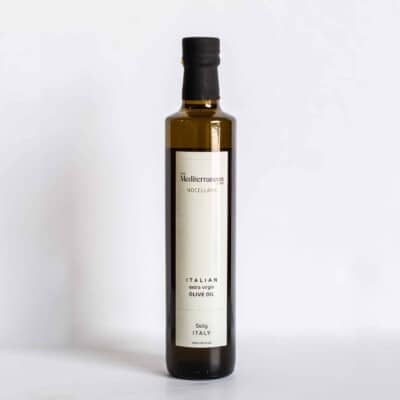 Try our Nocellara-Italian Extra Virgin Olive Oil!
This EVOO is produced from hand-picked, cold-extracted Nocellara olives. High in polyphenols with aromas of fresh tomatoes and vegetables with a mildly spicy finish.
Pasta Pomodoro (Spaghetti with Pasta Sauce)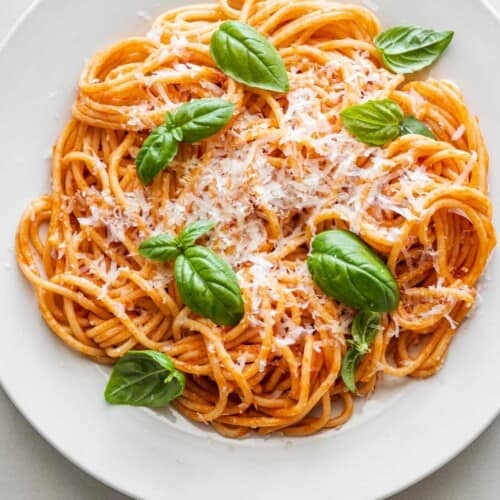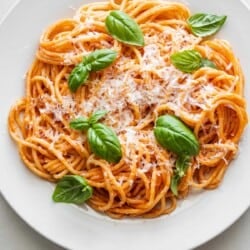 Toothsome pasta is tossed in a velvety tomato sauce, brightened with fresh basil, and finished with freshly grated Parmigiano cheese. This simple yet comforting weeknight dinner recipe ticks all the boxes!
Ingredients
6

tablespoons

extra-virgin olive oil

1

garlic clove,

lightly crushed

1

pinch

red pepper flakes

(optional)

1

(28-ounce) can whole peeled tomatoes

Fine sea salt

1

basil branch,

plus more leaves for garnish

1

pound

spaghetti

(or packaged pasta of your choice)

Freshly grated Parmesan cheese,

for serving (optional)
Instructions
Soften the garlic: In a large saucepan over medium-low heat, stir together ¼ cup of the oil and the garlic until the garlic begins to sizzle, about 2 minutes. Press down on the garlic to release its flavor but don't let it brown. Stir in a pinch of red pepper flakes. For a milder flavor, remove and discard the garlic, keeping the garlicky oil in the pan. Or leave it in for a bolder flavor—your choice.

Add the tomatoes: Pour in the can of tomatoes and their juice. Watch for spatters as the tomatoes hit the oil. Use a potato masher, sturdy wooden spoon, or silicone spatula to break up the tomatoes. Season with ½ teaspoon of salt and raise the heat to medium-high. Bring the tomatoes to a boil, then lower the heat to medium-low or low to maintain a very gentle simmer.

Simmer the sauce: Cover the pan partially with a lid and cook, stirring every now and then, for 35 to 40 minutes, until the tomatoes have darkened in color and the sauce has thickened. The oil should be pooling on the surface. If the sauce thickens too much before it tastes sweeter and richer, add a splash of water. When it's finished cooking, turn off the heat and let sit for 10 minutes to cool.

Process the sauce: Strain the sauce with a food mill or fine mesh strainer. Discard the garlic and transfer the sauce to a food mill fitted with the disk with the smallest holes. Pass the sauce through the mill into a bowl. Or, press the tomatoes through a sieve or fine mesh strainer to make a smooth sauce. Return the sauce to the pan. Taste and add another pinch of salt, if needed.

Season the pomodoro sauce: Stir in the remaining 2 tablespoons of olive oil. Lay the branch of basil on top of the sauce and bring to a simmer over medium heat. Or scatter about 5 basil leaves into the pan. Stir the sauce and cook gently for about 15 minutes. The basil will wilt into the sauce and infuse it with flavor. Turn off the heat and discard the branch of basil. Add a few more fresh basil leaves if you'd like. You can leave them whole or tear them; either is fine. Cover the pan to keep the sauce warm.

Combine: Bring a large pot of water to a rolling boil and salt it generously. Drop in the pasta and cook according to the package instructions until just al dente. Use a pasta fork, tongs, or a skimmer to transfer the pasta directly to the pan with the sauce. Add a splash of the starchy pasta water and turn the heat under the pan on to low. Cook, tossing pasta and sauce together, for about 2 minutes, or until the noodles are cooked and well coated with the sauce.

Serve: Divide the pasta between bowls and spoon any remaining sauce on top. Sprinkle with Parmigiano cheese and basil and serve.
Notes
If your garlic clove is older, cut it in half first and remove the green heart, which has an aggressive flavor. Lightly crush the halves and then add them to the oil.
If you prefer a sauce with texture, you can skip the milling or straining. Simply use a potato masher to break down any large pieces.
Visit our shop to browse quality Mediterranean ingredients including olive oils, honey, jams and spices.
Nutrition
Calories:
625
kcal
Carbohydrates:
89
g
Protein:
15.6
g
Fat:
22.9
g
Saturated Fat:
3.2
g
Polyunsaturated Fat:
2.9
g
Monounsaturated Fat:
15.5
g
Sodium:
154.7
mg
Potassium:
450
mg
Fiber:
4.7
g
Sugar:
5.5
g
Vitamin A:
133
IU
Vitamin C:
9.8
mg
Calcium:
57.5
mg
Iron:
2.6
mg