Tender, buttery, flavor-packed grilled scallops will take just 5 minute on your grill pan or outdoor grill! Served over my Mediterranean fresh tomato salsa, these scallops are easy to make for a quick dinner that feels even fancier than your favorite restaurant. Watch the video and check out my tips for how to grill scallops perfectly every time!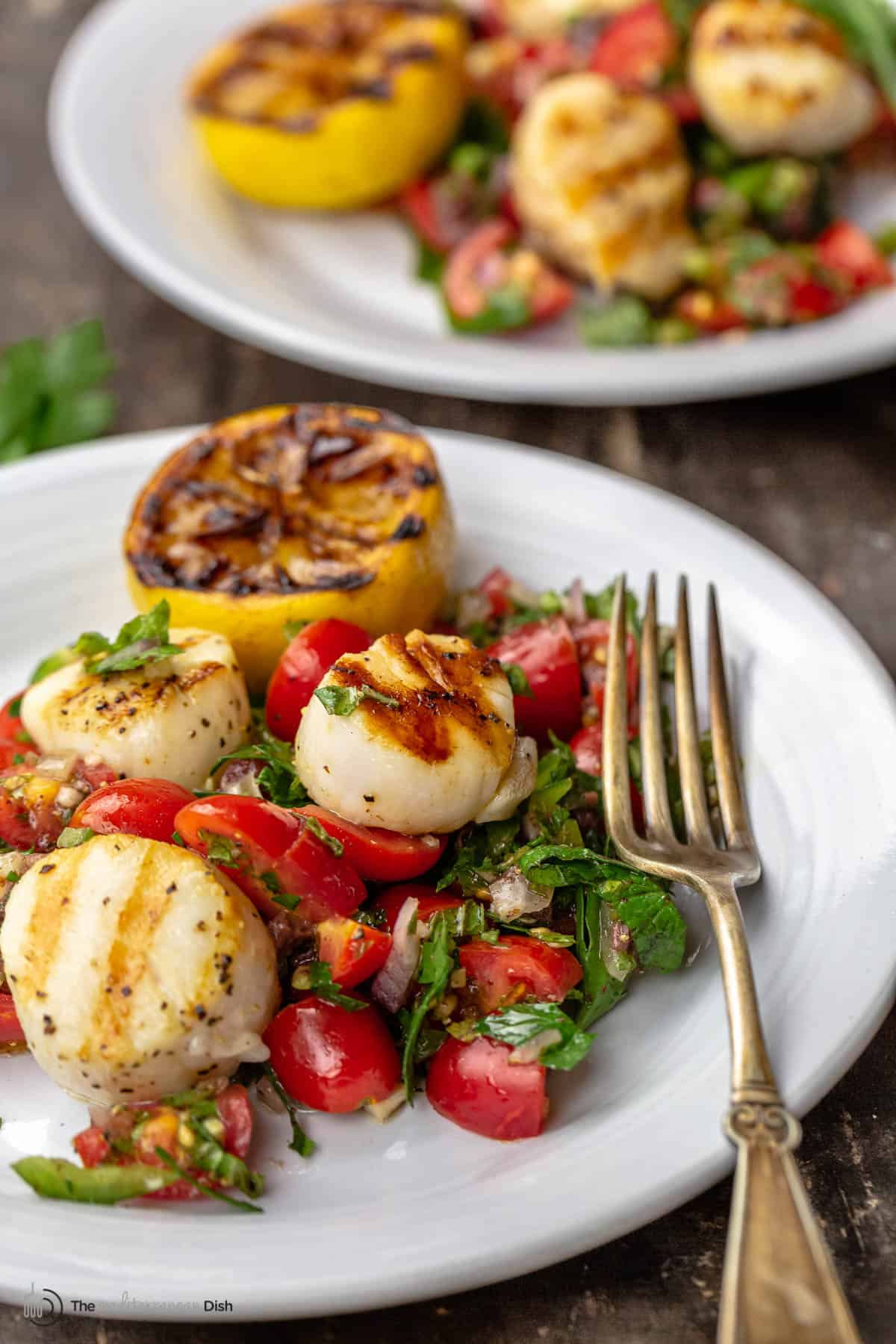 Grill your own scallops at home!
If you believe that scallops are a fancy dinner reserved only for dining out, this homemade grilled scallops recipe begs to differ! Buttery, melt-in-your-mouth tender grilled scallops - just like you'd expect at your favorite restaurant - take only 5 minutes on your grill pan or outdoor grill!
In this recipe, large wild-caught scallops are seasoned very simply with Kosher salt and pepper, brushed with a little extra-virgin olive oil, then quickly grilled in a grill pan (or outdoor grill). Then they're served over fresh Mediterranean-style tomato salsa to make a simple dinner that is brimming with flavor and feels extra special.
Serve these up for date night, to impress your guests or on any night that just needs a little extra flare or that fancy feeling.
What are scallops?
If you're not too familiar, scallops are a shellfish with an edible adductor muscle. They're round, tender muscles that are sweet, somewhat briny and delicate. Most supermarkets will sell two kinds of scallops--sea scallops and bay scallops. Sea scallops are larger (some can even be as big as 2 inches in diameter).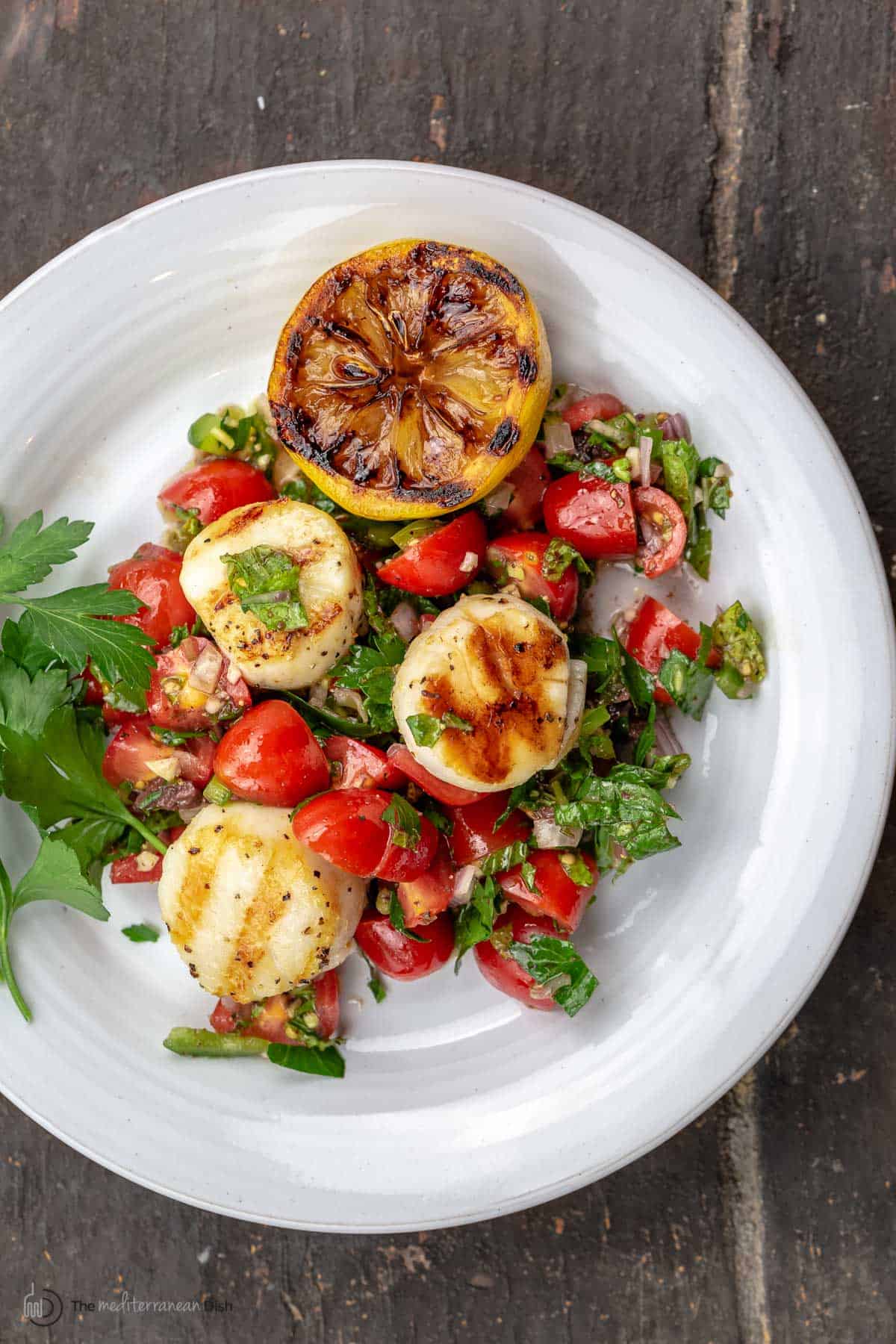 Fresh vs. frozen scallops
Depending on where you are, frozen scallops are likely easier to find and more affordable. They may actually be fresher than "fresh" scallops, as fresh scallops can sit in the seafood counter for days while frozen scallops are frozen at peak freshness. When buying frozen scallops, look for wild-caught scallops.
If you do live near the water and have access to good fresh scallops, look for ones with a firm texture, not shiny or too wet. Avoid them if they have a fishy or strong smell. Freshly caught scallops will smell a bit like seaweed or saltwater.
A tip from my fishmonger: female scallops have a bit of a pinkish flesh, and they tend to be a bit sweeter.
What's the best way to cook them?
Scallops can be cooked in a variety of ways: battered and fried, pan-seared, baked, or grilled (as we do in this recipe).
With sea scallops especially, because they tend to have a chewier texture, it's best to quickly sear or grill them to create a nice crispy exterior. Either way, they will cook in about 5 to 6 minutes, you'll want to watch to make sure not to over-cook them.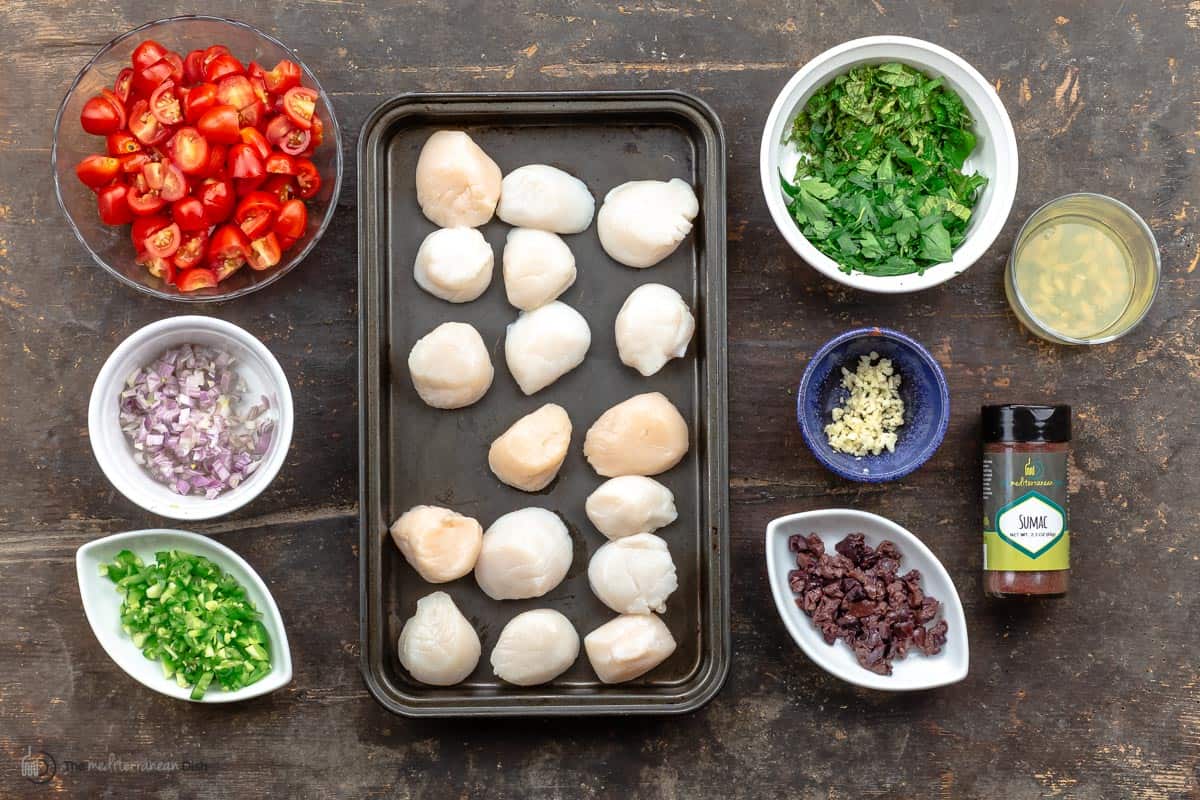 What you'll need to make this recipe
Aside from your scallops and olive oil, you'll need a few simple ingredients to make this special scallops dinner:
Sea Scallops - If they are not already cleaned and ready for use, clean them by rinsing under cool water and patting dry with a paper towel before starting the recipe. If using frozen scallops, be sure to thaw them first. Simply place the sealed bag of scallops in a bowl with cold water to defrost. It will take about 15 minutes or so, flip the bag over halfway through.
Extra virgin olive oil - You can see my favorite olive oils for cooking here. Try
Salt and pepper - Besides the salsa, salt and pepper are the only seasonings these scallops need.
Lemons - Lemons are grilled alongside the scallops and squeezed over them at the end for the perfect bright finish.
Mediterranean-Style Fresh Tomato Salsa to serve along! A mixture of sweet cherry tomatoes, olives, garlic, and fresh herbs.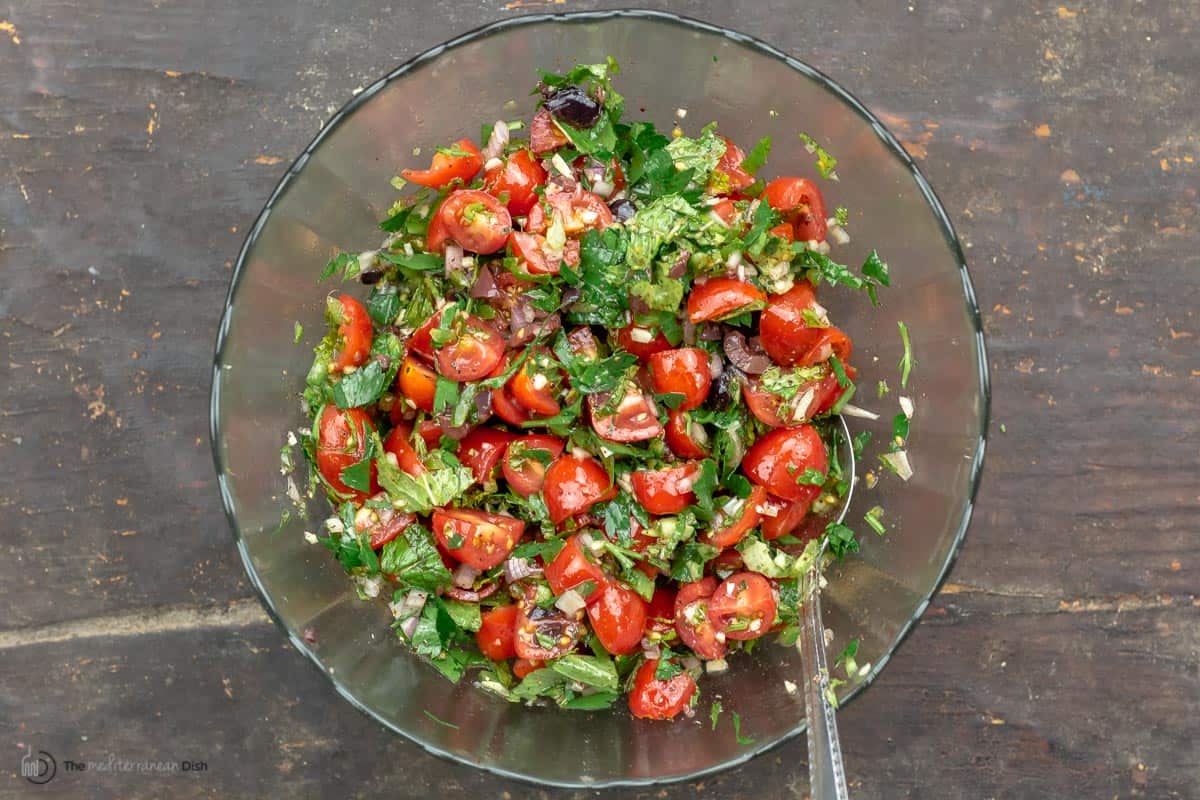 How to grill scallops
Though the end result appears fancy, these grilled scallops are super easy to make. Prepare the Mediterranean salsa first, then tend to your scallops. There are two ways to grill the scallops:
On an indoor griddle or grill pan (as I do in the video below): Heat a grill pan on medium-high heat and brush the cooking surface with olive oil. Pat the scallops dry and brush with extra virgin olive oil and season on both sides with Kosher salt and black pepper. Arrange the scallops in one single layer on your cooking surface and cook for 2 to 3 minutes on each side.


On an outdoor gas grill: Heat the grill to medium-high and lightly oil the grates. Season the scallops with kosher salt and black pepper on both sides and thread them through skewers (they are easier to cook on the grill this way so you don't loose any between the grates). Brush the scallops on both sides with extra virgin olive oil and arrange them on your heated grill in one single layer. Grill for 2 to 3 minutes on each side.
How do you know when scallops are done on the grill?
Like shrimp, scallops can get dry and rubbery if you don't cook them properly. Over medium-high heat, your scallops will take 2 minutes or so per side. After they cook for 2 minutes on the first side, and you see some char marks on the bottom, you can turn them over. They should release easily from the grill surface, but if not, give them a few more seconds and try again. They are ready when they release easily from your grill.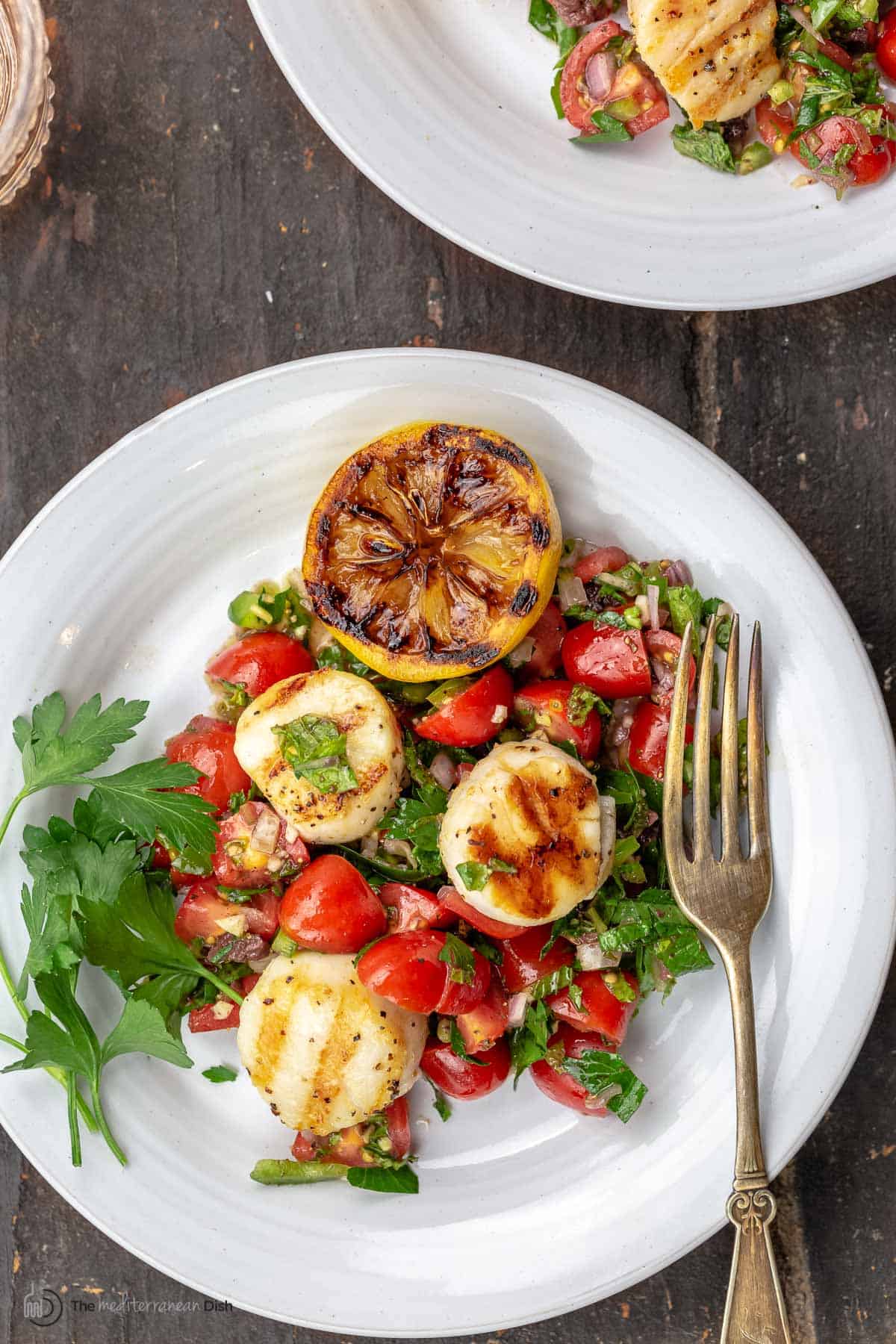 Serve with
Scallops are best served immediately, so it's a good idea to prepare any sides or salads you're serving along ahead of time. I love pairing these grilled scallops over my Mediterranean fresh tomato salsa, which is a mixture of tomatoes, olives, shallots and herbs. You can also pair these scallops with any number of salads or vegetable sides like: white bean salad, avocado salad, zucchini boats, or sautéed asparagus. If you like, you can also add couscous or lemon rice for a little grain.
How long will they keep?
Scallops are best enjoyed immediately on the day you cook them. But if you have leftovers, you can store them in the fridge for a day or two.
Reheating scallops is not recommended as they turn rubbery, so it's best to enjoy leftovers cold or at room temperature (you can turn them into a seafood salad).
More seafood recipes to try:
Browse all Mediterranean recipes. Visit Our Shop.
Grilled Scallops with Mediterranean-Style Tomato Salsa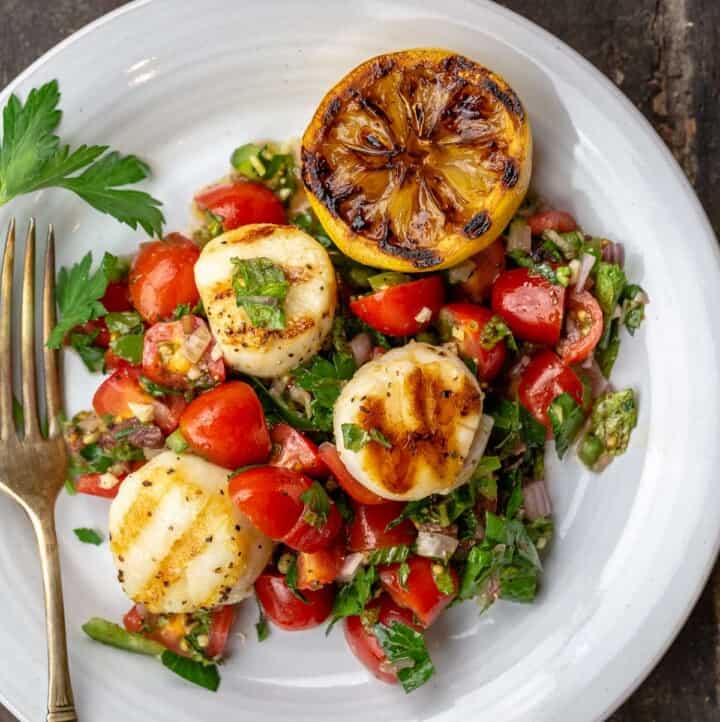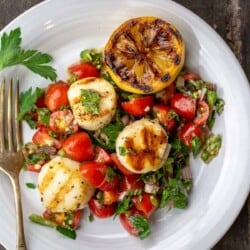 These Grilled Scallops with Mediterranean-style tomato salsa are easy to make at home for a quick dinner that feels even fancier than your favorite restaurant. Perfect for guests, date night, or any special occasion! Make the salsa or any sides ahead of time, the scallops will take no more than 5 minutes to cook.
Ingredients
1

pound

large sea scallops, cleaned

(about 12 to 13 scallops)

Kosher salt and black pepper

2

large lemons, halved
For the Fresh Tomato Salsa
Instructions
Make the Mediterranean-Style Homemade Salsa according to this recipe. Set aside for now.

Heat a grill pan or outdoor gas grill to medium-high heat and brush the cooking surface with olive oil.

Pat the scallops dry and brush with extra virgin olive oil and season on both sides with Kosher salt and black pepper.

When ready, assemble the scallops on the hot cooking surface and grill for 2 minutes on each side (you should see grill marks). Meanwhile, grill the lemon halves, flesh side down until you see grill marks.

Remove the scallops from the heat and immediately squeeze a half lemon all over.

Transfer the salsa to serving plates and top with the grilled scallops. Add the remaining grilled lemon to the side. Serve immediately.
Notes
Tip for grilled scallops on the outdoor grill: before you arrange the scallops on your outdoor grill, thread them on skewers. The skewers will make them more manageable to turn and will prevent any precious scallops from falling in between the grates.
Leftovers and storage: Scallops are best served immediately, but if you have leftovers, you can store them in the fridge for 1 to 2 days. Do not reheat them as they will turn rubbery.
Nutrition information is a best estimate for the scallops only.
Visit Our Shop to browse quality Mediterranean ingredients including olive oils and spices.
Nutrition
Calories:
124.8
kcal
Carbohydrates:
8.6
g
Protein:
14.3
g
Fat:
4.2
g
Saturated Fat:
0.6
g
Polyunsaturated Fat:
0.6
g
Monounsaturated Fat:
2.6
g
Trans Fat:
0.1
g
Cholesterol:
27.2
mg
Sodium:
736.4
mg
Potassium:
307.1
mg
Fiber:
1.5
g
Sugar:
1.4
g
Vitamin A:
15.3
IU
Vitamin C:
28.6
mg
Calcium:
21.1
mg
Iron:
0.8
mg