This easy sautéed shrimp recipe cooks in less than 5 minutes! Just toss shrimp with Italian seasoning, sweet paprika, salt, and pepper, and sautée them in olive oil. Finish it off with a splash of lemon juice, pair it with your favorite side and dinner is served!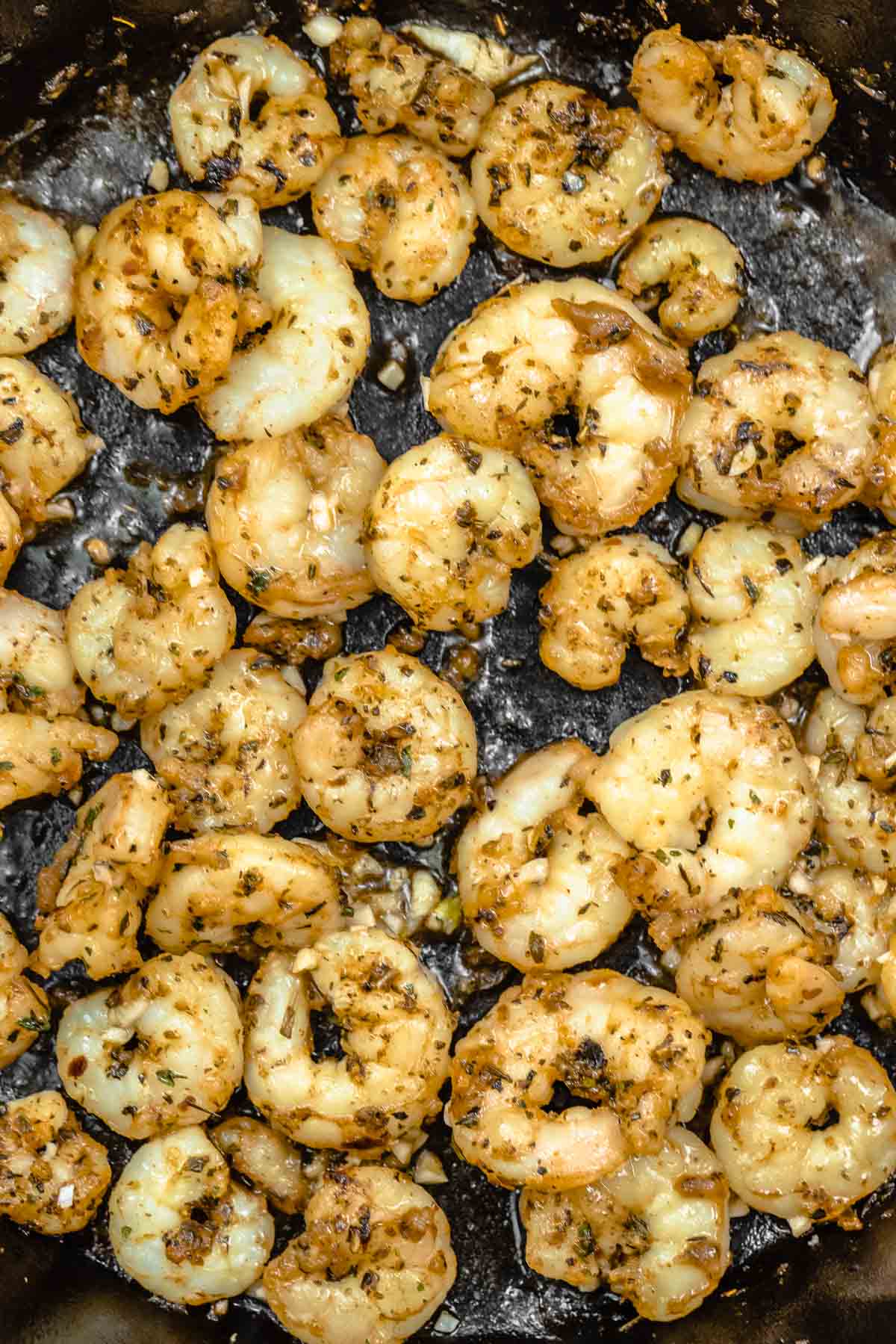 Are you ready to make the fastest dinner on the planet? A staple in the Mediterranean diet, shrimp is a go-to protein source in my house and for good reason!
Shrimp cooks quickly, you can put them in anything and they are loaded with a whopping 21 grams of protein per 3 ounce serving, according the Food and Drug Administration). I'm here for it.
Not only do shrimp cook in minutes, but they're easy to season with your favorite herbs and spices and can be incorporated into pretty much any meal. From soup to pasta, eggs, and more they go with almost anything.
If you've ever been intimidated to cook this delicate and affordable protein, fear not! This easy sautéed shrimp recipe is super beginner friendly. I'll teach you everything you need to know including how to select, thaw, prepare, and cook shrimp every single time. Simple yet delicious, they're great to add to all of your favorite meals!
Table of Contents
Ingredients You'll Need for Sautéed Shrimp
Easy sautéed shrimp comes together with minimal ingredients but maximum flavor. Here's everything included:
Medium-sized shrimp: You'll need one pound of thawed and deveined, medium-sized shrimp.
Seasonings: Italian seasoning, sweet paprika, salt, and pepper create a warm, savory flavor with just a touch of sweetness.
Extra virgin olive oil: Any high-quality olive oil will do here, but I prefer a robust Greek EVOO like our Early Harvest to enhance the dish.
Minced garlic: Two minced garlic cloves are added to the skillet along with the shrimp.
Lemon: Zest and juice are the final touches to add a light bright flavor.
How to Make Easy Sautéed Shrimp
This sautéed shrimp recipe is simple to make and it cooks fast! So, you'll want to keep a close eye on the shrimp to prevent them from overcooking. No one wants rubbery shrimp, after all!
Season the shrimp. Using a paper towel, pat the shrimp dry. Place them in a medium-sized bowl with the seasonings. Drizzle a bit of olive oil on top, and toss to coat.
Heat the oil. Add about 1 tablespoon of extra virgin olive oil to a cast iron skillet, and warm it over medium-high heat just until it is shimmering.
Cook the shrimp. Add the seasoned shrimp to the pan along with the garlic. Cook until the shrimp is opaque and turns pink, tossing occasionally. This will take about 2-4 minutes depending on the size of your shrimp.
Serve. As soon as the shrimp is cooked, remove the pan from the heat. The shrimp will continue to cook in the hot skillet. So, you'll want to work quickly adding the lemon juice and zest on top. Then, serve immediately, and enjoy!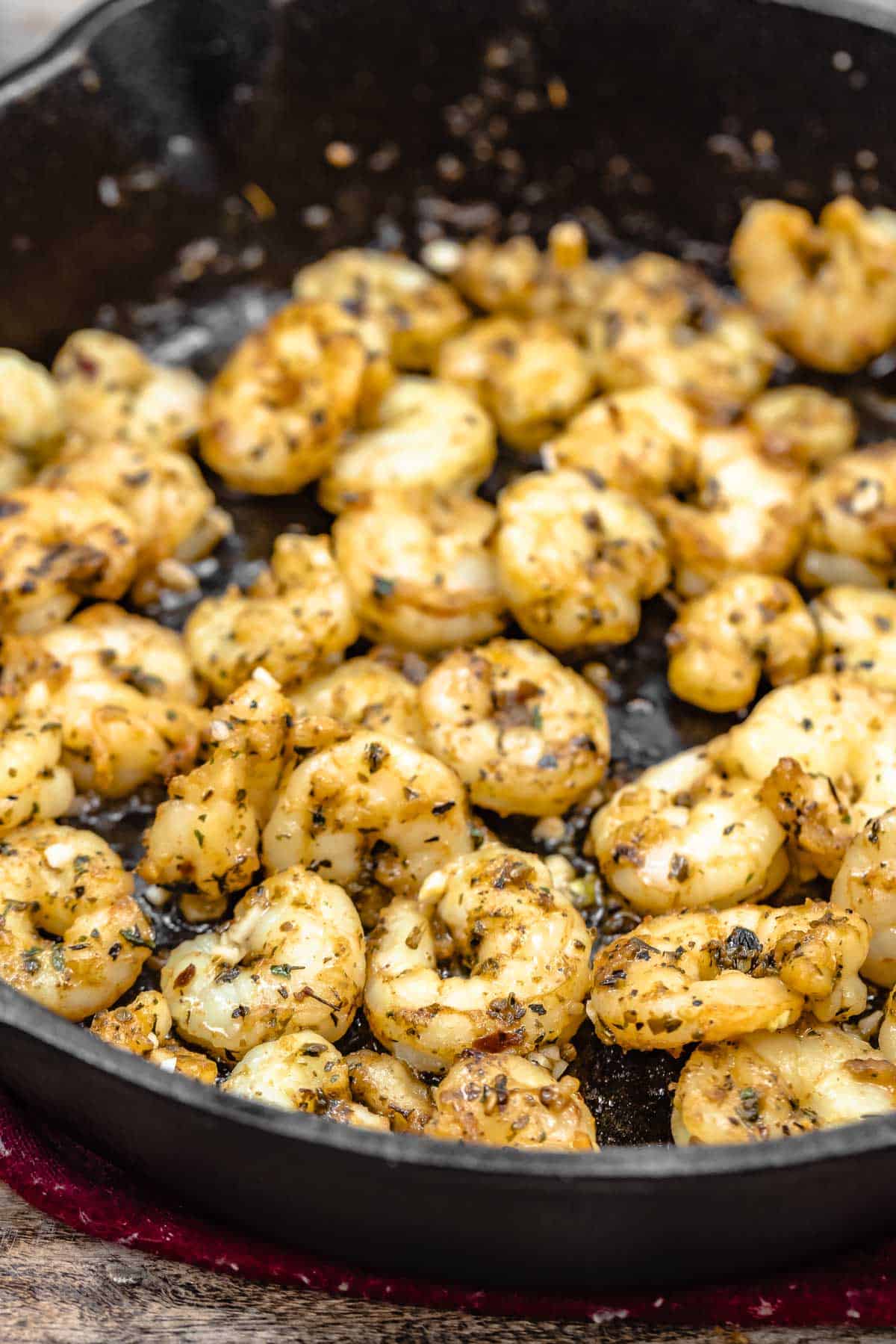 Understanding Shrimp
The key to creating the best easy sautéed shrimp is to understand everything from how to buy them, devein them, cook them, and more. To make things simple, I'm sharing all my best tips with you!
How to Buy Shrimp
Fresh or frozen shrimp would work great in this recipe, as long as they're thawed. However, you'll always want to make sure you're not only choosing but also serving safe to consume seafood, and there are a couple of things to look out for to ensure your shrimp are safe.
Fresh Shrimp:
When choosing shrimp at the grocery store, you'll want to make sure they are stored over a thick bed of ice.
Fresh shrimp should have virtually no smell. If they have a strong or unpleasant odor, you'll want to avoid them.
Frozen Shrimp:
First and foremost, any pre-packaged frozen shrimp should come in a completely sealed bag. If you notice any tears or holes you'll want to select a different bag.
You'll also want the bag to be cold but not coated in ice. Crystals along the outside of the plastic likely mean the shrimp are freezer-burned.
Frozen shrimp should also be completely solid and hard. You should not be able to bend or flex the shrimp at all until you decide to thaw them yourself.
Shrimp Sizes
In the grocery store, you're likely to see shrimp labeled by size with numbers on the bag. This is because the size of shrimp is determined by how many make up a pound. Put simply, the higher the number on a bag of shrimp, the smaller the shrimp will be. For instance, medium-sized shrimp are typically labeled with a number of "41/50." This means there are 41-50 shrimp per pound.
For this dish, I recommended using medium-sized shrimp because they create a solid serving and cook quickly but really any size will work in this recipe. If you have smaller shrimp reduce the cooking time by a minute or two and if you have larger shrimp add a minute or two. Follow the visual cues for doneness and you will be fine.
Other sizes are as follows:
Small shrimp: 51/60
Medium shrimp: 41/50
Large shrimp: 31/35
Jumbo shrimp: 21/25
Colossal shrimp: 13/15
Depending on the size of the shrimp, they will cook differently. However, even the largest of shrimp like the ones used in my garlic parmesan shrimp recipe will cook in less than 5 minutes.
How Not to Thaw Frozen Shrimp
Before we talk about how to thaw shrimp properly, let's talk about what not to do. There are a few common mistakes I see people make that could lead to unsafe shrimp. They include:
Letting shrimp thaw at room temperature
Submerging shrimp in hot water
Microwaving frozen shrimp
How to Thaw Frozen Shrimp Safely
Okay, now that we've got that out of the way, there are several different methods to safely thaw frozen shrimp. You'll know they're done thawing and ready to cook when they become translucent and pliable.
Overnight in the fridge: Place your bag of frozen shrimp on top of a paper towel to absorb any excess liquid, and leave it in the fridge for 12 hours or more until they are completely thawed. The larger your shrimp, the longer they will need to thaw.
Sealed bag in water: Fill a large bowl with cold water, place the shrimp in a sealable bag, and submerge them completely for 20-30 minutes until they're fully thawed.
Direct water method: Submerge the shrimp directly in the cold water, and stir them every 3-5 minutes to break up any ice clumps. This method takes anywhere from 10-15 minutes.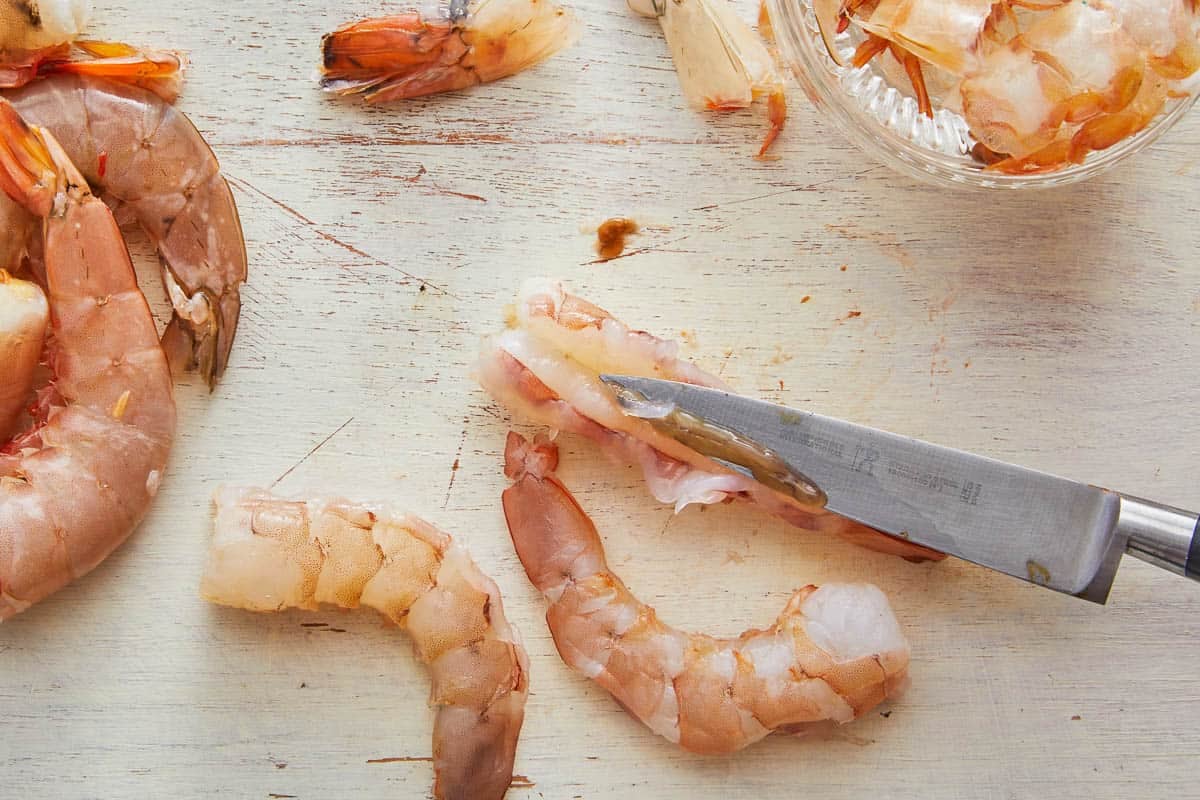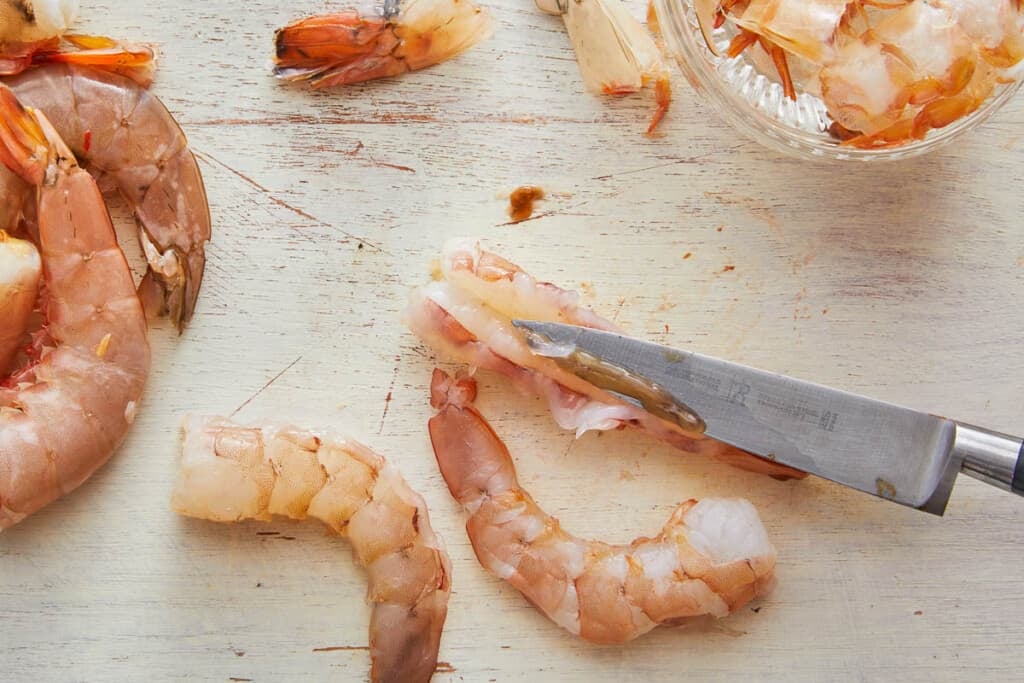 How to Devein and Shell Shrimp
I love the ease and convenience of ready-to-cook shrimp that have already been deveined and shelled. However, they're not always super easy to find, and shell-on shrimp can be quite a bit lighter on the wallet.
Trust me, deveining and shelling your own shrimp might sound intimidating, but it's actually quite easy to do! I'll show you how:
Shelling Shrimp
Start by locating the point of the shrimp where the head meets the body, and remove it by slicing it off with a sharp knife.
Next, gently pull off the legs.
Then, remove the shell, starting from the head side of the shrimp and working your way down to the tail. The shell should come off easily once the head and legs are removed. You can even save the head, shell, and tail to create a flavorful stock for seafood sauces, soups, and stews!
Deveining Shrimp
Now that the shrimp have been freed from their shells, deveining will be a breeze! Although not absolutely necessary, many people prefer to devein their shrimp as the protein can taste slightly bitter or have a sandy texture if the vein is left in.
To remove it, use a paring knife (or another similar small, sharp knife) to make a cut along the outside of the shrimp. Then, pull the vein out with the knife, (it will look thin and black and should be easily visible) and discard it.
Once all of the shrimp have been shelled and deveined, rinse them well with cold water, and they're ready to use!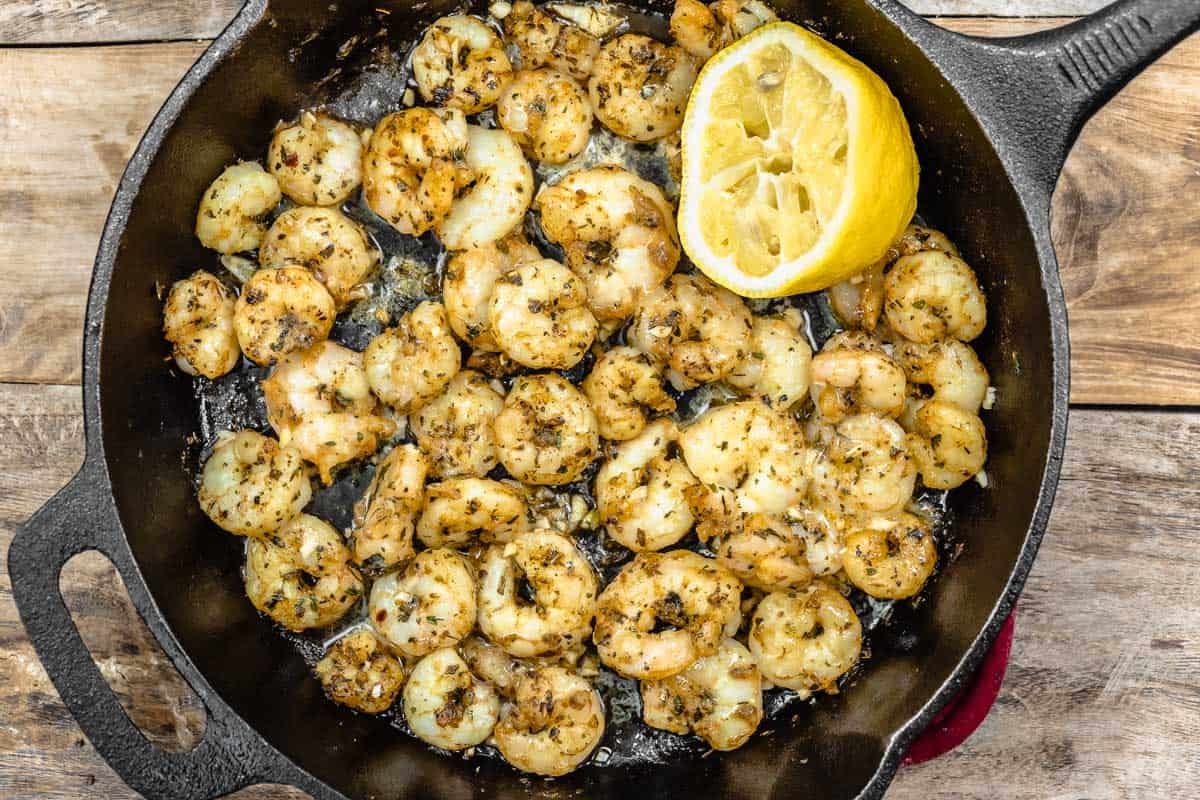 How to Cook Shrimp
As mentioned, shrimp takes literally minutes to cook. So, it's crucial to keep a close eye on them and look for the following signs to know when they're done.
Once cooked, shrimp will turn from pale and translucent to a slightly pink, opaque color.
When cooked properly, shrimp will be slightly firm and have a slight resistance when bitten into.
You'll know the shrimp are cooked when they form a "C" shape. Undercooked shrimp have a straighter shape.
For more great tips about shrimp be sure to check out our Guide to Buying and Cooking Shrimp.
What to Serve with Easy Sautéed Shrimp
There's not much this sautéed shrimp doesn't taste great with. However, I love to serve it on top of a bed of Greek lemon rice, couscous, or even my Farro Risotto.
Then, I add a side of asparagus or baked zucchini for a healthy, well-rounded meal.

Of course, you can't forget dessert, either! Top off your dinner with a homemade cannoli or a slice of Italian Lemon Ricotta Cheesecake to satisfy your sweet tooth.
More Great Shrimp Recipes
Browse all Mediterranean recipes.

Visit Our Shop.
Try our Sweet Spanish Paprika!
Imported from Spain, our all-natural Sweet Spanish Paprika is made by grinding mild chili peppers. It gives depth and a slight sweetness to any dish! Try it in this shrimp recipe.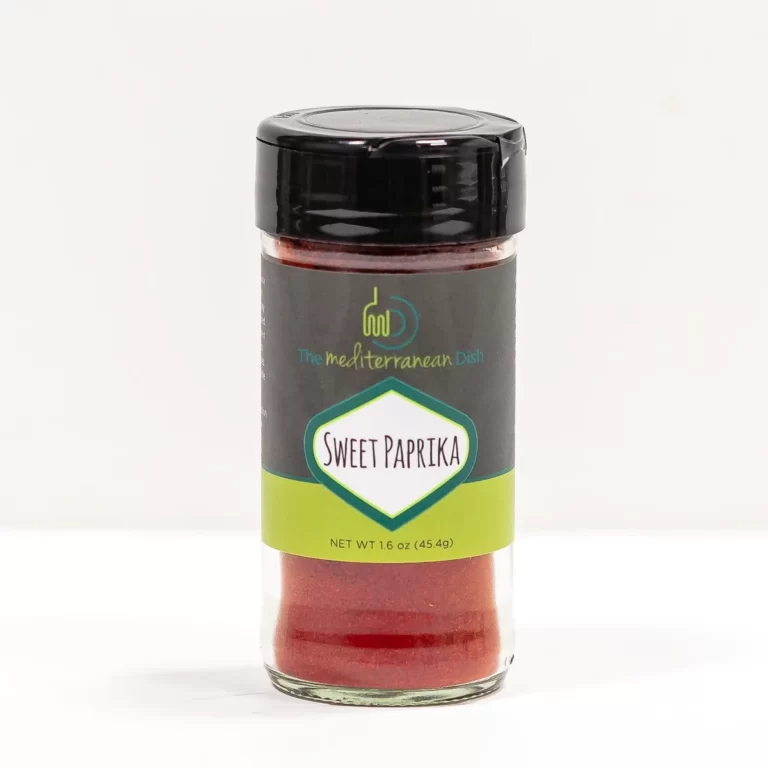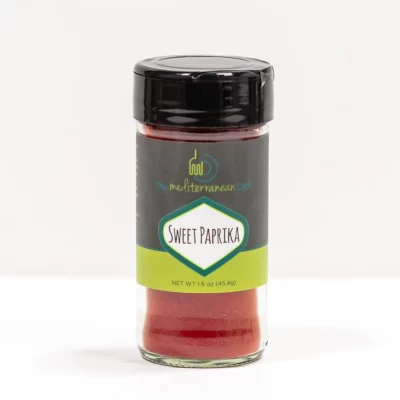 Sautéed Shrimp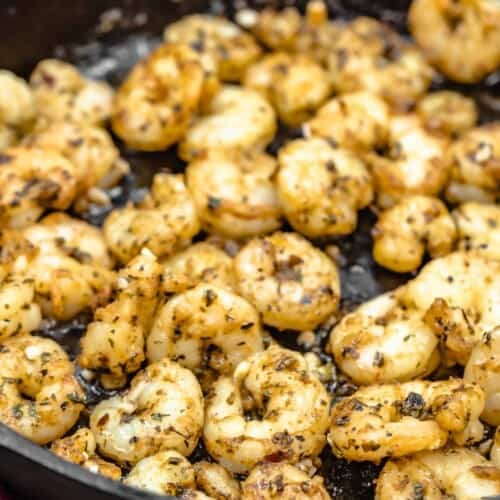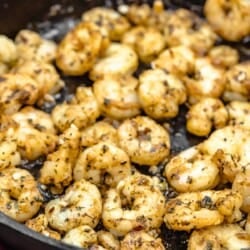 If you're looking for a super beginner-friendly meal, this sautéed shrimp recipe is just your ticket! It takes only a few ingredients and 5 minutes to cook. Add a simple salad and dinner is served.
Instructions
Season the shrimp: Pat the shrimp dry and put it in a medium bowl. Add the Italian seasoning, sweet paprika, and a good pinch of kosher salt and black pepper. Drizzle 2 tablespoons extra virgin olive oil over the mixture and toss to coat.

Heat the skillet: Heat about 1 tablespoon extra virgin olive oil in a cast iron skillet over medium-high heat until just shimmering.

Cook the shrimp: Add the seasoned shrimp and garlic to the heated pan. Cook, tossing occasionally until the shrimp is opaque and turns pink (about 2 to 4 minutes, depending on the size of the shrimp).

Finish and serve: As soon as the shrimp turns pink, remove the pan from the heat immediately and finish with lemon zest and juice. Serve immediately.
Nutrition
Calories:
188.1
kcal
Carbohydrates:
5.2
g
Protein:
16
g
Fat:
11.8
g
Saturated Fat:
1.6
g
Polyunsaturated Fat:
1.3
g
Monounsaturated Fat:
7.8
g
Trans Fat:
0.01
g
Cholesterol:
142.9
mg
Sodium:
643.5
mg
Potassium:
198.7
mg
Fiber:
1.5
g
Sugar:
0.8
g
Vitamin A:
477.7
IU
Vitamin C:
14.8
mg
Calcium:
92.2
mg
Iron:
1.1
mg