A foolproof cannoli recipe (shells and filling). Seriously dreamy, perfectly crisp shells filled with a ricotta and chocolate mixture. See the step-by-step tutorial with photos below the recipe! 
Cannoli literally translates to little tubes.
Hand-formed, crispy, little pastry tubes. The perfect setting for my filling mixture of ricotta cheese, chocolate, and candied fruit. And of course, there is just enough of that essential Marsla wine in this cannoli recipe. You take one bite and, BAM. Hooked!
VIDEO TUTORIALS
Between friends, cannolis can take some practice to produce. But as you'll see in the tutorial below, they're not impossible to make.
If I could steal just one tip from serious Italian pastry shops, it's this: pipe (or spoon) the filling into the cannolis just before you are ready to serve them. This way, you can preserve the glorious crunch of the cannoli shells.
There are different schools of thought on what the star in the cannoli filling should be: Ricotta or Mascarpone. I went for ricotta in this cannoli recipe; it's more readily available and less expensive. And in fact, I used fat-free ricotta, since it's just so darn hard to consume only one or two cannolis.
Print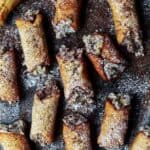 Cannoli Recipe (How to Make Cannolis)
---
Author:

Prep Time:

20 mins

Cook Time:

10 mins

Total Time:

30 minutes

Yield:

18-24 pieces
Description
Cannoli Recipe Recipe Type : Dessert Cuisine: Italian Author: The Mediterranean Dish Prep time: 25 mins Cook time: 10 mins Total time: 35 mins Serves: 24 pieces
---
Ingredients
For the Pastry
2 cups all-purpose flour, more as needed
pinch salt
3 tbsp sugar
4-5 tbsp unsalted butter, cut into small pieces
2 eggs, beaten
3 tbsp Marsla wine
1 egg white, lightly beaten mixed with 1 tbsp of water to make egg wash
Oil for frying
Confectioners' sugar for dusting
For the filling
2 oz dark chocolate, grated, more for dusting
12 oz ricotta cheese (I used fat-free ricotta cheese)
1/3 cup milk
3/4 cup confectioners' sugar
1/2 tsp cinnamon
3 oz chopped candied fruit (I used candied orange slices)
---
Instructions
To prepare the pastry: sift the flour, salt, and sugar into a large mixing bowl. Using your hand, rub in the butter until you have a coarse mixture. Mix in the egg and Marsala wine. Turn the dough onto a lightly floured work surface and knead by hand until you have a smooth dough. (If the dough is too sticky, add a little bit of flour at a time and continue to knead until you are able to form a smooth ball.) Place the dough back in the bowl and refrigerate while you make the filling.
For the filling: In a mixing bowl, combine the grated chocolate, fat-free ricotta cheese, milk, confectioners' sugar and the candied fruit. Mix with a hand mixer or fork until all is well combined. Set aside for now.
Take the pastry dough out of the fridge. On a clean, lightly-floured work surface, roll the pastry dough out until very thin (like 1/8′ thin). Using a 3-inch round cookie cutter or a drinking glass, cut the dough into rounds. You should have between 18 and 24 rounds.
Dust 6 cannoli molds with flour and wrap each pastry circle loosely around a cannoli mold. Dampen the edges of the dough with the egg wash and press to seal the edges shut in the middle (make sure you press hard enough using a little of the egg wash so that the dough will not open when it's fried).
Fill a small cooking pot with oil about 1/3 of the way. Heat the oil to 350 degrees F. Deep fry until the cannoli pastry shells turn golden and crisp (this will be quick). Using tongs or large slotted spoon, remove from the oil and place on a plate lined with paper towel. When pastry shells are cool enough to handle, twist the cannoli forms to release the shells.
Using the cannoli molds, repeat the process until you have fried all the cannoli.
When the cannoli shells are cold, pipe or spoon the filling into them. Dust with a generous amount of confectioner's sugar and a bit of the grated dark chocolate. Enjoy!
Step-by-step Photos for How to Make Cannolis:
Make the dough. In a large mixing bowl combine the dry ingredients (sifted flour, salt, and sugar). Then add the butter. Rub until you have a course mixture, then add the eggs and Marsla wine. Work with your hands a bit more. Dough may be sticky.
Spread a little flour on your work surface and roll the dough out on it. Add a little flour at a time, if the dough is too sticky. Knead until the dough is nice and smooth. Refrigerate while you work on the filling.
One thing before mixing the filling, be sure the ricotta does not have excess liquid. If it does, drain it well using a strainer. I used fat-free ricotta, so it barely had any liquid.
To make the filling, simply mix all the filling ingredients together in mixing bowl.
Take the dough out of the fridge. Roll it out very thinly on a lightly floured surface. Take a cookie cutter or a small glass and form pastry rounds.
Dust your cannoli molds with a little flour. Warp the pastry rounds around the molds and secure the edges with egg wash so the shells won't open when deep-fried.
Fill a small cooking pot with oil and heat to 350 degrees F. Very carefully drop the cannoli molds into the oil. Do not crowd the cannolis. Deep fry briefly until they're golden-brown.
I used tongs to remove them carefully from the oil. Place on a plate lined with paper towel to drain.
When the molds are cool enough to handle, you just twist to slide the fried cannoli shells off. And repeat the process until you run out of cannoli dough.
When you are ready to serve (and cannoli shells are cold), pipe or spoon in the ricotta filling. Dust with confectioners' sugar and grated chocolate.  Enjoy responsibly!
Recommended for this recipe: cannoli molds.
More desserts to try:
Orange Cake with Coconut Cream Cheese Frosting
Chocolate Covered Dates with Almonds