Cannoli is an Italian dessert made from a pastry shell shaped into a tube and fried until golden and crispy. Once the shells cool they are filled with sweetened ricotta and chocolate for a beautiful and delicious treat.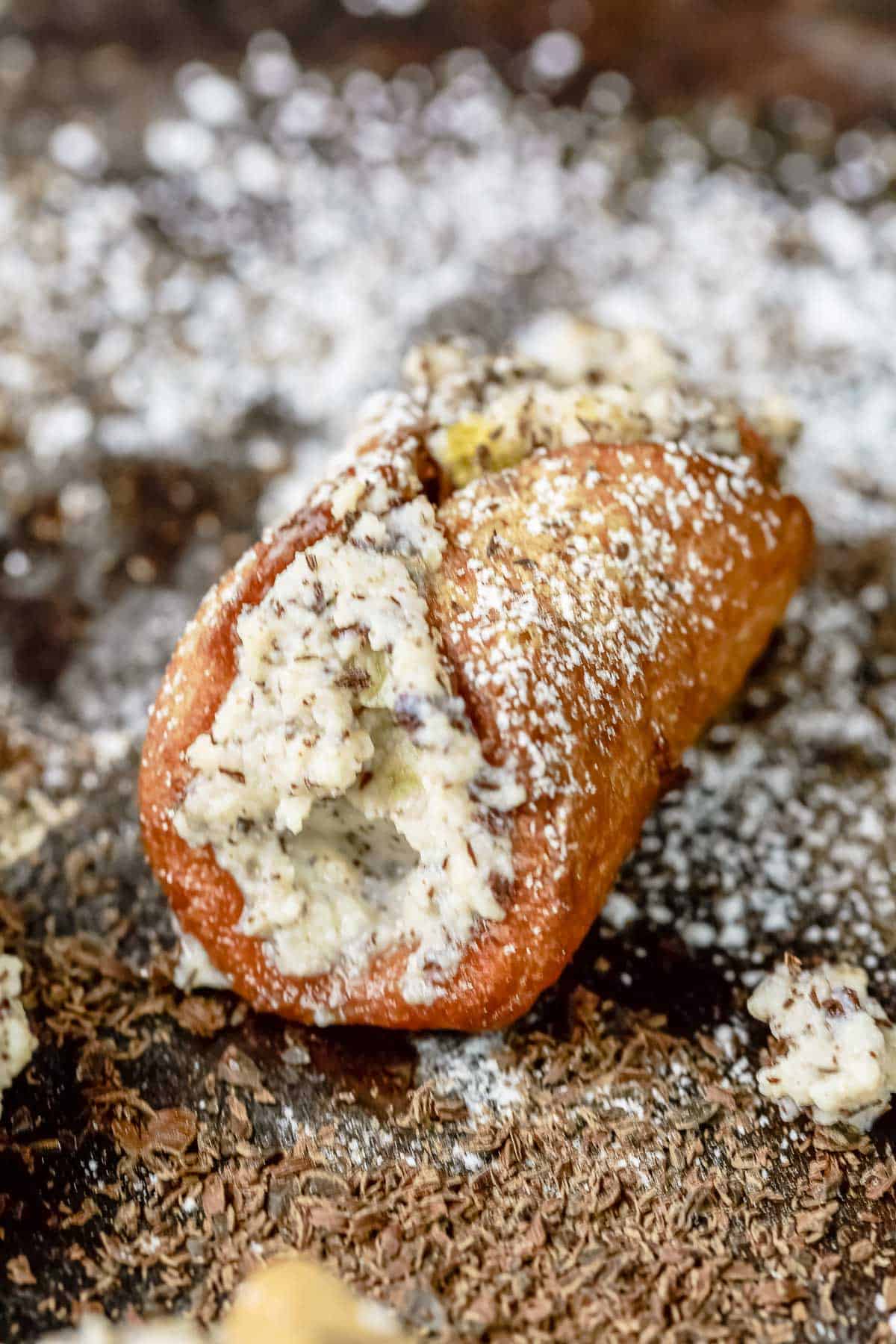 Perfectly crisp, golden pastry tubes filled with a creamy, dreamy ricotta cheese and chocolate filling — yes, I'm talking about cannoli! Cannoli are a delightful and impressive dessert to serve at dinner parties with cups of hot coffee. They are creamy, decadent, and beautiful to look at.
Ricotta is one of my favorite baking ingredients. If you love dessert, but don't want too much sweetness, ricotta cheese makes an indulgent cheesecake, a moist and beautiful orange cake, and a rich filling for cannoli.
Table of Contents
What is a cannoli?
Cannoli (singular cannolo) literally translates from Italian to "little tubes." Cannoli are hand-formed, crispy little pastry tubes filled with a decadent ricotta filling.

Marsala wine added to the pastry dough creates the perfect texture, and when fried, you end up with golden, flaky, slightly sweet cannoli shells. They're the perfect vessel for my cannoli filling mixture of ricotta cheese, chocolate, and candied fruit.

One bite will have you hooked!
Ingredients for this cannoli recipe
Cannoli have 2 main components, the shells and the filling, plus whatever finishing touches you choose. Here's more details about what you'll need to make cannoli shells, the filling, and different ideas for how to dress them up:
Cannoli shells
While not difficult, cannoli shells can be a little finicky. But it's nothing you can't handle, and I'll walk you through every bit of the process. Here's what you'll need for cannoli shells:
All-purpose flour: You'll need 2 cups of flour for the pastry dough, and a bit more to flour your work surface as well.
Salt: A pinch of salt enhances the other flavors in the dough.
Sugar: A few tablespoons of granulated sugar adds a hint of sweetness.
Butter: You'll need a few tablespoons of unsalted butter, cut into small pieces. Salted butter can make the dough taste too salty, especially since it's hard to know just how much salt is added to the butter.
Eggs: Beat 2 eggs to mix with the dry ingredients.
Marsala wine: Wine might seem like an unlikely ingredient for a dough, but it adds some sweetness, and helps to tenderize the pastry.
Egg white: To mix with a little water for an egg wash.
Oil: To fry the cannoli shells. You can use extra virgin olive oil for frying, but vegetable or canola oil are more cost-effective options.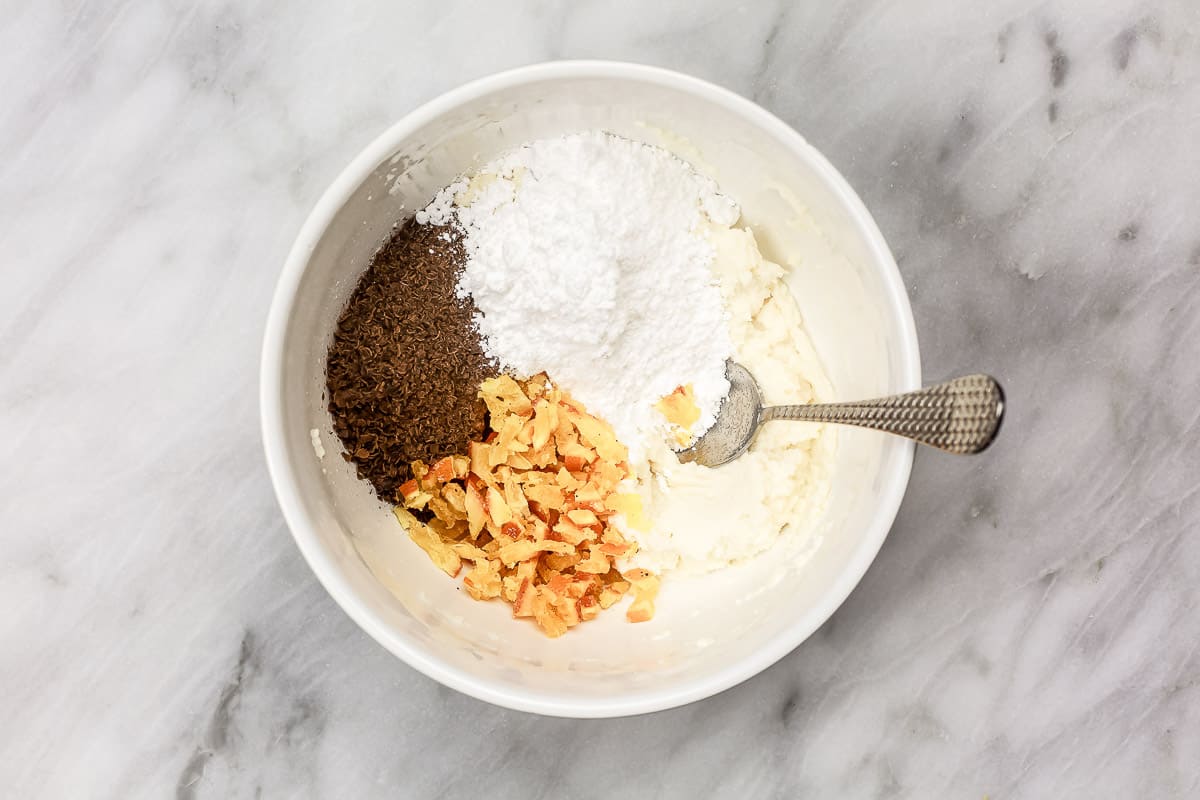 Cannoli filling
Dark chocolate: Grated dark chocolate goes straight into the mixture, and we use a little to dust on top of the cannoli at the end. Dark chocolate is my preference here because it keeps the filling from becoming too sweet (especially since quite a bit of sugar goes in as well). You can use milk chocolate if you want more sweetness, though. If you can't find blocks of good dark chocolate, swap them for chocolate chips. Simply mix them right in with the other ingredients.
Ricotta cheese: I used strained whole milk ricotta cheese.
Confectioners' sugar: Confectioners' sugar (also called powdered sugar) typically contains a little cornstarch to prevent it from clumping. Cornstarch will act as a thickener in the cannoli filling, helping to keep it from being watery or runny.
Cinnamon: Adds a warm, sweet-spicy kick.
Candied fruit: I chopped up some candied orange peel for a hint of citrus. You can find this at most large local grocery stores.
Finishing touches
There are a few ways to dress up cannolis. I like to keep them pretty simple, letting the rich and creamy ricotta filling remain the star of the show, but you can go all out, too. Here are more ideas:
Dip the shells into chocolate. Once you fry the shells, allow them to cool before dipping the ends into melted chocolate. Place them onto a baking sheet lined with wax paper, then refrigerate to set. Once the chocolate hardens, fill the shells.
Dip the filled shells into chopped pistachios. Finely chop up unsalted pistachios. Once you fill the cannoli shells, dip the ends into the chopped nuts. The nuts will cling to the cheese filling in the cannolis.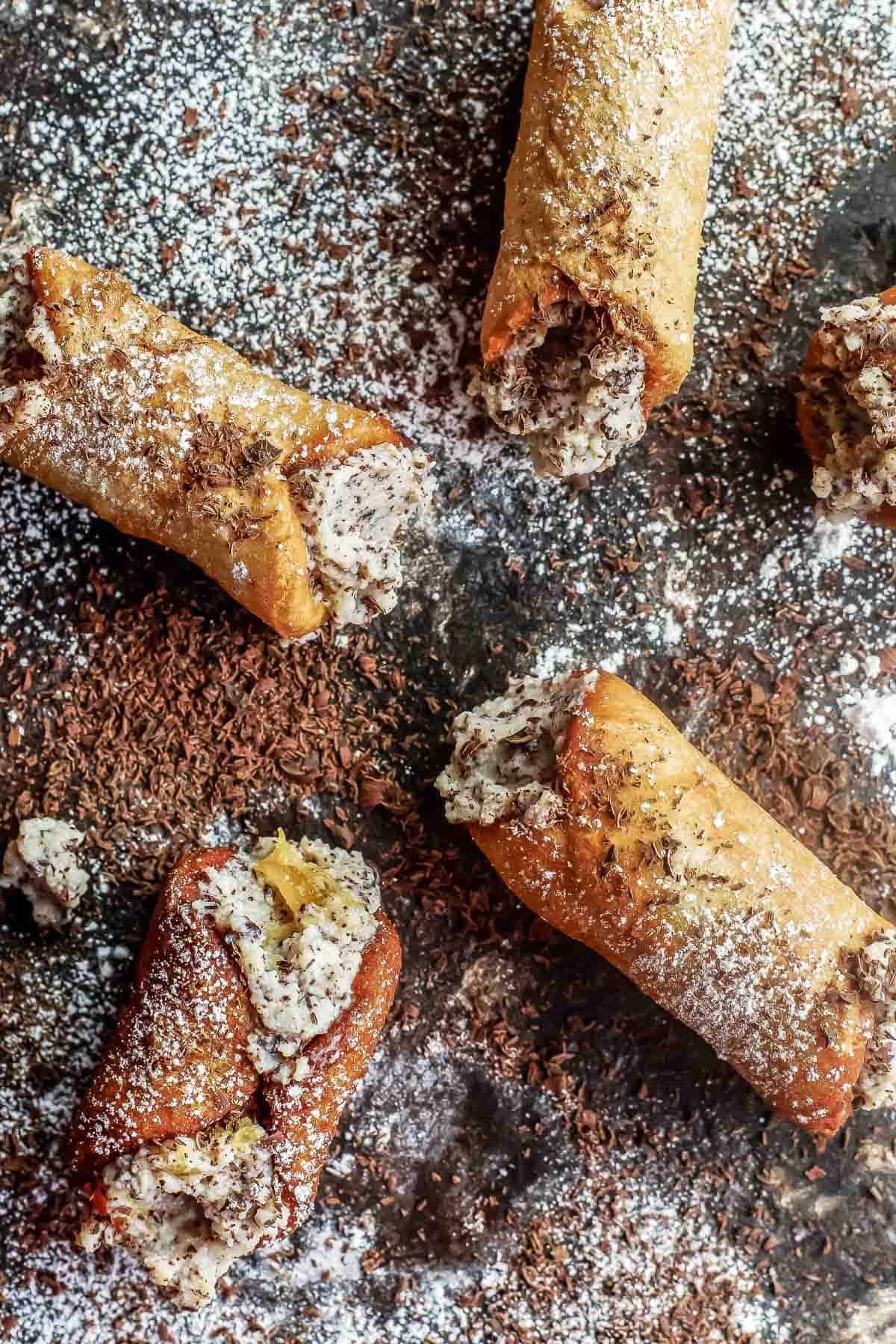 Equipment for cannoli
Most of what you need for cannolis are baking essentials, like a rolling pin and piping bag. But you also need cannoli molds. Here's all the equipment you need to make cannolis:
Rolling pin
Cookie cutter (3-inch round)
Cannoli molds (also called cannoli forms). I used these.
Piping bag
How to strain ricotta cheese
Straining the ricotta cheese before making the filling is an essential step to prevent watery cannoli filling. Here's how to do it:
Place a fine mesh sieve over a bowl.
Line the sieve with cheesecloth or a couple of sturdy paper towels.
Add whole milk ricotta cheese onto the cheesecloth or paper towels. Grab a wooden spoon and press down on the cheese firmly. This will push the liquid through the sieve and into the bowl beneath.
Discard the liquid.
You can also do this a night ahead and allow the ricotta to drain overnight in the refrigerator.
How to make cannolis
I love serving cannolis on special occasions, especially if I have a small crowd. Cannoli are elegant and beautiful, and make an eye-catching dessert that pairs well with a strong cup of coffee. Here's how to make the shells and the filling:
Make the dough. In a large mixing bowl combine the dry ingredients: 2 cups sifted flour, a pinch of salt, and 3 tablespoons of sugar. Then add 4 to 5 tablespoons of butter, cut into small pieces. Rub until you have a coarse mixture, then add 2 beaten eggs and 3 tablespoons of Marsala wine. Work the dough with your hands a bit more. It may be sticky.



Knead the dough. Sprinkle a little flour on your work surface and roll the dough out on it. Add a little flour at a time if the dough is too sticky. Knead until the dough is nice and smooth. Refrigerate while you work on the filling.



Make the cannoli cream. Combine 12 ounces strained ricotta cheese, 2 ounces grated dark chocolate, ¾ cup confectioners' sugar, ½ teaspoon cinnamon, and 3 ounces chopped candied fruit.



Roll out the dough. Take the dough out of the fridge. Dust the countertop with flour and roll out the dough thinly (about ⅛ inch thick). Form pastry rounds using a 3-inch cookie cutter or small glass.



Form the cannoli shells. Dust your cannoli molds with a little flour so the dough doesn't stick. You can also lightly coat them in oil, or spray them with cooking spray. Wrap the pastry rounds around the molds and secure the edges with egg wash so the shells won't open when deep-fried.




Fry the cannoli shells. Fill a small cooking pot with oil and heat to 350°F.. Very carefully place the cannoli molds into the oil. Do not crowd the cannolis. Deep fry briefly until they're golden-brown.

Drain and cool the shells. Use tongs to remove them carefully from the oil. Place on a plate lined with paper towels to drain. When the molds are cool enough to handle, just twist to slide the fried cannoli shells off. And repeat the process until you run out of cannoli dough.



Fill the cannoli shells and serve. When you are ready to serve (and cannoli shells are cold), pipe or spoon in the ricotta filling. Dust with confectioners' sugar and grated chocolate. Enjoy the cannolis!


Tips for making perfect cannoli
For crispy shells, roll your dough out very thin (about ⅛ inch thick).
Strain the ricotta cheese so your filling is thick and creamy, and not runny.
So the shells don't stick to the cannoli molds, lightly dust them with flour or coat them with oil before wrapping the dough around. Also, don't wrap the dough too tightly.
Serve cannoli as soon as possible after they're filled so they are as crisp as possible.
Can you refrigerate cannoli?
Unfilled cannoli shells can be stored in an airtight container at room temperature for about 1 week. The filling can be refrigerated for up to 5 days.

Filled cannoli shells can be refrigerated, but will quickly become soggy. So try to eat them as soon as possible.
Can you freeze cannoli shells?
To freeze the shells: You can freeze cannoli shells before you fill them. After the fried shells have cooled, carefully place them in a freezer-safe container (a hard container is the best option so the shells aren't crushed). Leave a little room between the shells so they don't freeze together. They can be frozen for about 2 weeks. After that, the cannoli shells will lose their crispness.
To freeze the filling: Place it in a freezer-safe bag or container, and freeze for up to a month. If it separates once thawed, mix it gently to combine everything again.
More dessert recipes
Browse All Mediterranean Recipes.

Visit Our Shop.
Cannoli Recipe (How to Make Cannoli Filling & Shells)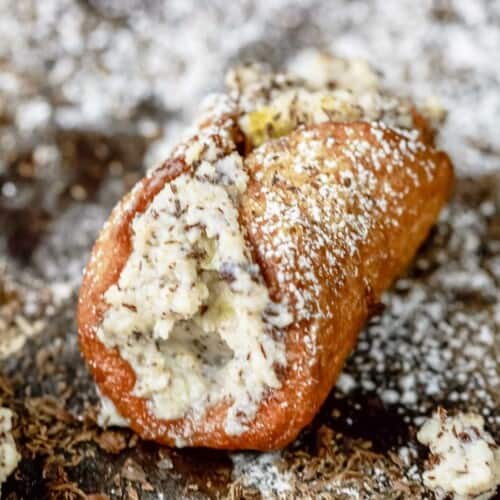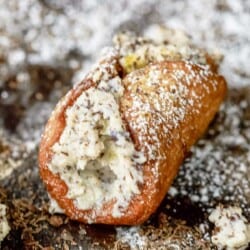 A foolproof cannoli recipe for shells and filling! Cannoli are seriously dreamy, crisp shells filled with a ricotta and chocolate mixture. Perfect for an elegant dinner party to serve as an eye-catching, impressive dessert. Check out all my tips and tricks for perfectly crisp cannoli shells.
Ingredients
For the pastry
2

cups

all-purpose flour,

more as needed

pinch

salt

3

tablespoons

sugar

4-5

tablespoons

unsalted butter,

cut into small pieces

2

eggs,

beaten

3

tablespoons

Marsala wine

1

egg white,

lightly beaten mixed with 1 tablespoon of water to make egg wash

Oil for frying

Confectioners' sugar for dusting
For the filling
2

ounces

dark chocolate,

grated, more for dusting

12

ounces

whole milk ricotta cheese

¾

cup

confectioners' sugar

½

teaspoon

cinnamon

3

ounces

chopped candied fruit,

I used candied orange slices
Instructions
To prepare the pastry: Sift the flour, salt, and sugar into a large mixing bowl. Using your hand, rub in the butter until you have a coarse mixture. Mix in the egg and Marsala wine. Turn the dough onto a lightly floured work surface and knead by hand until you have a smooth dough. (If the dough is too sticky, add a little bit of flour at a time and continue to knead until you are able to form a smooth ball.) Place the dough back in the bowl and refrigerate while you make the filling.

For the filling: In a mixing bowl, combine the grated chocolate, ricotta cheese, confectioners' sugar and the candied fruit. Mix with a hand mixer or fork until all is well combined. Set aside for now.

Take the pastry dough out of the fridge. On a clean, lightly-floured work surface, roll the pastry dough out until very thin (like ⅛' thin). Using a 3-inch round cookie cutter or a drinking glass, cut the dough into rounds. You should have between 18 and 24 rounds.

Dust 6

cannoli molds

with flour and wrap each pastry circle loosely around a cannoli mold. Dampen the edges of the dough with the egg wash and press to seal the edges shut in the middle (make sure you press hard enough using a little of the egg wash so that the dough will not open when it's fried).

Fill a small cooking pot with oil about ⅓ of the way. Heat the oil to 350 degrees F. Deep fry until the cannoli pastry shells turn golden and crisp (this will be quick). Using tongs or a large slotted spoon, remove from the oil and place on a plate lined with paper towel. When pastry shells are cool enough to handle, twist the cannoli forms to release the shells.

Using the cannoli molds, repeat the process until you have fried all the cannoli.

When the cannoli shells are cold, pipe or spoon the filling into them. Dust with a generous amount of confectioner's sugar and a bit of the grated dark chocolate. Enjoy!
Notes
Equipment needed: Rolling pin, 3-inch round cookie cutter, cannoli molds, piping bag.
How to dress up cannoli: While I keep mine quite plain to make a star of creamy ricotta, you can dip the cooled shells into melted chocolate, or dip the filled shells into chopped unsalted pistachios.
How to store leftovers: Store unfilled cannoli shells in an airtight container at room temperature for about 1 week. The filling can be refrigerated for up to 5 days.

Filled shells can be refrigerated, but will quickly become soggy. So try to eat them as soon as possible.

Visit Our Shop for quality Mediterranean ingredients including extra virgin olive oils and spices.
Nutrition
Calories:
119.6
kcal
Carbohydrates:
18.1
g
Protein:
3.5
g
Fat:
5.2
g
Saturated Fat:
3.1
g
Polyunsaturated Fat:
0.3
g
Monounsaturated Fat:
1.5
g
Trans Fat:
0.1
g
Cholesterol:
26
mg
Sodium:
23.8
mg
Potassium:
54.5
mg
Fiber:
0.6
g
Sugar:
5.2
g
Vitamin A:
142.9
IU
Vitamin C:
0.002
mg
Calcium:
36.5
mg
Iron:
0.9
mg
*This post was recently updated with new information for readers' benefit.