This Italian-inspired orange ricotta cake is moist, soft, and bursting with intense orange flavor from zest and fresh orange slices! The sticky caramel-like topping provides just enough gooey and citrusy sweetness, while the mild and fruity olive oil flavor balances the cake perfectly. No one will know it's healthier!
Be sure to check out my top tips for making the most flavorful orange cake possible!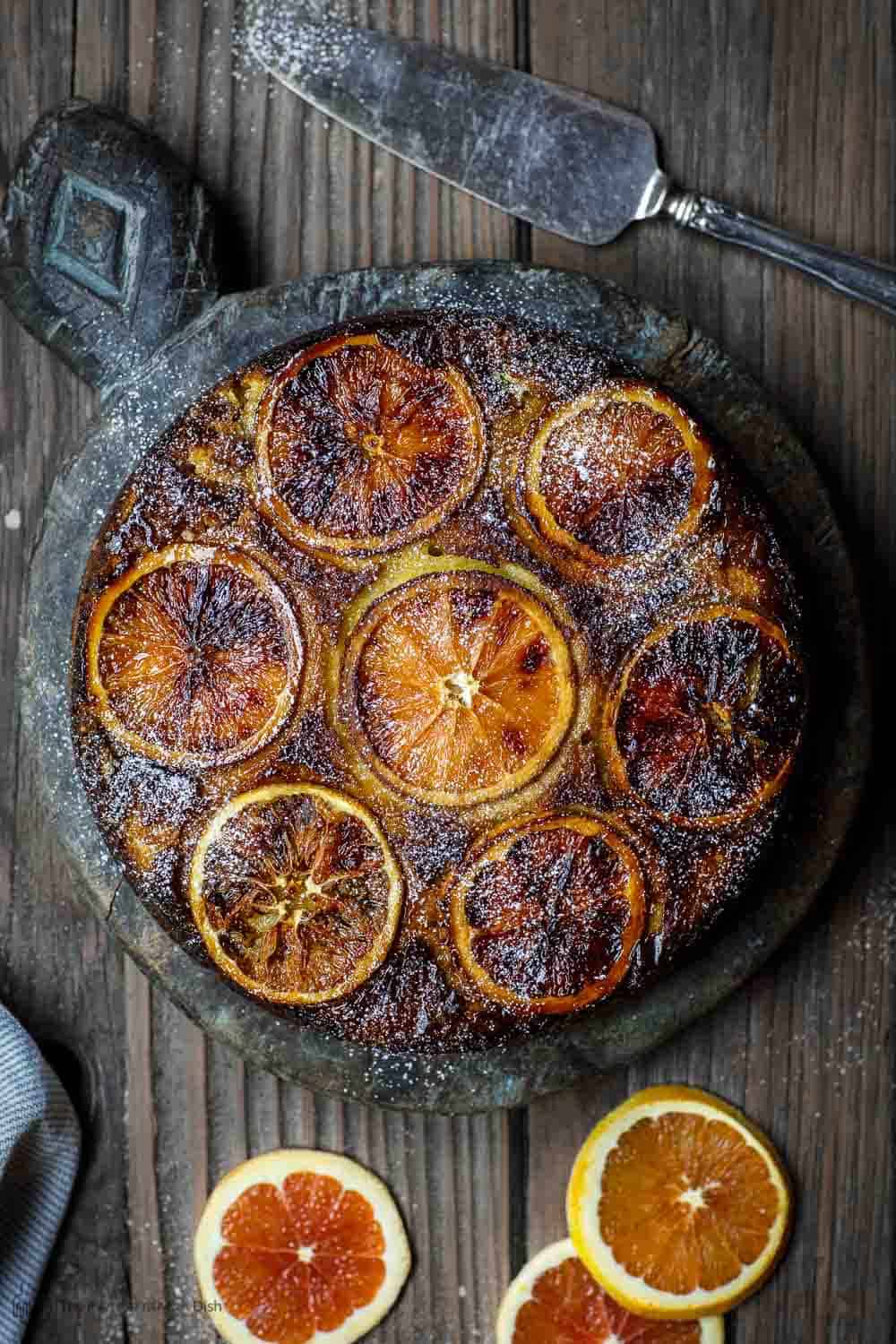 Italian-Style Orange Cake with Ricotta
What is not to love about Italian cake? Just like Italian-style Carrot Cake, this orange cake is sweet, moist, flavorful, can be made so many ways, and feels special.
If you're not a big baker like me, making a celebratory cake can feel a little fussy and intimidating. You need to make the cake batter, bake the cake, let it cool, make frosting, and then struggle to frost the cake evenly (at least I do struggle spreading frosting on a cake.)
That is why I created this simple and flavor-packed orange cake with ricotta.
This beautiful orange cake is a perfect way to use seasonal fresh citrus fruit, while completely eliminating the whole frosting bit. Orange has a sweet, tangy, and bright taste and gives this cake irresistible flavor. Every bite is loaded with a sweet caramel-like orange topping and rich moist cake. Think upside-down orange cake!
Where does the Italian flare come from? This cake gets its Italian kick from the use of creamy, slightly sweet ricotta cheese, a top Italian choice for cakes and pastries (including one of my personal favorites, Lemon Ricotta Cheesecake), plus quality extra virgin olive oil (although, admittedly I used one of my favorite Greek olive oils here.)
Healthier Orange Ricotta Cake: Two Things Make All The Difference!
1. Using part-skim ricotta and extra virgin olive oil in place of butter gives this cake a healthier makeover. You don't need to feel guilty eating a piece of this tasty cake!
2. No sugary frosting is needed for this orange cake, which also makes it lighter and much easier to whip up fast. It's less heavy than many other ricotta cakes but still feels indulgent.
If you are looking for a richer cake, you can easily replace part-skim ricotta with full-fat ricotta. Can you use butter instead of olive oil? If that's what you prefer, but as I mentioned in an earlier post, olive oil makes a killer moist cake!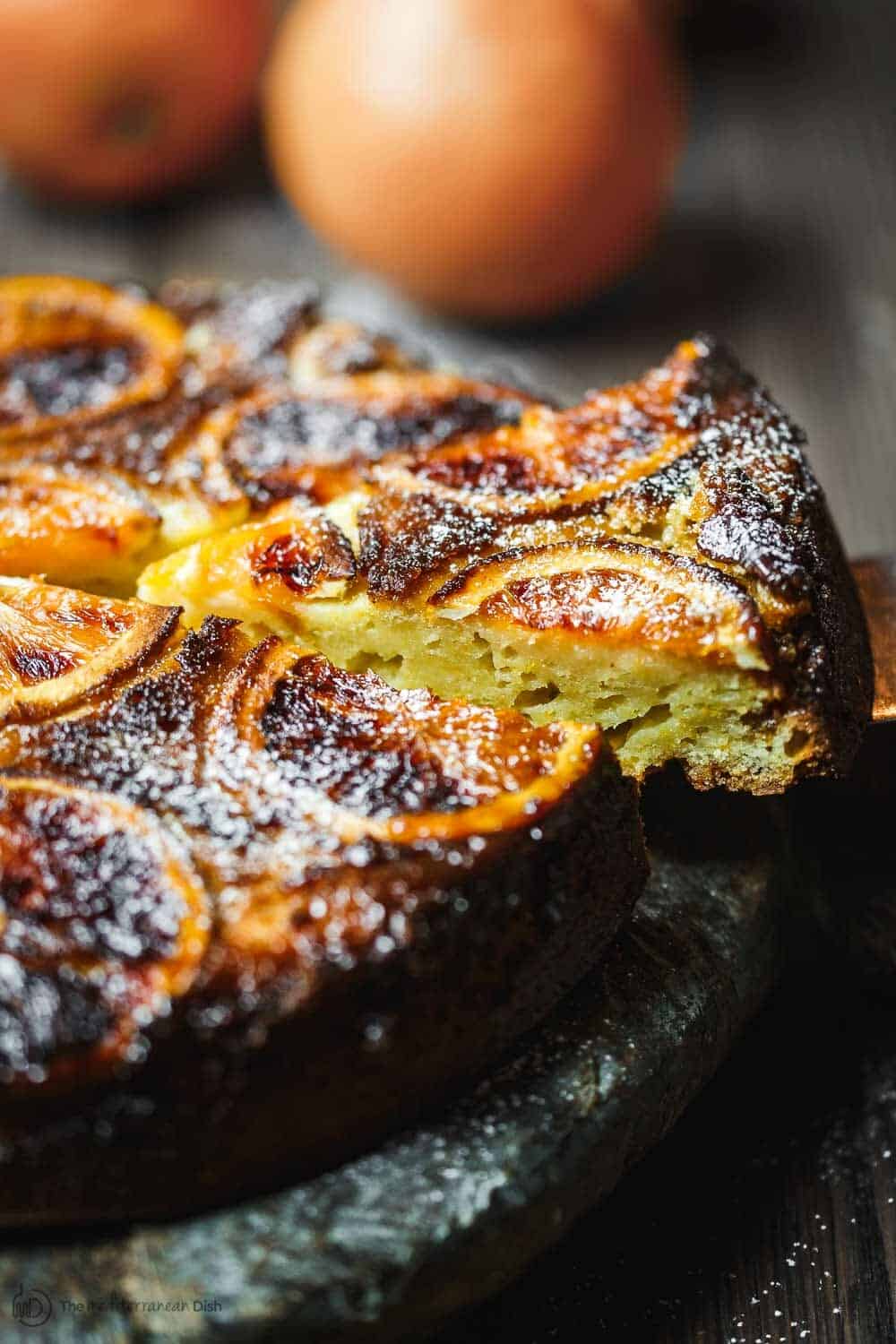 What you need to make this easy Orange Ricotta Cake Recipe
This easy ricotta orange cake requires simple, familiar ingredients, and you may already have most of the ingredients in your pantry and fridge. Let's walk through what you need to make this healthy cake:
Brown Sugar – Rich, sweet, and slightly smoky brown sugar is mixed with a small amount of water to create a thick sticky paste that is spread thinly on the bottom of the cake pan. As the cake bakes, this mixture turns into a sweet caramel that creates a beautiful topping for your cake.
Pink Navel Oranges or Blood Oranges – If you can find pink navel oranges or blood oranges, they provide your cake with a stunning ruby color. They are also a little sweeter than a regular orange. The oranges are sliced and placed over the brown sugar mixture on the bottom of the cake pan. You will also use the zest of two oranges in the cake for even more intense orange flavor.
TIP: If you cannot find either of these orange varieties, any other type of orange you find at the supermarket can be used in their place.
Part-skim Ricotta Cheese – Part-skim ricotta cheese is used to lighten up this ricotta cake. Ricotta gives a cake a slightly denser texture and adds lots of moisture to a cake.
TIP: You can replace part-skim with full-fat ricotta if you are looking to make a richer cake.
Extra Virgin Olive Oil – Good quality olive oil replaces the need for butter in this recipe, also making it healthier and more moist. I used Private Reserve Greek Extra Virgin Olive oil, which has a rich fruity flavor and gives great moisture, but it is subtle and delicious and won't overwhelm the cake.
TIP: Although I highly recommend you use olive oil here, if you must use butter, you can replace the ¼ cup of olive oil (plus 2 tablespoons) for 1 stick of melted and cooled butter.
Other Wet Ingredients – Other wet ingredients in this orange cake are simple. Vanilla extra provides depth of sweet vanilla flavor and 3 whole eggs make the cake rich and tender.
Dry Ingredients – You will find the common dry ingredients for cakes in this recipe. All-purpose flour, baking powder, kosher salt, and granulated sugar.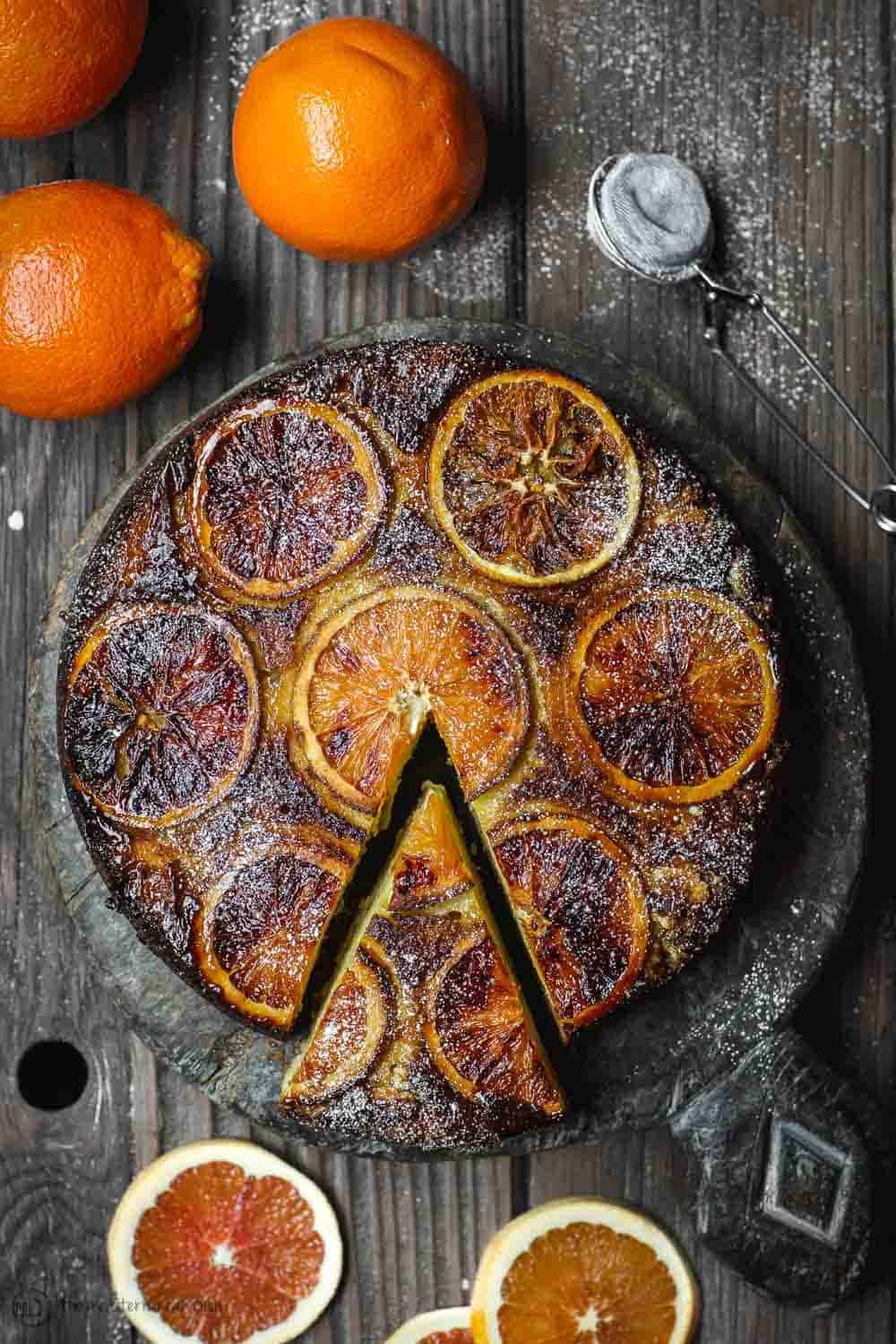 Is It Better to Use Oil or Butter in Cakes?
Butter lovers may still be asking, should you use olive oil or butter in cakes? Here are some key reasons why quality olive oil in cake works amazingly well. (And be sure you are using quality EVOO, or you may jeopardize the taste and quality of your cake. I used this oil.)
1. Olive oil will make your cake more tender and give the cake even more moistness when compared to butter. Your cake will also remain moist for longer if there are any leftovers. Some people claim butter provides cake with more flavor than oil-based cakes, but if your cake is packed with bold flavors, like orange and vanilla, the taste difference between oil and butter is negligible.
2. In a cake recipe like this orange cake, olive oil will enhance the flavor of the cake and pairs extremely well with the fruity and citrusy flavor of the orange.
3. Olive oil will make your cake healthier than a butter-based cake. You will save yourself from consuming too many saturated and monosaturated fats.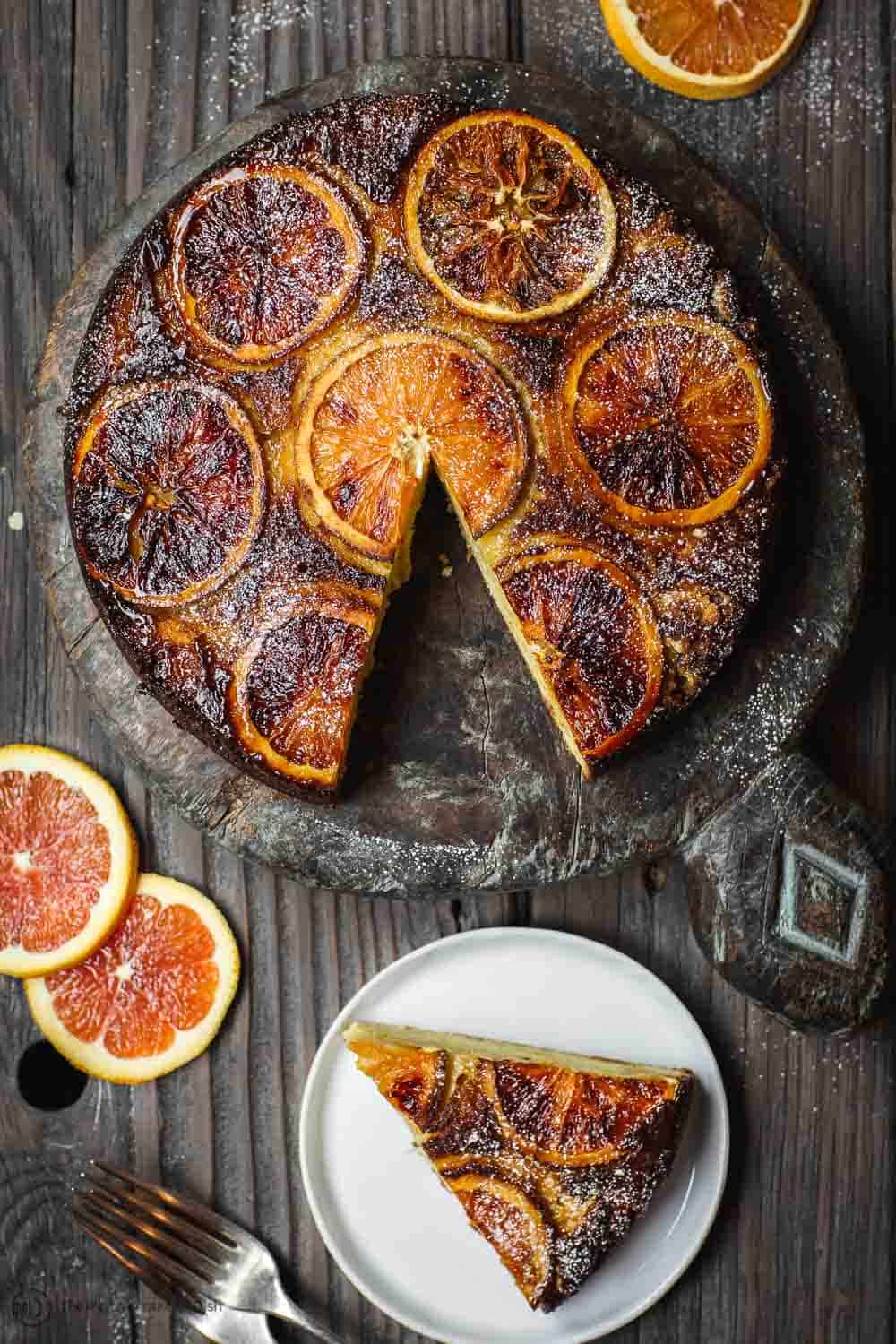 How to Make this Orange Cake: Important Tips
Step 1: Heat Oven and Prepare the Baking Pan with Butter and Parchment
Start by preheating your oven to 325 degrees F. Butter a 9-inch baking pan generously and line the bottom with a sheet of parchment paper.
Important Tip: This step is extremely important. You need to butter the pan to make sure the cake does not stick. This is the only butter you will use in this recipe as the cake relies on olive oil for moisture. The parchment paper at the bottom will further make sure that sticky caramel topping doesn't adhere to the bottom of the cake pan as well. Following this simple trick will ensure you get the right parchment round for the bottom of your cake pan.
Step 2: Make the Brown Sugar Paste & Prepare Your Orange Topping
In a medium-sized bowl, stir the water and brown sugar together to make a thick paste. Spread this yummy sweet mixture in a thin layer in the bottom of your cake pan. Make sure it is as even as possible.
TIP: Use the back of a spoon to spread the sticky mixture evenly. You can spray the back of your spoon with olive oil spray or rub with olive oil to make sure it does not stick too much to the spoon.
Zest both of your 2 oranges and set aside. Take one orange and slice into thin slices. Take the orange slices and arrange on top of the brown sugar mixture in the pan. Don't overlap the oranges.
Step 3: Mix Wet Ingredients
In a large mixing bowl, mix your wet ingredients. Whisk together the ricotta cheese, olive oil, and vanilla extract. Add one egg at a time. Thoroughly mix in one egg and repeat until all three eggs are mixed in.
Step 4: Add Dry Ingredients
Sift your dry ingredients (flour, baking powder, salt) directly over the bowl with the wet ingredients. Gently mix into the wet mixture with a wooden spoon.
Take your set side orange zest and combine in a small bowl with the granulated sugar. Add the sugar and orange zest mixture to the batter and mix until well combined. The batter will look a little thick and grainy, but that is fine.
TIP: Do not over-mix your cake batter. An over-mixed batter will leave you with a chewy and too dense a cake.
TIP: Combining the orange zest and sugar together helps release even more of the potent orange oil out of the zest, leaving you with the ultimate orange flavored cake!
Step 5: Pour Batter in Prepared Baking Pan & Bake
Scoop the batter into your prepared pan, shake the pan, then spread the batter evenly. Bake the cake for 45 minutes or until a toothpick comes out clean from the center of the cake.
TIP: After 40 minutes in the oven, begin to check the doneness of the cake. Some ovens will cook faster than others. It may take up to 1 hour for your cake to be fully baked. Your goal is to not burn the caramel on the bottom of the pan.
Step 6: Let Cake Rest to Cool & Carefully Transfer to Serving Platter
When done take the cake out of the oven and let cool for 10 to 15 minutes in its pan or until you feel the cake is cooler and has settled well. Run a sharp knife around the edge of the cake to help release the cake from the pan. Hold a larger plate on top of the cake pan and flip the pan over so the cake comes out of the pan.
Let this Italian ricotta cake cool on the plate completely and then serve! A scoop of vanilla ice cream or crème fraiche pair beautifully with this cake.
TIP: Some of your orange slices may stick to the pan, but don't fret! Just gently pick the oranges off and place on the cake. (This is why it is so important to butter your pan generously and use a piece of parchment paper at the bottom.)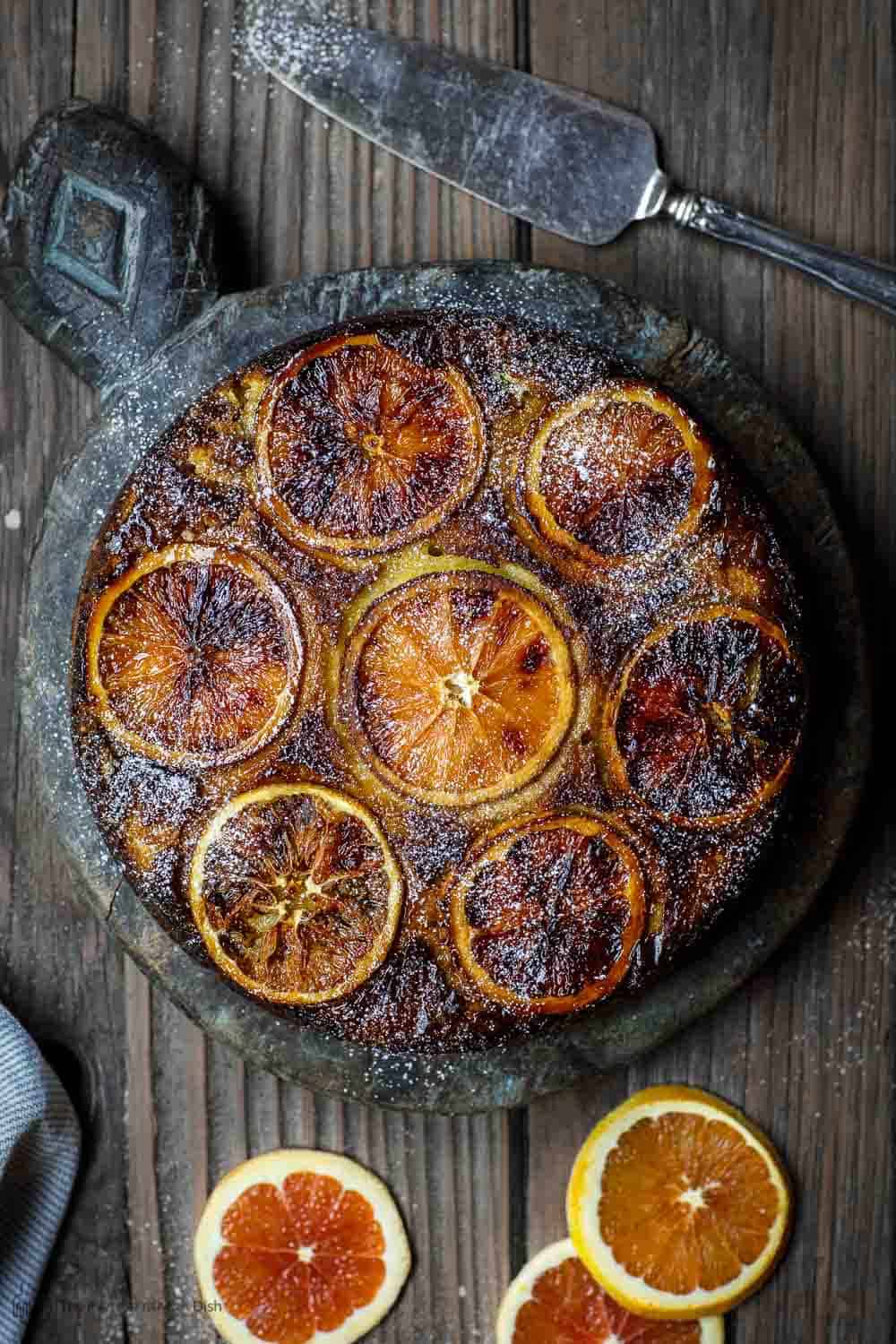 Looking for more desserts? Check out our dessert archives here. I highly recommend:
More Italian-Inspired Recipes? Check out our Italian recipes archives here.
Hungry for More? Join my e-mail list HERE to receive new recipes and my weekly dinner plan!
VISIT OUR ONLINE SHOP FOR QUALITY OLIVE OILS, ALL-NATURAL SPICES AND MORE
Print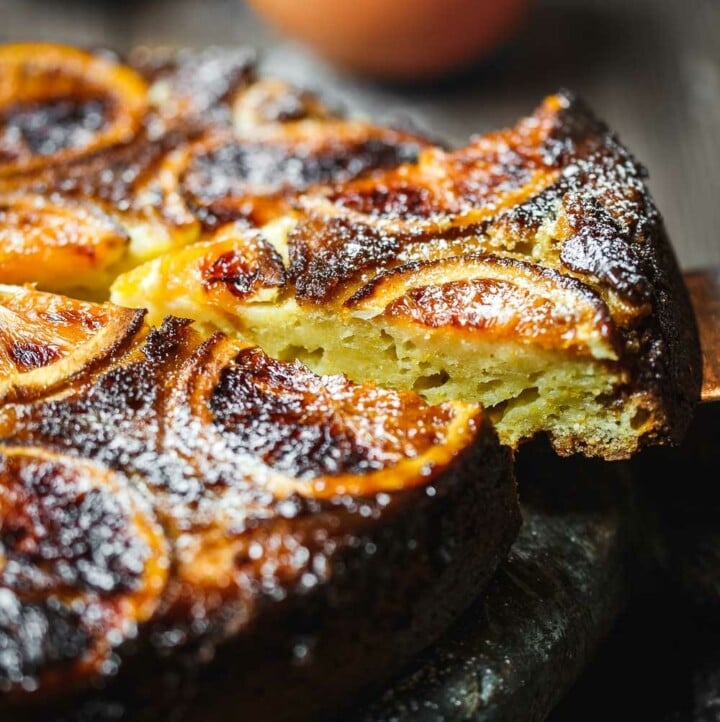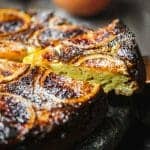 Lighter Orange Ricotta Cake
---
Description
This Italian-inspired orange ricotta cake is moist, soft, and bursting with intense orange flavor from zest and fresh orange slices! The sticky caramel-like topping provides just enough gooey and citrusy sweetness, while the mild and fruity olive oil flavor balances the cake perfectly. No one will know it's healthier!
Be sure to read through the post for top tips and additional information.
---
Butter for pan

½ cup

brown sugar

1 tbsp

water

1

orange zested and sliced PLUS zest of one more orange (use pink navel oranges, blood oranges or any oranges you find)

1 ½ cup

part-skim ricotta

¼ cup

PLUS 2 tablespoon quality extra virgin olive oil (I used Private Reserve Greek EVOO)

½ tsp

vanilla extract

3

large eggs

1 ½ cup

all-purpose flour

2 tsp

baking powder

¾ tsp

kosher salt

¾ cup

granulated sugar
Confectioners' sugar for dusting
---
Instructions
Preheat oven to 325 degrees F. Butter a 9-inch baking pan very well (on bottom and both sides generously). Line bottom with round of parchment paper.
Stir brown sugar and water together to make a thick, pasty slurry, then spread it very thinly and evenly across the bottom of the pan (I used the back of a spoon and kept smoothing the slurry over until it was nice and even).
Arrange the orange slices on top of the brown sugar coating in bottom of the cake pan.
In a large mixing bowl, whisk the ricotta, olive oil and vanilla. Add one egg at a time and whisk to combine.
Sift flour, baking powder and salt directly over the wet ingredients. Whisk or mix using a wooden spoon. Combine the sugar with the zest of two oranges and add that to the mixture. Mix again until batter is well combined (it may look a little thick and grainy. That's fine, but be sure it's well combined)
Scoop batter into the prepared cake pan. Gently shake to spread evenly.
Bake in heated oven for 45 minutes or more until a toothpick inserted in the middle of the cake comes out clean (You should begin to check at 40 minutes or so, but this could take 1 hour to bake. You want to make sure the bottom has a nice deep caramel color but does not burn)
Cool in the pan for 5 minutes or so. Run a thin knife around the corners to loosen the cake, then carefully invert onto serving plate. (Some of the orange slices at the bottom may get stuck in the pan, gently pull them up and arrange them on the cake if needed. But this is why a well-greased pan is important).
Let cool completely, then cut into slices. Serve as is, or add a dollop of creme fraiche or your favorite ice-cream. Enjoy!
Notes
Substitutions: This is a lighter orange ricotta cake. However, if you prefer, you can use whole-fat ricotta instead of part-skim. And in place of olive oil here, you can use 1 stick of butter (8 tbsp) melted and cooled. (I highly recommend you use olive oil here though, it produces a more moist cake. See tips in the post.)
Recommended for this Recipe: Private Reserve Greek extra virgin olive oil (from organically grown and processed Koroneiki olives. SAVE! Try our Olive Oil Bundle!
Visit our online shop to browse our olive oils, spices, and more for Mediterranean cooking!
Prep Time:

15 mins

Cook Time:

45 mins

Category:

Dessert

Method:

Baked

Cuisine:

Italian
Keywords: Orange Cake, Ricotta Cake, Italian Cake, Olive Oil Cake
*This post was originally published in December, 2017 and has recently been updated with more information for readers' benefit. Enjoy!