Show-stopping orange ricotta cake, made just a bit lighter with part-skim ricotta and olive oil.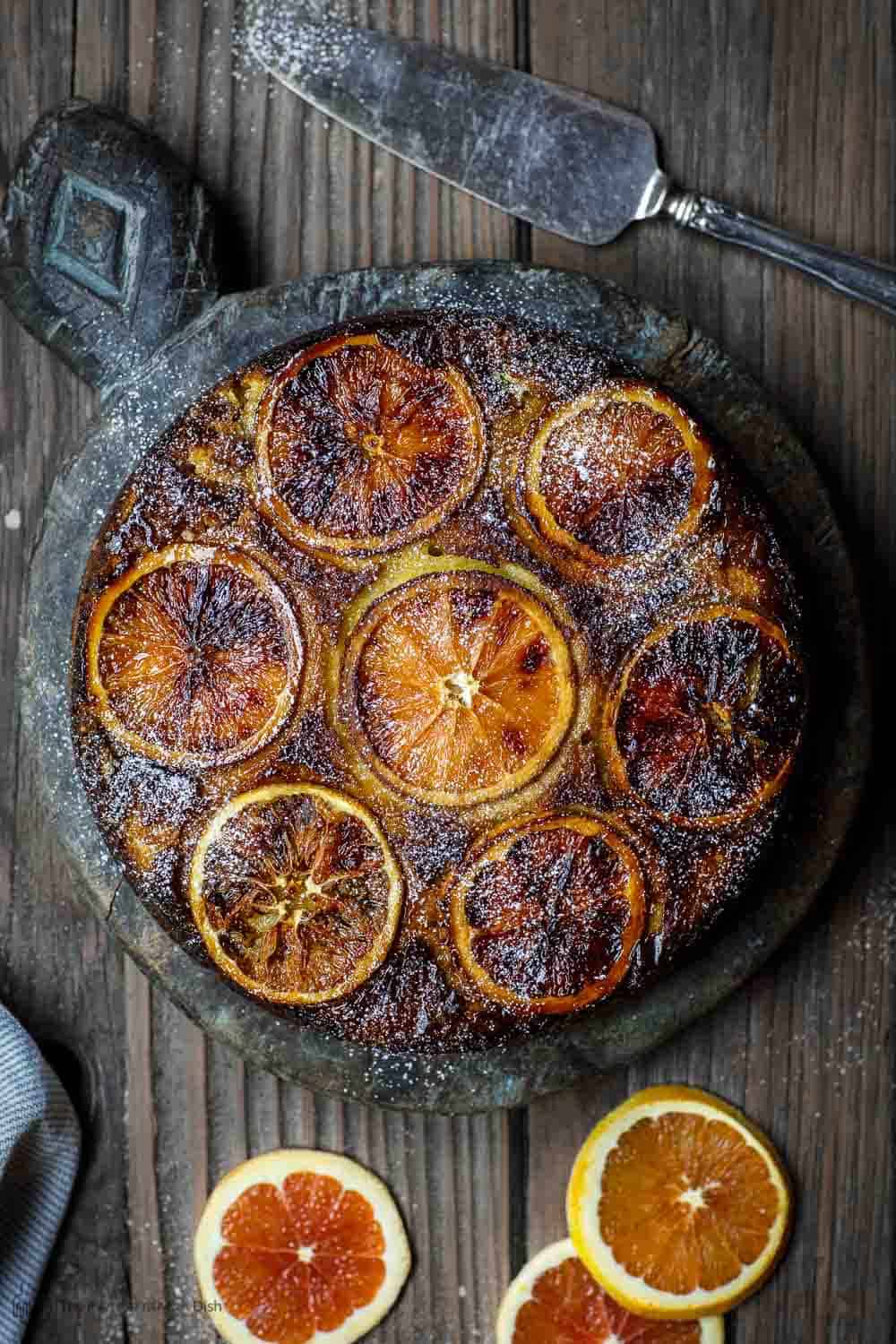 Ricotta's texture and its mild and sweet flavor have made it a top choice in Italian cakes and desserts. And one of my absolute favorites happens to be torta di ricotta, a gorgeous tart made by filling pasta Frolla (Italian short dough) with a rich ricotta filling with lots of lemon zest. It's popular particularly around the holidays. And…deliciously sinful!
I have yet to make my own tortat di ricotta…thought I would start with something like this orange ricotta cake.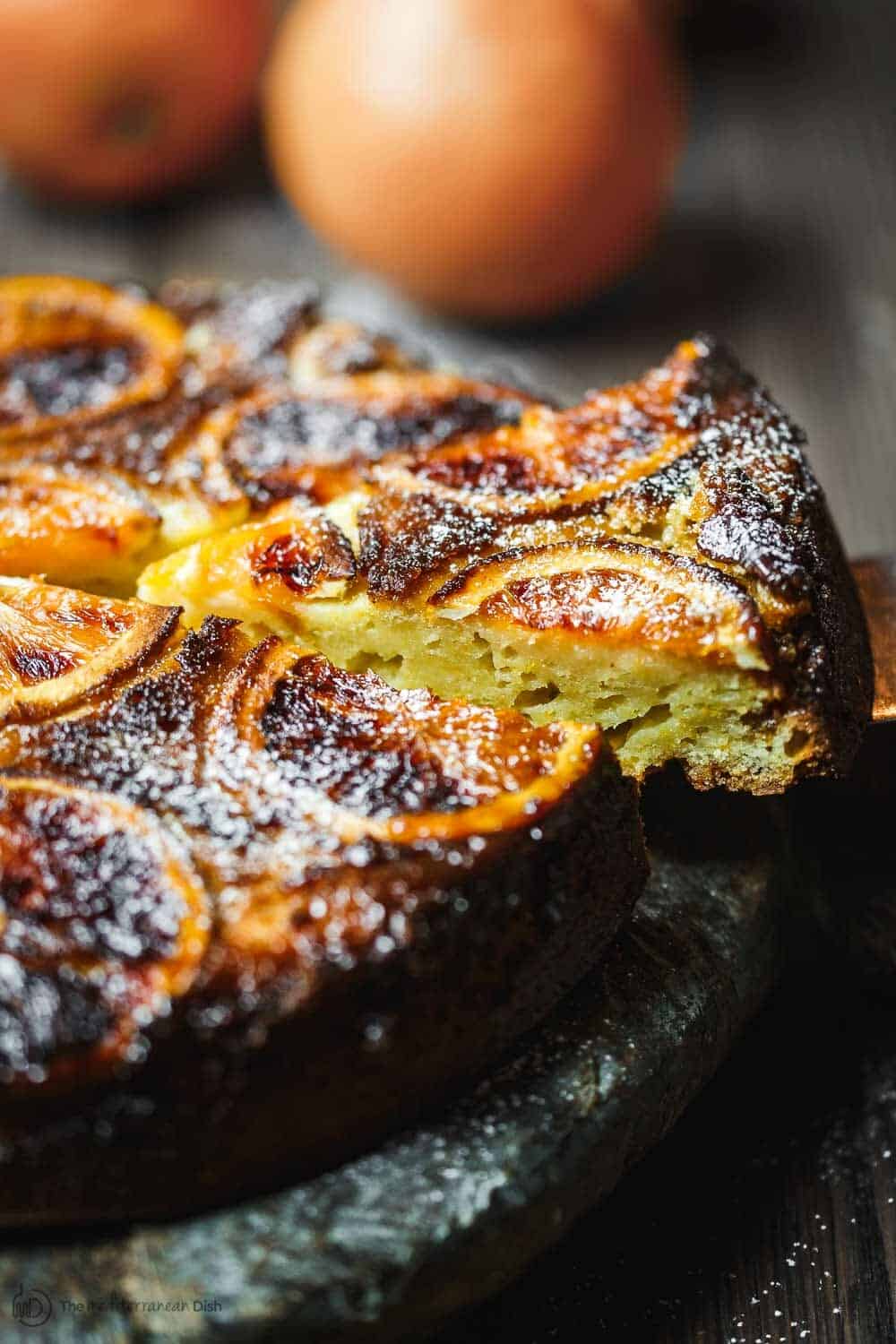 Think upside down orange cake with a beautiful, crusty caramel-like topping. There is just the right amount of texture and flavor in this festive orange ricotta cake. And it's easy enough for a non-baker like myself to make.
I used what are called pink navel oranges here in this ricotta cake; they are sweeter and add color. You can also use blood oranges or any oranges you find.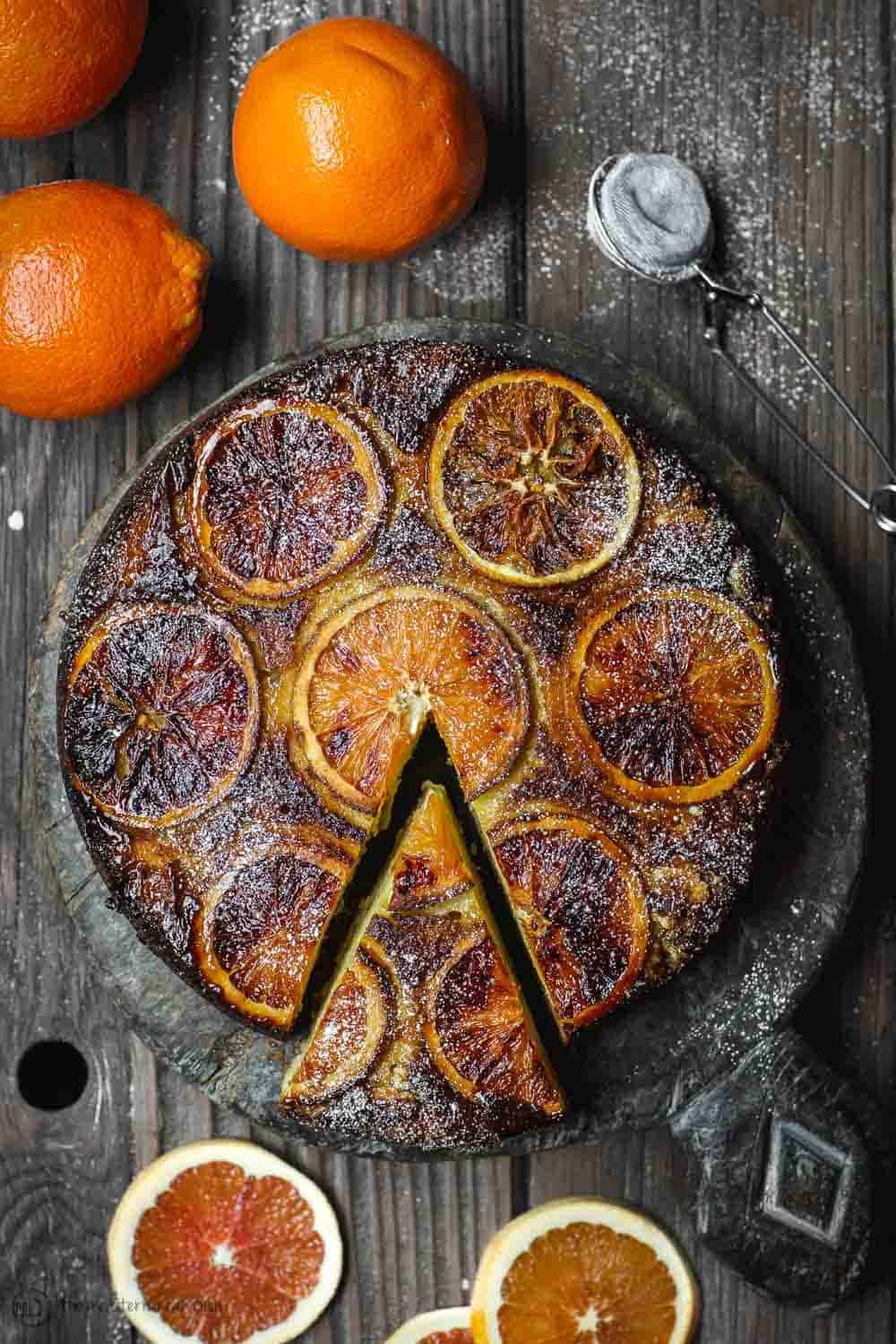 One neat trick (I learned this from a friend who is a master baker), zest the lemons directly in a bowl with your sugar, this allows maximum flavor release!
I've been having fun "lightening up" cakes, so again I used part-skim ricotta and olive oil in place of butter. However, if you want a richer ricotta cake, I've included substitutions in the recipe notes.
Check out the recipe below!
Print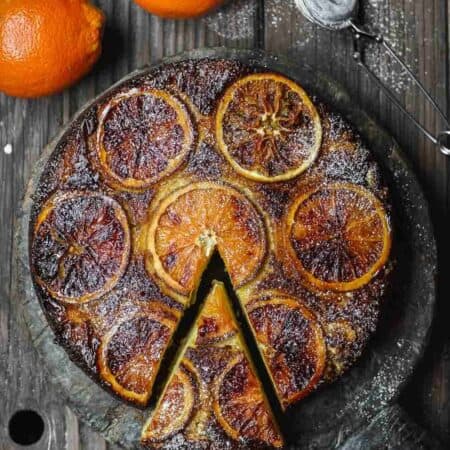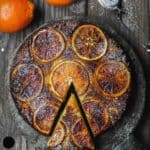 Lighter Orange Ricotta Cake
---
Description
Show-stopping orange Ricotta Cake, made just a bit lighter with less sugar, part-skim ricotta and olive oil.
---
Scale
Ingredients
Butter for pan

1/2 cup

brown sugar

1 tbsp

water

1

orange zested and sliced PLUS zest of one more orange (use pink navel oranges, blood oranges or any oranges you find)

1 1/2 cup

part-skim ricotta

1/4 cup

PLUS 2 tbsp Private Reserve extra virgin olive oil

1/2 tsp

vanilla extract

3

large eggs

1 1/2 cup

all-purpose flour

2 tsp

baking powder

3/4 tsp

kosher salt

3/4 cup

granulated sugar
confectioners' sugar for dusting
---
Instructions
Preheat oven to 325 degrees F. Butter a 9-inch baking pan very well (on bottom and both sides generously). Line bottom with round of parchment paper.
Stir brown sugar and water together to make a thick, pasty slurry, then spread it very thinly and evenly across the bottom of the pan (I used the back of a spoon and kept smoothing the slurry over until it was nice and even).
Arrange the orange slices on top of the brown sugar coating in bottom of the cake pan.
In a large mixing bowl, whisk the ricotta, olive oil and vanilla. Add one egg at a time and whisk to combine.
Sift flour, baking powder and salt directly over the wet ingredients. Whisk or mix using a wooden spoon. Combine the sugar with the zest of two oranges and add that to the mixture. Mix again until batter is well combined (it may look a little thick and grainy. That's fine, but be sure it's well combined)
Scoop batter into the prepared cake pan. Gently shake to spread evenly.
Bake in heated oven for 45 minutes or more until a toothpick inserted in the middle of the cake comes out clean (You should begin to check at 40 minutes or so, but this could take 1 hour to bake. You want to make sure the bottom has a nice deep caramel color but does not burn)
Cool in the pan for 5 minutes or so. Run a thin knife around the corners to loosen the cake, then carefully invert onto serving plate. (Some of the orange slices at the bottom may get stuck in the pan, gently pull them up and arrange them on the cake if needed. But this is why a well-greased pan is important).
Let cool completely, then cut into slices. Serve as is, or add a dollop of creme fraiche  or your favorite ice-cream. Enjoy!
---
Notes
Substitutions This is a lighter orange ricotta cake. However, if you prefer, you can use whole-fat ricotta instead of part-skim. And in place of olive oil here, you can use 1 stick of butter (8 tbsp) melted and cooled.
Recommended for this Recipe our Private Reserve Greek extra virgin olive oil (from organically grown and processed Koroneiki olives. SAVE! Try our Olive Oil Bundle!
Visit our store to browse our spices, olive oils and bundles!
Category:

Dessert

Method:

Baked

Cuisine:

Mediterranean
Keywords: Orange Ricotta Cake, Ricotta Cake, Dessert, Orange Cake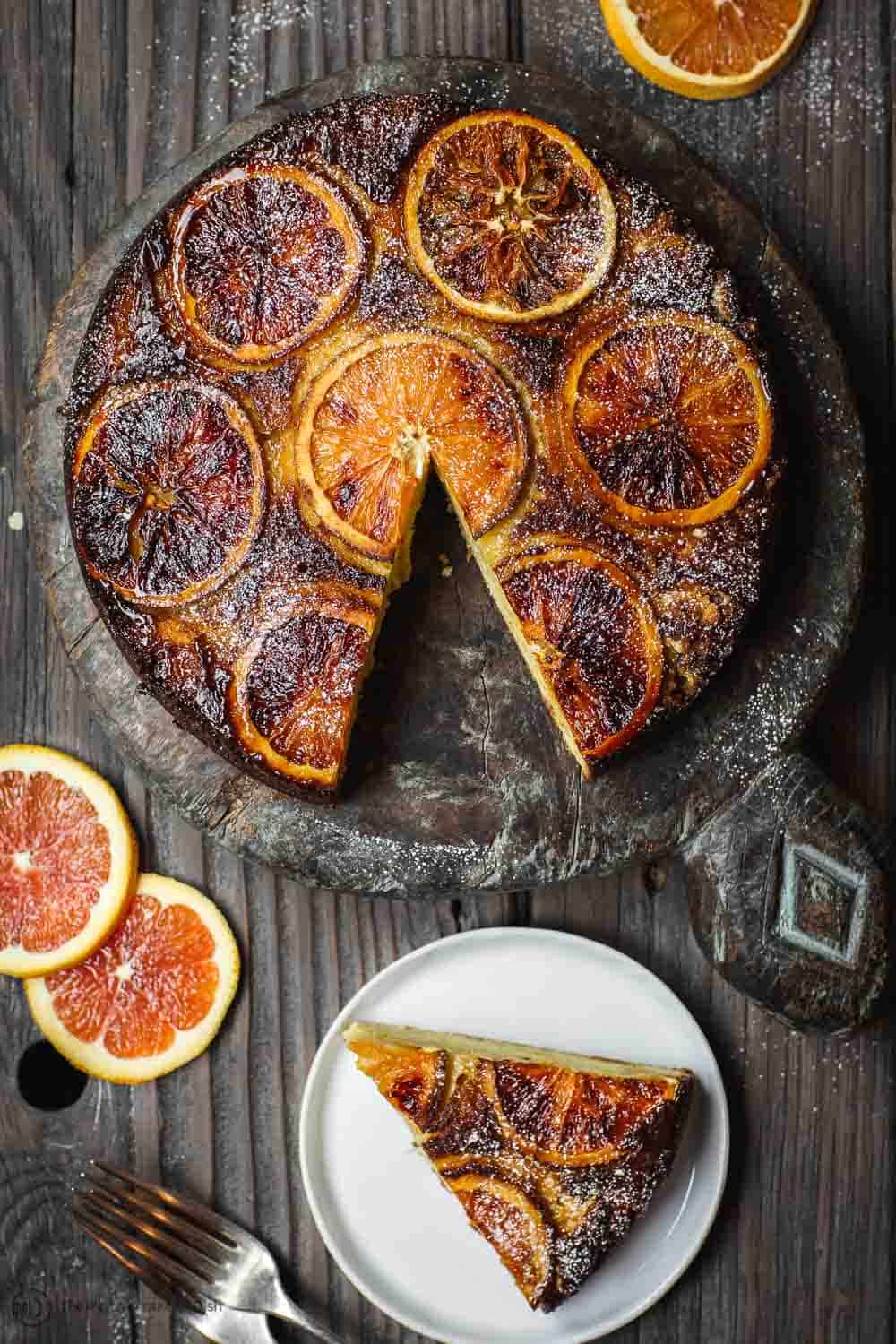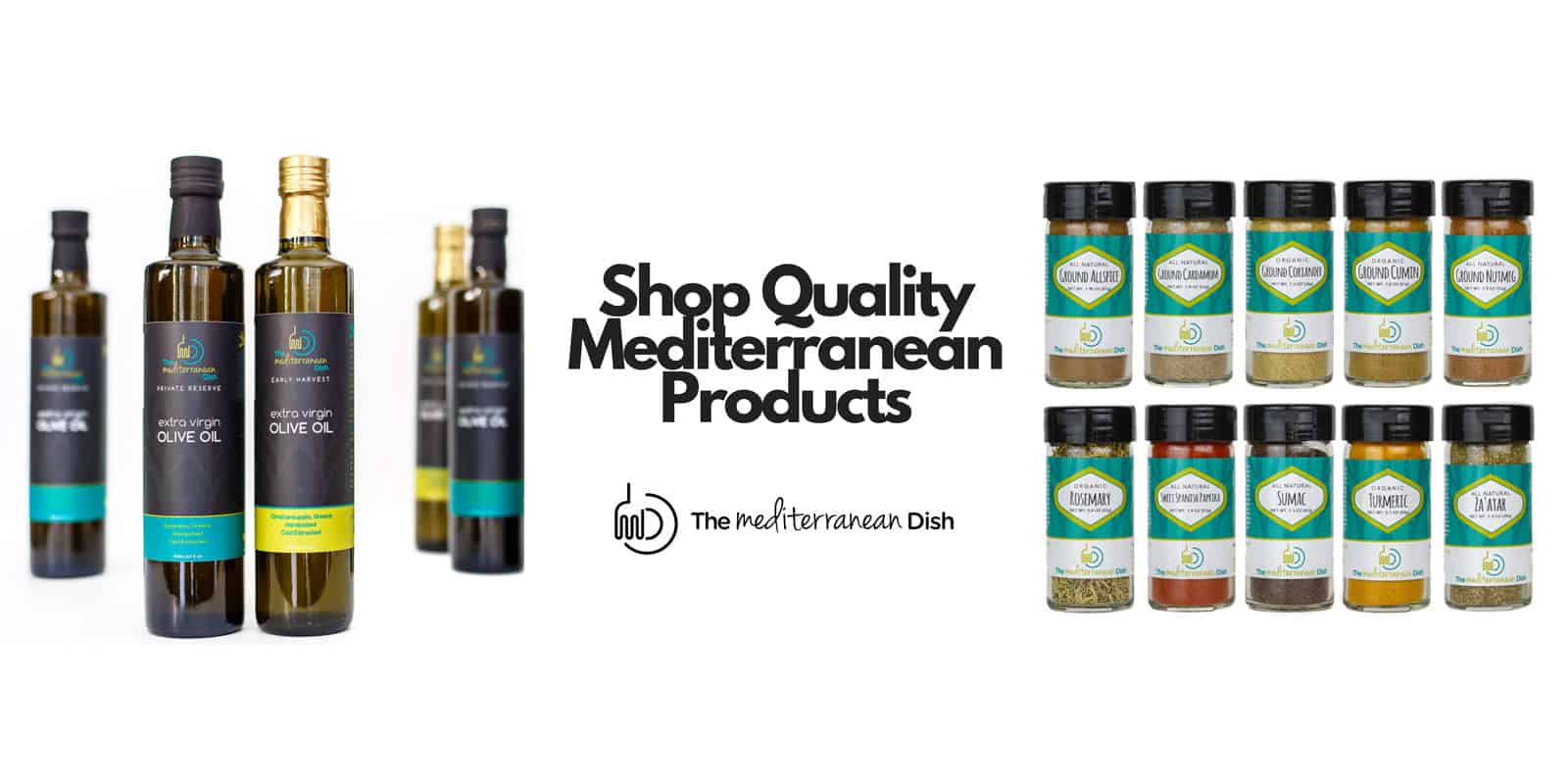 More Recipes to Try:
Basbousa: Egyptian Almond Coconut Semolina Cake
Simple Spanish Tortilla with Spinach Arugula Salad
Easy Baked Salmon with Garlic Balsamic Glaze