I've been having fun with olive oil cakes, including Italian Apple Olive Oil Cake and this Orange Ricotta Cake. But my very favorite currently is this Greek orange honey cake!  You'll see why in a minute…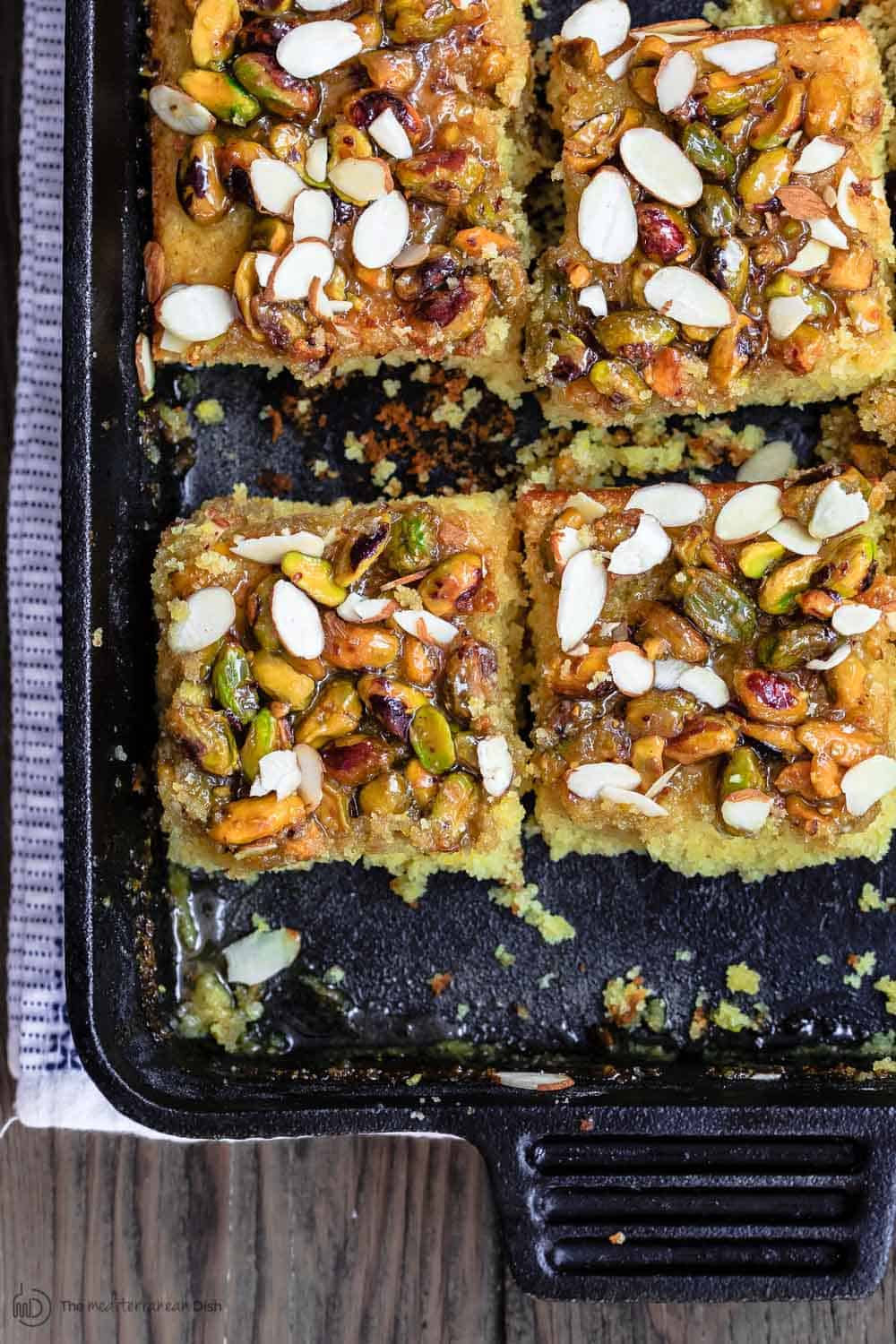 Watch how to make this honey cake
In search for easy Easter desserts that aren't laden with butter or frosting, I happened upon a slightly different version of this honey cake in Jamie Oliver's Food Escapes cookbook. An inspiration from the island of Aegina, where pistachios and honey from local beekeepers are aplenty! I was immediately hooked!
This Yiayia-approved honey cake can easily feed a crowd (12 to 15 or so). And it's the kind of simple dessert where you dump all the ingredients in one single bowl and mix! But, there is more…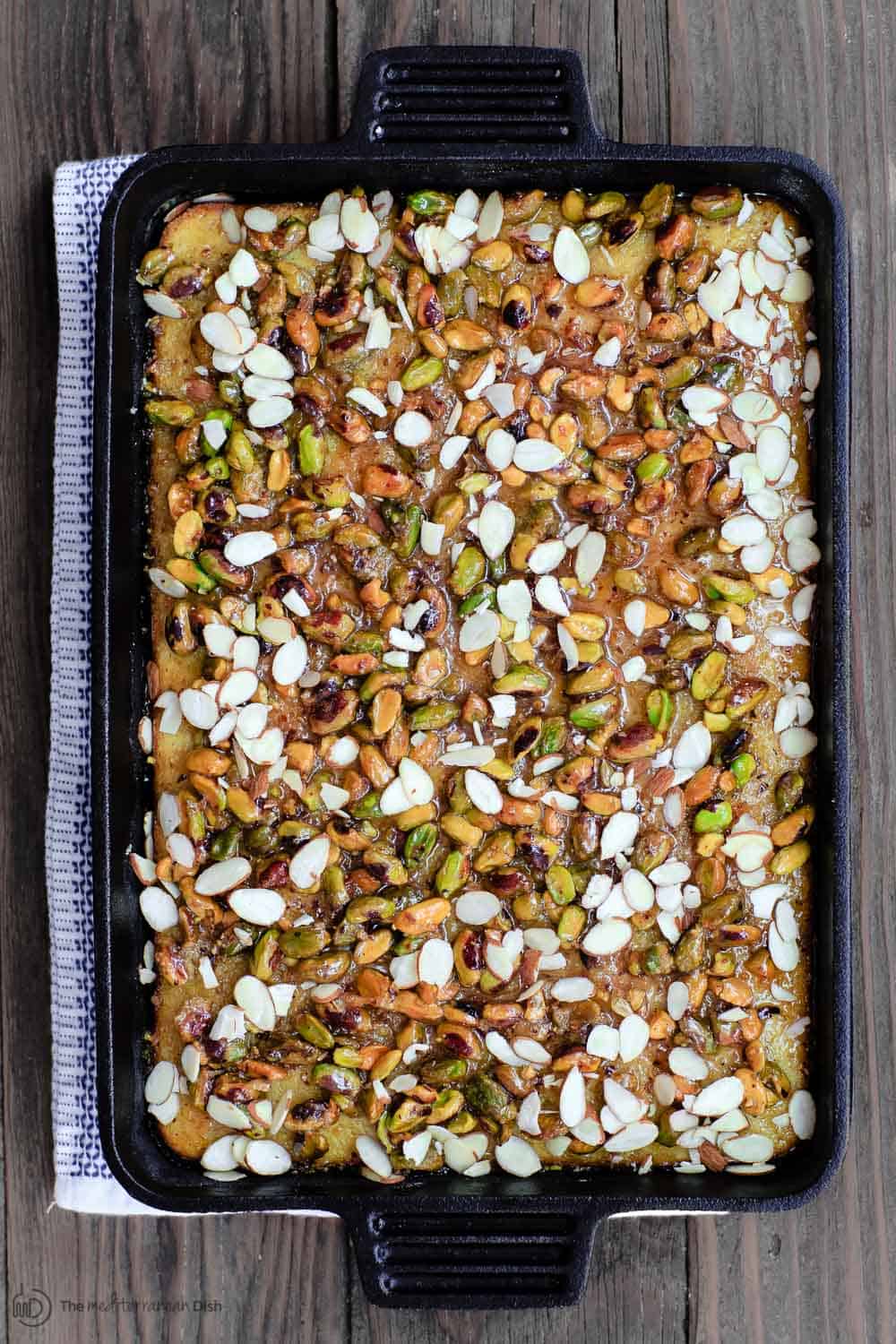 Why this Greek Orange Honey Cake Works
1. The combination of flours, all-purpose flour with coarse semolina (farina), gives it such interesting texture.
2. Greek yogurt here lends a great light and fluffy texture. Plus, its slightly tangy flavor balances so well with crave-worthy citrus from the generous amounts of orange and lemon zest.
3. The honey-pistachio SYRUP is king in this recipe! TIP: Drizzle the hot syrup–made of honey, fresh orange juice and lemon juice, plus a good amount of toasted pistachios coated within–on the cooled cake. If you have the time, I highly recommend that you let the cake sit a few hours before serving (it's even better the next day when all the flavors and moisture have settled!)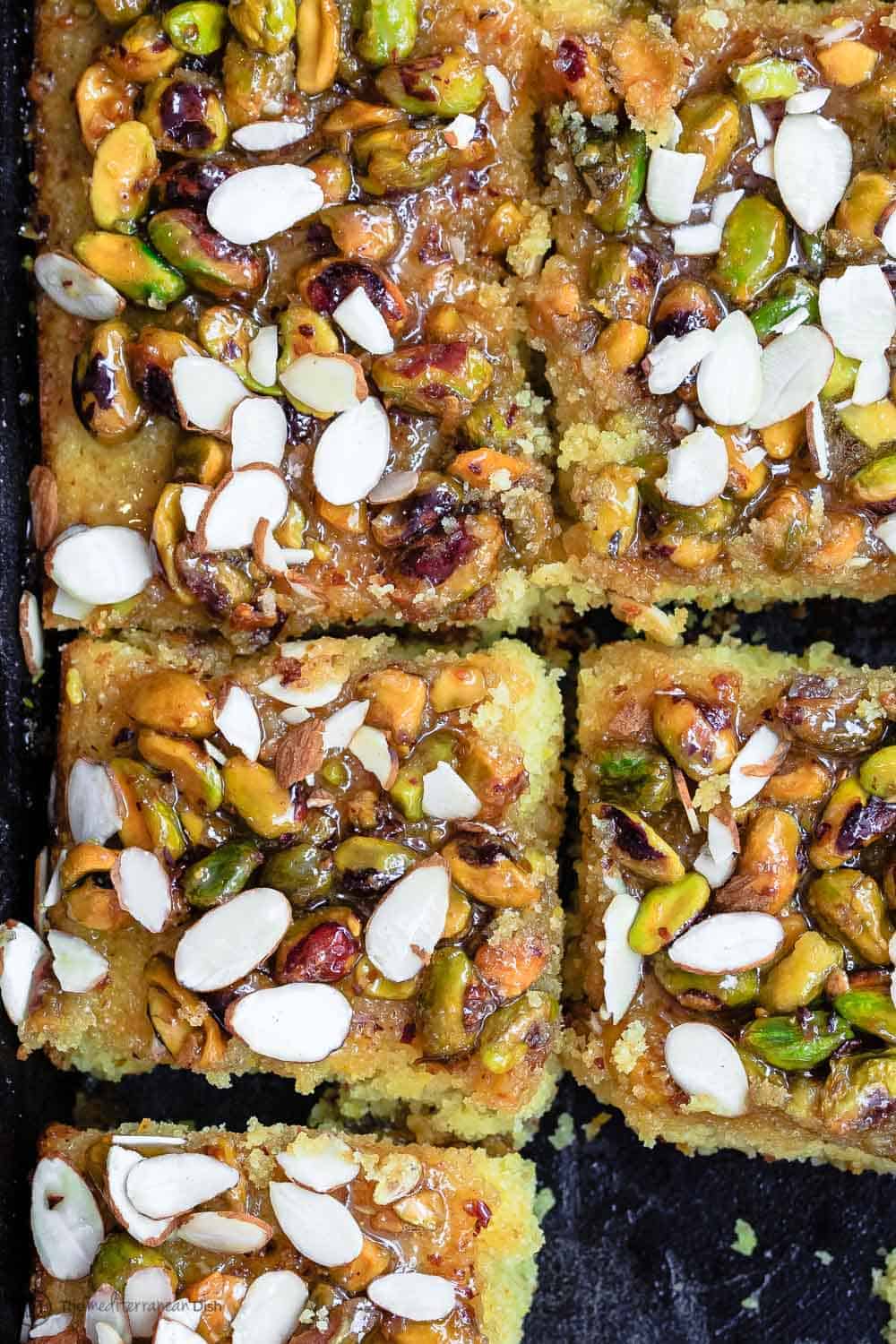 Admittedly, Jamie's original recipe called for less syrup; I found that more of it was need for such a large cake. It lent flavor, and made for a perfectly "sticky" cake.
4. Finally, as always, if you're going to make an olive oil cake, use the best olive oil you can. Shameless plug…I highly recommend our Private Reserve Greek extra virgin olive oil. Learn more here.
Print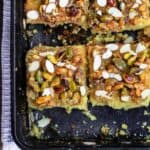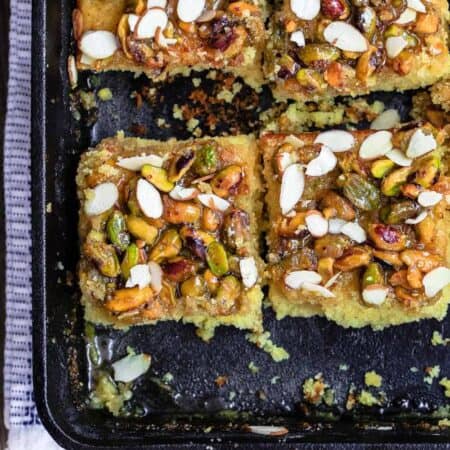 Greek Orange Honey Cake with Pistachios
---
Author:

Prep Time:

10 mins

Cook Time:

30 mins

Total Time:

40 minutes

Yield:

Up to 15 Pieces

Cuisine:

Greek
Ingredients
For Cake
5 large eggs
1 cup low-fat Greek yogurt (I used fat-free plain Greek yogurt)
2 cups granulated sugar
5 tbsp ground almonds (do this in a small food processor)
zest of 1 Meyer lemon
zest of 1 orange
1 1/4 cup all-purpose flour
1 cup coarse semolina (OR farina, Cream of Wheat, or this Creamy Wheat Cereal)
2 tsp baking powder
3/4 cup plus 1 tbsp Private Reserve Greek extra virgin olive oil
Handful shaved almonds for topping, optional
For Honey Pistachio Syrup
1 1 /4 cup shelled salted pistachios
1 1/4 cup quality runny honey
juice of 2 oranges
juice of 1 lemon
---
Instructions
Preheat the oven to 350 degrees F.
Grease a 9 x 13 baking pan with butter and dust with flour (shake the pan a little to get an even coating of flour).
Place all the cake ingredients in a large mixing bowl. Mix with a wooden spoon or a whisk to combine.
 Pour the batter into the prepared baking pan and spread evenly with a spatula.
Bake in heated oven for 25 to 30 minutes, until golden and well cooked-through. To be sure, insert a wooden skewer into the center of the cake, it should come out clean if the cake is done.
Remove from the oven and let the cake completely cool in the pan.
Once the cake has cooled, prepare the honey syrup. Toast the pistachio in a dry non-stick pan over low to medium heat (pan needs to be large enough for the remaining syrup ingredients). Once they start to smell, stir in the honey. Add the orange juice and lemon juice. Bring to a boil for 1 to 2 minutes, or until nice and syrupy. (Do NOT taste the hot syrup, it will burn your mouth)
Stab the cake all over with a small knife or a skewer to create holes. Pour the honey pistachio syrup all over the cake as evenly as possible. If you need to, use a spoon to distribute the pistachios across the top of the cake. Sprinkle shaved almonds, if using.
You can cut the cake into 12 to 15 squares and serve at this point (see notes for best results.)
Notes
Note: The syrup needs to be hot when you pour it on the cooled cake, the cake will better absorb it. Also, for best results, allow the cake to sit for a few hours before cutting and serving. It is even better the next day when the flavors and the moisture have settled in.
Adapted from Jamie Oliver's Food Escapes
Recommended for this recipe: Our Private Reserve Greek extra virgin olive oil. Also see our Greek olive oil bundle!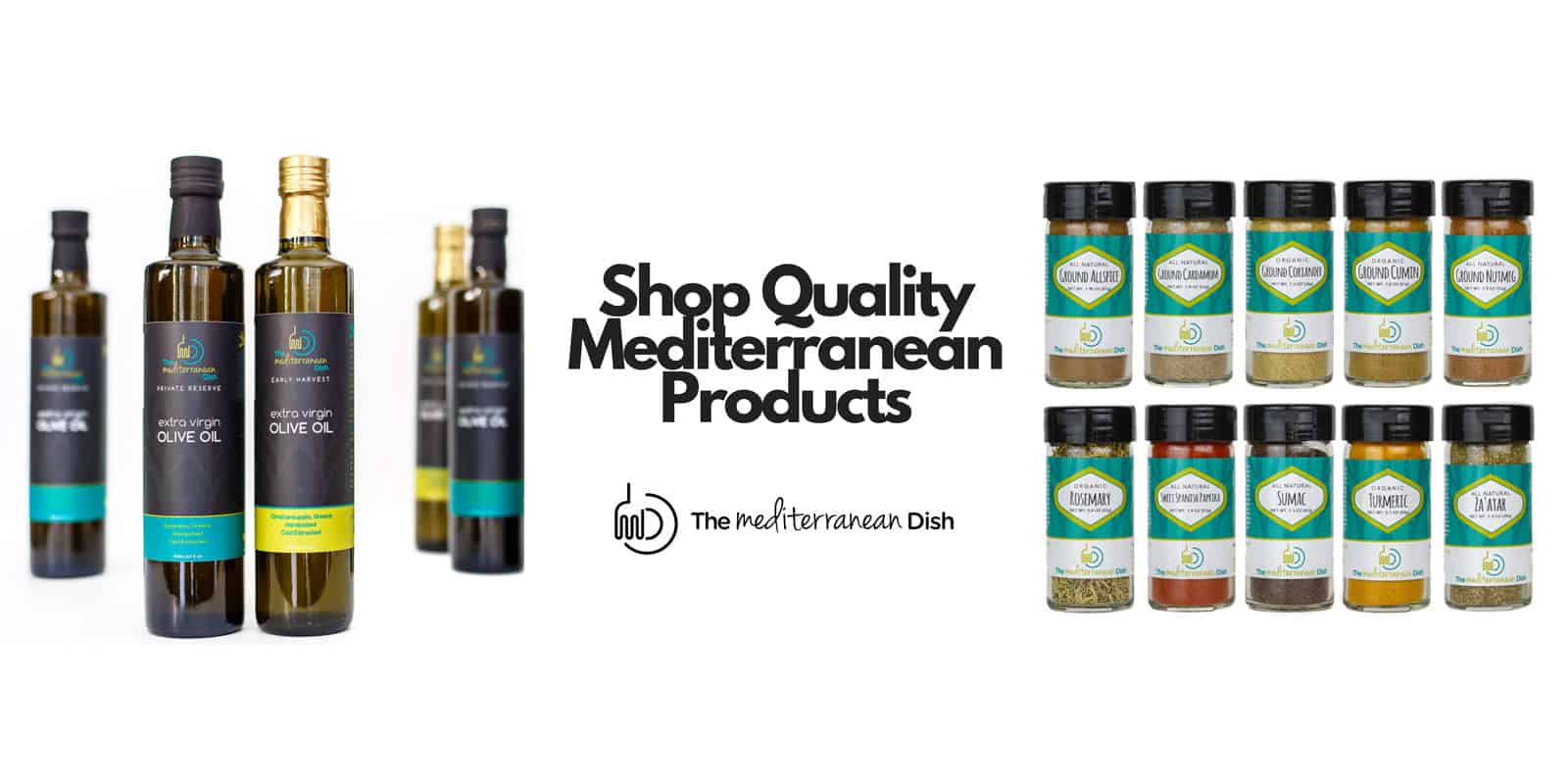 More Recipes to Try
Greek Pastitsio (Bechamel Pasta Casserole)
Mediterranean Bean and Broccoli Pasta 
One-Skillet Garlic Dijon Chicken