Learn how to make the best fresh lemon ginger tea with this five-ingredient recipe! Sweet, spicy, and refreshing, it's the perfect pick-me-up for when you need a little immunity boost or simply want to wind down for the day.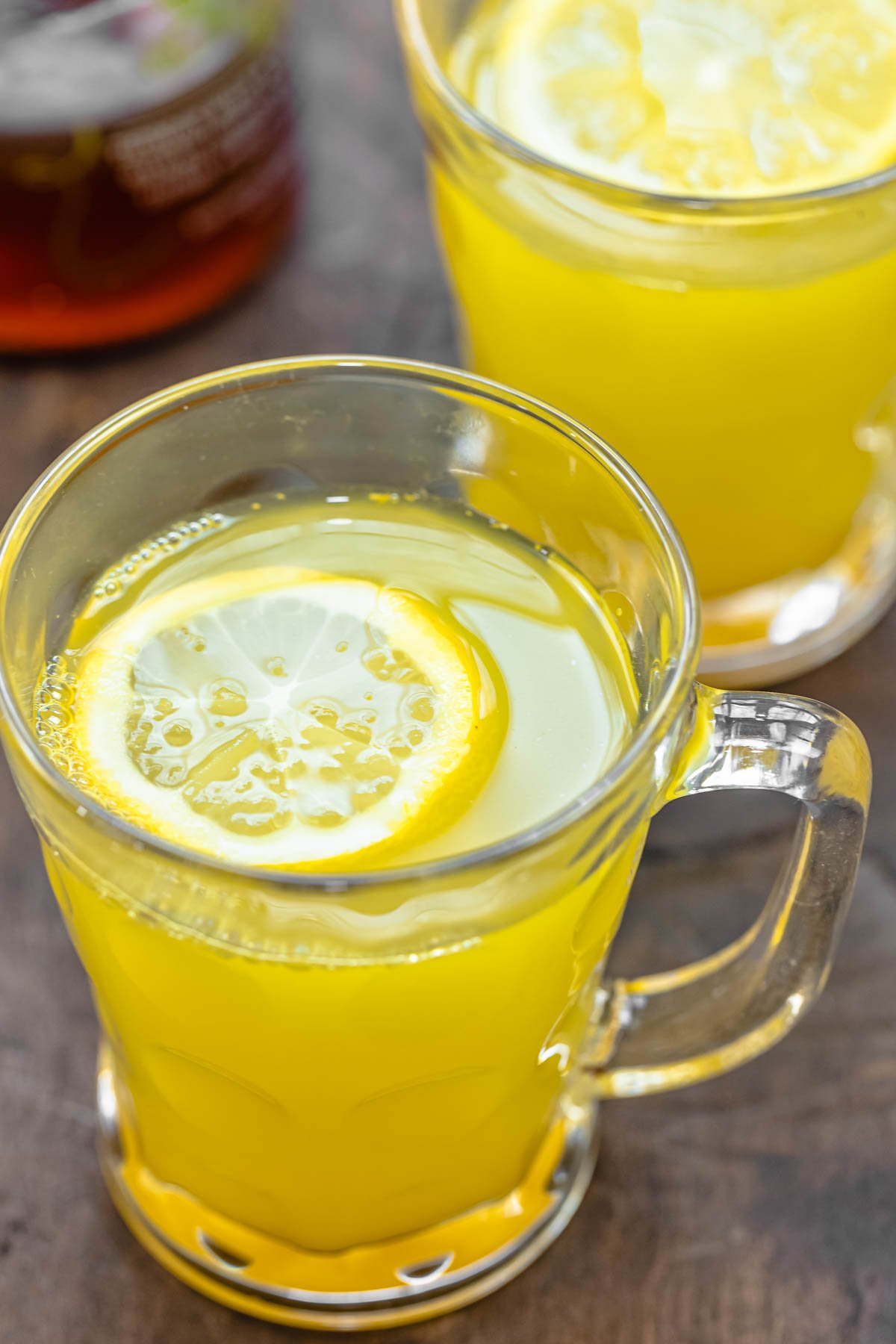 Made with a bold, slightly spicy flavor profile thanks to the ginger root, this homemade lemon ginger tea is sweetened with honey and balanced with a touch of lemon and turmeric for the ultimate soothing hot drink.
Super quick and easy to make, it's commonly used to help fight colds and infections when you're feeling under the weather. If you need a boost, try this tea along with things like Greek Lemon Chicken Soup or Easy Mediterranean Chickpea Soup and whatever ails you doesn't have a chance.
Lemon ginger tea is great for when you're sick and a little immunity boost. Like my Hibiscus Tea in the summertime, I drink lemon ginger tea just to relax or to warm up on a chilly day. The comforting warmth and bright flavors in this homemade fresh ginger tea are a great way to end (or even begin) the day!
Table of Contents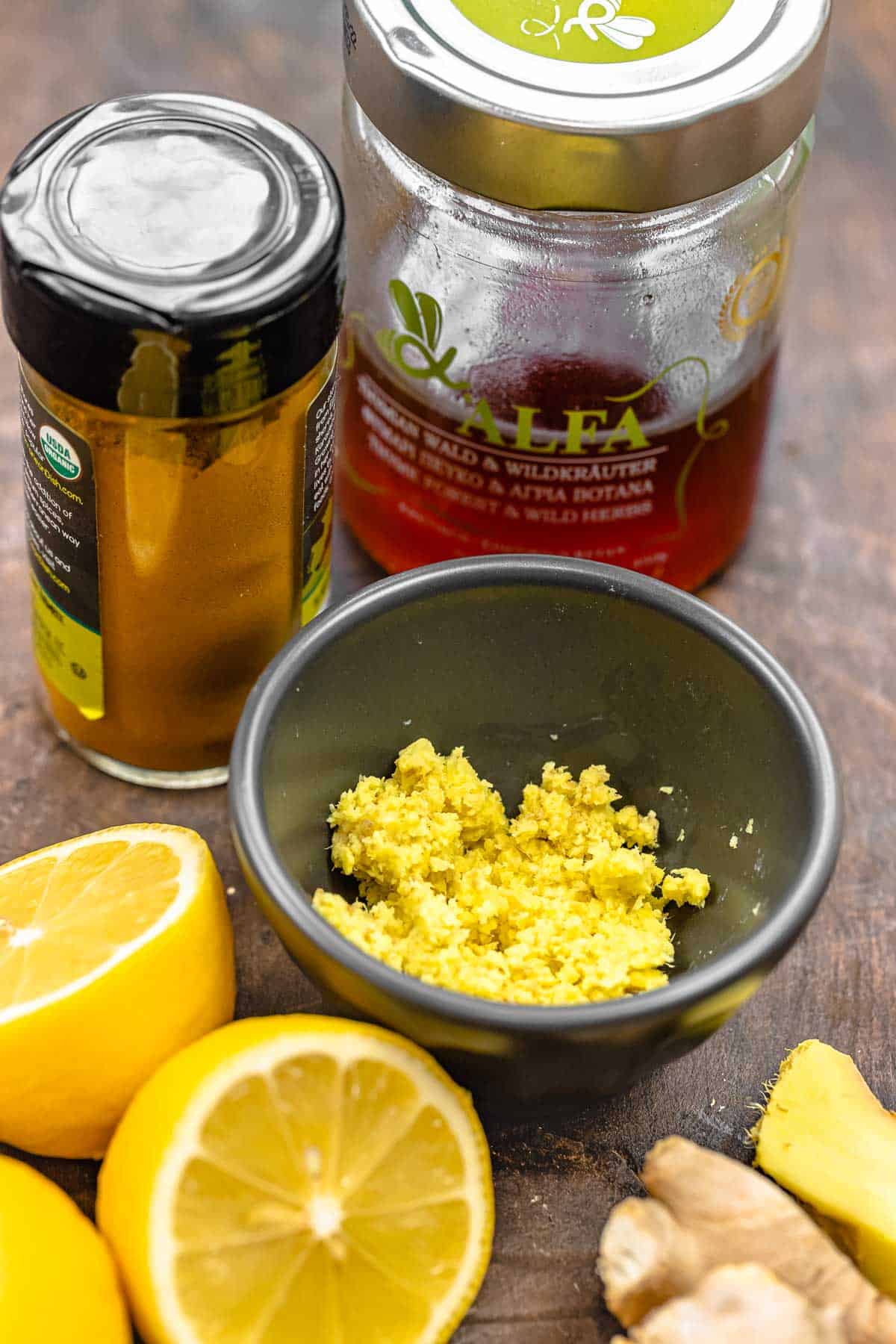 What's in Lemon Ginger Tea?
If you guessed lemon and ginger, you're right! However, there are a few extra ingredients needed to make the best lemon ginger tea recipe. Here's everything you'll need:
Water: Whether you're making lemon ginger tea, Arabic tea with fresh mint, or simply steeping a pre-made bag of your favorite tea blend, you need water to begin!
Grated ginger: Use freshly grated ginger or even ginger paste to add a slightly spicy, tangy taste.
Lemon: Both lemon juice and lemon slices are used to add notes of citrus flavor.
Turmeric: Just a pinch is all you'll need to add depth to the flavor and extra health benefits!
Honey: Use as little or as much as you'd like to sweeten this ginger tea recipe to your taste.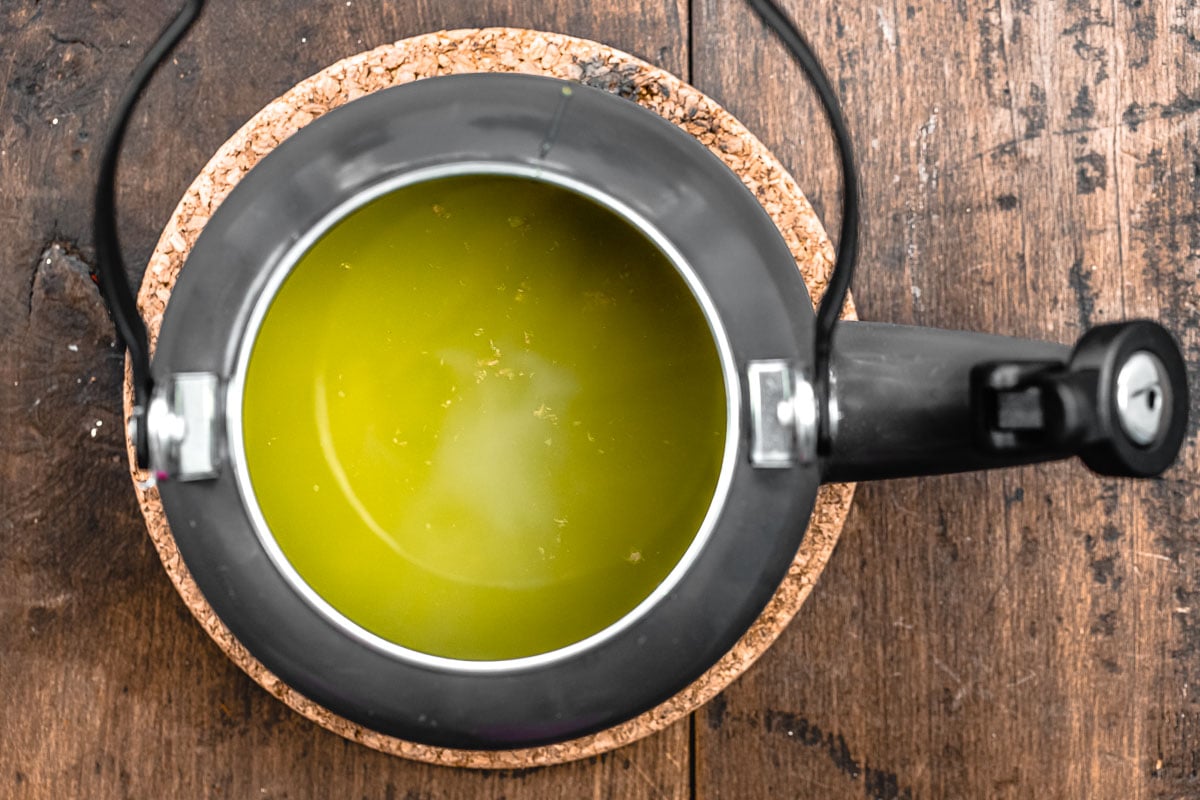 How to Make Ginger Tea
Once you learn how to make ginger tea, you'll never go back to tea bags again! Here is how it's done:
Boil the water. In a saucepan or your favorite tea kettle, boil your water over medium-high heat.
Stir in the ingredients. Gently stir in all of the ingredients, starting with just 1 tablespoon of honey. You can easily add more later if needed!
Steep the tea. Shut off the heat, cover the saucepan or kettle, and allow the ginger tea to steep for at least 10 minutes. This is what allows the flavor to really sink in!
Serve. Place a small mesh strainer over your cup, and pour the tea through. Then, adjust the sweetness to your likely, add a slice of lemon to make it extra pretty, and enjoy!
Is Ginger Tea Good for You?
Yes! Not only is ginger tea delicious, warming, and low in calories, but it's also full of health benefits, too, and can help boost your immune system, aid in digestion, soothe upset stomachs, and even reduce symptoms of nausea.
These positive impacts are largely due to the use of ginger root, which comes from the ginger plant. However, it's important to note that fresh ginger root, not ginger powder must be used. This is because dry ginger does not contain gingerol, the powerful antioxidant, found in the fresh root.
Coupled with the antioxidant properties of honey and the polyphenols in turmeric that can help reduce inflammation, relieve arthritis symptoms, and more, this ginger tea is the ultimate cold-busting, mood-boosting recipe!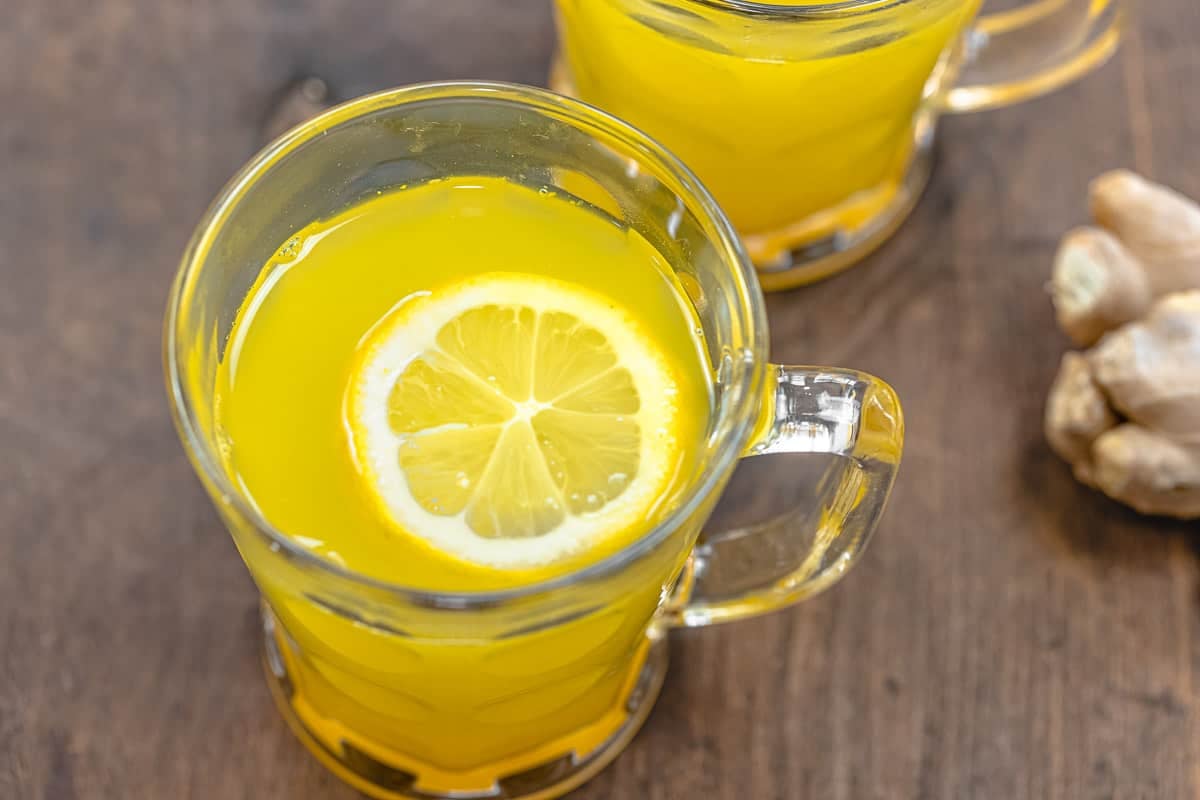 Ginger Tea Variations
Now that you have the basic recipe for fresh ginger tea, feel free to experiment to make it your own! For instance, some of my favorite variations include:
1 small cinnamon stick for extra warmth and spice.
A dash of fresh mint leaves to make it extra vibrant and refreshing.
Omitting the turmeric to allow the citrus flavors to shine through.
Using lime juice for a slightly different taste.
Steeping the ingredients with green, oolong, or black tea.
What to serve with ginger tea
This fresh ginger tea recipe is super satisfying when served on its own, but it also pairs perfectly with all your favorite snacks and meals!
For example, start your day on the right foot with a warm cup of tea and a Savory Oatmeal Bowl, a Smoked Salmon Sandwich, or Healthy Breakfast Egg Muffins.
Or, treat yourself to an afternoon treat or post-dinner dessert by serving it with Easy Churro Chips, a slice of Italian Lemon Ricotta Cheesecake, Mahalabia (Rose Water Milk Pudding), or Biscotti!
More Amazing Drink Recipes
Browse all Mediterranean recipes.

Visit Our Shop.
Greek Honey- Thyme, Forest & Wild Herbs
Check out our special honey, straight from Greece. Perfect for sweetening your ginger tea!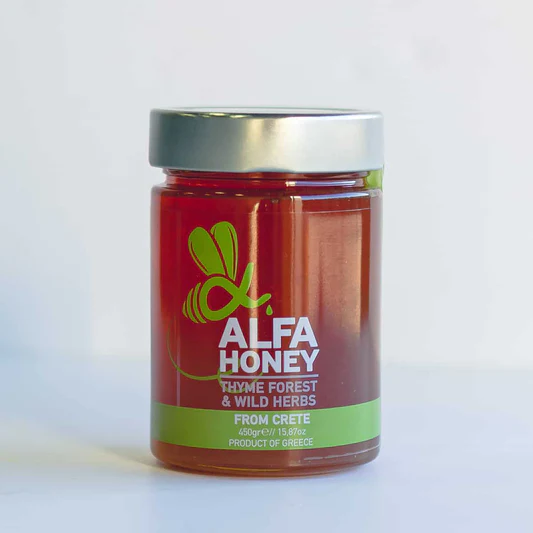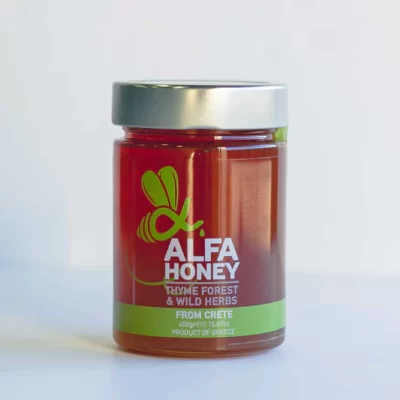 Lemon Ginger Tea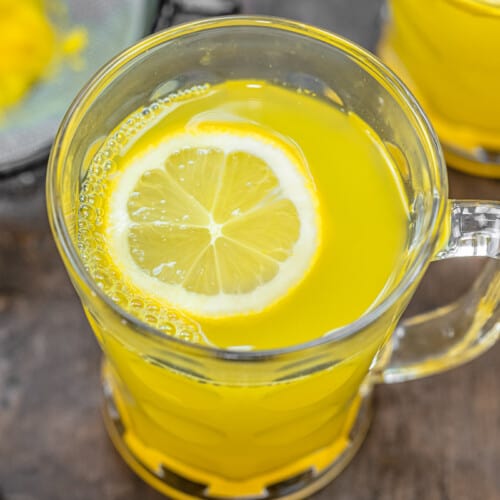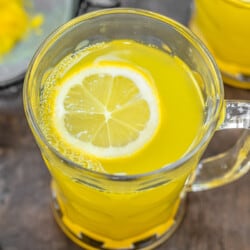 This lemon ginger tea recipe is easy to make and packs a flavorful punch. Made with ginger root, honey, lemon and turmeric, it is sweet, spicy and refreshing. Drink it as a pick-me-up when your feeling under the weather, or as a way to unwind after a long day!
Ingredients
1

cup

water

1

heaping tablespoon fresh grated ginger,

start with ½ tablespoon if you want it less spicy

1

large lemon,

juiced

Pinch

turmeric,

less than ¼ teaspoon

Honey,

to your taste

Lemon slices,

for garnish
Optional add ons:
1

small cinnamon stick

Fresh mint leaves
Instructions
In a saucepan or teakettle, boil the water. Stir in the ginger, lemon juice, turmeric, and honey (start with 1 tablespoon of honey and add as you need).

Immediately turn the heat off. Cover the teapot and allow the ginger tea to steep for 10 minutes.

Place a small mesh strainer over your cup and pour the ginger tea through. Garnish with a slice of lemon.
Nutrition
Calories:
45.6
kcal
Carbohydrates:
14.1
g
Protein:
1.5
g
Fat:
0.4
g
Saturated Fat:
0.1
g
Polyunsaturated Fat:
0.1
g
Monounsaturated Fat:
0.03
g
Sodium:
15.3
mg
Potassium:
193.2
mg
Fiber:
5
g
Sugar:
2.9
g
Vitamin A:
34.1
IU
Vitamin C:
57.7
mg
Calcium:
71.4
mg
Iron:
1
mg