Muhalabia is a traditional Arabic milk pudding similar to Italian panna cotta but finished with crunchy pistachios and a touch of aromatic rose water. Serve this elegant gluten-free dessert recipe for a holiday brunch or a refreshing after-dinner treat.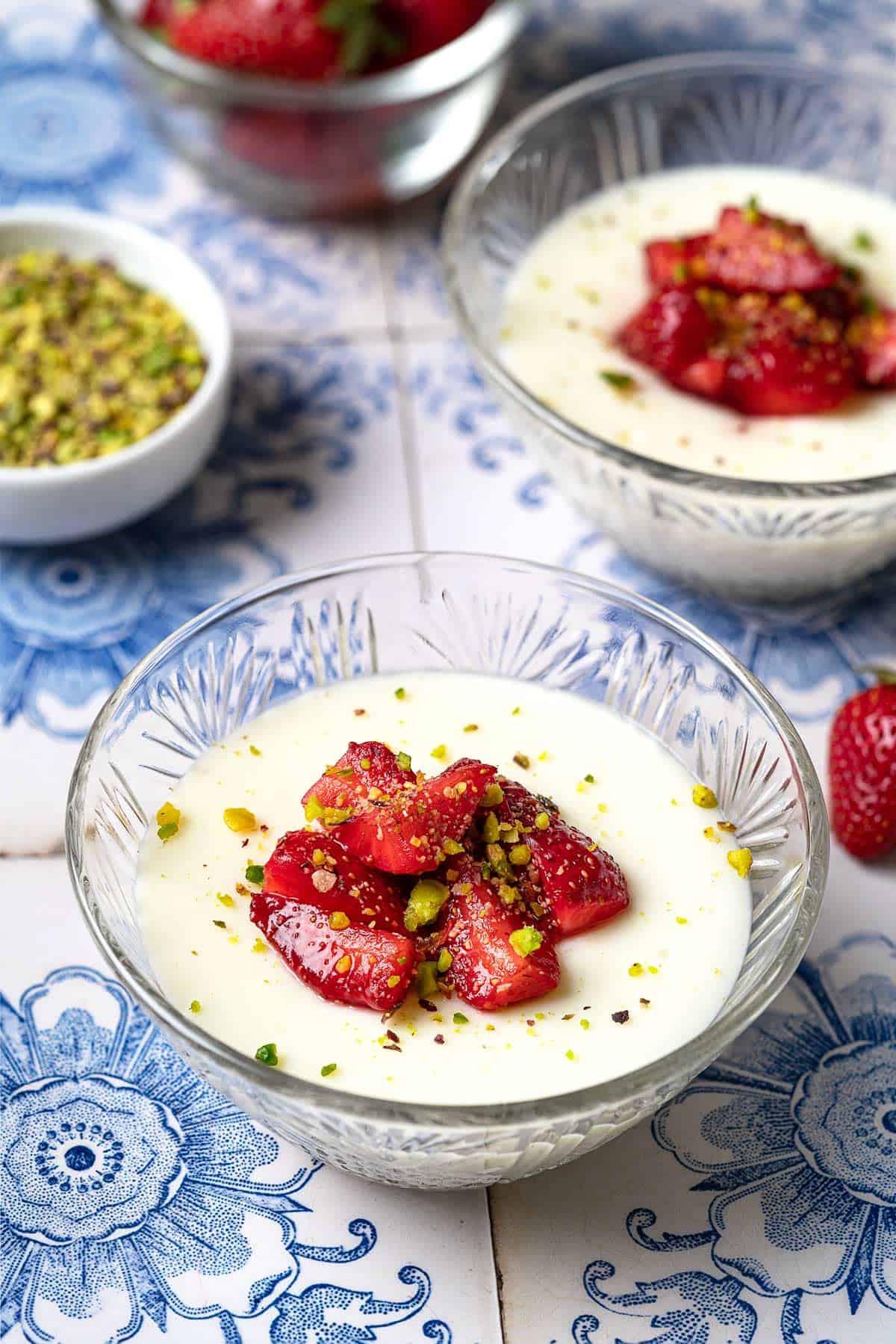 Muhalabia is a milk pudding enjoyed throughout many Arab, Middle Eastern and Mediterranean countries. The creamy milk pudding can be spelled in a number of different ways—you'll often see it written as "Muhallabi, Malabi, or Mehalabeya," with Greece and Turkey boasting their own versions.

It's especially popular in the summer months when the light and cooling dessert is a welcomed break from the region's sweltering heat. It has a smooth and decadent texture with a delicate, slightly sweet flavor.
Muhalabia is served cold, so it's convenient for dinner parties, especially after a summery meal of Cucumber Tomato Salad and Grilled Harissa Chicken. Make it in advance and keep it in your fridge so you don't need to do any last-minute preparations—you can just enjoy your time socializing by the grill.
In this milk pudding recipe, a simple sprinkling of pistachios and rose petals is traditional, but I love the addition of macerated fresh strawberries. It gives this light dessert another layer of texture and bright, fresh summer flavors.
Table of Contents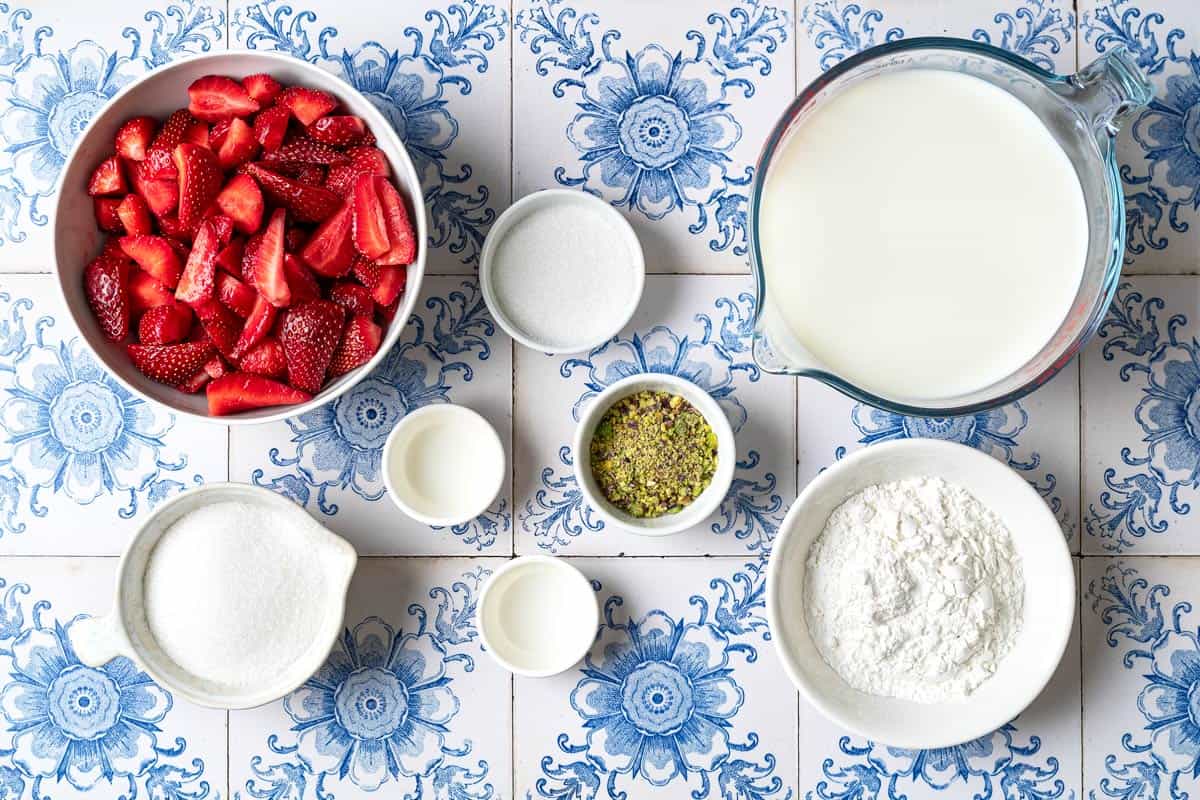 Muhalabia Milk Pudding Ingredients
This milk pudding uses simple, humble ingredients that are are often found in every household in the Middle East. Luckily, they're all easy to source regardless of location:
Dairy: Muhalabia is traditionally made with whole milk, but you can substitute with plant-based milks for a vegan option (I like almond milk). For an extra rich and creamy version I will swap ¾ cup of the whole milk for heavy cream.
Sugar: This recipe calls for ½ cup of sugar, but you can add up ¾-1 cup sugar if you like a sweeter dessert. Start with ½ cup and adjust to taste.
Cornstarch: A thickener for soups, sauces, and desserts, cornstarch is made from finely ground corn flour. You can substitute with rice flour but it would add a slight texture to the pudding.
Rose water: Rose water is created by distilling rose petals with steam. The floral scent goes well with spices, nuts, fruits, and desserts. Check the international foods aisle of your grocery store, or order our favorite rose water from our shop. You can learn all about rose water, how to cook with it, our favorite type, and how it's made in our "What Is Rose Water And How Do You Use It" essential guide.
Pistachios: Pistachios are a major part of Mediterranean and Middle Eastern desserts. They are famously a main ingredient in baklava, but they're also a garnish for many cakes, cookies, ice cream, and more. It's very traditional to garnish muhalabia and other creamy desserts like rice pudding with chopped pistachios. I love the flavor and color contrast of green pistachios in creamy puddings.
Strawberries: Strawberries are full of bright and fresh flavor. They are available in abundance in the summer months, and when they're in season they are super juicy and sweet. In this dessert, we take full advantage of their beautiful color and sweetness. You can substitute with other berries or seasonal sliced fruits. If you have extra time replace the macerated strawberries with strawberry compote scented with rose water and mint.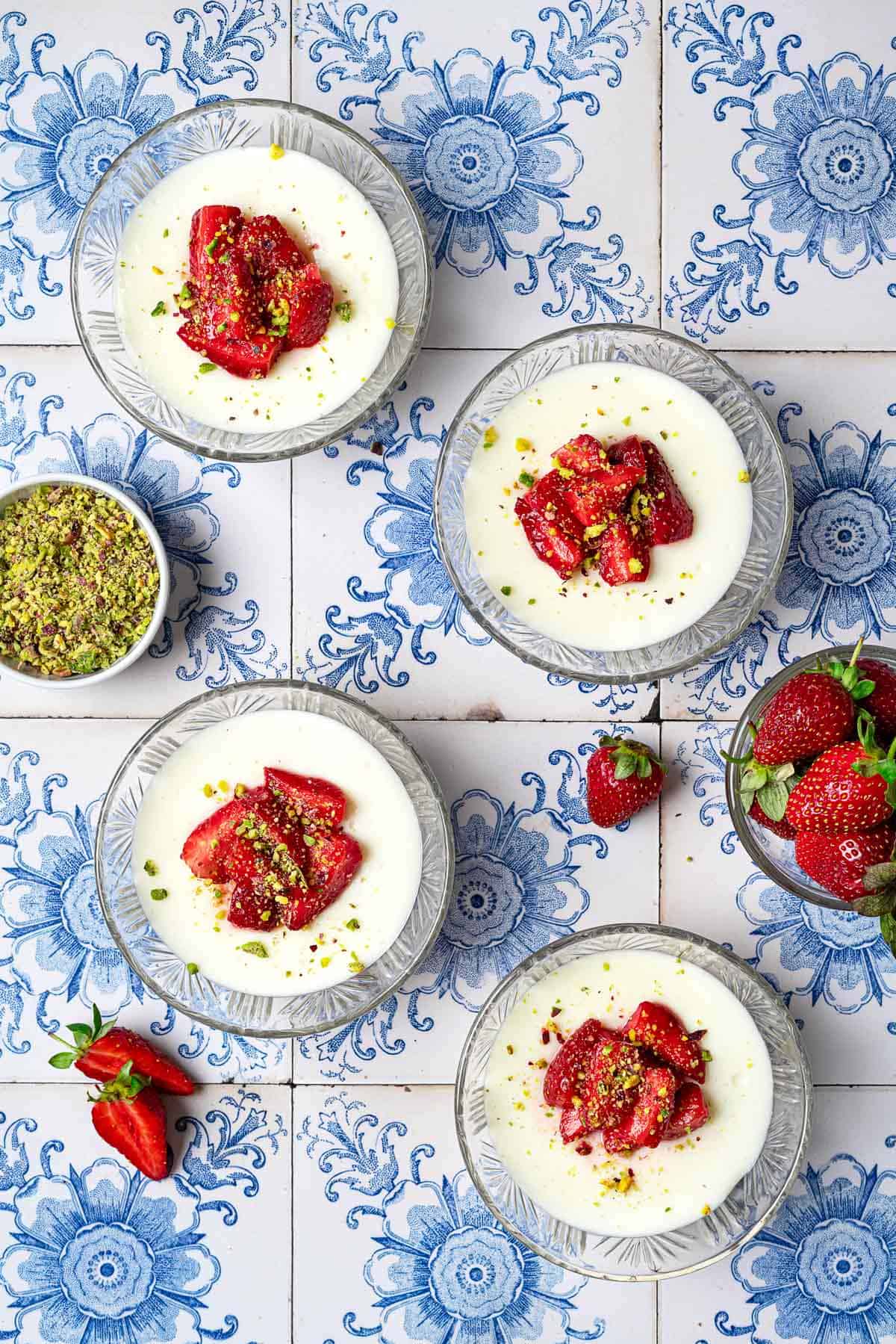 How to Make Muhalabia Milk Pudding
This milk pudding recipe comes together with just a few ingredients and one pot. To make Muhalabia:
Whisk the pudding ingredients: In a cold, medium-sized pot whisk together 4 cups of whole milk and ½ cup each of sugar and cornstarch. Whisk very well until well combined and the sugar and cornstarch have dissolved.
Heat the pudding: Put the pot on medium-high heat and continue whisking until it is bubbling. Lower the heat to medium and cook, stirring often, until the pudding thickens.
Flavor the pudding: Once thick, remove the pot from the heat and whisk in 1 teaspoon of rose water.
Chill: Divide into 4-8 individual cups, making sure to leave some space for the macerated strawberries. Set aside to cool, then chill in your refrigerator until set, at least 2 hours or up to 2 days.
Make the macerated strawberries: In a large mixing bowl, stir together 1 pound of quartered strawberries, 2 tablespoons of sugar, and ½ teaspoon of rose water. Let stand at room temperature until the fruit releases its juices, at least 30 minutes. Once macerated, refrigerate until you are ready to serve, up to 1 day.
Serve: Top the pudding with the macerated strawberries. Garnish with about 2 tablespoons of crushed pistachios and serve cold.
Ways to Mix it Up
Muhalabia's simple milk pudding is a blank canvas that will take on whatever flavor you choose to add to it. Feel free to customize this dessert to your preference.
Traditionally, muhalabia is flavored with rose water or orange blossom water and sometimes mastic, a pine-like tree resin that's most commonly used in Mediterranean and Middle Eastern cuisines.

Try making your own version of the pudding with flavors like vanilla, cardamom, cinnamon, or orange. From there, experiment with garnishes like shredded coconut or raisins and a sprinkling of cinnamon.

Additionally, while fresh strawberries pair well with the floral scent of rose. Feel free to experiment with other fruits and flavors like mixed berry compote.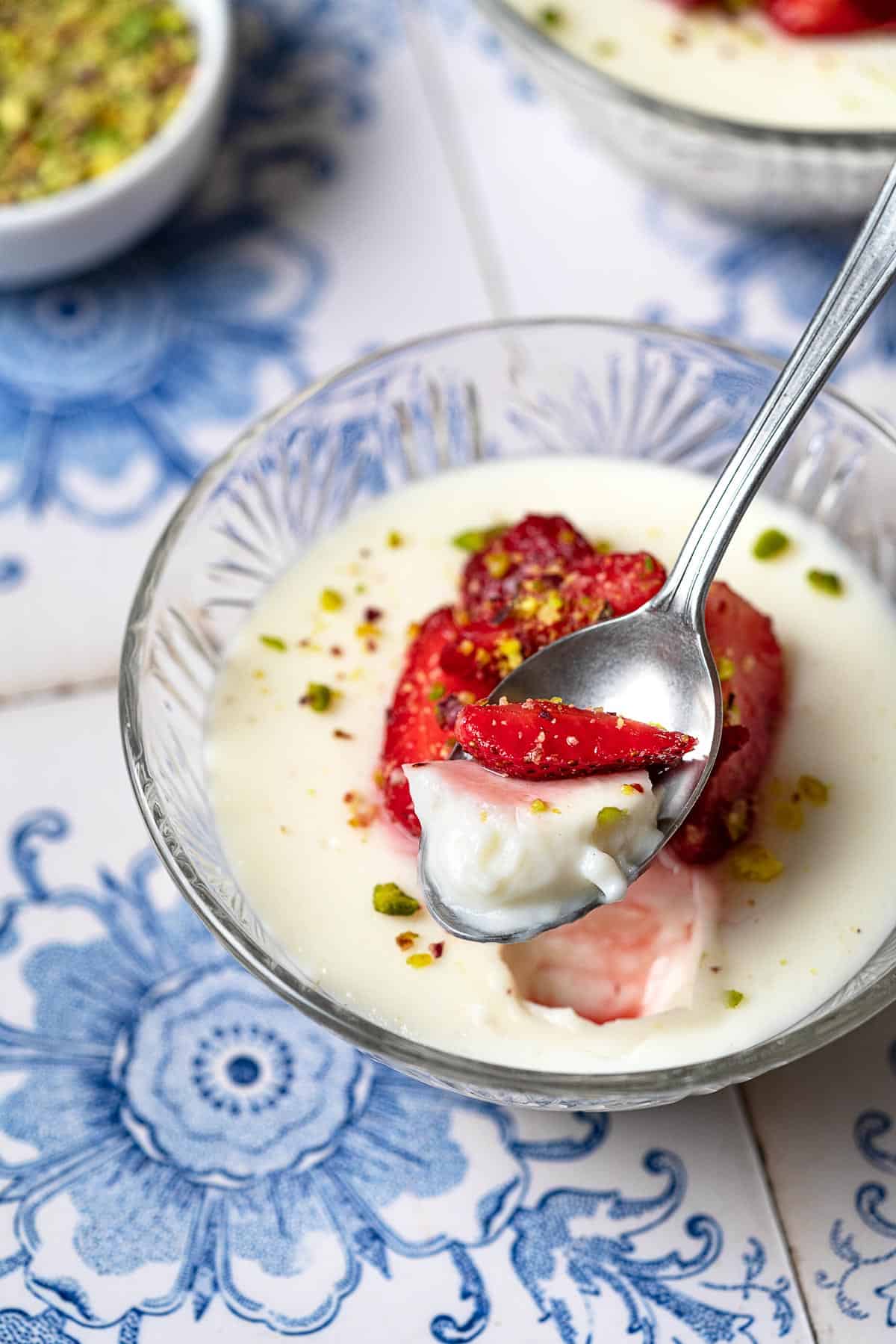 What to Serve with Muhalabia Milk Pudding
Muhalabia is a delicious light dessert to serve at brunch, perhaps after a feast of Middle Eastern breakfast staples like Shakshuka. Or, serve after dinner to top off a fresh summer BBQ with grilled favorites like Shish Tawook and Romaine Salad. Serve with hot cups of Arabic Tea with Fresh Mint, Lemon Ginger Tea or coffee.
Browse all Mediterranean Recipes.
Visit Our Shop.
Ó•Florale 100% Natural Rose Water
Made using a time-honored distillation process, a splash adds a delicate and aromatic quality to sweet and savory dishes, from compotes and rice pudding to ice-cold lemonade.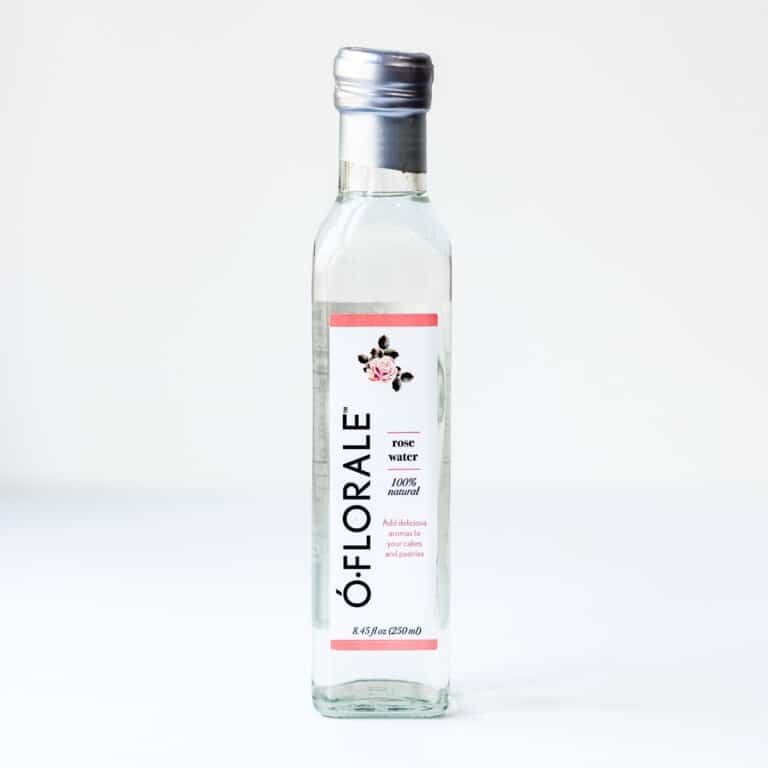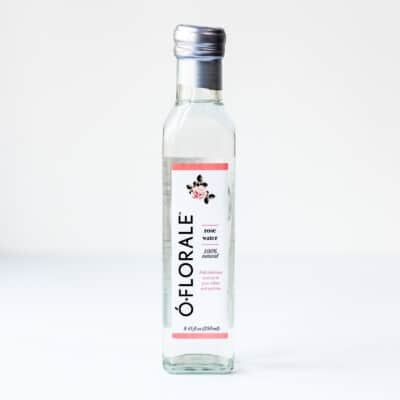 Mahalabia (Rose Water Milk Pudding)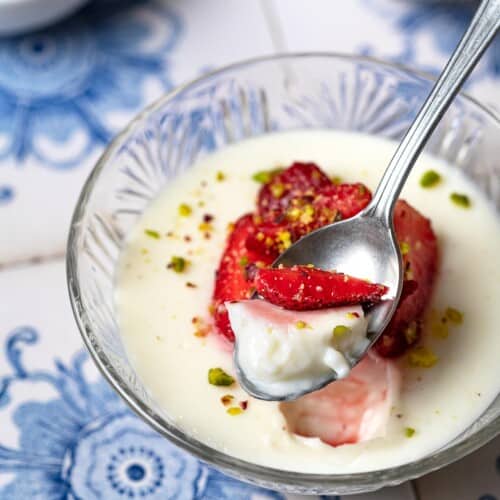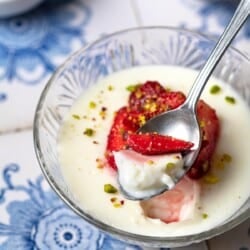 Muhalabia is a Middle Eastern milk pudding similar to Italian panna cotta but finished with rose water and pistachios. It has a smooth and creamy texture with a delicate sweetness. Plus, it can be made in advance. This delicious, easy, gluten- and fuss-free dessert is perfect for a holiday brunch or dinner party. This recipe will yield four 1-cup servings or eight ½-cup servings.
Ingredients
For the milk pudding:
4

cups

whole milk or almond milk

½

cup

granulated sugar

½

cup

cornstarch

1

teaspoon

rosewater

2

tablespoons

unsalted shelled pistachios,

crushed, for garnish
For the macerated strawberries:
1

pound

strawberries,

stems removed and quartered

2

tablespoons

sugar

½

teaspoon

rosewater
Instructions
To Make the Muhalabia (Milk Pudding):
Make the pudding: In a cold medium saucepan, whisk together the milk, sugar, and cornstarch until the cornstarch and the sugar have dissolved completely.

Heat the milk: Set the saucepan over medium-high heat and bring to a gentle boil. Whisk constantly so the milk doesn't stick to the bottom of the pan. Lower the heat to medium and continue to whisk until the mixture thickens, about 10 minutes.

Season the pudding: Remove the saucepan from the heat and whisk in the rose water.

Chill: Divide the pudding into 4-8 individual cups. Make sure to leave some space for the macerated strawberries. Set aside to cool, then refrigerate until the pudding is completely set and firm, about 2-3 hours or up to 2 days.
To Make the Maccerated Strawberries:
Season the strawberries: In a medium bowl, stir together the strawberries, sugar, and rosewater. Let stand at room temperature until the juices are released, at least 30 minutes or up to 2 hours. After at least 30 minutes, refrigerate until you are ready to serve (up to one day).
To serve:
Garnish and serve: Top the pudding with macerated strawberries. Garnish with the crushed pistachios and serve cold.
Notes
This recipe can be tweaked to your taste. Add more sugar if you have a sweet tooth, or add cinnamon, nutmeg, or other spices to give a depth of flavor.
Keep a close eye on things while you thicken the milk–whisk constantly to avoid any scorching.
Visit our shop to browse quality Mediterranean ingredients including olive oils, honey, jams, and spices.
Nutrition
Calories:
192
kcal
Carbohydrates:
33.3
g
Protein:
4.8
g
Fat:
5
g
Saturated Fat:
2.4
g
Polyunsaturated Fat:
0.5
g
Monounsaturated Fat:
1.3
g
Cholesterol:
14.6
mg
Sodium:
47.8
mg
Potassium:
289.5
mg
Fiber:
1.4
g
Sugar:
24.3
g
Vitamin A:
212.2
IU
Vitamin C:
33.4
mg
Calcium:
161.4
mg
Iron:
0.4
mg