This strawberry compote recipe will take you right to the heart of the Mediterranean with its subtle aromatic notes of honey, rose water, and fresh mint. Spoon it over yogurt in the morning or chocolate cake for dessert!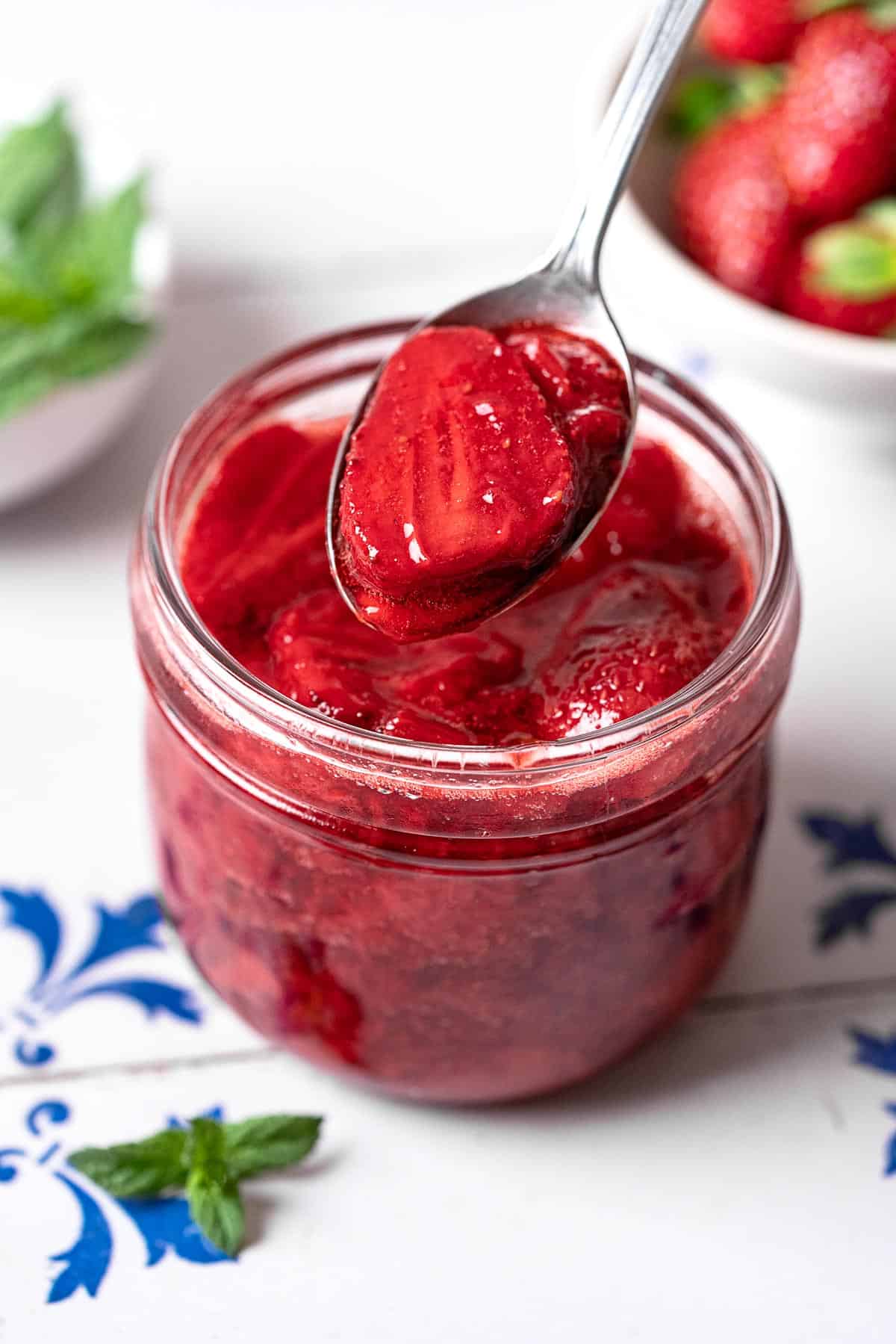 This is not your everyday strawberry compote! Inspired by classic Turkish dessert flavorings, this roasted strawberry compote is as delicious as it is surprising.

Unlike classic berry compote made on the stovetop, I roast the strawberries here for an irresistible depth of flavor. And, though mint and lemon zest bring a fresh summery flavor, rose water is the elusive ingredient. It enhances the floral notes of the strawberries and will leave guests wondering what exactly makes this complex compote different from any they've tried before.

The rustic texture of strawberry compote leaves some of the berries intact, making it heavenly over bowls of creamy Greek yogurt or Strawberry Frozen Yogurt. Top your pancakes with it in the morning or use it to complement your afternoon cheese board, or as a dip for Simit or Barbari bread for a sweet-and-savory late-night treat. Whatever you do, don't let a drop go to waste!
Table of Contents
What is Rose Water?
Rose water is an aromatic water made from rose petals. It gives a floral quality to everything from dessert to cosmetics.
During the Ottoman Empire, rose water was a popular addition to confections, toiletries, naturopathic products, and used in cultural ceremonies. Today, it's still as abundant in Turkey as it was centuries ago. You'll find it in everything from Turkish delight to baklava and sherbert.
To make rose water, rose petals are picked by hand and simmered with water at very low temperatures. The collected steam captures the essence of the rose in a bottle. You can learn all about rose water, how to cook with it, and how it's made in our "What Is Rose Water And How Do You Use It" essential guide.
What is Compote?
A compote is a chunky fruit sauce. You can make compote with a variety of fruits, with fresh berry compote being the most common. To make compote, simply stew fruit with a sweetener like sugar or honey until it becomes soft and juicy. From there, you can add citrus and herbs for depth of flavor.
Because strawberries are higher in their own natural acidity, I didn't add citrus juice to this recipe. That said, you can always adjust with a squeeze of lemon to taste.
Compotes are most often used as a topping for desserts. They also pair wonderfully with savory dishes, from grilled cheese to roast lamb (think cranberry sauce at Thanksgiving).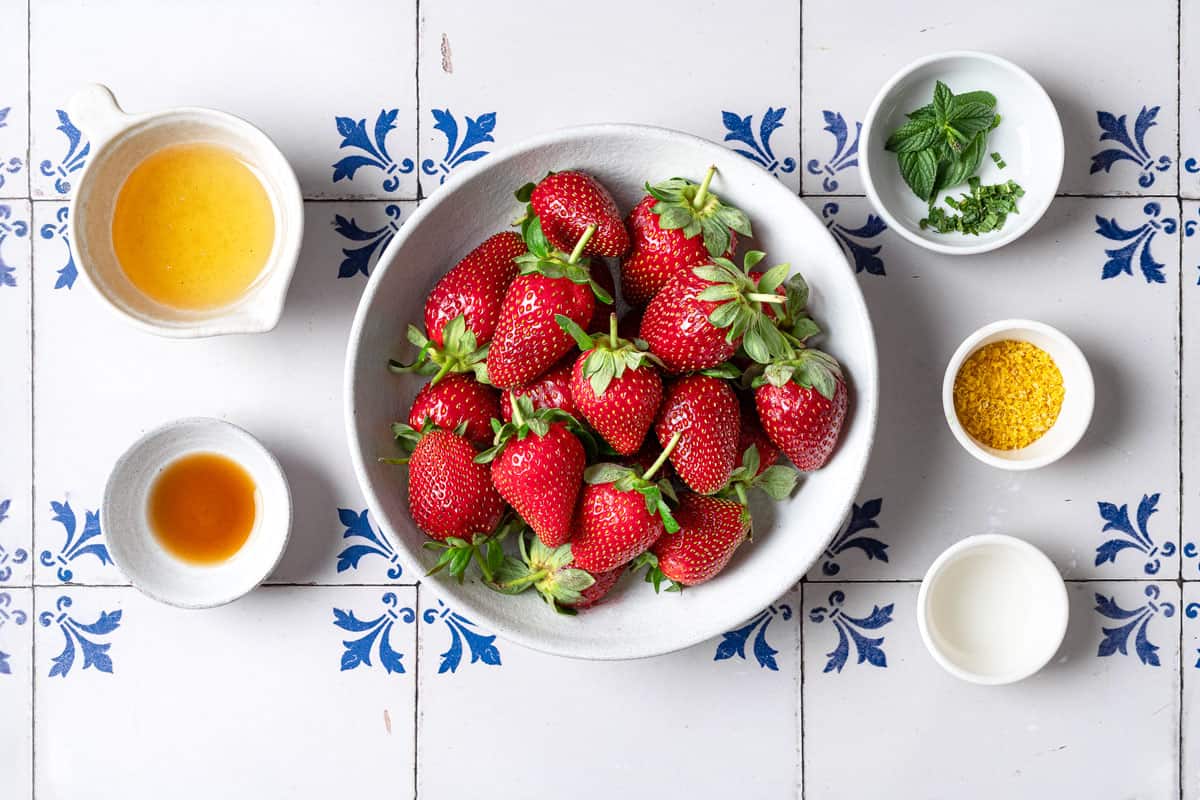 What is in Strawberry Compote?
This compote is made with a handful of ingredients, yet its subtle complexity surpasses any ordinary fruit topping. To make strawberry compote, you'll need:
Fresh strawberries: Ripe strawberries at the peak of the season are ideal, but don't worry if your strawberries aren't picture perfect. The roasting process and aromatic ingredients perfumes and concentrates even less vibrant strawberries.
Vanilla extract: Vanilla extract or vanilla bean both work well to enhance the flavor.
Rose water: Look for food-grade rose water. Cosmetic rose waters often have additives that aren't safe to consume and usually have a very strong smell. Check the international aisle at your local grocer or find our favorite all natural rose water at our shop.
Honey: High-quality honey, like our Greek Alfa honey, clover, or other light-colored honey works best. The milder taste allows the sweetness from the strawberries to shine.
Herbs and Citrus: Lemon zest adds a bright citrusy note to the compote. Mint and strawberries are a quintessential mix of sweet and refreshing.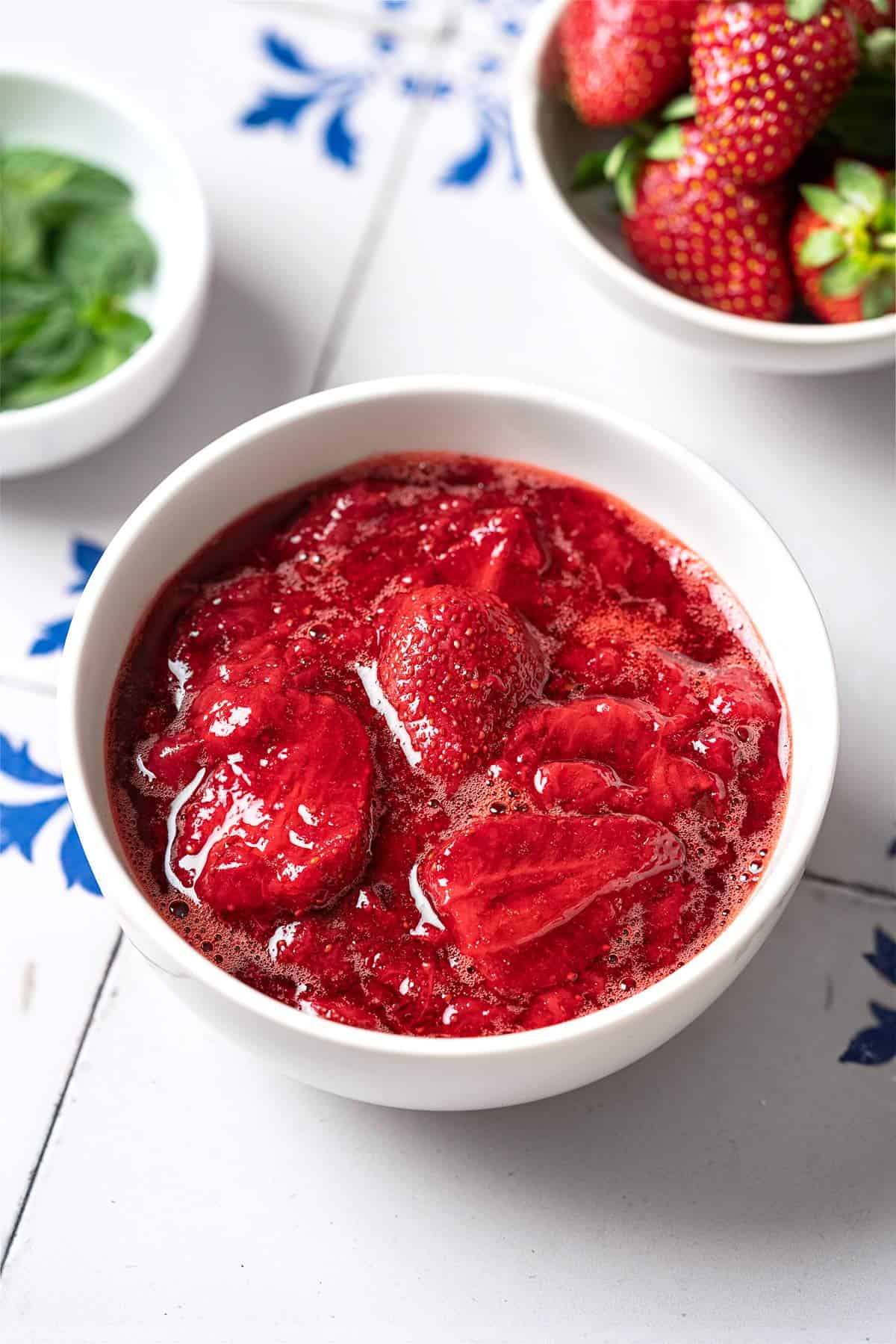 How to Make Strawberry Compote
Strawberry Compote is easy and quick to prepare while still being impressive thanks to the blend of uniquely Mediterranean ingredients.
Get ready: Preheat your oven to 375°F. Gently wash and dry 1 pound of strawberries completely to ensure that the honey mixture doesn't become diluted by excess water. Once dry, slice off their tops and cut them in half.
Coat the strawberries: Add the strawberries to a large mixing bowl. Add ½ teaspoon vanilla extract, ¼ teaspoon rose water, 2 ½ teaspoons honey, and ¼ teaspoon each of lemon zest and minced mint leaves. Mix gently until the strawberries are fully coated.
Roast the strawberries: Evenly distribute the strawberry mixture on a baking pan with 1-inch sides. Roast for 35 minutes, mixing halfway through. Once roasted, transfer to a heat-safe bowl, scraping the pan so that no juices are left behind.
Mash the strawberries: Mash the strawberry mixture rustically with a fork. Press until the juices release but there are still chunks of strawberry remaining.
Enjoy: Let cool for 5 to 10 minutes before serving, topping with fresh mint leaves and lemon zest if desired.
What to Serve with Strawberry Compote
Strawberry compote pairs well with both sweet and savory dishes. This makes your choices practically endless! Serve over your favorite vanilla ice cream or custard, spoon it over breakfast foods like Greek yogurt or healthy blueberry muffins, and don't shy away from trying it with pork chops and baked cheeses.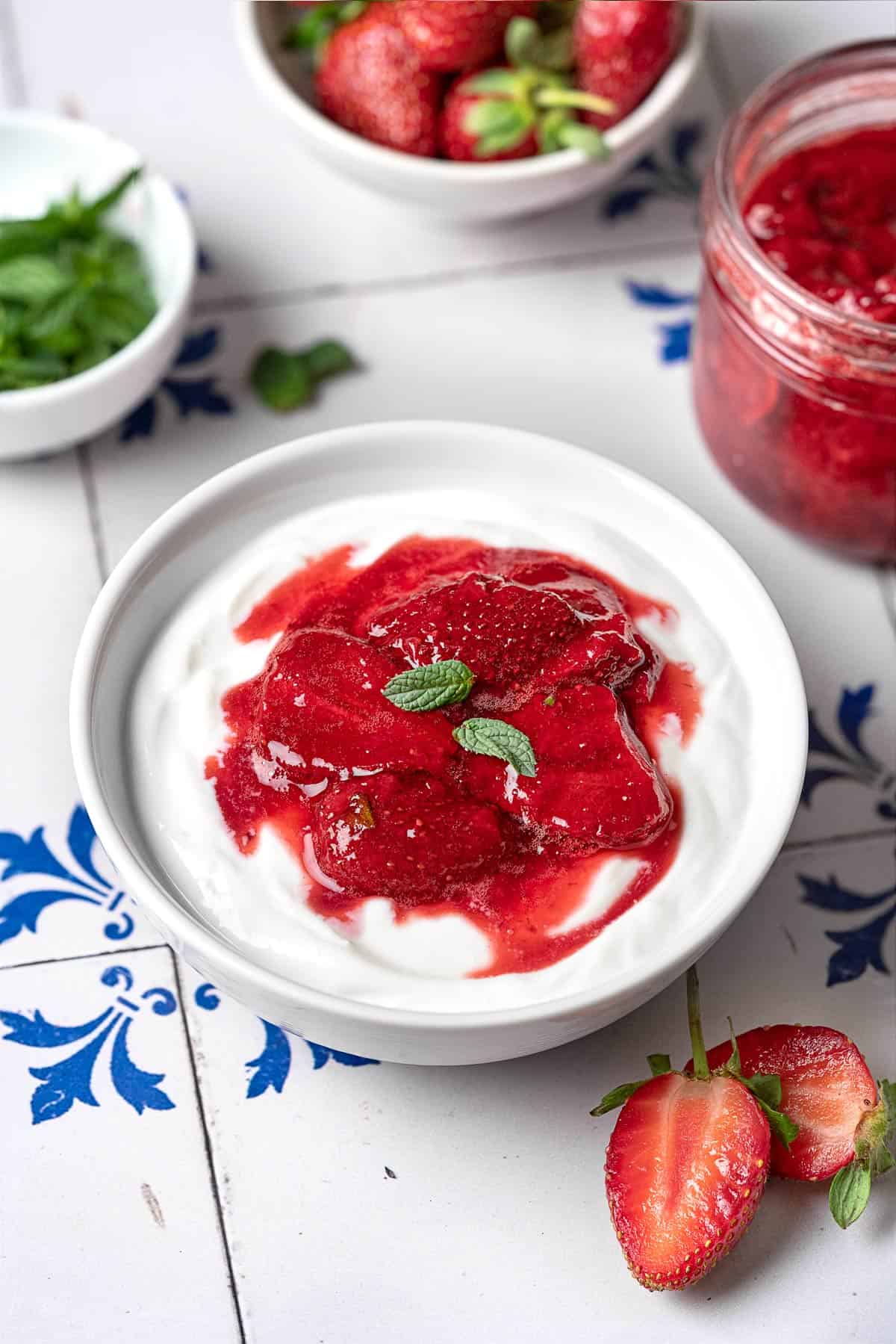 Leftovers and Making Ahead
To make ahead or store leftovers, simply let the mixture cool before placing it in an airtight container. Refrigerate for up to 2 weeks or you can freeze it for up to 3 months.

Unlike its close cousin, jam, compote doesn't use excess sugar for preservation. Less sugar means the fresh flavors can shine, enhancing the strawberries' natural sweetness. Because it's not preserved, though, it's best kept in the fridge and not suitable for waterbath canning or storing in the cupboard.

When you're ready for a delicious serving of fresh strawberry compote, enjoy cold, let the mixture come to room temperature or gently warm it in a pan on low.
More Sweet Mediterranean Delights
Browse all Mediterranean Recipes.
Visit Our Shop.
Ó•Florale 100% Natural Rose Water
Made using a time-honored distillation process, a splash adds a delicate and aromatic quality to sweet and savory dishes, from compotes and rice pudding to ice-cold lemonade.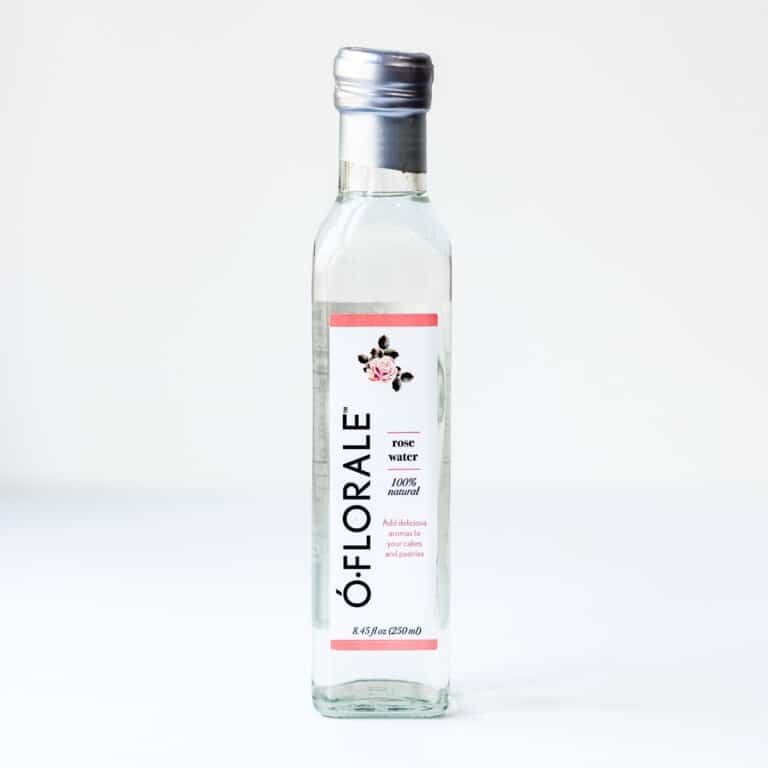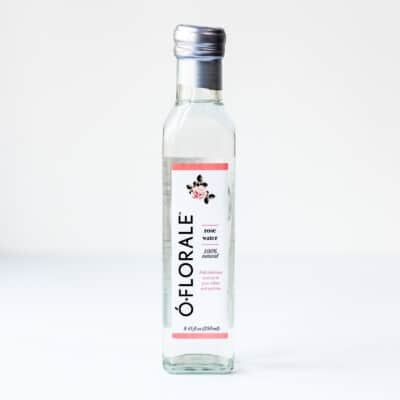 Strawberry Compote with Rose, Honey, and Mint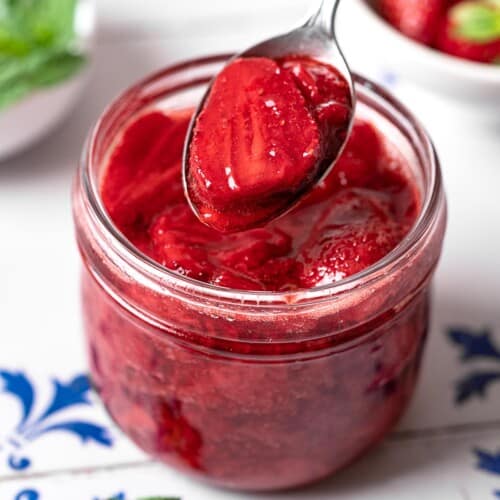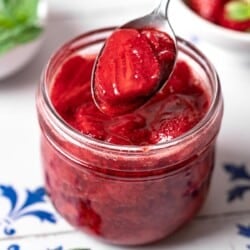 This strawberry compote boasts a Mediterranean flair with its delicate hints of honey, rose water, and fresh mint. Roasting the strawberries in the oven draws out their deeply sweet and tart flavors, and gives the compote a slightly caramelized quality. It's finished with a rustic texture that makes the perfect topping for creamy yogurt, vanilla ice cream, Strawberry Frozen Yogurt, or pancakes. Or, serve as a complement to salty cheeses in a classic charcuterie board.
Ingredients
1

pound

fresh strawberries,

cleaned and dried

½

teaspoon

vanilla extract

¼

teaspoon

food-grade rose water

2 ½

tablespoons

honey

¼

teaspoon

lemon zest

¼

teaspoon

minced mint leaves

Fresh mint leaves and lemon zest,

for garnish (optional)
Instructions
Get ready: Preheat your oven to 375°F.

Prep the strawberries: Hull the strawberries (slice off their stems and any bright white part at the top). Slice them in half and place in a large mixing bowl. Toss in the vanilla, rose water, honey, lemon zest, and mint.

Roast: Evenly distribute the strawberry mixture onto a baking pan with 1-inch sides. Roast for 35 minutes, mixing halfway through.

Mash: Carefully scrape the roast strawberries into a large mixing bowl. Mash rustically with a fork until the juices release but there are still chunks of strawberry remaining.

Serve: Let cool for 5 to 10 minutes. Serve spooned over ice cream, pancakes, Greek yogurt, or alongside a charcuterie board. Optionally, garnish with lemon zest and mint.
Notes
High-quality summer strawberries often come caked in dirt. To wash them thoroughly, let them soak in a bowl of cold water as you remove their tops.
To make ahead or store leftovers, let the mixture cool completely. Place in an air-tight container and refrigerate for up to 3 days. When ready to use, let the mixture come to room temperature or gently warm it in a pan on low heat.
Visit our shop to browse quality Mediterranean ingredients including olive oils, honey, jams, and spices.
Nutrition
Calories:
51.8
kcal
Carbohydrates:
13.1
g
Protein:
0.5
g
Fat:
0.2
g
Saturated Fat:
0.01
g
Polyunsaturated Fat:
0.1
g
Monounsaturated Fat:
0.03
g
Sodium:
1.1
mg
Potassium:
120.9
mg
Fiber:
1.5
g
Sugar:
10.9
g
Vitamin A:
9.3
IU
Vitamin C:
44.6
mg
Calcium:
12.8
mg
Iron:
0.3
mg