This frozen yogurt recipe takes only 5 minutes of work, and you do not need an ice cream maker! Be sure to check out my tips for how to make frozen yogurt that is creamy and delicious.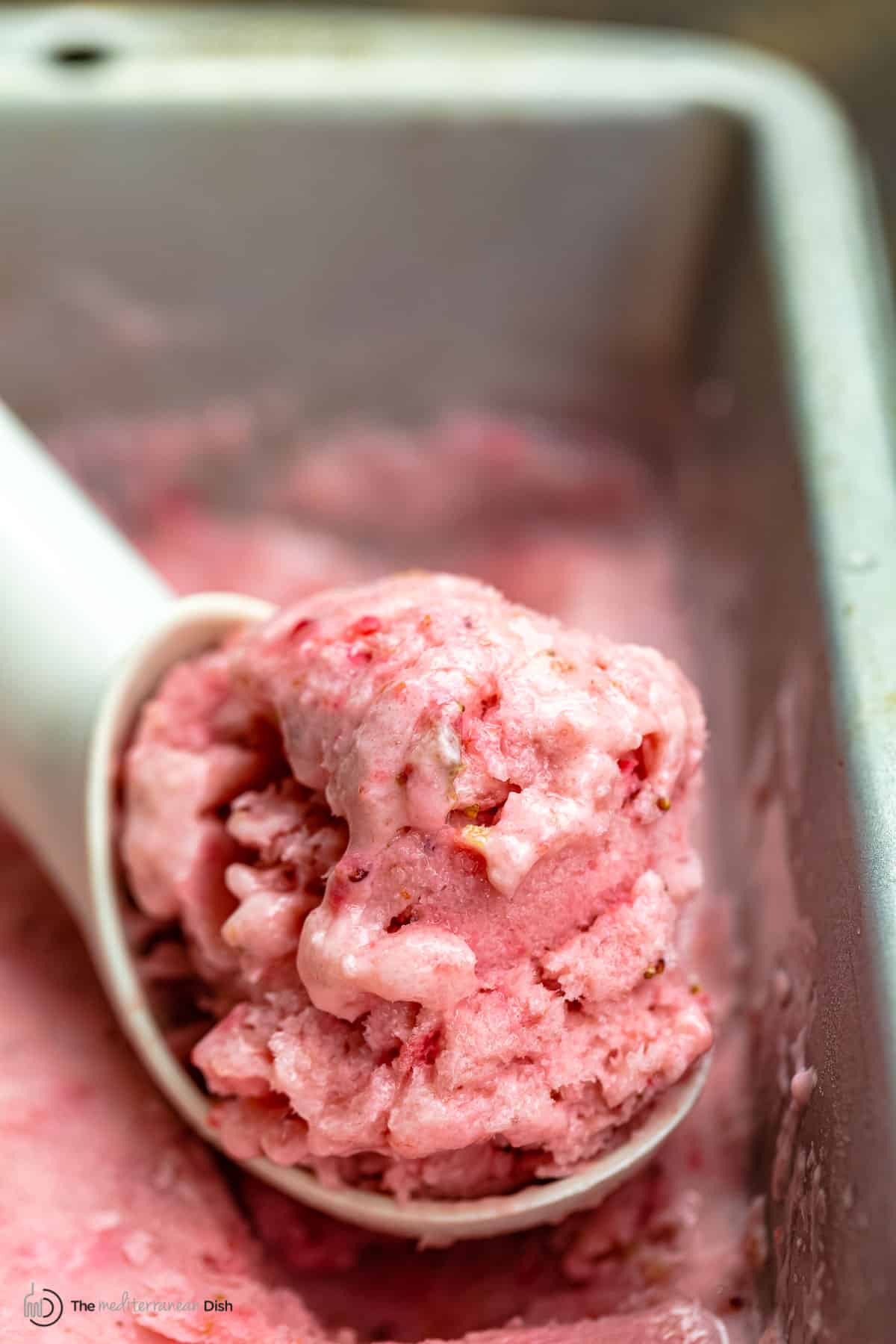 As much as I love going out for a tasty fro-yo, it is so easy to make your own frozen yogurt at home. Plus, it can be a great way to use up some ripened summer fruit.
I had an abundance of fresh strawberries, so I turned half of them into Strawberry Compote with Rose, Mint, And Honey. I sliced the rest and froze them for later use. Then, of course, the first thing I thought to make was strawberry frozen yogurt. So here we are!
This homemade frozen yogurt recipe takes literally 5 minutes of work! And a few tips ensure a delicious, creamy treat that is almost as indulgent as ice cream but far better for you.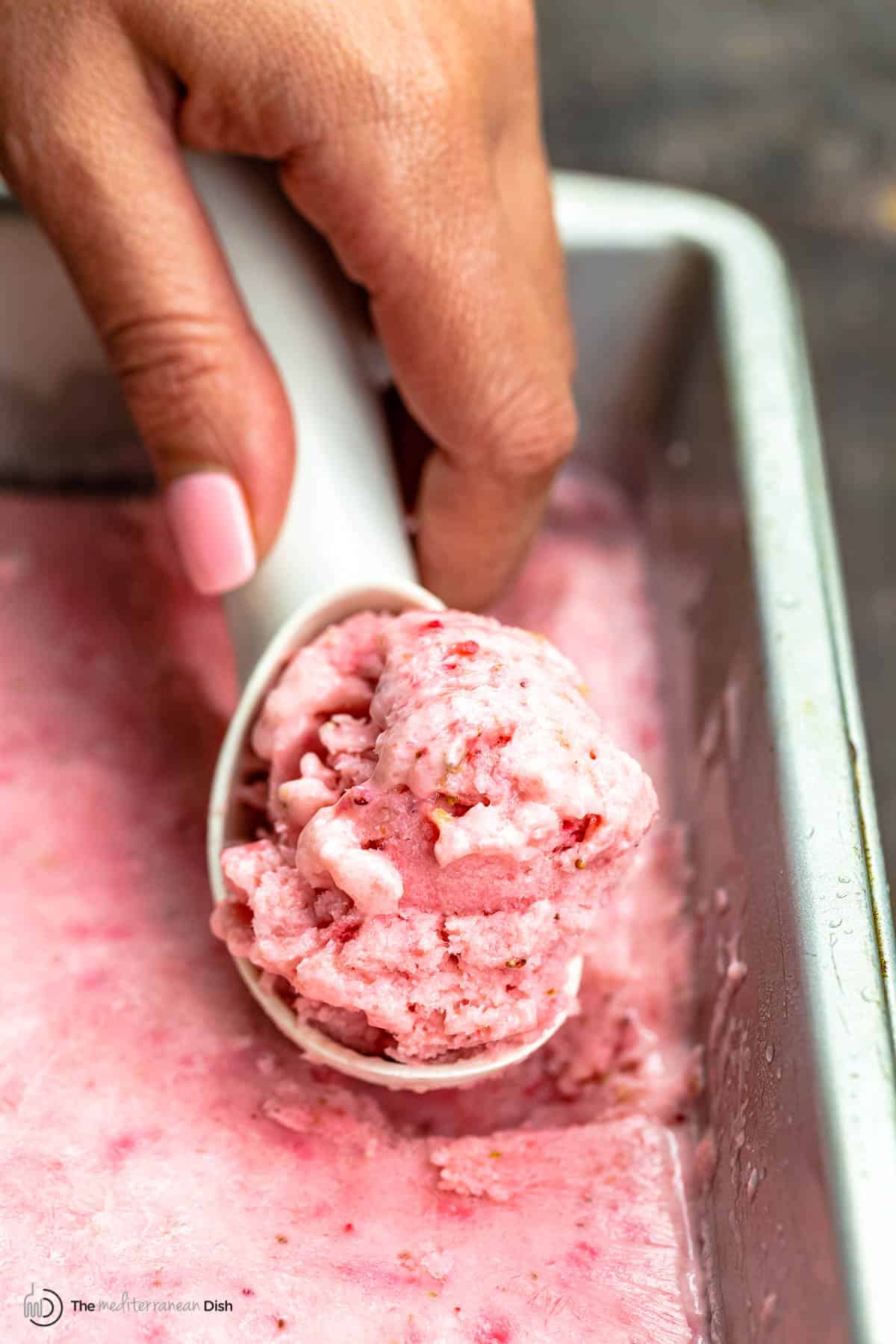 When it comes to making your own frozen yogurt at home, the consistency can be tricky because when you freeze yogurt, the water component of it forms crystals causing your fro-yo to be more on the icy than creamy side. Even if you're not expecting it to be as creamy as ice cream (which it will not fully be), there are a few tips easy tips that can help you make a creamier frozen yogurt at home.
How to make frozen yogurt more creamy?
Use whole milk Greek yogurt and add cream if you like. Not only do I love the rich and tangy flavor of Greek yogurt, but it is also far thicker in consistency. Greek yogurt is known as concentrated or strained yogurt where whey and other liquids have been eliminated, which makes a better, creamier base for fro-yo. You also have the option to add a little heavy creamy. And if you really want the thickest, creamiest result, you might even swap the Greek yogurt for labneh, which is extra strained yogurt (I'm totally doing this next time!)
Use a little corn syrup. I say corn syrup is optional here, but a little bit of it can help the texture of your strawberry frozen. yogurt by preventing the formation of large ice crystals while the mix freezes.
Use some sugar. I wanted so badly to rely only on honey for this recipe, and it does work with just honey, but the sugar here does two things. First, similar to corn syrup, it does help the texture. And as it freezes, the yogurt mixture will loose some of its sweetness, so even if tastes good to you before freezing, it will be dulled later. The added sugar helps the flavor.
A banana can help! A natural way to add creaminess and volume to a strawberry frozen yogurt is simply adding a sliced frozen banana.
Cover the top of the yogurt mixture with parchment paper before freezing! The simple act of adding a layer of parchment on the surface of the yogurt before tightly covering the container will also help keep ice crystals from form.
Ingredients
You only need a handful of ingredients to make this recipe, and if you don't feel like strawberry frozen yogurt, you can use frozen fruit of your choice. The ratio of fruit to yogurt is important, and I've found that 6 cups of sliced frozen fruit to 1 cup of Greek yogurt to work well. Here is what you need to make this recipe:
6 cups frozen sliced fruit. In this case I used strawberry and banana, but you can try or another fruit combination of your choice. Frozen mango, peaches, or berries are all great options.
1 cup whole milk Greek yogurt. Do not use fat free or low fat Greek yogurt.
Honey and sugar to sweeten. I used Greek honey and granulated sugar. You can play with the amounts to your liking, but for me a ¼ cup each worked well.
Orange or Vanilla extract
Corn syrup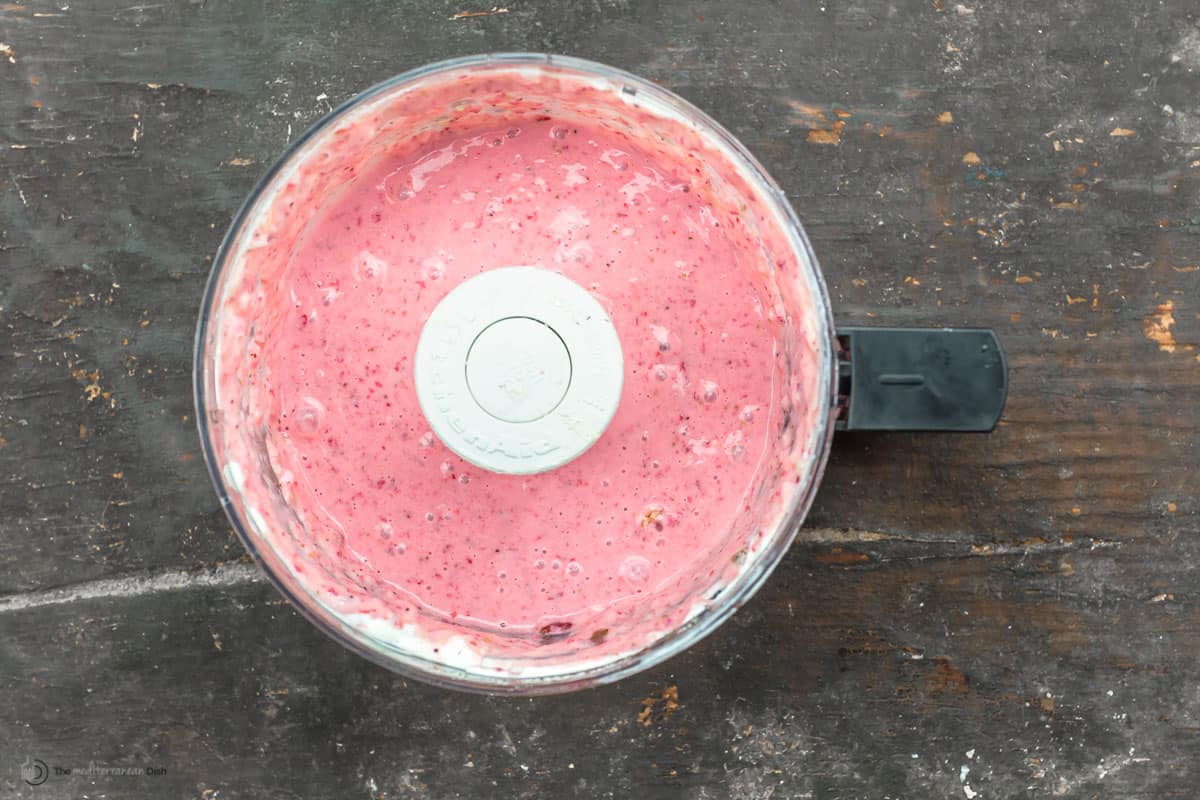 How to make frozen yogurt from scratch
You do not need an ice cream maker to make this easy frozen yogurt recipes, your food processor or a good blender is just fine!
To make frozen yogurt from scratch using your food processor, all you do is add your sliced frozen fruit, Greek yogurt, honey and sugar to sweeten, orange extract, and a little corn syrup to your food processor. From there, just blend until everything is well combined into a smooth, creamy mixture that is almost like a milk shake or thick smoothie.
Then, select a good freezer-safe container that you can tightly cover. Transfer the yogurt mixture to the container and smooth the surface. Add a piece of parchment to cover the surface of the yogurt mixture, then cover tightly and freeze until it hardens.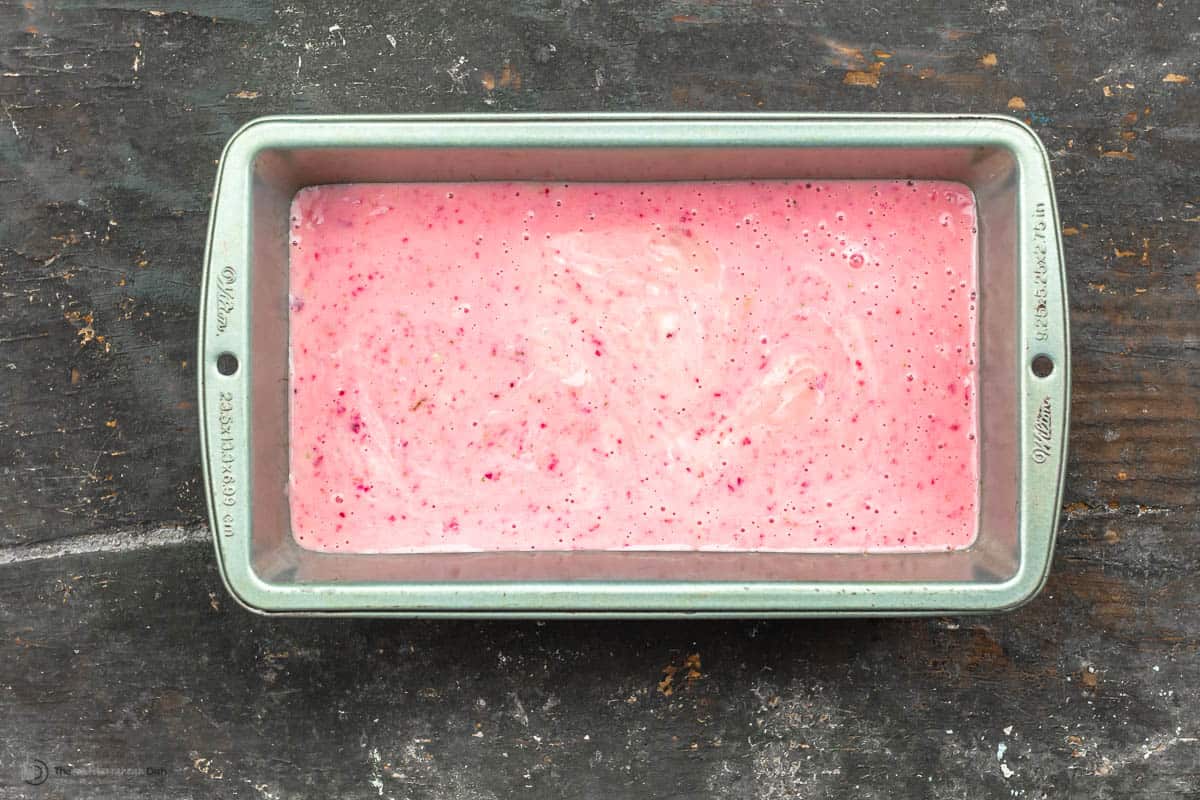 How long do you need to freeze it?
You can absolutely serve the strawberry Greek yogurt immediately in glasses as a milk shake or a smoothie. But to serve it as a frozen yogurt treat, you do need to freeze it for at least 6 hours until it hardens. Take it out of the freezer and allow it to sit for a few minutes so it is easier to scoop and serve.
You may also enjoy
Hungry for more? Browse my 50+ Top Mediterranean Diet Recipes or all Mediterranean recipes.
Visit Our Shop for quality Mediterranean ingredients.
Easy Homemade Frozen Yogurt Recipe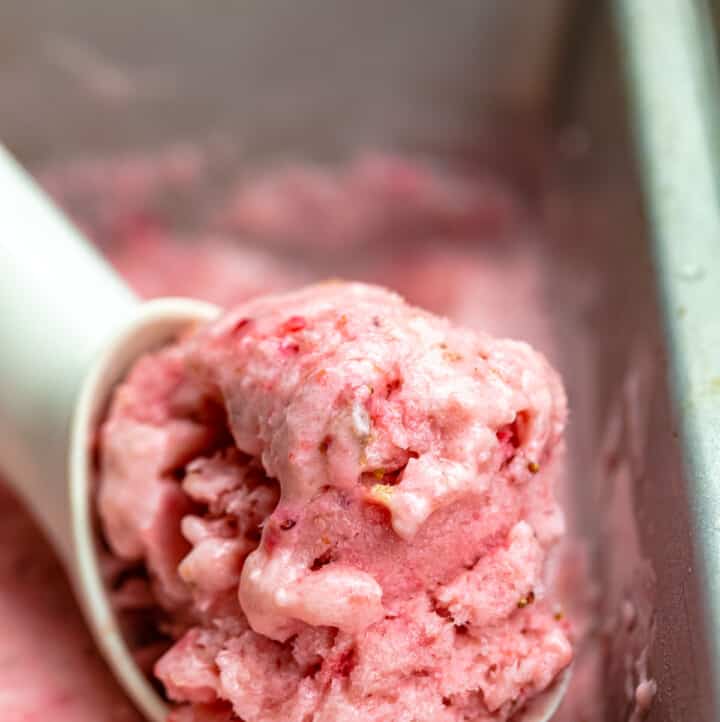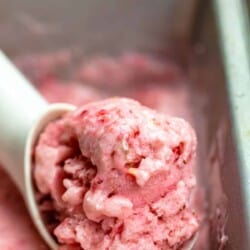 Delicious and creamy frozen yogurt made with the frozen fruit of your choice (I used strawberries and bananas). It takes just 5 minutes of work, but be sure to check out my tips to achieve a creamy texture.
Ingredients
4

cups

sliced frozen strawberries,

or other frozen fruit of your choice (see notes)

2

cups

sliced frozen banana

1

cup

Whole milk Greek yogurt

2

teaspoon

orange extract,

or vanilla extract, if you like

4 to 6

tablespoon

honey,

more to your liking, I used Greek honey

¼

cup

sugar,

optional but highly recommended

1

tablespoon

corn syrup,

optional
Instructions
Combine the frozen strawberries, banana, yogurt, orange extract (or vanilla extract), honey, sugar, and corn syrup in the bowl of a food processor fitted with a blade or a heavy duty blender.

Blend until everything is combined into a creamy smoothie-like mixture. Taste, and if you like it sweeter add a bit more honey.

Transfer the mixture to a freezer safe container and smooth the surface. Press a piece of parchment against the top of the yogurt to prevent ice crystals from forming. Freeze for at least 6 hours or overnight.

To serve, allow the frozen yogurt to sit at room temperature for a few minutes just until soft enough to scoop. Scoop the amount you need (long, shallow pulls or strokes will produce better scoops). Enjoy!
Notes
For best flavor and consistency: It is important to use whole milk (full fat) Greek yogurt here for the best consistency, and the corn syrup does help if you have it. And while the sugar is optional, it does help the consistency of the frozen yogurt. If you want an even creamier finish, add ¼ cup of heavy whipping cream with the frozen fruit and rest of the ingredients before blending. And if you like, you can swap out the Greek yogurt for its thicker cousin, labneh (although it is more on the tart side and will require a bit more sweetner).
Other frozen fruits to try: frozen mango, peach, or other berries of your choice. Depending on what you choose, you may eliminate the banana.
To serve immediately, simply transfer the fro yo mixture to glasses and serve as a smoothie.
Storage: you can store frozen yogurt in the freezer in a tightly-closed container for up to 2 weeks. It is best consumed in the first 3 days when its flavor and consistency is at its best.
Visit our shop for quality Mediterranean ingredients
Nutrition
Calories:
146.5
kcal
Carbohydrates:
33.1
g
Protein:
4.3
g
Fat:
0.5
g
Saturated Fat:
0.1
g
Trans Fat:
0.1
g
Cholesterol:
1.7
mg
Sodium:
13.9
mg
Potassium:
273.7
mg
Fiber:
2.5
g
Sugar:
28.2
g
Vitamin A:
25.4
IU
Vitamin C:
58.2
mg
Calcium:
54.1
mg
Iron:
0.5
mg