Juicy pork chops, pan-seared in a cast-iron skillet and perfumed with bay leaf and fresh lemon. Ready in about 20 minutes!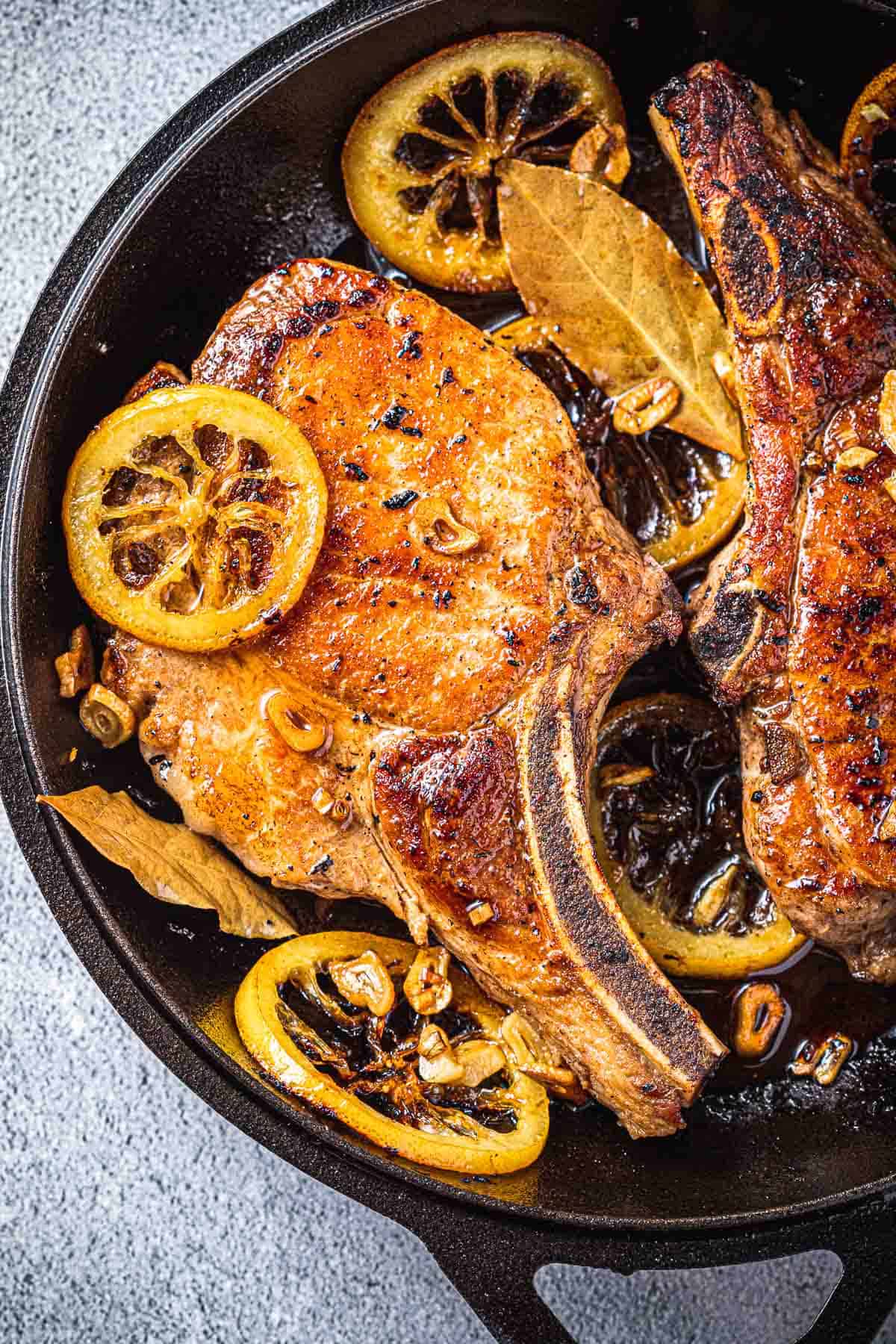 Great food doesn't have to be complicated. Quality ingredients, a good skillet, and basic cooking techniques make this easy pan-seared pork chop recipe shine.

First, I infuse the olive oil with garlic, bay leaves and lemon, then sear the pork in the flavorful oil. Once I have the sear I finish cooking the bone-in chops with a splash of wine or stock. The result is a gloriously juicy, tender pork chop with caramelized crust enhanced with the bright flavors of the aromatics.

It only takes about 20 minutes to cook pan-seared pork chops. So I either start my sides ahead of time or opt for side dishes that are just as easy to pull together. A couple of ideas to get you started are Roasted Garlic Mashed Potatoes for a heartier side or Lemon Garlic Asparagus for something on the lighter side. If you have comfort food on your mind I highly recommend serving this atop a nice plate of Creamy Polenta.
Table of Contents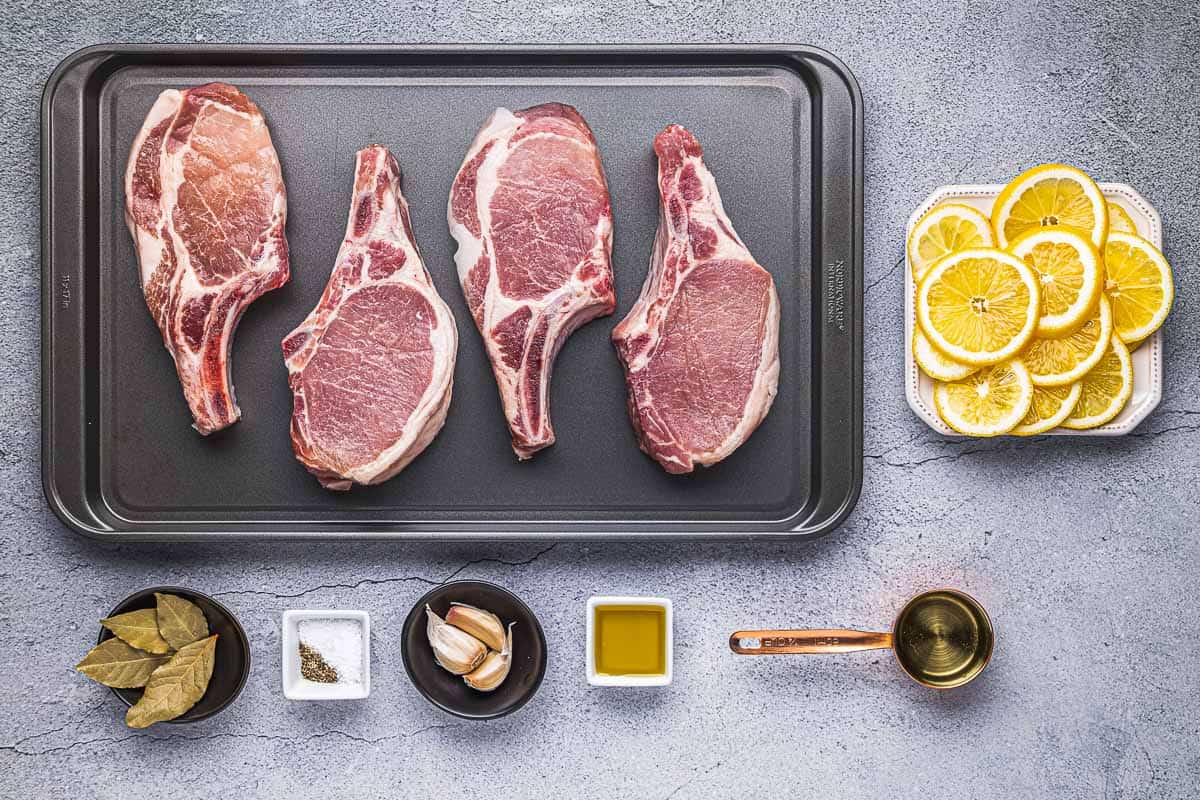 What's in this Recipe
These pan-seared pork chops are ready in under 30 minutes and require only a few ingredients to make. Cooking them in a cast-iron skillet browns them beautifully and makes them succulent and flavorful.
Bone-in pork chops: Bone-in pork chops tend to have more flavor than boneless, and there is less risk of them drying out and turning tough, which is why I prefer them in this recipe. Use good-quality pork from a trusted source.
Extra-virgin olive oil: Just 2 tablespoons are needed to brown the chops and sauté the aromatics that flavor this dish.
Garlic: Cut 3 cloves into thin slices to soften them in the oil.
Fresh bay leaves: Bay leaf is an herb that I love and is terribly underappreciated. It adds a rich perfume and depth of flavor to the chops.
Fresh lemon: Cutting the lemon into slices and browning them in the pan caramelizes them and adds a burst of bright flavor.
Fine salt and freshly ground pepper round out the flavors in this dish.
Dry white wine: A splash of dry white wine—just ¼ cup—adds zing and helps to finish cooking the chops.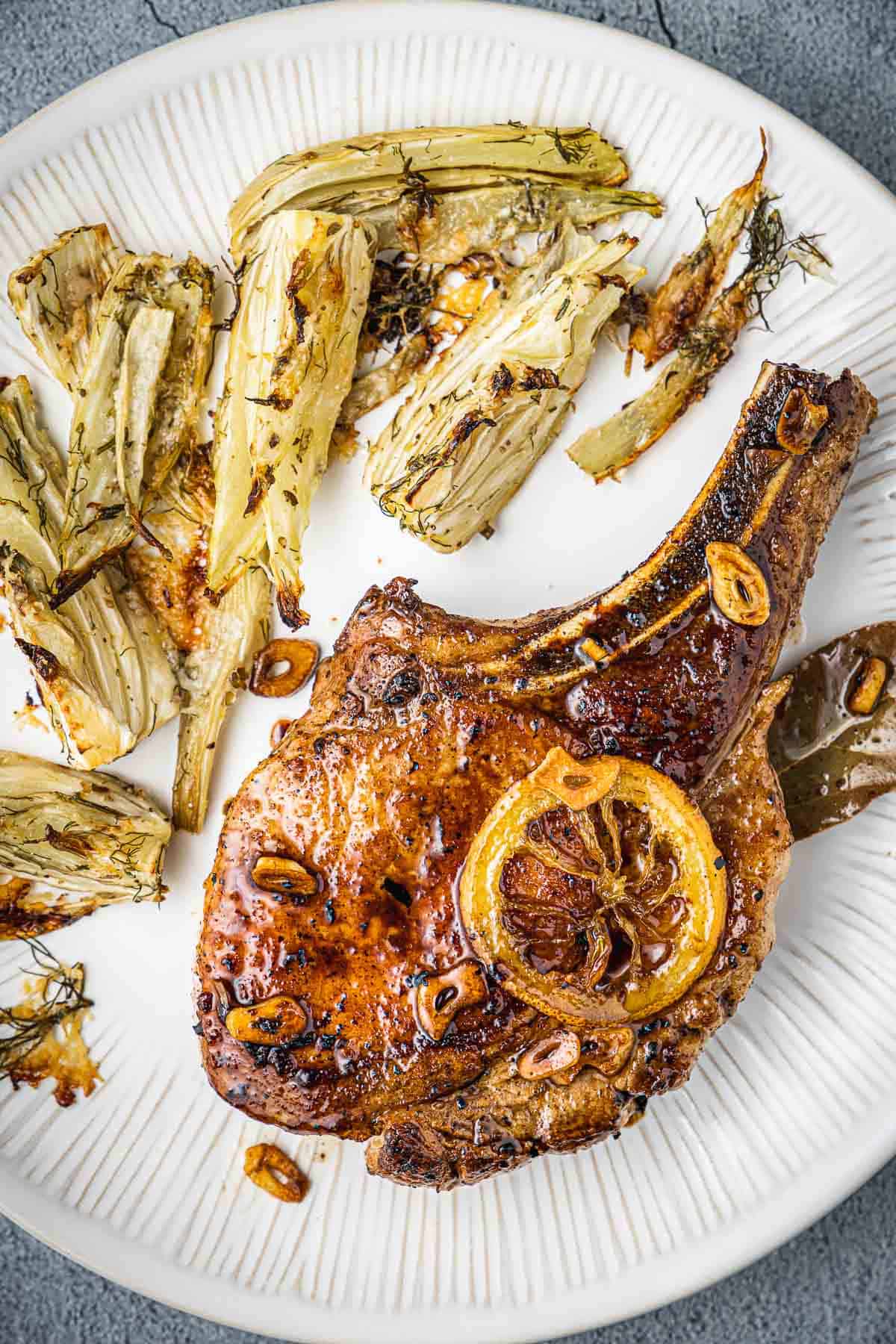 How to Make Juicy Pork Chops
If you've ever had dry or tough pork chops, you're not alone. Pork chops are easy to overcook.

However, you can avoid that problem by starting with high-quality meat, following this recipe, and using a good skillet. A well-seasoned cast-iron skillet is best, but a heavy-bottomed stainless-steel skillet also works well.

When it comes to taking the temp on meat, an instant-read meat thermometer is best. It will help you judge when the pork chops are perfectly cooked and help you get the results you're after. I like tender chops, but I don't care for pink pork, so I cook them to 145°F, which gives me juicy meat that is not underdone. I'm careful to avoid going above 145°F, as pork can go from tender to tough very quickly.

For those who remember the old USDA recommended safety guidelines of cooking pork to 160°F the USDA updated their guidelines in 2020. The current USDA recommended temperature for cooked pork is 145°F.
Start with the aromatics: Heat the olive oil, garlic, and bay leaves in the skillet to soften the garlic and infuse the oil. Then transfer them to a plate.
Caramelize the lemon slices: Add the lemon slices to the skillet and let them brown on both sides to lightly caramelize them. Then put them on the plate with the garlic and bay leaves.
Trim the pork chops: Pork chops tend to curl as they cook. Avoid this by making a series of small vertical (top to bottom) cuts in the fat along the edge of the chops. This makes for more even cooking.
Season and sear the pork chops: Sprinkle the chops on both sides with salt and pepper. Transfer them to the hot skillet, and brown them for about 2 to 3 minutes on each side to get a good sear. Take care not to crowd the skillet. Brown the chops in batches if necessary.
Deglaze the pan: Pour in the wine (or if you don't use alcohol use the same amount of chicken stock) and let it bubble around the chops for about 30 seconds.
Finish cooking the pork chops: Lower the heat and return the bay leaves, garlic, and lemon slices to the pan. Let the chops finish cooking, anywhere from 3 to 5 minutes more, depending on their thickness. You can turn them once or twice during this time to coat them with the pan juices. Use an instant-read meat thermometer to be sure that the meat is cooked to 145° F and no more.
Pork Chops Worth the Splurge
Thick, bone-in pork chops are a treat I like to splurge on every once in a while. When I do, I want the meat to be the best quality.

I steer clear of mass-produced pork bred to be lean. Instead, I look for pork from small local farms and heritage producers. Where I live it's easy to connect with small farmers at my farmer's market, and I would guess there is probably someone near you too. A few heritage breeds to ask your local farmer or butcher about are:
Berkshire
Red Wattle
Duroc
Tamworth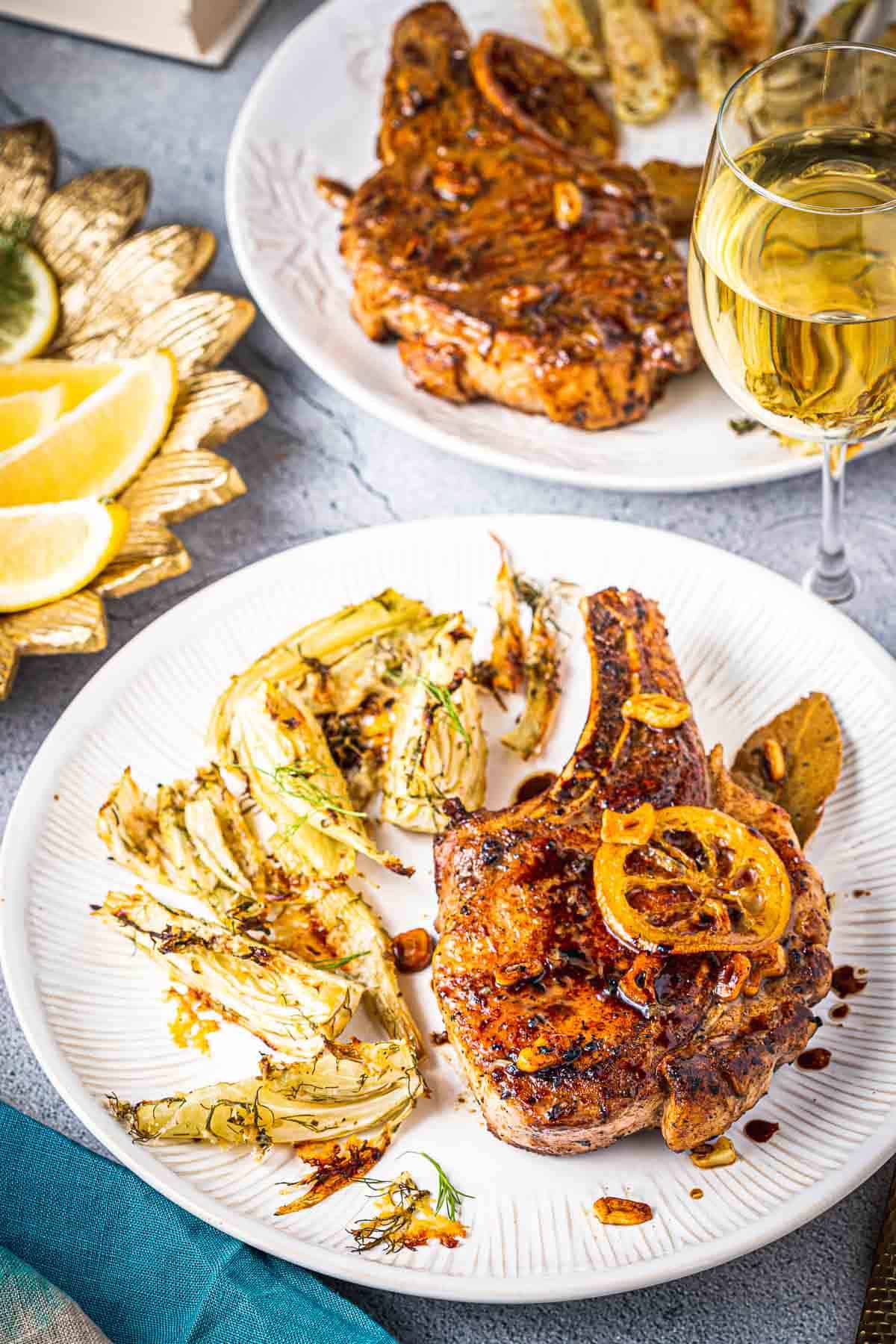 Swaps and Substitutions
If you want thinner pork chops, swap in center-cut boneless chops. These will take less time to cook, so use an instant-read meat thermometer to avoid tough, overcooked pork chops.

If you don't have bay leaves, try a couple of sprigs of rosemary, a natural partner for pork. No wine? Use chicken broth to deglaze the pan.
Tips For Cooking Pork Chops
Basting the pork chops in wine and aromatics is a foolproof way to get tender, juicy pork chops every time. Here are a few extra tips and tricks to make the best pork chops:
Look for pork chops that are about 1-inch thick. If you get a thinner cut, watch them closely as they'll cook faster.
The white lines that run through the meat, known as marbling, will keep the meat juicy. Look for meat with a fair amount of marbling, which helps the chops stay juicy as they cook.
If you have the time, take the pork chops out of your fridge for 30 minutes before cooking. This will get the meat to the same temperature throughout, which helps it cook more evenly.
Be generous with your salt. Pork chops can handle a fair amount of salt, so season well all over the meat.
Allow the skillet and oil to get very hot before adding the pork. This will ensure a nice golden-brown sear. If you have a small skillet, cook the pork chops one at a time so that it stays very hot.
Let the pork chops rest for 5 minutes after cooking. The juices will redistribute throughout the meat and the pork chop will stay juicier.
What to Serve with Pan-Seared Pork Chops
Since the pork chops are cooked on their own, you'll definitely want to serve a side dish to go with them.
I love the combination of pork and fennel, so I like to serve these chops with Roasted Fennel with Parmigiano Cheese. Or try a refreshing radicchio salad to cut the richness of the meat. Rice or Risotto is always a welcome side dish for pork.
More Amazing Mains
Browse all Mediterranean recipes.

Visit Our Shop.
Bundle and Save!
Be sure to check out our Everyday EVOO Bundle. Four signature branded olive oils that are perfect for everyday use.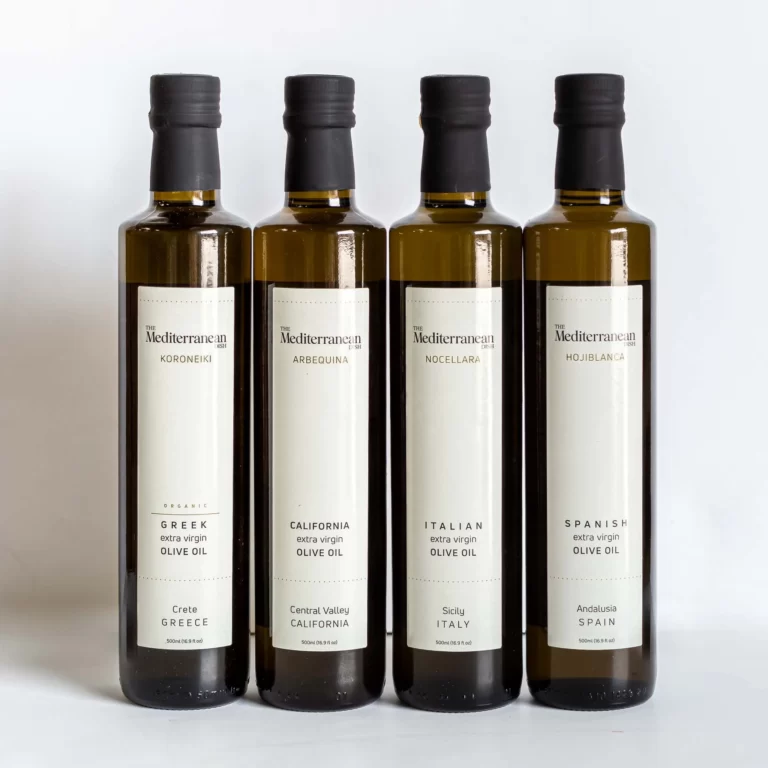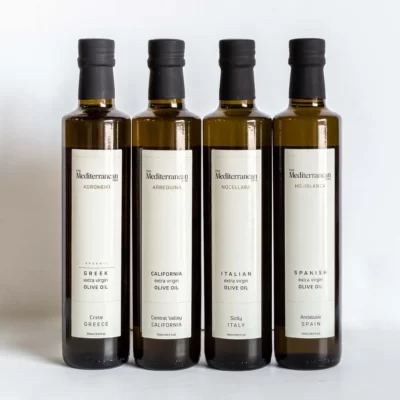 Pork Chops with Bay Leaf and Lemon Slices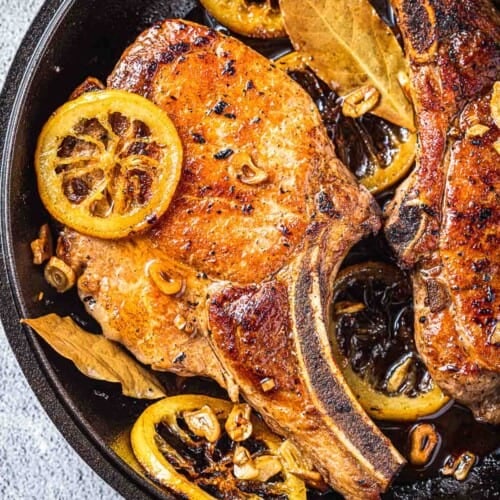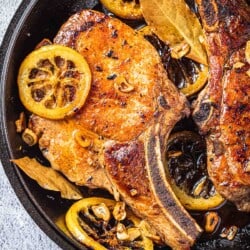 This is a no-fail pork chop recipe! Pork chops are pan-seared until golden brown and basted in an aromatic wine broth until tender.
Ingredients
2

tablespoons

extra-virgin olive oil

3

garlic cloves,

thinly sliced

4

fresh or dried bay leaves

1

lemon,

thinly sliced

4

bone-in center-cut pork chops,

6 to 8 ounces each

1 to 1 ½

teaspoons

fine salt

Freshly ground black pepper to taste

¼

cup

dry white wine
Instructions
Heat the Oil and Aromatics: In a large cast-iron or heavy-bottomed stainless-steel skillet set over medium-low heat, place 2 tablespoons extra-virgin olive oil, sliced garlic, and bay leaves. Cook, stirring, until the garlic is lightly golden, and the oil is infused with the aroma of garlic and bay leaf, about 5 minutes. Transfer the garlic and bay leaves to a plate and set aside. Leave the oil in the pan.

Cook the sliced lemon: Add the lemon slices to the pan and cook for about 2 minutes to brown the bottom. The juice from the lemon slices can cause the fat in the pan to spatter, so watch out and turn down the heat if necessary. Once the slices are browned on the bottom, turn them with tongs or a fork and brown the other side. Transfer the browned lemon slices to the plate with the garlic and bay leaves.

Season and pan-sear the pork chops: Season the pork chops on both sides with salt and pepper. Arrange them in the pan, taking care not to crowd them or they won't brown properly. Brown them two at a time if necessary. Raise the heat to medium-high and sear the chops until nicely browned on the bottom, 2 to 3 minutes. Turn the chops and cook until browned on the other side, 2 to 3 minutes.

Add the wine: Pour in the wine and let it bubble for about 30 seconds. Then lower then heat to medium-low and return the garlic, bay leaves, and lemon slices to the pan. Cook the pork chops for another 3 to 5 minutes, or until an instant-read meat thermometer inserted in the center of the chop registers 145°F.

Serve: Transfer the pork chops to a serving platter and spoon the pan juices, along with the lemon slices, over the top. Let sit for just a minute or two to rest before serving.
Notes
Keep a close eye when browning the garlic - it burns easily. Stir constantly and turn down the heat if necessary.
Remember, you only need to cook the chops to 145°F. Try to stay right around there and your pork chops will be tender and juicy.
Visit our shop to browse quality Mediterranean ingredients including olive oils, honey, jams and spices.
Nutrition
Calories:
293.4
kcal
Carbohydrates:
3.7
g
Protein:
29.3
g
Fat:
16.4
g
Saturated Fat:
4.3
g
Polyunsaturated Fat:
1.9
g
Monounsaturated Fat:
9.1
g
Trans Fat:
0.1
g
Cholesterol:
89.8
mg
Sodium:
938.2
mg
Potassium:
557.5
mg
Fiber:
0.8
g
Sugar:
0.8
g
Vitamin A:
17.7
IU
Vitamin C:
15.1
mg
Calcium:
23.3
mg
Iron:
1
mg