Creamy polenta, enriched with a little butter and Parmigiano-Reggiano cheese, is one of my favorite Italian comfort foods. A blend of medium and finely ground cornmeal creates the best texture. I love to top it with shrimp, mushroom ragu, or serve it alongside roast chicken.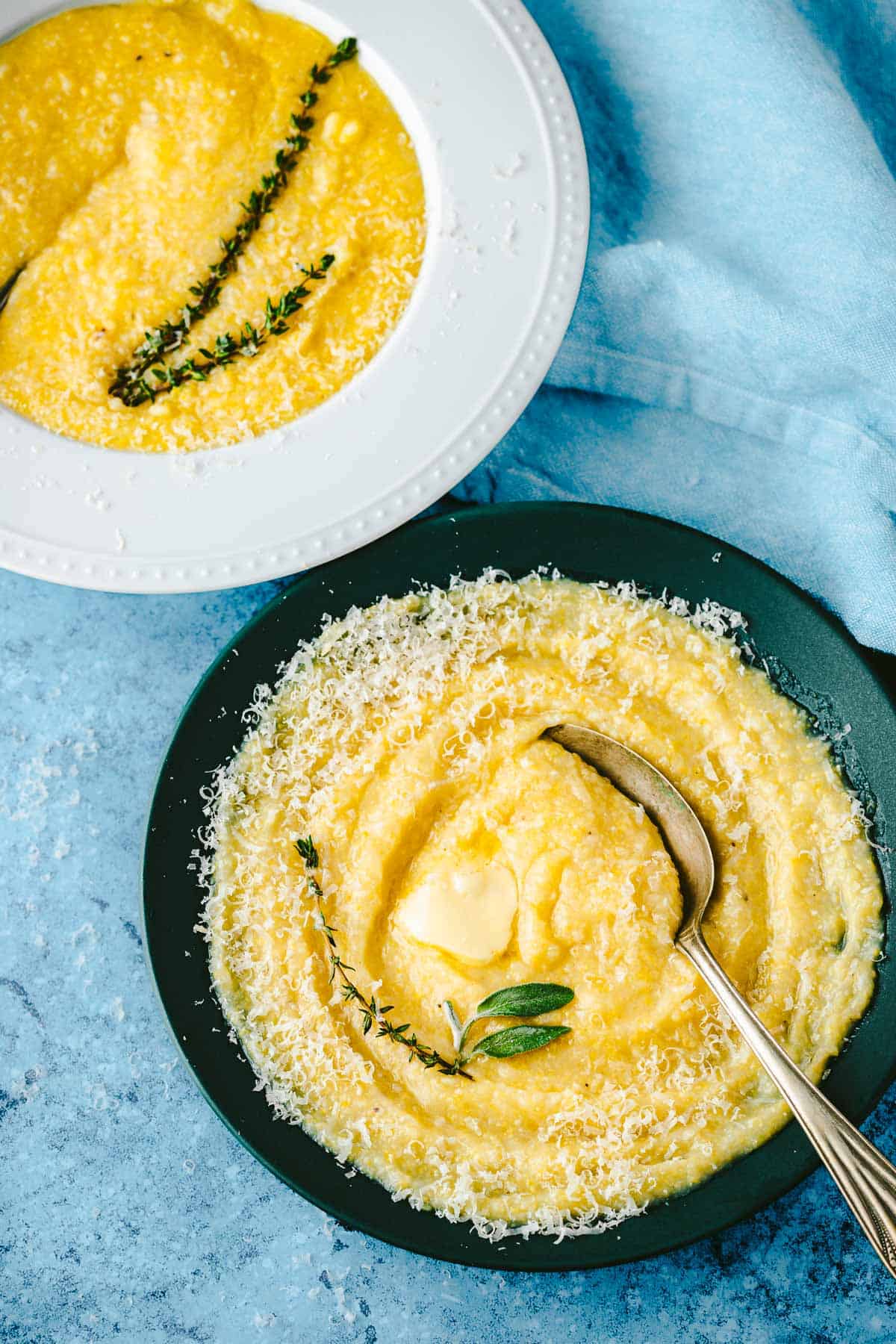 Simply put, polenta is cooked cornmeal, but in reality it's so much more than that. As the weather shifts and spring gives us sunnier days and cool, rainy nights, a warm bowl of rich, creamy polenta makes for a welcome addition to lighter, fresher springtime meals.
With this traditional Italian recipe, I'll show you the tricks—like starting with cold water and using two different grinds of cornmeal—I've acquired over my years as a chef, instructor, and cookbook author.
This method takes just a little extra time and attention. But, with just a few ingredients and simple techniques, you'll make the richest, most luxuriously creamy polenta just like an Italian.
A highly versatile dish, polenta can be served on its own. Or, used as a bed for pork or Mushroom Ragù. My personal favorite, though, is topped with Garlicky Shrimp—a variation on Venetian Polenta e Schie.
Table of Contents
What is Polenta?
Polenta is a traditional Italian dish made of cooked cornmeal that's typically flavored with butter and Parmesan. When it's freshly made, it is creamy and pourable. As it cools, it becomes firm enough to slice.
Italians often cut leftover polenta into squares and fry or grill them as an appetizer. They finish the crispy polenta with mushroom ragù, roasted peppers, tomatoes, or cheese.
In Italy, you'll find polenta made from yellow cornmeal or white cornmeal, though yellow is more common. The best polenta is made from stone ground corn, which comes in a coarse, medium, or fine grind.
Cornmeal labeled polenta is usually a coarse-grind, but you can make the dish with a medium or fine-grind. Or, use a combination of grinds, which is how I like it.
The classic way to make this recipe is to cook it on the stovetop with water. You can, however, substitute the water with chicken stock or milk for some for a richer dish. To cook polenta properly, it must be stirred often as it simmers slowly on the stovetop. This process that can take up to an hour, but trust me, it's worth it. There are a couple of shortcuts (see "Tips and Tricks"), but the traditional way yields the creamiest polenta.
History of Polenta
Today, "polenta" refers to a dish of creamy cooked cornmeal. In fact, it is actually an ancient food dating back to the Etruscan civilization of central Italy (6th century BCE).
Early versions of polenta were made from millet, rye, and barley flour. In the 17th century, field corn, a New World ingredient, was introduced to Europe. It wasn't until then that polenta became the corn-based dish we know and love today.
Today, Italians enjoy polenta in many variations. A few years ago, my family and I spent Christmas in Aosta, on Italy's northwestern border with Switzerland. There, polenta is a daily ritual in winter, topped with beef stew or sausages, or stirred with lots of fontina cheese.
In mountainous Abruzzo, where my family is from, it is enjoyed with meat ragù ladled on top. In Venice, people warm themselves on a rainy day with polenta e schie—polenta and tiny shrimp from the lagoon.
No matter where you are, enjoying this dish enriched with butter and cheese is the best kind of Italian comfort food.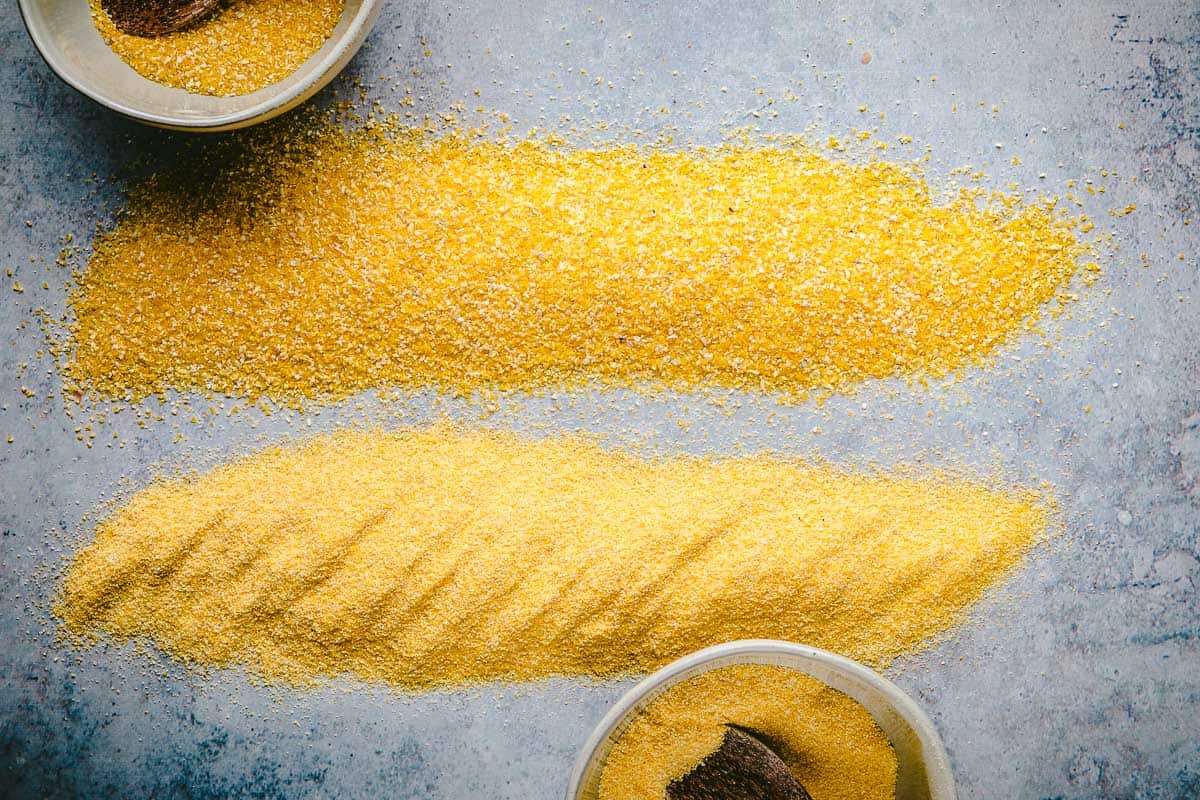 What is in Polenta?
You need just a few ingredients to make this recipe. Chances are you have most of these ingredients in your pantry. If not, they can all be easily sourced at your local market.
Cornmeal: Stone-ground cornmeal is best for polenta, as it has more flavor than cornmeal processed with metal grinders. It's also more nutritious because some of the hull and kernel of the corn are retained during the grinding process. Most cornmeal labeled "polenta" is a coarse grind. However, to get the creamiest polenta, I use a combination of fine-grind and medium-grind, a trick I learned in Aosta.
Cold water: Most recipes have you boil water or broth on the stovetop and then stir in the cornmeal. It is hard to do without lumps forming.
Quick Tip!
Use cold water to make the best polenta.
Starting with cold water practically eliminates your chance of ending up with lumpy polenta. The cornmeal does not clump in cold water! The ratio for polenta is 4 parts water to 1 part polenta. It sounds like a lot of water, but it will all be absorbed in the cooking process.
Salt: A generous pinch of fine salt brings out the flavors of polenta and prevents it from being bland.
Butter: Stirring in a generous knob of cold butter at the end of cooking makes polenta even creamier.
Parmigiano-Reggiano cheese: Adding cheese is optional. A few spoonfuls of freshly grated Parmigiano or high quality parmesan adds depth and extra savory quality to polenta.
Tips for Buying Polenta
Many supermarkets carry boxed instant and pre-cooked polenta in shrink-wrapped logs. I may be biased, but I avoid them. I feel freshly made has the best flavor and texture.
Buying this simple ingredient can seem confusing; it helps to remember that what is labeled as polenta in most supermarkets is simply coarsely ground cornmeal.
Look for stone-ground cornmeal at your local supermarket. Most supermarkets carry several brands, and they vary from fine grind to medium to coarse. Most coarsely ground cornmeal is labeled "polenta."
For polenta with a pleasing texture, use a mix of grinds. My personal preference is a mix of fine and medium grind. I find that combination yields polenta that is creamy but not mushy.
Check the 'best by' date on the package to ensure that the cornmeal is fresh. If you have a local mill in your area that sells high-quality grains, including cornmeal/polenta, give it a try.
How to Make Polenta
Start cooking polenta about 45 to 50 minutes before you plan to serve it. Polenta starts to stiffen soon after it's taken off the heat, so you'll want to serve it immediately.
Combine the ingredients: Pour 1 cup of dry polenta into a heavy-bottomed saucepan or Dutch oven. I like to use ¾ cup fine-grind cornmeal and ¼ cup medium-grind cornmeal. Whisk in 4 cups of cold water, pouring gradually as you whisk to avoid any lumps forming. Stir in 1 teaspoon of fine salt.
Heat the mixture: Set the pot over medium-high heat and bring the mixture to a boil. Stir often to prevent the polenta from sticking to the bottom of the pot. Once the mixture is boiling, turn the heat to low and cook it gently. The cornmeal will bubble up every so often as it thickens, so watch out for the occasional spatter, as hot polenta can burn.
Stir: Keep stirring the polenta as it cooks. You don't have to stir it constantly, but frequent stirring will keep it creamy and prevent it from sticking to the bottom of the pot and burning.
Give it time: Resist taking it off the heat too soon. The grains should be fully cooked, with no trace of chalkiness. You will see the polenta transform slowly from a coarse slurry into a soft, golden porridge. This transformation is essential, as it removes any bitterness and brings forth cornmeals natural sweetness.
Add butter and cheese: When the polenta is fully cooked, turn off the heat. Stir in 3 tablespoons of unsalted butter and ½ cup of freshly grated Parmigiano-Reggiano cheese. Use vigorous strokes to combine everything thoroughly. Spoon the hot polenta into shallow bowls and serve.
Baked Polenta: A Clever Shortcut
Many home cooks avoid making polenta because of the time it takes and the stirring required. I personally enjoy the process when I'm not in a rush. But when time is an issue, or I just don't feel like stirring, I use a shortcut. I bake polenta in the oven.
Lumps can sometimes form with this method, so be sure to stir the polenta well when you take it out of the oven.
To bake in the oven, simply:
Preheat the oven: Preheat your oven to 350°F.
Whisk the ingredients: In a Dutch oven or oven-safe pot with a lid, whisk together the cornmeal, water, and salt.
Cover and bake: Cover the pot and bake at 350°F for 50 minutes.
Stir vigorously (and carefully): Remove the pot from the oven and uncover. At this point, the polenta will be a mostly solid mass with some lingering liquid. Here is where you have to watch out for lumps as you break it up. Stir vigorously—use a sturdy whisk if you have one. Otherwise, a wooden spoon or silicone spatula will do, and keep stirring to smooth out any lumps that form. Do this carefully, as polenta has a tendency to spatter and can burn.
Taste a small spoonful, taking care not to burn your tongue. If it's not quite done, return it to the oven for another 10 minutes. When it is finished, stir in the butter or olive oil and Parmigiano cheese, and serve.
Make it a Meal!
Polenta's versatility is part of its appeal. Finished with just a touch of butter and Parmigiano cheese, it makes an excellent side dish to roast chicken, pork, or fish.
But it is even better when it becomes part of the main dish. Serve it in a shallow bowl, with hearty Italian Beef Stew or Mushroom Ragù ladled over it. Or top it with a rich pork ragù, grilled sausages, or (my favorite) garlicky shrimp.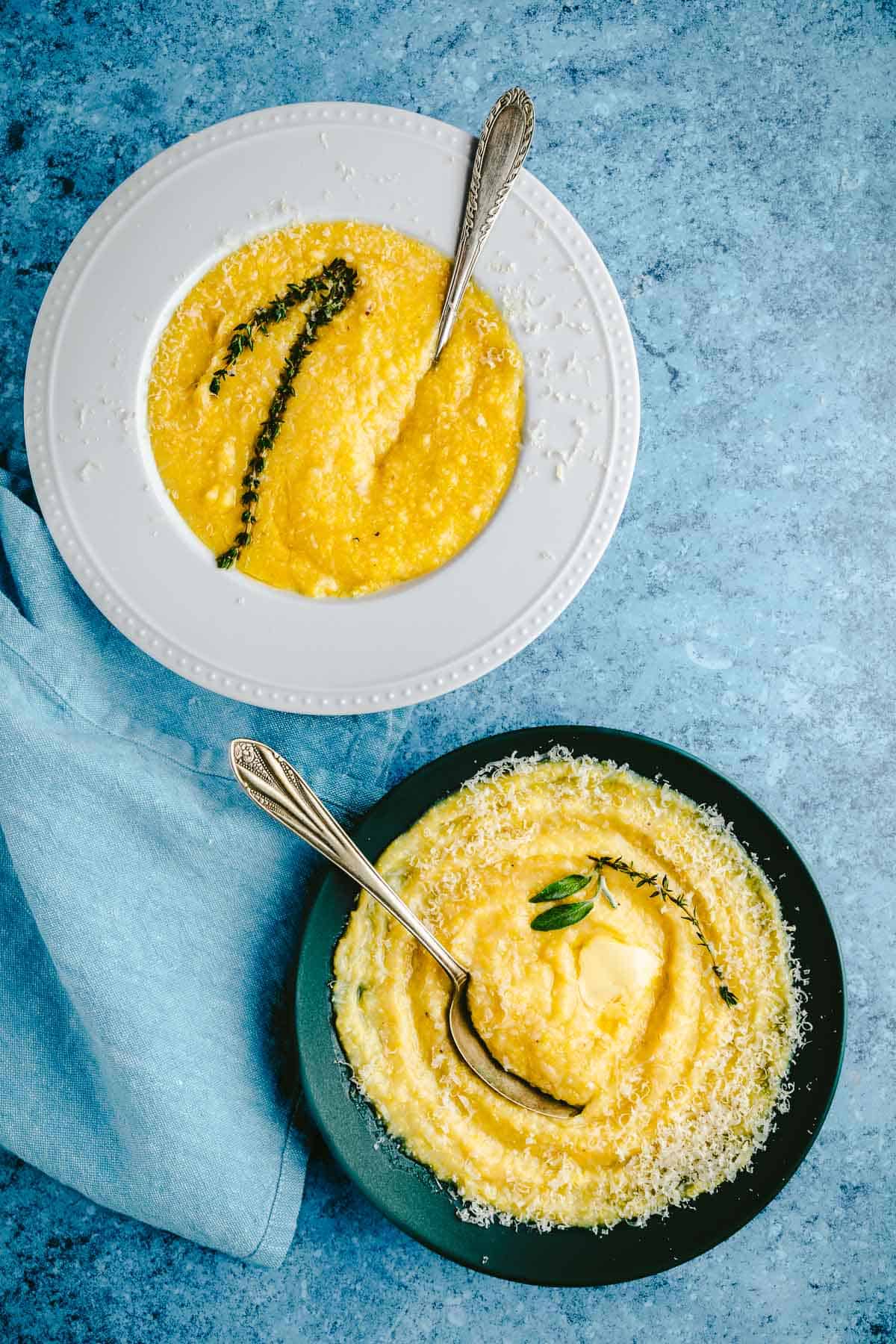 How to Store
Store uncooked polenta in the pantry in a tightly closed bag or tightly sealed container.
Store cooked polenta in a shallow, tightly sealed container in your refrigerator for up to 3 days. Be sure to transfer it to the container before it cools down. It will solidify and become more difficult to manage once cool.
How to Reheat
Cold polenta is firm, so you'll need to soften it with water, broth, or milk. Place the leftovers in a pot, breaking it up if necessary. Pour in a splash or two of water, broth, or milk. Reheat it gently on the stovetop, stirring with a whisk to break up lumps. Warm the polenta and bring back to a creamy consistency.
How to Fry Leftover Polenta: Cut cold polenta into thin rounds, squares, or rectangles, about ½-inch thick. Fry in a skillet in a small amount of olive oil, turning until brown on both sides.
How to Grill or Broil Leftover Polenta: Brush the sliced polenta with olive oil. Set the slices on a preheated grill or under a broiler. Grill or broil until browned, then turn and brown the other side.
Top fried, grilled, or broiled slices with cheese, roasted peppers, sautéed mushrooms, or thinly sliced tomatoes.
Italian Side Dishes We Love
Browse all Mediterranean recipes.

Visit Our Shop.
Nocellara Olive Oil
Drizzle the Italian way. Extra virgin olive oil from 100% Nocellara del Belice olives.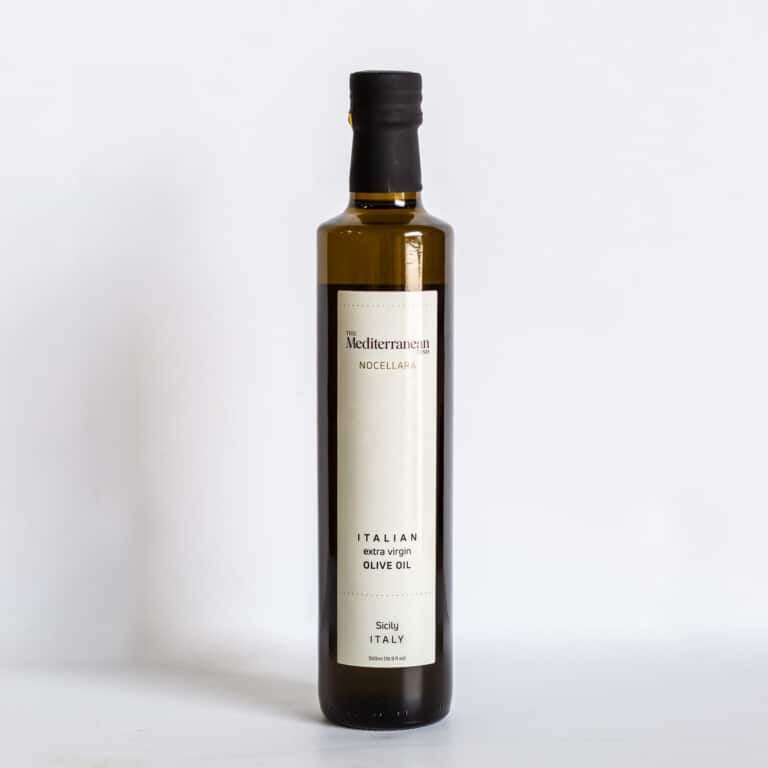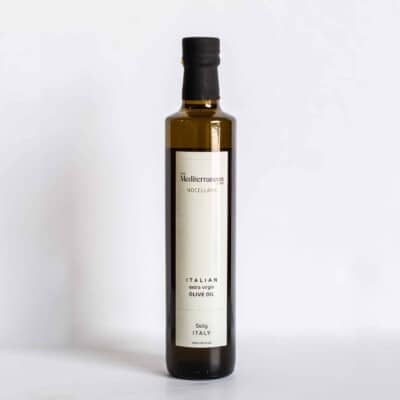 Creamy Polenta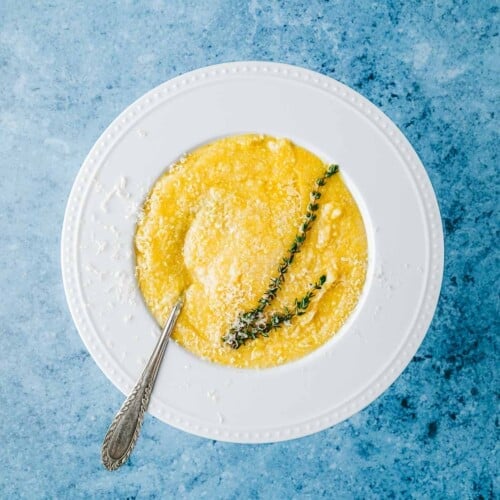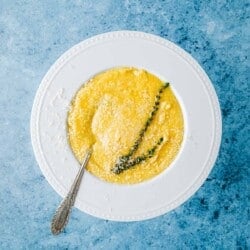 Creamy polenta makes a perfect, soft bed for stews, ragùs, and sautéed vegetables or seafood. It takes some time and stirring, but it's easy to make—there's no prep work—and worth the effort for the satisfying warmth and comfort it provides.
Ingredients
1

cup

cornmeal

4

cups

cold water

1

teaspoon

fine salt

3

tablespoons

unsalted butter

½

cup

freshly grated Parmigiano-Reggiano cheese
Instructions
Stir and simmer: Combine the cornmeal, water, and salt in a Dutch oven or heavy-bottomed saucepan. Set the pan over medium-high heat and bring to a simmer, stirring to keep the polenta from forming lumps. Reduce the heat to low and cook, stirring often to prevent the polenta from sticking to the bottom of the pot, until the grains are fully cooked, about 45 minutes.

Serve: When the polenta is done, taste and season with more salt if needed. Remove the pot from the heat and stir in the butter and Parmigiano cheese. Serve immediately.
Notes
I use a combination of fine and medium grind cornmeal.
The polenta will bubble from time to time while you're stirring, so be careful and watch for spatters.
After 45 minutes, the polenta should be thick and creamy but still pourable. If you find it is too thick towards the end of cooking, stir in a little more water.
Visit our shop to browse quality Mediterranean ingredients including olive oils, honey, jams and spices.
Nutrition
Calories:
276.9
kcal
Carbohydrates:
29.4
g
Protein:
8.5
g
Fat:
14.1
g
Saturated Fat:
7.9
g
Polyunsaturated Fat:
1.3
g
Monounsaturated Fat:
4
g
Trans Fat:
0.3
g
Cholesterol:
31.1
mg
Sodium:
796.2
mg
Potassium:
142.1
mg
Fiber:
3.7
g
Sugar:
0.7
g
Vitamin A:
360
IU
Calcium:
160.4
mg
Iron:
1.3
mg