This roasted fennel recipe has it all! Fresh herbs, lemon juice and Parmesan cheese elevate the sweetness of roasted fennel. Serve it alongside chicken, lamb or fish for an easy and delicious weeknight side dish!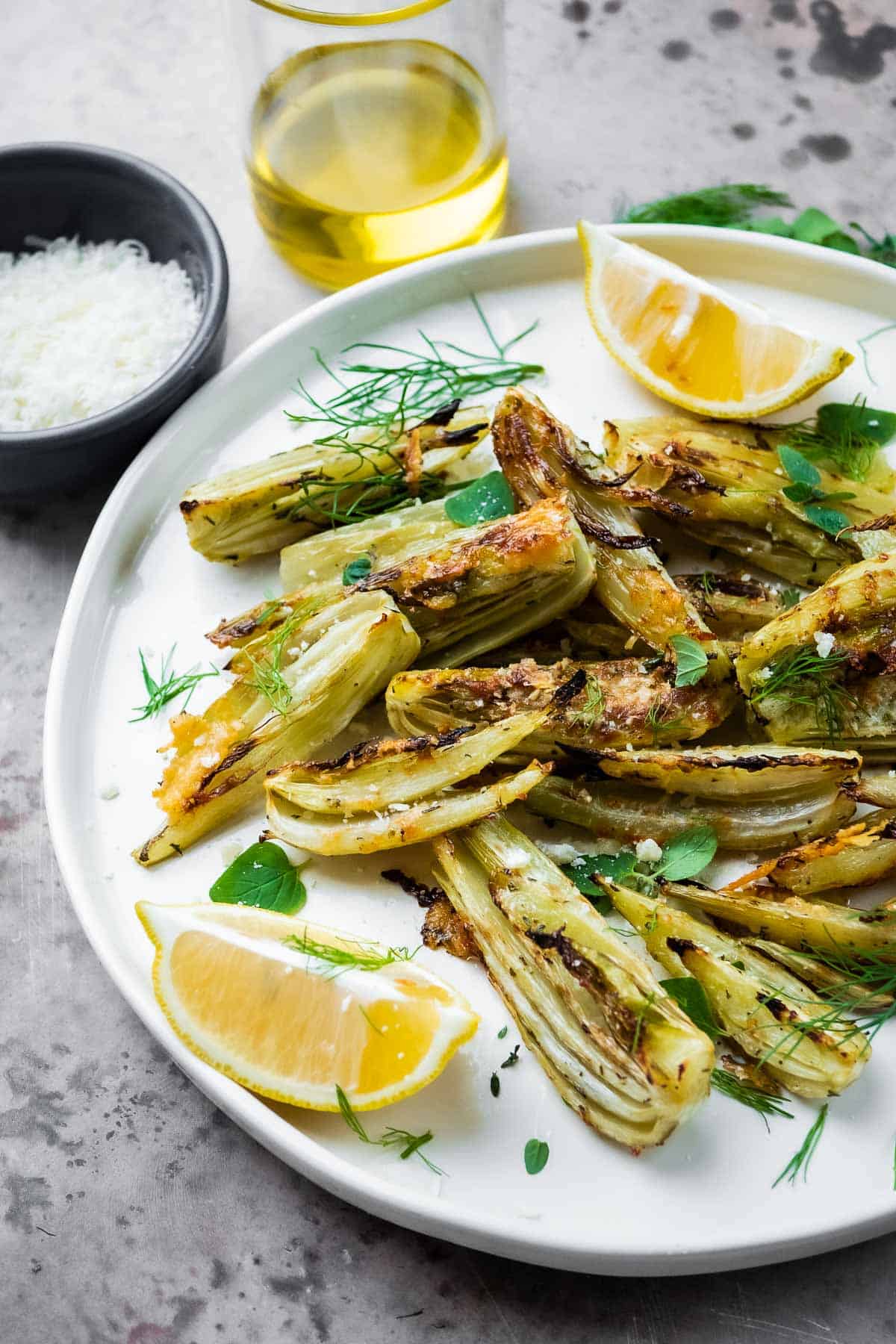 Roasted fennel is one of my favorite side dishes for fall and winter; it goes well with just about any roast—especially chicken and lamb, or with a simple soup like Stracciatella. If you lean pescatarian, don't worry! This roasted fennel recipe pairs beautifully with fish—especially as an accompaniment to broiled salmon.

If you've never roasted fennel before, you're in for a savory treat. Slicing fat fennel bulbs into wedges then roasting them at a moderately high temperature brings out the best in this oddly beautiful vegetable. The heat caramelizes its edges, turning it from crunchy to meltingly tender in less than 30 minutes. Plus, the licorice flavor dominant in raw fennel is tamed in the oven, turning this often underused vegetable sweet and mellow.

For this easy roasted fennel recipe, I like to dress it in a little extra virgin olive oil, fresh herbs, lemon and a sprinkle of good Parmesan cheese. That's it! Simple really is best when it comes to creating side dishes for weeknight meals.

Serve roasted fennel as is or give it an elegant touch by garnishing it with a few drops of good balsamic vinegar to bring out its sweet notes.
Table of Contents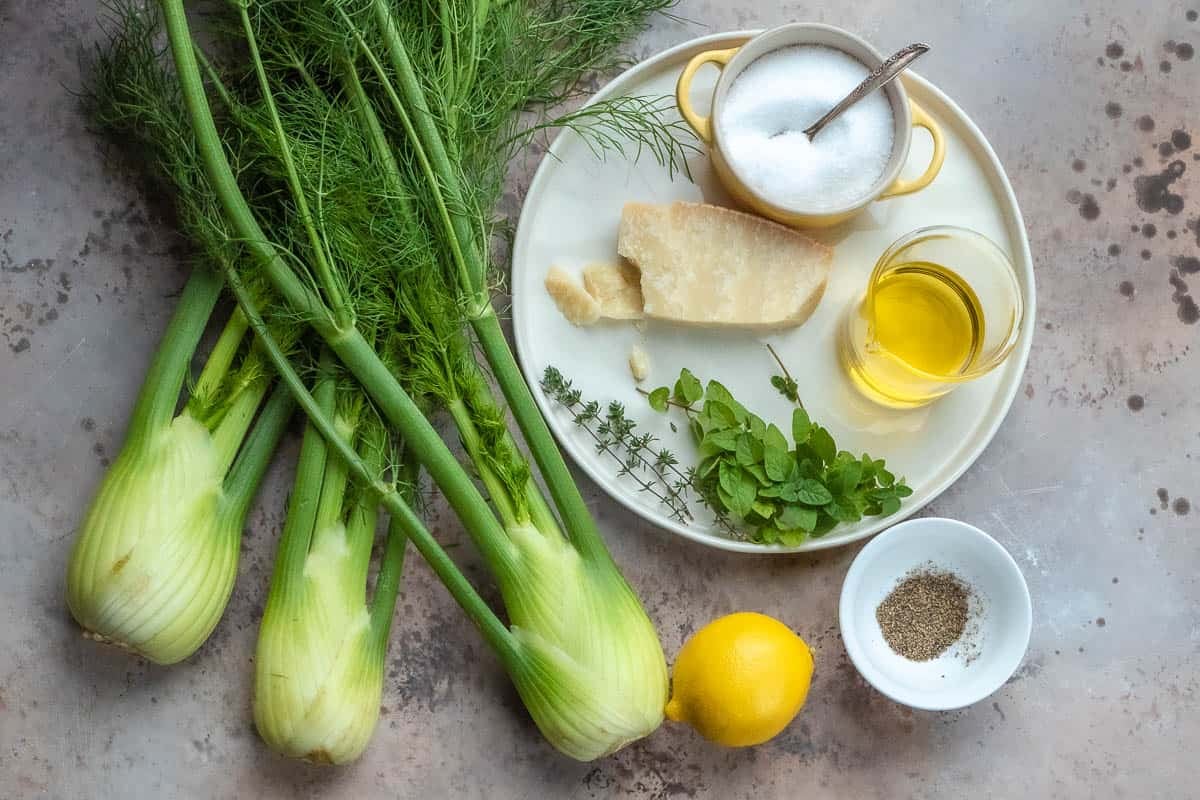 Ingredients for Roasted Fennel with Parmigiano Cheese
Lemon zest and a couple of other key ingredients are all you need to make this rustic yet elegant side dish:
Fennel bulbs: Fennel can have either slim or fat bulbs; look for the fat ones, which are better for roasting. The bulbs are topped with long stalks with feathery fronds. You may be tempted to use the stocks, but they are tough, so slice those off right where they meet the bulb. I like to save the stalks to flavor soup stock or to enhance the flavor of commercial broth. Mince the fronds and use as you would dill or other fresh herbs. To cut the fennel bulbs, slice them into quarters lengthwise, pulling off any tough out layers. Then slice each quarter in half lengthwise, and each bulb will give you 8 wedges, for a total of 24.
Extra-virgin olive oil: Use the best you can; I like Italian olive oil made by small producers. The oil tastes fresher and brings out the best in roasted vegetables.
Herbs: Finely chopped fresh herbs brighten the flavor of roasted fennel. Use your favorites. For this recipe I like a mix of oregano, thyme and the fennel fronds.
Lemon zest: This is my secret ingredient when roasting vegetables. Adding zest, even just a little, wakes up all the flavors.
Spices: A grinding of black pepper is all you need, but when I want to magnify the fennel flavor, I add a pinch of freshly ground toasted fennel seed. Its warm perfume gives roasted fennel a touch of luxury. To make it, toast 2 tablespoons fennel seeds in a small skillet just until they turn a shade darker, and you can smell their fragrance. Let the seeds cool, then grind in a spice grinder. You'll only need a pinch for this recipe, so store the rest in a small container with a tight-fitting lid, like a spice jar. Sprinkle ground fennel in soups and stews like Cioppino, on baked fish, or even roast potatoes.
Parmigiano cheese: There are no good substitutes for rich, savory, imported Parmigiano-Reggiano, so be sure to seek out the good stuff and only grate as much as you plan to use—about ⅓ cup here.
Balsamic vinegar: This is an optional add, but every now and then I garnish roasted fennel with just a few drops of really good, syrupy aceto balsamico from Modena or Reggio Emilia, the two places in Italy that produce genuine, top-quality products.
How to make Roasted Fennel with Parmigiano Cheese
A hot oven is key to properly roasted fennel wedges, with caramelized edges and a sweet, tender core. Position an oven rack in the upper third of the oven and preheat it to 400°F.
Cut the fennel: Trim the end of the fennel bulb and cut the stems off, then slice each bulb in half from the stem side to the root, then cut into quarters. You should end up with 24 wedges. Put the wedges into a large, shallow bowl. Add 4 tablespoons extra-virgin olive oil, 2 tablespoons finely chopped fresh herbs (a mix of oregano, thyme, parsley, and fennel fronds), the zest of one lemon, a generous pinch of fine salt, and about ¼ teaspoon freshly ground pepper. If you plan to add ground fennel seed, now is the time to do it.
Toss it all together: Using a large spoon or spatula, gently toss everything together. You'll want to make sure to coat all the fennel bulbs evenly.
Spread into a single layer: Spread the fennel bulbs out onto a rimmed baking sheet lined with parchment paper. The parchment will allow the fennel to roast and brown properly without sticking to the baking sheet.
Roast: Roast the fennel for 15 minutes, the fennel should turn golden. Sprinkle ⅓ cup freshly grated Parmigiano cheese over the roasting fennel, coating each wedge evenly. If you want to be generous, use ½ cup. Roast the fennel for an additional 10 to 15 minutes, or until the cheese is nicely browned, and the edges of the fennel bulbs are caramelized.
Assemble the final dish: With a spatula, transfer the fennel wedges to a platter. Sprinkle with a few drops of good balsamic vinegar over the wedges, if using, and serve.
What to Serve with Roasted Fennel
I like roasted fennel with just about anything. It would complement Balsamic Chicken or Pan-Seared Pork Chops nicely. Or, serve it with hearty vegetarian main dish like Vegetarian Baked Ziti.
Roasted fennel isn't just for sides. You can use it to top your favorite flatbreads too. It makes an excellent topping for pizza! Make this Easy Grilled Pizza and try it for yourself.
More Fennel Recipes
Nocellara-Italian Extra Virgin Olive Oil
This exquisite, medium-intensity EVOO boasts flavors of freshly-picked tomatoes and vegetables with a mildly bitter and spicy finish.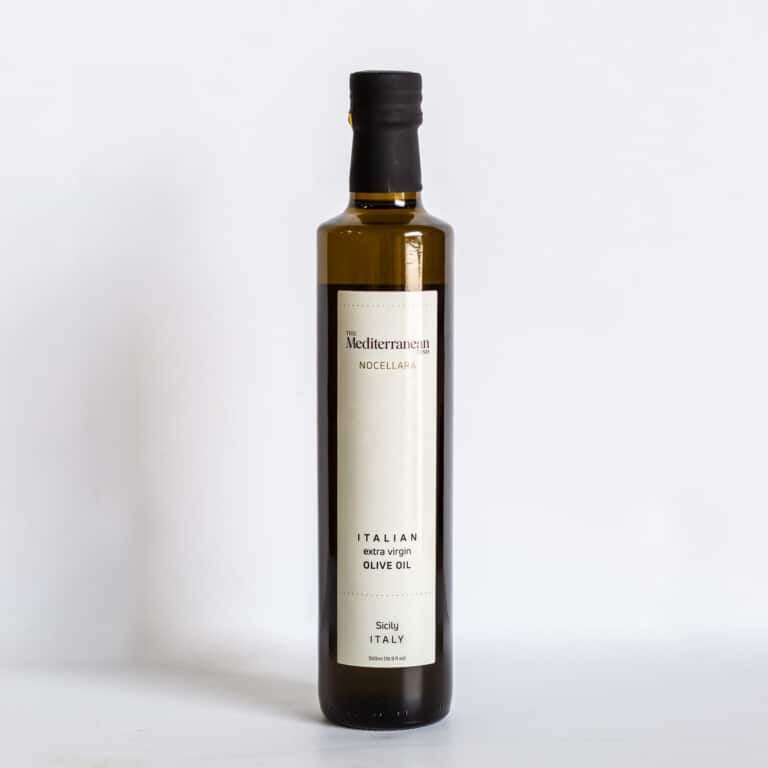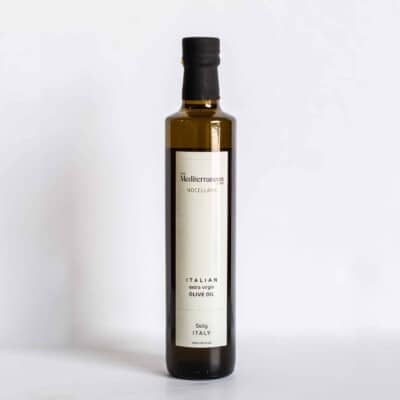 Roasted Fennel with Parmigiano Cheese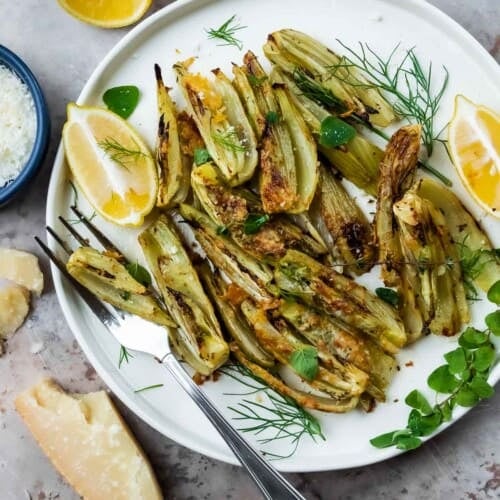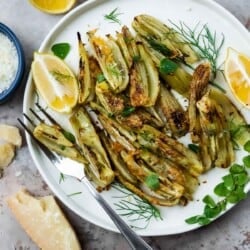 Roasting this crunchy licorice-scented bulb tames it and brings out its sweet, mellow side. The caramelized wedges go perfectly with roast chicken, lamb, or even salmon fillet.
Ingredients
3

fennel bulbs

4

tablespoons

extra-virgin olive oil

2

tablespoons

finely chopped fresh oregano,

thyme, and fennel fronds

1

lemon,

zested

1

teaspoon

fine sea salt

¼

teaspoon

freshly ground black pepper

⅓ to ½

cup

freshly grated Parmigiano-Reggiano cheese

A few drops good quality balsamic vinegar,

optional
Instructions
Preheat the oven and prepare the baking sheet: Preheat the oven to 400° F. Line a rimmed baking sheet with parchment.

Prepare the fennel: Trim the root end of the fennel bulb and cut the stems off. Slice each bulb in half from the stem side to the root. Then cut each half into 4 wedges.

Season the fennel: Place the fennel wedges in a bowl and add the olive oil, herbs, zest from one lemon, a generous pinch of salt, and freshly ground pepper. Toss gently with your hands to thoroughly coat the fennel.

Roast the fennel: Spread the fennel wedges out on the prepared baking sheet. Roast for 15 minutes, or until the wedges have started to turn golden. Sprinkle on the Parmigiano cheese, coating the wedges evenly, and roast for 10-15 minutes more, until the cheese is nicely browned, and the fennel is browned and caramelized in spots.

Serve and enjoy: Transfer the fennel to a serving platter. Sprinkle a few drops of good balsamic vinegar on top, if you like, and serve.
Notes
To further enhance the fennel flavor, sprinkle about ½ teaspoon ground fennel seed into the bowl when tossing the wedges with the other ingredients.
Roasted fennel is delicious on pizza. Top your favorite pizza dough with tomato sauce, mozzarella, and dollops of ricotta cheese. Scatter pieces of fennel on top and bake.
We love an Italian olive oil with this recipe. Try our Italian Nocellara Extra Virgin Olive Oil. It has a subtle spice that complements the fennel well.
Visit our shop to browse quality Mediterranean ingredients including olive oils, honey, jams and spices.
Nutrition
Calories:
150.4
kcal
Carbohydrates:
11.6
g
Protein:
3.8
g
Fat:
11.1
g
Saturated Fat:
2.3
g
Polyunsaturated Fat:
1.3
g
Monounsaturated Fat:
7.3
g
Cholesterol:
3.8
mg
Sodium:
538.4
mg
Potassium:
536.6
mg
Fiber:
4.9
g
Sugar:
5.2
g
Vitamin A:
232.9
IU
Vitamin C:
23.6
mg
Calcium:
155.1
mg
Iron:
1.7
mg