Roasted garlic mashed potatoes are practically expected as a holiday side dish in my house, but they are just as easy to make for a weeknight dinner. You'll love my lighter, healthier version without butter or heavy cream — especially with my secret ingredient for tang and flavor: buttermilk.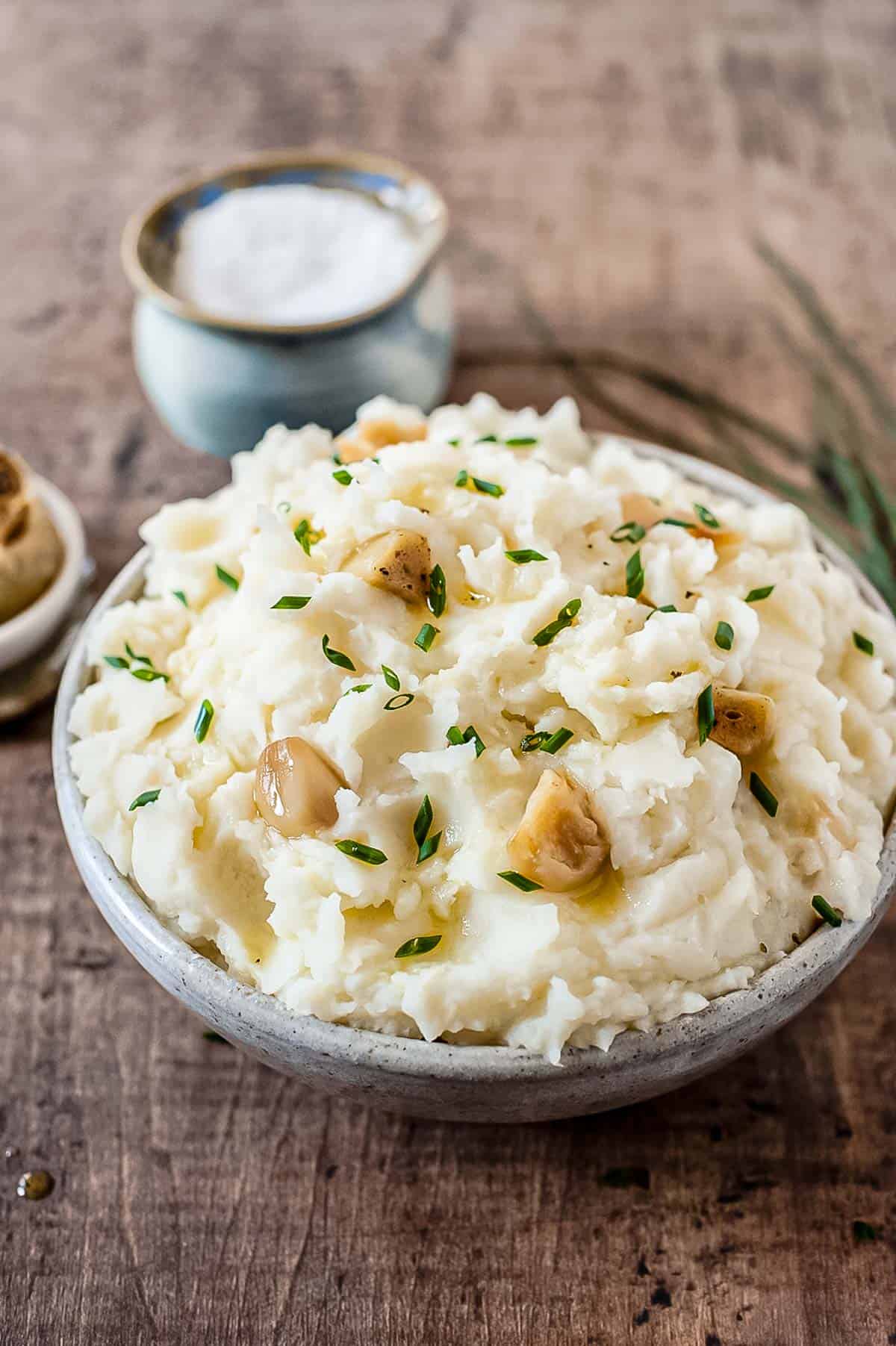 Mashed potatoes are a quintessential side dish during the holidays or for sunday suppers alongside whole grilled chicken or beef short ribs. They are easy to make, affordable, and delicious. Plus, they're a crowd-pleaser every time. What's not to love?
Add roasted garlic to fluffy mashed potatoes and swap the heavy cream for lighter buttermilk, and you get these roasted garlic mashed potatoes that are a little tangy, a lot garlicky, and one hundred percent amazing.
Try roasted garlic mashed potatoes with buttermilk the next time you're craving a comforting side dish, and you want to keep your health goals front and center.
Table of Contents
What potatoes are best for mashed potatoes?
My favorite potatoes to use for mashed potatoes are russets, which are a type of high-starch potato, but I've been known to use medium starch potatoes like red potatoes and Yukon gold with great success.
Potatoes with a medium to high starch content work best in mashed potato recipes (and for frying like in our patatas bravas or baking like our Greek oven fries) because the low moisture content and high starch content creates that fluffy, light texture we crave in mashed potatoes or French fries. Nobody wants a dense spud!
For this roasted garlic mashed potato recipe I peeled the skins, but you can leave them on if you like the texture and color they provide to the dish. Just give the potatoes a good scrub and chop them up before boiling.
Buttermilk vs heavy cream in mashed potatoes?
I know most mashed potato recipes call for heavy cream, but trust me when I say that swapping it out for buttermilk will create a tangy flavor loved by all and it's good for you too!
Don't let the butter in buttermilk fool you it's actually low in calories and fat. Buttermilk is named as such because it was the liquid that remained after making butter.
Buttermilk is low in calories. According to the USDA buttermilk has 99 calories per cup compared to 821 calories in 1 cup of heavy cream and 152 calories in the same amount of whole milk.
Buttermilk is:
thicker than regular milk
tastes tart and tangy — think of the flavor of plain yogurt
often used in baking, but excellent in savory recipes too like this roasted garlic mashed potato recipe
Many use buttermilk similarly to how we use yogurt as a tenderizer and flavor enhancer in the best chicken marinade. In this roasted garlic mashed potatoes recipe, buttermilk adds creaminess and a subtle tang, perfectly balancing the roasted garlic.
If you are not a fan of tangy flavors, just swap the buttermilk for an equal amount of whole milk! Your mashed potatoes will still be lighter than if they had heavy cream, you can avoid the tangy flavor of buttermilk and still all the roasted garlic goodness.
How to make roasted garlic mashed potatoes
Nothing complicated about these mashed potatoes! Boil up your potatoes, add seasoning, mash, and serve! Here's more detail:
Boil the potatoes. Add 2 pounds of peeled, cubed russet potatoes to a pot with cold water. Add salt and bring to a boil until the potatoes are fork tender. It's good to cut the potatoes uniformly so they cook at the same speed. Drain the potatoes well.



Mash the potatoes. Return the boiled potatoes to the pot and add 1 ½ cups buttermilk, 1 head roasted garlic, ½ teaspoon salt, and black pepper to taste. Mash with a potato masher.



Finish and serve. Sprinkle minced chives on top and serve.


Learn three easy ways to roast garlic!
Roasting garlic is a great way to add depth and flavor to many of your favorite dishes. I'll show you how to roast garlic in foil and a muffin tin.
What to serve with mashed potatoes
You can serve this simple side dish with basically anything — no one's going to complain about a heaping spoonful of roasted garlic mashed potatoes! Here are some ideas, both for your holiday table and your dinner table:
Tips for the best creamy mashed potatoes
Mashed potatoes are a staple in many households, but things can sometimes go wrong when making them! Here are my tips for the absolute best mashed potatoes:
Don't undercook the potatoes: Make sure the potatoes are completely tender before draining them. Harded pieces of potato will not mash well, leading to lumps.
Drain the potatoes well: Water left in the pot will give you watery, slightly soggy mashed potatoes when you mash them. So drain the boiled potatoes well using a colander. You can even let them sit in the colander for a few minutes to make sure all the water drains.
Mash the potatoes while they're hot. Mashing cold potatoes is a surefire way to end up with gummy potatoes.
Avoid over-mashing: Another way to avoid gluey mashed potatoes is to not overwork them. Starchy potatoes should be mashed only until they are smooth and all the ingredients are incorporated. Resist the temptation to keep mashing beyond this point.
How to store and reheat leftovers
Buttermilk mashed potatoes will keep well in an airtight container in the refrigerator for up to 4 days. Rewarm them on the stovetop over medium low heat and add a little additional buttermilk to help loosen them up. Mashed potato pancakes are also a delicious way to use up leftovers!
More potato recipes
Browse all Mediterranean recipes

Visit Our Shop
Get your copy of The Mediterranean Dish Cookbook!
120 Bold and Healthy Recipes You'll Make on Repeat
Suzy brings dishes from throughout the Mediterranean into American home kitchens, using easy-to-find ingredients and easy-to-follow recipes to make your meals more vibrant and delicious!
Roasted Garlic Mashed Potatoes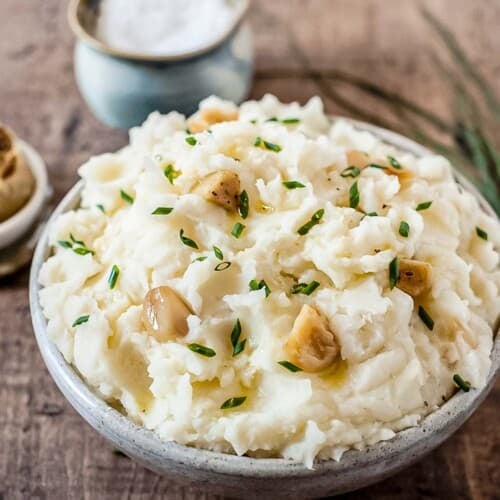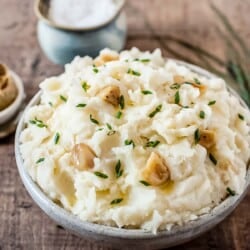 Roasted garlic mashed potatoes made with buttermilk is a flavorful and healthy alternative to many traditional mashed potato recipes. This recipe requires roasting ahead of garlic before starting so don't forget to include time for that. I use our recipe for roasting garlic.
Ingredients
1

head

roasted garlic,

use this recipe

2

pounds

russet potatoes,

peeled and cubed

2 ½

teaspoons

kosher salt,

divided

½

teaspoon

black pepper

1 ½

cups

buttermilk

minced chives,

for garnish
Instructions
Fill a large pot with cold water: Fill a large pot with cold water.

Add the potatoes: Add the peeled cubed potatoes to the pot with water. Make sure they are covered by at least two inches of water and turn the burner to medium high. Once the water begins to boil add the salt, and reduce to a simmer. Let the potatoes cook until they are soft and fork tender, about 15 minutes. Cook time can vary depending upon how small you cubed the potatoes.

Drain and return to the pot: Once the potatoes are cooked. Drain them in a colander then add them back to the pot and return the pot to the burner. Turn the heat to low. Add the milk, pepper, and squeeze the roasted garlic cloves into the pot. Mash it with a potato masher until the potatoes are smooth and fluffy and the garlic has been equally distributed. Taste and add additional salt and pepper if needed.

Serve: Transfer the roasted garlic mashed potatoes to a serving bowl, top with minced chives if using, and dot with any extra roasted garlic cloves. Enjoy!
Nutrition
Calories:
163.6
kcal
Carbohydrates:
31.8
g
Protein:
5.5
g
Fat:
2.1
g
Saturated Fat:
1.2
g
Polyunsaturated Fat:
0.2
g
Monounsaturated Fat:
0.5
g
Cholesterol:
6.6
mg
Sodium:
1040.3
mg
Potassium:
730.4
mg
Fiber:
2.1
g
Sugar:
3.9
g
Vitamin A:
100.9
IU
Vitamin C:
10.1
mg
Calcium:
97.7
mg
Iron:
1.4
mg