Poached pears are a beautiful and easy dessert. No special skills, pans or ingredients required — just fruit, wine, and warm spices! Plus, they taste even better the next day, making this an ideal make-ahead dessert.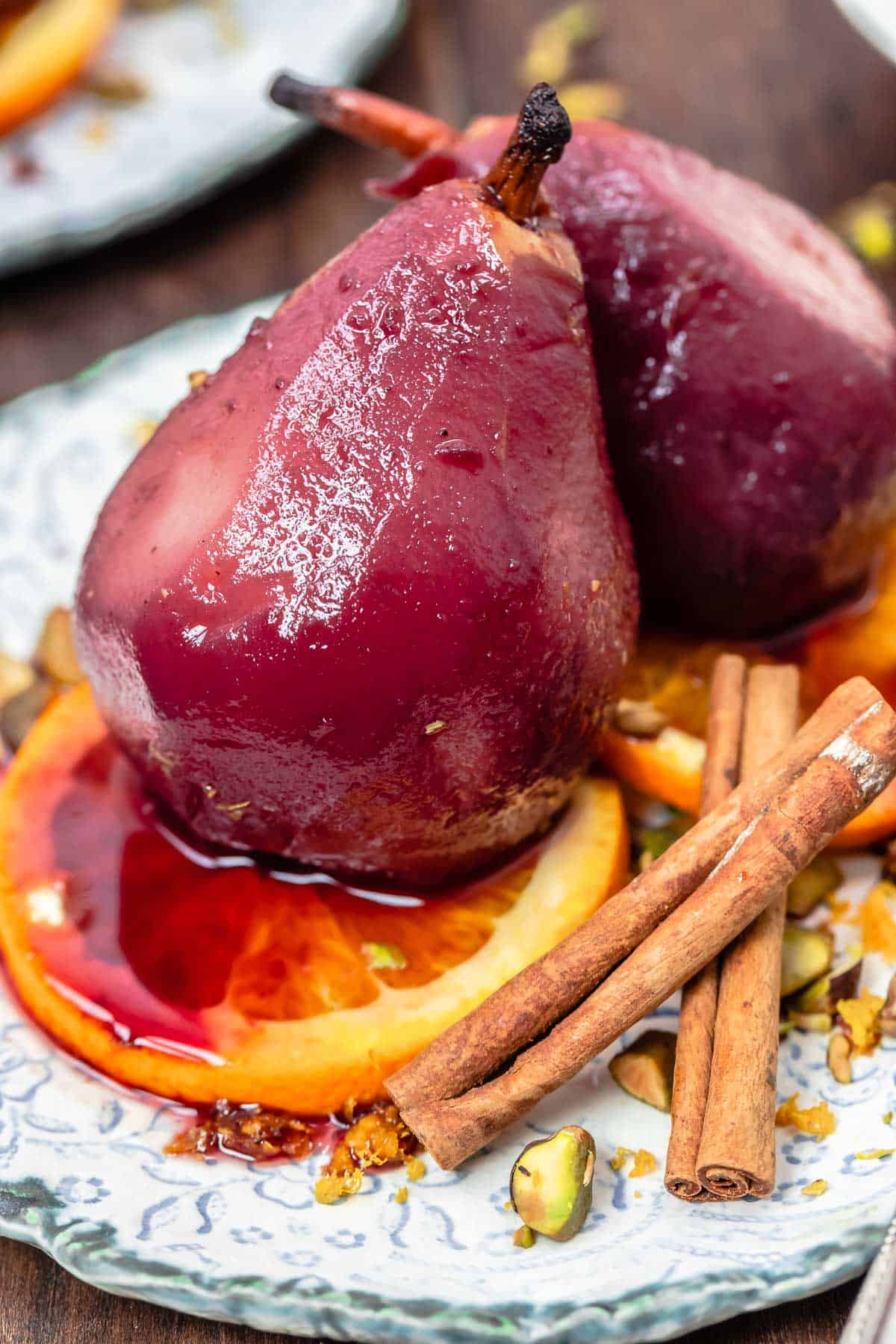 If you're new to poaching fruit you're in for a real treat. I love this poached pear recipe because it looks like I've spent hours in the kitchen and it hardly takes any effort to make this! I simply poach pears in red wine, orange juice, honey, cardamom and cinnamon.
When ready to serve, drizzle the ruby-hued pears with the fragrant, sweet, spiced poaching liquid, and a little creme fraiche, custard or vanilla ice cream on the side. Easy and elegant around the holidays? Now you're talking my language!
Don't get me wrong, I'm all about a tender plum cake or a rich and creamy lemon ricotta cheesecake, but sometimes I want a simple dessert without making a big mess in the kitchen — that's where wine poached pears come in. They are the one-pot wonder of beautiful and healthy dessert recipes. And who doesn't need an easy-to-make, show-stopping dessert for the holidays?
Table of Contents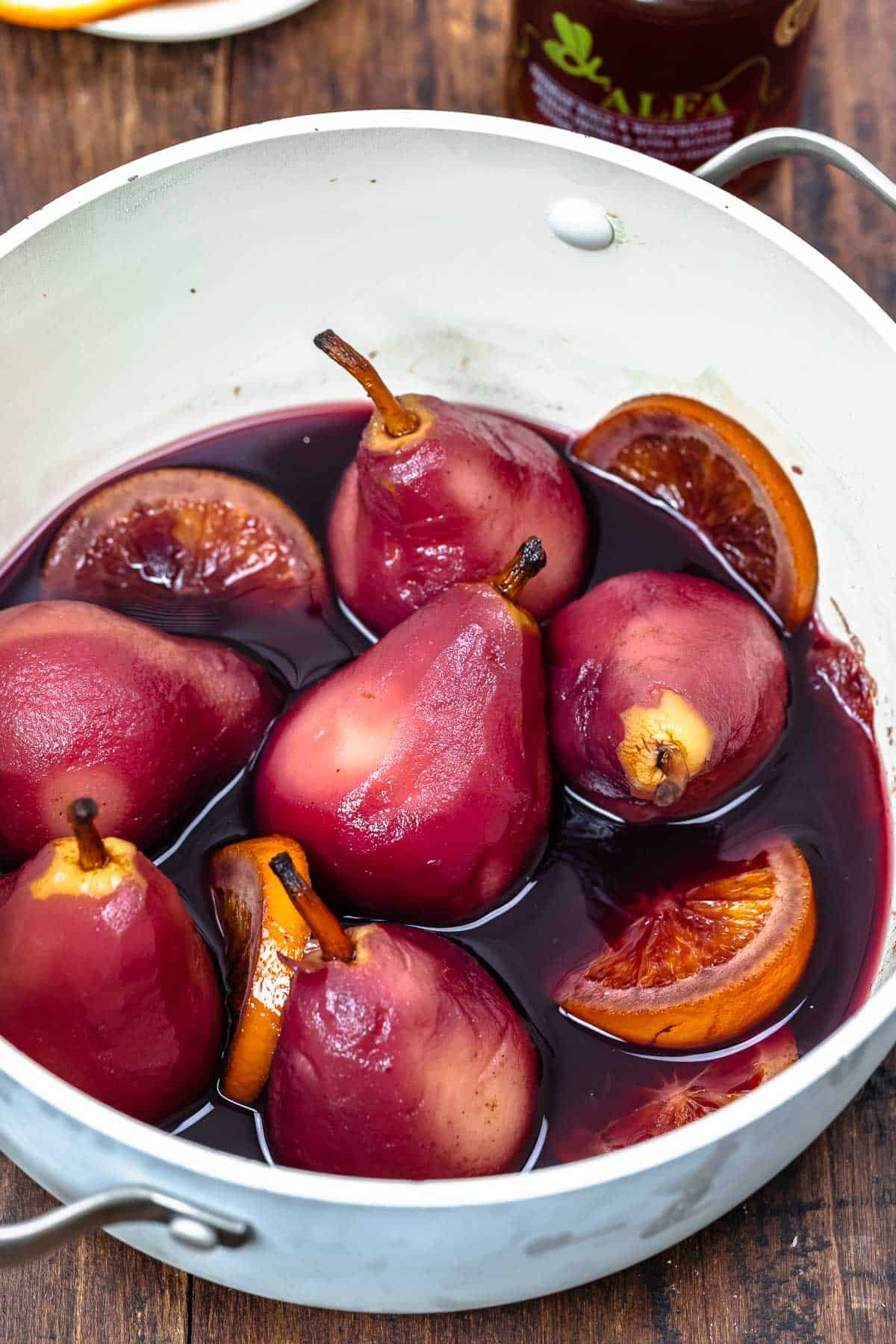 What are poached pears?
A poached pear simply means the fruit is simmered in liquid and usually spices until it's tender but still firm and holds it shape. They can be serve with other embellishments for a dessert or stored in the fridge for up to 5 days and eaten whenever the mood strikes.

Poached pears are believed to originate in France as Poire à la Beaujolaise (pear in wine). Given the amount of wine produced in France, poaching fruit as both a matter of preservation and enjoyment makes sense. But you can also find a rich history of poached pear desserts in Italian cuisines. Wine and fruit are pretty much a universal match made in heaven.

To poach pears you can use either red or white wine and cook the pears peeled and whole, halved or quartered depending up the presentation you're after. To concentrate the flavors of the cooking liquid reduce the poaching liquid by half or until it's thick like syrup.
What are the best pears to poach
For the best possible outcome with poaching pears you want to look for a few key details:
Seek out firm fruit. If it's too soft or ripe the pears will fall apart in the liquid.
Anjou or Bosc pears are two of my favorites for poaching. They absorb the poaching liquid well and maintain their shape.
You can poach any size pear, but I prefer smaller ones. Keep in mind larger pears might take a little longer in the liquid.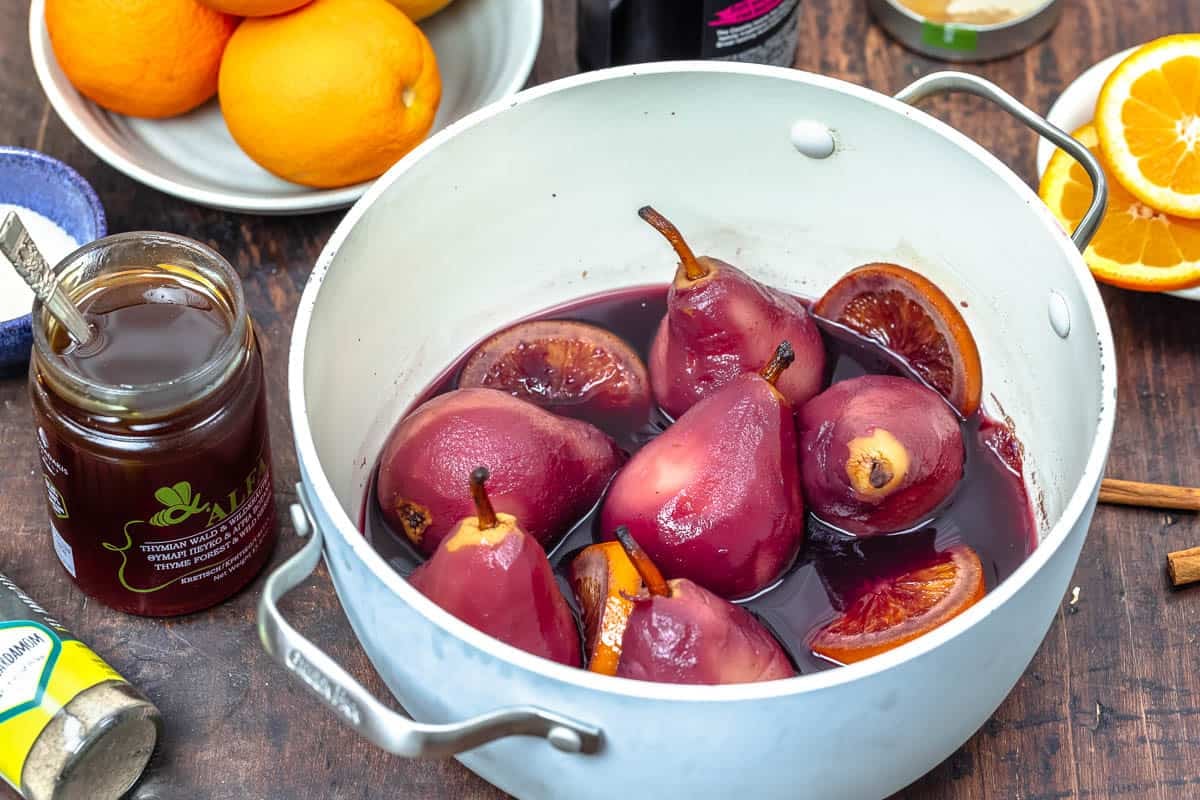 What do you need for poached pears?
This recipe has a very short ingredient list, which I absolutely love. Get your hands on some pears, oranges, and a bottle of dry red wine, and combine them with a few pantry staples. Here's everything you'll need to make poached pears:
Oranges: Opt for sweet oranges to add natural sweetness to the cooking liquid. Navel and cara cara oranges are good options.
Red wine: I used a pinot noir, but a shiraz or merlot would work as well.
Sweeteners: You'll need honey and a little sugar. I like our Greek Honey in this recipe, because it is so flavorful and aromatic.
Spices: Add some cozy, warm flavor with a cinnamon stick and a hint of ground cardamom. I used The Mediterranean Dish ground cardamom.
How to make wine poached pears
Poached pears are an elegant, beautiful dessert that make a lovely centerpiece for your holiday table. The best part? They're so easy to make! Once the fruit is prepped, all you need to do is poach the pears! Here's how:
Prepare the fruit. Zest and juice 1 sweet orange like a navel or cara cara orange. Pour the juice into a medium bowl and set zest aside for now. Slice another orange into ¼-inch rounds. Peel 6 small pears with a vegetable peeler. I serve them whole. To help prevent the pears from browning, place them in the bowl with the orange juice and toss so the pears are coated in juice.
Poach the pears. Add the sliced orange, 2 cups red wine, ¼ cup honey, 3 tablespoons sugar, 1 cinnamon stick, and ¼ teaspoon ground cardamom to a pot. (Choose a pot big enough to hold all 6 pears snuggly.) Bring the liquid to a rolling boil over medium-high heat. Lower the heat and add the pears and orange juice, setting the bowl aside for now.
Cover and simmer for 20 to 30 minutes. Carefully rotate the pears occasionally until they have become tender. To check doneness, stick a skewer into the middle of the pear. If it meets no resistance, your pears are cooked. Transfer the pears to the bowl.
Reduce the poaching liquid. Cook the wine and orange juice mixture down until it has thickened. It will resemble a runny syrup. Place the pears back into the pot, upright, until they are cool enough to serve.
Serve. Serve poached pears with a little cooking liquid drizzled on top, plus a sprinkle of orange zest. For added richness, add a dollop of whipped cream, mascarpone cheese, or creme fraiche.
How to serve pears poached in red wine
You can serve poached pears hot, warm, or cold. I typically make them the night before I want to serve them, because they are even better the next day once they've had a chance to absorb more of the flavor from the poaching liquid.
Keep it simple: Place a pear onto a small plate or bowl and drizzle it with a little of the poaching syrup. That's it! You have an impressive dessert, loaded with flavor.
Dress it up: Pool the reduced poaching syrup on the bottom of an individual plate. Set the pear in the center of the plate, place a small scoop or quenelle of ice cream if you like it sweeter or creme fraiche if you prefer tangy flavors. Dust it with a touch of cinnamon. Use a vegetable peeler to pull a strip of orange peel from an orange. Lightly twist the orange peel and place it just across the top of the ice cream or creme fraiche.
Non-alcoholic option
If you do not cook with alcohol, the easiest swap here is a non-alcoholic wine. Most well-stocked grocery stores will have a few alcohol-free wine options available.
You can also use fruit juice as the poaching liquid instead of wine. Mix 2 cups sweet fruit juice (like apple or grape) with 5 to 6 tablespoons of lemon juice to add some tang. Or just use a tart juice like cranberry juice.
How to store poached pears
Red wine poached pears taste even better the next day, making them an excellent make-ahead dessert! Once the pears cool, store them in the refrigerator in a large glass container with a tight lid for up to 5 days.
Try not to pack them together too tightly or they may get smashed. While this won't affect the flavor, it will affect the look of the pears when you serve them.
I typically serve poached pears cold, straight out of the fridge, but you can warm them up on the stove if you prefer a hot dessert.
What pairs with poached pears?
I usually serve red wine poached pears around the holidays or when we are having friends over for dinner. Chances are we are lingering around the table a bit, so having this recipe as a make ahead dessert option really helps.

I like to serve them after a dinner of Cornish Game Hens because they have complementary spices, or the classic Chicken Marbella because the sweetness from the prunes in the Marbella recipe is a nice transition to the spiced poached pears.
More fruity dessert recipes
Browse all Mediterranean recipes.

Visit Our Shop.
Red Wine Poached Pears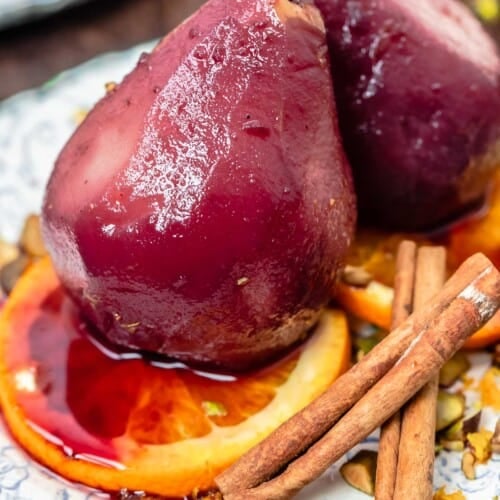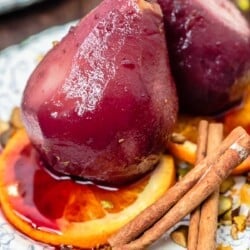 Poached pears elegant, beautiful, and simple to make. You don't need any special skills or tools -- just some fruit, red wine, spices, and a cooking pot. Serve them hot, warm, or cold, either by themselves or with a little whipped cream on the side. Pro tip: Poached pears taste even better the next day after they've had some time to soak in the cooking liquid, so feel free to make these a day ahead!
Ingredients
2

large oranges,

navel or cara cara oranges preferred for sweetness

6

ripe but firm small pears

2

cups

red wine such as Pinot Noir

¼

cup

honey

3

tablespoons

raw sugar,

or granulated sugar

1

cinnamon stick

¼

teaspoon

ground cardamom
Instructions
Zest and juice one of the oranges and pour the juice in a medium bowl. Slice the remaining orange into ¼-inch rounds.

With a vegetable peeler, peel the pears, leaving them whole. Add the pears to the bowl with the orange juice and toss to coat (this will help prevent the pear from turning brown too quickly).

Prepare a non-reactive pot that can fit all the pears snuggly (I used an enameled pot). Add the orange slices, red wine, honey, sugar, cinnamon stick, and cardamom.

Over medium-high heat, bring the liquid to a rolling boil, then lower the heat and add in the pears and orange juice (set the bowl aside). Cover and let simmer gently for 20 to 30 minutes, occasionally rotating them using a wooden spoon, until the pears have softened enough and a skewer inserted in the middle of a pear at the thickest part meets no resistance.

Transfer the pears back to the bowl for now. Simmer the remaining liquid for a few minutes or until thickened.

Allow the pears to sit upright in the poaching liquid until they have cooled enough to serve.

Serve poached pears warm or cold with a little bit of the syrup drizzled on top, and some orange zest for garnish. You can also refrigerate them in the poaching liquid overnight to serve at a later time.
Notes
Pro tip: Wine poached pears are even better the next day once they've had a chance to absorb more of the flavor from the poaching liquid.
Best pears to use: Opt for small, firm pears. Pears that are too large will take too long to cook, and overripe ones will become mushy. I like Anjou or Bosc pears, which hold their shape after poaching.
How to serve them: Place a pear on a plate and drizzle some of the syrupy cooking liquid over. For a little added richness, add a little whipped cream, mascarpone cheese, or creme fraiche on the side.
Visit Our Shop for quality Mediterranean ingredients including extra virgin olive oils, spices, and grains.
Nutrition
Calories:
257.4
kcal
Carbohydrates:
52.9
g
Protein:
1.2
g
Fat:
0.3
g
Saturated Fat:
0.05
g
Polyunsaturated Fat:
0.2
g
Monounsaturated Fat:
0.2
g
Sodium:
3.1
mg
Potassium:
296.5
mg
Fiber:
6.9
g
Sugar:
38.9
g
Vitamin A:
161.5
IU
Vitamin C:
35.3
mg
Calcium:
43.8
mg
Iron:
0.5
mg