15 minutes is all it takes to transform leftover mashed potatoes into these crispy on the outside, fluffy on the inside mashed potato pancakes. Serve them for breakfast instead of hash browns or alongside your favorite main dish.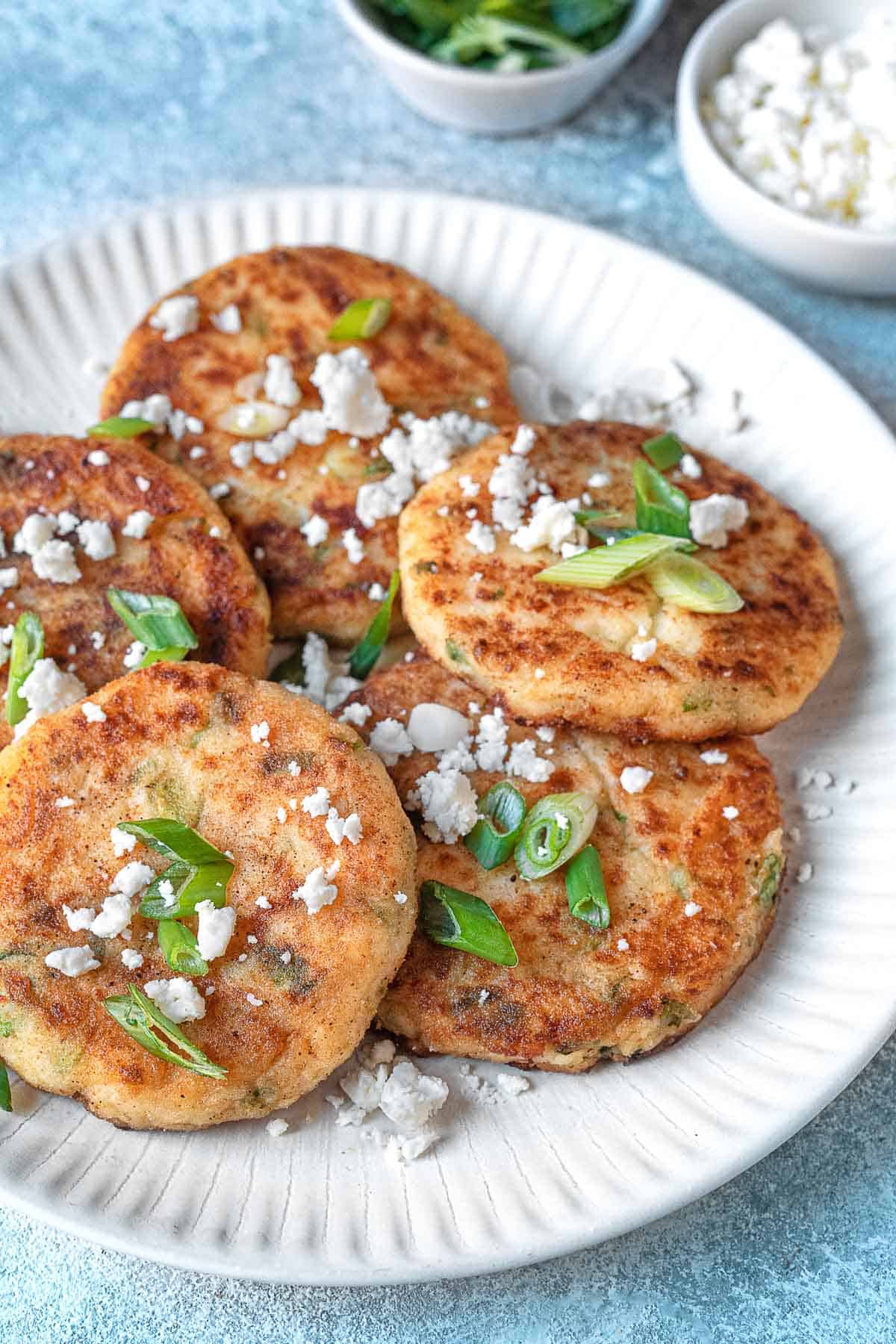 If you've made a lot of mashed potatoes for your holiday dinner party and need a delicious way to use up leftovers, this mashed potato pancakes recipe is your answer!

These crispy potato pancakes are easy to make with any leftover mashed potatoes you have on hand. Add in fresh herbs, a sprinkle of your favorite cheese (feta for me), an egg and flour for binding, and mix. Next, shape the mashed potato and herb mixture into disks and shallow fry them in some good extra virgin olive oil.
If you have a crowd to feed for breakfast, these tasty mashed potato pancakes are great next to a quick strata, egg scramble or sheet pan baked eggs. Heck, I've added them to my mean Mediterranean breakfast board for the holidays — everyone loves food on a board! You can also serve them as a side for dinner, after all, they are potatoes!
Table of Contents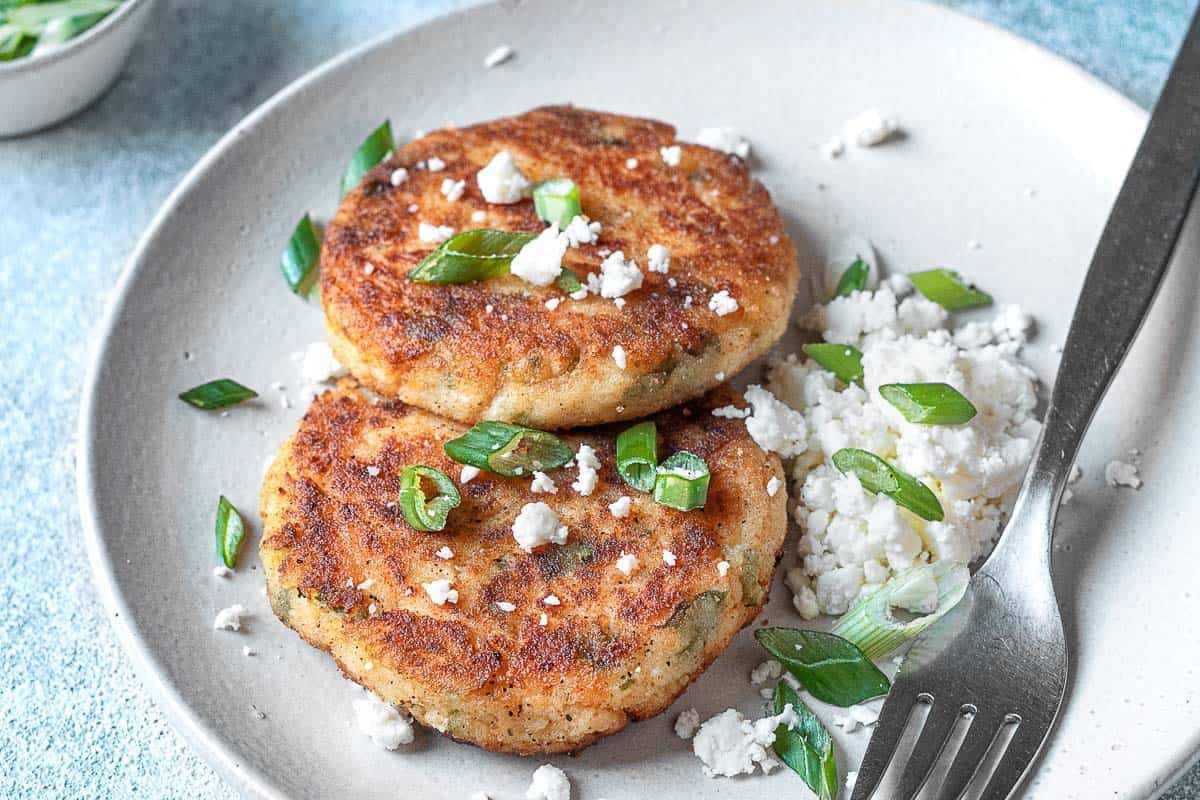 Ingredients for Making Mashed Potato Pancakes
Leftover mashed potatoes are the star ingredient in this recipe. From there, you can add your favorite cheeses and herbs, and a binding agent to bring the mixture together. Here is what you need to make these savory leftover potato pancakes:
Chilled mashed potatoes. I used roasted garlic mashed potatoes, but any mashed potatoes will work. You can even try them with my savory mashed sweet potatoes.
Cheese. I like feta cheese here, but you could use goat cheese, gouda, Parmesan, Pecorino Romano. Almost any cheese will work, but make sure it is crumbled or grated cheese, depending on the kind used.
Scallions or chives. I use scallions, both white and green parts for lots of flavor, but chopped chives will work here too.
Fresh herbs. A good handful of chopped parsley or, if you like, you can also add a little fresh thyme or rosemary.
Egg and flour. Both of these are needed to help bind the potato mixture so it won't fall apart when fried.
Breadcrumbs. This is optional, but I like to lightly coat the pancake patties in breadcrumbs for an extra crispy crust.
Extra virgin olive oil for shallow-frying will give you a nice golden crust on these savory patties.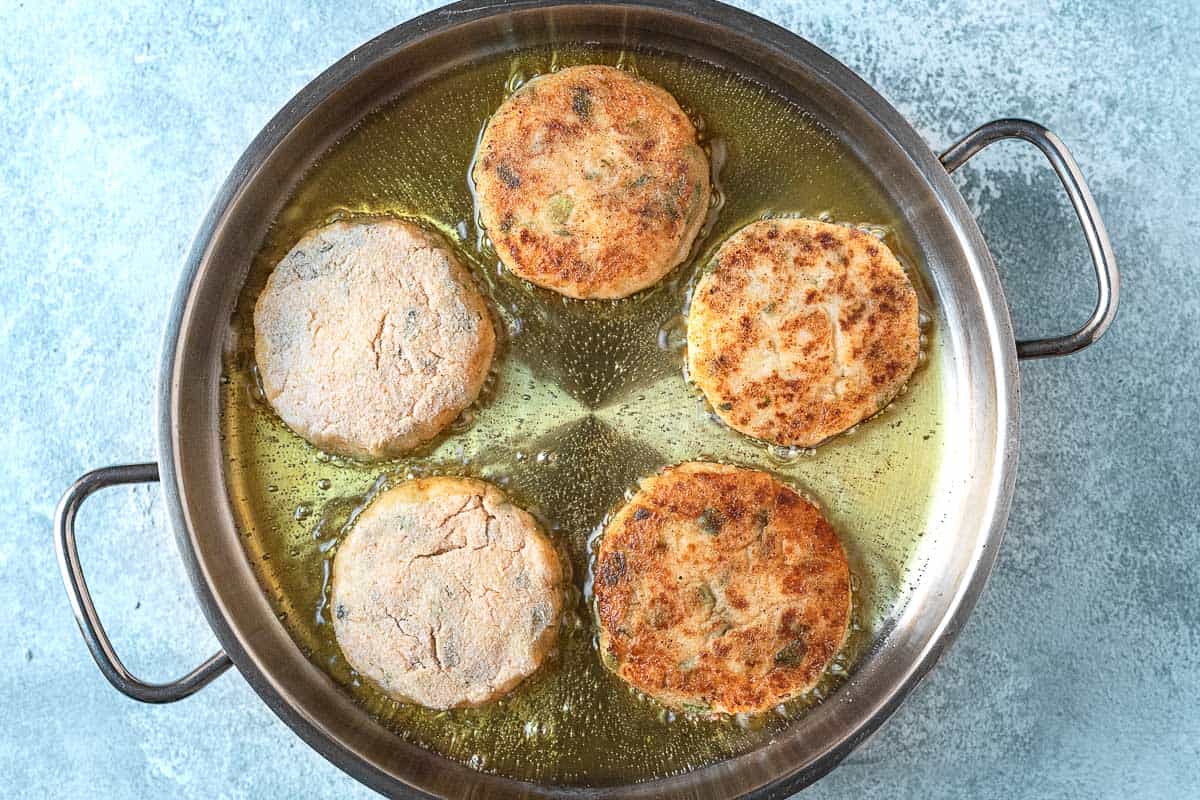 How to Make Potato Pancakes from Mashed Potatoes
Like my Spaghetti Pie recipe, these potato pancakes are a great way to breath new life into leftovers. These are a breeze to make, since the mashed potatoes are already fully cooked, and you don't need to worry about peeling and shredding raw potatoes to make potato pancakes. All you need is just 10 minutes! Here is how:
Make the leftover mashed potato pancake mixture: Combine about 3 cups chilled mashed potatoes with a good sprinkle of feta cheese (or cheese of your choice from the list above). Add chopped scallions, a handful of fresh parsley, one egg, and about 3 tablespoon of flour. Use a wooden spoon to mix until everything is well incorporated.
Form into small patties and coat with breadcrumbs: Take handfuls of the mashed potato mixture and form them into small discs. It helps to use a measuring cup so the patties are the same size. I used a ⅓ cup to measure my potato mixture. Lightly coat each patty with breadcrumbs on both sides.
Fry the potato pancakes: Coat the bottom of a large non-stick skillet with a ¼ inch depth of extra virgin olive oil and set the heat to medium-high. When the oil begins to shimmer arrange the potato pancakes in the pan in one single layer. You may have to do this in batches. Cook on one side for 2 to 3 minutes, then turn over and cook on the other side for another couple minutes or so until crispy and golden brown on both sides.
Storing and Reheating Tips
You can store these savory mashed potato pancakes in the fridge for 3 to 4 days in a tightly closed glass container. If you've had your cooked mashed potatoes in the fridge a few days before making these savory pancakes, then it'll be best to use them up sooner rather than later. Reheat potato pancakes in your non-stick pan with a tiny bit of extra virgin olive oil.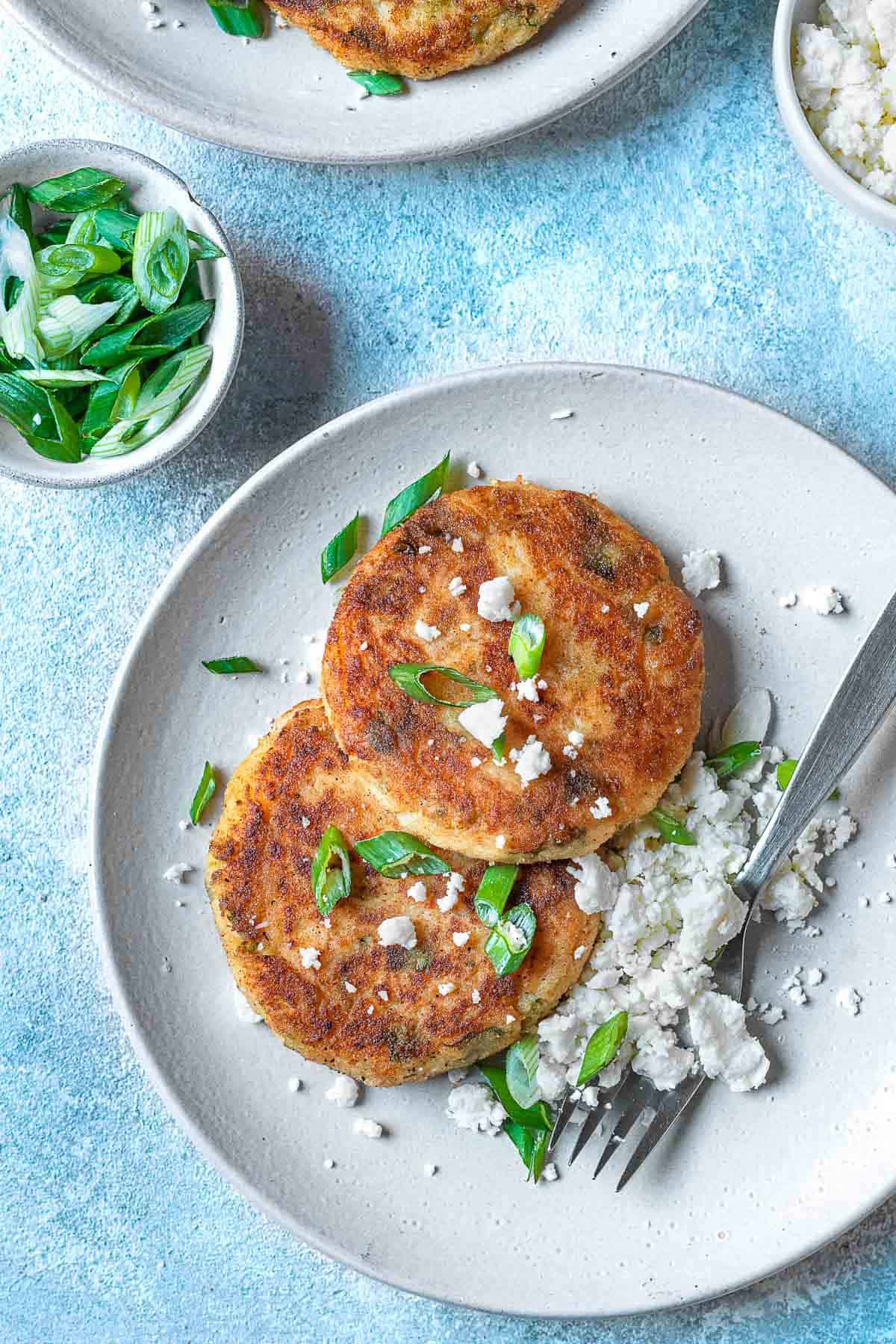 Try our Arbequina EVOO in this recipe!
Olive oil will give you the perfect crust on your potato pancakes! This exquisite extra virgin olive oil made from Arbequina olives, which are native to northern Spain, is mild and slightly fruity tasting with an acidity level of 0.16%. It's great for everyday recipes including these delicious pancakes!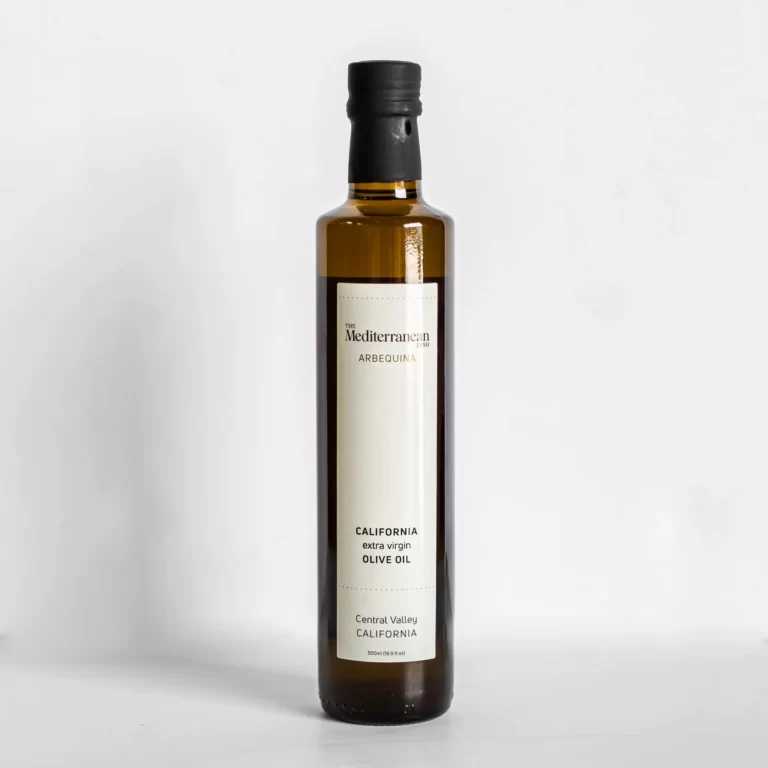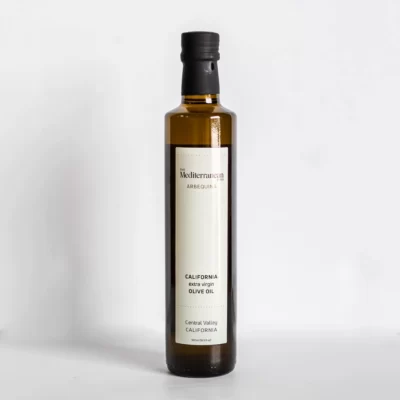 More potato recipes
Browse more Mediterranean Recipes
Visit our Shop
Leftover Mashed Potato Pancakes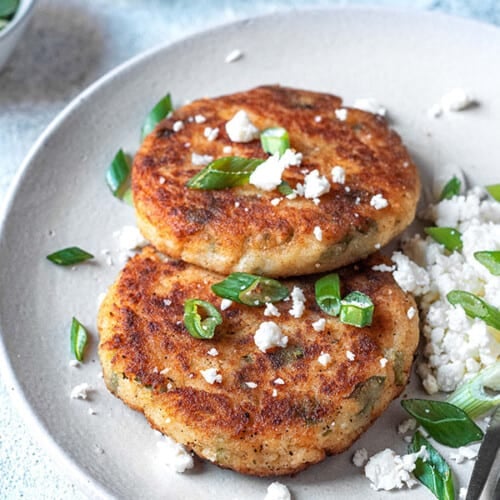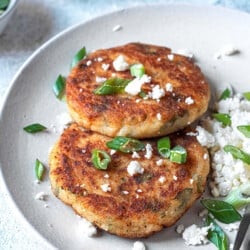 These easy mashed potato pancakes take only 10 minutes to make! Crispy on the outside and perfectly tender on the inside. This really is the best way to use up leftover mashed potatoes.
Ingredients
Extra Virgin Olive Oil

for pan frying

3

cups

chilled mashed potatoes,

already cooked and stored in the fridge

½

cup

feta cheese,

crumbled, more for garnish

¼

cup

all-purpose flour

3

scallions,

both white and green parts, chopped, plus more for garnish

¼

cup

chopped fresh parsley

1

egg

⅓ to ½

cup

plain breadcrumbs
Instructions
Make the mashed potato mixture: In a big bowl, combine the mashed potatoes, feta, all-purpose flour, scallions, and parsley. Break the egg and add it to the bowl. Mix with a wooden spoon until everything is well incorporated.

Prepare the breadcrumbs: Spread the breadcrumbs on a plate and set next to the bowl with the mashed potato mixture.

Make the patties: Using a measuring cup (either a ¼ cup or ⅓ cup, depending on the size of the patties you want), scoop a portion of the mashed potato mixture to fill the measuring cup. Form a ball between your hands, and then lightly flatten to make a ½-inch thick patty. Dredge the patty on both sides with the breadcrumbs and set it flat on a baking sheet. Repeat until the mashed potato mixture is finished.

Fry the mashed potato patties: Set a large non-stick pan or skillet over medium-high heat. Add enough olive oil to the pan so it's about ½-inch deep. When the oil shimmers, arrange the patties in the pan in one single layer (do this in batches, if needed). Cook on one side for about 2 to 3 minutes or until the bottom is crispy and golden brown, then turn over and cook the patties for another 2 to 3 minutes, again watching for the crisp and color on the other side.

Using the spatula, remove the cooked mashed potato patties from the skillet and transfer them to a tray, lined with a paper towel to drain any excess oil.

Transfer the mashed potato patties to a serving plate and garnish with a bit more feta cheese and scallions. Enjoy!
Nutrition
Calories:
146.5
kcal
Carbohydrates:
25.3
g
Protein:
5
g
Fat:
2.9
g
Saturated Fat:
1.5
g
Polyunsaturated Fat:
0.3
g
Monounsaturated Fat:
0.7
g
Trans Fat:
0.003
g
Cholesterol:
28.8
mg
Sodium:
172.9
mg
Potassium:
296.3
mg
Fiber:
2
g
Sugar:
1.2
g
Vitamin A:
274.6
IU
Vitamin C:
21.6
mg
Calcium:
70
mg
Iron:
1
mg